Ultimate Racing Seats Guide
There's no doubt that your stock seats will need upgrading as soon as you begin drifting. We're going to take a look at the best racing seats on the market to help you choose the perfect upgrade.
---
In a hurry? Here is our best racing seats summary
| Budget Fixed Back Choice | All Round Choice | Premium Fixed Back Choice |
| --- | --- | --- |
| | | |
| Corbeau Forza | Corbeau A4 | Seibon Carbon Kevlar Type-FC |
| 🔥🔥🔥🔥🔥 | 🔥🔥🔥🔥🔥 | 🔥🔥🔥🔥🔥 |
| Buy Now | Buy Now | Buy Now |
Aftermarket racing seats are one of the most essential upgrades that anyone looking to enhance their car should consider.
Whether you're simply looking to improve the look of the interior on your daily driver or push yourself to the limits on the track, the huge selection of aftermarket seats out there has the perfect answer to your needs.
We've found that one of the biggest mistakes that first-time drifters make is not upgrading their seats before attending their first drift day, insisting that the stock seats will be fine 'for now'.
After a few sketchy corners which eventually end up with an awkward situation as they end up sharing the passenger seat with their buddy, they'll then find themselves on the interwebs looking for the ideal solution to ensure that their next experience is a far less embarrassing one. Sound familiar? (C'mon, at least almost?!)
If so, we've created this guide just for you!
As with everything, with popularity comes can sometimes corner-cutting. We're talking about saving those precious bucks to cop yourself some of the freshest new "Fride" designs, straight outta China.
Fake seats have become a huge problem in the aftermarket tuning scene, with owners wanting the best look at the cheapest price.
We can understand the appeal of this, especially when you're trying your best on a budget, but seats are an essential part of car safety, and we've seen some of these 'replica' seats fold and break terrifyingly easily. For that reason, we highly recommend avoiding fake/replica or branded 'style' seats at all costs.
We would ONLY ever buy racing seats from reputable companies, as there are some clever misleading brands out there that have zero concern for your safety.
---
What are the benefits of aftermarket racing seats?
Alongside the additional support they offer when pushing your car harder than a grocery-shopping Grandma, one of the best benefits of racing seats is the ability to mount them where you'd like.
For those of you that are particularly tall for example, this can be an added bonus. You can mount the rails further back, and also get low rails to ensure maximum head clearance, which you'll undoubtedly need if you plan on wearing a helmet.
Be warned that some of the cheaper, generic 'universal' rails often sit far higher than the stock seats, which can make for an awful driving position and lose that essential headroom that you could've gained with low rails. This is always worth checking.
One of many other benefits is the huge range of aftermarket seats that are available, which will undoubtedly provide you with exactly what you're looking for. Whether you're looking for a funky color or design or think that head support will be essential as an example, there's always going to be a seat out there to suit your needs.
---
How to install racing seats
You'll need to get yourself an ideal pair of rails for a daily, road-legal car. If you're going for a full cage build on your track-specific car, you may want to consider how well mounts fit. Alternatively, some owners opt for mounting the seats to the cage or frame depending on the build. If you're intending to compete, ensure that you're familiar with the specific competition rules and regulations with regards to seat mounting.
---
Should I opt for an adjustable (reclining) seat, or a fixed back?
This all depends on what you're intending to use the car for. Adjustable reclining seats are obviously the far more convenient choice, especially if your car is daily driven, or if you often have passengers in the back. Adjustable seats are often an ideal choice for beginners that are new to drifting and still wanting to use their car daily.
On the flip side, if you're frequently hitting up the track and throwing down some pretty risky lines, you're going to want to opt for a fixed back seat. These will provide you with far more support and safety should things not go entirely according to plan.
As much as we hope this never happens, it's always best to be prepared when pushing your car to the limit.
---
How to install a racing harness in stock seats
One of the main reasons that we opt for aftermarket seats is that they are designed to work perfectly with your racing harnesses.
Fitting harnesses to stock OEM seats can be extremely dangerous, and although you think it might look cool, it's likely to cause more harm than good in the event of an accident.
For those of you that are installing racing harnesses to your aftermarket seats, you'll want to think about which harnesses you intend to run before making your seat purchase to ensure they'll fit correctly.
---
Where to buy racing seats
Since they're a hugely popular upgrade, there are many places to buy racing seats online. Given the number of fakes out there, we always recommend that you use a well-known, reputable company rather than what looks like a bargain eBay special.
We personally recommend Enjuku Racing and Amazon. Not only do they have impressive prices, but we've had fantastic customer service from them when any issues have arisen.
---
How do I choose the right seat size?
Always make sure that you check the sizing of the seat you are looking to buy. If you're unsure, then contact the manufacturer or the company you're intending to make your purchase from.
Some seats are on the tighter side, so even if you've eyed up one too many cakes that week then you may it may be worth considering an XL seat.
---
What's in this guide?
We've created this to help you find the perfect racing seat choice for your car. Whether you're simply looking to improve the looks or mount a seat in your competition-spec drift car, we've covered it all in this guide.
---
First up, let's take a look at our Best Reclining Racing Seats selection.
To read more about any of these products just click on the product name or photo.
Bride Gias II
Manufacturer: Bride
Fitment: Universal
Value for money:

🔥🔥🔥🔥

Purchase link: Discontinued
Updated March 25th 2021: Discontinued. We recommend taking a look at the latest seats in the Bride range, the Bride Euroster.
Our comment: JDM seat manufacturer Bride is undoubtedly one of the most sought after brands when it comes to aftermarket seats, and it's easy to see why.
Not only do they look incredible, but they're also extremely lightweight and comfortable. Their Gias II model will be the perfect choice for daily driving or occasional track use. With deep sides to hold you snug in the seat, you won't be going anywhere if you opt for these.
If you're looking for a lower alternative to these seats, you'll want to check out the Stradia II later-on in our guide.
Although they're one of the most expensive seats out there, the quality is up there with the very best and are made with carbon-reinforced polymer for additional strength and weight savings. If these are out of your budget, then keep your eyes peeled for their cheaper fixed-back alternatives later on in our guide.
Manufacturer description: "By adopting a super monocoque shell structure and an all-aluminum frame, GIAS series is a sporty reclining sports seat which realizes both lightweight and rigidity. The design deeply envelops the driver and realizes high holdability."
---
Our comment: Corbeau enters our list with their extremely popular A4 model, which is one of the biggest bargains in our list.
Corbeau has taken an unusual approach by selling their seats in pairs, so make sure you consider that when you're comparing prices to see which suits you best.
Built to last, these seats feature protection in areas that are frequently worn away on seats. The 'Regular' model will be best suited for up to 36-inch waists, and the wide model will be better suited for up to 40-inch.
A fantastically priced all-rounder and best suited for daily or occasional track days, but we wouldn't recommend them for frequent track use.
There are a variety of colors, sizes, and materials to choose from within the listing to ensure that suit these perfectly to your needs.
Manufacturer description: "The A4 has been a favorite for years because of its incredible price and quality. When it comes to reclining race seats, the A4 is the best bang for your buck."
"Whether on the street, the track, or off-road, the A4 racing seat will enhance your overall driving experience. The A4 has top of the line injection molded foam and high wear patches are strategically placed to protect your seat from abuse in the high wear areas. The A4 is harness capable and an anti-submarine slot can be added to accommodate a 5 or 6 point harness belt."
---
Our comment: Another huge brand in the racing seat world are Sparco, and their latest product to the market is certainly a looker!
Combining great looks with comfort, quality, practicality, and durability, we expect this to become an extremely popular seat.
These will be a mid-priced choice and a great option if you're looking to run the stock seatbelt or opting for a 3 or 4-point harness set-up.
A fantastically priced all-rounder and best suited for daily or occasional track days. There's a decent amount of bolster support to hold you in place if you do decide to do a skid, but we wouldn't recommend them for frequent track use.
Manufacturer description: "The Sparco R333 features a quality finish with the highest standards of upholstery for an excellent feel and durability. The seat R333 contains deep bolster support, ideal for fast road or track days and includes a 2-way tilt/recline mechanism for optimum driving positioning and can be used with standard seat belt or racing harnesses."
---
Bride Stradia II
Manufacturer: Bride
Fitment: Universal
Value for money:

🔥🔥🔥🔥

Purchase link: Discontinued
Updated March 25th 2021: Discontinued. We recommend taking a look at the latest seats in the Bride range, the Bride Euroster.
Our comment: You probably noticed our Gias II that we reviewed at the beginning of the article, and you're wondering how these compare.
As previously mentioned, the main difference between the two is the low-seated position that the Stradia has to offer, featuring a shallower thigh area. This can make it the perfect choice if you're taller, or prefer a lower-seated driving position. There is also slightly less bolster support on the Stradia, but this will make it much more convenient for daily use.
There's no question that Bride is one of the best companies out there, with the most stunning lightweight carbon fiber reinforced, comfortable seats, but they do come at a price. You'll undoubtedly earn yourself a heap of JDM scene points at the local meet, though!
As always, Bride has a tonne of variety on offer, so make sure you view their full Stradia II range here.
Manufacturer description: "STRADIA series's shape features a lower knee support section compared to GIAS to enable easier boarding and exiting. The backrest deeply envelops the driver the same as GIAS, maintaining the high holdability. Because it utilizes a super monocoque shell structure and an aluminum frame, it achieves both lightweight and high rigidity. This model is perfect for those who do not want to sacrifice holdability but are also concerned about ease of boarding/exiting."
"With the STRADIA, the backrest has an enveloping form that enables high holdability, but the height of the thigh part is just enough to prioritize ease of boarding/exiting while maintaining holdability. This makes for a reclining sports seat which achieves both a suitable holdability and ease of use. In addition, wide-size is available for part of STRADIA lineup."
---
Our comment: We can almost hear the complaints from here! Yes, that's right – Mugen. Honda fanboys, rejoice!
We considered leaving these off of our list for this reason, but since they're one of the highest regarded seats out there, it'd be ridiculous not to.
If you can look past the branding, these are one of the strongest competitors on our list. Sure, they're not cheap, but they're one of the best all-rounders out there.
This semi-bucket design provides almost the same amount of support as a bucket seat with additional comfort but also enables the convenience of the reclining features which makes it a strong rival for the Gias II.
Manufacturer description: "Semi bucket seat featuring high driver-support performance, with fatigue reduction effect, and easy-access integrated in harmony within the design. When developing a semi bucket seat two contradictory requirements need to be addressed - that of ergonomic driver support while at the same time providing driver comfort, including easy-access."
"By drawing on the experience and technologies acquired through many years of top level motorsports and parts sales activities MUGEN has designed MS-Z to satisfy both requirements. MS-Z will reduce driver fatigue and improve your driving."
---
Our comment: Buddy Club's Racing Spec Sport seat is the latest adjustable racing seat from the well-known tuning company.
This seat has been developed with the P1-limited and Racing Spec Bucket Seat designs in mind, to fill Buddy Club's gap in the reclining seat market.
A very comfortable seat, but it's clearly designed with daily driving in mind rather than track days. It'll undoubtedly be a good upgrade over your stock seats, but we feel there are better choices on our list for the price.
Manufacturer description: "The seat can use for different driving conditions and protect the driver comprehensively. The perfect design and technology we use on the precision-adjustable mechanism can assure proper ergonomics and best performance. The horizontal stripes design in the center is not only provided the optimal driving comfort but also allow the driver to feel cooler."
---
That concludes our Best Reclining Racing Seats selection. Now let's take a look at our favorite Fixed-Back Racing Seats
To read more about any of these products just click on the product name or photo.
Our comment: Carbon fiber wizards Seibon has launched a stunning carbon kevlar seat to the market with their Type-FC, which could quite possibly be the most insane looking seat in our list!
These hand-crafted carbon seats will undoubtedly attract a fair amount of attention, and it's easy to see why!
As you can imagine, being carbon fiber, it's extremely strong and lightweight. Its design allows for the ultimate bolster support to prevent unnecessary body movement even when you're pushing the car hard.
These seats were designed for racing use and allow for a multi-point harness to be fitted. An exceptional product which is undoubtedly a contender for our favorite seat on the market right now.
If the red color doesn't suit your personal preference, then they are also available in black.
Manufacturer description: "Creating performance-oriented products that help shed unnecessary weight without sacrificing style is Seibon's specialty. This Seibon Carbon Kevlar Bucket Racing Seat Type FC is the perfect answer to enhance and maintain that superior look of carbon fiber to your car. The supportive shape will keep you in an upright driving position so you can stay in control during high performance driving."
---
Our comment: Thankfully, the fixed-back Bride seats come at a far more affordable price-point, especially for the FRP models which are extremely reasonably priced!
You're probably starting to understand that we're pretty big fans of Bride seats, but we're certainly not alone in our thinking!
These fixed-back seats are still extremely comfortable, but also far more suited for motorsport use than the reclining alternatives.
The Zeta III's have an even wider selection to choose from, so whether you're looking for a more exciting color, a fancy lightweight material, or a different size, Enjuku Racing will have exactly what you need, here.
Manufacturer description: "The ZETA Series comes in 4 types to fit various heights and body types. Its design characteristics are the narrowed-down waistline and small needlepoint design of the shoulder support part. We also offer models which support car models with tight interiors to meet the needs of a broad range of users."
"BRIDE's fixed bucket seat ZETA has won in countless races while always keeping drivers safe. The racing comfort model, which has been tuned with consideration for all Motorsports settings, ZETA series."
---
Our comment: They may not be the prettiest seats out there, but Corbeau are targeting a specific market with their 'competition seat with a price tag for the weekend racer' perspective in mind.
If you're looking for a fixed-back bargain, racing seats certainly don't come much cheaper than these!
With five slots for your race harness and integrated shoulder support, they're undoubtedly a budget winner.
If you want something a little different, these are also available in red. Their regular sizing is ideal for 36 to 38-inch waists, and the wide version is ideal for up to 44-inches.
Manufacturer description: "CThe Forza is the perfect entry level racing seat. The Forza racing seat combines comfort, performance, and safety at an absolutely unbeatable price."
"If you enjoy racing and want a practical and affordable seat, the Forza is the seat for you."
---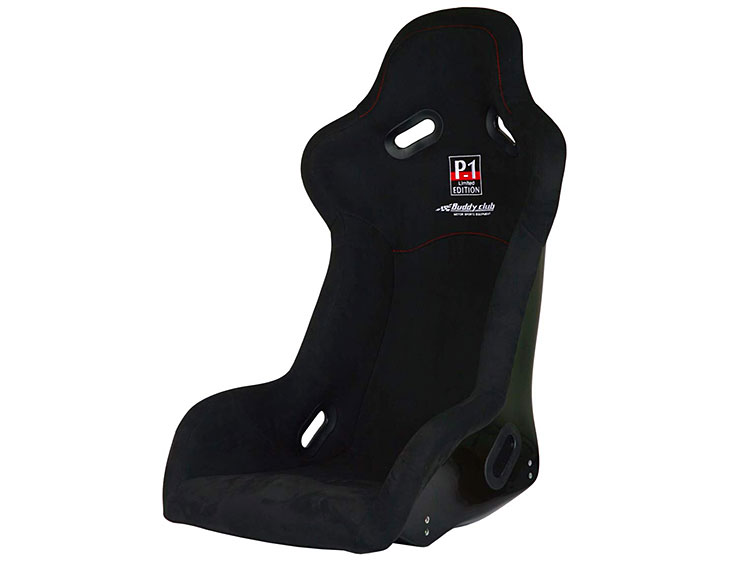 Our comment: The Buddy Club P-1 has been developed through professional motorsport to create a high-performance seat for road use.
This could be the ideal choice for the more frequently-tracked daily driver, where a fixed-back is ideal yet it's still comfortable enough for daily use.
Weighing in at just 11lbs with its FRP construction, it's also extremely lightweight and features a twill fabric to ensure extended lifespan and grip to ensure minimal movement when driving.
If you want something a little different, these are also available in red. Their regular sizing is ideal for 36 to 38-inch waists, and the wide version is ideal for up to 44-inches.
Manufacturer description: "Buddy Club P-1 Limited Edition Racing Spec Fiberglass Fixed Bucket Seats have been tested and used in competition on various racing circuits around the world."
"Constructed from lightweight fiberglass and are extremely strong, which makes them perfect for racing where weight reduction can mean the difference between a victory or a loss."
---
Our comment: Similarly to their reclining options, Bride offers a typical fixed-back seat in the Zeta above, where the Vios is the lower seating position alternative, with slightly smaller bolsters to allow improved ease of access.
This is once again a bargain price for Bride seats, particularly for the FRP model, but as always, Bride offers a wide variety of colors and materials in the Vios range, which you can take a look at here.
The Vios is the ultimate choice for those of you looking for additional head clearance or a lower seating position.
Manufacturer description: "Our VIOS line-up includes a total of 5 seats: VIOS III standard model. the premium "Japan" model which uses high-class faux-suede for its surface material. the basic SPORT-C model. the REIMS model featuring a full cover extending to the back surface and a one-point accent color. and TYPE-R with a high holdability in its thigh section. It is an active fixed bucket seat which can meet a variety of customers' needs from sports-oriented to luxury-oriented and fashion-oriented."
"Because VIOS utilizes BRIDE's patented Low-Max System technology, it enables a low position even in a tight seat space. Even if offsets between the steering and seat centers occur, with the Lomax System it is possible to set the offset to zero*. (In some cases certain models may not reach zero)."
---
Our comment: Sparco's Evo II US seat has undoubtedly been one of the most popular aftermarket choices over the years, and this US model is the larger-sized variation after many American owners found the original version too narrow.
This ultra-light fiberglass composite choice may be priced at the higher end of the market but its popularity proves that it's worth paying out for, combining its impressive weight with superior comfort for a fixed-back seat.
Sparco designed this seat with extensive input from some of the finest racing drivers. It's FIA approved and also HANS device compatible. If you're considering frequent track action, the Evo II is certainly worth considering.
Manufacturer description: "Sparco's EVO II US Racing Seat offer racing drivers both quality and value you can only expect from the Sparco Evo seat line. Features includes a unique shell shape and fiberglass construction that increases rigidity without adding excess weight. The EVO US II Racing Seat offers re-engineered seat proportions, which provide greater ergonomics."
"This results in a seat that is both taller and slightly wider than the regular Evo and Evo II seat, making it perfect for taller/larger drivers. The seat belt slots featured on the EVO II US Racing Seat are also repositioned to sit more level with the driver's shoulders. The Evo II US Racing seat can also accommodate a Hans device for even more added safety."
---
Our comment: Well known for their extremely reasonable price tags, NRG has released their fixed-back bucket seats to the market.
These seats may well be a worthwhile consideration for your budget track build, but there are certainly better options out there if you're willing to lay down a little extra cash.
We've heard reports of the fiberglass being of low quality, and also some issues with the mounting holes. We hope that NRG will listen to the feedback and improve this over time.
They're certainly not the perfect choice, but given their insanely cheap price tag, we wanted to offer a cheaper alternative in our list. This model is the medium-sized option, if you're looking for a larger size, you'll want to head over to the NRG FRP-300.
Manufacturer description: "NRG Innovations racing seats are designed with the best of comfort and style to improve the look and performance in any vehicle. "
"Great lumbar support and holding feel as opposed to the stock seats. NRG seats are designed differently to accommodate different harness styles."
---
Our comment: The Sparco Pro 2000 is certainly no newcomer to the game, but has achieved huge popularity across the world.
These are a superb choice if you're not bothered about head support. They are FIA homologated and also suitable for use with a HANS device, making them a solid contender for race use.
At just 7.7kg, they're also extremely lightweight and feature additional back support for added comfort. An excellent all-rounder.
Manufacturer description: "The Sparco Pro 2000 is our most popular competition seat. It combines comfort and ergonomics with safety and performance. The non-slip fabric on the shoulder and cushion area and two lumbar support pads improve cockpit comfort."
"Made from a light fiberglass composite shell and wrapped in a fire retardant fabric, the Sparco Pro 2000 features a seat design that cradles the body for greater performance. The Sparco Pro 2000 is FIA approved."
---
Our comment: You most likely know the TAKATA brand for their infamous harnesses, but with this offering, you can grab yourself a matching seat to go with them!
The Pro LE seats are known for being one of the comfiest seats out there and frequently comes highly recommended from those that have opted for it as their seat of choice.
If you're going to be hitting up the track, this is another excellent choice. It's HANS compatible, 4/5/6 point harness compatible and features increased kidney protection and has been designed for maximum arm movement, which is especially useful when drifting.
Manufacturer description: "The limited edition TAKATA Race LE Seat is an incredibly safe, deep sided and extremely rigid seat that still allows freedom of movement for all disciplines. The black Spacer Fabric, stitched in subtle TAKATA Green, keeps you cool."
"High backed, fully HANS® compatible with increased kidney protection, but relieved below the shoulders for lateral arm movement, this seat allows you to really get over the wheel and take control without any compromise on what is known as one of the most comfortable seats in the industry."
---
Our Premium Reclining Racing Seat Choice
Updated March 25th 2021: Bride has unfortunately discontinued the Gias II, so we recommend taking a look at the latest seats in the Bride range, the Bride Euroster.
Bride has become one of the most-loved seat companies on the market, and if you ever get the opportunity to sit in one, or even own one, you'll soon see why.
Our Premium Reclining Racing Seat winner is the legendary Bride Gias II
With their typical Japanese quality combined with timeless designs, we absolutely love these subtle masterpieces. The Gias II might not be the cheapest seat on the market, but its lightweight CFRP design ensures weight is kept to a minimum whilst providing everything you could want from a reclining racing seat.
Bride Gias II (Discontinued)
---
Our Budget Reclining Racing Seat Choice
Corbeau is certainly no newcomer to the game, and they've been providing the aftermarket seat industry with fantastic products at a reasonable price-point for many years, earning themselves a huge following.
Our Budget Reclining Racing Seat winner is the Corbeau A4
If you've not got big bucks to splash out on the Bride seats, yet you're determined to stick with reclining seats, these are the best bang-for-your-buck. Remember that the price is not just for a single seat, but for a pair, making them unbeatable value for money!
---
Our Premium Fixed Back Racing Seat Choice
It was an extremely close call, but despite having a higher-end price tag, the carbon kevlar Seibon would definitely be our personal choice for the money, and it looks incredible.
Our Premium Fixed Back Racing Seat winner is the Seibon Carbon Kevlar Type-FC
We're sure that the Seibon Type-FC will tick the right boxes for you, and will look incredible in just about any car.
---
Our Budget Fixed Back Racing Seat Choice
It may not be the most impressive looking seat our there, but for value for money, there is little that can compete with the fantastically-priced Corbeau Forza. We know several people that own these seats and they've been delighted with them, for the price you really can't go wrong.
Our Budget Fixed Back Racing Seat winner is the Corbeau Forza.
If you have some extra cash to spare, then the TAKATA Race Pro LE and the Bride Zeta III are both fantastic considerations.
We hope that you've enjoyed our Best Racing Seats guide, and with any luck, you'll now have your eyes set on your dream set of racing seats whatever your needs may be! Now that your sitting pretty, how about the perfect steering wheel and racing gloves?
---
Photo credits
We would like to thank the following websites for allowing us to use their images in this article: