Ultimate Initial D Cars Guide – Maximum Dorifto!
Enjoy drifting, Eurobeat, and twisty touge routes in the Japanese mountains? You're undoubtedly going to love Initial D.
Here, you can click on a particular section within this article, otherwise, scroll down as we cover everything there is to know about this incredible series.
---
Introduction
Our fans have been pointing out that there's a severe lack of Initial D content here on Drifted. Although anime and manga aren't for everyone, there's certainly no denying that Initial D has had a significant impact on the JDM car scene and even drifting, since its initial release in 1995.
Even if you've never sat down and watched a full series, or even an episode, those of you that live and breathe drifting, or the JDM car culture, would undoubtedly have heard of Initial D over the years.
Along with The Fast and the Furious, there's no doubt that they have both had an enormous impact when it comes to bringing Japanese drifting to the forefront of the world's media attention.
Initial D History
The original manga series was written and illustrated by Shuchi Shigeno for the Weekly Young Magazine from 1995; this would go on to span across 48 tankōbon volumes published by Kodansha Comics before becoming a hit TV show before also being transformed into a real-life action movie.
The first-ever episode began at Season 1, which was named "Initial D: First Stage," with the episode titled "ACT.1 The Ultimate Tofu Store Drift."
In the opening episode, viewers get introduced to the soon-to-be infamous Takumi Fujiwara, an average, bored, eighteen-year-old high-school student and his best friend, Itsuki, who both work together at a local gas station.
One night, a friend of theirs, Iketani, tells the two friends to head to Mount Akina so that they can live and breathe the life of a street racer, and see what this unique car culture has to offer.
Iketani happens to be the leader of the 'Akina Speedstars,' a local crew, where they're due to go head-to-head against a rival team named the 'Akagi RedSuns,' led by the Takahashi brothers.
At the time, Takumi had no real interest in cars, having been forced initially to learn during middle school so that he could make the deliveries for his fathers' tofu shop.
Little did Takumi know at the time, but after five years of delivering tofu to a local hotel at 4:00 am each day, his expertise and driving skills, combined with his knowledge of the mountains, had already earned him somewhat legendary status among the locals.
With his reluctant daily practice behind the wheel of his fathers' 1983 Toyota Sprinter Trueno GT Apex AE86 (or Eight-Six), Takumi Fujiwara had already built up impressive experience during the daily tofu runs.
Unknown to Takumi, this had provided the perfect opportunity to hone his driving skills in the morning touge run each day.
Hitting up the touge that night opened up a whole new meaning for the youngster. All of our car journeys started somewhere once upon a time, and it was that incredible night on the touge course that ignited the love of touge racing for Takumi.
Unsurprisingly, he then goes on to live and breathe the street racing culture, and eventually becomes an increasingly talented driver as the volumes progress.
After a while, it's clear that the main goal for Takumi is to become the number one driver in the Gunma Prefecture.
Despite most of his competitors owning far more impressive cars, it's Takumi's skill and driving ability behind the wheel of the lightweight Eight-Six, combined with the tight and technical touge roads, which makes him the driver to beat.
Known for his ability to have mastered the challenging 'gutter-run' technique, or mizo-otoshi, utilizing the rain gutters, it gives him the vital upper-hand in most battles.
On top of that, his impressive concentration and ability to memorize and visualize the unique challenges that lay in wait allowed him to master the road ahead, no matter how challenging it may be in the darkness of the night.
After rolling with the Akina Speed Stars initially, Takumi later went on to join the 'Project D' crew, with their eventual aim of breaking every course record across Japan.
As the series progresses, Takumi faces the Champion of the 'Sidewinder' crew, Shinji Unui. After an intense race, Takumi's engine blows up, leaving him and his rival spinning out.
With Takumi's tires locking up, an inevitable spin occurs where Takumi uses his knowledge from a previous killed engine experience to press the clutch and regain control while heading in reverse.
With Inui's lack of experience, he couldn't maintain control, ending up in full spin, as Takumi heads over the line backward!
It's a controversial win, as an engine failure typically means you've lost the battle. However, due to the unusual scenario of crossing the line first, Shinji admits defeat, seemingly handing the victory to Takumi.
This is just one of the many thrilling battles that took place on the touge throughout the many episodes, which provide incredible, realistic entertainment throughout.
One of the most infamous names in the Japanese drifting and Toyota 86 scene, "Drift King" Keiichi Tsuchiya, played a significant role as technical director in the early stages of Initial D's creation.
His primary purpose was ensuring that the technical accuracies were correct, such as the behavior of the cars. We can't think of many better people for the job!
After his welcome additions to the series, Keiichi would later appear in Episode 23 of Initial D: First Stage. Unfortunately, we didn't have the opportunity to see him show off his skills.
Keiichi undoubtedly had a lot of input into the technical aspects that they speak about in the series. This isn't certainly isn't your basic cartoon with a fancy AE86 driving up a mountain. The creators were indeed huge touge enthusiasts.
A lot of avid watchers would've gained a tremendous amount of knowledge just by watching the anime series, with its profound understanding of technical aspects such as engines, LSD's and turbos.
Not only that, but they also went in-depth on driving advanced techniques such as oversteer, late braking, and other related in-depth motor-enthusiast knowledge.
It's this that provides one of many reasons as to why Initial D has managed to capture its genuine drifting/JDM fanbase.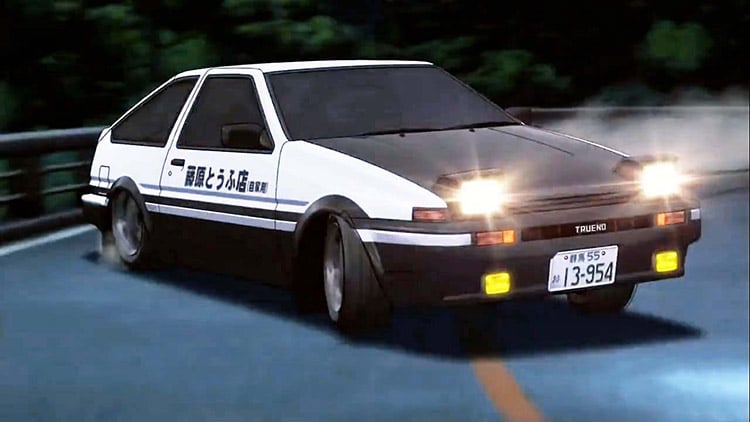 When you compare this to the watered-down equivalents such as The Fast and the Furious, it's easy to see that one has been crafted for enthusiasts, and the other for churning as much money as possible out of Hollywood sales.
Gone are the neon lights and fake car builds; you'll only need to bring your best stock, or lightly-modified setup and talent to compete here.
Although the locations mostly using fictional names throughout the series, they're all based on actual locations in Japan.
It's touches like this, combined with some incredible cars featured throughout, which have undoubtedly made Initial D even more relatable among its huge Japanese, and even worldwide, fanbase.
If you're keen to get a taste of Initial D, then make sure you check out this short 'Night of Fire' clip for a taste of what to expect.
---
What is the Car in Initial D?
Those of you that have a keen interest in JDM cars will undoubtedly know that the lead car in Initial D, driven by Takumi, is the legendary Toyota AE86.
Also known as the Hachi-Roku (Japanese for Eight-Six), Toyota initially launched this small, humble lightweight coupe in 1983 as part of the fifth-generation of the Corolla family.
It was, of course, rear-wheel drive, and featured the high-revving 1600cc 4A-GE engine under the hood. It may have only had 128 HP, but Takumi knew how to use every part of this to his advantage.
When part of Project D, from Stage 2 onwards, Takumi would receive engine upgrades, which enabled him to achieve a far more respectable 240 HP by using a TRD Group A 4A-GELU engine.
Here are the specs of Takumi's AE86 throughout the various stages of its life:
Specs (Stock)
Engine Name: 4A-GEU
Engine Type: L4 DOHC
Power: 128 HP / 7,200 rpm
Torque: 105 ft/lb torque at 5,200 rpm
Displacement: 1587cc
Drivetrain: FR
Aspiration: NA
Length: 4205 mm
Height: 1335 mm
Width: 1625 mm
Weight: Under 1000 kg
Transmission: 5-speed MT
Specs (Fujiwara Tofu Shop Upgrade)
Engine Name: 4A-GE
Engine Type: L4 DOHC
Power: 150 HP / 7,500 rpm
Displacement: 1587cc
Drivetrain: FR
Aspiration: NA
Length: 4205 mm
Height: 1335 mm
Width: 1625 mm
Weight: Under 1000 kg
Transmission: 5-speed MT
Specs (Project D Upgrade)
Engine Name: TRD Group A 4A-GELU
Engine Type: L4 DOHC
Power: 240 HP / 11,000 rpm
Displacement: 1587cc
Drivetrain: FR
Aspiration: NA
Length: 4205 mm
Height: 1335 mm
Width: 1625 mm
Weight: 880 kg
Transmission: 5-speed MT
We've listed some of the best AE86 builds ever featured on Drifted in our 7 Best AE86 Corolla drift builds to blow your mind guide.
If you're keen to know everything there is to know about Drift King Keiichi Tsuchiya's AE86, then we've also got you covered!
---
The Best Cars of Initial D
Although Takumi's AE86 is undoubtedly the first car that comes to mind when you think of Initial D, it's easy to forget some of the other incredible cars of his friends and rivals, which featured throughout the many episodes.
Nissan Silvia 180SX/200SX
You can't hit up the touge without coming across a Nissan Silvia. They've covered the full range throughout the series with the following:
---
Mitsubishi Lancer Evo
With their impressive turbo power combined with a modern AWD drivetrain, the Evo is undoubtedly one of the most respected cars on the touge. Kyoichi Sudo's Evo III made him the first driver to beat Takumi after his engine blew at Akagi. However, he lost during a rematch in Irohazaka.
Kyoichi Sudo - 1995 Mitsubishi Lancer Evolution III GSR (CE9A)
Seiji Iwaki - 1996 Mitsubishi Lancer Evolution IV RS (CN9A)
Aikawa - 1998 Mitsubishi Lancer Evolution V GSR (CP9A)
Ichijo - 1999 Mitsubishi Lancer Evolution VI GSR Tommi Makinen Edition (CP9A)
Kobayakawa - 2001 Mitsubishi Lancer Evolution VII GSR (CT9A)
---
Mazda RX-7 FD
Keisuke Takahashi initially declared Takumi his rival before they eventually became team-mates in the Project D crew. Alongside his brother Ryosuke, who specialized in FC's, known as the 'Rotary Brothers.'
Keisuke Takahashi - 1991 Mazda RX-7 Type R (FD3S)
---
Mazda RX-7 FC
Keisuke's brother, Ryosuke, is one of the first to notice Takumi's talent behind the wheel of his AE86 early-on. Known as 'Akagi's White Comet,' Ryosuke is known for his superior technical knowledge, which helps him get the most out of his FC.
Ryosuke Takahashi - 1990 Savanna RX-7 Infini III (FC3S)
---
Nissan Skyline GT-R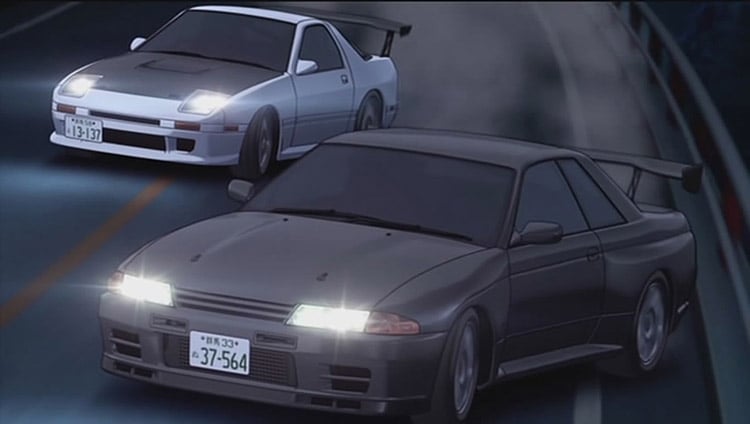 Yet another legend in the JDM tuning scene, the GT-R (Godzilla) shows up in both R32 and R34 form, but there's seemingly no love for the R33 here. Kōzō Hoshino mentions that he's owned an R32, R33, and R34. He states that when he got the R33, he was disappointed, even quoted as saying, "That was a failure." (Awkward!)
Rin Hojo - 1994 Nissan Skyline GT-R V-Spec II (BNR32)
Takeshi Nakazato - 1994 Nissan Skyline GT-R V-Spec II (BNR32)
Atsuro Kawai – 1998/1999 Nissan Skyline 25GT Turbo (ER34)
Kōzō Hoshino - 2002 Nissan Skyline GT-R V-spec II Nür (BNR34)
---
Honda S2000
You may think that the S2K is too new, but it featured in the later episodes, with Dr. Toshiya Joushima behind the wheel. He would go on to overtake Takumi on the downhill, before becoming sick in the process, handing Takumi a technical victory.
Toshiya Joushima - 2000 Honda S2000 Type-V (AP1)
---
Subaru Impreza
The Subaru Impreza in Initial D is owned by Takumi's old-school-cool, undefeated former-downhill racing Champion father, Bunta Fujiwara. Bunta was the original owner of Takumi's infamous AE86. After helping his son master his skills with the daily tofu run, Bunta proved to Takumi that he's still got what it takes after beating his son. However, Takumi wasn't aware that it was his father behind the wheel, who was test-driving in Akina before secretly purchasing it without Takumi knowing.
Despite keeping the purchase hidden from Takumi for some time, he later revealed that he was the diver, and handed Takumi the keys. This allowed Takumi to improve his skills with the AWD platform, and modern enhancements, on his morning tofu delivery runs.
Bunta Fujiwara - 1998 Subaru Impreza WRX STI Coupe Type R Version V (GC8)
---
Initial D Stages
First Stage (1998)
The very first episodes of Initial D began in 1998, as Takumi Fujiwara becomes an instant hit in Japan.
This series is based on Chapters 1-77, (Volumes 1-7.)
Second Stage (1999-2000)
In this series, Team "Emperor" surfaces, with the ultimate quest of crushing every team in Gunma. Takumi's 86 struggles to keep up with their AWD Evo's.
This series is based on Chapters 78-145, (Volumes 8-13.)
Extra Stage (2000)
A two-part story based on the lives of "Impact Blue" SilEighty team drivers Mako and Sayuki.
Third Stage (2001)
This was a 105-minute movie with Takumi preparing for high-school graduation. He requests a rematch with Kyoichi Sudō, leader of team Emperor, and also goes up against street racer whose father once rivaled his dad.
This series is based on Chapters 146-156 and 159-185, (Volumes 14-17.)
Battle Stage (2002)
This series is a recap of all of the previous battles from the first three stages, also featuring a new battle between Keisuke's FD and Seiji's Evo IV. Each battle has been freshly reanimated and also features guest commentary from the Drift King, Keiichi Tsuchiya.
Fourth Stage (2004-2006)
Takumi decides to join Ryosuke and Keisuke Takahashi with forming their brand new team, Project D. They have one goal – to defeat all of the best drivers in the Kanto region. This is the beginning of their soon-to-be-legendary status on the touge.
This series is based on Chapters 192-424, (Volumes 17-32.)
Battle Stage 2 (2007)
This is a recap of every race from Fourth Stage, and also includes brand-new battles as Keisuke's FD goes up against Smiley Sakai's DC2 Integra and Atsuro Kawai's ER34.
Extra Stage 2 (2008)
Similarly to Extra Stage, this is an additional OVA, but this time focuses on the relationship between Koichiro Iketani and Mako Sato. Mako decides to become a Pro racer, and after the credits, it's made clear that Mako and Iketani will never meet again.
Fifth Stage (2012-2013)
Takumi has been falsely accused of taking advantage of a girl, as it becomes clear that there are Project D imposters in Saitama. The series ends without a conclusion in the battle of the AE86's, between Takumi and Shinji.
This series is based on Chapters 425-667, (Volumes 32-45.)
Final Stage (2014)
The end of an era. Takumi and Shinji's title fight for the ultimate Eight-Six continues. Spread over four episodes, the series ends with both drivers pushing to their limits before the true meaning of "Project D" is finally revealed.
This series is based on Chapters 668-719, (Volumes 46-48.)
---
Initial D Movie
Based on the original story, with numerous noticeable differences, the movie was met with a mix reaction from fans and critics alike.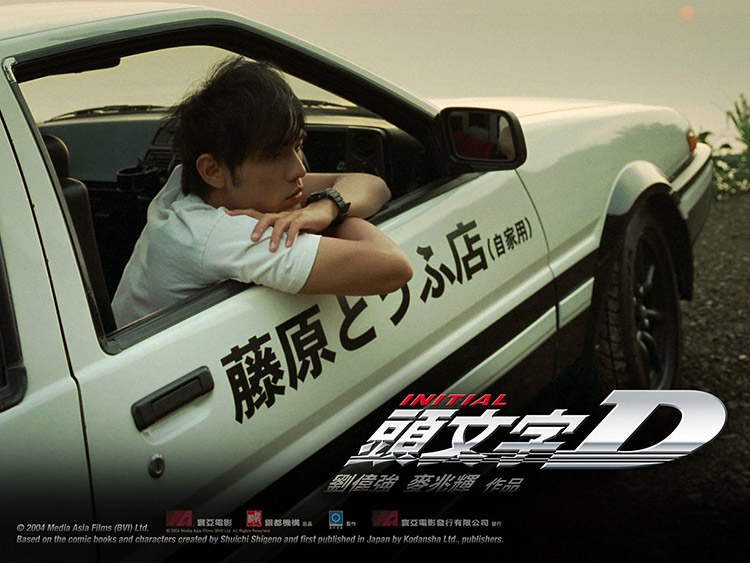 Although it's not the most mind-blowing movie ever produced, it's well worth checking out, and can be found on Netflix, and Apple TV.
For those of you that are die-hard fans of the original manga/anime series, it may be best to lower your expectations a little.
Toyota's Initial D Appreciation
There's no question that Initial D had a huge part to play in the massive popularity of Toyota's AE86, and made it one of the most sought-after cars across the world, with hundreds of replicas of the original 'Panda' being created.
On the launch of the brand-new Toyota GT86 back in 2012, Toyota paid kudos to Initial D, by creating a manga-inspired GT86 concept.
This goes to prove just how substantial the Initial D impact made on the automotive world, both in Japan and around the globe, to this day.
---
Initial D Games
SEGA showed their appreciation to the series by creating twelve video games, based on each stage.
With the original 'Initial D Arcade Stage' being launched in 2002, the most recent version, 'Initial D Arcade Stage Zero Ver.2′ was launched in 2019, and there are various guides available online even to show you how to play this on your PC.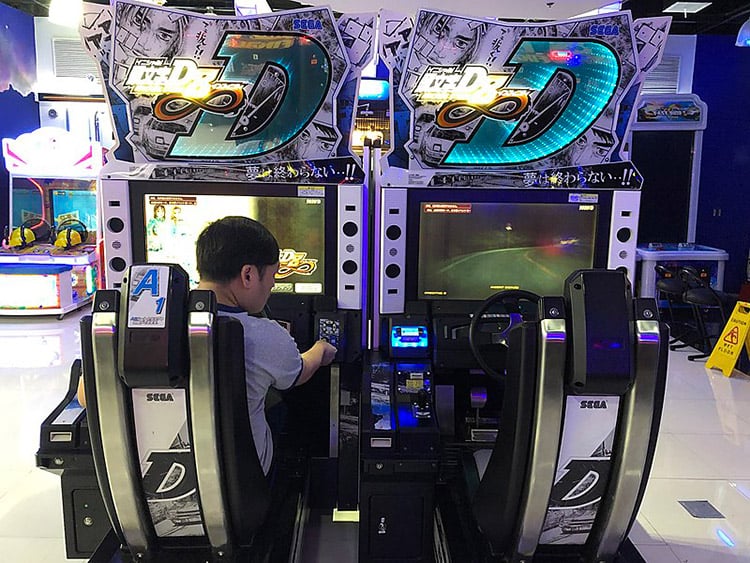 If you're huge fans like we are, you're going to need to head to Odaiba, Japan, to experience the most magnificent arcade on earth, with the 4th Stage having been recreated with real simulation RX7 and AE86's, including full OEM interiors. We're desperate to head out there and experience this!
If you're keen to get the ultimate Initial D experience a little closer to home, then the best you'll get is by appreciating the ultimate racing simulator, Assetto Corsa, in VR.
Their Japanese Car Pack features an awesome widebody Eight-Six for you to drift. With the endless realistic modification capabilities of the game, you'll be able to take it drifting in some of the most stunning Japanese touge roads. It's time to prove to your friends that you've got what it takes to become the next Takumi!
---
Conclusion
If you've not already had the pleasure of appreciating Initial D, and you're worried that it's a Japanese cartoon equivalent of The Fast and the Furious, then fear not, as Initial D is in an entire league of its own.
Not only does it feature realistic, intense, racing and drifting, but it dives deep into the JDM street racing scene, and also the car tuning culture.
With the likes of Drift King Keiichi Tsuchiya on-board, the physics are incredibly realistic throughout, and it'll undoubtedly provide you with all sorts of fascinating knowledge about cars, their modifications, and how to push them to their limits on the road.
Although anime/manga isn't to everyone's taste, we highly recommend that you take some time to check out the Initial D series.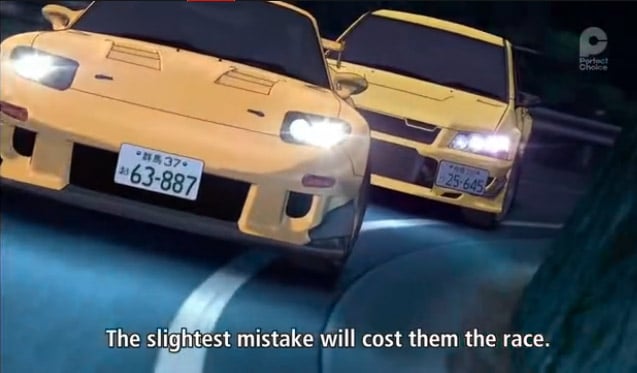 Initial D has done a fantastic job of capturing the heart and soul of its fans worldwide, and it has also provided an incredible insight into the Japanese tuning world.
It's the perfect time to kick back on the sofa, and fully appreciate this legendary series.
But, before you do that, check out this great video of Alexi from noriyaro, as he takes a ride in a replica Initial D AE86 and delivers tofu to the top of Mt Haruna, (or Mount Akina) touge in Japan!
Information and photography credits
We thank the following entities for the use of their information and photography in this article:
Thank you for reading our Initial D Cars guide.
If you enjoyed this article, then please share it with the sharing buttons at the side and the bottom of your screen.