Initial D RX7 – Everything You Need To Know
Takumi's AE86 emerged as the cult icon of Initial D, but the series' RX7's also captured the hearts of many. We're checking them out in this guide.
---
Introduction
With the Japanese touge roads of Gunma Prefecture's Mount Haruna inspiring the creation of the fictional Mount Akina, these much-loved twisty mountain roads would set the stage for some of the most incredible races ever witnessed.
Starting life as Manga comics, it soon captured the heart of JDM fans who were desperate to see the incredible drawings of their favorite cars come to life.
Initial D's magazine manga series, written and illustrated by Shuchi Shigeno for the Weekly Young Magazine, spanned across 48 tankōbon volumes from 1995 before Initial D went on to evolve into the hugely popular anime show.
From here, the legendary series went on to achieve insane popularity worldwide.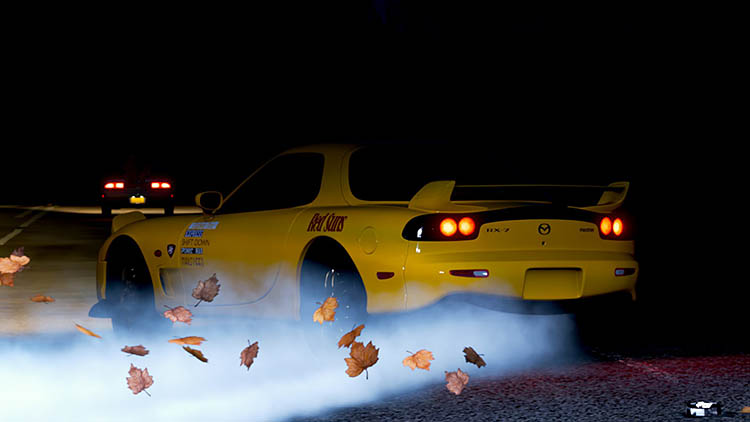 With the ability to make the races more exciting than possible in real life, combined with the ability to go beyond reality, the epic street races featured in the series kept fans coming back for more.
Despite there being no boundaries on what was possible, the series thankfully kept a sensible and relatable approach to Japan's underground street racing scene.
With the likes of the touge and drifting legend, the "Drift King" Keiichi Tsuchiya working on the series behind-the-scenes, it comes as no surprise Initial D was not only entertaining but also impressively educational at the same time.
Given that Tsuchiya is often best-known for his drift bible series, there's arguably no better man for the job when understanding how a car reacts on the touge.
On top of this, Initial D also provided the fans a tremendous amount of knowledge, thanks to its profound understanding of technical aspects of tuning elements, such as engines, differentials, and turbos.
While many fans will best remember the infamous street races from the series, which were a fierce neck and neck battle to the finish line with many upsets along the way, Initial D offered so much more to its fans than just racing.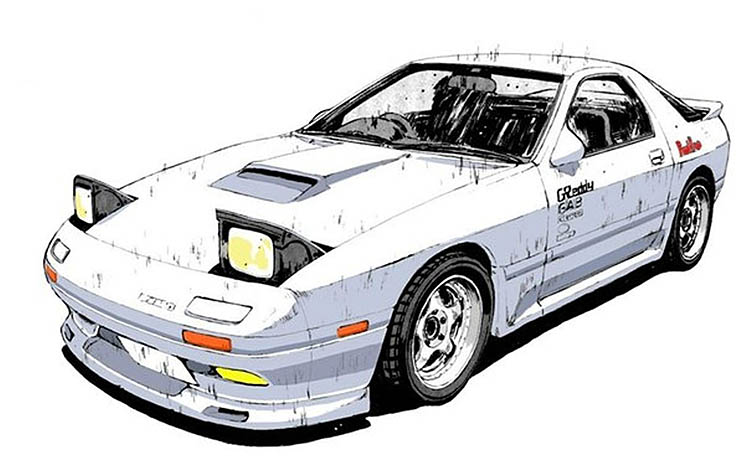 Initial D isn't certainly isn't a simple anime flick from people who have no understanding of cars and the JDM scene. The creators were undoubtedly huge touge racing enthusiasts with impressively vast knowledge of the underground racing culture.
Unlike modern-day alternatives that have reached our TV screens, such as The Fast and the Furious, Initial D prioritized keeping it real over selling out to Hollywood. There's no *DANGER TO MANIFOLD* warnings here!
When you carry out an Initial D search online, there's no doubt that Takumi's much-loved tofu delivery car will top the results, but let's not forget the significant roles that the Mazda RX7's had in the series.
The most iconic RX7 in Initial D was the yellow FD3S owned and driven by Keisuke Takahashi.
Keisuke wasn't alone with his love for rotary-powered RX7's, as his brother, Ryosuke Takahashi, drove alongside him with the infamous white FC3S, with both brothers causing plenty of upsets along the way.
---
Ryosuke Takahashi's Mazda RX-7 FC
Before we head over to the FD's in the series, it's time to show some love to Ryosuke's Mazda RX-7 Savanna Infini III (FC3S).
Ryosuke began his street-racing career as a solo racer with his Crystal White RX-7 FC, commonly known as the 'White Comet of Akagi', or 'Akagi's White Comet', which had already earned him several Gymkhana competition victories.
After honing his skills on the touge, he would later form the infamous Akagi RedSuns street-racing crew, with the dream of becoming the most impressive team on the Kanto Plain.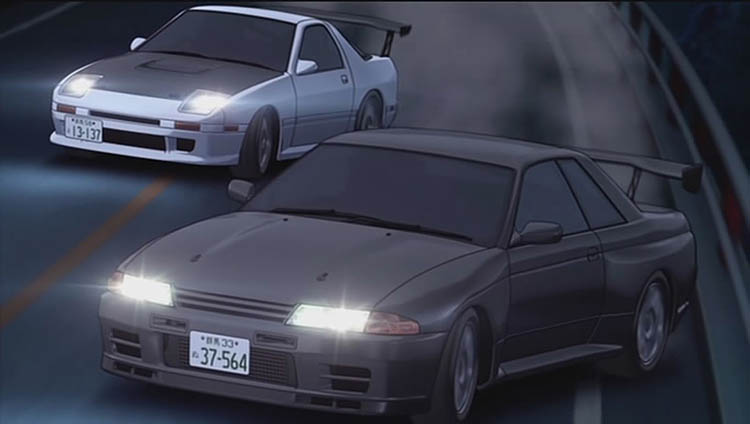 As RedSuns visit the Akina SpeedStars, Takumi Fujiwara, in his Eight-Six, defeats Ryosuke's brother and teammate, Keisuke. Ryosuke seeks revenge, determined to topple the young talent.
Ryosuke sets up the battle with Takumi by jokingly sending him flowers, along with a note displaying the date and time for the fight to commence.
After an epic battle with Takumi, Ryosuke loses traction in his RX-7, allowing Takumi to cross the finish line as the narrow winner.
Struggling to deal with the loss to Takumi, Ryosuke opts to retire from street-racing but continues managing the RedSuns.
When Kyoichi Sudo's team, Emperor, visits Akagi, Ryosuke decides to come out from retirement after being called out by Sudo himself.
In another epic face-off, this time with Sudo in his Evo III, Ryosuke takes advantage of his opponent's right-turn weakness as he returns to his winning ways.
After taking up a lucrative job offer, Ryosuke decides that RedSuns will be no more, and Project D is born.
At this point, Ryosuke offers Takumi Fujiwara a deal to join the team, and after much deliberation, he accepts.
With Ryosuke working hard from the sidelines managing the Project D team, his FC takes a back-seat for some time before being secretly upgraded by Shuichi Matsumoto for his battle against Rin Hojo.
A bitter rivalry had formed between the two after a mutual love of a woman named Kaori took her own life, with Hojo believing that Ryosuke was to blame.
After many attempts to force Ryosuke off the road during their fierce battle, Ryosuke emerges the winner.
The two rivals believe that Kaori must have been watching over them.
Ryosuke's Mazda RX-7 Savanna Infini III (FC3S) Specs
Throughout the series, Ryosuke's RX-7 FC received multiple upgrades and revisions.
With the 13B-T twin-rotor rotary engine under the hood, the maximum power output was 350 hp but was later detuned to 260 hp.
When Initial D first hit the TV screens, Ryosuke's early RedSuns FC setup looked something like this:
Fujita Engineering Front Lip (Second & Third Stages)
Cibié T353 foglights
Custom right-side single exhaust
Bucket seats
2.0 boost meter
ATC Racing steering wheel
Work Meister S13 wheels (Manga/Anime) and RS Watanabe Eight-Spoke F8 wheels (Arcade Stage)
After some enhancements for the launch of the Project D team, several amendments were made:
Custom front lip
Custom left-side single exhaust
Custom side mirrors
MazdaSpeed steering wheel
The final version of the RX-7 FC received the following upgrades:
Custom right-side single exhaust (this switched throughout the series)
SSR Type C Rims – Bronze (Arcade Stage 8 and manga) Gunmetal (anime)
HKS F-Con V-Pro ECU
HKS EVC electronic boost controller
RE Amemiya Kouki Full Cowl SPL front bumper
Fixed HID headlights
Garage Kagotani carbon fiber hood
RE Amemiya rear side step
RE Amemiya aero side mirrors
Auto Garage FreeStyle GT wing
Custom roll cage
MOMO Mod.69 Steering Wheel
---
Keisuke Takahashi's Mazda RX7 FD
One of the most popular cars in the series, 'that' yellow Mazda RX7 FD driven by Keisuke Takahashi, is arguably the second best-known and cherished car in the series behind Takumi's legendary Eight-Six.
In Keisuke's early years, he formed part of a bōsōzoku gang before joining his brother and fellow RX7 owner Ryosuke's Akagi RedSuns street-racing team.
Unable to defeat his brother in their head-to-head battles, Keisuke was the second-fastest driver in the RedSuns and agreed that his brother should represent the team in their all-important races against the Akina SpeedStars.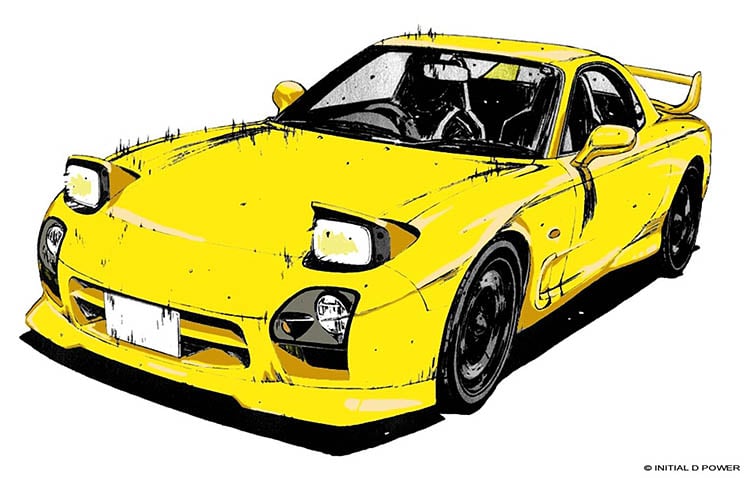 When heading home after the race, Keisuke is met by Takumi in his Eight-Six (AE86), despite his assumption that it's his father, Bunta, who's behind the wheel.
The pair later go on to race head-to-head, with Takumi in the underdog Eight-Six beating the technically superior RX7 FD and leaving Keisuke red-faced.
As it's left to his brother Ryosuke to pick up the pieces, he too would later go on to lose to Takumi Fujiwara.
Keisuke would win several races for RedSuns, such as his face-off against Nakazato's R32 before Ryosuke opted to form Project D.
Keisuke's first battle under the newly-formed Project D team would prove to be a success, as he defeated Atsuro Kawai in the dark blue Nissan Skyline ER34, with Project D setting course records for the up and downhill of the Momiji Line section.
Under Project D, Keisuke would win several races against the female driver Kyoko Iwase, who has a crush on him, and Wataru Akiyama in the Toyota Corolla AE86 Levin GT-APEX.
As the Project D team heads to Tsuchisaka, the Lan Evo drivers fix the race by placing oil into the road, with Keisuke crashing his FD into the metal barrier. Kyoko Iwase offers him the opportunity to borrow her car for the race.
After defeating Kozo Hoshino from Purple Shadow in his repaired FD, he opted for a faster setup in the FD, which came at the cost of handling the tight and twisty corners of the touge.
The newfound power gains gave him the win against Team 246's Kobayakawa in the Evo VII and Hideo Minagawa in the Toyota Supra JZA80.
Following his newfound success, Keisuke later went up against Team Spiral leader Ryuji Ikeda in the Nissan Fairlady Z33. He landed yet another win after defeating Ikeda on the final straight.
In the last-ever battle for Project D, Keisuke once again faced another team leader, Sidewinder's Go Hojo in the Honda NSX. With Go Hojo eventually spinning out, Keisuke lands the victory.
Despite Keisuke's Initial D battles ending there, he would later become a professional race driver behind the wheel of his much-loved RX7 FD.
Keisuke's 1991 Mazda RX7 FD3S ɛ̃fini Type R Specs
It'll come as no surprise that Keisuke stuck with the epic 13B-REW powerplant. The twin-sequential turbocharged engine went from 340 hp to 450 hp throughout the series.
Keisuke's FD3S was one of the most tuned cars throughout the series, and alterations were made between each of the stages.
First Stage Upgrades:
MazdaSpeed wing
MazdaSpeed MS-01 wheels
Aftermarket ECU
Aftermarket exhaust
Recaro racing seats
Second & Third Stage Upgrades:
MazdaSpeed MS-02 wheels
MazdaSpeed A-Spec Spoiler Type II
MazdaSpeed A-Spec Front Bumper Type II
Fourth & Fifth Stage Upgrades:
Blitz 2.0 turbo gauge
RE Amemiya GT-AD aero kit & carbon fiber canards
RE Amemiya GT II wing
Carbon fiber RE Amemiya rear diffuser & carbon fiber vortech generator
RE Amemiya AD Type1 side mirrors
RE Amemiya Quantum RS coilovers
SSR type C wheels (bronze)
RE Amemiya dolphin tail muffler
Apexi twin turbos
Apexi twin intake
Apexi Power FC
Recaro racing seats
Takata 4-point harnesses
Panspeed 4-point rollbar
Final Stage Upgrades:
RE Amemiya sleek headlights
RE Amemiya carbon fiber AD9 hood
---
Kyoko Iwase's Mazda RX7 FD
Kyoko Iwase drives the lesser-known black RX7 FD in the Initial D series.
The female driver enters the series in the Fourth Stage and has a crush on fellow FD driver Keisuke Takahashi.
Kyoko represented the Northern Saitama Alliance as she faced Keisuke's FD in the Project D Saitama takeover.
After Kyoko's FD breaks down, Project D's mechanics alongside Keisuke help to get her car race-ready once again.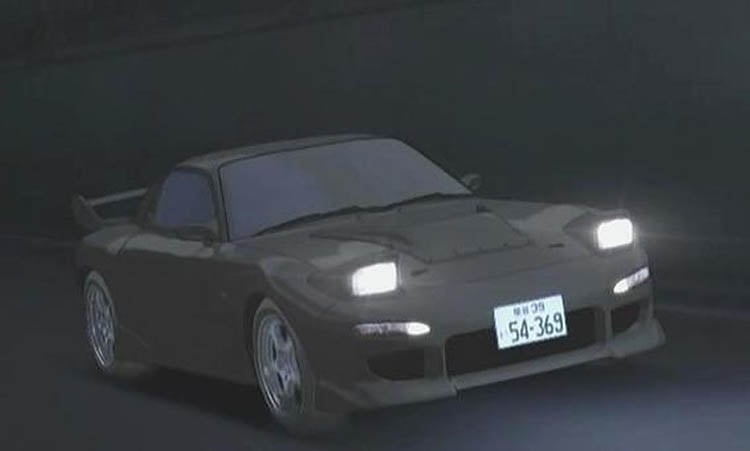 It was turbo lag from her single-turbo setup that eventually let Kyoko down in the race against Keisuke.
After being sabotaged by the Tsuchisaka Lan Evo Team with an intentional oil spill damaging his FD, Kyoko offers Keisuke her car, with Keisuke going on to win the race.
Keisuke takes Kyoko for a day out as a sign of appreciation. Despite Kyoko's obvious crush, Keisuke never makes his move.
Kyoko's 1993 Mazda RX7 FD3S ɛ̃fini Type R Specs
The 'Brilliant Black' RX7 features the 13B-REW engine, except unlike Keisuke, Kyoko has opted for a laggier yet higher-powered single-turbo setup.
Little is known about the accurate specs, but aftermarket parts are evident throughout the series, such as:
RE Amemiya AW-7 wheels
Border aero kit
Knight Sports Type 1 aero mirrors
Custom hood
Custom exhaust
Facelift FD3S spoiler
---
Initial D RX7 in Games
It comes as no surprise that many Initial D fans have been desperate to get behind the wheel of the cars in the series.
Assetto Corsa
PC gamers are once again treated to a whole range of Initial D selection thanks to Assetto Corsa's mod community.
Although Assetto Corsa is the most mod-friendly game drifting game available, you'll need to ensure you get the PC version if you wish to drive the various RX7's in the game, as the console editions don't allow mods.
If you wish to download the Assetto Corsa mods, then head to the description of the YouTube video above, where you'll find everything you need to know.
Not only can you drive the RX7's in the game, but you'll also have a choice of the following Initial D cars.
Honda Civic SiR EG6 (Shouji Shingo)
Mazda RX-7 FC (1st and 5th Stage, Ryosuke Takahashi)
Mazda RX-7 FD (1st, 2nd and 5th Stage, Keisuke Takahashi)
Mitsubishi Lancer Evolution III (Kyoichi Sudo)
Toyota Sprinter Trueno GT-Apex AE86 (2nd Stage onward, Takumi Fujiwara)
There's also a selection of challenging touge roads for your enjoyment:
Mount Akina 2017
Irohazaka
Mount Myogi
Akagi Mountain Pass
Shomaru Pass
Once you've got your mods, you may want to take your experience to the next level by opting for a GPU upgrade for your PC so that you can enjoy the incredible VR potential that Asseto Corsa has to offer.
GTA V
If you're looking to enjoy the Initial D RX7's in GTA V, there's also mods for that, with both Keisuke's Yellow RX7 FD:
And Ryosuke's white RX7 FC:
Forza Horizon 4
Since Forza Horizon 4 is the most popular game among Drifted fans, we couldn't leave out this short tutorial for creating a Keisuke-style RX7.
Once you've created the design, make sure you check out our best drift car, favorite drift tune, and our recommended tuning guide to refine your skills in the game!
Okay, so these may not be quite as impressive as the Assetto Corsa equivalents, but they're better than nothing!
Alternatively, if you're desperate to get behind the wheel wherever you go, then mobile drifting games such as FR Legends will provide a fantastic alternative.
If you want the most incredible possible Initial D RX7 gaming experience, you'll need to get yourself to Odaiba, Japan – the ultimate life goal!
If you're after more Initial D-related content, make sure you head over to our in-depth guide to the characters that feature in the series.
So, there we have it! We hope that we've covered everything you could want to know about the Initial D RX7's in this guide.
Thank you for reading our Initial D RX7 guide.
If you enjoyed this article, please share it with the buttons at the bottom of your screen. If you've found this information useful, then please take a moment to share it with other Initial D and RX7 enthusiasts. We appreciate your support.
---
Photography credits
We thank the following entities for the use of their photography in this article: