Best Mobile Drifting Games Guide
If you're looking for the ultimate drifting games to enjoy on the move, we've got you covered. Here are our top Android and iOS picks.
---
Introduction
There's no argument that the most immersive drifting experience comes from a gaming PC with VR, enabling you to enjoy games such as Assetto Corsa as though you're behind the wheel of your favorite cars.
Drifting games full catalogue
You can browse our full catalogue of drifting games, but, please note that most of these are browser games and they are not optimized for mobile devices.
But, let's face it, that's not too convenient when you're using public transport on your morning commute yet desperate to get your drifting fix.
We'd forgive you for thinking, "But it's not the REAL thing!".
The reality is that mobile gaming has come on leaps and bounds in recent years, and we've clocked up hundreds of hours thoroughly enjoying the games in this guide on our travels.
Whether you're looking for a sim racing experience to refine your drifting skills or a fun cartoon-style arcade drifter with awesome physics – there's something for everyone.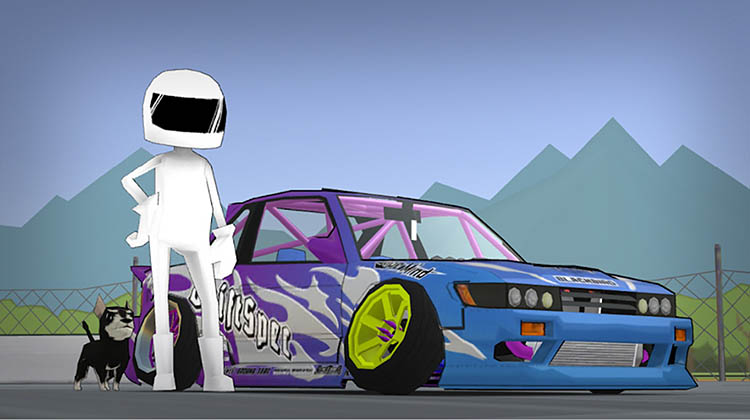 The trouble is that there are so many questionable reviews when you're trying to find the perfect game in the storefront that you would've arrived at your destination and used up your monthly data allowance before you've even got to drift.
That's where this article provides the perfect solution, we've already done the hard work for you, and we'll be providing a comprehensive list of the games that we genuinely believe are worth checking out.
What's best for mobile drifting games, iOS or Android?
Yay – the age-old Apple versus Android argument! Since we get asked this a lot, we figured we'd clear the air.
Almost all games released on Android's Play Store will also be available on Apple's App Store.
If that's not the case, the chances are that it's under development, and it'll be arriving before you know it.
We don't believe that there's a 'better' platform for enjoying drifting games. However, some of the drifting games in this list with more impressive graphics may require a newer device than some of the lower-spec offerings.
Would we be switching platforms to enjoy the best of what mobile drifting games have to offer? Certainly not.
However, if we were looking to upgrade our cell phone to enjoy the latest games, we will say that you're likely to get far more bang-for-your-buck with an Android phone.
Which other games should you consider?
For console and PC gamers, we've also checked out our favorite tuning car games, but we completely understand that nothing is quite as fun as throwing your car sideways!
If you're currently using a PC or laptop and looking for free games to enjoy, you don't need a mobile. Head to the Drifted Arcade, where we have one of the largest online selections of completely free drift games. We highly recommend giving our exclusive Touge Drift & Racing game a try!
For now, mobile gamers, it's time to strap yourself in as we head full-throttle into the ultimate iOS and Android drifting choices to enjoy drifting on the go!
---
Best Mobile Drifting Games
In our opinion, all of the games in this list are worth considering, as we're only listing our favorites here.
For that reason, we've opted to list them from A-Z rather than best to worst to enable you to make your own decisions on which games in the selection will fulfill your drifting desires.
---
CarX Drift Racing 2
Download from the Android Play Store
Download from the iOS App Store
It just so happens that one of our favorite drift games happens to come first alphabetically!
The original game and the second current version have been among the most popular drifting games ever created.
With the two games clocking up over a million downloads on Play Store alone, you'll soon realize that this is more than justified once you start enjoying what the game has to offer.
Some gamers believe that the original CarX Drift Racing game was the better of the two, as they made some rather extensive physics upgrades.
Thankfully, they've left both of them available to download, so we'd recommend checking them both out if you've got the time and the data to see which one you prefer.
We've stuck with the second game in the series, mainly because it features tuning, which has provided plenty of entertainment and some pretty sick builds!
We'd class this as a simulator-style drifter compared to some of the other games in our list, but it's certainly not too challenging, and we've got no doubt you'll quickly get to grips with hanging sideways.
The game provides the ultimate combination of incredible graphics and physics, so you may struggle a little if you've got an older mobile.
With a ride range of JDM and gas-guzzling V8 monsters to enjoy, the game has an extensive car and tracklist, and the comprehensive tuning options will keep you coming back for more.
On top of that, you can also choose to have battles or tandems against the online community.
Simply put – this game is an absolute must-try for any drifting fan.
If you're keen to make the most of the experience, the game is now available to enjoy on console and PC platforms, too!
---
Drift Hunters
Download from the Android Play Store
Download from the iOS App Store
If you're thinking, "Hmm, I'm sure I recognize this game from somewhere", then that's because it's one of the most popular games in our very own Drifted Arcade!
While we provide a completely free web-based version of the game, you also have the opportunity to enjoy it on the go from the comfort of your mobile.
This game doesn't try to be the most advanced or impressive-looking, but it's up there with the best when it comes to wanting a quick, hassle-free drifting fix.
Sometimes keeping things simple is best, and the satisfying physics that Drift Hunters offers makes it a fantastic game to pick up and enjoy.
If you enjoy Drift Hunters, you'll undoubtedly love the latest web-based game in the series, Drift Hunters MAX even more!
---
Drift Mania Championship 2
Download from the Android Play Store
Download from the iOS App Store
Drift Mania Championship 2 has been around for quite some time now, but we still feel it's worthy of a mention in our guide.
Sure, it's not got the most impressive graphics, but if you're looking to burn some time, then it's certainly worth a shot.
There's a selection of 13 cars and 13 tracks to enjoy in the game, along with a challenging drifting career and online drift battle modes.
You'll be able to upgrade your rides with hundreds of aftermarket upgrades available from premium brands such as K&N, Magnaflow, Royal Purple, and Mishimoto.
---
Drift Max Pro
Download from the Android Play Store
Download from the iOS App Store
Drift Max Pro claims to have more than 50,000,000 players around the world. One thing's for sure – they've surpassed 1.3 million downloads of the latest game on Google's Play Store.
For us, this is another must-play game.
With stunning graphics and excellent physics, you can travel to exciting destinations, such as Tokyo, New York, and Moscow during the daytime or night.
You'll be able to battle it out against online rivals in their excellent multiplayer battle mode, and there's also a variety of game modes and stunts to enjoy.
Alongside this, it also provides one of the most comprehensive tuning/upgrade selections on our list, allowing you to build your ultimate drift car.
---
FR Legends
Download from the Android Play Store
Download from the iOS App Store
If you haven't already played FR Legends - do so right now!
We're not kidding – we LOVE this game, and we've spent a shameful amount of hours playing it.
FR Legends couldn't care less about graphics, and that's the beauty of it. The game is all about the physics - but let's be honest, the slammed cartoon drift cars look pretty damn awesome!
Many gamers truly believe that FR Legends is the ultimate choice for getting your drifting fix on the go, and we'd agree.
There's a great selection of FR (front-engine, rear-wheel-drive) cars to choose from in the game, whether you're a JDM, US, or Euro fan.
FR Legends is one of those games that you have to play to appreciate. The controls are simple yet perfectly executed.
Hanging in the circled drift zone while tapping on your buddies' door over the jump at Ebisu Minami is a personal favorite of ours - drifting doesn't get much better than that!
As you'd expect, the game also has some great tuning options, and you're able to customize the car with cartoon upgrades to your heart's content.
Once you get used to the physics and bounce off the walls as your cars' body panels litter the track, you won't want to put your phone down as you zip-tie your ride for yet another blast around the circuit.
Alongside the multiplayer game, competing against the AI is perfect for offline, where you'll take it in turns to perform battles with clipping points laid out to push you to your limits.
This game lives up to its name - it's simply legendary and an absolute must-try for any mobile gaming fan.
---
Hashiriya Drifter
Currently unavailable on Android Play Store
Download from the iOS App Store
JDM drift fans, rejoice! Hashiriya Drifter could well be the perfect game for you.
Based on Japan's 80's and 90's touge street drifting scene, you'll be able to download and tune your favorite JDM drift weapons in this fantastic game.
If you're looking for US/Euro cars, then admittedly, this probably isn't the game for you.
You're able to tweak and upgrade just about every part of each vehicle that you can imagine, with a massive selection of engine swaps, such as the 2JZ-GTE, RB26DETT, VQ35DE, and VR38DETT.
Once you've designed your dream ride, you can head to the streets or the parking lot to show off your skills, where the fantastic graphics are meet with epic physics, providing a thrilling all-round experience.
This game can be a little difficult to master, but we'd recommend checking it out if you like a challenge.
---
[PROJECT : DRIFT]
Download from the Android Play Store
Download from the iOS App Store
One pattern among drifting games is that they're mostly similar, with some positives and negatives sprinkled here and there.
With [PROJECT : DRIFT], the developers have thought outside the box a little more, bringing a unique drift/gymkhana-style game.
Providing various obstacles to navigate alongside the more traditional track options, the game also provides some unique RWD cars such as, erm… The Audi R8 and Fiat 500!
All in all, it brings something a little different to the market, and they've executed it well.
In our opinion, this game is another must-try for those craving something different from the 'norm'.
---
Real Drift Car Racing Lite
Download from the Android Play Store
Download from the iOS App Store
Boasting over 20 million downloads worldwide for their games, Real Drift Car Racing brings their latest offering to the market - the 'Lite' version.
If you've not already figured out why it's named this, it's because it's the free version of Real Drift Car Racing, with limited features.
Admittedly, the $0.99 cost of the full game isn't exactly going to break the bank for most people, but it does stick out like a sore thumb among the vast selection of free alternatives on the market.
With that said, we've been playing and enjoying this game for years, and it has some great features, such as a 'slow mo' mode, which activates when you're close to the walls to allow for perfect precision.
Although it's a fantastic game, especially for those looking to play offline (we've often found this helpful when flying without WiFi,) it lacks a multiplayer mode.
If realistic physics are your thing, then games such as CarX Drift Racing will provide a better all-around experience, but with that said, we've thoroughly enjoyed playing Real Drift Car Racing.
---
Russian Car Drift
Download from the Android Play Store
Download from the iOS App Store
Although searching on YouTube for 'Russian Car Drift' will provide some rather eye-opening vodka-fuelled entertainment, there's no question that the Russian's have been making a name for themselves in drifting in recent years.
Home of the RDS (Russian Drift Series) drift competition, they've welcomed some of the finest drivers from across the globe.
With the likes of James Deane and Diago Saito heading to Russia to compete for the 2021 title, it's certainly got an exciting year ahead.
Let's put all that aside for a moment as we prepare to build a Lada to drift on the Russian streets.
This game combines some truly unique and entertaining cars, which you won't find in any other game, alongside a satisfying drifting experience.
The graphics have greatly improved over time, and it's well worth a try, even just for something a little different.
---
Thumb Drift
Download from the Android Play Store
Download from the iOS App Store
For those who enjoy fun games with cartoon graphics, Thumb Drift is another entertaining choice that doesn't take itself too seriously!
With over twelve million players, this game has an insane selection of over 100 vehicles to choose from, whether you're looking for a drift car or a tank to throw sideways!
It's titled 'Thumb Drift' as you only need to use one thumb to control the cars, which sounds far more straightforward than it is.
Thumb Drift certainly isn't the most realistic drifting simulator out there, but it doesn't try to be, either.
With six tracks to choose from, this entertainingly unique and addictive game will undoubtedly keep you coming back for more.
---
Torque Drif‪t
Download from the Android Play Store
Download from the iOS App Store
Many mobile gamers will tell you that Torque Drift is the ultimate choice for mobile drifting.
Torque Drift is unique in the regard that they feature many fully licensed real-world cars and tracks.
If you're looking to get behind the wheel of a Formula Drift car and shred tires on the likes of Long Beach or Irwindale Speedway, then look no further.
The game is about as realistic as mobile games get, and trickier to get the hang of compared to some of the alternatives, but your patience will soon be rewarded.
Touge Drift is an excellent all-rounder that comes highly recommended.
---
Touge Drift & Racing
Download from the Android Play Store
Download from the iOS App Store
We finish our list with one of our personal favorites and arguably the most visually stunning game in our guide.
You may be thinking that this is another game you recognize, and that's because of the free-to-play web-based version of the game being a Drifted exclusive!
For those that enjoy a challenge, Touge Drift & Racing will put you to the test, providing incredible graphics in the process as you slide your way down the foggy Japanese mountain roads.
Before you know it, you'll soon become the master of the touge. Once you do, you'll fall in love with this stunning drifting game.
If you fancy something a little different, make sure you set your best time with a hot lap, using one of the 14 unique cars in the game, including the brand-new Toyota GR Supra!
Touge Drift & Racing is yet another must-try and a game that you'll be able to enjoy either on the go or from the comfort of your computer at home.
---
So, there we have it! We hope that we've covered everything you could want to know about the ultimate mobile drifting games in this guide.
Thank you for reading our Mobile Drifting Games guide.
If you enjoyed this article, please share it with the buttons at the bottom of your screen. If you've found this information useful, then please take a moment to share it with other mobile gaming enthusiasts. We appreciate your support.
---
Photography credits
We thank the following entities for the use of their photography in this article: