VQ35DE – Everything You Need To Know
Looking for a reliable Japanese powerplant with massive tuning potential? Let us introduce you to the Nissan VQ35DE. In this guide, we'll explore everything about this V6 to find out what makes it so special.
---
History of the VQ35DE
The VQ35DE was first produced by Nissan exclusively for a wide range of automobiles from SUVs to high-performance coupes.
It is still in use to this day, albeit in a few different vehicles from the original plan. It is used in the Nissan Altima, Murano, Pathfinder, Quest, and the Infiniti QX60.
One reason that this engine is so versatile is because it produces up to 300 ps but still has a fuel economy of over twenty-two miles per gallon.
However, Nissan always recommends the use of premium fuel to power the VQ in order to maintain the economy.
Looking for more information on the 350z that houses the VQ35DE? Try our 350z vs 370z guide.
Probably the main reason for this figure is its initial design incorporates a dual overhead cam (DOHC) and Nissan's advanced fuel injection system.
Rolling off the production line firstly in Nissans Iwaki plant in Japan in the year 2000 and then a year later at the Dechard Powertrain Plant in Tenessee. It was predominately a 3.5-liter naturally aspirated V6 four stroke petrol engine.
It featured a lightweight aluminium engine block with fully balanced four bearing crankshaft and two aluminium cylinder heads each with two camshafts, the DOHC system, and four valves per cylinder.
The engine is equipped with a Variable Valve Timing System called CVTC (Continuous Valve Timing Control) on the intake valves, multi-point fuel injection (MPFI), and NDIS (Nisan Direct Ignition System) with individual coils on each spark plug.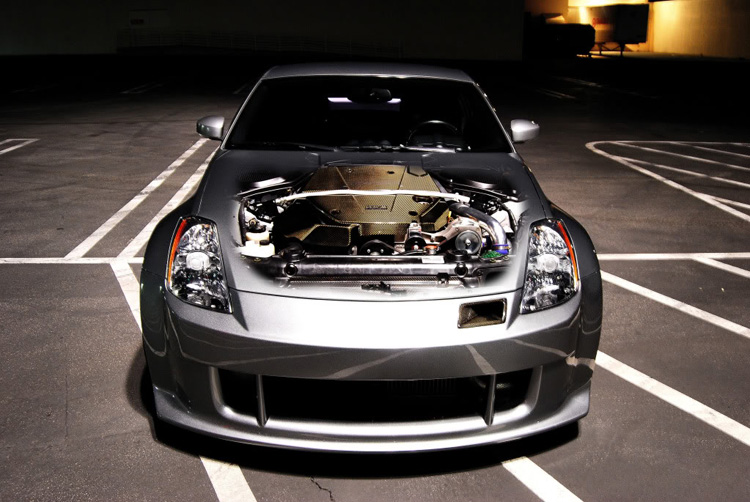 VQ35DE Breakdown
The breakdown of the engine code denotes the specs:
VQ - Engine Family
35 - 3.5 Litre
D - DOHC
E - Multi-point fuel injection
The VQ engine produces from 228bhp to 311bhp on maximum power and 246 to 247lb ft of torque thoroughly dependant on year and model make.
Interestingly this engine has an identical version under the Renault banner named the V4Y and is used in the Vel Satis, Latitude, Laguna and Espace models.
The life of the VQ started in 2000/2001 where it replaced the VQ30DE from the Nissan Maxima range, still being used today but finishing its actual production run in 2015.
Special Versions
Tuners may recognise the VQ35DE name because it was used in the 2003-2006 Nissan 350Z and the Infiniti G35. However, the 350Z was upgraded with the VQ35HR engine which produced six additional horsepower.
2009 saw the engine and car redesigned to the 370Z or Fairlady Z Z34 with its new VQ37VHR V6 engine and seven-speed automatic transmission. Of course, the six-speed manual transmission remained as well.
Over the production years there have been a few special variants that have contributed to the history of the VQ:
VQ35DE S1 - produced by Nismo for the Fairlady Z S-tune GT which produced 296 hp at 7200 rpm
VQ35DE Rev-up - produced for the 350Z 35th Anniversary Edition, also used in some Infiniti G35s
VQ35DE GT-S - the standard VQ with a radial flow supercharger upping the power to 383 whp
As with most engines, there are reliability problems and malfunctions. They do suffer from high oil consumption. The VQ has a catalytic converter that is very sensitive to fuel quality. They produce a ceramic dust which can result in damage to the cylinder sleeve and piston rings.
As a result, the engine can suffer from low compression. Realistically this can be cured by changing the catalytic converters for a high flow version. Also, the engine has three timing chains whose service life is about 150,000 miles.
The valve clearance needs to be adjusted every 60,000 miles. Life expectancy is around 200,000 miles.
In conclusion, owners of the VQ35DE contained within the 350Z or G35 should be thankful the engine has been used in a wide variety of cars and SUVs over the last eighteen years as this means there is an abundance of parts available.
---
VQ35DE specifications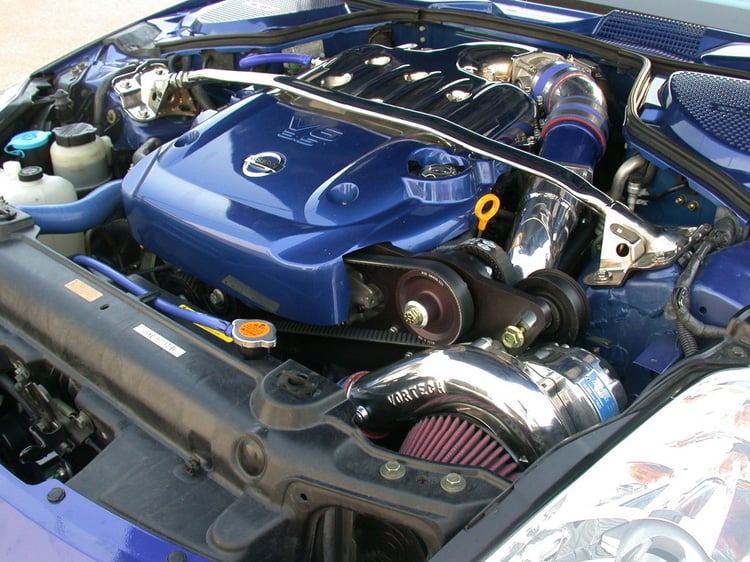 When was it built?

The VQ35DE was first produced in 2000.

What is the displacement?

The VQ35DE displaces 3,498 cubic centimetres.

What is the engine configuration?

The VQ35DE uses a V6, six-cylinder engine configuration.

Who built it?

The VQ35DE was built by the Nissan Motor Co., Ltd in the Iwaki plant, Japan.

Is it turbo-charged?

No, the VQ35DE is naturally aspirated.

What is the stock power output?

287 hp (214 kW) to 300 hp (224 kW)

How about the cylinder bore and stroke?

95.5 mm × 81.4 mm

What is the stock torque output?

 246 (333 nm) to 274lb ft (371 nm)

What is the compression ratio?

10.0:1, 10.3:1, 10.6:1
---
Tuning the VQ35DE

The VQ35DE responds well to bolt on modifications, intake and exhaust modifications have been shown to lift the power by up to 30% after tuning. Owners can modify the air intake, intake manifold & plenum, exhaust manifolds, y-pipes, an upgraded ECU, forged crankshaft, test pipes, intake camshaft, higher capacity fuel injectors, high-performance flywheel, and exhaust system to uncork the VQ35DE's power.
Owners looking for more extreme gains can turn to turbochargers and superchargers. While it is advisable to have a tuner rebuild the engine with forged components, plenty of owners get on with low psi levels of forced induction without too many issues.
Wondering what a tuned VQ35DE can do? Check out this tuned 350Z track missile
In contrast, this VQ35DE-powered 350Z is set up for lighting up the rear tires
---
What cars had the VQ35DE?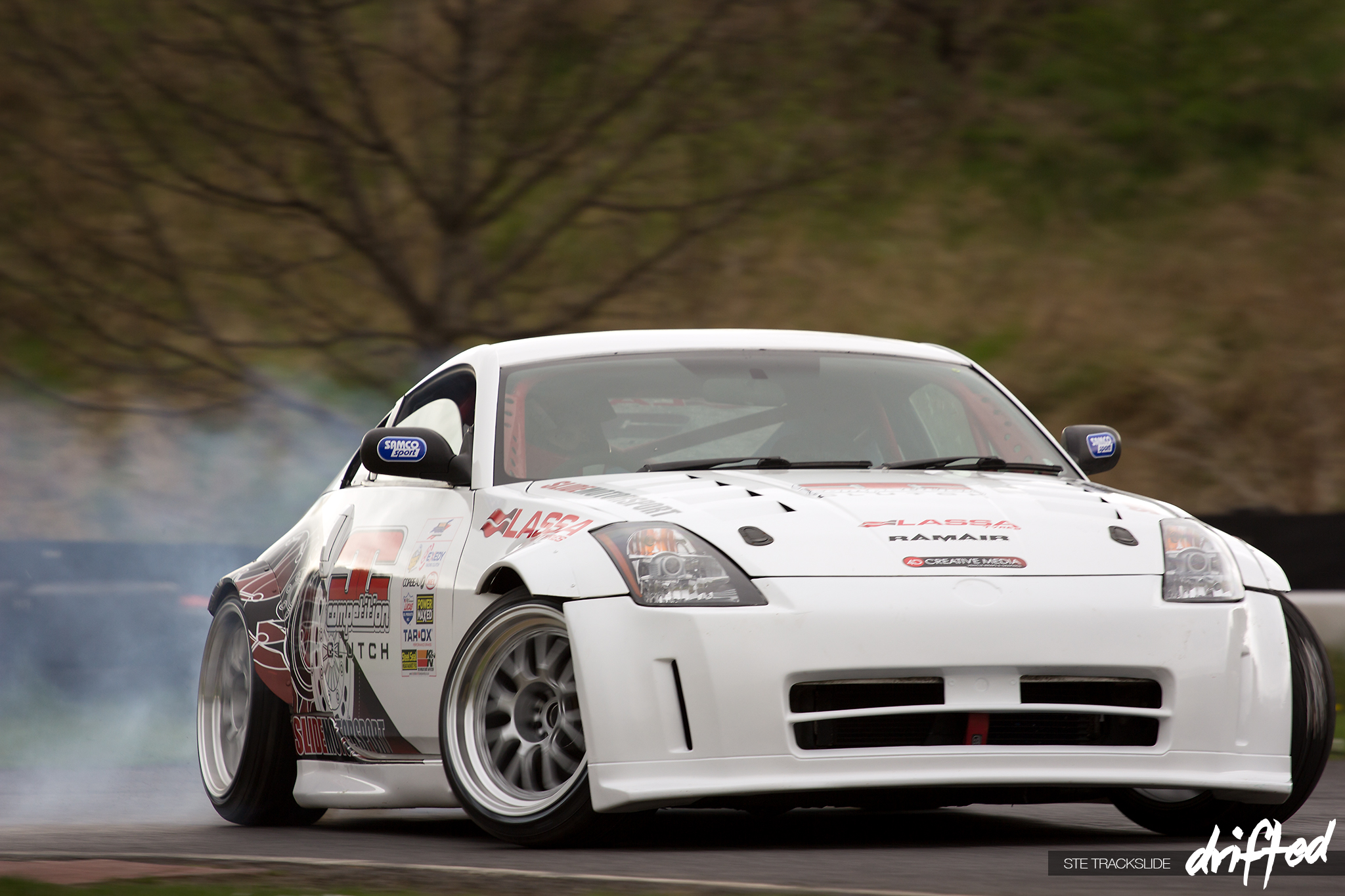 Some VQ35DE-powered models include:
Nissan Pathfinder
Nissan Altima
Nissan Maxima
Nissan 350Z
Nissan Murano
Nissan Quest
Infiniti QX4
Infiniti I35
Infiniti G35 coupe
Infiniti G35 sedan
Infiniti FX35
Infiniti M35
Infiniti JX35
Infiniti QX60
Nissan Elgrand
Nissan Stagea
Nissan Skyline (V35)
Nissan Teana/Cerifo
Nissan Presage
Fuga 350GT
Fairlady Z S-Tune GT
Renault Vel Satis
Renault Espace
Renault Laguna Coupe
Dallara T05
Dallara T08
Tatuus Formula V6
If you want a Japanese sports car but are not interested in a 350Z, our article on Cheap JDM Cars has got you covered.
Head on over to this guide to learn more about the 350Z's latest successor, the all-new Nissan 400Z.
Photography credits
Drifted would like to extend thanks for the following sources for images.