Ultimate Infiniti G35 Guide – Everything You Need To Know
The Infiniti G35 may not be the first car that comes to mind when you think of drifting. But this underrated chassis, based on the much-loved Nissan 350z, ticks plenty of boxes that the Z leaves blank. Want a drift car that's a little bit different? This might be it!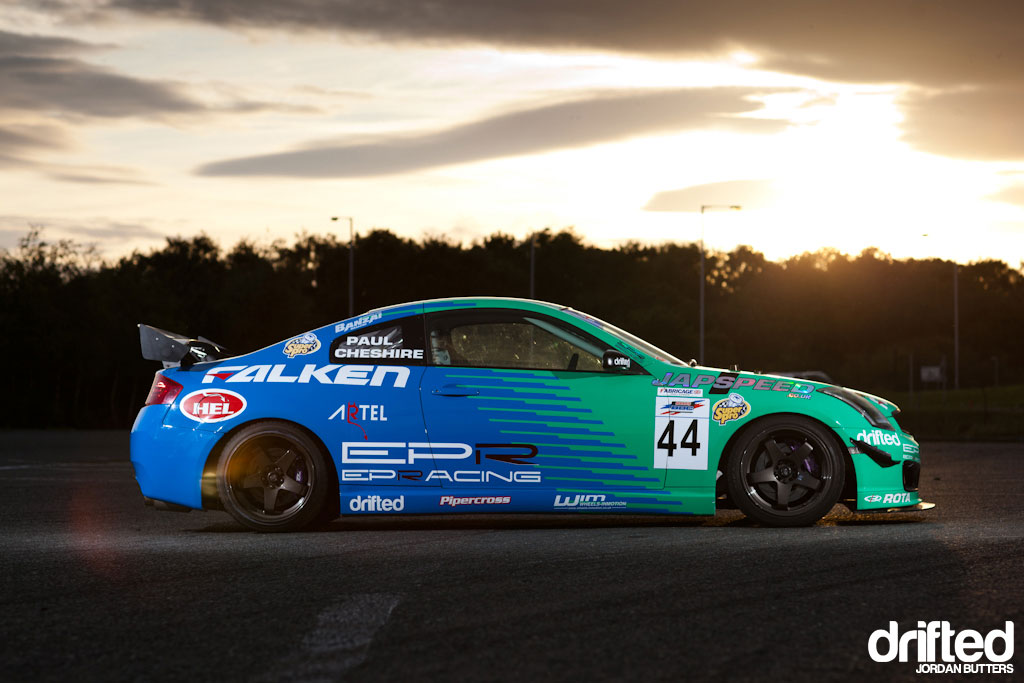 Here, you can click on a particular section within this article, otherwise, scroll down as we look at every aspect of the Infiniti G35.
---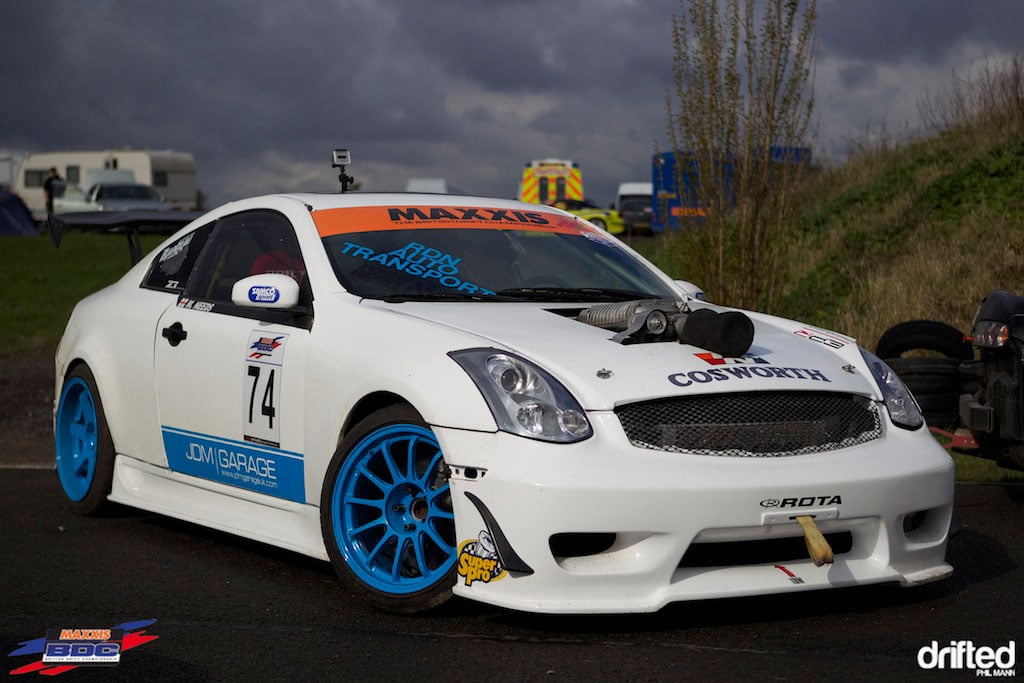 Introduction
There's no secret that we're huge fans of both the G35 and its sportier sibling, the Nissan 350z here at Drifted, so we've put together an article for both as we look over the history of these awesome cars and to help you create the perfect G.
Despite the G35 sometimes getting overlooked, it certainly has its appeal in the market, especially for those of you where 4-seats are a necessity, or if you're simply considering buying, or building something a little different.
We've witnessed a rise in the G35's popularity over the years, particularly within the VIP and stance tuning scenes, but we're going to take a look at prepping your G for drifting, or even just for a fun weekend car for the canyon runs to unleash its full potential.
There's no question that the G-series is heavier than the 350z, mostly down to them being aimed at the luxury market from the factory unlike the 350's sports-car base, but that doesn't mean it can't be modified to upset the local Z33's.
We compare the G35 Vs the 350z, blow-by-blow in our head to head article.
There's a huge appeal for luxury cars within drifting, and Japan has embraced them over the years. We've witnessed some insane Toyota Chasers as an example. One that springs to mind is Daigo Saito's weapon of choice, which certainly isn't small!
We're sure you know already, but Infiniti is Nissan's luxury car division in the US. Despite sharing a huge array of parts with the 350z, it was marketed towards to upper end of the market, partly to compete with their rival, Toyota, for their luxury-branded Lexus IS300.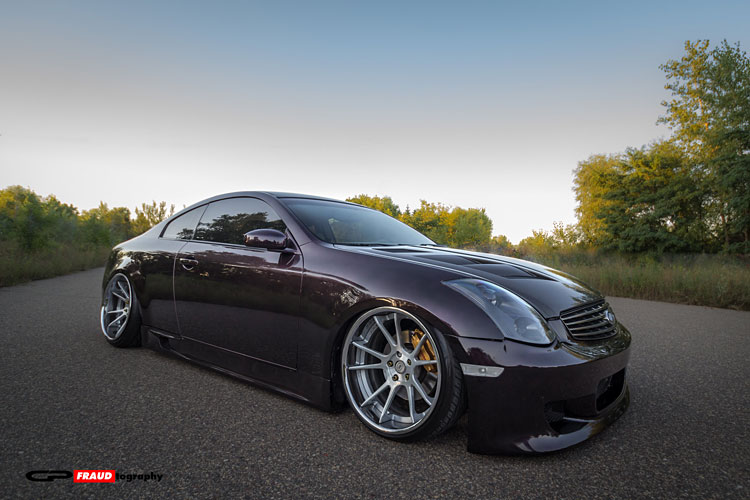 A Classier Alternative
Not only that, but the G35 also handed them the opportunity to go head-to-head with German luxury cars, such as BMW and Audi, whilst being positioned in a far more reasonable price bracket for mass appeal.
With a classier interior than the 350z, fold-down rear seats, and an all-around luxurious feel, it may often find itself compared to its sportier sibling, but in many ways, it's got a completely different mindset.
The G35 is 8″ longer in the frame, but everything from the suspension to the powertrain is interchangeable. This may add weight, but when you've got 8-way power leather heated seats as standard from the factory, it's clear that weight wasn't a top priority on their list of concerns.
The longer wheelbase of the G35 is both a strength and a weakness when it comes to drifting. It allows for an extremely stable drift and steady control, but it also slows down rotation and prevents snappy transitions which you often get from shorter-wheelbase cars.
But, Can It Drift?
Sure, it's big and fairly heavy, but the 3.5L VQ35DE V6 powerplant has more than enough power for grassroots level drifting, we do of course recommend that you look at the manual transmission variants, and one from the later production years with lower miles is likely to be your best bet.
What's to stop you stripping out the car interior, putting some light bucket seats, fitting some coilovers as well as removing some of the luxury extras, and throwing it down sideways at the track anyway?
When stripped, you can shed around 150lbs of weight. This will leave the Infiniti G heavier than the 350z by around 150lbs, mostly due to the 8″ longer wheelbase.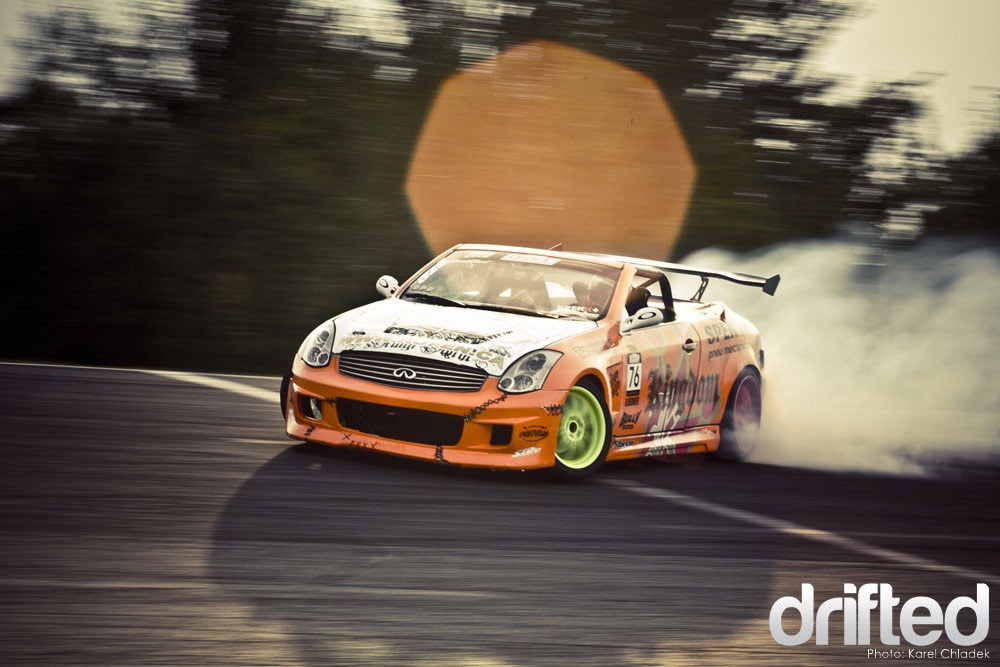 When looking to buy a G35, if one does happen to pop up with high miles, but it's a bargain, then definitely give it a shot if it looks like a clean car. A higher-mileage well-maintained example is often a better buy than a low-mileage bounced off the limiter equivalent.
If you're hoping to go with the higher-regarded VQ35HR engine, you'll need to look for a 2007 or newer model sedan, as Nissan never offered the HR in the coupe. This was only offered to later 350z and sedan variants.
With huge modification potential for the chassis and the VQ 35 engines, these cars really do have heaps of potential, and we're going to help you get the most out of your G-series with this guide.
---
Infiniti G35 History
With the first two generations of Nissan's G-series being based on the front wheel drive P10 and P11 Primera, the third generation G35 was certainly a huge change and bared very little resemblance to its previous siblings.
Rather confusingly, the Infiniti G35 and its successors are re-badged versions of the Nissan Skyline to be sold on the North American and European markets and had far more similarities to that than the Primera.
Based on Nissan's FM platform, which stands for "Front Midship" design, Nissan opted to move the engine towards the rear of the engine bay, which substantially improved the weight distribution. As well as the G35, the FM platform was also used for the Nissan 350z and the Infiniti FX crossover SUV.
When the G35 hit the market, it was an instant hit with the press, and it immediately scooped up Motor Trend's Car of the Year in 2003 before going on to be nominated for the North American Car of the Year award. It also found itself on the Car and Driver Ten Best list in both 2003 and 2004.
2003 Infiniti G35
Featuring the same highly regarded powerplant as the 350z, the VQ35DE, the G35 offered superior comfort and class to appeal to the higher-class end of the market, despite its reasonable price range.
With a 52% front and 48% rear weight distribution, it came in coupe or sedan models with automatic and manual transmission choices.
2004 Infiniti G35
For the 2004 model year, the 6-speed manual transmission was introduced for the sedan model, after previously using a 5-speed box. This highly regarded 6-speed box had been available in the coupe since the beginning of production.
Improvements were made to the engine for both the sedan and the coupe, and manual transmission sedans gained a limited-slip differential. Meanwhile, manual transmission coupes had upgraded brakes and 18-inch wheels, compared to the 17's for sedans.
All of the models also gained a standard tire-pressure monitor.
2005 Infiniti G35
Various cosmetic changes were made for the 2005 model year, which would see the interiors of both the coupe and sedans receive a 'sportier' look alongside backlighting.
Playback for both MP3 and WMA audio was added to the CD player, and the cassette players still found in some models were removed for obvious reasons!
Improved brakes were also fitted which had larger discs and uprated calipers after reports of excessive wear-and-tear from the previous brakes.
A sport-tuned suspension package became standard on all 6-speed manual models, and they also introduced the VQ35DE's "Rev-UP" engine for the first time, resulting in 298hp being offered.
For the automatic-transmission sedans, it was still limited to 280hp.
Rear active steering also became an option for the first time, although this was a love/hate addition.
2006 Infiniti G35
For 2006, there were further changes made to the design. This would include new headlights and taillights and a new front bumper. Bluetooth was also introduced for the first time, enabling hands-free calling.
A keyless entry/engine-start system was also added.
2007 Infiniti G35
This would see a rather large re-design for the sedan model, which now featured the arguably superior VQ35HR engine, handing it even more power than the coupe.
Meanwhile, sales of the coupe version continued in its 2003-2006 form.
2008 Infiniti G35
By the time the 2008 version had been released, the coupe also received a redesign, this also featured a more powerful engine which was capable of 306hp alongside other improvements, but it was clear that Infiniti were now preparing for the release of the G37. You can learn more about the G37 in our G35 Vs G37 guide.
Infiniti G35x
In 2004, a new model was introduced. Despite typically using the rear-wheel-drive layout, the G35x Sedan was handed an AWD system with automatic transmission.
The G35x featured a 'snow mode' which allowed the driver to lock in a 50/50 front-rear torque split.
This, of course, wouldn't be the ideal variant of choice if you're looking to drift your G-series!
---
Infiniti G35 Pros & Cons
Pros
Great weight distribution, luxurious yet a great drivers car, especially with some minor modifications
Fantastically priced, particularly in the present market
Reliable – the Rev-up is sometimes known for burning oil, but other than that they are well-known for their strength and tuning potential
Great looks, a modern and unique design
A huge selection of off-the-shelf bolt-on modifications which are mostly interchangeable with the 350z – we're going to take a further look into some of the best products on offer in the next section
Parts availability – this is often a huge problem with owners of rarer cars, especially cars like the S-chassis which has been around in the drift scene for a LONG time. With parts getting older, they're also getting rarer, much like the cars
Forced induction capabilities – with such strong internals, these engines are capable of achieving far bigger power figures than Infiniti provided
Rear storage capacity – actual usable rear storage, unlike the 350z
The option to have 2 or 4 door variations, we all know what they say about more doors
Cons
Rev-up oil consumption – these engines have been known to burn a little excess oil, it seems to be worse with the rev-up's than other models, so it's well worth researching if you are planning to buy one and think this may be an issue for you
Weight – they're not the lightest chassis out there, but it's the perfect opportunity to carry out some weight saving. With the G35 being aimed at the luxury market, creating a lightweight wasn't part of Infiniti's plan
The later coupe models were never handed the superior HR engines of the sedan and 350z
The interior feels almost like a well-polished and slightly posher Nissan, but still has its creaks and groans, however, this won't matter if you intend to remove it
---
Building the Ultimate G35
Whether you're looking to go down the VIP stance route or build a stripped-out track weapon, we've put together some of the highlights of our G35 Tuning Guides to help you create the perfect G!

Our comment: Vortech have put their years of valuable knowledge in the supercharging scene to create the ultimate kit for G35 owners.
Combining great value for money with fantastic build quality, reliability and customer service. Not only that, but it's also one of the easiest kits to install (around 8-12 hours).
With owners making an impressive 410hp from the kit and 440hp from the 'Rev-Up' variation, it's easy to see why so many have made this their choice. This kit also includes upgrade options to gain additional power.
Manufacturer description: "The G35 system uses Vortech's V-3 SCi supercharger. Continued development in Vortech's Lab resulted in the V-3 SCi. The "i" stands for improved and with its new patented oil control system and state of the art centrifugal compressor stage this V-3 literally blows away the competition. Industry leading 75% adiabatic efficiency [SAE J1723 standard] means less heat is being generated, reduced drive power and more net power is produced. Less heat also means better durability, easier on the engine than any turbo installation."
"Vortech supercharger systems are great value. Dollar for dollar, Vortech systems deliver more horsepower than virtually any other method of upgrade. Also, driven normally, gas mileage usually increases."
"Vortech's G35 Supercharger Systems are available as either a complete, fully calibrated bolt-on system, or as a Tuner Kit for custom installations at over 500 HP. And with Vortech's many upgrade solutions, there is always more power when you are ready."
---
Our comment: The JWT kit is a great starter turbo kit that comes in at a mid-level price point. Offering 125 WHP out of the box and impressive reliability claims, this could be the perfect solution to safely increase your power. Further upgrade options are available to really make things interesting. Nice kit!
Manufacturer description: "JWT originally designed this kit as a feasibility study in conjunction with Garrett and Infiniti's product planner at the time. The kit is designed around the O.E. criteria for reliability, no boost lag, and safe but significant power levels."
"The JWT Twin Turbo Kit has accomplished this and more over thousands of miles of reliable track and street use since it's release. All critical airflow junctions use application specific castings to maximize flow and eliminate boost lag. Turbo outlets have isolated waste paths to improve turbine efficiency."
"JWT has combined high efficiency Garrett GT Ball Bearing Turbos, Garrett charge cooler cores (700+hp rated) with over 300 individual parts, to create the most complete and reliable bolt on forced induction system available for Nissan and Infiniti VQ35 vehicles."
"No other boosting solution combines the reliability, performance, and throttle responsiveness of this system."
"This system is complete requiring no other modifications to deliver an additional 125WHP and much more with additional JWT upgrade stages."
---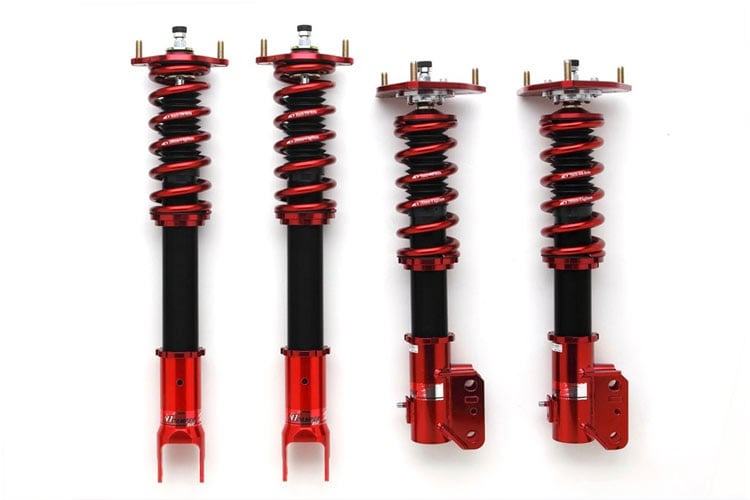 Manufacturer: APEXi
Levels of damping adjustment: 32
Construction type: Monotube
Spring rate front: 10kg/mm
Spring rate rear: 8kg/mm
Fitment: Infiniti G35, Nissan 350z Z33
Value for money:
Purchase link: Buy your APEXi ExV's at FRSport
Our comment: These coilovers are a great out of the box option for a no thrills sports setup. These would be suitable for anybody looking to improve the looks and handling of their G35 for a reasonable budget. They are the cheapest coilovers in our guide and offer good value for money.
Manufacturer description: "APEXi N1 ExV is the newest line of coilover kits from Apexi featuring dual height and 32 way dampening adjustments. ExV, which stands for "Expert Type V" was designed to the be ultimate street suspension with no compromise for ride quality and price."
"Features include:
- 44mm Monotube Damper w/ 32 way adjustments
- Full dual height adjustable body for fine adjustments
- Spanner wrench and accessories included
- High quality design and manufacturing"
"A must have for anyone doing track days and spirited driving. Will improve car handling and response effectively."
---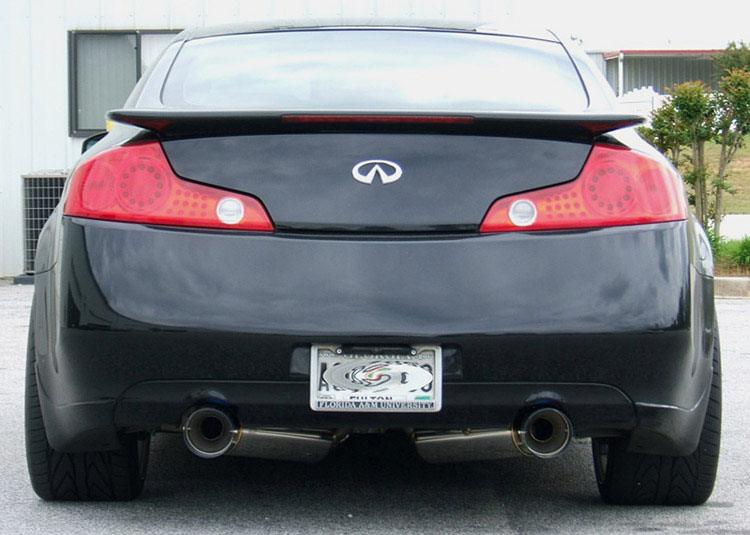 Internal pipe diameter: 60mm (2.35″)
Tailpipe configuration: 120mm Dual titanium tips
Primary exhaust system material: Stainless steel
Fitment: Infiniti G35
Manufacturer: HKS
Value for money:
Our comment: The HKS system is one of the more pricey exhaust systems however it's undoubtedly one of the best and most popular all-round options on the market. If you know Japanese tuning legends HKS then you know the fitment, sound and performance will be incredibly high quality combined with an epic sound.
It's worth remembering that if you choose a 350z exhaust system, you'll need an 8″ extension to account for the longer wheelbase. Thankfully, this HKS option is built specifically for the G so it'll conveniently bolt-on to the car for you to enjoy right away.
Manufacturer description: "Inspired and designed from endurance and GT racing in Japan, HKS developed its Hi-Power Exhaust system for both turbocharged and naturally aspirated applications. HKS has incorporated this new race inspired offset muffler and piping design into many street applications, which offers a greater flow and higher-PRM power gains due to the less restrictive design. This is achieved by eliminating unnecessary bends for the straightest exhaust path."
Purchase link: HKS Hi-Power G35 exhaust
---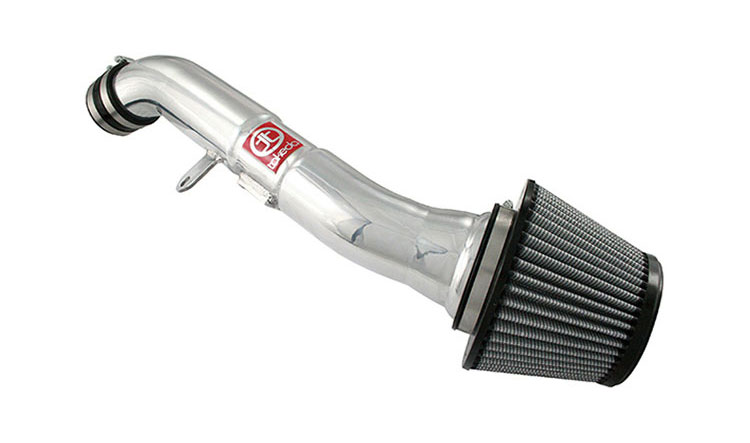 Our comment: Takeda are claiming that this high quality cold air intake is going to bolt on an extra 19bhp and 16flt/lbs of torque to your G35. That is a serious boost for under $300.
This is a well designed but simple kit that includes an aluminium short ram pipe with a Takeda Pro Dry S oil-less filter.
For the cost and the performance increase, this intake is rewarded with five stars. What a bargain.
Manufacturer description: "Takeda Retain is the Takeda Short Ram lineup. These intakes create simple, bolt-on horsepower that requires simple, quick installation and no bumper removal. Some of the short ram intakes include a wrinkle black heat shield."
"Takeda Air Intake Systems use a revolutionary new Pro Dry S Filter Media that works without filter oil. This media is easier and faster to clean than traditional foam, and requires no costly and messy solvents or oils. "
"Takeda filters can be cleaned in a matter of minutes and are ready to use after only a couple of hours of drying time. Unlike pre-oiled or disposable filters, Takeda Filters are Lifetime Filters that will last as long as you own your vehicle. "
---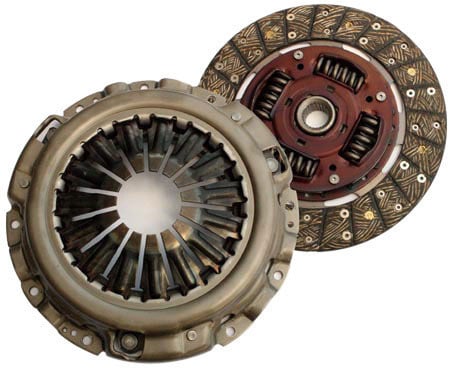 Manufacturer: Jim Wolf Technologies (JWT)
Fitment: Infiniti G35, Nissan 350z Z33
Value for money:
Purchase link: Buy the JWT clutch kit here
Our comment: JWT offers G35 owners the clutch which is undoubtedly the most popular choice in our list with their clamping force HD kit. This, combined with their lightweight flywheel is the perfect choice for those who want the stock, OEM pedal feel but with a clutch that can handle a little more of a kicking.
Often regarded as the perfect option, this is ideal for daily driving and light track/drift use. If you're intending to go down the higher-powered forced induction route, you may want to look for something a little more hardcore.
When coupled with the lightweight flywheel, the only complaints we've ever heard is about the amount of chatter noise, but it's a small price to pay for such a fantastic option otherwise.
Manufacturer description: "1200KG clamping force and a smooth organic disc makes this the best choice for street / track 350Z-G35 including boosted cars!"
---
Infiniti G35's In Drifting
As you've probably guessed, the 350z was the more commonly used choice when it came to drifting, but we love being different and G35's look awesome sideways! If you decide to build a cool G – PLEASE share them with us, we'd love to see it!
Team Falken clearly had a secret love for G35s, with Calvin Wan running one in the United States alongside Paul 'Polo' Cheshire running one in the UK/Europe.
Calvin Wan's Infiniti G35 powered him to a 1st place overall in the Formula Drift Team Drift Competition, 1st place in the Formula Drift Team Drift Event round 2 and a 2nd place in the Formula Drift Team Drift Event Round 1. He ran the G35 from 2004 to 2007, until it was replaced with his Team Falken Nissan Silvia S15 drift car.
Paul Cheshire campaigned his highly customised 2JZGTE powered Infiniti across much of Europe, including competiting at the historic Nurburgring Circuit in Germany AKA "The Green Hell".
Here's Paul 'Polo' Cheshire smoking out the world-famous Nurburgring in Germany:
Meanwhile, Drift Emporium also ran two G35's in their Formula Drift team:
More recently, Hoonigan has chosen to display just how much of a bargain the G35 can be, as they put T-Pain in the driving seat of their $1,500 beater sedan to slay some tires! This looks like HEAPS of fun.
---
G35 vs 350z – What's best for your needs?
You've most probably noticed that we've mentioned the 350z a lot in this article, but since these cars are both based on the same platform, with the same powerplant, it's hard not to compare the two side-by-side.
Both cars have their positives and negatives, and we've often been asked what the differences are, and which one you should buy. We've created this section to give the answers you've been looking for.
First up, let's just clarify that neither of these cars are going to be crazy fast in a straight line unless you decide to go down the forced induction route.
Nissan's 350Z was originally intended to be a modern-day version of the much-loved 240z, but after a disappointing concept with a KA24DE under the hood was shelved, Nissan then went on to create the 350z.
The G35 was a brand-new concept, built to go up against the more luxurious rivals that Nissan had at the time, and also to put Japan on the map when it came to luxury cars.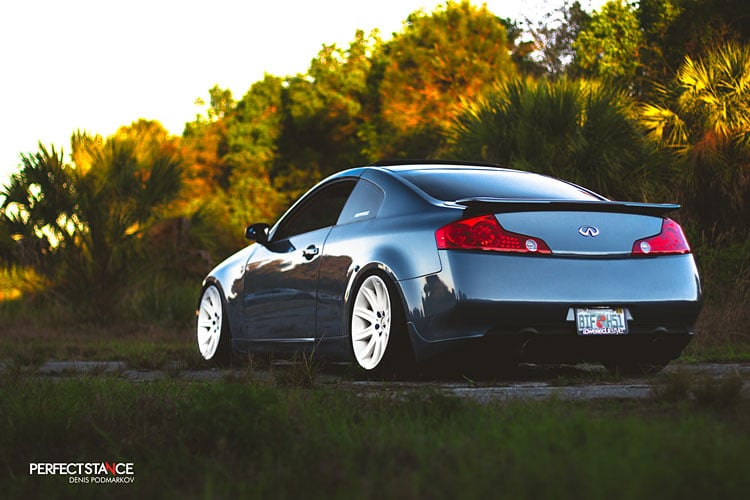 Where the G35 was provided with sedan and coupe variants which featured a sunroof, the 350z was never released with one, instead, they produced the drop-top roadster version for those of you that like a little wind in your hair.
What Are The Key Differences On The Surface?
When you look at both cars next to each other from the outside, they're both incredibly good looking, and it often falls down to personal taste as to which suits your personal preference in the looks department.
The G35 is undoubtedly larger and somewhat heavier, but it has the added benefit of rear seats in the back, which is undoubtedly a positive if you're often carrying more than one passenger or have kids.
Even if you don't, rear space is always convenient to have, and this is severely restricted on the 350z. Not only is the trunk restricted for space, but the Z's huge strut bar through the middle also makes this even less practical.
Both cars do have a sporty look, and if you prefer the ride height of the 350z, then just remember that can be easily rectified with some coilovers on your G, which will undoubtedly make the car handle like a whole different beast.
When it comes to the powerplant, the G35 coupe does fall victim slightly on this one in the later years, since the newer 350z's were handed the VQ35HR, where the G-coupe only ever received the VQ35DE.
However, don't let that put you off the G completely if you're desperate for the newer engine, as the later sedan models also included the HR.
Both cars were given the same manual and automatic gearboxes, but only the G35 was ever available in an AWD model (with the G35x.)
What About The Interior?
Moving on to the interior, the G35 has gone for the stylish, luxury feel, which improved throughout the model years. Meanwhile, the 350z was undoubtedly aimed more at the racer-style market.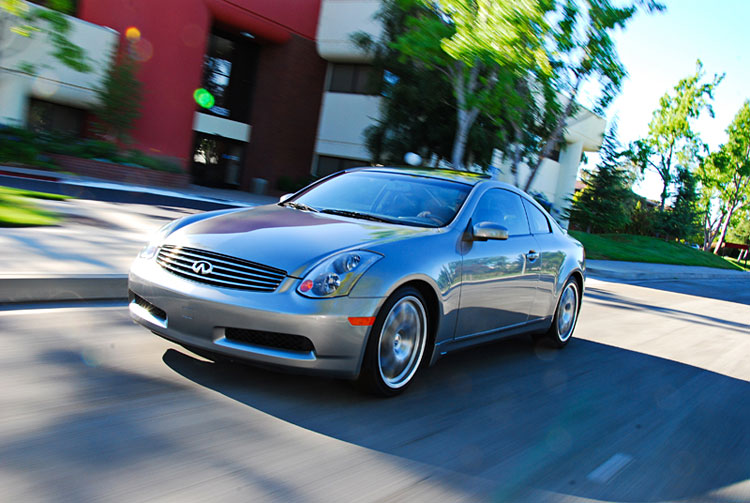 In the 350z are hugging seats, along with minimal luxury features and the typical dash gauges you would expect.
Meanwhile, the G35 is the far more gentlemanly choice, with many luxurious features and comforts in mind. It'll undoubtedly be the more pleasant place to be for the morning commute, but not quite so refined in stock form want to head to the track.
The most obvious difference on the interior is the fact that there are two seats behind you, which you won't get with the 350.
At the end of the day, it all boils down to what you're looking for. If either car pops up at a bargain price and you're looking to modify it, then most of the differences are irrelevant. For example, if you're looking to strip out your G35 interior, then it's going to look like a race car regardless!
Yes, the 350z is lighter and was built with racing in mind, but don't let that be the ultimate decider when making your decision. A stripped G35 with forced induction and the obvious modifications will provide you with far more fun than a stock 350z!
---
Conclusion
There's no doubt that the G35 ticks a lot of boxes and is an excellent all-rounder which can provide you with a luxurious daily driver alongside some weekend fun at the local track, especially with some simple bolt-on modifications.
Since there are plenty of G35's on the current marketplace with bargain price tags, it's easy to see why you could be tempted, and although it's a shame that the HR was never available in the coupe variants, the sedan's are certainly something a little different.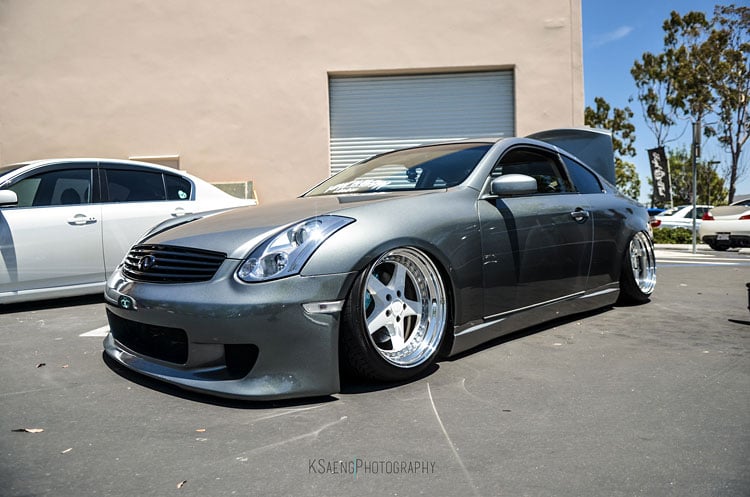 If you're considering purchasing a G35, or whether you're lucky enough to have already got your hands on one, we highly recommend that you check out our extensive G35 Tuning Guides to help you get the most out of your G.
If you're stuck between the choice of a G35 or a 350z, we highly recommend getting yourself into the driving seat of both and seeing which one is best suited for your needs. Where the G35 is the practical choice, the 350z may well feel 'right' to you. Either way, we know you'll be happy with your decision!
Are you an Infiniti fan but looking for something a little special? An Infiniti that stands out from the norm? Then you should check out our Infiniti Q50 vs Q70 feature.
Want to learn about Nissan's latest challenger in the sports car segment, which is also the G35's spiritual successor? If so, here's everything you need to know about the 400Z.
---
Additional G35 Related Content
We've chosen some of our favorite G35 YouTube picks here:
One Take go for a ride in this insane 550hp twin-turbo G35 coupe!
2JZ goodness with G35 beauty? The perfect combination! This G35 really is the ultimate package.
From one engine swap to the next, check out this G35 with a distinctly 'Merican heart.
Curious what a twin-turbo VQ35 sounds like? You're certainly not going to be disappointed! Check out these crazy sounds.
Photography credits
Drifted would like to extend thanks to the following sources for use of their images: