Ultimate Nissan 350z Guide – Everything You Need To Know
The Nissan 350z (z33) has become the JDM tuning bargain of this decade and to celebrate this we have assembled all the information you will ever need on this mighty Z-car.
Here, you can click on a particular section within this article, otherwise, scroll down as we look at every aspect of the Nissan 350z.
---
Introduction
Given the ever-increasing popularity for 350z's in the tuning world, it's the perfect time to grab yourself the ultimate bargain in reasonably priced motoring.
For the money, you're going to struggle to find such a perfect all-rounder, with its sleek and stylish body combined the well-refined reliable powerplant and chassis and modern interior.
If you've already bagged yourself one, congratulations, we have no doubt you've made the right choice! We've written his article to help you learn a little more about the history and to tweak it to its full potential.
When the 350z was launched in 2002, the fifth generation of the Z-car line caught the attention of several markets and became an instant hit.
Before we knew it, the car was being featured in popular games such as Madalin Stunt Cars 3, where fans could enjoy what the Z has to offer without having to stump up the cash for the real thing.
Some were interested in its unique, modern shape and design, whilst the petrolheads rejoiced at an awesome new reasonably priced sports car.
It certainly wasn't the fastest car on the market in its natural form, but its price and availability made it a far more tempting offering for those who were looking for something a little less appealing to a hairdresser than the Miata (Sorry, not sorry!).
It's front-engine, rear-wheel drive two-seater layout ticked many boxes and made for a unique drift car or an awesome daily which was more than capable of putting a huge grin on your face during the weekend canyon run.
Naturally, it didn't take long before the aftermarket tuning scene sets its eyes on this new offering, and within no time at all the 350z was taking podiums in Formula Drift and various other motorsports across the world.
With a huge array of modifications and upgrades available off-the-shelf, it's more convenient than ever to build yourself the ultimate weapon for the street or the track, whether you've got bottomless pockets or simply looking to build yourself a budget weekend skidder.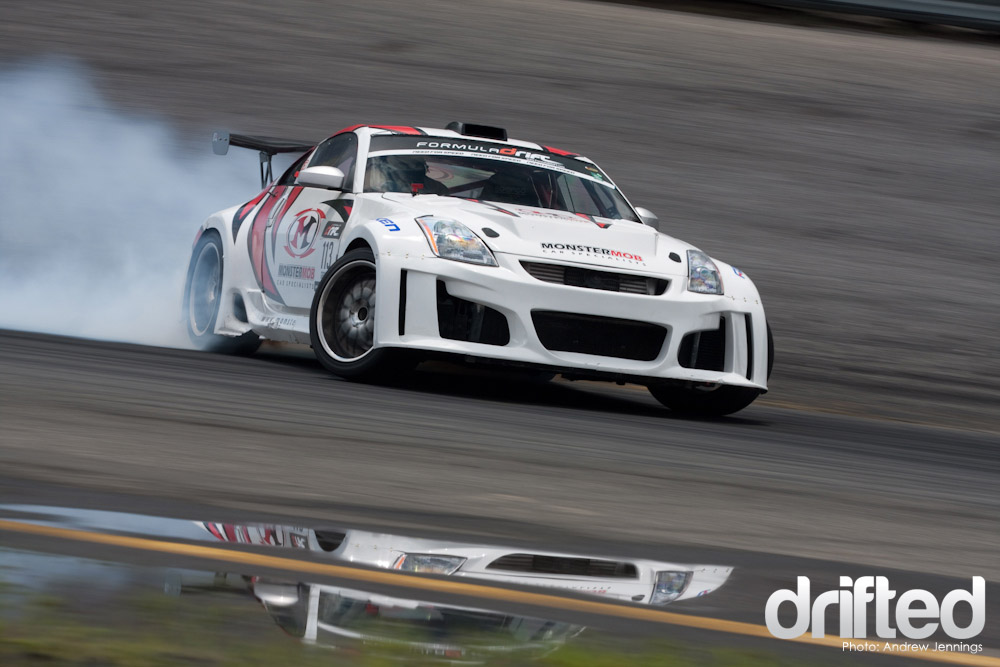 Given that it's now harder than ever to get yourself a reasonably priced s-chassis, or most popular drift cars for that matter, the 350z still remains an affordable temptation. Once you've paid the s-chassis scene tax, you're going to be left with even less money for the ever-increasingly priced used and highly sought-after parts that you'll undoubtedly be craving.
Starting with a cheaper platform such as the 350z, which also has reasonably priced brand-new parts on the shelf, can often make things far cheaper and more convenient than buying overpriced used 'JDM y0' parts.
Also, you're not going to be forced to buy yourself a rust-bucket which has spent several years being bounced off walls and the rev limiter for your budget either.
Simply getting yourself coilovers, an exhaust and a cold air intake can transform your car, and if you're looking to go even further, the tuning potential is certainly impressive.
From turbocharger or supercharger kits, right the way through convenient LS swaps, there really is something for everyone when it comes to building your perfect 350z.
Here at Drifted, we've always had a soft spot for cars which have a story behind them, and Nissan's Fairlady family history certainly doesn't disappoint.
With one of the greatest stories in the JDM world, which spans from 1969 until the present day with the 370z (which includes a shared FR platform with the Infiniti G35/G37), it's continued to satisfy the needs of petrolheads across the globe throughout that time.
If you are also interested in the G35 platform, you might want to check out our G35 Vs 350z article.
With the original Datsun Fairlady 240z being based on a 2.4-litre straight-six engine, the 350z initially featured a 3.5-litre V6 VQ35DE under the hood, before Nissan later upgraded to the VQ35HR.
With the original VQ35DE creating 287hp, they later released a 300hp Rev-Up upgrade from 2005 before later swapping for arguably the best VQ35 engine, the HR.
With the 306hp HR, it was originally introduced in 2007 and they continued to use it until production ceased to make way for the 370z in 2009.
If you're keen to know more about the various models and the differences between them then make sure you check out our 350z History section below.
You can probably tell that we're already huge fans of the 350z, but the fact that they can be had for so cheap these days just makes them a no-brainer in our mind.
It made the list on BOTH our Best Drift Cars for Beginners AND Best Budget Project Cars articles.
Keen to know more about the 350z?
You've certainly come to the right place! We're going to look at the history of these epic motoring bargains, before looking into the tuning potential available to make the most out of them.
This is the ultimate guide whether you already own a 350z or if you're looking to learn more about them, before creating the ultimate weapon you stay up at night thinking about!
Nissan 350z (Z33) History
With the 300ZX being withdrawn from the U.S. market in 1996, Nissan intended to re-create the prestigious 240z the following year.
Having been created by Nissan North America's design team during their free time, a new 240z concept was later introduced in a four-state Road Show in 1998.
Yutaka Katayama, known as the 'Father of the Z' unveiled the sketch to the public, however, the original 240z designer, Yoshihiko Matsuo, was not impressed, and stated it looked more like a Nissan Bluebird or Leopard.
Despite this, they continued with the 240z concept and produced a model for the 1999 North American International Auto Show.
Nissan was happy with the initial idea; however, they weren't so keen on the planned KA24DE engine, which understandably didn't fit their modern plans and intentions, and also felt that the 240z based-design needed improvement before it hit the mass-market.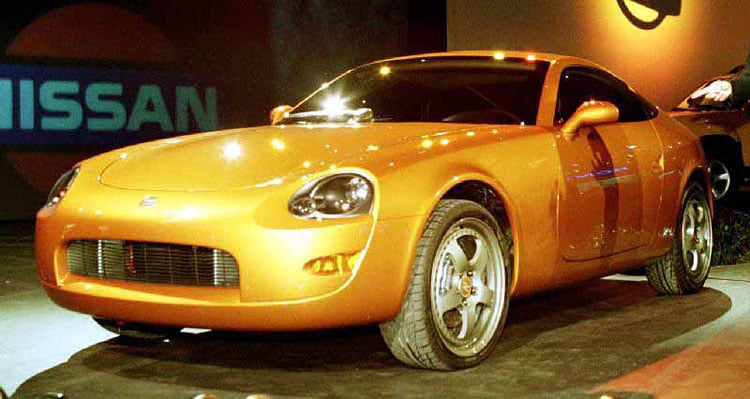 Although the original concept had been shelved, it showed public interest and undoubtedly was a step closer to launching the latest in the Z-car line.
After an extensive design overhaul and a brand new straight-six engine, this concept would later make way for what we now know as the much-loved 350z.
During the later unveiling of the brand-new 350z at the 2001 Tokyo Motor Show, Nissan President Carlos Ghosn said, "In the fall of 1969, Nissan (Datsun) introduced a two-seat sports car that revolutionized the automotive world at the time.
It had European styling, American muscle, Japanese quality, and global desirability."
Ghosn was referring to the Datsun 240z, which was referred to as the 'Fairlady Z' in the Asian markets. This was the first-born model of the Fairlady family, and the global desirability which he mentioned has never been stronger than in the present day.
Keen to know more about the family history?
Check out this video to see the evolution of the Fairlady Z:
The 240z is undoubtedly one of the most significant cars in automotive history books, and Nissan was the first Japanese company to introduce sports models in the United States.
With their impressive growth and popularity, they then went on to overtake Volkswagen as the best-selling import brand in the US by the mid-1970s, having already sold almost a million Z's worldwide by this time.
John Yukawa, Chief Product Specialist stated, "The customer wants to purchase the Z at first sight because of its excellent design, and afterwards, he goes on to love the Z forever because of its high performance."
Although by the standards of modern-day drifting, the 350z isn't particularly high powered, it's still got enough ponies under the hood to provide enough fun when throwing it down at a smaller track.
If you do wish to push it to its full potential, the chassis is capable of much more than Nissan initially intended.
Let's take a look through the various models of the 350z:
Nissan 350z 2002 (VQ35DE)
The first ever model first hit the reorganized Nissan Blue Stage showrooms back in July 2002 in Japan. Just one month later, it would also surface in the U.S in five different trim packages, 'Base', 'Enthusiast', 'Performance', 'Touring' and 'Track' editions.
For Europe, only the 'Track' variation was initially made available, badged and marketed as the '350z'.
With the base model, it lacked some of the more worthwhile extras if you wanted to get the most out of the car, such as the VLSD and Traction Control, and only ever came with cloth seats.
It also lacked some additional luxuries such as cruise control and electronically adjustable and heated seats.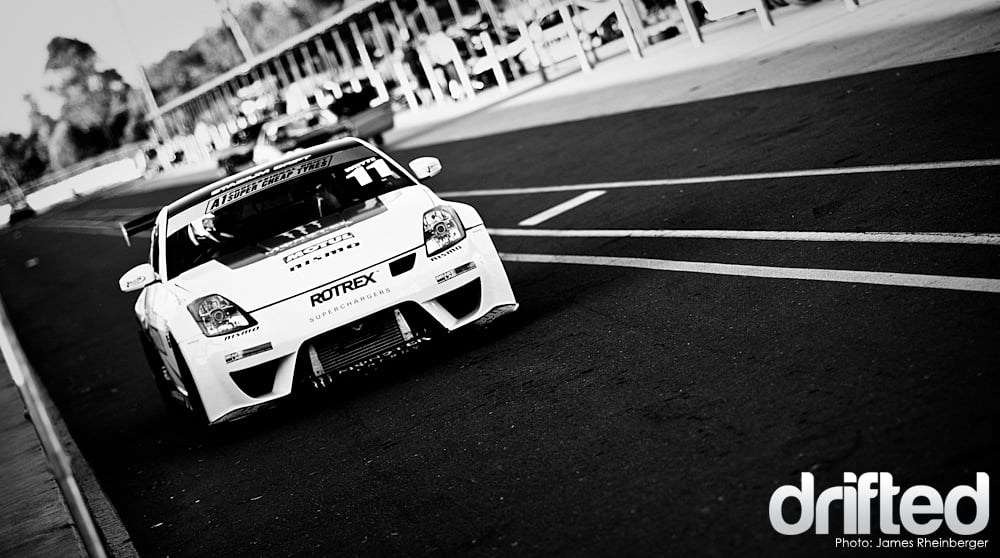 If you opted for the 'Enthusiast' model, you would get the VLSD and traction control along with the convenient cruise control.
For the 'Performance' model, they also added 18-inch wheels, front air dam, a rear spoiler, optional Brembo brakes and VDC instead of traction control.
With the 'Luxury' model, you were provided with electronically-powered leather heated seats, VDC, VLSD, xenon headlamps, optional Brembo's, the 18-inch wheels and also an optional GPS system.
Finally, the 'Track' model included Brembo brakes, front air dam, rear spoiler, traction control, cloth seats, 18-inch wheels, VLSD, and optional GPS.
Nissan 350z 2004 (VQ35DE)
For the 2004 model year, Nissan introduced the 350z Roadster to the market, which had an electronically retractable soft-top roof for those of you that like cruising with the roof down.
For the U.S. market, these were available in two trim packages - Enthusiast and Touring.
Nissan 350z 2005 (VQ35DE Rev-up)
In 2005, Nissan released some substantial upgrades to the 350z to commemorate the 35th Anniversary of the 240z. This significant update provided both interior and exterior revisions.
Early 2005 35th Anniversary Editions were fitted with the original 287hp engine and automatic transmission. However, for the 6-speed manual models, they would get the newly-updated VQ35DE Rev-up engine, which was capable of producing 300hp.
Alongside the power upgrade, they also released a newly updated CD009 transmission, as well as making minor adjustments to suspension tuning and parts.
Nissan 350z 2006 (VQ35DE Rev-up & Mid-Cycle Facelift)
For 2006, even more changes were made during the mid-cycle facelift. This meant that the Rev-up engine was available for every trim level which had a manual transmission option.
However, for those that decided to stick with the automatic option, the 287hp 5-speed VQ35DE was the only option.
The changes made for the mid-cycle facelift included bi-xenon projectors, a revised front fascia, LED rear lights, interior trim changes and speed sensitive steering.
Any trim levels above the basic 'Enthusiast' package also got a brake system upgrade including a larger brake booster, front dual piston calipers, and larger diameter brake discs.
For the upper-end Touring and Grand Touring models, radio-steering controls came as standard, alongside MP3 CD compatibility and Satellite Radio also became an available option.
Nissan 350z 2007 (VQ35HR)
For the final 350z models to ever roll out of the showrooms, they opted to swap the VQ35DE, instead opting for the upgraded VQ35HR engine.
This was capable of producing just 6hp more than the Rev-up at 306hp, which certainly doesn't sound like much, however, it also featured a dual throttle body design and a raised redline to 7,500 rpm and provided more torque throughout the rev range which made for a much improved experience over the original engines.
From our experience, we found the HR to be a far more refined engine and you could certainly feel the power difference between this and the original DE.
Some of the Rev-up engines were known for excessive oil consumption, which we'll take a look at in our Pros and Cons section.
Nissan 350z Special Editions
Nissan produced a number of special editions for their Z33, these included:
Nissan 350z 35th Anniversary Edition (2005)
To celebrate 35 years since the original launch of the 240z, Nissan opted to create this tuned version of the 350z coupe, which initially went on sale in January 2005.
This includes the 300hp Rev-up VQ35DE for the 6-speed manual models, however, the automatic variants still had the original 287hp engine.
Also included were 18-inch allow wheels, front spoilers, Brembo brakes and unique 'Z' badging.
It was available in "Ultra Yellow" and "Pearl Blue" options and also featured a Bose 6-speaker premium sound system.
This Series was only sold in Japan, Australia, New Zealand, and the UK and were only ever produced with a right-hand-drive setup from the factory.
Nissan 350z GT-S (2006)
During the UK's prestigious motorsports event, The Goodwood Festival of Speed, in 2006, Nissan Technical Centre Europe (NTCE) unveiled the 350z GT-S.
This featured a unique radial flow supercharger which could be turned off simply by flicking a switch on the dashboard.
This raised the VQ35DE's output to an impressive 382.6 hp and 313 ft/lb torque without modifications to the engine components.
Despite these never hitting the market, it would encourage aftermarket manufacturers to build off-the-shelf supercharger kits so that enthusiasts could create a similar setup at a fraction of the price.
Fairlady Z Type F (2008)
The Fairlady Z Type F was created specifically for the Japanese market (hence the name not being 350z) and was launched in both coupe and roadster variants.
With a choice of six body colors, it also had exclusive red leather heated seats, as well as red leather on the shift knob, parking lever, door trim and armrest.
It also featured some subtle touches such as an aluminium kicking plate and RAYS forged aluminium wheels.
A BOSE audio system was fitted as standard, as well as VDC, Brembo brakes and some of the rarer color offerings.
Nissan 350z NISMO Editions
Nissan's Racing division (Nissan Motorsport International Limited) is well-known for releasing limited edition revisions for both road and competition-only cars.
NISMO R-Tune (2004)
The first-ever NISMO 350z was the R-Tune, which included modified headers and cat-back exhaust system, a cold-air intake, camshafts, and pulleys.
This also included an uprated R-tune single disk clutch and cover and a NISMO shift knob alongside a clutch-type adjustable LSD with four pinion gears.
Not only that, but it also included an uprated suspension system which included sway bars and shocks and springs.
Uprated brake pads were used as well as an oil cooler kit.
It also received several cosmetic upgrades, such as an aero body kit and larger 5-spoke forged alloy wheels.
This was designed for track racers and voided the Nissan factory warranty at the time. It was reported to be capable of 305hp.
NISMO S-Tune GT (2005)
Built to celebrate 20 years of NISMO, the S-Tune received another freshly updated body kit and sat 20mm lower than the original car. The chassis was stiffened, and the suspension upgraded to G-Attack springs and dampers.
On the interior, it featured NISMO racing bucket seats with embroidered NISMO logos.
The stock engine was upgraded to 296hp and a 7,200rpm redline with the use of improved timing control, stronger con-rod bolts, uprated valve springs, a lightweight flywheel, a re-mapped ECU and a carbon cold-air intake and a sports exhaust.
355mm front 4-pot Brembo's also provided more than enough stopping power to make this another fantastic track offering. Just 20 were produced each month in Japan, making them extremely rare and sought-after.
NISMO 350z (2007-2008)
After the rarer two models above, NISMO also opted for creating a model for the mass market.
This featured the uprated VQ35HR engine and was only available with a 6-speed manual transmission. It featured a VLSD, Traction Control and had NISMO aero based on their Super GT Championship car.
It also features stylish RAYS forged alloy wheels and a NISMO exhaust.
The suspension utilizes a multi-link system and front and rear dampers produced by Yamaha with Brembo 4-pot front and 2-pot rear brakes.
The upgrades weren't purely bolt-on parts, as NISMO specifically pulled 350z's from the production line to be sent to Autech to have structural seams hand-welded for greater body rigidity.
This made the NISMO 350z more capable than the stock trim levels available from the factory.
After going on sale in July 2007, just 1,607 were produced for the 07-08 model years. The NISMO models had a suggested retail price of $38,070 on the U.S. market.
NISMO Type 380RS (2007)
This was the road version of the 380RS-Competition race car, which features a detuned version of the 380RS-C race engine, which is rated at 348hp.
This features Brembo brakes, Yamaha front, and rear dampers and RAYS forged alloy wheels. Just 300 380RS models were produced between 2007-2008 and were priced at $38,695 (5.397 million yen) in Japan.
NISMO Type 380RS-Competition
This is the race-spec version of the 380RS which has a tuned VQ35HR which is capable of 400PS at 7,500 rpm. According to Nissan, these were sold at 26.25 million yen (around $241,750).
NISMO Police Version
We're not sure if this is more cool, or amusing, but the Tochigi Prefecture police force had their own specifically-designed NISMO 350z's, undoubtedly purchased for catching those damn drifters!
You certainly wouldn't want to be chased by one of those in your stock 350!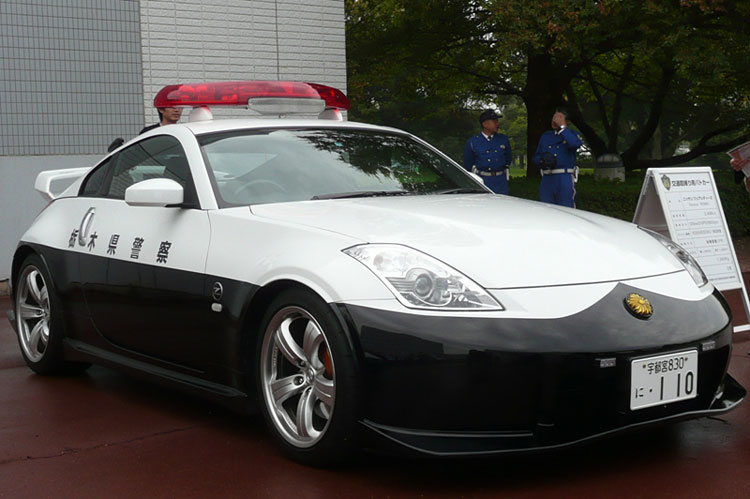 Nissan 350z (Z33) Pros & Cons
Pros
Undoubtedly a great drivers car, especially with some minor modifications
Fantastically priced, particularly in the present market
Reliable – the Rev-up is sometimes known for burning oil, but other than that they are well-known for their strength and tuning potential
Stunning looks, which have stood the test of time
A huge selection of off-the-shelf bolt-on modifications – we're going to take a further look into some of the best products on offer in the next section
Parts availability – this is often a huge problem with owners of rarer cars, especially cars like the S-chassis which has been around in the drift scene for a LONG time. With parts getting older, they're also getting rarer, much like the cars
Forced induction capabilities – with such strong internals, these engines are capable of achieving far bigger power figures than Nissan provided
Cons
Rear blind spot – due to the design, some owners have had difficulty seeing out the rear 3/4
Rev-up oil consumption – these engines have been known to burn a little excess oil, it seems to be worse with the rev-up's than other models, so it's well worth researching if you are planning to buy one and think this may be an issue for you
Two seats – this could be a positive for some owners, we sure as hell don't like having to carry too many passengers all the time and regularly strip the rear of our car, but given there's no option, I guess it's a con
Weight – they're not the lightest chassis out there, but it's the perfect opportunity to carry out some weight saving
Limited cargo space – if you're often moving big items such as golf clubs, you may want to reconsider your car choice, these aren't exactly the most spacious method of transport
Building the Ultimate 350z
With the ever-increasing popularity of 350z's in the tuning world, we've created a huge variety of articles helping you choose the very best parts for building the ultimate 350z.
We highly recommend checking out all of our 350z tuning guides, but let's take a look at our recommended mods for the 350z: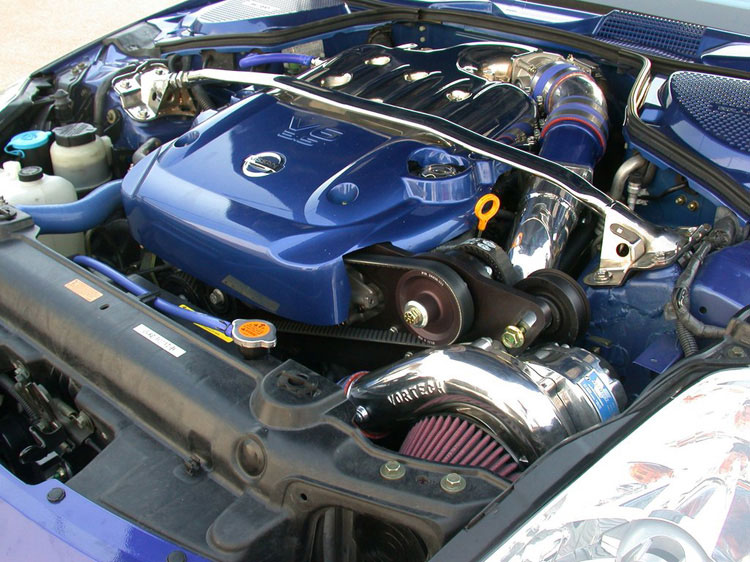 Our comment: Vortech have put their years of valuable knowledge in the supercharging scene to create the ultimate kit for 350z owners.
Combining great value for money with the fantastic build quality, reliability and customer service. Not only that, it's also one of the easiest kits to install (around 8-12 hours).
With owners making an impressive 410hp from the kit and 440hp from the 'Rev-Up' variation, it's easy to see why so many have made this their choice.
This kit also includes upgrade options to gain additional power. Check out the video below where someone has managed to achieve a crazy 577whp!
Manufacturer description: "The 350Z system uses Vortech's V-3 SCi supercharger. Continued development in Vortech's Lab resulted in the V-3 SCi. The "i" stands for improved and with its new patented oil control system and state of the art centrifugal compressor stage this V-3 literally blows away the competition.
Industry leading 75% adiabatic efficiency [SAE J1723 standard] means less heat is being generated, reduced drive power and more net power is produced. Less heat also means better durability, easier on the engine than any turbo installation."
"Vortech supercharger systems are great value. Dollar for dollar, Vortech systems deliver more horsepower than virtually any other method of upgrade. Also, driven normally, gas mileage usually increases."
"Vortech's 350Z Supercharger Systems are available as either a complete, fully calibrated bolt-on system, or as a Tuner Kit for custom installations at over 500 HP. And with Vortech's many upgrade solutions, there is always more power when you are ready."
---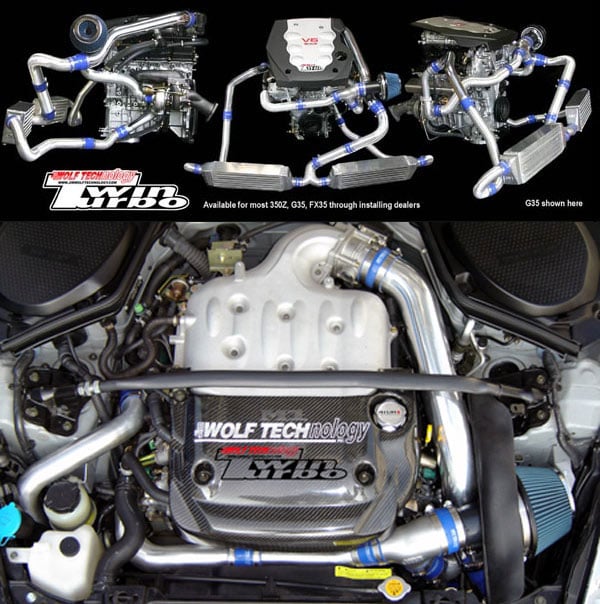 Manufacturer: Jim Wolf Technologies
Fitment: Nissan 350z Z33, G35
Turbo configuration: Twin turbo
Value for money:
Purchase link: Buy JWT Twin Turbo kit here
Our comment: The JWT kit is a great starter turbo kit that comes in at a mid level price point. Offering 125 WHP out of the box and impressive reliability claims, this could be the perfect solution to safely increasing your power. Further upgrade options are available to really make things interesting. Nice kit!
Manufacturer description: "JWT originally designed this kit as a feasibility study in conjunction with Garrett and Infiniti's product planner at the time. The kit is designed around the O.E. criteria for reliability, no boost lag, and safe but significant power levels."
"The JWT Twin Turbo Kit has accomplished this and more over thousands of miles of reliable track and street use since it's release. All critical airflow junctions use application-specific castings to maximize flow and eliminate boost lag. Turbo outlets have isolated waste paths to improve turbine efficiency."
"JWT has combined high-efficiency Garrett GT Ball Bearing Turbos, Garrett charge cooler cores (700+hp rated) with over 300 individual parts, to create the most complete and reliable bolt-on forced induction system available for Nissan and Infiniti VQ35 vehicles."
"No other boosting solution combines the reliability, performance, and throttle responsiveness of this system."
"This system is complete requiring no other modifications to deliver an additional 125WHP and much more with additional JWT upgrade stages."
---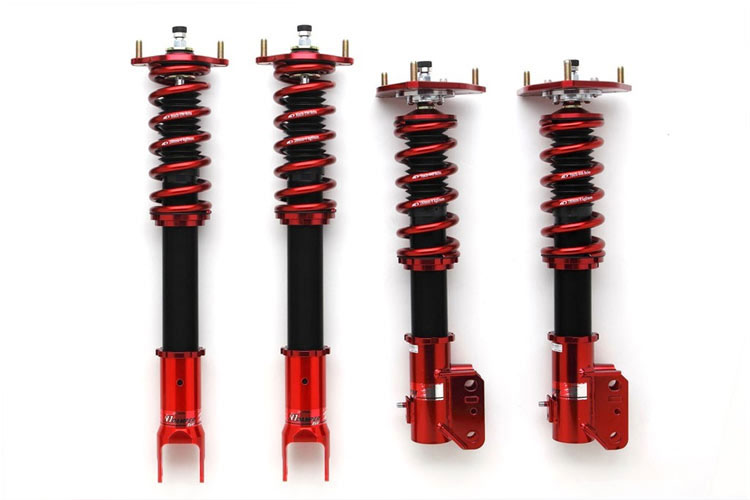 Manufacturer: APEXi
Levels of damping adjustment: 32
Construction type: Monotube
Spring rate front: 10kg/mm
Spring rate rear: 8kg/mm
Fitment: Nissan 350z, Nissan Fairlady Z, Z33
Value for money:
Purchase link: Buy your APEXi ExV's at FRSport
Our comment: These coilovers are a great out of the box option for a no thrills sports setup. These would be suitable for anybody looking to improve the looks and handling of their 350z for a reasonable budget. They are the cheapest coilovers in our guide and offer good value for money.
Manufacturer description: "APEXi N1 ExV is the newest line of coilover kits from Apexi featuring dual height and 32-way dampening adjustments. ExV, which stands for "Expert Type V" was designed to the be ultimate street suspension with no compromise for ride quality and price."
"Features include:
- 44mm Monotube Damper w/32-way adjustments
- Full dual height adjustable body for fine adjustments
- Spanner wrench and accessories included
- High-quality design and manufacturing"
"A must have for anyone doing track days and spirited driving. Will improve car handling and response effectively."
---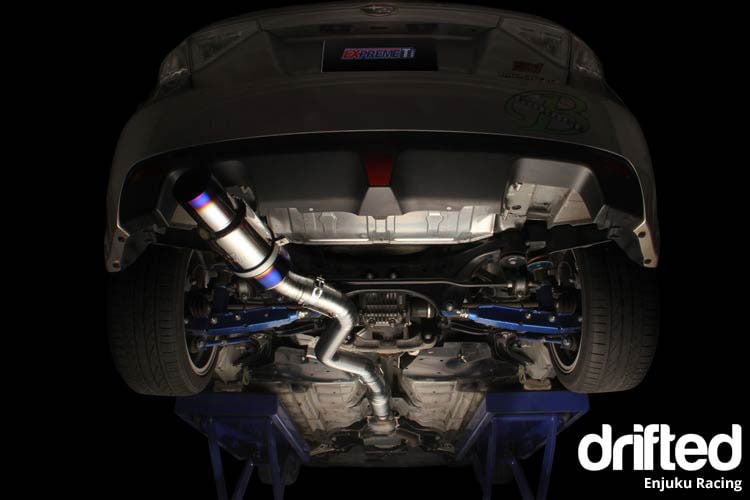 Internal pipe diameter: 60.5mm
Tailpipe configuration: Single 76.3mm exit
Primary exhaust system material: Titanium
Fitment: Nissan 350z (Z33)
Manufacturer: TOMEI
Value for money:
Our comment: The TOMEI Expreme Ti series are highly regarded exhaust systems, they offer stunning titanium build materials, sleeved joins, massive weight savings and a beautiful burnt titanium tip. They are designed to use efficient pipe routing to significantly increase power levels. Considering everything you are getting I think this exhaust system is a bargain.
Manufacturer description: "Instead of creating an exhaust system that focuses only on maximum peak power, Tomei's priority for this kit is overall engine performance gains. Each tube's length and size are selected to suit the engine's characteristics and chassis to maximize torque, response, and exhaust flow efficiency.The use of titanium combined with the single piping layout reduces overall weight from approximately 45 pounds to an ultra-low 10 pounds."
Purchase link: TOMEI Expreme Ti 350z exhaust
---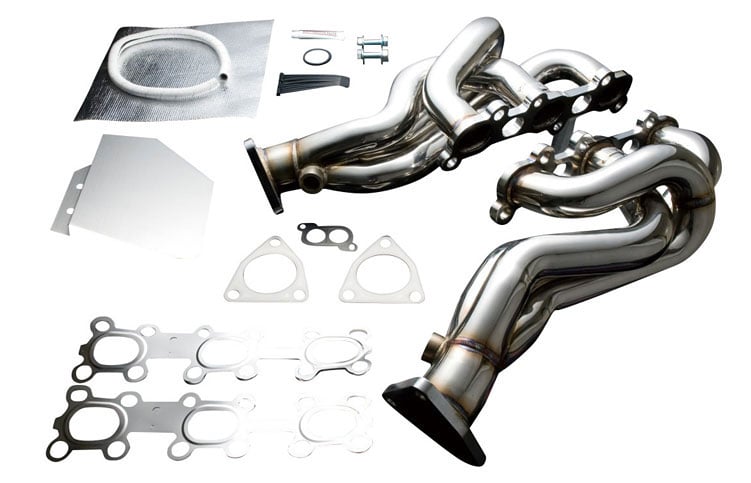 Our comment: TOMEI produces some great aftermarket parts for most JDM platforms, version 2 of the Expreme exhaust header is no exception. Excellent weld quality, high-end materials and dyno tested results make this a great fit for your 350z.
A nice feature is that this kit includes not only the fitting hardware but also a heat shield. You can read a great article about how they selected their tube design here.
TOMEI claim 5-15bhp (at the fly) from these headers, opting for a smaller 1.5″ pipe diameter to maximise airflow. Priced at a mid-level, these are an excellent choice for your 350z.
Manufacturer description: "The new Tomei Expreme exhaust manifold V2 design targets a sharper throttle response, a true race-exhaust sound, and increased power gains. Tomei tests their designs on both a dyno and in real road conditions in the Z Masters race series in Japan, so you know you are getting an exhaust manifold that gives you a competitive edge. This exhaust manifold gives you the high airflow you need for a better driving experience."
"With the V2, Tomei has added a heat shield, thermal protector, and flexible thermal tube cover - eliminating hard-to-use thermal bandages - to the kit for added performance and to help reduce performance-robbing heat."
The Tomei Expreme exhaust manifold V2 is engineered for maximum performance
The pipe bends are designed to maximize exhaust flow efficiency
The merging section joint angles have been flow tested
The smooth pipe layout
Bolt on kit
---
Our comment: Takeda is claiming that this high-quality cold air intake is going to bolt on an extra 19bhp and 16flt/lbs of torque to your 350z. That is a serious boost for under $300.
This is a well designed but simple kit that includes an aluminium short ram pipe with a Takeda Pro Dry S oil-less filter.
For the cost and the performance increase, this intake is rewarded with five stars. What a bargain.
Manufacturer description: "Takeda Retain is the Takeda Short Ram lineup. These intakes create simple, bolt-on horsepower that requires simple, quick installation and no bumper removal. Some of the short ram intakes include a wrinkle black heat shield."
"Takeda Air Intake Systems use a revolutionary new Pro Dry S Filter Media that works without filter oil. This media is easier and faster to clean than traditional foam and requires no costly and messy solvents or oils. "
"Takeda filters can be cleaned in a matter of minutes and are ready to use after only a couple of hours of drying time. Unlike pre-oiled or disposable filters, Takeda Filters are Lifetime Filters that will last as long as you own your vehicle. "
---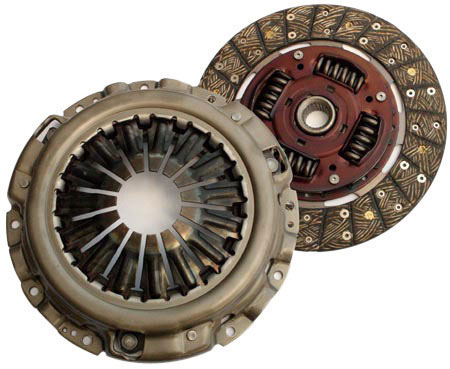 Our comment: JWT offers 350Z owners the clutch which is undoubtedly the most popular choice in our list with their clamping force HD kit. This, combined with their lightweight flywheel is the perfect choice for those who want the stock, OEM pedal feel but with a clutch that can handle a little more of a kicking.
Often regarded as the perfect option, this is ideal for daily driving and light track/drift use. If you're intending to go down the higher-powered forced induction route, you may want to look for something a little more hardcore.
When coupled with the lightweight flywheel, the only complaints we've ever heard is about the amount of chatter noise, but it's a small price to pay for such a fantastic option otherwise.
Manufacturer description: "1200KG clamping force and a smooth organic disc makes this the best choice for street/track 350Z-G35 including boosted cars!"
---
350z's In Drifting
It comes as no surprise that the Z33 has been an extremely popular chassis within the drift scene throughout the years.
During the 2006 D1GP exhibition event at Las Vegas Motor Speedway, Tanner Foust became the first competitor to achieve the perfect score of 100 whilst piloting his 350z. He eventually went on to take the 2007 Formula Drift title with the Rockstar-AEM 350z.
In the same year, Chris Forsberg also took the win at Round 2, also behind the wheel of his VK56-powered 350z, while Youichi Imamura also took the win at the Las Vegas US D1 series with his RB26DETT powered 350z.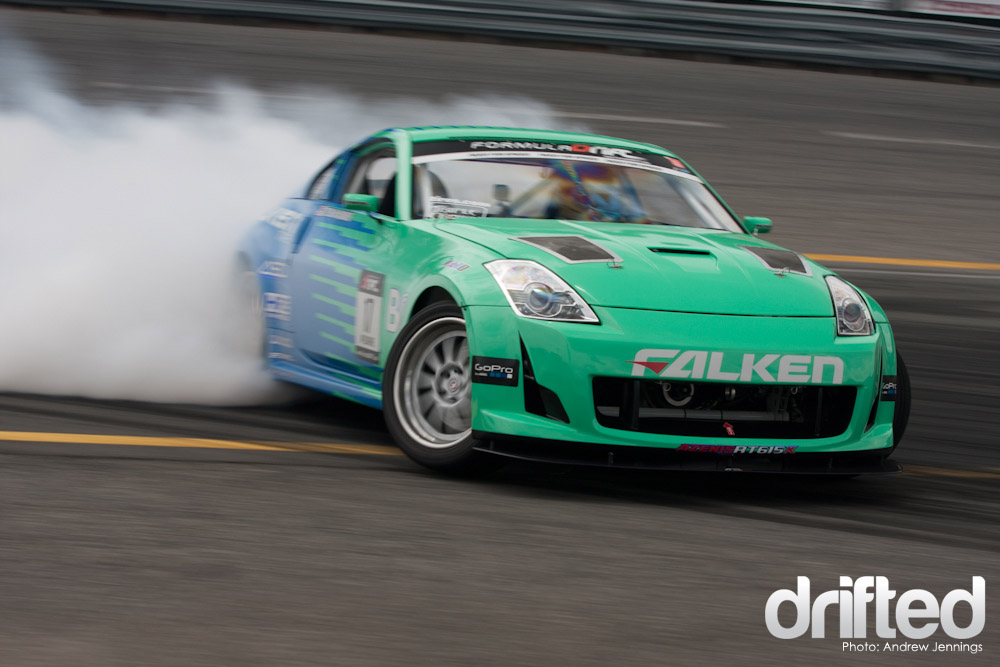 In 2009 Tyler McQuarrie campaigned a pair of competitive 350z's in Formula DRIFT. The first car was a 350z Roadster (convertible) and in 2011 he upgraded to a hardtop coupe. Tyler and his Z33 cars performed well in the championship, landing him numerous high scored qualifying positions and two outright wins; Las Vegas in 2010 and Irwindale in 2011.
Not only has the 350z been extremely popular and successful chassis in competitive drifting, but it also shot to fame when it was thrown sideways for the Hollywood movie, The Fast and the Furious: Tokyo Drift, with the lead character "Drift King" Takahashi behind the wheel.
As well as drifting, the 350z also continues to break records around the world in various other forms of motorsport. Check out this insane VQ35-powered 6-second 1,900hp drag car!
What's next for the Fairlady?
If you're already here, you most likely already know that the 350z's successor, the 370z has already been on sale for quite a few years. Despite being a worthy upgrade, where we put the two head-to-head in this guide, the 370z is still out of the price range for many.
But what about looking to the future? What's not quite so well-known is the fact that Nissan's Vice President for Global Design claims that they're already working on the 370z's replacement, which could mean that the Fairlady dream can continue!
There are all sorts of rumors floating around as to what the new Z-car will look like, and how much power will be under the hood. Some are claiming it'll be a 400z, with a 475hp powerplant and an AWD drivetrain, but we somehow doubt that will be the case.
Either way, we can't wait to see what the future has in store, and we're sure it'll be worth the wait!
Conclusion
As you can probably tell, we're huge fans of the 350z here at Drifted. They were a fantastic price when they were initially released to the new market, but now they're simply an absolute bargain.
Whether you're looking to purchase one as your first car, looking to strip one out and build a track weapon, or looking to slam it on its ass and head to the local stance meets, this is one car that ticks all the right boxes. (Well, unless you're looking for rear doors, of course!)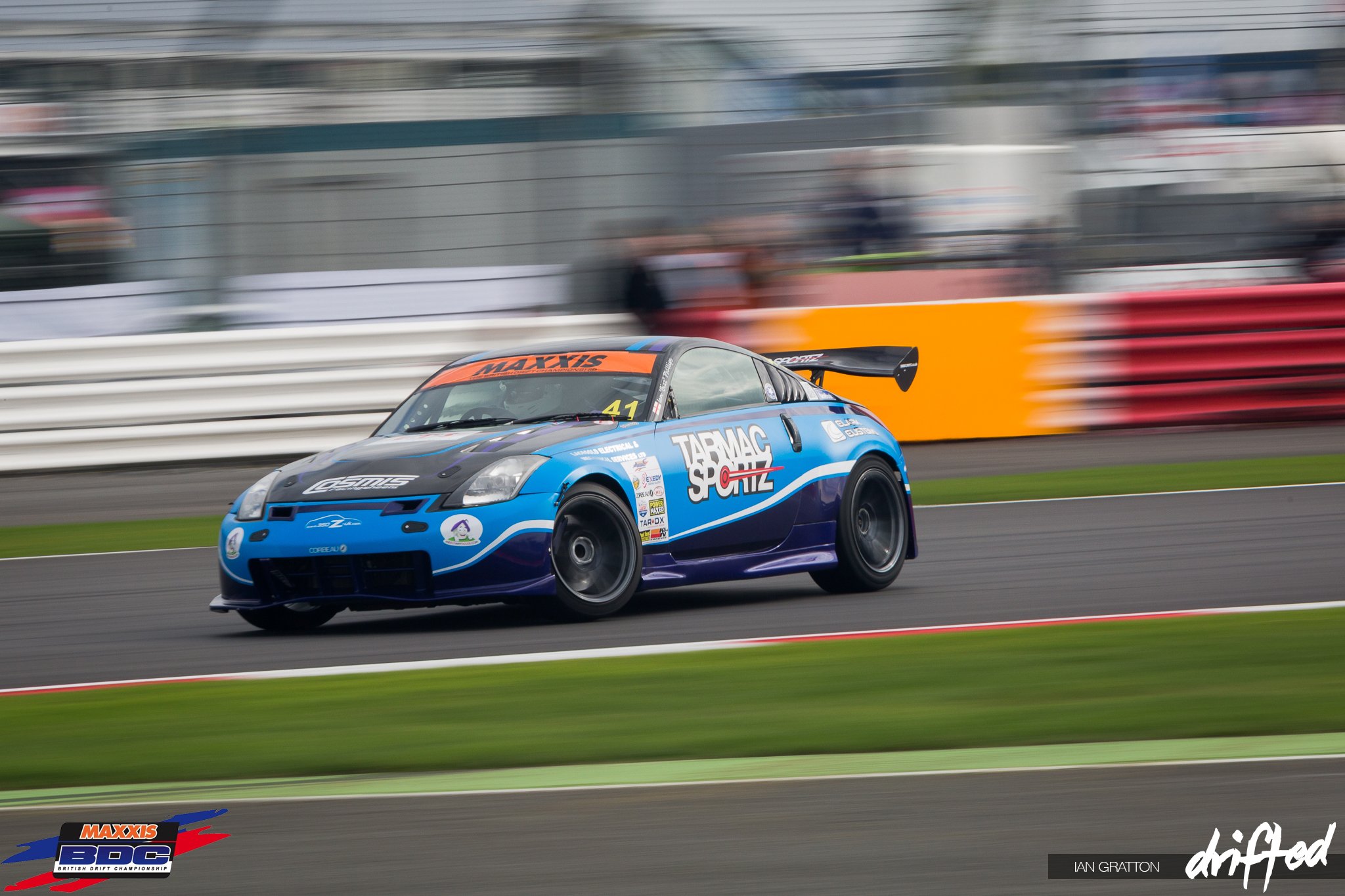 With a satisfactory amount of power from the factory, and decent handling to match, the huge range of aftermarket modifications available makes transforming these easier than ever.
If you're even considering purchasing one, we highly recommend that you go for a test drive and consider the true potential that it has to offer. Believe us when we say that there are very few cars out there on the market which have so much potential to offer for the money.
Additional 350z Related Content
We've chosen some of our favorite 350z YouTube picks here:
We love Best Motoring videos, if you're a 350z fan, you're gonna enjoy watching it teach some 'superior' cars a lesson on the track!
We have to admit, it's a pretty cool car and video!
Sure, it may have an LS3 under the hood, but why the hell not?!
Adam LZ takes a ride in TJ Hunt's 350z!
You didn't think we were gonna let you leave without a sound compilation video, did you?!
Photography credits
Drifted would like to extend thanks to the following sources for use of their images:
Planning to mod your Nissan 350Z? Check out our Ultimate Nissan 350z Modification Guide.
You can also check out our Ultimate Nissan 350z Buyer's Guide.
If you're looking for the best 350z lowering springs on the market, here's our Ultimate 350z Lowering Springs Guide.