EVENT: Formula Drift Round 5 – A Photo Story
With my busy schedule, I didn't get to shoot a lot of local drift event this last year, but I was stoked to come to my local track and experience Formula Drift once again.  Formula Drift Round 5 has been held at evergreen speedway for as long as I've been into the sport. This year, FD announced they had secured a deal with the track to keep it on the calendar for the next three seasons, so people can look forward to seeing the competition at the Monroe, WA based venue for a while.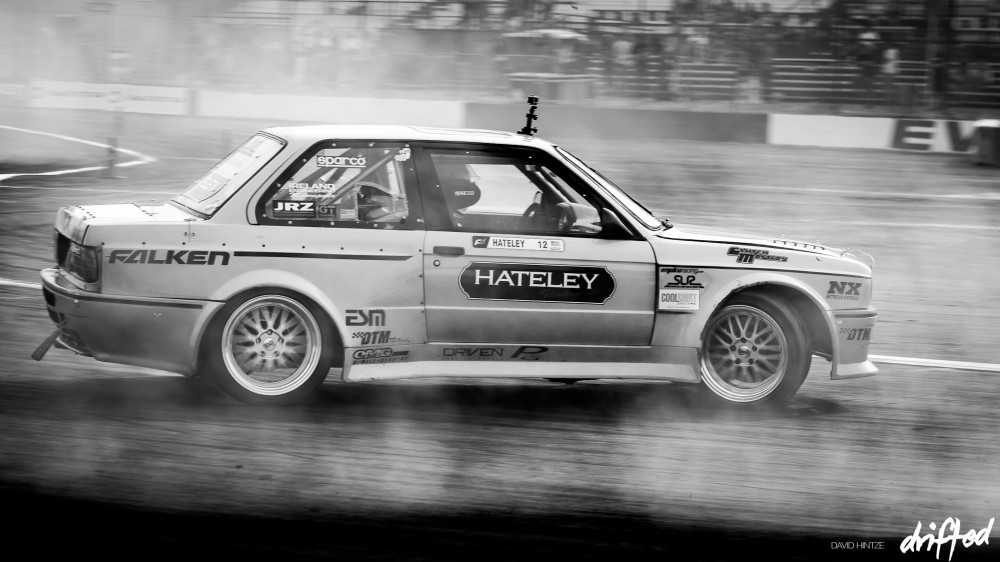 Evergreen Speedway, the track that eats tires. Unlike some on the FD circuit that are mostly used for racing, Evergreen is home to drifting, sprinter cars, demolition derbies, rollover contests, bus jumping, and a whole slew of other things. That diversity, combined with lack of maintenance, creates an incredibly gouged surface that shreds tires like no other.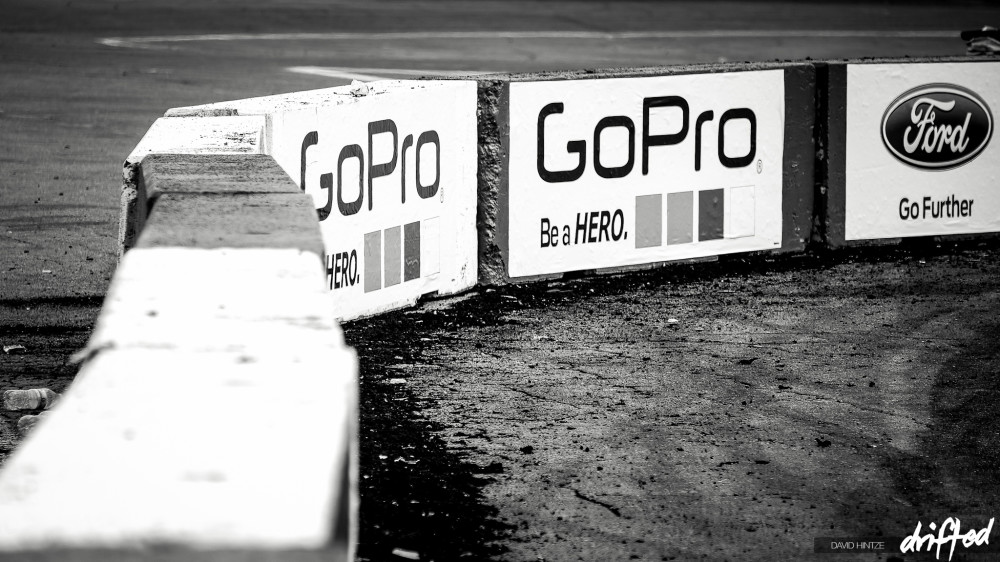 Some changes this year were made starting with the Pro 2 series. The usual Friday/Saturday event is now a three-day affair starting on Thursday. As described by the management:
"The Formula DRIFT Pro 2 Series is a new edition to the Formula DRIFT brand. The Pro 2 Series will become the primary bridge for Pro-Am drivers to become eligible for the Formula DRIFT Pro Championship. Drivers competing in the Formula DRIFT Pro-Am Series will earn their way into the Pro 2 Series before moving on into the Pro Championship Series. The Series will also be available for Pro Championship drivers that are unable to meet the minimum to renew their Pro Championship license."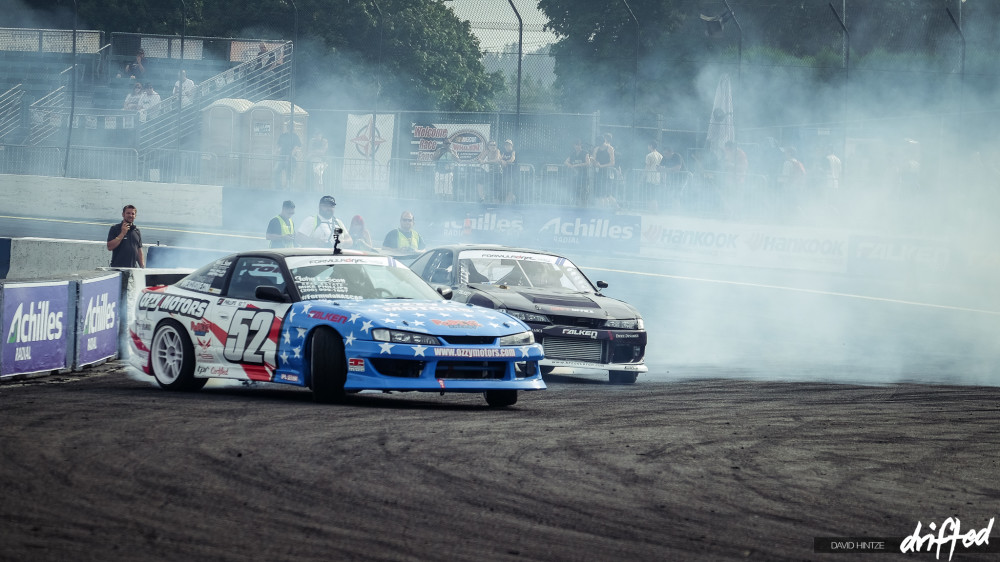 The Pro 2 competition took the place of the ProAm competition that was usually held in the past, with practice starting on Thursday.
I think most people expect some kind of crash to happen during Formula Drift, it's just unfortunate who it happens to.
Danny George took a ride on the wall during practice and left a trail of his car's blood in the process. Clean up took a while and a car was brought out on the track to "help it dry" by use of burning rubber and hot smoke.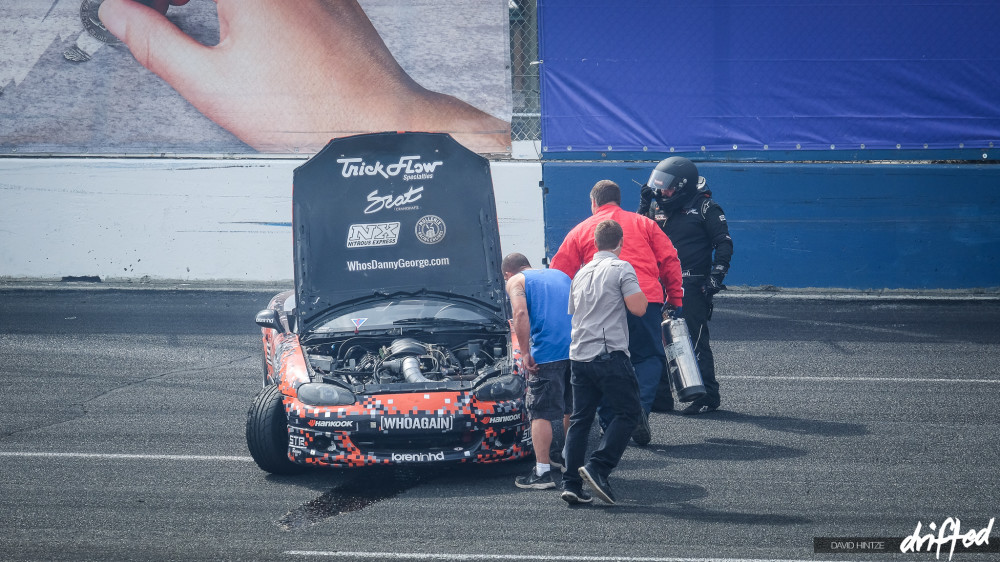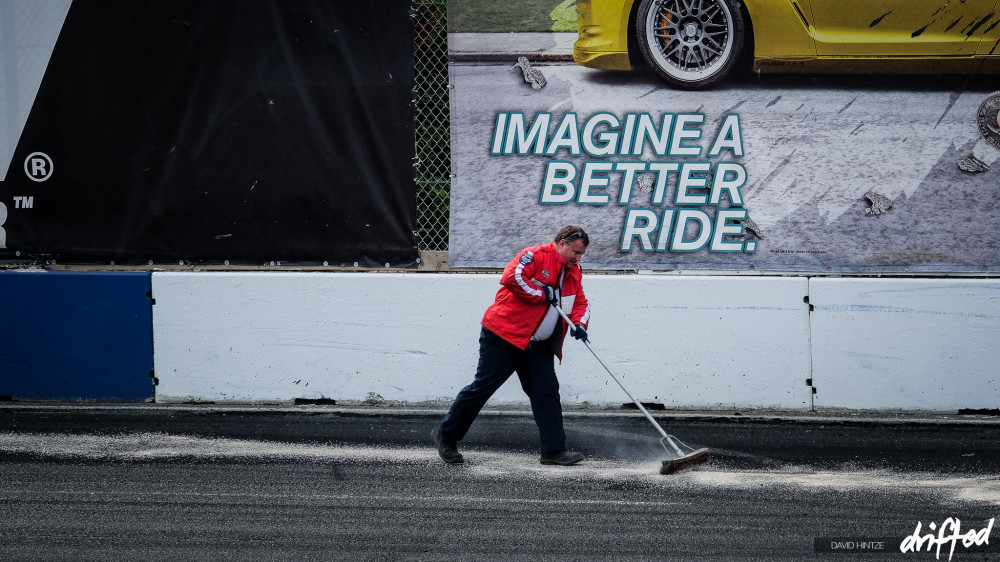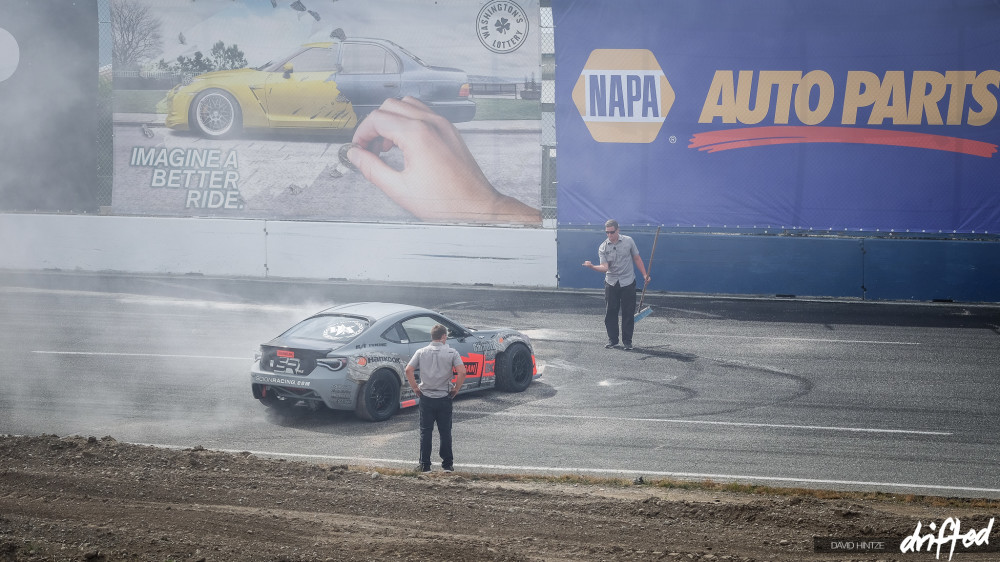 Local northwest driver Rob Primozich had an accident as well during practice and ended up in the wall. I was excited to see him on the track again this year at Formula Drift and it was sad to see him lose the momentum he had built throughout the season.
This was one of the only shots I got of Primozich before his luck took a turn for the worse.  I've followed him around local events and pro-am for quite a while and seeing his car transform internally and externally only to take a setback like this wasn't on my plate of things I wanted to see happen this year.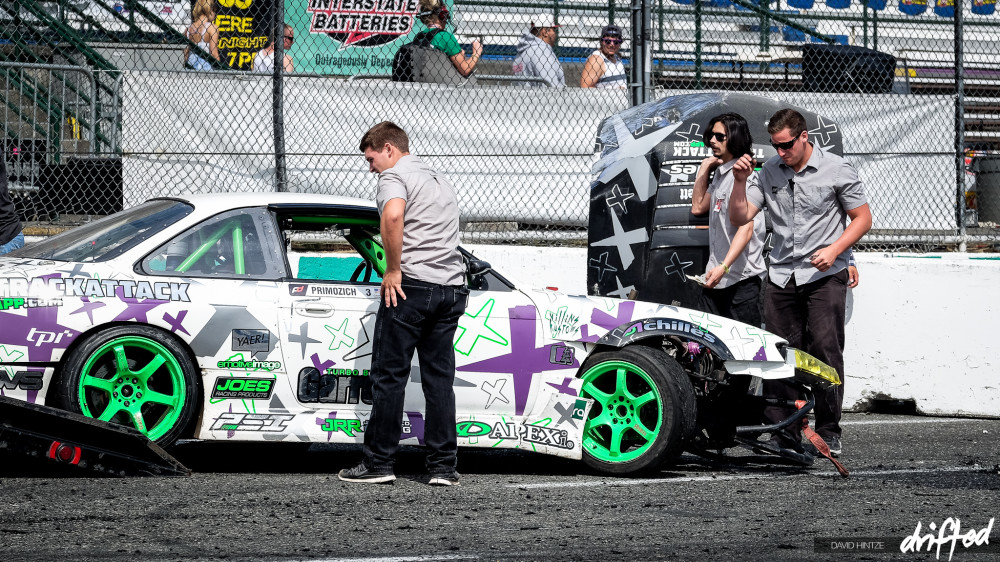 Pro 2 practice ended around 9pm on Thursday, concluding that day's activities. I stuck around for a couple hours before retreating to my hotel for the night in anticipation of Friday when the real action would begin, with drivers pushing the limits.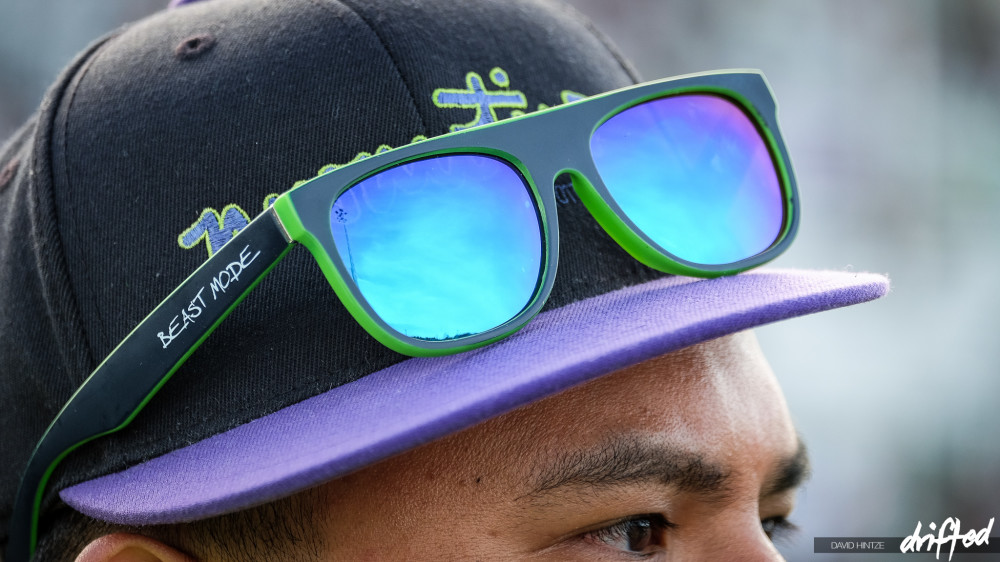 Friday started out nice and hot and as I had already been to the media meeting the previous day I was able to get a bit more sleep and not worry about showing up early and battling the lines at the Will Call tent. The day began with practice for the pro drivers, immediately followed by pro qualifying.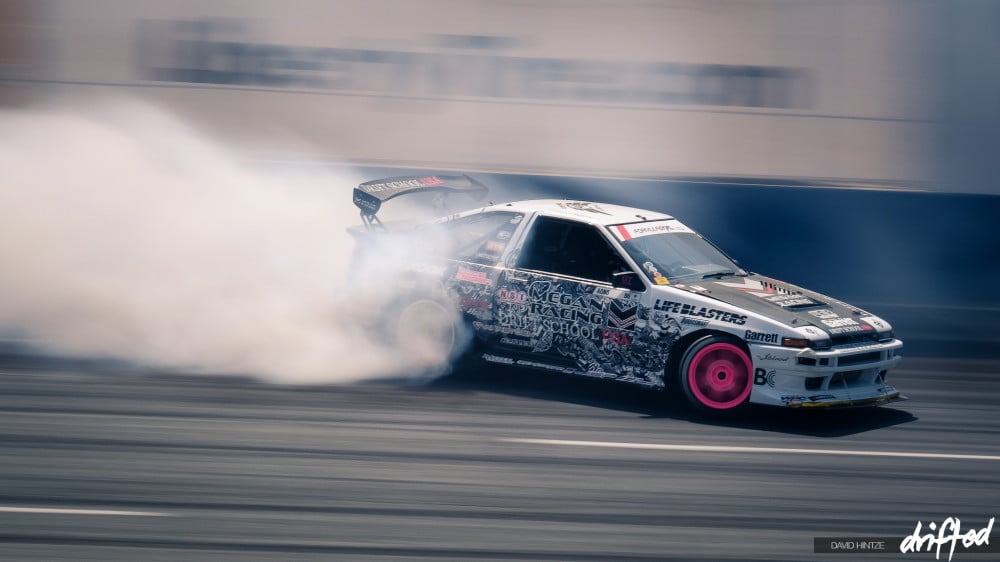 Following Pro qualifying, all the drivers took their seats for the autograph signing session in the pits as the hordes of spectators lined up for the long wait.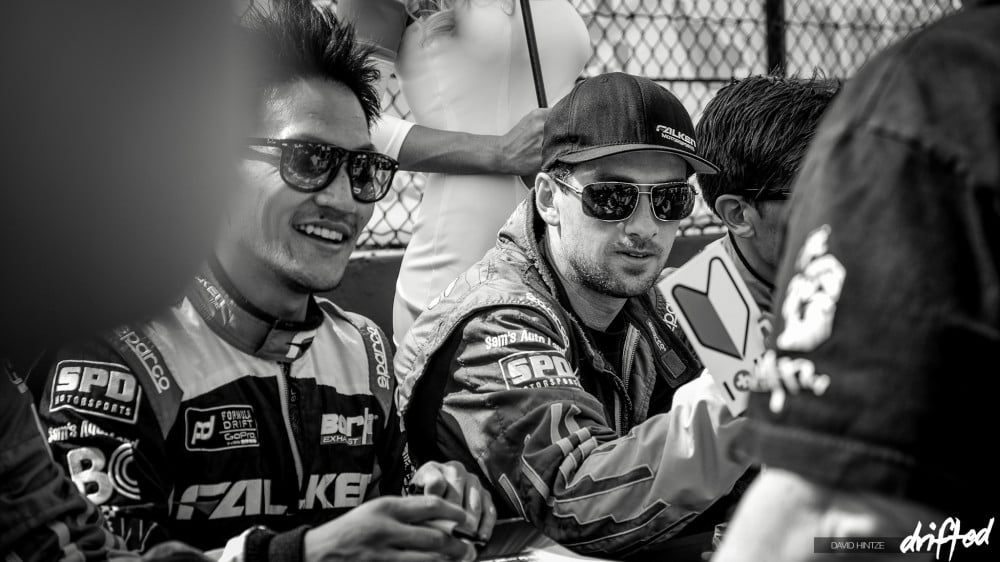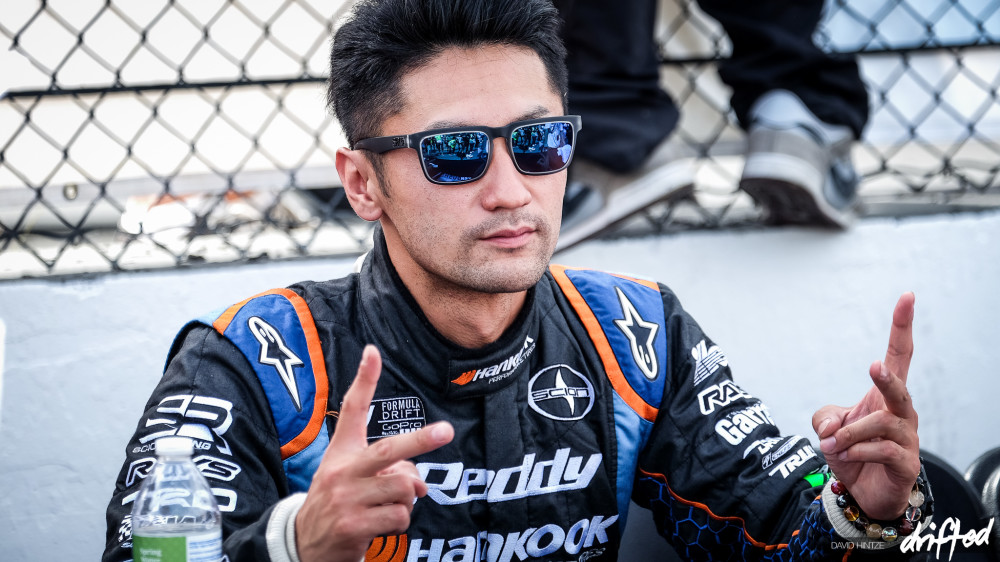 Drivers headed to the Formula Drift HQ after the autograph session and got the results of qualifying, and the Pro2 drivers started getting ready for their main competition.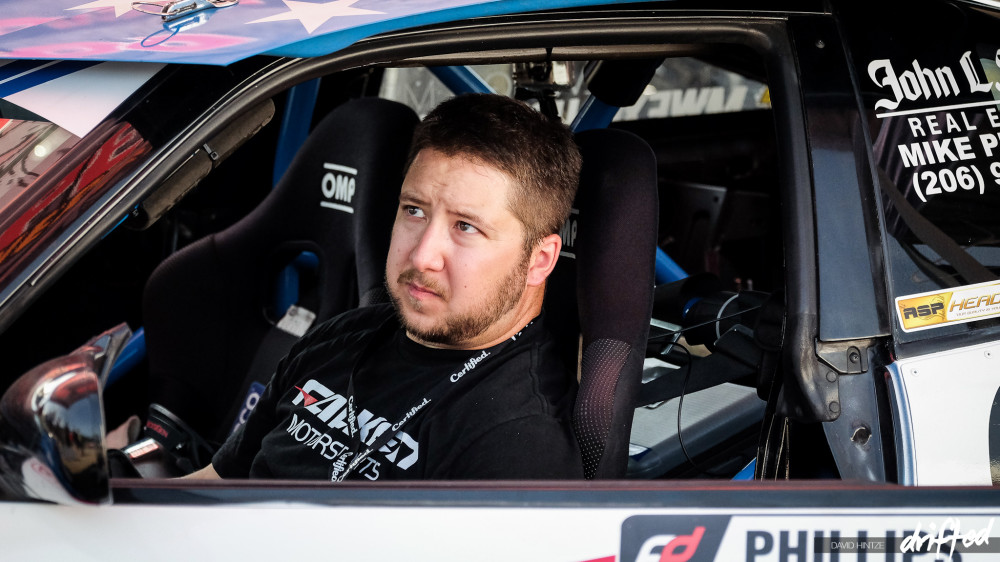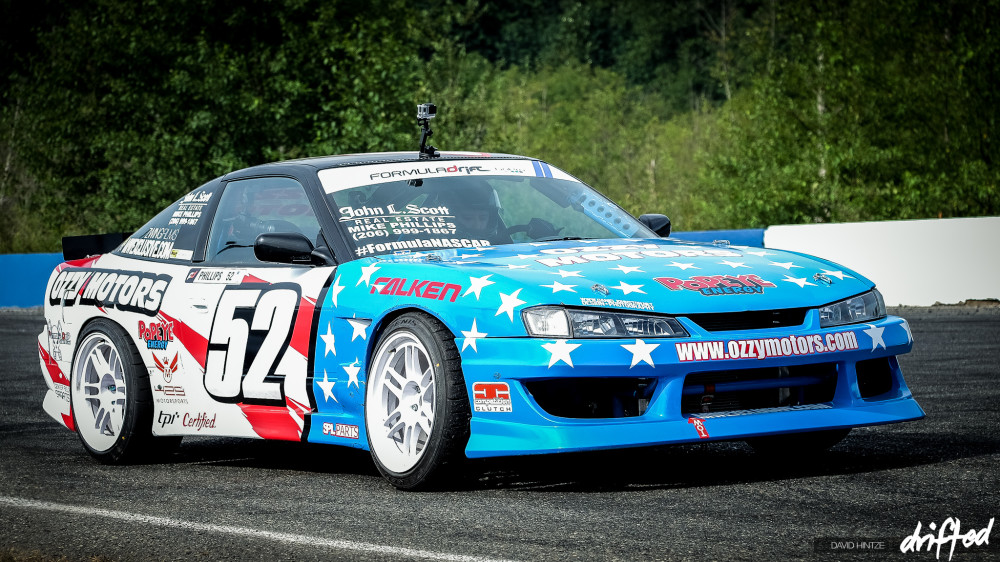 Top 16 competition for the Pro2 drivers started around 6pm, with driver introductions and the trophy ceremony following after.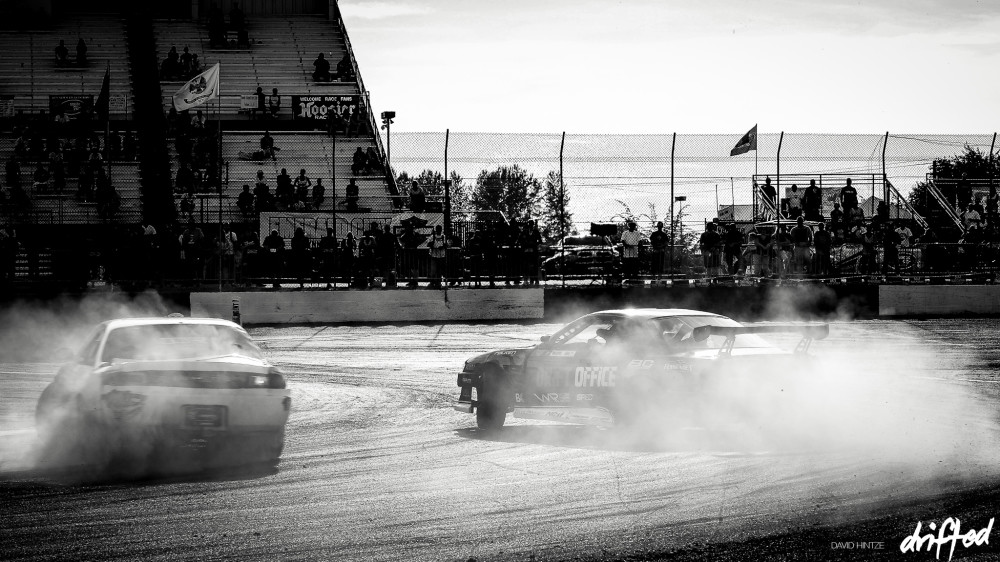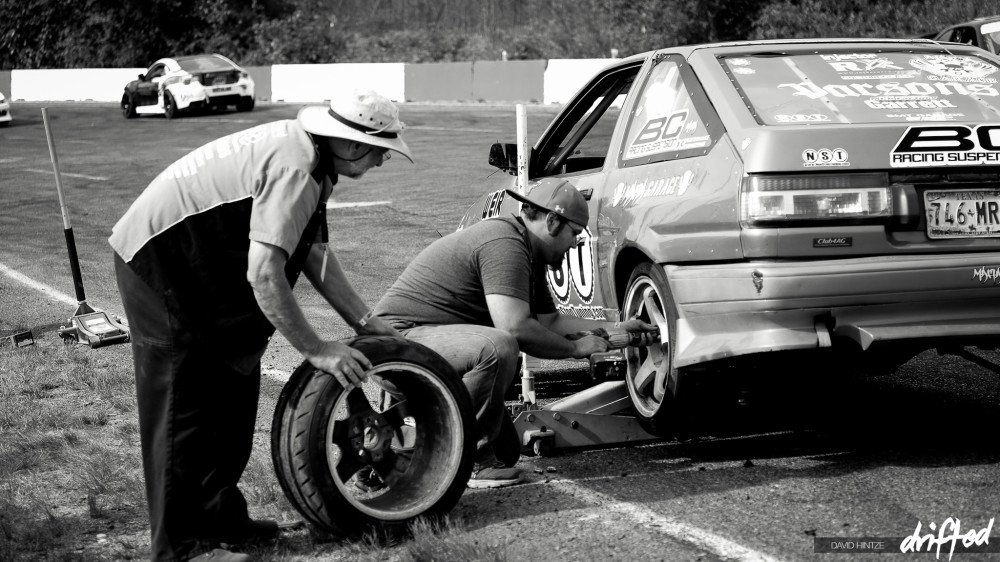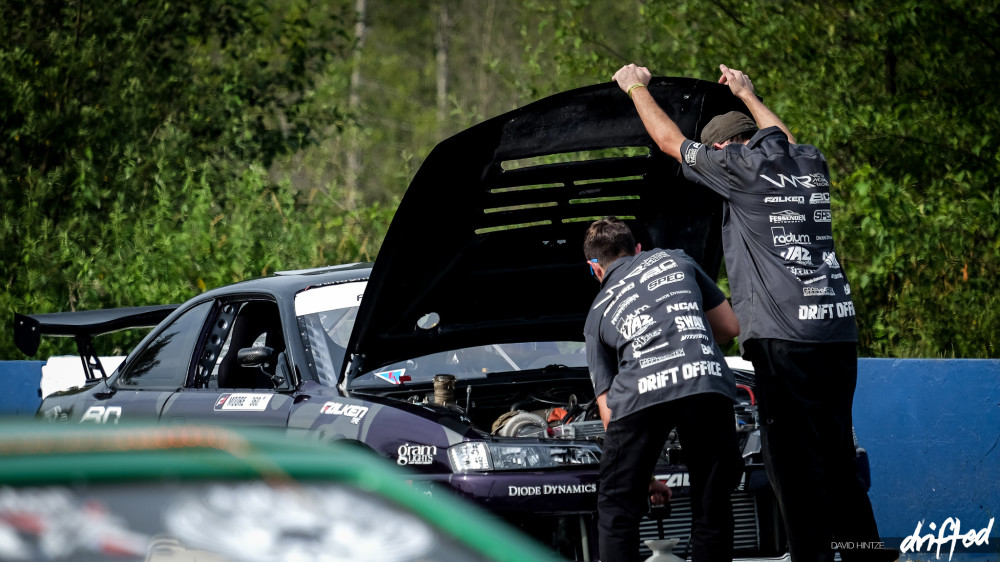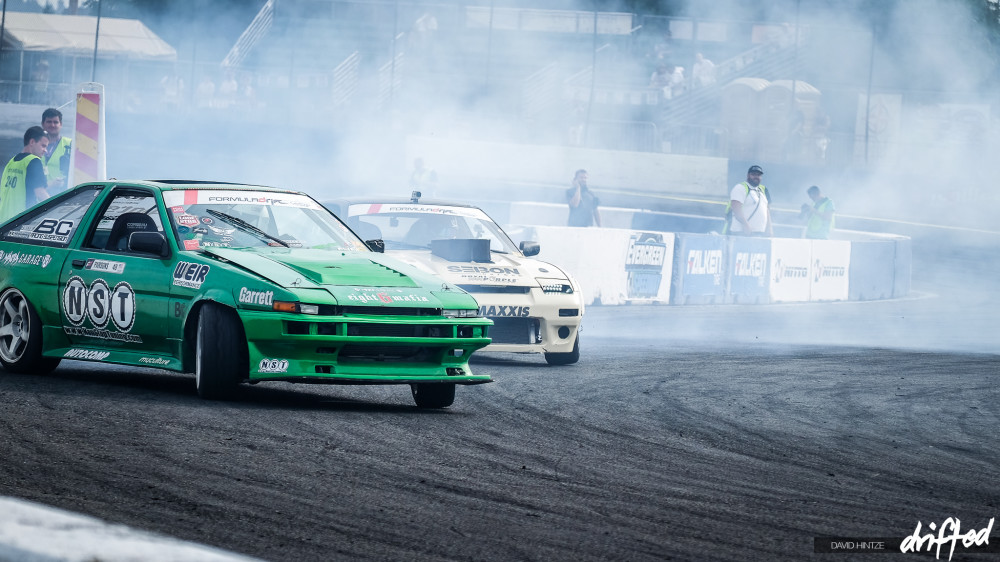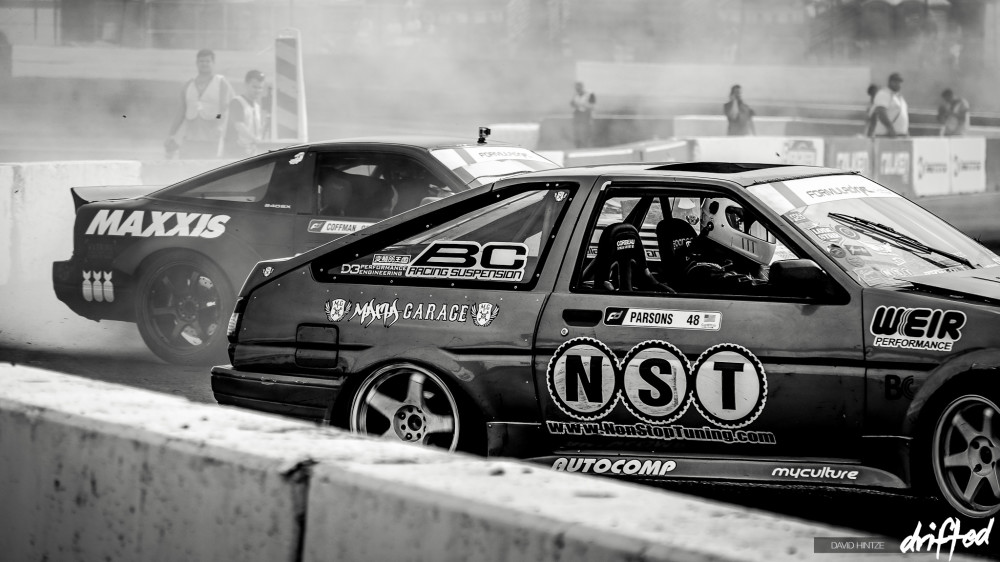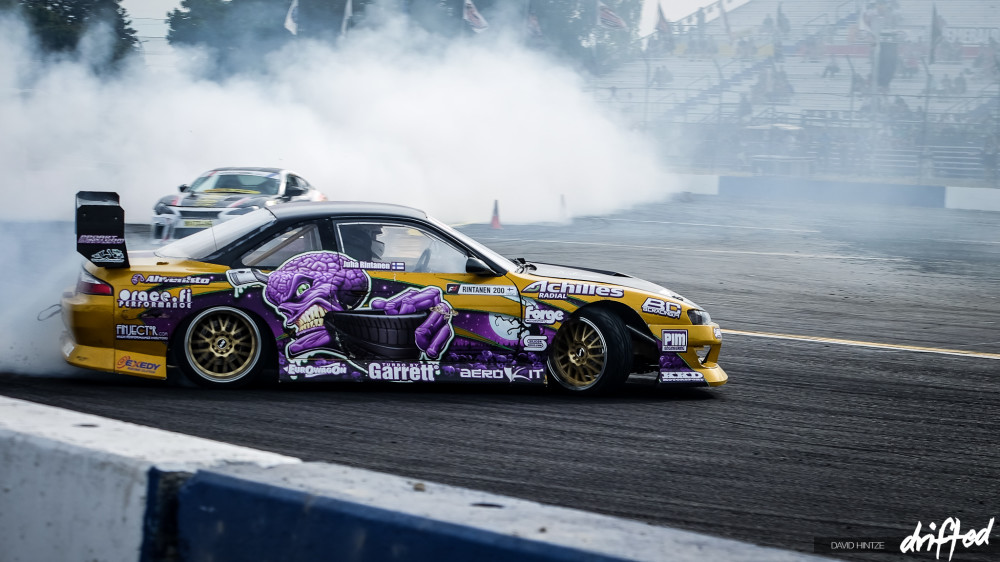 Dan Savage took the Pro2 win with his Sikky Manufacturing Mazda RX-8, followed by Jeff Jones in second, and Jeremy Lowe in third. Jones ended up spinning out, giving Savage the victory.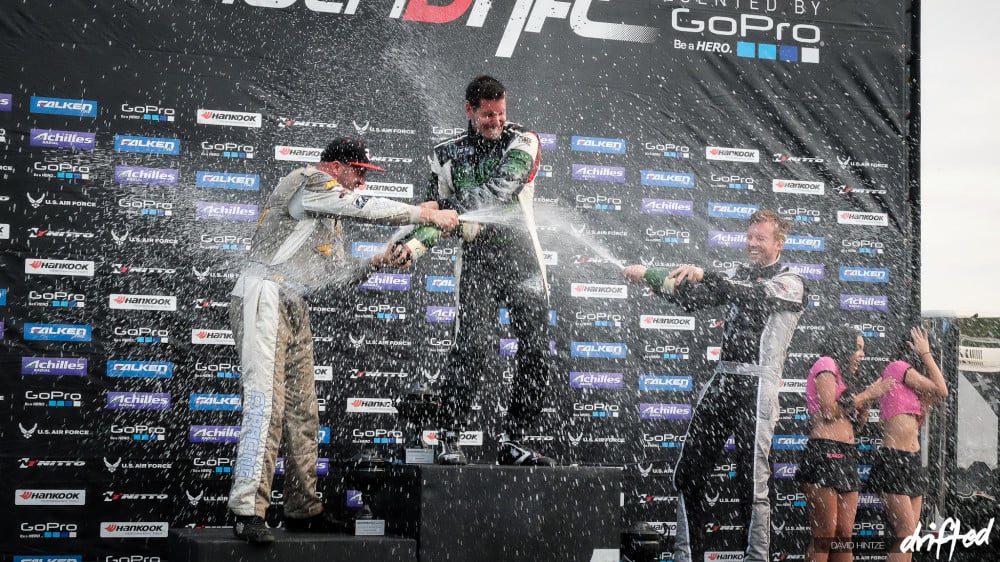 Formula DRIFT PRO 2 Standings After Two Rounds
1. Savage, Dan
Sikky Manufacturing Mazda RX-8
160.00 Points
2. Stoneback, Geoff
GSR Nissan S14
160.00 Points
3. Lowe, Jeremy
Enjuku Racing Mazda RX-7
141.00 Points
4. Evans, James
Sikky Manufacturing Nissan 350Z
105.00 Points
5. Hateley, Andy
Hately Motorsports BMW E30 325i
105.00 Points
6. Coffman, Matt
Coffman Racing / PSI Nissan S13
87.50 Points
7. Parsons, Will
NonStop Tuning AutoComp Racing Toyota AE86
87.50 Points
8. Wolfson, Tyler
GT Radial SAE Motorsport Mazda RX-7
86.00 Points
9. Hamilton, Nate
ONE44 Motorsports / Enkei Wheels Nissan 240SX
84.50 Points
10. Jones, Jeff
CX Racing Nissan S14
84.50 Points
11. Rydquist, Carl
Road Race Engineering / Berk Nissan 350Z
74.00 Points
12. Heyl, Brad
Standard Automotive Apparel / Sikky Manufacturing Nissan 350Z
84.50 Points
13. Briggs, Dave
Achilles Radial / Turbo by Garrett Nissan S14
51.00 Points
14. Primozich, Rob
Garage Autohero Track Attack Nissan 240SX
38.00 Points
15. Moore, Victor
Drift Office Nissan S14
35.00 Points
16. Van Den Brink, Doug
Denofa Motorsports BMW
35.00 Points
PRO 2 Round 2 Event Results
1. Savage, Dan
Sikky Manufacturing Mazda RX-8
Winner
2. Jones, Jeff
CX Racing Nissan S14
2nd Place
3. Lowe, Jeremy
Enjuku Racing Mazda RX-7
3rd Place
Day 2 was complete, I had only booked a hotel for Thursday night, and everything around the area was sold out (of course) I returned home for some much needed rest and charged all my batteries for the second time. The camera I was using chews through batteries incredibly fast when shooting constantly, I could only get about 300-350 shots per battery. I had 4, and ended up shooting around 4K images total, do the math.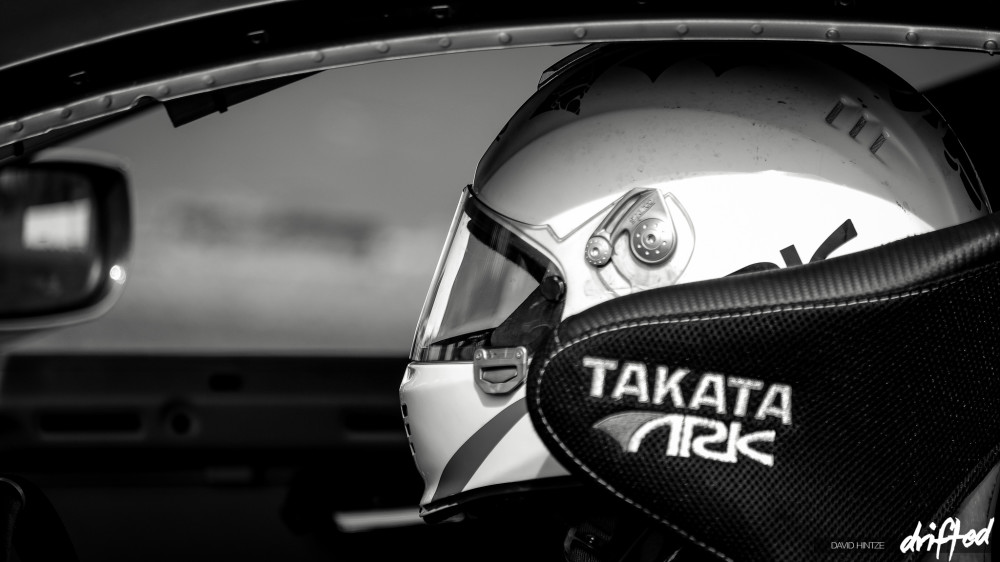 I woke up Saturday morning after getting some much needed slumber, threw batteries in the bag and headed back down to Monroe, an hour later I was back on track.  Open practice for the Top 32 pro drivers had started right as the gates were opened to the public, and exiting the freeway I could already see smoke billowing up and hovering above the grandstands. Engine noises were heard from the parking lot and the ever present smell of burning rubber and fuel became stronger as I entered the gates.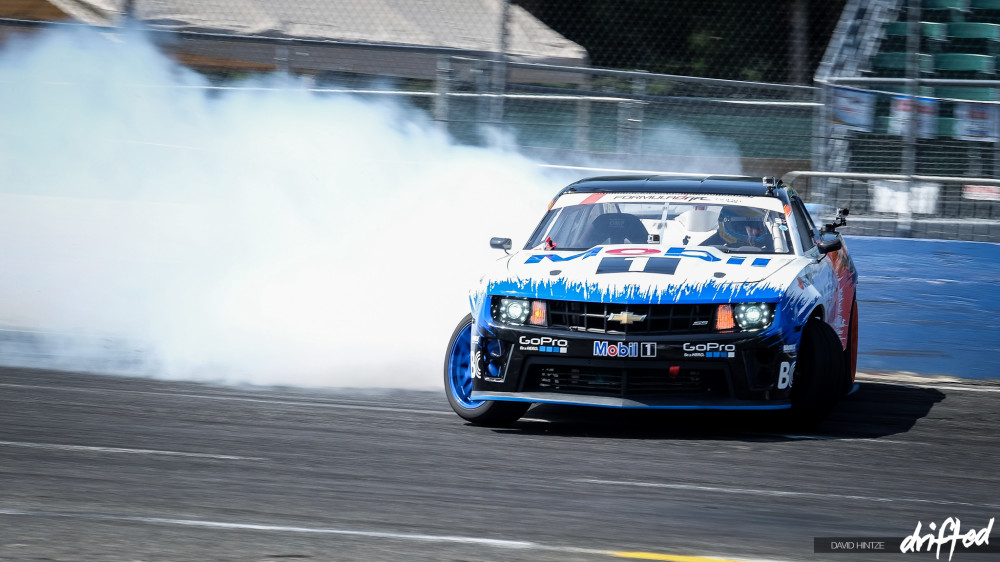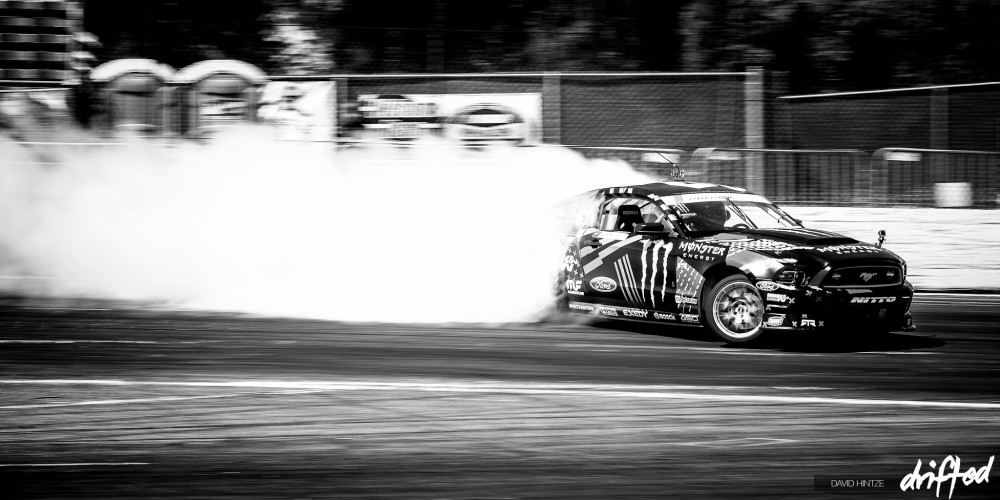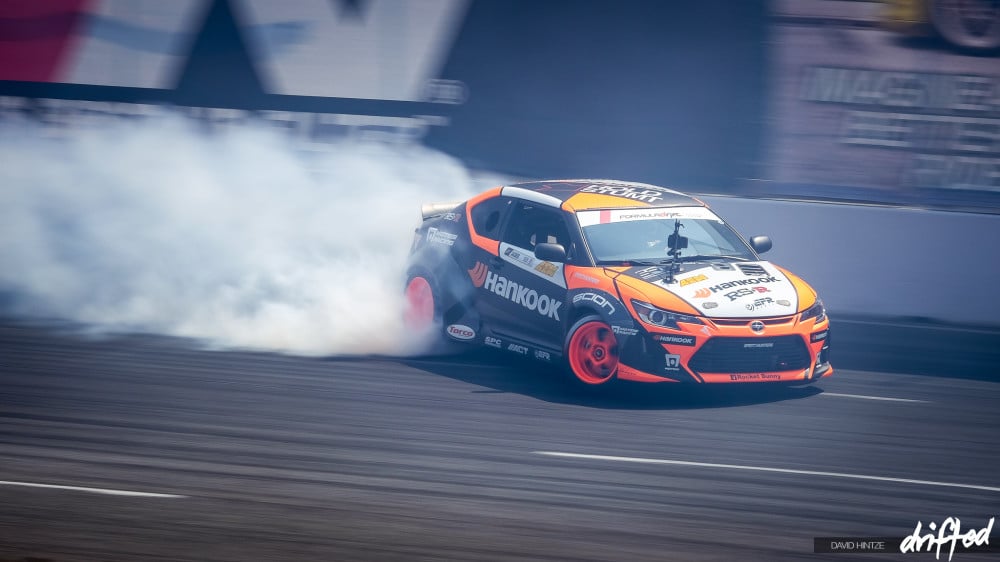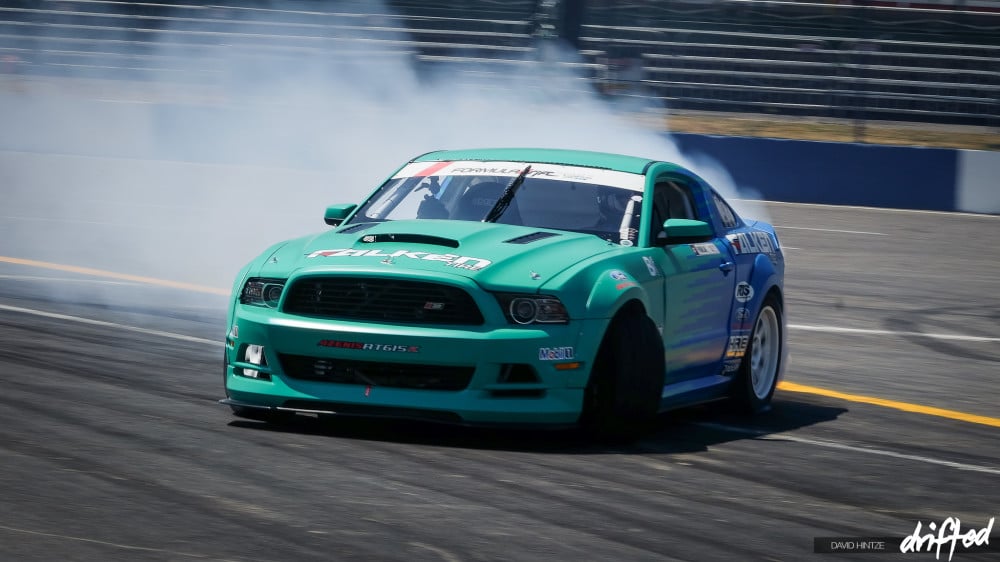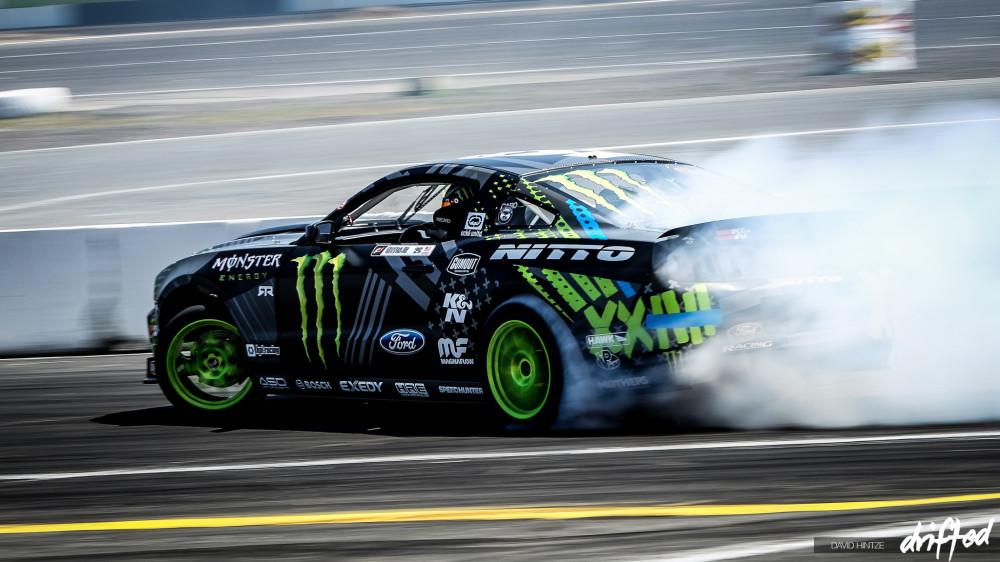 The main competition started up at noon and the Top 32 had one of the big upsets of the night: Vaughn Gittin Jr. got knocked out by Kenneth Moen. The rest of the matches without his car felt a bit odd, but I did manage to walk away with one of my favorite shots of his car I've ever taken.
After the top 32 had concluded, halftime commenced as thousands of people flocked to the car show, pit area and food.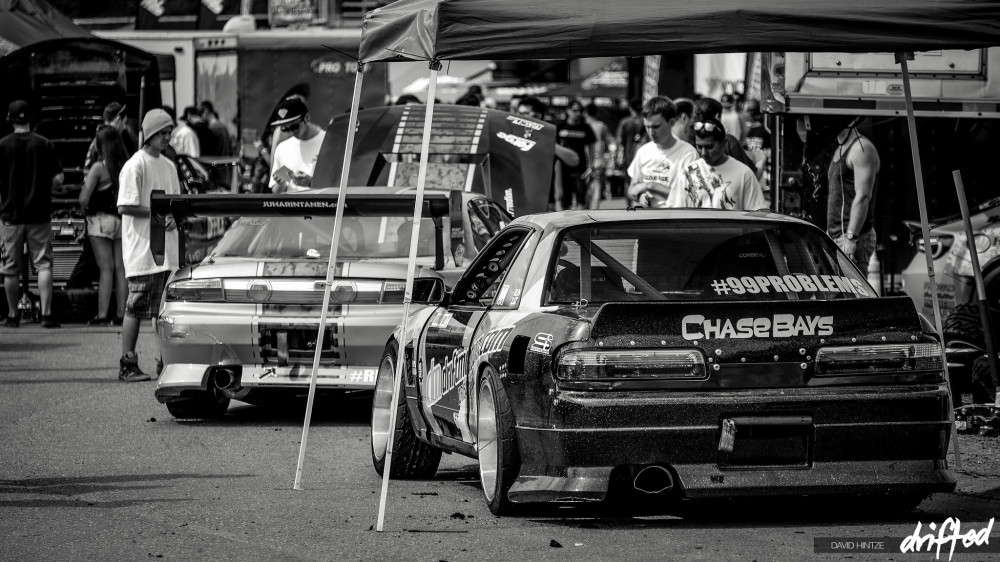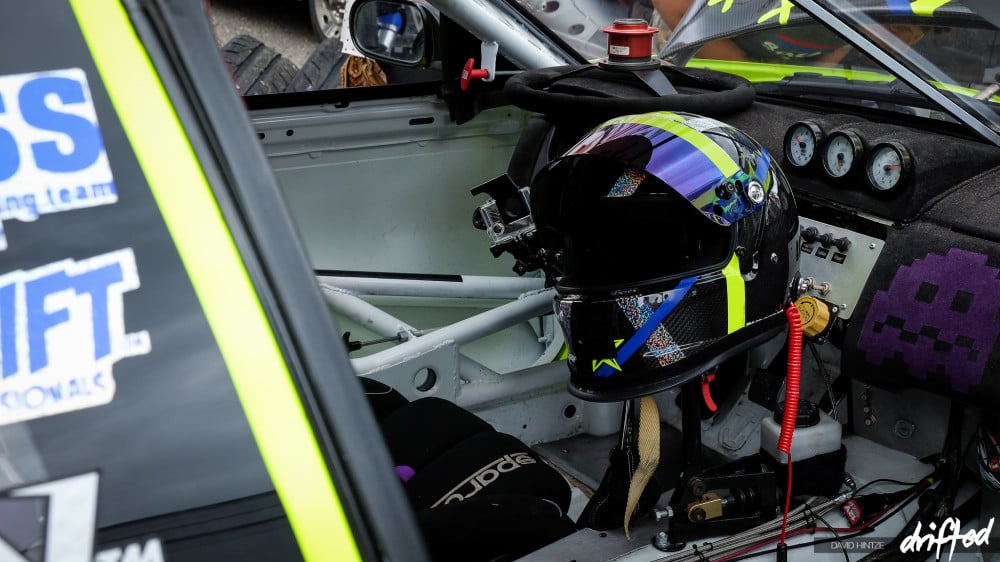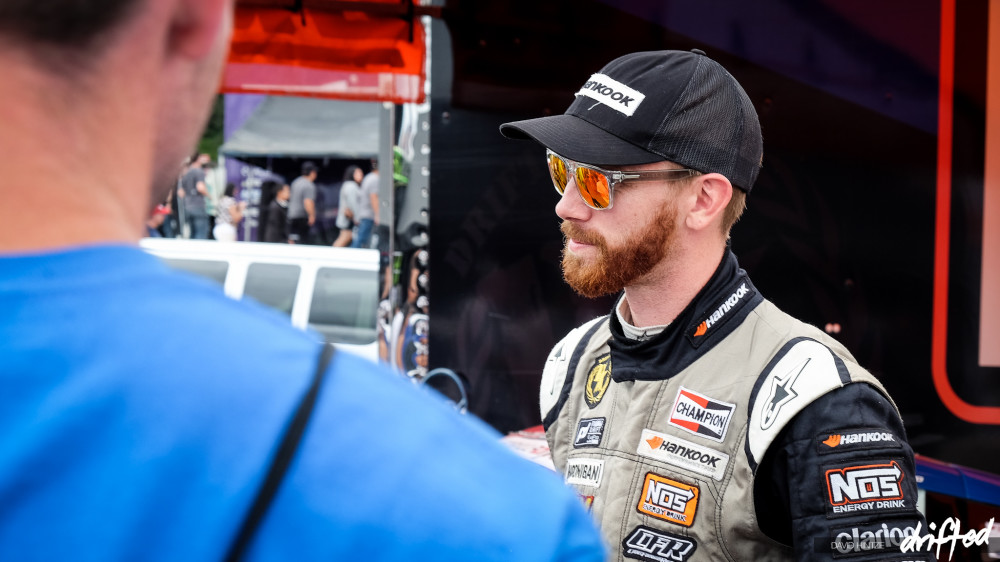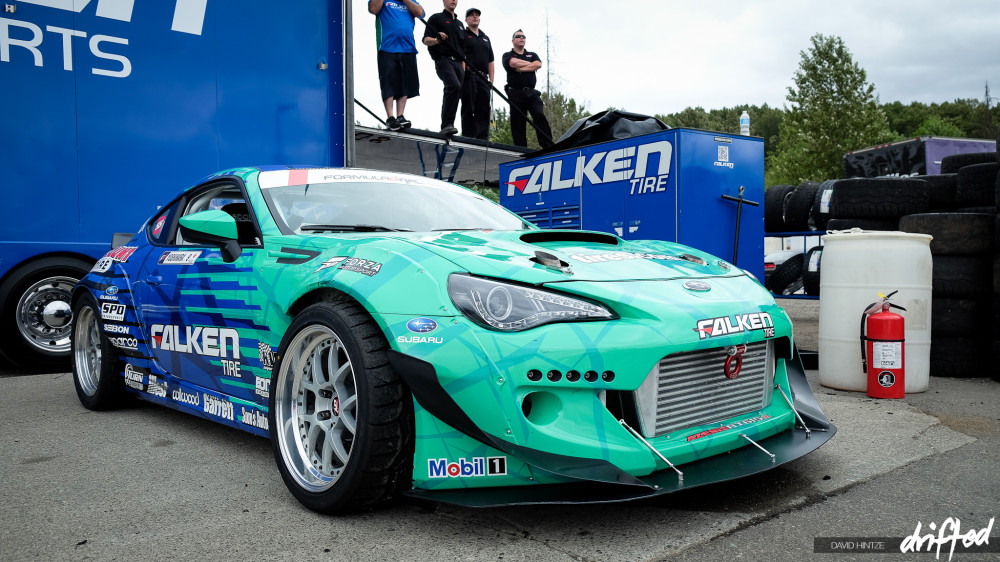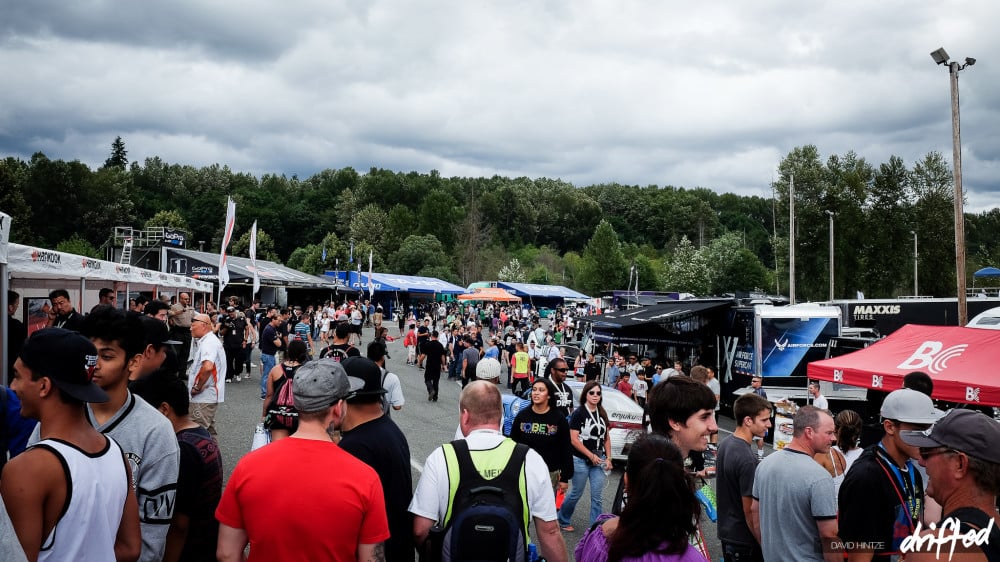 Rob Primozich's car was still in the pits, it was a bit painful to look at. I'm no car expert, so I can't comment on the extent of the damage, hopefully he will be able to get it back on track in the near future.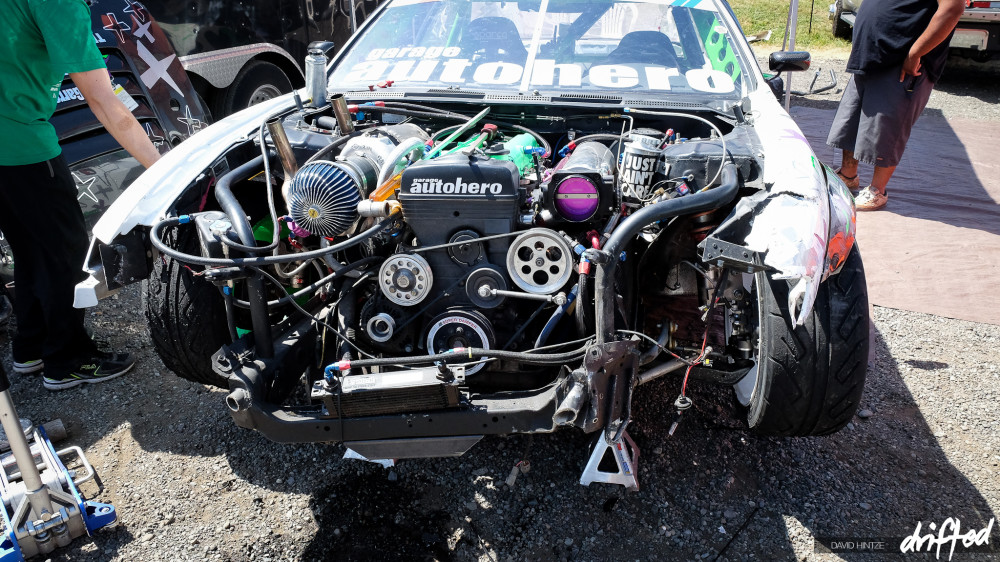 Before the Top 16 began, FD staff took a bunch of VIP's (read: fans who won a contest) around the track for a walk through of the line the drivers would be taking.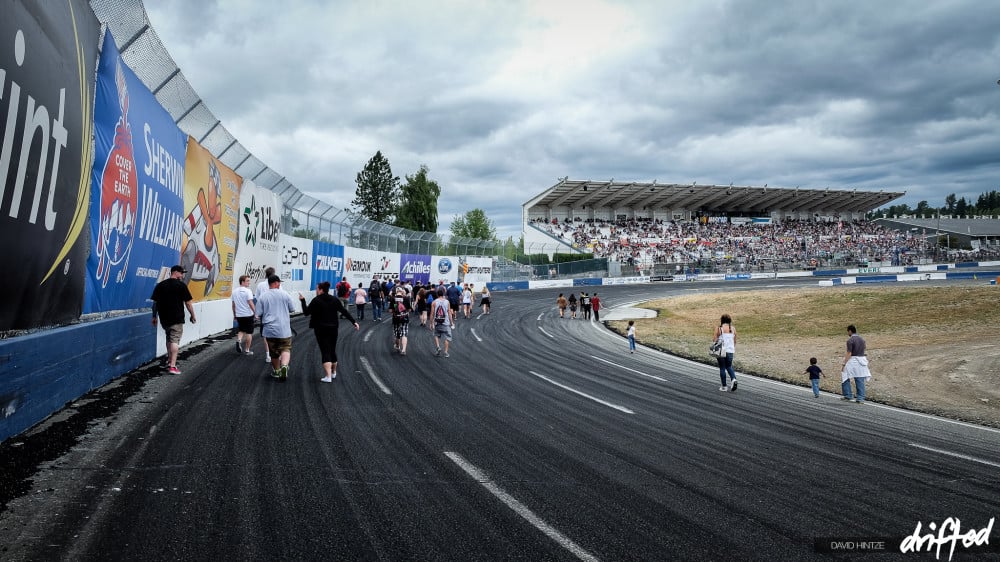 The walk ended right up against the fence where the opening ceremonies took place, VIPs got be right up in front next to the media box while driver introductions were made and the national anthem was sung.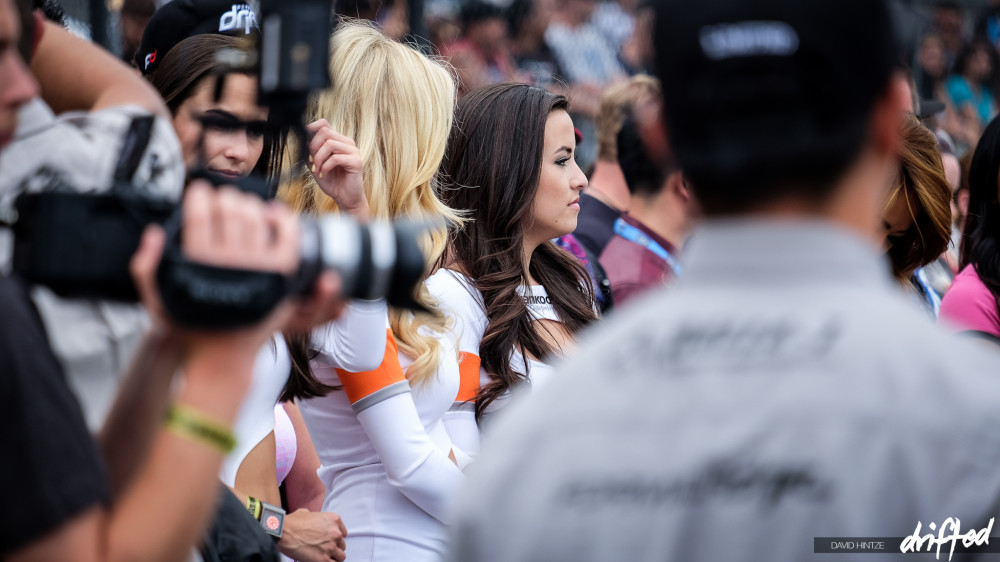 Sometimes you take a photo and it doesn't turn out as you expect, in this case it was way better.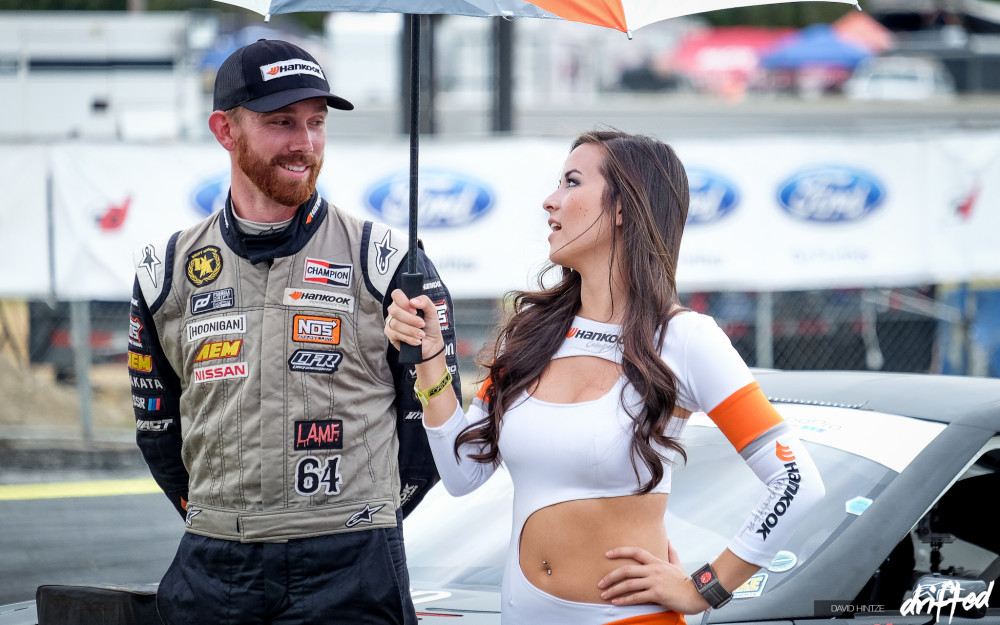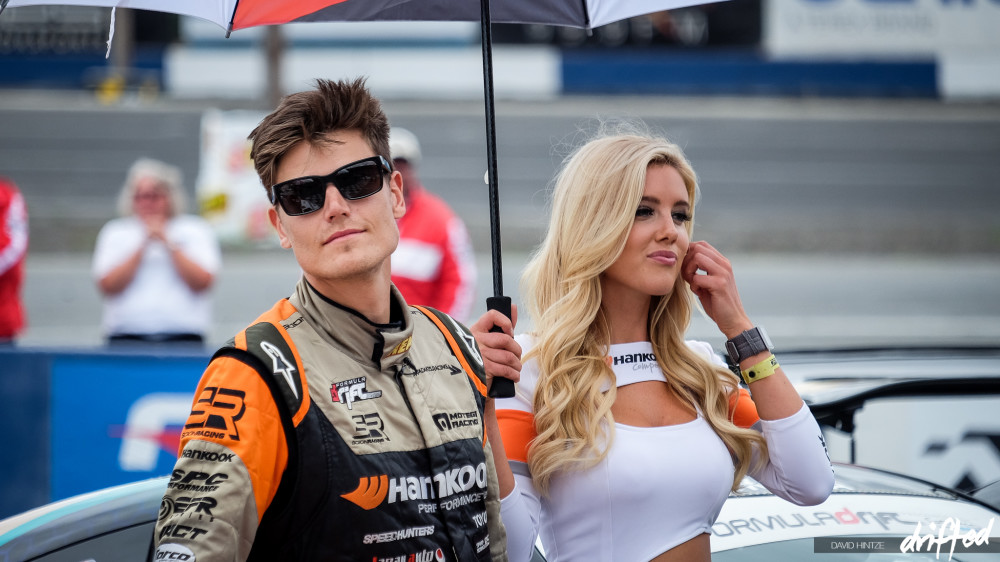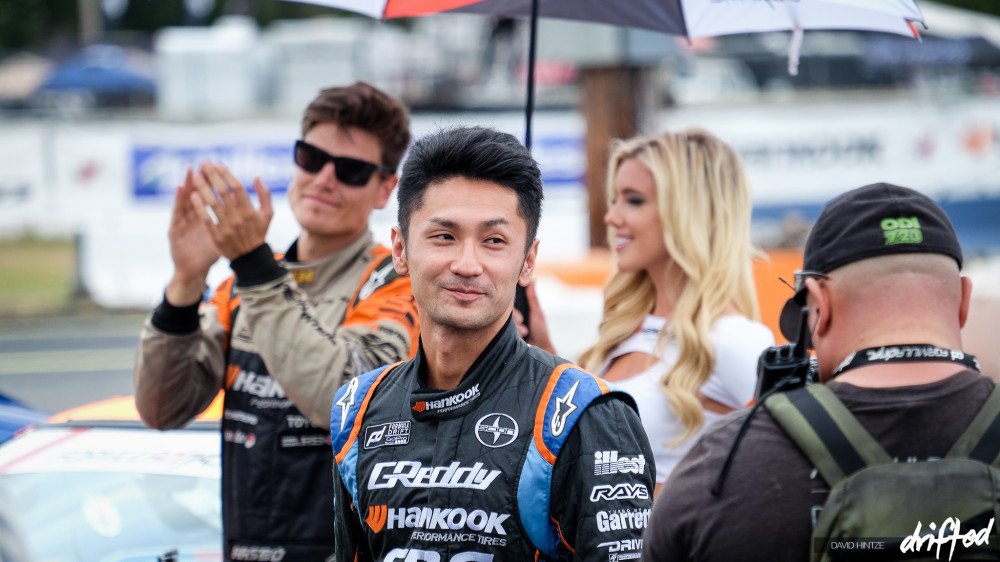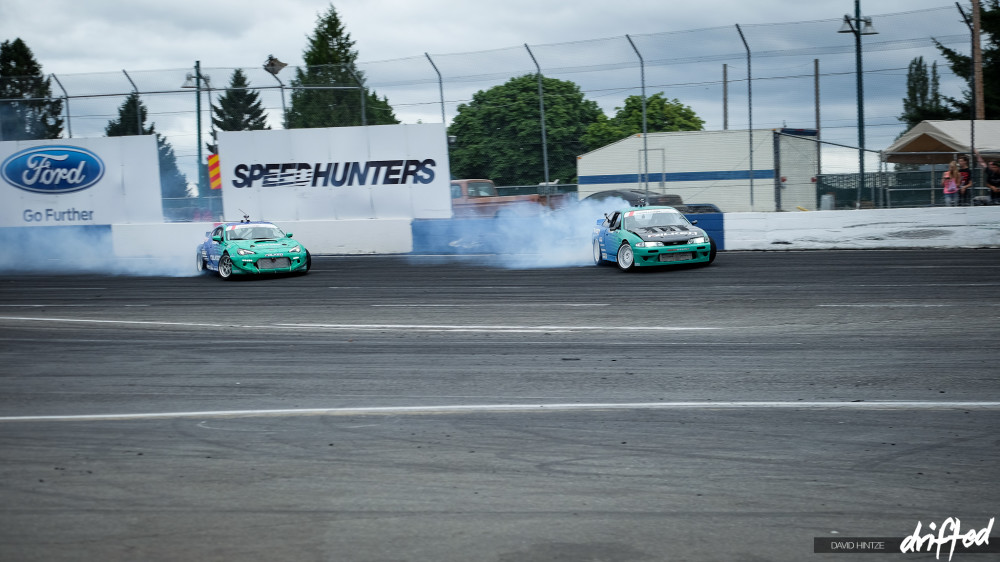 Part way through the top 16 I took the long way around the track to get elsewhere and stopped out front to check out the car show now that the crowds had moved back into the grandstands for the final showdown.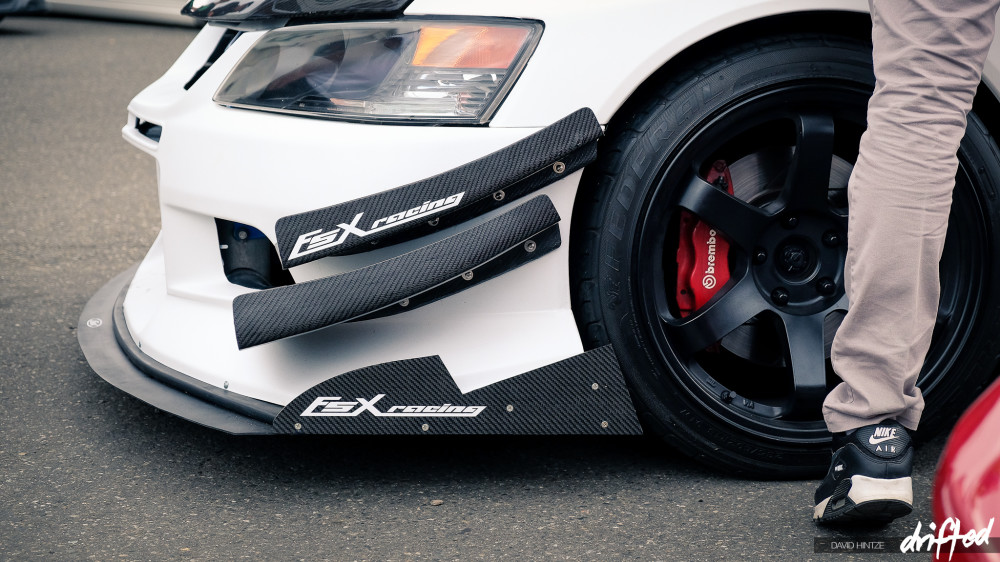 The car scene in Washington is changing, we all see the occasional build that looks incredible, we see the cars that frequent most of the local car shows, and the current trend which seems to be just lower your car, get some wheels, and find some friends with the same color or make. Compared to last years, the showcase was, well, a bit boring. At least to my lazy eye.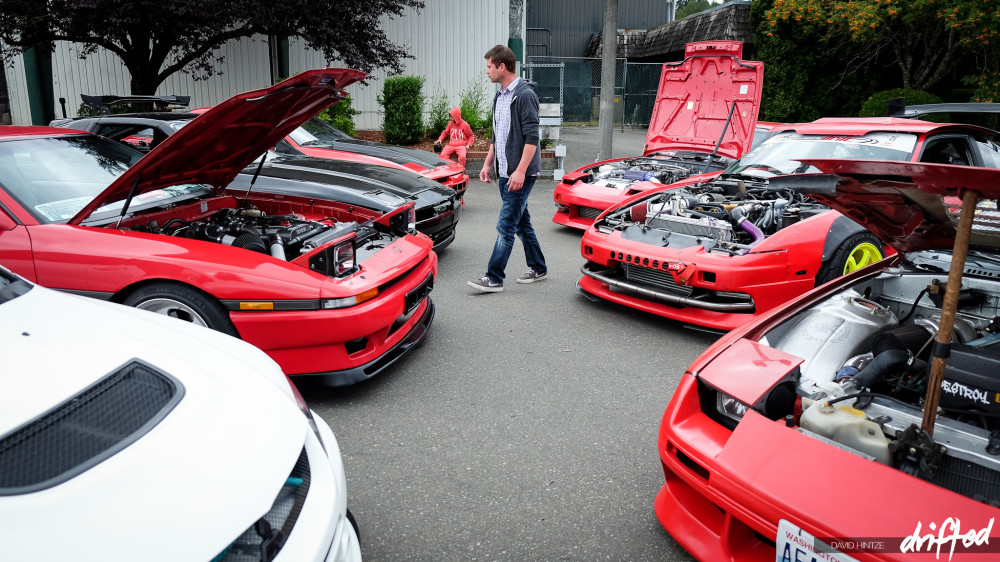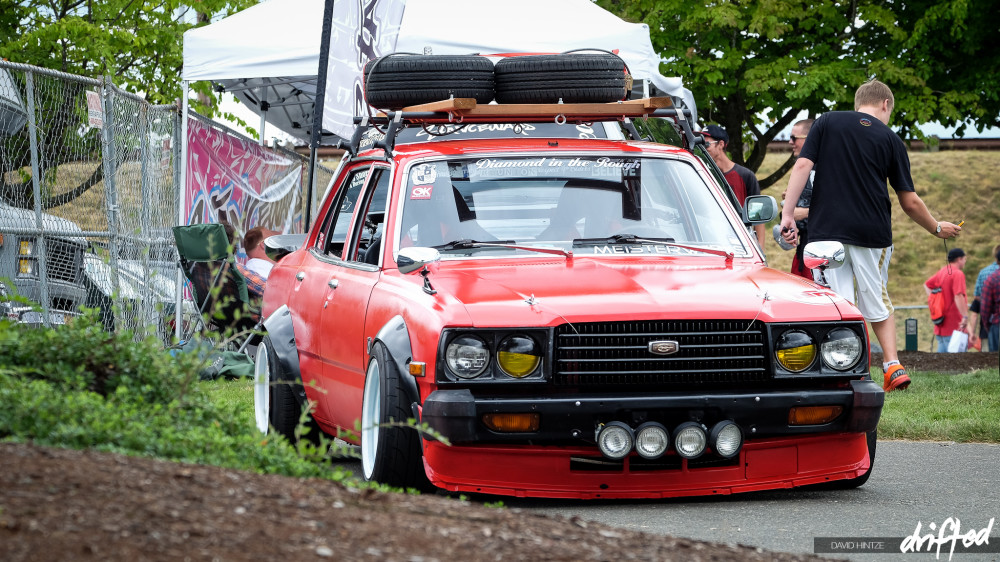 This shot below just about sums up how I feel about car shows at formula drift. a few hidden gems, but for the most part I was glancing. I've shot enough car shows to feel bored walking through what was essentially a parking lot for the more expensive cars at the show. Buy hey, compared to the eye popping design work of some of the drift machines, these cars can't help but look a bit bland on the outside.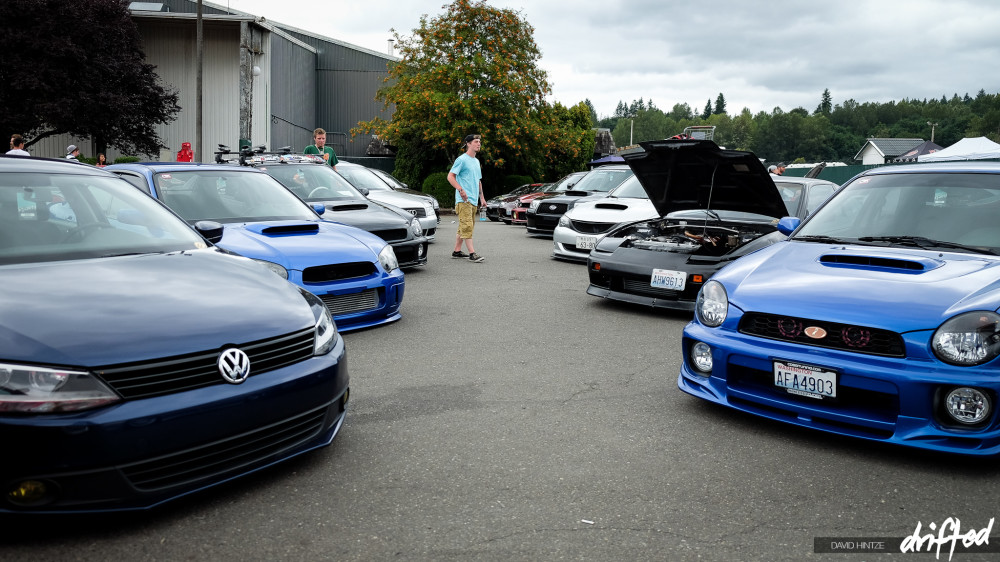 I returned to the track to photograph the last of the drivers compete. it was down to the final couple of drivers and quite a few "One More Time" verdicts were handed down by the judges.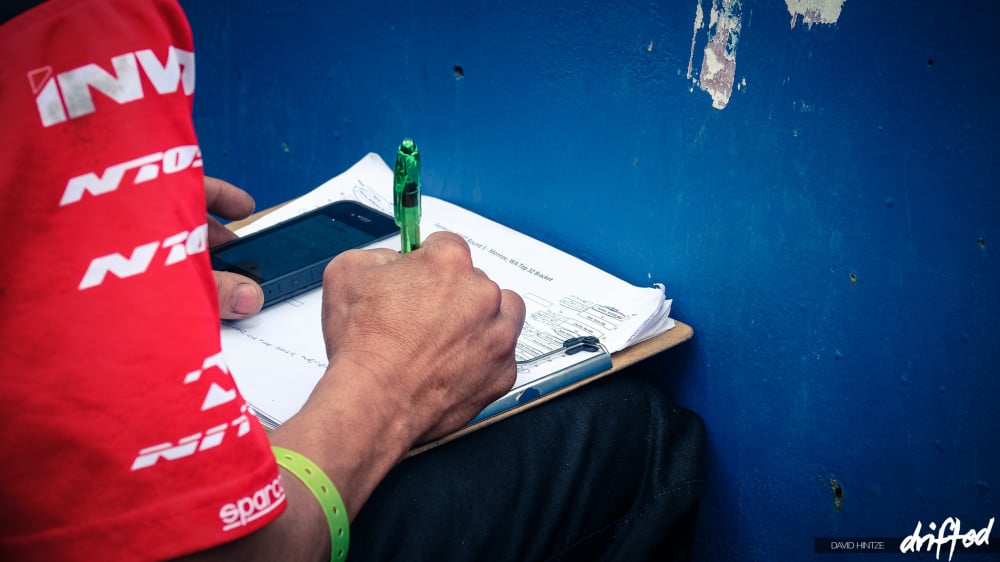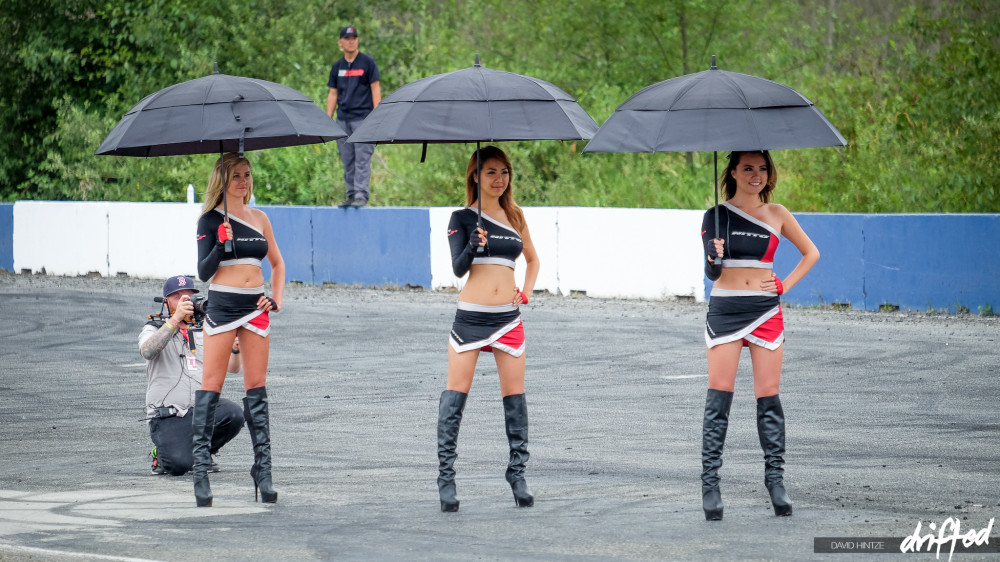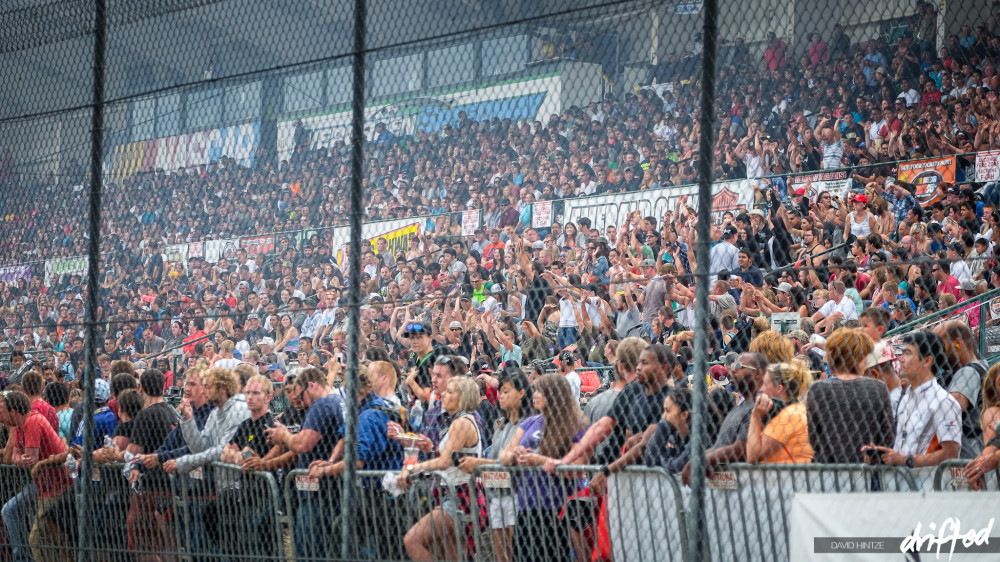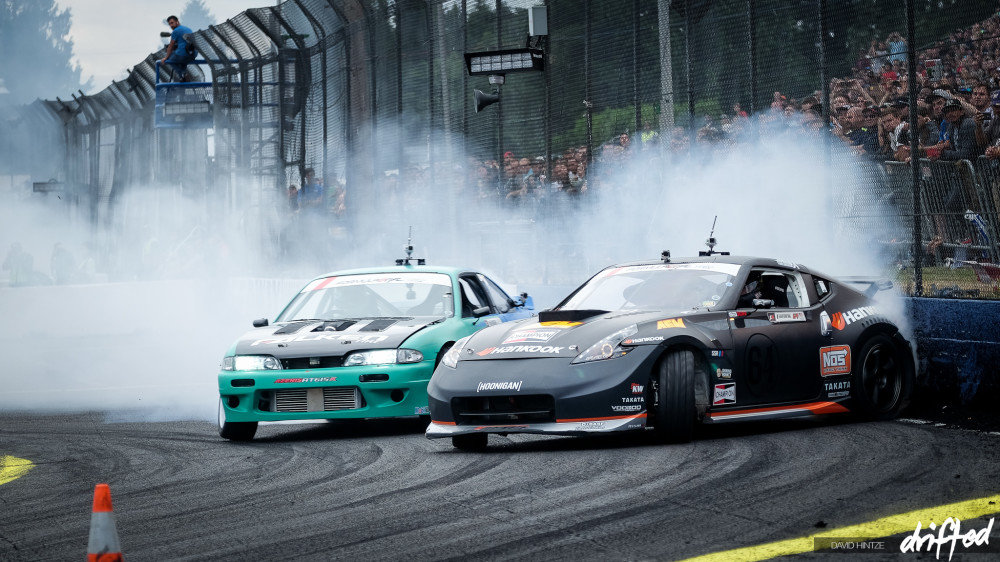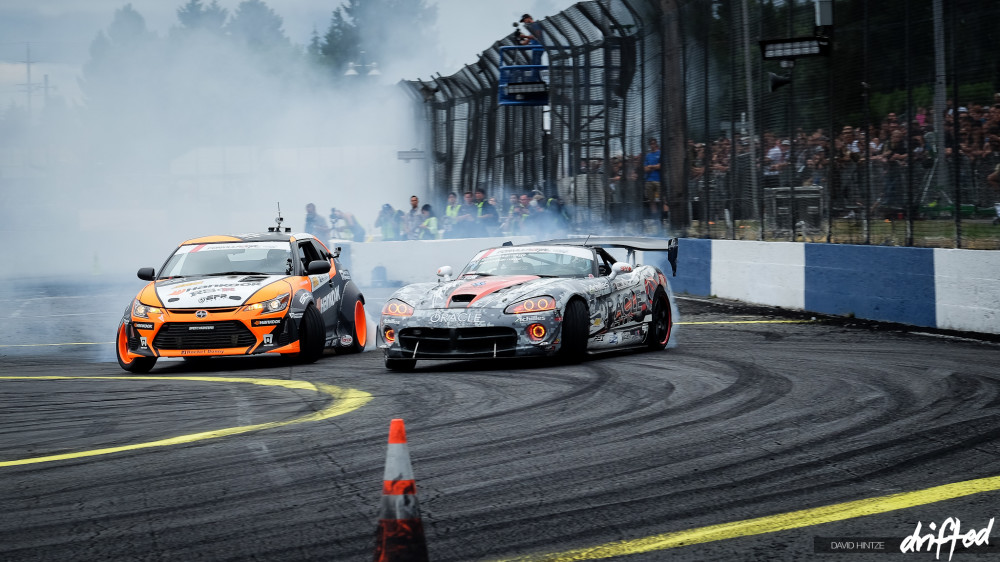 Darren McNamara took the win in his Falken Tire Nissan S14. Dean Kearney looked a bit displeased, but those last few runs were incredible. Not many people can sling a Dodge Viper around the track like he can, especially since he's the only one in professional drift competitions doing it.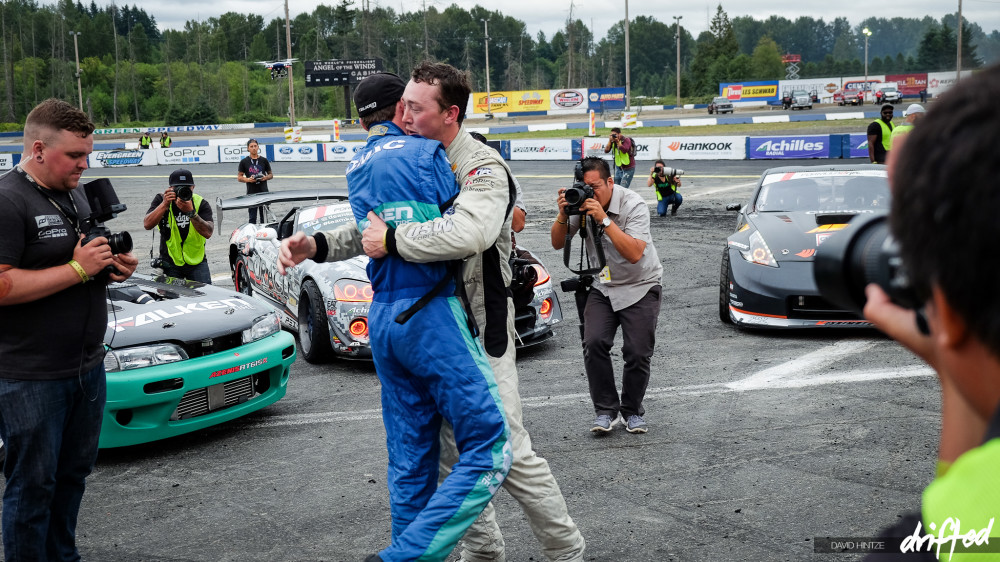 A decent sized crowd headed to the pits to attend the trophy ceremony and press question session while everyone else rushed to their cars to try and beat the rush. There's really no point in trying, depending where you park you could be waiting for nearly an hour to get out and back on the freeway.
I was surprised this year when the pits started being disassembled during the top 16, and the event was over before sunset. In the past the schedule went till around 9Pm drifting during sunset looks absolutely amazing, but with the changes adding Pro2 this year it was over sooner than I thought.
– Great event overall. Thanks for reading!
Formula DRIFT Professional Championship Presented by GoPro 2014 Standings After Five Rounds
1. Forsberg, Chris
Hankook Tire Nissan 370Z
421.50 Points
2. Aasbo, Fredric
Hankook Tire Scion Racing tC
362.50 Points
3. Gittin Jr., Vaughn
Monster Energy / Nitto Tire Ford Mustang RTR
308.50 Points
4. Moen, Kenneth
Bridges Racing Nissan 240SX
275.50 Points
5. McNamara, Darren
Falken Tire Nissan S14
263.00 Points
6. Bakchis, Aurimas
Feal Suspension / Nitto Tire Nissan 240SX
243.50 Points
7. Pawlak, Justin
Falken Tire Ford Mustang
226.00 Points
8. Kearney, Dean
Oracle Lighting Dodge Viper SRT
215.50 Points
9. Nishida, Robbie
Achilles Radial / Bridges Racing Lexus SC300
191.00 Points
10. Wang, Forrest
Get Nuts Lab / Hankook Tire / STR Racing Nissan S14
183.50 Points
11. Grunewald, Conrad
Megan Racing / Top 1 Oil / BRE Chevrolet Camaro
176.50 Points
12. Essa, Michael
Essa Autosport / Yokohama BMW M3
164.50 Points
13. Tuerck, Ryan
Retaks Maxxis Tires Air Force PSI Scion FR-S
162.00 Points
14. Gushi, Ken
GReddy Performance X Scion Racing Drift FR-S
156.00 Points
15. McQuarrie, Tyler
GoPro Mobil 1Chevrolet Camaro
153.50 Points
16. Field, Matt
CX Racing / Nitto Tire Nissan 240SX
153.00 Points
Round 5: Throwdown Event Results
1. McNamara, Darren
Falken Tire Nissan S14
Winner
2. Kearney, Dean
Oracle Lighting Dodge Viper SRT
2nd Place
3. Forsberg, Chris
Hankook Tire Nissan 370Z
3rd Place
Manufacturers Championship Standings After Five Rounds
1. Scion
569.50 Points
2. Ford
534.50 Points
3. Nissan
529.50 Points
4. Chevy
330.00 Points
5. BMW
299.00 Points
Tire Championship Standings After Five Rounds
1. Hankook
784.00 Points
2. Nitto
613.00 Points
3. Achilles
574.00 Points
4. Falken
508.00 Points
5. Maxxis
246.50 Points
Subscribe to Drifted
If you like this article why not subscribe to Drifted and we will email you our freshest content for free!