Ultimate Nissan 350z Modification Guide
If you're planning to mod your Nissan 350Z, look no further. Our 350Z mods guide has everything you'll ever need to know about all the upgrades you can perform on this beloved sports car.
---
Introduction
Now that we've built up an impressively comprehensive list of just about every tuning upgrade that's worth doing for your 350Z, we've opted to get them all in one place to help you build the ultimate Z33.
We're huge fans of the fifth generation of Nissan's Z-car line here at Drifted, and with their prices becoming more reasonable than ever, it's hard to ignore the ridiculous amounts of potential they have to offer.
Whether you're looking to build a budget drift beater or a sleek and stylish stance car, the 350Z is capable of offering the best of both worlds.
Z-cars have skyrocketed in popularity since the introduction of the 240Z way back in 1970. Over the years, they continually evolved, and the raw driving energy that the 240Z provided still thrives in the 350Z.
Many enthusiasts feel that Nissan's 350Z was the final Fairlady to capture this emotion, as the popular opinion is that the 370Z has somewhat detoured onto a more modern, refined route.
The introduction of Nissan's 370Z undoubtedly pleased many of those who were tempted by a 350Z.
As the 370Z has become more affordable, an increasing volume of 350Zs is popping up on the marketplace with irresistible price tags, and it could well be the perfect time to cop your dream Z33.
Given that the 350Z is one of the final 'true' JDM drivers' cars ever produced, it's highly likely to become a cult classic on the drifting scene in the future.
The Perfect Mix of Affordability and Performance
With the likes of the Fairlady's more popular sister, Silvia, often hogging the limelight, this has sent their prices skyrocketing in recent years, and 240SX's now come with a significant 'scene tax' stamp duty.
We've also witnessed this growth with the likes of BMW's 3-series, and reasonably priced rear-wheel-drive sports cars are becoming increasingly hard to find, spares are also becoming increasingly scarce.
For that reason, we feel that the 350Z represents the perfect opportunity when it comes to looks, affordability, and also performance.
There's no shortage of reasonably-priced used parts when the wall-tap turns into an unfortunate wall-crunch, either.
Despite the Z33's capabilities being impressive as soon as they rolled out of the showroom, there's no question that both the chassis and engines are capable of providing so much more.
Both the VQ35DE and VQ35HR are fantastic powerplants in stock form, but they're both hiding heaps of potential that we're going to help you unleash.
We'll discuss everything from bolt-on mods to turbo upgrades, and even the JDM fanboys' worst nightmare - the dreaded V8 swap!
Not only that, but we'll also look at everything else, from achieving the ultimate handling right the way through to the perfect head-unit. (Well, assuming your new exhaust isn't too loud!)
Join us as we take a look at our favorite modifications on the market to transform your Nissan 350Z into the perfect weapon for the car park meet, the canyons, or the track.
---
Performance Mods
Although it's a fantastic out-the-box package, we can't deny that the 350Z is somewhat lacking in stock form, especially when going up against a high-performance rival.
Its grunty V6 engine is capable of achieving some tire-spinning fun, and some simple bolt-on engine mods along with a good tune can completely transform the performance.
Likewise, fitting a superior suspension kit is also a fantastic choice to make the chassis handle like it's on rails, so let's get started with our favorite coilover kits.
350Z Coilover Kits
Whether your tired stock suspension is beginning to show signs of age, excessive body roll or you feel as though the existing suspension has more to offer, these coilover kits will be the perfect upgrade.
For a comprehensive coilover suspension kit review, before you make your final selection, we highly recommend that you head over to our Ultimate 350z Coilover Guide.
Drifted Coilover Winner
APEXi N1 ExV Damper Coilover Kit
Manufacturer: APEXi
Levels of damping adjustment: 32
Construction type: Monotube
Spring rate front: 10kg/mm
Spring rate rear: 8kg/mm
Purchase link: Buy your APEXi N1 ExV's here
Our comment: Japanese tuning legends APEXi have provided a fantastically-priced coilover option for those who of you that are looking for a budget setup, which offers incredible value for money.
They came in as the cheapest coilovers in our in-depth coilover guide, but after looking at their specifications, features, quality of build materials, and price tag, they won the award for the best all-rounder.
Manufacturer description: "APEXi N1 ExV is the newest line of coilover kits from Apexi featuring dual height and 32 way dampening adjustments. ExV, which stands for "Expert Type V" was designed to the be ultimate street suspension with no compromise for ride quality and price".
"Features include:
- 44mm Monotube Damper w/ 32 way adjustments
- Full dual height adjustable body for fine adjustments
- Spanner wrench and accessories included
- High quality design and manufacturing"
"A must have for anyone doing track days and spirited driving. Will improve car handling and response effectively".
Drifted Coilover Alternatives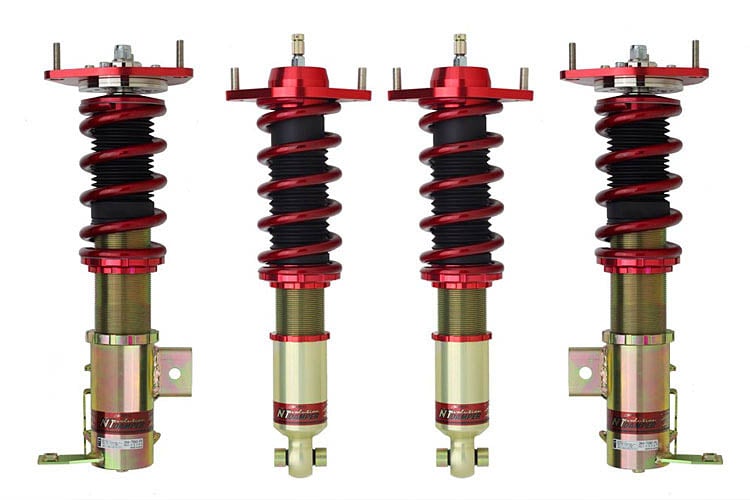 If you're looking for a more substantial track-oriented setup, then our Track Choice, the Apexi N1 Evolution Damper is going to be a perfect alternative.
Alternatively, our Domestic Choice went to the Stance XR1 coilovers, which offer a mid-range price point alongside impressive performance.
And while you're at it, consider getting a sway bar kit for some additional stability.
---
350Z Exhausts
Exhausts are one of the quickest and easiest bolt-on modifications that will completely transform the look and sound of your 350Z, while also providing some minor performance gains.
If you're modding your 350Z, then an aftermarket exhaust is a must-have addition.
You can also invest in a high flow cat for another performance boost!
Make sure you check out our 350Z Exhaust Guide to experience the true potential that these upgraded exhaust systems and catalytic converter kits have to offer, as we've also included videos with sound clips from each model.
Drifted Exhaust Winner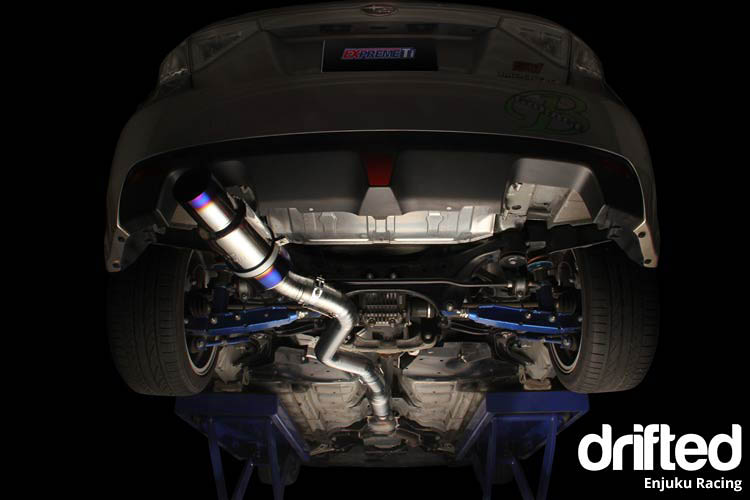 Our comment: TOMEI's Expreme Ti series offers incredible value for money, and also looks the part with its burnt titanium tip.
You're going to struggle to find better value for money than this incredibly light exhaust, which is why it's become so popular throughout the JDM tuning world.
As for sound, expect to finally release the full potential of the 350Z's V6 extraordinary pops, bangs, and wails as it roars to life!
Manufacturer description: "Instead of creating an exhaust system that focuses only on maximum peak power, Tomei's priority for this kit is overall engine performance gains. Each tube's length and size are selected to suit the engine's characteristics and chassis to maximize torque, response, and exhaust flow efficiency. The use of titanium combined with the single piping layout reduces overall weight from approximately 45 pounds to an ultra-low 10 pounds".
Drifted Exhaust Alternatives
With impressive performance gains, the free-flowing AAM Competition 3″ True Dual Titanium Tip exhaust comes highly recommended for high-powered forced induction builds. coilovers, which offer a mid-range price point alongside impressive performance.
Be warned that our Premium Choice AAM exhaust is on the loud side, and most definitely won't win over any neighbors!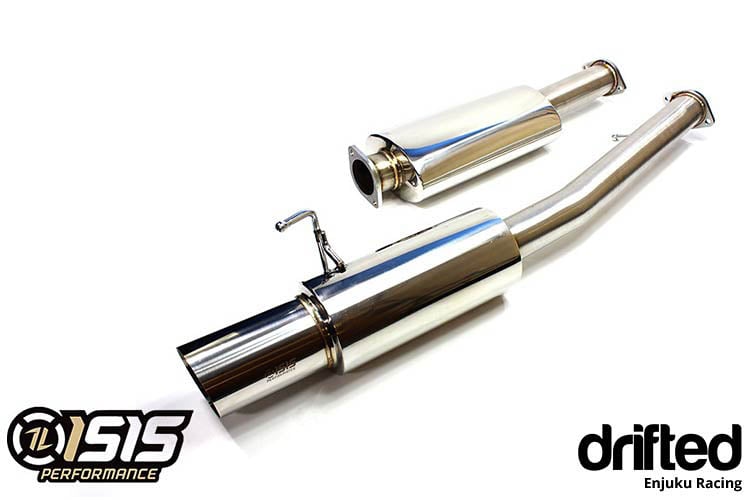 If you're looking for a budget-friendly single-tip exhaust, then our Budget Winner, the ISR Performance Single GT Exhaust, could be the solution.
This bargain exhaust is more circuit, and neighbor-friendly, featuring a muffler and silencer and utilizes a single 115mm tailpipe.
---
350Z Test Pipes
Test Pipes are often one of the first reasonably-priced modifications for your 350Z, and you'll achieve the most out of your VQ35 engine once you get the improve the restrictive stock exhaust flow.
When combined with a performance exhaust system, headers, and a CAI, you'll undoubtedly see even more significant improvements.
In case you're not already aware, test pipes don't go down well in most states, so we recommend doing your research before purchasing.
If you'd like to take a look at the alternatives on offer, then make sure you head over to our 350Z Test Pipes guide.
Drifted Test Pipes Winner
AAM Competition 350z Test Pipes
AAM states that their test pipes have the highest flow available, and we have no reason to doubt them.
With dyno graphs backing up their 8-10 RWHP claims from a stock 350Z, they certainly seem to have brought the most impressive product to the market at an extremely reasonable price.
Combine this with exceptional quality, fitment, performance, and compatibility with reducing CEL's, and it's a no-brainer why so many 350Z owners opt for the AAM Test Pipes.
Manufacturer description:
Highest Flow Available
Dyno testing has shown 8-10 RWHP gains on a stock 2004 Nissan 350Z!
Precision TIG welded T-304 Stainless Steel
T304 stainless steel flanges
Saves 11 pounds
---
350Z Y-Pipes
Y-Pipes merge the VQ35's exhaust headers onto the exhaust, and these override the restrictive, emission-reducing OEM part.
These will provide a far superior exhaust tone, minor power improvements, and also provide you with some welcome weight-reduction.
If you'd like to check out the alternatives on offer, then make head over to our 350Z Y-Pipes Guide.
Drifted Y-Pipes Winner
AAM Competition has once again won us, and most 350Z enthusiasts over with their fantastic Y-Pipe offering.
Featuring exceptionally high quality at a reasonable price, these T-304 Stainless Steel Y-Pipes will be the perfect addition to your 350Z, providing an impressive 8 RWHP over the restrictive OEM system.
Manufacturer description: "Using smooth 2.5″ mandrel bent tubing and stainless steel flex joints which flow into one large 3″ tube, the AAM Comp Y-Pipe improves upon the factory Y-Pipe's restrictive design by allowing a substantial increase in the mass of exhaust flow, and reduces the backpressure and thermal stress, which helps to unleash the engine's potential for increased power and torque".
Inlet: 2.5″
Factory Y-Pipe: approx 16 lbs
AAM Comp Y-Pipe: approx 12 lbs
Weight savings: 4 lbs
Recommended install time: 1 hour
---
350Z Headers
Exhaust headers are another popular upgrade when it comes to getting your VQ35 engine breathing to its true potential.
Although the stock headers aren't too restrictive, tuning houses across the world have spent years refining the perfect designs for maximum power gains.
TOMEI have taken the win this time around, but if you'd like to take a look at the other options, then make sure you head over to our 350Z Headers Guide.
Drifted Headers Winner
TOMEI Expreme V2 350Z Exhaust Headers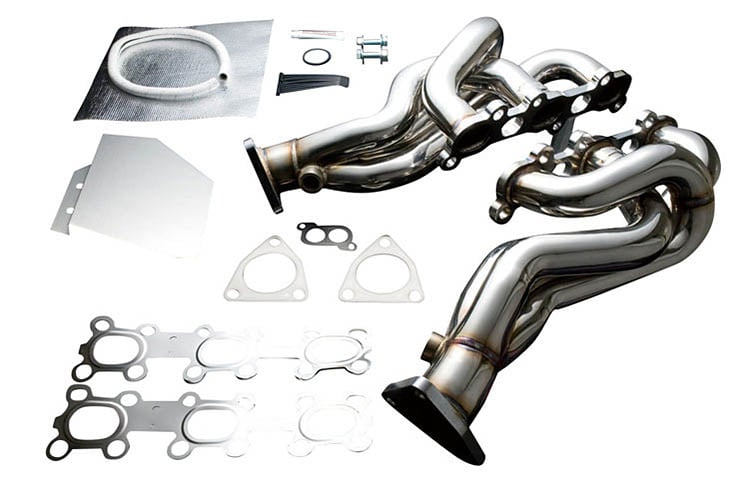 The TOMEI V2 headers took the win because of the performance gains and price point. Picking up a pair of TOMEI headers is an excellent choice for any 350z owner that wants improved power delivery, increased top-end power, and enjoys a great exhaust tone.
The headers are well built, look fantastic, and comes with everything you need to bolt right on. When combined with a free-flowing exhaust system, the performance gains will be impressive for an NA engine.
Manufacturer description: "The new Tomei Expreme exhaust manifold V2 design targets a sharper throttle response, a true race-exhaust sound, and increased power gains. Tomei tests their designs on both a dyno and in real road conditions in the Z Masters race series in Japan, so you know you are getting an exhaust manifold that gives you a competitive edge".
"This exhaust manifold gives you the high airflow you need for a better driving experience".
The Tomei Expreme exhaust manifold V2 is engineered for maximum performance
The pipe bends are designed to maximize exhaust flow efficiency
The merging section joint angles have been flow tested
Bolt on kit
---
Exhaust Heat Wrap
Heat wrap is perfect for making the most out of your new exhaust components, such as your headers.
Exhaust wrap will not only improve their lifespan due to heating up and cooling down effectively, but it also provides increased engine efficiency by keeping the engine bay temperatures down.
Some wraps are rated to improve engine bay temperatures by up to 50%, which is a vast improvement for such reasonable value.
If you're looking to upgrade your breathing mods, we'd highly recommend fitting heat wrap before installing.
Make sure you also check out the alternatives in our Exhaust Heat Wrap guide.
Drifted Exhaust Heat Wrap Winner
DEi Titanium Thermal Exhaust Wrap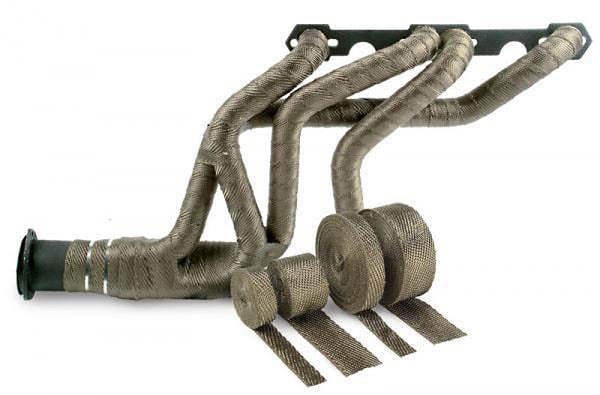 DEi's Titanium heat wrap is equipped with LR technology, which has been made from pulverized lava rock and stranded into a fiber material before being woven into a proprietary weave.
Titanium wrap is engineered to be more durable than other wraps on the market and also more durable, providing improved thermal performance and reliability.
DEi's wrap is one of the best when it comes to withstanding heat, too. With 1800˚F direct heat and 2500˚F radiant, it's undoubtedly going to be perfect for your needs.
Manufacturer description:
Withstands 1800˚F direct/2500˚F intermittent heat
Promotes increased flow for improved performance
Reduces temperature & vibration breakdown
Extremely pliable for a tight and secure wrap
DEI HT Silicone Coating not required
Pre-wetting roll not necessary for wrapping
Hi-tech carbon fiber look
High resistance to abrasions, oil spills, temperatures and vibration breakdown
---
350Z Cold Air Intake
Upgrading the VQ 35's intake is typically one of the first performance modifications that 350Z owners carry out.
Changing out your stock airbox and filter for an aftermarket unit will increase the power, improve throttle response, generate increased intake noise, and improve the look of the engine bay.
Cold air intakes are easy to fit yourself, and for Nissan's 350z, they offer impressively cost-effective performance benefits.
Drifted 350Z Cold Air Intake Winner
Takeda is claiming that this high-quality cold air intake is going to bolt on an extra 19bhp and 16flt/lbs of torque to your 350Z.
Although we take that with a pinch of salt, if it's anywhere near, then it's a substantial gain for less than 300 bucks.
The Takeda Air Intake is an impressively designed, yet simple kit, which includes an aluminium short ram pipe with a Takeda Pro Dry S oil-less filter.
We feel that this CAI is a real bargain, but if you'd like to view the alternatives on the market, then head to our 350Z Cold Air Intake Guide.
Manufacturer description: "Takeda Retain is the Takeda Short Ram lineup. These intakes create simple, bolt-on horsepower that requires simple, quick installation and no bumper removal. Some of the short ram intakes include a wrinkle black heat shield".
"Takeda Air Intake Systems use a revolutionary new Pro Dry S Filter Media that works without filter oil. This media is easier and faster to clean than traditional foam, and requires no costly and messy solvents or oils".
"Takeda filters can be cleaned in a matter of minutes and are ready to use after only a couple of hours of drying time. Unlike pre-oiled or disposable filters, Takeda Filters are Lifetime Filters that will last as long as you own your vehicle".
---
350Z Plenum Spacer
Intake plenum spacers are a cost-effective power modification for both stock and modified 350z (VQ35DE) engines.
Shortly after Nissan Z33 was released, tuners and enthusiasts discovered that there were inefficiencies in the design of the standard intake plenum that showed potential for improvement.
They found that by increasing the volume of air passing into the intake plenum, it could liberate increased horsepower and torque.
An efficient way of taking advantage of this is by adding a spacer to the intake plenum.
Intake plenum spacers have been dyno proven to yield more than 10 BHP. For only a couple of hundred dollars, they provide incredible gains for the cost.
Not only do they improve performance, but they'll even provide improved mpg, making it a real no-brainer.
Keen to know more? Check out our full 350Z Intake Plenum Spacer Guide here.
Drifted 350Z Plenum Spacer Winner
Skunk2 350z Intake Plenum Spacer
The Skunk2 intake plenum spacer is now on version 2 and, this latest revision offers you excellent value for money.
With a dyno-proven 10 BHP gain, claims of improved throttle response and, enhanced gas mileage, the Skunk2 offering makes a perfect case for itself.
Manufacturer description: "Skunk2's revised Nissan/Infiniti VQ35 Composite Intake Plenum Spacer V2.0 is dyno proven and road tested to outperform all other intake manifold plenum spacers".
"Skunk2's Intake Plenum Spacer V2.0 features a number of improvements, including a thicker design that increases plenum volume, lowers intake temperatures, and allows the engine's front cylinders to breathe more efficiently".
"All of this results in gains as high as 10 hp, increased throttle response, and a fuel efficiency increase of more than 2mpg. Unlike competitors' spacers, Skunk2's Intake Plenum Spacer V2.0 is constructed from an aerospace thermo-polymer composite that offers superior thermal insulation characteristics when compared to aluminum spacers or other heat-insulating gasket materials".
---
350Z Turbo Kit
The stock 285 PS may be adequate for the street, but if you're serious about increasing power from the naturally aspirated VQ35 engine, then you're going to have to dig deep.
Tuning a naturally aspirated engine is expensive, but can certainly provide some much-needed power gains, which will undoubtedly help with getting your 350Z sideways at the track!
There are several 350Z Turbo Kits available, so make sure you head over to our full 350Z Turbo Kit Guide before making the substantial decision.
Drifted 350Z Turbo Kit Winner
Jim Wolf Technologies Twin Turbo kit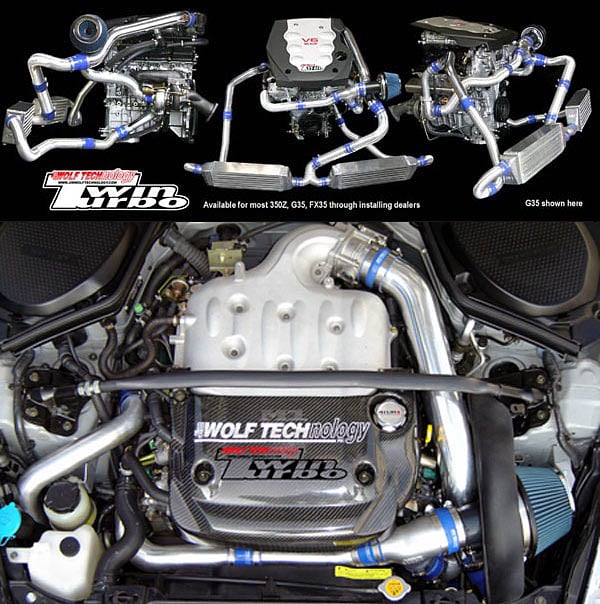 The JWT kit is a great starter turbo kit that comes in at a mid-level price point.
Offering 125 WHP out of the box and impressive reliability claims, this could be the perfect solution to safely increasing your power.
Further upgrade options for this kit are also available to make things even more exciting.
With the high quality of components, USA based manufacturing and support base, low boost twin-turbo response, motorsport-proven track record (the kit was developed on their own competition car), and price point the JWT Twin Turbo kit makes an exceptional case for itself.
Manufacturer description: "JWT originally designed this kit as a feasibility study in conjunction with Garrett and Infiniti's product planner at the time. The kit is designed around the O.E. criteria for reliability, no boost lag, and safe but significant power levels".
"The JWT Twin Turbo Kit has accomplished this and more over thousands of miles of reliable track and street use since it's release. All critical airflow junctions use application specific castings to maximize flow and eliminate boost lag. Turbo outlets have isolated waste paths to improve turbine efficiency".
"JWT has combined high efficiency Garrett GT Ball Bearing Turbos, Garrett charge cooler cores (700+hp rated) with over 300 individual parts, to create the most complete and reliable bolt on forced induction system available for Nissan and Infiniti VQ35 vehicles".
"No other boosting solution combines the reliability, performance, and throttle responsiveness of this system".
"This system is complete requiring no other modifications to deliver an additional 125WHP and much more with additional JWT upgrade stages".
---
350Z Supercharger Kit
We've already taken a look at our Turbocharger options that are available on the market above.
However, for those of you that are looking for a more linear power delivery, a supercharger kit is likely to be the ideal choice.
Not sure about the differences between the two forced induction options? We highly recommend that you take a look at our Turbocharger vs. Supercharger Guide before you make your decision.
If you're interested in the other supercharger options available for the 350Z, then head over to our 350Z Supercharger Guide.
Drifted 350Z Supercharger Kit Winner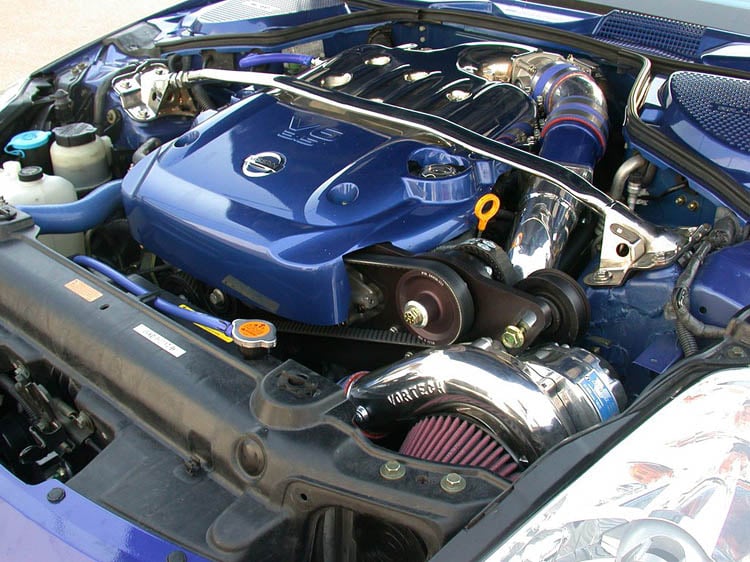 Vortech has put their years of valuable knowledge in the supercharging scene to create the ultimate kit for 350z owners.
Vortech combines great value for money with impressive build quality, reliability, and customer service. Not only that, but it's also one of the most convenient supercharger kits to install (around 8-12 hours).
With owners making an impressive 410hp from the kit and 440hp from the 'Rev-Up' variation, it's easy to see why so many have made this their choice. This kit also includes upgrade options to gain additional power, with over 577 RWHP being achieved!
From ease of installation, value for money and upgradability, this will future-proof your 350Z to ensure that you're always at the top of your game.
Manufacturer description: "The 350Z system uses Vortech's V-3 SCi supercharger. Continued development in Vortech's Lab resulted in the V-3 SCi. The "i" stands for improved and with its new patented oil control system and state of the art centrifugal compressor stage this V-3 literally blows away the competition. Industry leading 75% adiabatic efficiency [SAE J1723 standard] means less heat is being generated, reduced drive power and more net power is produced. Less heat also means better durability, easier on the engine than any turbo installation".
"Vortech supercharger systems are a great value. Dollar for dollar, Vortech systems deliver more horsepower than virtually any other method of upgrade. Also, driven normally, gas mileage usually increases".
"Vortech's 350Z Supercharger Systems are available as either a complete, fully calibrated bolt-on system, or as a Tuner Kit for custom installations at over 500 HP. And with Vortech's many upgrade solutions, there is always more power when you are ready".
---
350Z Clutch
Sooner or later, it'll be time to replace your 350Z clutch, but it can be challenging to decide whether an OEM replacement or an aftermarket uprated clutch is likely to be best for your needs.
The 350Z's clutch and gearboxes certainly aren't the quietest or smoothest, but it's part of the beauty of the Z33.
When deciding which clutch is best for your needs, we highly recommend considering the plans for your 350Z.
If you have long-term big power goals, then we highly recommend investing in an uprated performance clutch right away.
If you're interested to know more about 350Z clutches, we've gone into far more detail with the full range of products on the market in our 350Z Clutch Guide.
Drifted 350Z Clutch Winner
Jim Wolf Technologies (JWT) Clutch Kit
JWT continues to bring incredible products to the 350Z market, and their clutches certainly don't disappoint. Given that most owners reading this guide won't be planning to go crazy power, it's the best bang-for-your-buck choice for those who want a simple, reliable alternative to the stock clutch.
If you are planning for substantial power gains, there are still plenty of other options out there. You'll want to check out the ATS, EXEDY, and South Bend/DXD selection.
For those of you that aren't looking at substantial power increases shortly, EXEDY has a reasonably-priced OEM replacement, which will be perfect for your needs.
Manufacturer description: "1200KG clamping force and a smooth organic disc makes this the best choice for street / track 350Z-G35 including boosted cars!"
---
350Z Hydraulic Handbrake
It is common knowledge that the stock brakes on the 350Z leave a lot to be desired. The same goes for the hand brake as well.
Is your stock handbrake struggling to live up to your drift hero expectations? A hydraulic handbrake is a perfect solution for your issues.
Sure, the stock hand brakes in the 350Zs may well be adequate for your needs when kicking the back end out in a parking lot.
However, when it comes to tricky initiations at the track, a hydraulic handbrake is going to be the best choice to maximize your potential.
Other benefits of switching to a hydraulic hand braking system are that the traditional handbrake operates on a cable, and over time, mainly when used in anger, that cable will end up stretching and potentially snapping. Repeatedly.
For that reason, those of you that are keen to drift their 350Z's will undoubtedly need to consider upgrading to a hydro at some point soon, and our Hydraulic Handbrake Guide provides you with everything you need to know.
Drifted 350Z Hydraulic Handbrake Winner
OBP Motorsport Pro-Drift V3 Lockable Hydraulic Handbrake
UK-based OBP Motorsports are one of the highest-regarded brands in motorsport, and commonly found in competitive drift cars which vouch for their reputation.
The exceptional quality of this hydraulic hand brake upgrade and its fantastic price has unsurprisingly earned praise as it deservedly conquers the top spot.
Manufacturer description: "The Pro-Drift V3 - Our Flagship Hydraulic Handbrake. The pinnacle of engineering, which can be universally mounted for any Motorsport application".
"With an ergonomic design, manufactured from Aircraft Grade T6061 Aluminium and incredible build quality. The Pro-Drift V3 is the only choice for serious contenders".
---
350Z LS Swap
We're going to end our performance section with the opportunity to carry out a rather drastic performance upgrade.
Don't get us wrong here, both the VQ35DE and HR are fantastic engines, and with the addition of supercharging and twin-turbocharging both being an option, they are capable of becoming a real weapon.
However, we've witnessed first-hand just how expensive aftermarket forced induction on a stock engine can become.
If you're lucky enough to have deep pockets, it is undoubtedly a solid choice, but if you're looking for an improved power-to-money ratio, LS swaps often offer more potential. (Sorry, Japan.)
If you're keen to stir up a little controversy, then why not create stupendous amounts of noise and have enough power to comfortably throw it down sideways at the track while also maintaining reliability?
LS-swapping is certainly nothing new, and 350Z owners have been doing it since the early 2000s, but with today's off-the-shelf products, it's more affordable and convenient than ever.
Sure, you're going to upset your JDM fanboy buddies while you feel the need to scream 'LS THE WORLD!', but you'll soon forget about that when you've got a smoke trail billowing from the rear tires, and you can comfortably make the round trip to the local track day without breaking down.
Not to mention the fact that you can then go on to turbocharge your LS1 to create even more ridiculous power gains.
If you're willing to consider V8 swapping your V6 350Z, then we've provided you with everything you need to know in our 350Z LS Swap Guide.
---
Styling Mods
The tuning potential of the 350Z certainly doesn't stop at performance upgrades, and there's a huge selection of choices out there when it comes to perfecting the sleek lines of the 350Z.
Although the 350Z looks excellent in stock form, there's certainly room for improvement, especially if you want a drift build or a show car with loads of camber that stands out. We hope that these upgrades will help you craft your unique vision.
We think we've covered just about everything in our guides, but if there are any additional styling modifications that you'd specifically like our help on, then don't hesitate to drop us a line.
350Z Rear Diffuser
Do you think that your Fairlady's rear end could do with some improvements? If so, we've got plenty of solutions for you to see what takes your fancy in our full 350Z Rear Diffuser guide.
When it comes to rear diffusers for the 350z, there are a few tried and tested extremely popular methods, and will drastically transform that slightly dull factory rear end.
If you're looking for a carbon fiber diffuser, it's worth remembering that it's a difficult material to get perfect, and high-quality carbon fiber generally comes at a price, which doesn't make it too ideal for drifting!
With fiberglass products, they're easily tweaked, repaired, and modified, and they're often going to need some form of adjustment to get the perfect fitment.
You can either get a professional body shop to do this for you (trust me, they're used to modifying fiberglass parts!) or take on a DIY job of your own.
Drifted 350Z Rear Diffuser Winner
Circuit Sports 350z Rear Diffuser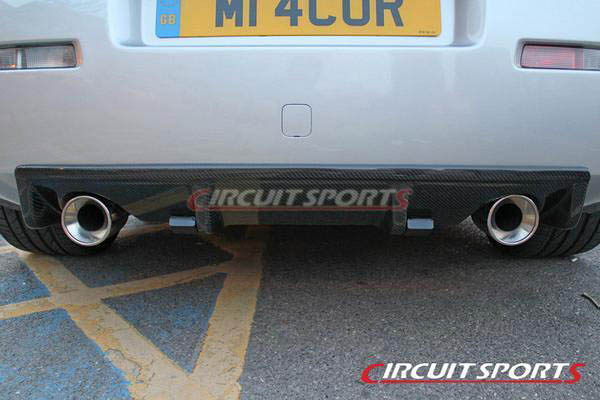 The Circuit Sports rear diffuser comes in both unpainted fiberglass or carbon fiber variations, depending on how much you're looking to spend.
Circuit Sports are well known for delivering excellent quality for competitive prices. Whether you're after stunning carbon fiber or wanting your diffuser to match the rest of the car, they have the perfect answer.
This diffuser is a fantastic choice for those of you that are running either a single-exit exhaust as you can purchase the optional extra exhaust block-off cap.
Manufacturer description: "Circuit Sports UV Protected Carbon Fiber Rear Diffuser for Nissan 350Z Z33. Enhance the rear end of your 350z with this beautiful gloss rear diffuser".
"Comes standard with dual exhaust cutouts and for single exhaust 350Z's. Please purchase the block off cap separately".
---
350Z Wing
There's a huge variety of 350z wings on the market, so we've narrowed it down to some of the best, and most popular picks out there in our 350Z Wing Guide to save you countless hours of searching.
There are a variety of reasons why owners fit rear wings, from the smaller trunk lip, which provides a subtle addition to polish off the rear-end, right the way through to the damn right outrageous chassis-mounted wings for the ultimate head-turner.
Whether you're looking to add some subtle styling to your stanced-out street Z or looking to whack the local media guy around the head with your gigantic wang of destiny, there's undoubtedly an ideal choice for you on the market.
Drifted 350Z Wing Winner
Big Country Labs Atmosphere Demolisher Wing Kit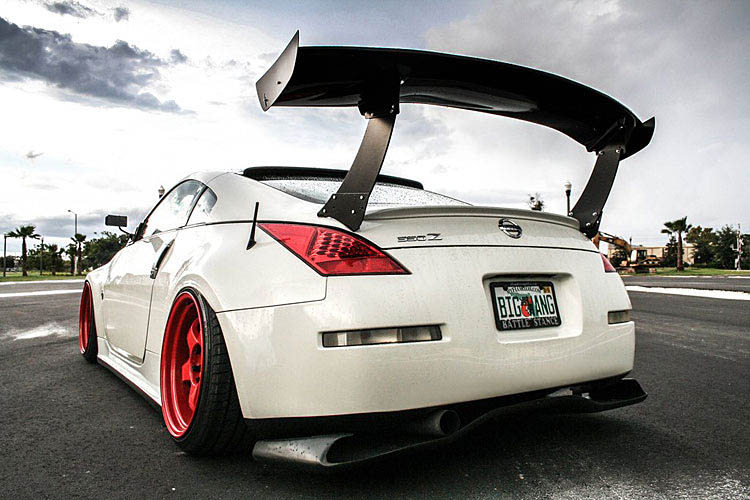 Big Country Labs have been increasing in popularity over the years with their audacious approach to the big-wing game.
Sure, their BGW's might not be to everyone's taste (that's what tuning is all about!), but there's no doubt that their Atmosphere Demolisher kit will completely transform the look of your Z.
These look insane on slammed, widebody cars, and if you've got a big build planned and you're looking to make an impression at the track or the meet, you've most likely met your match!
With a vast array of customization options, which allows you to choose the upright style, material (carbon fiber is available), size, and even your personalized choice of end-plates, this allows for a unique finishing touch to your ride.
We know of several owners running BCL wings, and they've been delighted with them. Dare to be different!
Manufacturer description: "Big Country Labs wing decks are made of the highest quality materials to stand up to your toughest beatdown. Fiberglass decks are vacuum-formed and arrive in a smooth matte finish. Carbon fiber decks feature a tight weave and ultra high gloss finish".
"All wing decks include stainless steel mounting hardware, cup-washers, and adjustable laser-cut aluminum endplates".
Kit includes:
Wing deck in 1700mm or new 1850mm
Upper Brackets
Trunk Brackets
Uprights
Endplates
Stainless steel hardware kit with counter-sunk washers
---
350Z Front Lip
Although the 350Z looks excellent in stock form, the OEM body kit is missing that 'ground-hugging' look, and by adding a front lip to your existing Nissan bumper, it can completely transform the front-end.
There's a wide variety of selections available for 350Z's on the market, and in our full 350Z Front Lip Guide, we've taken a look at the various options that are available out there.
If you're frequently heading to the track, it may be an ideal choice to look at some of the cheaper FRP options, since that minor crash will probably be a bit more painful if you've also got the thought of carbon fiber repairs to consider.
Drifted 350Z Front Lip Winner
Seibon CW Style Carbon Fiber Front Lip
Based on quality, value, fitment, customer service, and popularity, we opted for this stylish carbon fiber offering from Seibon as our Drifted Winner.
Admittedly, there will be better options in our full guide for those of you that will be drifting their 350Z's.
As far as looks go, we think that the Seibon lip looks pretty damn awesome, and we're confident that you won't be disappointed with Seibon's quality, either.
Manufacturer description: "Seibon Carbon components are carefully hand-crafted using only the finest materials. Our production team offers superior craftsmanship with over 15 years of experience working with carbon fiber".
"Every component is constructed with a consistent weave pattern. Our production processes allow exceptional carbon/resin ratio, creating high product stiffness that also leads to extra strength".
"For a stunning finish, our products are coated with a glossy clear coat that does not chip or flake. We meticulously inspect all of our components and stand firmly behind our products so that you can enjoy peace of mind with every genuine Seibon Carbon product".
---
350Z Seats
If you intend to use your car on the track, whether it's for drifting, grip racing, or even autocross, you're going to have to consider swapping out your seats at some point, as the stock ones will most likely end up throwing you around the car.
When pushing the car to the limits, the last thing you want to do is have a tug-of-war match with the steering wheel against the slippy stock seats.
As well as firmly holding you in place, there's a whole range of additional reasons why aftermarket seats are ideal for any tuned car, and we explore all of them in the full Ultimate 350z Seat Buying Guide.
Drifted 350Z Seats Winner
Although there's a wide range of incredible seats in our guide, the highly-acclaimed JDM legends, Bride took the win with their incredible Gias II seats.
If you're a fan of JDM upgrades, Bride seats should undoubtedly be a consideration and are well worth saving up for, offering unrivaled comfort, and looks.
Just make sure you don't end up buying fakes, as seats are one of the most vital safety aspects when it comes to upgrades. You may be surprised to hear that there are a LOT of fake Bride's on the market, sadly.
We've chosen the Gias II for their reclining back function, which makes them practical on both the street and the track, but if you're building a track-oriented car, then we have plenty of fixed-back alternatives in our guide which will be worth considering.
Manufacturer description: "By adopting a super monocoque shell structure and an all-aluminum frame, GIAS series is a sporty reclining sports seat which realizes both lightweight and rigidity. The design deeply envelops the driver and realizes high holdability".
"For the GIAS backrest we utilize a monocoque structure shell for decreased weight and reinforced rigidity. The shell materials we provide are 3 types including the lightweight and strong carbon aramid, the super aramid black shells which have superior tensile strength the same as carbon aramid which is only used by BRIDE, and FRP".
---
350Z Rollcage
If you're going to be pushing your 350Z to the limits at the track, then a rollcage is another must-have safety feature that you'll need to integrate into your build.
Admittedly, they're not the most exciting things to spend money on, but you can't put a price on safety.
We've covered all of the options available in our full 350Z Rollcage Guide, and we highly recommend taking a look at what best suits your needs, whether you're after a bolt-in or welded cage.
Drifted 350Z Rollcage Winner
ER Spec Nissan 350Z Drift Roll Cage
This roll cage from ER Spec has been built by the Nissan experts at Enjuku Racing specifically with drifting in mind.
Each kit is hand-made to order, and this specific option requires welding, which is the best choice for the ultimate safety levels, and aimed at enthusiasts or competitors that are serious about their drifting or racing.
This kit is a real bargain, but you will need to consider whether you'll be fitting it yourself, with a buddy, or taking it to the local experts (which we'd personally recommend.) Although this option comes with an additional cost when it comes to fitting, it'll be worth it for peace of mind.
If you are interested in caging your 350z, then our 350z bash bar guide may be worth a look.
Manufacturer description: "Stay safe with an ER Spec drift car roll cage. Designed to protect you and manufactured with durable steel, this cage is a professional grade upgrade to your vehicle's safety profile. It's a must-have safety feature for any race vehicle".
"This drift car roll cage is weld-on, not bolt-in, therefore we strongly recommend these be installed by a professional fabricator experienced with installing roll cages. If you have any questions regarding bar placement or fitment please contact us prior to installing the cage completely".
---
350Z Steering Wheel
Another consideration when it comes to modding is an aftermarket steering wheel, which replaces the chunky and somewhat awkward stock wheel, with something that'll give you far more confidence when drifting.
If you've not upgraded your stock steering wheel before, you'll be surprised how much of a difference a nice steering wheel can make to the feel of the car when driving, especially if you're spinning the wheel from lock-to-lock when throwing the car sideways.
There are plenty of choices out there, so make sure you head over to our Ultimate Racing Steering Wheel Guide before you make the tricky decision.
Drifted 350Z Steering Wheel Winner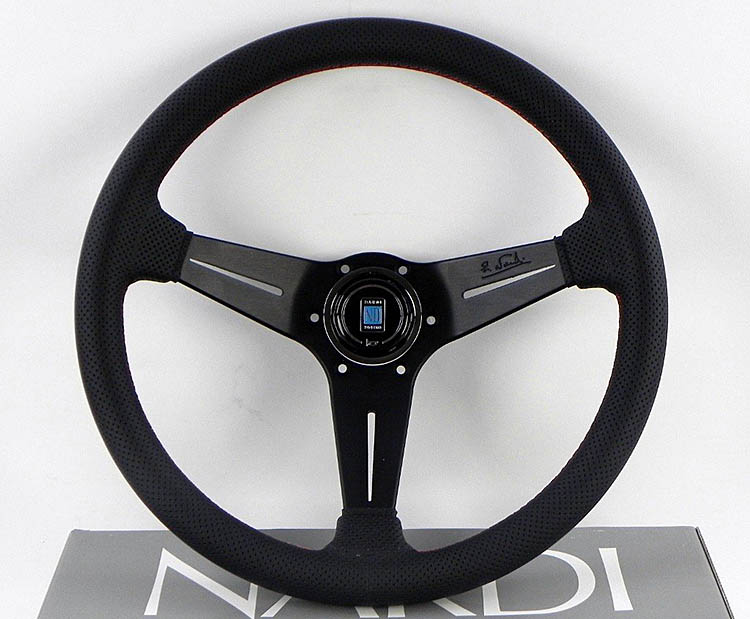 Nardi is a legendary brand in the steering wheel game, and they've been impressing enthusiasts across the world since 1932.
From old-school race cars to modern-day top-level drift competitions such as D1GP, they're hard to beat when it comes to looks, but they also offer exceptional quality for a reasonable price.
There are a variety of options and materials available for Nardi wheels, so make sure you check out our full guide.
Manufacturer description: "Nardi has been developing the highest quality steering wheels since 1932".
"Nardi steering wheels are extremely prestigious and represent for many, the ultimate finish to the interior of a race or prestige car. Italian made with excellent quality materials, they enjoy an exemplary finish and are acclaimed worldwide. Used as OEM pieces by Mazda, Subaru, Ferrari, Pagani and many more".
---
WORK Wheels
Okay, so admittedly they aren't 350Z specific, but we feel that WORK are quite literally the most incredible wheels on the market, and they will undoubtedly transform the look of your 350Z and also give you instant hero status in your neighborhood. (We don't hold any guarantees on that last statement, but it's highly likely!)
We've spent a lot of time looking through all of the various options on the market when it comes to WORK Wheels, and we've got specific guides that will provide everything you need to know if you're planning to fit them to your 350Z.
First up are WORK Emotion, these are their most affordable product line but still retain the same quality that you'd expect from their most expensive wheels.
Emotion is one of the most popular of their thirty product lines and is best known for bringing us wheels such as CR Kai, Kiwami, right the way through to their incredible three-piece CR-3P's.
Next up is the WORK Meister range. The S1 wheels which are pictured above are the cult classics of this range. And the deep-dish three-piece's are absolute head turners.
Be careful if you decide to fit these to a drift car, though, as you'll probably shed a tear if they get damaged!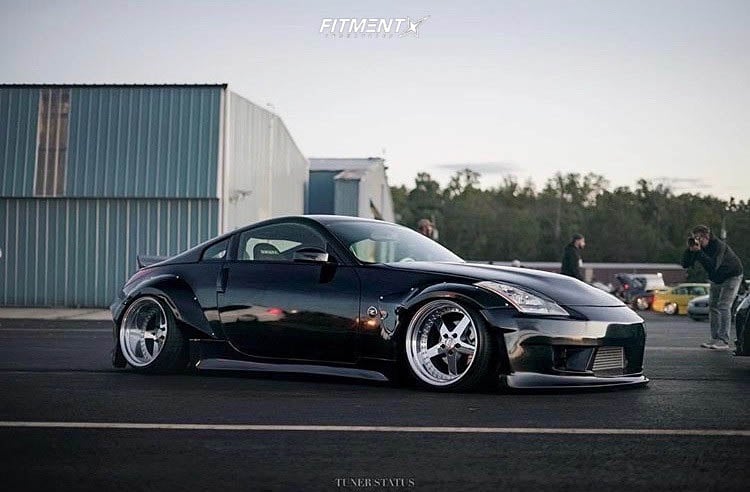 Finally, we have the WORK Equip range, which is best known for bringing us the Equip 05 wheels, which are another classic on the JDM tuning scene, and suit the 350Z perfectly.
If you can't stretch to a set of brand new custom spec WORKS, you can always look for a used set, and purchase 350z wheel spacers to make them sit just right.
---
Conclusion
There we have it! This colossal guide should provide you with the perfect products to build the ultimate Fairlady.
If our picks haven't been quite what you were looking for, then make sure you visit the full guide for each section, where we've compared any product that we feel is worth considering on the market.
If we've missed any mods that you'd love to see in our guide, then please feel free to drop us a line, and we'll be more than happy to compare the best products for you to take your pick.
If you're looking for the best 350z lowering springs on the market, here's our Ultimate 350z Lowering Springs Guide.
Want to learn more about the latest addition to the Z family? Then, check out our Ultimate Nissan 400Z Guide.
Have a look here to learn more about the Z cars of yester-year which paved the way for the 350Z.
Thank you for reading our 350Z Mods guide.
If you enjoyed this article, then please share it with the buttons at the side and bottom of your screen. If you've found this information useful, then please take a moment to share it with other Nissan 350Z enthusiasts. We appreciate your support.
---
Photography credits
We thank the following entities for the use of their photography in this article: