Ultimate 350z Wheel Spacers Guide
Although they can often be a love/hate mod, wheel spacers are sometimes the perfect solution to your fitment issues, and we're here to help you find the best products on the market for your Nissan 350z.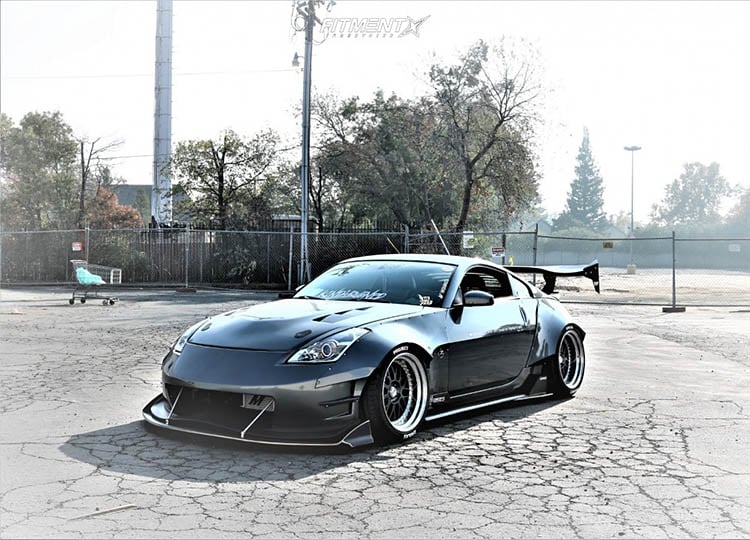 ---
In a hurry? Here are our Nissan 350z Wheel Spacer winners
| Budget Choice | Drifted Choice | Premium Choice |
| --- | --- | --- |
| | | |
| GKTech 350z Wheel Spacers | Eibach PRO-SPACER 350z Wheel Spacers | H&R TRAK+ DRS 350z Wheel Spacers |
| 🔥🔥🔥🔥🔥 | 🔥🔥🔥🔥🔥 | 🔥🔥🔥🔥 |
| Buy Now | Buy Now | Buy Now |
Fitment is one of the essential aspects when it comes to building your dream 350z.
Although we always advise ensuring your fresh new rims fit your Z perfectly before buying, we understand that it's sometimes easier said than done if a bargain arises.
We often provide some great budget recommendations here at Drifted, but wheel spacers are one component where we believe quality is vital.
However, don't worry – we'll still be exploring the cheaper high-quality products to provide products within a varied price range.
We all like to save a few bucks, but when it comes to an upgrade that holds your wheels to the car, this is certainly something you don't want to snap when you're cruising down the highway or pushing the car at the track.
If you want to save some cash with a cheaper exhaust, then be our guest. Wheel spacers? No. Just no.
Given that wheel spacers are a mechanical connection, we would always recommend that you check them frequently after fitting, ensuring that they're at the correct torque, and then continuing to do so 3,000 miles or so afterward.
---
Why would you need wheel spacers?
If you've copped yourself some new rims, only to realize they're not sitting quite so flush in the fenders as you'd hoped, then wheel spacers can provide the perfect opportunity to correct your fitment.
Flush fitment isn't the only issue that can arise with the wrong offset wheels, and they can often end up hitting either the brake caliper or coilovers.
Wheel spacers will push the wheel further out and should provide the perfect solution to correcting these issues.
Alternatively, if you're running on a budget, and you're looking to stick with the stock 350z or NISMO rims, for the time being, then spacers can provide a subtle upgrade to ensure that your Z still stands out from the crowd.
But, wheel spacers aren't purely there for aesthetic appeal. They also provide your 350z with a more substantial track, which will inevitably provide superior traction, handling, and grip benefits.
Given the number of positives that wheel spacers can provide, they're often one of the best bang-for-your-buck upgrades you can do to improve both your handling and fitment goals.
---
What size wheel spacers for 350z?
When choosing the right hub-centric spacers for your 350z, you'll need to ensure that they're the perfect fitment. For the Nissan 350z, that'll be the following:
Bolt pattern (PCD): 5 x 114.3
Stud size: M12 x 1.25
Bore diameter: 66.1mm (sometimes 66.2mm depending on the manufacturer)
While some 350z owners only want to push their wheels out a tiny bit for the ultimate fitment, a smaller spacer such as a 10mm may be sufficient, where others may need a 1-inch or even 2-inch spacer.
Over the years, we've seen some ridiculous spacers that are several inches, where owners have splashed all their money on a widebody kit only to realize they can't afford some sexy deep-dish rims to complete the look.
Don't be that guy.
If you feel the need to go beyond 25mm, which we feel is the upper limit of the rational spacer zone, then we'd highly recommend questioning your rim choices and see if you can maybe swap them out for something more ideal.
The bigger the spacer, the more strain you'll be putting on your car, which could imminently lead to a catastrophic failure. It simply isn't worth the risk.
---
Stock 350z wheels with spacers
Some owners are keen to keep their stock rims but want to enjoy the benefits of the 'chunky' look and improved handling benefits that spacers provide.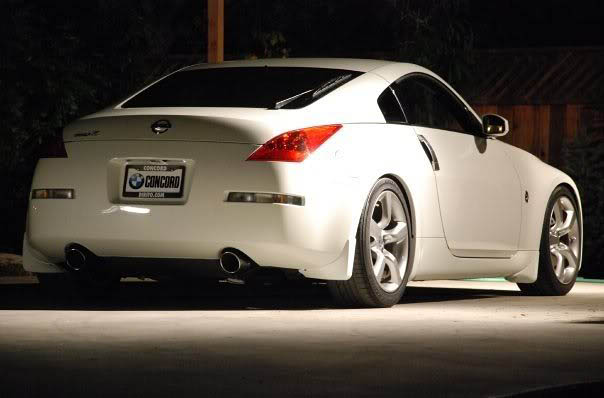 In this case, we advise opting for spacers that are between 15-25mm, depending on how far you want them to come out to your fenders.
Thankfully, Nissan has designed the 350z to fit 25mm spacers all-round without any rubbing issues, as shown in the photo above.
---
Hub-centric or lug-centric wheel spacers for 350z?
With a hub-centric spacer, they mate the wheel perfectly against the hub, which means they're capable of carrying the vehicle's weight, which puts far less strain on the bolts and additional components.
When it comes to cheaper lug-centric spacers, the vast majority of weight goes to the bolts instead, which, as you've probably guessed, is far from ideal.
You'll often see drifters fit slip-on lug-centric spacers to their missile drift car since they cost next to nothing, but the chances are they'll soon end up regretting it when their bolts snap off when pushing the car to the limits.
If you feel the need to run spacers on your Z, don't cheap out with slip-on spacers for any application over 10mm. Go hub-centric every time.
---
Best wheel spacers for Nissan 350z
Now that you're clued up with the pros and cons of what to avoid when it comes to wheel spacers for your 350z, let's take a look at the spacers we'd happily consider fitting to our Z-car.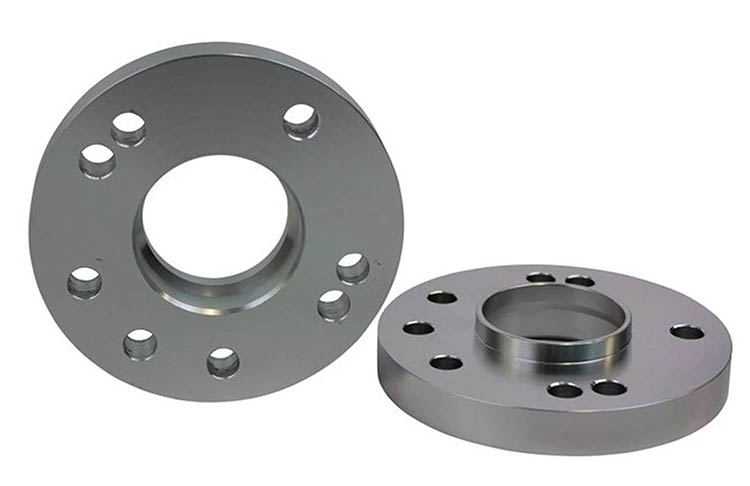 Manufacturer: ISR Performance
Bolt pattern: 5×114.3
Stud size: N/A (Sold Separately)
Bore diameter: 66.1
Spacer width(s): 5mm, 10mm & 20mm
Value for money:
Purchase link: ISR Performance 350z Wheel Spacers
Our comment: Although we don't advise opting for lug-centric slip-on spacers, the cheapest offering in our guide from ISR Performance provides both these and hub-centric offerings.
Before you start thinking you've landed the bargain of the century, make sure that you're aware that both the 5mm and 10mm variants are slip-on, and it's only the 20mm offering that is hub-centric.
This price is also per spacer, rather than the typical way of selling them in a pair.
And, on top of that, you're going to need to cop the extended wheel nuts separately. If you decide to do this, we strongly advise that you do NOT get cheap wheel studs under any circumstances.
These are well-made and come at a fairly reasonable price, but we would consider how they stacked up against the competitors before adding them to our cart, especially when you factor in buying the studs on top.
Manufacturer description: "ISR Performance wheel spacer for your Nissan vehicles. Available in 4-114.3 / 5-114.3 Bolt Pattern. These Slip on spacers are available in 5mm, 10mm, and 20mm thickness".
"Spacers CNC machined billet aluminum. 10mm & 20mm Slip on Spacers do require extended wheel studs to be used. (Sold Separately). Only the 20mm option is offered with the hub centric lip. Smaller sizes don't come with that".
---
Manufacturer: GKTech
Bolt pattern: 5×114.3
Stud size: M12 x 1.25
Bore diameter: 66.1mm
Spacer width(s): 15mm, 20mm, 25mm & 30mm
Value for money:
Our comment: GKTech is one of the most popular aftermarket brands on the Australian tuning scene, and they've now expanded to the US and Canada.
Specializing in upgrades specifically for Nissan's, these guys certainly know what they're doing, and to date, they have over 200 custom-made S, R, and Z-chassis parts.
These hub-centric spacers come as a pair and feature the highest quality hard-anodized CNC-machined 6061-T6 aluminium along with grade 10.9 extended wheel studs.
The price listed is for a pair, so for those of you looking for a bargain hub-centric spacer with a wide array of size variations, look no further!
Manufacturer description: "The GKTECH bolt on spacers allow for adjustment of the fitment of your wheels. The wheel spacers are hub centric to suit Nissans 66.1mm hub and are manufactured to the highest quality in T6061 Aluminium and then hard anodized to further increase the strength along with grade 10.9 extended studs".
---
Manufacturer: Noble Performance
Bolt pattern: 5×114.3
Stud size: M12 x 1.25
Bore diameter: 66.1mm
Spacer width(s): 15mm, 20mm
Value for money:
Our comment: You may notice that we've given these a greatly-reduced rating over the GKTech, but that doesn't mean they're no good. It simply boils down to one thing – price.
Both GKTech and Noble Performance provide fantastic offerings to the market, but given that GKTech does so at a fraction of the price, yet there's no real deal-breaker that leaves us siding with Noble Performance.
If you're offered a pair of these for cheap, then we have no doubt you'll be delighted with them, but when it comes to buying new, we'd be siding with the GKTech's when it comes to value for money.
Manufacturer description: "Forged from high quality true billet alloy aluminum. Properly heat treated to produce an extremely reliable and durable product".
"CNC engineered for perfect fitment. Double surface protection treatment. Grade 10.9, high tensile 1/2″x20 studs pre pressed and open type nuts included".
---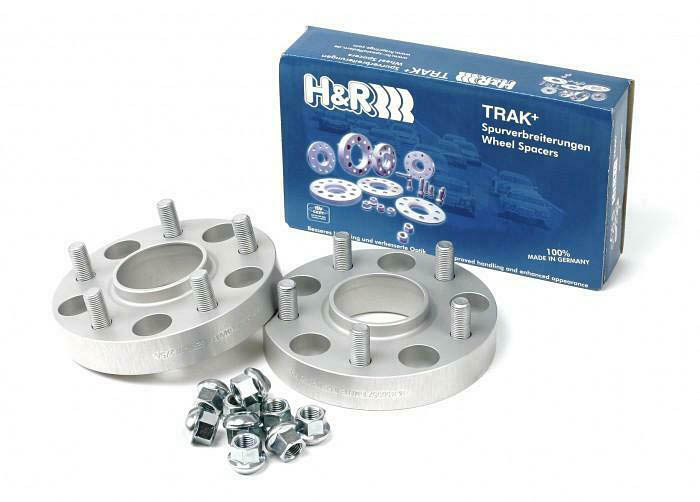 Manufacturer: H&R
Bolt pattern: 5×114.3
Stud size: M12 x 1.25
Bore diameter: 66.1mm
Spacer width(s): 15mm, 20mm & 25mm
Value for money:
Our comment: German suspension legends H&R have earned an extremely highly-regarded reputation and have quite possibly become the most popular choice among 350z owners over the years.
We've known 350z owners that have been dissatisfied with the cheaper 'DRM' offering from H&R, who have gone on to upgrade to these 'DRS' spacers and had several perfect years of trouble-free hard use out of them.
They're certainly not the cheapest, which we've why we've knocked them a star when it comes to value for money, but if you don't mind splashing a little extra cash to get the tried-and-tested solution, then these will be the ideal answer.
However, before you hit buy, we recommend checking out our final option, from their German rivals.
Manufacturer description: "Wider is Better®! H&R TRAK+® Wheel Spacers move your wheels and tires outwards so they are more flush with the fender—instantly giving your vehicle the perfect stance. High end sports car manufacturers use every millimeter of fender space available in their design for the best looks and highest performance and so should you. With TRAK+® you can fill the gap in your fenders and GO WIDE®"!
"TRAK+® Wheel Spacers are manufactured from a special proprietary alloy specifically developed for H&R that is lighter and has a higher tensile strength than 6061-T6 billet aluminum. H&R TRAK+® Wheel Spacers are hubcentric and feature a full contact hub—just like the factory hub—for even load force distribution and lateral support".
---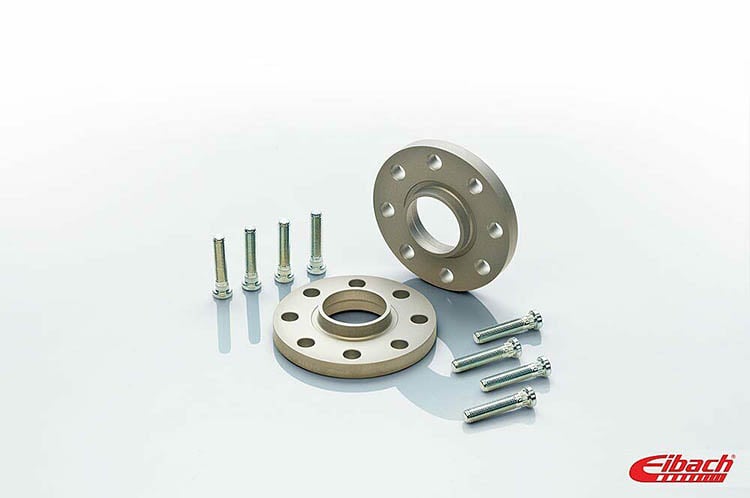 Manufacturer: Eibach
Bolt pattern: 5×114.3
Stud size: M12 x 1.25
Bore diameter: 66.1mm
Spacer width(s): 15mm, 20mm & 25mm
Value for money:
Our comment: We've quite possibly saved the best until last here, and H&R's German rivals, Eibach, have arrived, and they're looking to cause an upset.
Eibach has an incredible reputation in the aftermarket suspension scene, and their PRO-SPACER kits have stood the test of time and are still available at a real bargain price-point.
These spacers are made from high-tensile-strength aluminium alloy and provide exact fitment thanks to their precise machining processes.
They also feature high-grade corrosion protection thanks to their unique coating.
This spacer kit provides an incredible deal and is the perfect choice for those looking for a 15mm, 20mm, or 25mm spacer kit for your Nissan 350z.
Manufacturer description: "With the Eibach PRO-SPACER installed, the car looks wider and better, as the wheel fills the arch. That's how the car's look gets its final touch. By increasing the track width, not only the appearance is improved, but you also achieve an optimized driving behavior combined with higher stability, as the roll of the chassis is influenced in a positive manner".
"You'll achieve optimum looks and enhanced handling by moving your wheels flush with the outer edges of the wheel wells. Simply measure the wheel-well/tire gap, as shown here, and order the corresponding Pro-Spacers to put your wheels and tires out where they belong".
---
Our winners
Now we have looked at our selection of 350z wheel spacers, which ones would we recommend? We have broken that down into our Drifted choice, premium choice and budget choice.
Our Drifted Choice goes to the Eibach PRO-SPACER 350z Wheel Spacers
Our 350z Wheel Spacers winner is the Eibach PRO-SPACER
There's simply no beating the Eibach kit when it comes to value for money, and they've knocked it out of the park here.
As far as we're concerned, these are the perfect choice for the money, and we're sure they'll be more than up to the task when it comes to spacing out your Nissan 350z wheels.
Eibach's incredible reputation over the years ensures that these will also provide the ultimate reliability alongside exceptional value.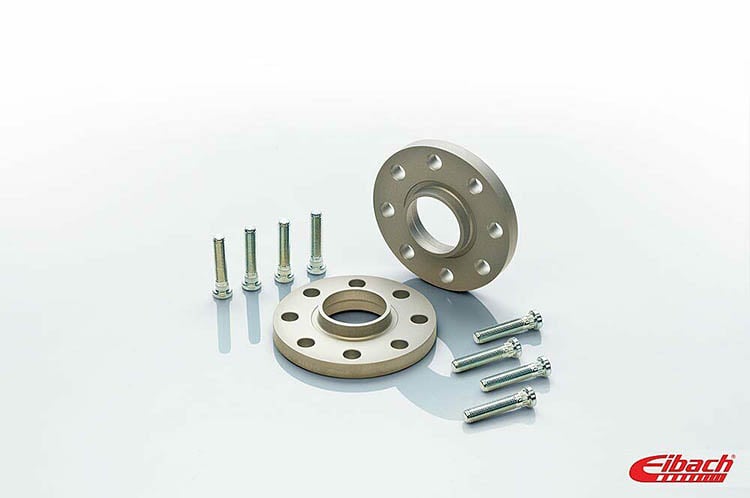 ---
Our Premium 350z Wheel Spacer Choice
Our Premium Choice is the H&R TRAK+ DRS 350z Wheel Spacers
These are typically the most common choice among 350z owners, and although they're a little more expensive, they've certainly been put through their paces over the years with excellent results.
It's a tough decision between these and the Eibach's if you're looking for the perfect product for your Z, so we highly recommend seeing which ones will be best for your needs.
You really can't go wrong with any of our winners in this guide.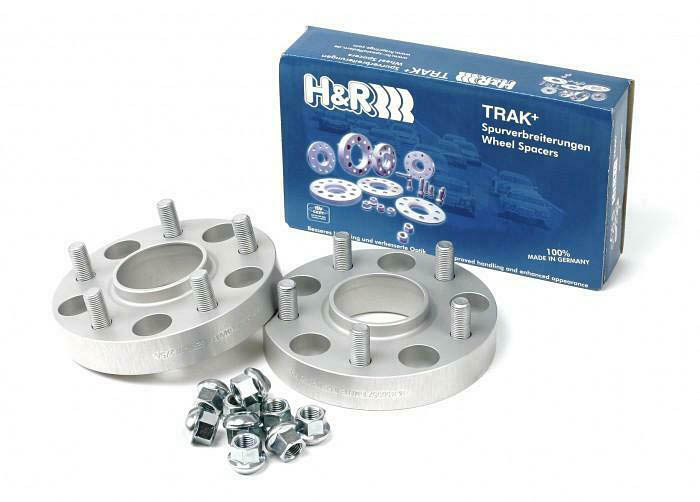 ---
Our Budget 350z Wheel Spacer Choice
Our Budget Choice is the GKTech 350z Wheel Spacers
GKTech has a fantastic long-term reputation in the Australian tuning scene, so you won't need to worry about opting for the cheaper option here.
Although the Eibach and H&R kits are the far more tried-and-tested options for US consumers, those of you that aren't wanting to stretch quite so far with your budget certainly can't go wrong with these spacers.
Thank you for reading our 350z Wheel Spacers guide.
We've thoroughly enjoyed reviewing these products, as it's always nice when we're able to recommend some fantastic products to suit just about every need imaginable.
When it comes to spacers, it's something that we feel very strongly about requiring the highest quality products, and we've often seen people opting for cheap eBay or Amazon spacers from unknown brands.
Although a small saving can feel satisfying at the time, we can assure you that it won't if your spacers fail.
For that reason, we highly recommend opting for one of our choices above or another brand with a genuine, highly regarded reputation among 350z owners.
---
Photography credits
We want to thank the following sources for the use of their images:
If you enjoyed this article, then please share it with the buttons at the side and bottom of your screen. Find this information useful? Please post a link to it on your favorite owners' clubs. We appreciate your support.
Check out this guide if you wish to know more about the 350Z lug pattern for stock, or aftermarket wheel fitments.