Best Project CARS 2 Mods Guide
With the Project CARS 2 modding community thriving, we're checking out some of our favorite mods to unlock the true potential that this epic racing sim has to offer.
---
Introduction
Given that it's been more than three years since the launch of Project CARS 2, you probably think that the game is dead in the water. However, that certainly isn't the case.
With many Project CARS enthusiasts hugely disappointed with the newest release in the series, Project CARS 3, it has left them desperate to tweak PC2 it its full potential.
Slightly Mad Studios released several Project CARS 2 DLC packs over the years, which brought the playable in-game vehicle total from 180 to more than 200, alongside various additional tracks to choose from, but let's face it - you can never have too much content!
With Project CARS 2's competitors, such as Forza Motorsport 7, featuring more than 800 cars, it's easy to see why PC2 fans may feel a little neglected.
Despite Project CARS 2 not being best known for its modding capabilities, its custom-vehicle community is more active than ever, with brand new updates being launched continuously.
In the early days that followed Project CARS 2's release in 2017, there was little more available when it came to mods than improved FFB files and a wide variety of car skins.
For this reason, the newly accessible vast selection of upgrades to the game comes as a massive relief, and surprise, to sim racing enthusiasts, who had to play alternatives such as Assetto Corsa if they wanted their in-game customization fix.
One of the positives from the recent launch of Project CARS 3 is that modding enthusiasts have figured out ways to bring the games' brand-new cars into the predecessor.
Although Assetto Corsa remains the king of the sim racing mod world, the content available for Project CARS 2 is undoubtedly going to keep you entertained for countless hours.
Whether you're seeking a hypercar that was never licensed in the game, or some of Initial D's finest cars, there's something for everyone in the PC2 modifying community.
PC2 provides the perfect opportunity to push your new car mods to their limits right away with events such as rallycross and ice racing to enjoy in the game.
---
Can I Install Project CARS 2 Mods on PlayStation or Xbox Consoles?
Unfortunately, console sim racing isn't the ideal platform for those of you that are looking to install mods to your favorite games, whether it's Project CARS 2 or perhaps Assetto Corsa.
Due to consoles' nature and the inability to add/edit files, you're unable to customize the content to enable mod installation.
Much to the console racing community's dismay, this has always been the case, and we certainly can't see it changing anytime soon.
If you're a keen sim racer, then we would highly recommend that you start saving for a decent PC rig as soon as possible to make the most of what these games have to offer.
Not only does this provide a vast selection of additional community-built cars to choose from. You'll also have the ability to add custom FFB files, which is a real gamechanger for finding the ultimate racing setup.
Thankfully, many sim racing games, especially Assetto Corsa, can run on a reasonably simple PC setup, so you wouldn't need to break the bank, and we can assure you that it's well worth it.
If you're looking to build a sim rig, you'll want to check out our sim rig GPU guide to help you choose the ultimate card for your needs.
---
How Good Is Project CARS 2 For Mods?
Those of you that have been fans of Project CARS 2 since the early days are likely to be surprised that there's now a thriving mod community three years after release.
In the early days, 'mods' for PC2 were limited to FFB setups and skins/liveries for your favorite cars.
However, with recent advancements, you'll now gain access to a choice of over 150 additional in-game vehicles, assuming you're a PC gamer.
Despite the breakthroughs, PC2 still isn't as mod-friendly as other games, such as Assetto Corsa, and you're not able to extensively modify the game anywhere near the extent that you're able to with the likes of AC or GTA V.
For example, you'll be able to add FFB setups, skins, and vehicles to PC2, but there's very little available beyond that. With Assetto Corsa, you can add tracks, wheels, aftermarket parts, sounds, and just about anything imaginable.
You're still unable to carry out in-game upgrades and mods like you're able to with games such as Forza Motorsport 7 and Forza Horizon 4, but tuning is still available.
With that said, the Project CARS 2 scene is undoubtedly gaining momentum now that they've achieved the initial traction with unlocking the game, and the future certainly looks exciting.
Some of the mods for PC2 are ripped from other games, but there are several groups in the community building incredible renders from scratch to provide truly unique vehicles.
---
Installing Mods on Project CARS 2
Before we get started, we'd like to point out that we have not created any of the files listed here, but we have gathered the links from reputable sources.
Installation of these files is at your own risk, and we highly recommend that you back up your Project CARS 2 installation folder before installing mods in case things don't go according to plan.
For those of you that prefer video format, this guide will show you how it's done. If you choose to read instructions instead, we'll show you how to install the Initial D RX7 FC3S below.
We're going to be showing you how to install one of our favorite car mods, the Initial D Mazda RX7 FC3S.
Make sure you check out the 'readme.txt' for all vehicles for individual installation instructions.
Firstly, download the required Boot Files. You can download the latest version (currently v7.0.0.0) here.
Next, download the required JSGME mod enabler.
Both of these are essential for the game to handle your mod files.
You'll also need to ensure you have the PC2 V6.0.0.0 (Update 1.6.0.0) or greater installed.
Download the vehicle file, in this case, the Initial D Mazda RX7 FC3S.
Extract all three files in a folder together anywhere on the local hard drive that you'll remember.
At this point, ensure you've taken a backup of your original Project CARS 2 directory.
Next up, copy the JSGME.exe file into your Project CARS 2 root directory, which would typically be 'C:\Program Files (x86)\Steam\steamapps\common\Project CARS 2'.
Next, create a folder named 'MODS' within your installation directory. For example 'C:\Program Files (x86)\Steam\steamapps\common\Project CARS 2\MODS'
Copy the 'Bootfiles' folder into your newly-created 'MODS' directory, which should now look like this: 'MODS\_Bootfiles for PC2 Vx.x.x.x (Activate After Cars)'
Next, copy the Mazda RX7 files and folders into the 'MODS' directory, which should look like this: MODS\Mazda_rx7_turbo_fc3s_+_ Initial_D_Tribute_(V1.60)\
Navigate to the 'Bootfiles\Vehicles' folder, where you'll then find 'vehiclelist.lst'. Right-click this file, choose 'Open with,' then select 'Notepad'. This will enable you to edit the in-game car list.
As shown in the car's 'readme.txt' file, we now know that this is the text you'll need to copy and paste into your 'vehiclelist.lst' file.
vehicles\mazda_rx7_turbo_fc3s\mazda_rx7_turbo_fc3s.crd
vehicles\mazda_rx7_turbo_fcid\mazda_rx7_turbo_fcid.crd
We recommend adding all cars in alphabetical order to keep them neat and organized if you ever need to find anything.
With that added, you can click 'File' and then 'Save' in Notepad before exiting.
Next, head to the 'bootfiles' subfolder, then find 'vehicles\physics\driveline\' and then open the 'driveline.rg' file with Notepad the same way you did previously.
Above the word 'END' in the text file, add the following text, which is again found in the 'readme.txt' file.
RECORD RWD_H-PATTERN_SYNCHRO_LOW_LOW_mazda_rx7_turbo_fc3s l_driveline
  name "mazda_rx7_turbo_fc3s"
  contents RWD_H-PATTERN_SYNCHRO_LOW_LOW
  dl:minhz 3000
RECORD RWD_H-PATTERN_SYNCHRO_LOW_LOW_mazda_rx7_turbo_fcid l_driveline
  name "mazda_rx7_turbo_fcid"
  contents RWD_H-PATTERN_SYNCHRO_LOW_LOW
  dl:minhz 3000
With that added, it's time to hit File > Save and Exit.
Next, head back to your Project CARS 2 root directory and open the JSGME.exe file.
You'll now see your Mazda RX7 under 'Available mods,' and you'll want to move it over to 'Activated mods'. If you're asked if you wish to edit files, select 'Yes'.
Once you've activated any car files you wish to add to the game, you can activate the 'bootfiles' afterward.
You can now launch Project CARS 2, and you'll be able to find Ryosuke Takahashi's Initial D RX7 FC3S!
If you ever need to upgrade the bootfiles due to new patches, you would deactivate them using the same method, replace them, and then re-activate.
---
Useful Project CARS 2 Mod Content
There are plenty of websites and forums to find the ultimate content, and we've decided to group some of our favorites here.
This Excel or Google Sheets spreadsheet provides the most comprehensive list of car mods available for Project CARS 2. Also included are download links and known bugs, along with in-depth detail on what each car provides.
They've done an incredible job with this, and it's continually updated, making it a must-have resource for any Project CARS 2 modder, so make sure you bookmark it in your Favorites.
Another fantastic resource comes from the Project CARS Modding Team where they have a tremendous selection of downloads available for both PC1 and PC2.
jdoug275 is one of the most well-known creators in the modding community, and you can find all of his latest releases on his public MediaFire folder.
For the hardcore enthusiasts, the Project CARS 2 Modding Discord will be the perfect hangout to keep up to date with the latest PC2 mod content as it gets released.
The RaceDepartment Forums are another popular choice. There's a great selection to choose from when it comes to cars, skins, and FFB setups.
---
The Ultimate Project CARS 2 Mods
We'll be listing the mods that we've tried, tested, and highly recommend in this section.
Whether you're looking for car mods, FFB setups, graphic enhancements, or skins, you'll want to check out the best of what the community has to offer here.
You must check out the readme files for all of these mods to ensure the best possible performance and avoid any potential issues.
Project CARS 2 FFB Mods
An FFB setup can make or break your sim racing experience. If you get it right, it can provide the ultimate confidence in your setup, and you'll be smashing out lap records before you know it.
Get a terrible setup, and you'll likely get so frustrated that your sim setup will end up smashed to pieces instead.
For that reason, we're providing two of our favorite FFB setups, one that's earned legendary status among PC2 gamers and another that's not been around long but is quickly becoming the most popular choice out there.
ULTIMATE Custom FFB Mod
As you can probably assume from the name, this is pretty damn good!
Since its launch in 2018, this has arguably been the most popular FFB choice. It's since had seven updates along the way, with the most recent update released in August 2020, after realizing that Project CARS 3 didn't live up to expectations!
Download the ULTIMATE Custom FFB mod here
Christiaan's Pure FFB Mod
Initially launched at the end of August 2020, this is another incredible FFB choice that's quickly becoming the most popular and highest regarded FFB mod available.
With several updates already released, we can see this topping the 'Ultimate' setup soon.
Download Christiaan's Pure FFB mod here
Project CARS 2 Skin Mods
There's a huge selection of skins for all your favorite Project CARS 2 vehicles, so you may want to search through the resources we've provided above in the quest to find the ultimate choice for your needs.
For the time being, here are a couple of our personal favorites.
Nissan Skyline GT-R R34 SMS-R (Nissan Skyline GT-R R34) 2Fast 2Furious Skin Mod
The Nissan Skyline R34 GT-R was Paul Walker's weapon of choice, and you'll be able to re-enact the movie by getting behind the wheel of the legendary 2 Fast 2 Furious-styled GT-R with this custom skin mod.
Download the Nissan Skyline R34 GT-R 2 Fast 2 Furious skin mod here
Ken Block – Ford Focus RS RX – Gymkhana Ten – Special Edition Skin Mod
Rock out with the livery from Ken Block's Gymkhana Ten with this impressive Ford Focus RS design, which will be perfect for your offroading antics.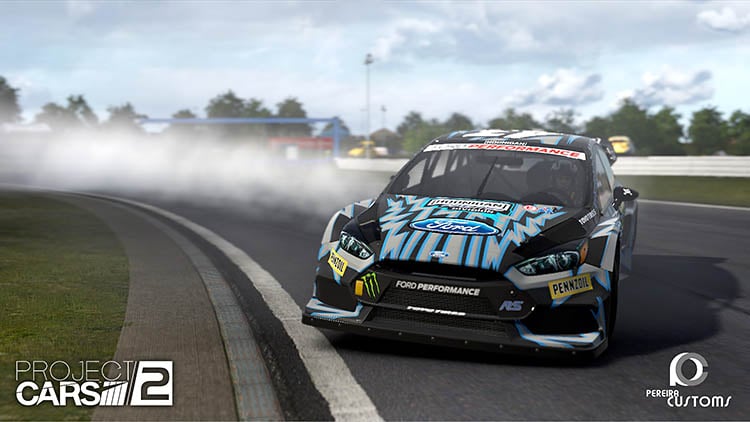 Download the Ken Block Gymkhana Ten Ford Focus RS skin mod here
Project CARS 2 Graphics Mods
There's no doubt that the graphics in Project CARS 2 make the game look impressive, but this graphics mod from 'Leoneee'. takes the visuals to the next level.
Project ✪ Reality ~ Natural & Vibrant Graphics w/ Reshade
With enhancements such as ambient light, curves, sharpening, vibrance, and vignette upgrades, this adds an exquisite, subtle finishing touch to the in-game graphics.
Download the Project ✪ Reality ~ Natural & Vibrant Graphics w/ Reshade graphics mod here
Project CARS 2 Car Mods
Now we get to the part that you've all been waiting for!
Given the impressive selection of over 150 car mods already available for download, we had a tough job picking our favorites.
These are in no particular order, and we highly recommend giving all of them a try.
Hobbnob's NonComp Drift Mod 0.4
Those of you that have already been enjoying what the Project CARS 2 mod scene has to offer certainly won't be surprised to see the Hobbnob's drift pack here.
Unlike the rest of our selection, which is all individual cars, this pack provides an entire collection, consisting of eleven vehicles in total.
There are some legendary drift cars included here, such as two Mitsubishi Evo's (Team Orange, anyone?) Alongside R32 and R34 Nissan Skylines and BMW M3's.
Hobbnob's pack is a must-have pack for any drift fan.
Download Hobbnob's NonComp Drift Mod 0.4 car pack here
Mazda RX7 Rocket Bunny Road by pCARS Modding Team
We showed you how to install one of our favorite cars from this group, the Initial D-replica RX7 FC3S, and this Rocket Bunny RX7 FD is another awesome car mod from the same collective.
Download the Mazda RX7 Rocket Bunny Road by pCARS Modding Team car mod here
Nissan Silvia S15 Rocket Bunny by pCARS Modding Team
pCARS Modding Team continues to bring the goods with another rocket bunny kit, but this time it's the drift fan-favorite Nissan Silvia S15.
Download the Nissan Silvia S15 Rocket Bunny by pCARS Modding Team here
Nissan 370Z by pCARS Modding Team
Another car that certainly needs no introduction here at Drifted is the Nissan 370Z, and it's once again pCARS Modding Team that brings this awesome car mod.
You'll be able to choose between 'stock' and 'track day' variations to find the perfect setup.
Download the Nissan 370Z by pCARS Modding Team here
Toyota Corolla AE86 by Didouc
For the ultimate Initial D vibes, this Hach-Roku mod provides the ultimate addition to any JDM fan's PC2 garage.
Download the Toyota Corolla AE86 by Didouc here
---
Project Cars 2 Mods - Conclusion
It's exciting to see that the Project CARS 2 modding community is thriving more than ever, even in the present day.
With the launch of Project CARS 3, many understandably predicted that it would see the end of sim racing enthusiasts opting for Project CARS 2, but that's certainly not been the case.
After the hugely disappointing release of Project CARS 3, which saw the game revert to an arcade-style format rather than the racing simulator that fans of the series know and love, this has provided an exciting opportunity for the PC2 mod community.
After the eventual breakthrough in enabling car mods in the game, which certainly took some time, it's come on leaps and bounds since.
For those looking for the ultimate mods for Project CARS 2, it may well be worth checking out the VRC Modding Team's paid content.
The infamous Assetto Corsa modding group has recently opted to join the thriving pCARS2 mod community. They've so far released two incredible options that are shaping up to be game-changers for the platform.
We hope we've included all of your favorite Project CARS 2 mods in this guide. If you feel we've missed anything off that is worthy of a place on our list, then drop us a line, and we'll happily check it out.
Looking for the perfect Project CARS 2 setup? This is the guide for you.
Thank you for reading our Project CARS 2 Mods guide.
If you enjoyed this article, please share it with the buttons at the bottom of your screen. If you've found this information useful, then please take a moment to share it with other Project CARS fans and other racing sim enthusiasts. We appreciate your support.
---
Photography credits
We thank the following entities for the use of their photography in this article: