The Cars Of Brian O'Conner
From undercover cop to illegal street racing icon, we're recapping the many cars that made Brian O'Conner a tuning legend.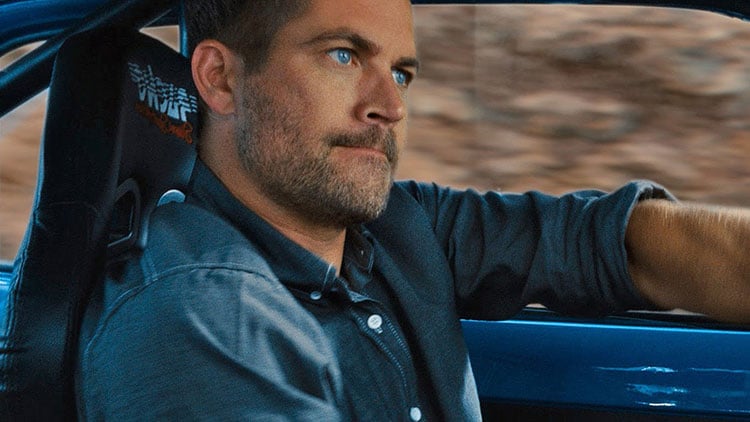 When you think of The Fast and the Furious franchise, we'd be surprised if Brian O'Conner isn't the first character that pops into your mind.
Portrayed by Paul Walker, his initial introduction in the movies was under his alias of Brian Earl Spilner as an undercover cop selected by the LAPD to infiltrate the illegal street racing scene and bring Dominic Toretto into the hands of the law.
The lure of the illegal street racing scene appeared to have a superior impact on O'Conner over his undercover job role, and he would soon go on to help Toretto evade Police capture on multiple occasions.
Life as an undercover cop is never going to be simple, and O'Conner learned that the hard way.
Life as an undercover cop is never going to be simple, and O'Conner learned that the hard way
After his childhood friend, Roman Pearce, was caught with eight stolen vehicles just two months after Brian joined the Police force, he was sent to jail.
Roman was always against Brian's role in the LAPD, and blamed him for his arrest, despite Brian being completely unaware.
Brian would later go on to redeem himself with Roman by clearing his criminal record in the Police database after bringing a criminal to justice, thus clearing his name.
Brian goes on to become heavily involved in the street racing scene, and before he knows it, he lands the role of second-in-command below living legend Dominic Toretto.
Who could ever forget the 'Dude, I almost had you!" moment between Brian and Dominic, where Brian's infectious personality beams through as he grins ear-to-ear, despite having lost the race.
As Brian and Dominic's bromance continued to flourish, Paul Walker and Vin Diesel landed the 2002 and 2014 MTV Movie Awards for the best on-screen team.
Brian O'Conner's character became extremely likable as the franchise progressed, and Paul Walker would soon become one of the most recognizable faces in Hollywood.
Regardless of whether you love the movies, and we can't deny that they've had some spectacularly cringeworthy moments, there's no question that they've played an enormous role in bringing street racing, drifting, tuning and imports to the public eye.
Before you knew it, your Grandma would be yelling 'DANGER TO MANIFOLD' whenever an issue arose in her grocery go-getter, as the Fast and Furious impact spread far and wide across the world.
With the launch of the third movie in the series, The Fast and the Furious: Tokyo Drift, this once again raised a tremendous amount of awareness with what drifting was, and made it more familiar than ever to the public eye.
With the likes of The Drift King, Keiichi Tsuchiya, featuring in a cameo appearance in the movie, he also had a behind-the-scenes role as a stunt coordinator and stunt driver, which undoubtedly helped with the impressive realism that came with the blockbuster.
The Fast and The Furious has had a substantial impact on the automotive tuning scene
Sure, it may not have been entirely realistic at times, nor factually correct, but we always have to remember that movies need to be 'enhanced' for mainstream appeal.
One thing's for definite; we'd certainly love to hit up some of the locations that they had the opportunity to drift in the movie!
Drifting aside, The Fast and The Furious has also had a substantial impact on the automotive tuning scene in general.
Sure, there were some distasteful cars, liveries, and some facepalm-inducing moments in just about every movie, but they're easy to accept for what they are.
Alongside the likes of the awful Eclipse Spyder driven by Roman Pearce, Brian O'Conner introduced the likes of the impeccable Nissan Skyline R34 GT-R and Toyota Supra to the general public, and they soon became some of the most desirable cars in the world.
Although they were arguably the most memorable, there, of course, wasn't just import cars that featured in the series.
Some of the most spectacular cars ever built, such as the one-of-seven made Lykan HyperSport's also played a role.
The $3.4m hypercar, unfortunately, went on to become another official statistic to the 1500+ cars that ended up being destroyed in the movies.
It's estimated that the crew has wrecked over $500m worth of vehicles in the franchise
I mean, who would've possibly thought that flying a car out of a Dubai skyscraper was a bad idea?
Over the years, it's estimated that the crew has wrecked over $500m worth of vehicles in the franchise, which is equally as mindboggling as it is depressing. More than 350 cars were destroyed in the filming of Fast & Furious 6 alone!
Anyway, we could sit here all day throwing around wild statistics from the franchise, but let's move on to the real reason you're here.
It's time to recap the most memorable cars that Brian O'Conner had the pleasure of driving throughout the various Fast and the Furious movies.
We've avoided putting this list in a specific order, although we've put what we feel are some of the more significant choices nearer the top.
---
The Cars of Brian O'Conner
We're going to be covering the cars that Brian O'Conner had the opportunity to both drive and own throughout the various movies on this list.
We meant it when we said that it's not in order of our favorites, as we introduce the first car of our list:
1995 Mitsubishi Eclipse
It feels fitting to start our list with the first car we ever saw O'Conner (or Earl Spilner) driving.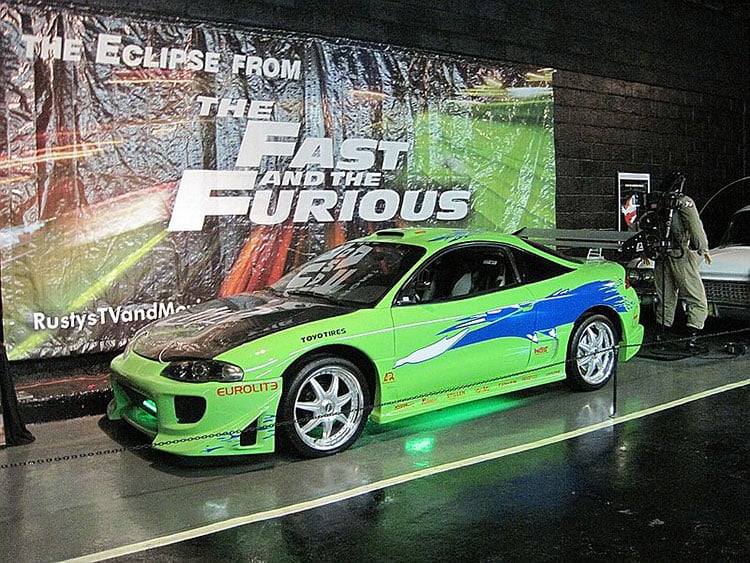 Love it or hate it, the Eclipse is undoubtedly one of the most recognizable hero cars from the series. It may not have had a substantial role, but it was the first time we got to witness O'Conner's talent behind the wheel in his first-ever street race.
In the movie, the car was built by the LAPD for O'Conner's original character of Brian Earl Spilner to infiltrate the street-racing scene.
Featuring a 16-valve, 4-cylinder, DOHC 2-liter 420A motor with a T3 turbo under the hood with a cold-air intake, it also had standalone fuel management, a front-mount intercooler, and of course, NOS.
The car was built on a second-generation base-model R.S., and certainly wouldn't have been able to handle the three-stage NOS that had been installed from its mightly powerplant, which was capable of around 165hp. However, for the sake of the movie, it apparently had nearer 450hp.
As you've probably guessed, the chances of it standing a chance of keeping up with Dom's rotary-powered RX-7 in a real-life street race are rather slim!
This was often known as the 'danger to manifold' car, where the floorboard also fell out. Although it was a rather embarrassing moment for the enthusiasts, it confirmed early-on that the movies were destined for mainstream appeal.
Some of the most noticeable styling mods on the Eclipse were a full Robo Car Armor Body Kit, an APR two-level GT2 style wing, various carbon fiber upgrades, 18″ SE7EN alloy wheels, and who could forget the neon underbody-lighting?
The Eclipse eventually came to its demise in Little Saigon, when it was riddled with bullets from Johnny Tran, before exploding into a dramatic fireball.
At least five different cars were used in total for filming the various scenes that the Eclipse featured in.
Interested to know more about Brian O'Conner's Eclipse? This in-depth discussion with real-life owner/builder John Lapid tells you everything you could want to know in this video:
---
1999 Nissan Skyline R34 GT-R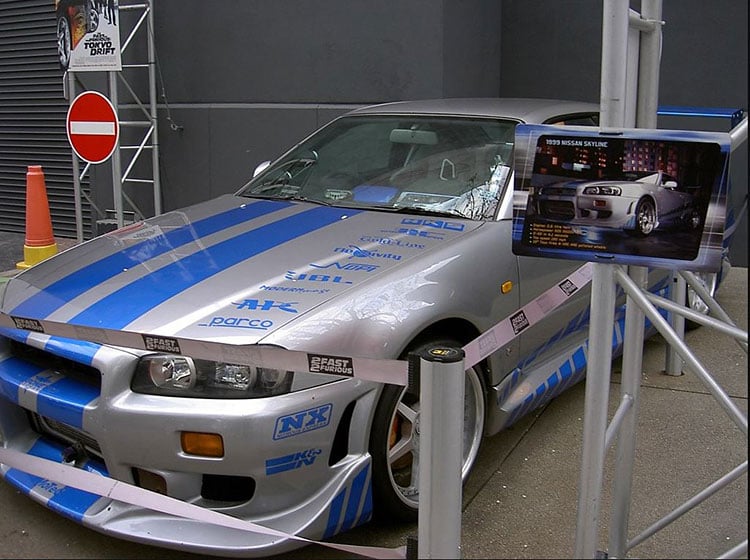 Thankfully, Brian got a pretty substantial vehicle upgrade for 2 Fast 2 Furious, as he got behind the wheel of the Nissan Skyline R34 GT-R for the first time.
The car cost $69,759, and the production team went on to spend over $20,000 on upgrades. This included a C-West body kit and Flexivity rear wing, House of Kolor Platinium Pearl paint, an HKS exhaust, a Turbonetic intercooler, HRE 446 wheels, a K&N CAI, JIC Magic shocks, coupled with Goldline springs, StopTech brakes, and far more.
Oh, we almost forgot the compulsory NOS and underbody neon additions.
Needless to say, it was a step-up from the Eclipse!
After having his 1991 Dodge Stealth impounded, Brian goes on to purchase the GT-R, which later goes on to become quite possibly the most legendary car in the franchise.
The production team disabled the 4-wheel steering and converted the GT-R to RWD so that it looked more impressive, and this certainly would've made it far more enjoyable for the driving scenes.
We can understand why you would want to see more about how this car was built, and the creator Craig Lieberman, sits down for a thorough explanation in this video:
One thing we love about seeing Brian O'Conner behind the wheel of the GT-R, is that it was unquestionably one of Paul Walker's favorite cars, which brings us to his stunning Bayside Blue GT-R.
---
2002 Nissan Skyline R34 GT-R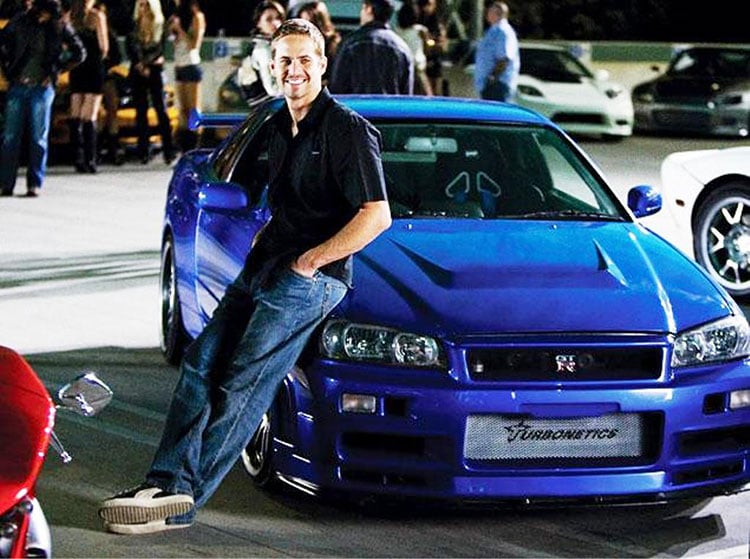 There was no question that both Brian O'Conner and Paul Walker had a tremendous amount of fascination for Skylines, particularly the GT-R.
The beauty of the tastefully modified (finally!) RB26DETT powered Bayside Blue GT-R, which featured in the fourth installment of the series, was that Paul Walker himself owned the car.
The GT-R is hugely sought-after in the U.S., and we've even written a guide that features some fascinating stories about how some of them ended up here. You can check it out on the following link: Why Is The Nissan Skyline Illegal In The United States?
We think it's well worth a read; it almost makes for a real-life Fast & Furious storyline!
Six Skylines were used for the scenes. Due to costs and rarity of the R34 GT-R, they instead opted for five GT-T stunt replicas alongside the genuine GT-R
If you're curious how some of the replica GT-T's looked under the body, you'll most likely find this a fascinating watch.
However, die-hard JDM fans may want to look away now!
During filming, the GT-R suffered some minor damage and a ruptured oil pan, but Paul Walker soon fixed it up to add to his private collection.
The car is now the most expensive GT-R in existence, with just 6,000km on the clocks, and having been formerly owned by Paul Walker, it recently fetched an incredible $1.37m at auction.
---
1995 Toyota Supra
The Toyota Supra MKIV was another O.G. 'hero' car from the first movie, and although the styling may not be to everyone's taste, it certainly stands out.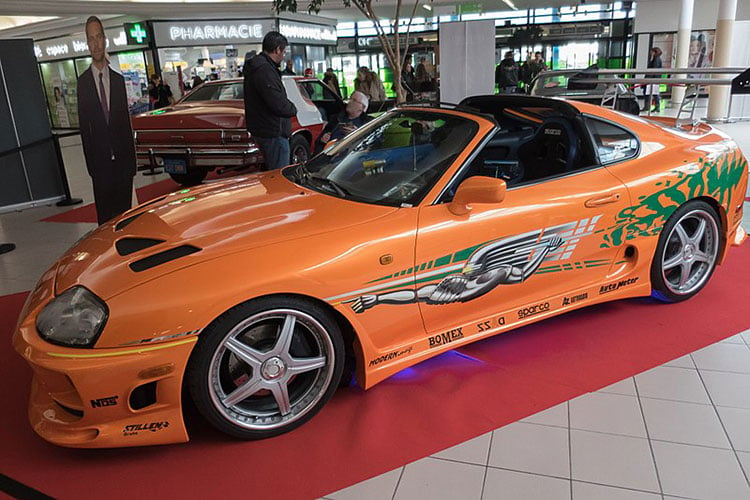 After being rescued from a junkyard by O'Conner, it's restored back to its glory days in Dom's garage to turn it into the' 10-second car' that Brian owed Dom.
Despite the car initially having a naturally aspirated 2JZ-GE, they swapped out the lackluster engine and replaced it with one of the most significant JDM powerplants, the mighty 2JZ-GTE.
With the 3.1-liter 2JZ sporting two Turbonetics T66 ball-bearing turbos alongside a full exhaust system and CAI, there are plenty more power-mods visible throughout the film, including the ever-present NOS.
Eibach coilovers bring the Lamborghini Diablo Candy Pearl Orange body closer to the ground, with M5Tuners' 19″ Dazzle Racing Hart Wheels and a full Bomex kit, a TRD hood, and an APR wing to complete the look.
During their initial test-drive of the car, they took on a Ferrari F355 Spider with the infamous 'More than you can afford, pal' quote from the obnoxious Ferrari driver.
Needless to say, the Ferrari owner didn't stand a chance against the combination of the tuned 2JZ, and Brian O'Conner behind the wheel.
When the movie car was later sold at auction, they stated that it had 544hp, with some other sources claiming it was closer to 650hp. Perhaps with the addition of NOS.
This was another one of Craig Lieberman's personally-owned cars, and he recaps its history in another great video here:
---
2002 Mitsubishi Lancer Evolution VII
Another easily-recognizable car (it's hard to forget that paint job) from the franchise was the Evo VII, which earned a substantial amount of screen-time due to being driven by both O'Conner and Tej Parker.
The Evo was supplied to O'Conner in 2 Fast 2 Furious for an undercover mission as they attempted to take down drug kingpin Carter Verone.
After fitting the vehicle with a tracking device to ensure O'Conner doesn't escape the law, he later switches cars, which enables him to escape.
Given that Evo VII's weren't available to buy in the U.S., the production crew mostly used replica Lancers, but one genuine left-hand-drive Evo VII was imported in from Europe.
As you've probably guessed, there was a wide range of mods on the Evo, which included a DAMD bodykit with an ARC rear wing, a 9-point roll cage, an RMR exhaust system, Evo VIII rear lights, and Motegi Racing FF5 alloy wheels.
And, wait for it… ALL OF THE NITROUS!
The genuine LHD model most recently sold at auction in 2014 for $46,200, although we expect it's worth quite a bit more now.
Here's yet another great video from Craig Lieberman, as he explains everything there is to know about Brian's Evo VII:
---
1969 Yenko Camaro
After Brian and Roman defeat Korpi and Darden in a team street race and their winning prize is the much-loved Yenko Camaro.
The car was supposed to be fitted with an 'ejecto seat, cuz!' but this failed to deploy when Brian desperately needed it, leaving him in an awkward situation with Verone's henchman.
Thankfully, the genuine Yenko Camaro wasn't used for the stunt scenes, such as the yacht jump, and this was carried out by one of several replicas.
The genuine car was almost stock besides a few mild performance upgrades, and due to being an incredibly rare and sought-after vehicle, we think that this was a great decision.
The genuine Yenko Camaro was later donated to Paul Walker's charity, ROWW, after the actors' devastating passing.
---
1974 Ford Escort RS 2000 MK1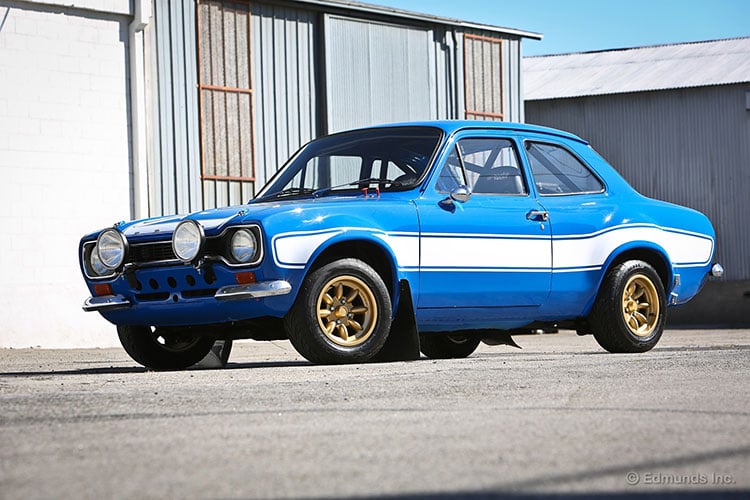 When the crew had a task to bring back some old-school classics, Brian opted for the 1974 Ford Escort RS2000 in 'Fast & Furious 6'.
As you've probably guessed, these cars certainly aren't cheap in the present day, so the production team used five RS 1600's (which are still extremely valuable) and transformed them into replicas.
During filming, one of the R.S. 1600's was destroyed when a stuntman collided with a ramp, leaving the car in a vertical orientation, which sounds pretty damn painful!
---
2012 Nissan R35 'BenSopra' GT-R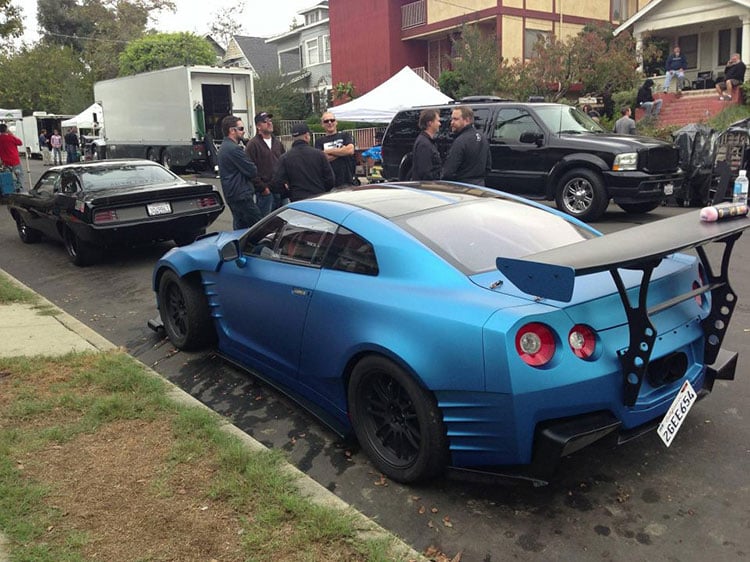 Having driven three R35 GT-R's throughout the various movies, the Bensopra was arguably the most memorable.
Beginning life as a former SEMA show-car, the car was built from the ground-up before being graced with the legendary BenSopra body kit.
With a vast range of additional mods, the car was said to put out around 850hp from the Switzer P800 turbo kit, a Cobb AAccessport AP005 ECU, and a custom-made exhaust.
The car also featured fully-custom R-Tuning suspension, JRZ RS Pro Coilovers, and Advan Racing GT20 ETC-wheels with ceramic brakes.
There are rumors out there that the car ended up in Paul Walker's vast personal collection, but it seems unlikley since we couldn't find any definite confirmation.
---
2012 Nissan R35 GT-R
Brian drove another two additional R35's in the movies, with one being used to attempt capture from a weapon-clad drone.
After activating the air-suspension, O'Conner sets the ride height so low that it scrapes along the ground, hiding underneath a semi-trailer on the highway. The truck absorbs most of the artillery from the drone, allowing O'Conner to evade capture at the time.
Seven cars were used for filming, two of which were pipe-frame replicas.
---
1971 Nissan Skyline GT-R "Hakosuka"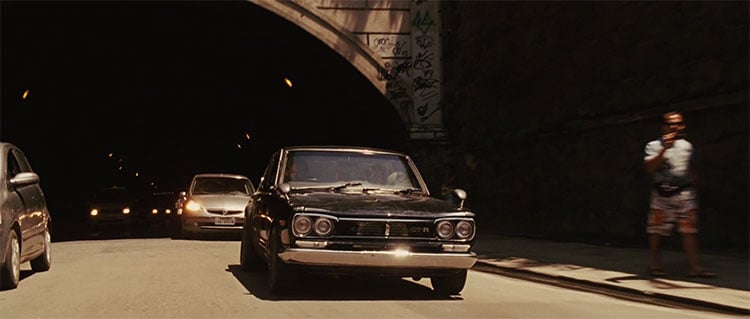 Who could forget the delightful Hakosuka, which featured on the streets of Rio de Janerio in 'Fast Five'?
It may have only had a short starring role, but it was incredible to see such a cult JDM classic in the movies, which were often criticized by hardcore JDM-enthusiasts for 'ruining' cars.
Thankfully, the Hakosuka remained in stock form, but we definitely would've loved to have seen a more substantial role for the O.G. GT-R in the movies!
---
2009 Subaru Impreza WRX STI
After an explosion ended Brian's Skyline, he decides to steal this Impreza from an impound-lot in L.A.
Since these were more modern than most of the cars used in the franchise, Subaru provided seven models for filming, which were fitted with additional modifications, which included: Veilside body kits, Perrin CAI and intercooler, Cobb Tuning ignition and exhaust and Remus Racing headers, and mufflers. The look was completed with 18″ Enkei NT03+M rims.
The car went on to have substantial roles in Fast Five, Furious 7, and The Fate of the Furious.
---
2012 Subaru Impreza WRX STi
Subaru provided another seven Impreza's for the next movies, but only one made it out in the repairable condition. They certainly made the most of them!
---
2013 McLaren MP4-12C Spider
When the crew travels to the supercar haven of Abu Dhabi, Brian opts for the McLaren MP4-12C as his weapon of choice.
---
2001 Porsche 911 (996) Carrera 2
Another small starring role was handed to the Porsche 911, which the crew had planned to drift through the basement of the Police headquarters undetected.
After realizing that it's almost impossible to carry out the mission, the car isn't seen again for the remainder of the franchise.
---
1998 Toyota Supra Turbo
We've left one of our favorite, but also one of the most impactful cars on our list until the very end, as it feels like a fitting way to once again say goodbye to both Brian O'Conner, and Paul Walker.
The Toyota Supra was used in the last ever scene to feature Brian O'Conner, as best friends Dominic Toretto and Brian O'Conner leave a car meet after deciding to retire from their life of crime.
As Toretto left the meeting first, Brian catches up to him at an intersection, before having one last blast together on the freeway.
As the road splits off at a Y-intersection, it's the tear-jerking moment that we'll never forget in one of the more memorable movie scenes ever, as the world not only says goodbye to Brian O'Conner, but also to the legend that is Paul Walker.
We have no doubt that you'll already be well aware of the tragic loss of Paul Walker in a single-vehicle accident in November 2013.
For this closing scene, using an impressive mix of Paul Walker's brothers, Caleb and Cody, combined with CGI, allowed the production team to film one final scene with Brian after his passing.
The following quote, from the closing scene in this video, has been hugely memorable to us.
"I used to say I lived my life a quarter-mile at a time, and I think that's why we were brothers. Because you did, too, no matter where you are, whether it's a quarter-mile away or halfway across the world, you'll always be with me. And you'll always be my brother."
---
Thank you for reading our Cars of Brian O'Conner guide
We hope that you've re-lived some of your favorite moments and best memories from The Fast and the Furious franchise, while admiring some of the incredible cars that Paul Walker had the opportunity to drive.
If you enjoyed this article then please share it with the buttons at the side and bottom of your screen. Find this information useful? Please post a link to it on your cars owners club. We really appreciate your support.
Looking to add good racing movies on your watch list? Check out our ultimate NASCAR movie list here.
Photography credits
We thank the following entities for use of their photography in this article: