43 Inspiring Paul Walker Quotes About Cars, Movies, Life & Family
We honor the late Paul Walker by listing over forty of his most inspiring and memorable quotes. Dive in and be inspired by this automotive icon.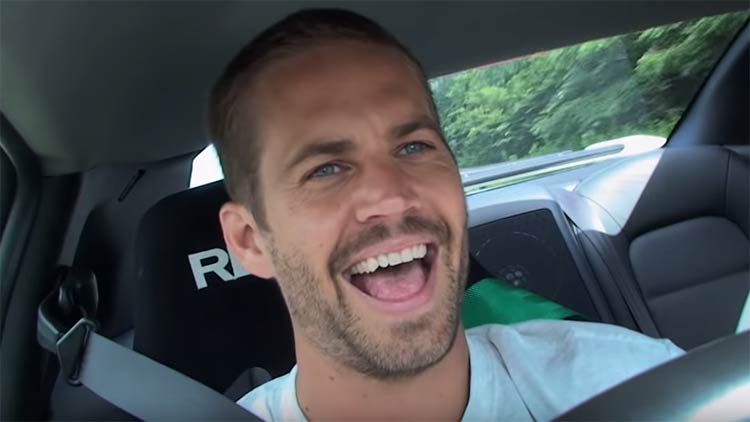 Introduction
Popular YouTuber ThatDudeinBlue recorded an excellent video about Paul Walker and why he is still relevant to car enthusiasts today.
Many car enthusiasts were brought into the fold by the Fast And The Furious movie franchise that Paul was central to. I don't think anyone would argue that he (and his character Brian O'Connor) is an important figure in the car scene.
Check out Paul's charity; Reach Out Worldwide (ROWW).
When I was 18 years old and my friends and I were tooling around in our first cars, a Hollywood movie that showcased tuned JDM cars racing on the highways and pulling cool stunts was something that inspired us to get so heavily into cars.
I'm sure many of you guys can relate.
Paul Walker quotes about cars
Quote #1

"If one day the speed kills me, do not cry because I was smiling."

Quote #2

"I have an airplane hangar with 17 cars in it. That's no joke. I have a 'half pipe' in there, too – you know, like a big ramp, where I skateboard. It's awesome. It's the ultimate fantasy."

Quote #3

"I'm a crazy car guy. I've got an airplane hangar full of cars."

Quote #4

"I grew up hunting and fishing. I've always been into archery. I've always been into cars… In my family, that was just stuff we did. That's just the way it was."

Quote #5

"I wish I could be behind the wheel for every stunt."
You can check out an exhaustive list of Brian Conner's car career right here.
Paul Walker quotes about movies
Quote #6

"I get that a lot. I'm Brian a lot more than I'm Paul Walker, which is awesome. When I hear, "Hey, Paul Walker!" my hair stands up on the back of my neck. It's uncomfortable. But when I hear "It's Brian!" it's cool. I like Brian."

Quote #7

"There's more to life than movies."

Quote #8

"My parents never looked at my acting as a career. They saw it as a way to help provide for the household."

Quote #9

"Basically, you're selling a world as an actor, right? I mean it's like any sales person: if you believe in your product, you know your product, you sell it a lot better."

Quote #10

"I just turned 40, and it's weird to think that I've been doing this almost my whole life. I was a child actor and then didn't do it through junior high and high school, then started up again in my late teens doing 'Young and the Restless.' Dabbled with school, went back to college, played around. I think I was doing Pleasantville at 23."

Quote #11

"As for Hollywood, I've got a killer job, and I'm having a blast. I have the luxury to go on trips whenever I want and invite my friends who can't afford it. And, God willing, I'll be able to do all that till the day I die."

Quote #12

"I sometimes struggle, because my job is like the antithesis of what surfing is all about. Surfing's simple. It's real."
Paul Walker quotes about life
Quote #13

"I'm not affected by violence the way some people are. I don't know why, but I enjoy that intensity."

Quote #14

"I live by 'Go big or go home.' That's with everything. It's like either commit and go for it or don't do it at all."

Quote #15

"I'm not afraid of anything. That's just the way I am."

Quote #16

"Surfing soothes me, it's always been a kind of Zen experience for me. The ocean is so magnificent, peaceful, and awesome. The rest of the world disappears for me when I'm on a wave."

Quote #17

"If you spend any time with a man, you'll realize that we're all still little boys."

Quote #18

"My philosophy is: If you can't have fun, there's no sense in doing it."

Quote #19

"I'm a Christian now. The things that drove me crazy growing up was how everyone works at fault-finding with different religions."

Quote #20

""I'm much more likely to give myself a kick in the butt than a pat on the back."

Quote #21

"If I lost weight, I'd be two-dimensional!"

Quote #22

"I'm not the least bit polished, I come from a blue collar background and I never thought I could feel comfortable around the English."

Quote #23

"I want to have the freedom to do whatever I want."

Quote #24

"My motto is, you have to get in a sport a day."

Quote #25

"If you spend any time with a man, you'll realize that we're all still little boys."

Quote #26

"My philosophy is: If you can't have fun, there's no sense in doing it."

Quote #27

"There's a lot of guys that just get comfortable with their positions and rest on their laurels. I had to earn my way."

Quote #28

"I don't go for the flash and panache."

Quote #29

"I was definitely ahead of my friends. I was French-kissing girls way before anybody else was."

Quote #30

"Everyone has an opinion."

Quote #31

"I'm a pretty agile guy, especially being taller and having done martial arts from about the age of 13, but parkour is one of those sports that I wish I'd discovered sooner. When my nephew first showed me, I thought, 'Damn – I'm too old for this.'"

Quote #32

"Me and my buddies are all like brothers. So it's okay for us to say 'I love you' or whatever. It's always cool. I think that comes from my dad. That's just the way he always was."

Quote #33

"I thought I was a hippie, bro. I wore Birkenstocks every day. I went to a Christian high school, so I was pretty funky. The teachers didn't give me a hard time, though, even though I was totally way out of line in terms of my dress code."

Quote #34

"Never hate people who are jealous of you, but respect their jealousy, they are people who think that you are better than them.."

Quote #35

"I don't go where the people are. I go where the people aren't."

Quote #36

"No matter how good or bad your life is, wake up each morning and be thankful you still have one."

Quote #37

"The journey is more important to me now. There's no gaurantee, no matter what. We get one run in life."
Paul Walker quotes about family
Quote #38

"I'm into being a dad, that's where my focus is most of the time. I'm an actor that's my job, but it's not my life. I have a lot of other interests too."

Quote #39

"You know, all that really matters is that the people you love are happy and healthy. Everything else is just sprinkles on the sundae."

Quote #40

"I want to get married. I think about it a lot. But I also think about my cars, so maybe my priorities aren't exactly in line just yet."

Quote #41

"Life's too short. And the biggest curse is falling in love with somebody."

Quote #42

"My mom's hot. I mean she's old, but my mom's out of control."

Quote #43

"I'm really close to all of my family."
More Fast & Furious content
If you enjoyed this article then please check out our Cars Of Tokyo Drift feature. Want to find out more about Paul Walker's cars? Then head over to our Paul Walker Skyline feature.