6 Sensational 240sx S13 Drift Builds on Drifted
Nissan 240sx S13 drift builds are some of the most successful drift platforms in the drifting world. Here are six of our favourite track ready examples.
For the astute car enthusiast the silhouette of the S13's classic coupé shape is both iconic and timeless.
While the S14 lost the wonderful 80's style pop-up headlights it brought Nissan's sexy coupe in-line with the modern styling trends of the mid nineties.
While the United States domestic market 240sx's were never gifted with the turbo charged engines that their Japanese cousins received, the KA24E & KA24DE have proven to be great engines once modified with forced induction; Turbo charging in particular offering relatively cheap and reliable horsepower.
Each of these builds has its own personality, a personality, I think, that reflects it's owner.
In this article we look back over six of Drifted's favourite Nissan 240sx drift builds that you can find on this site. Each of these builds has its own personality, a personality, I think, that reflects it's owner.
From the Kody's humble and fun parking lot built S13 hatch to Kyle's absolutely immaculate red coupe - you are sure to find a build that suits your taste.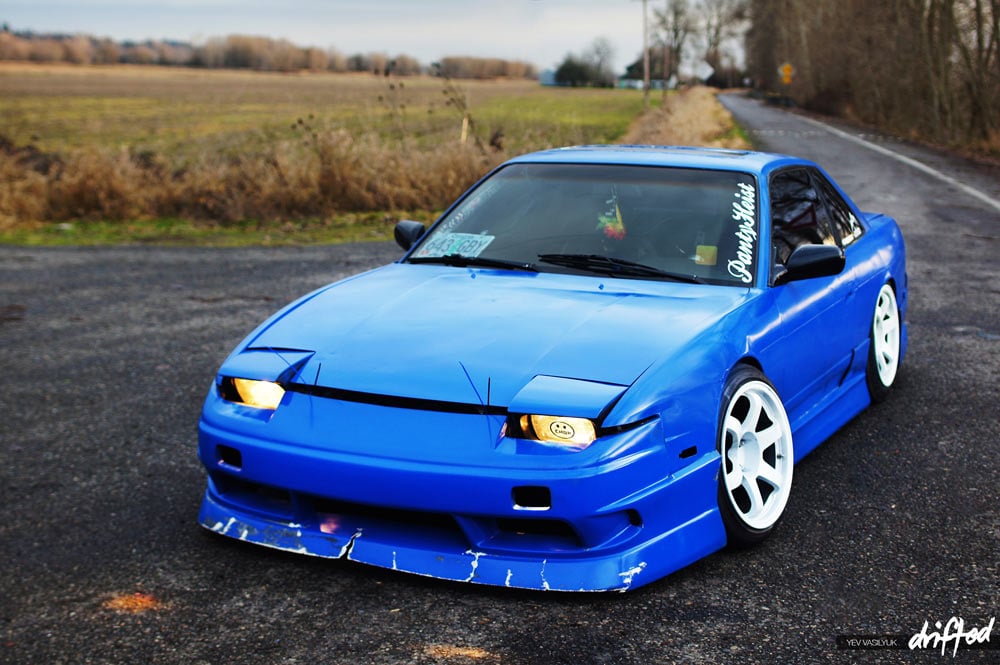 "Man. They sure posted this at the right time. I was just having thoughts about selling my shell. But damn if Drifted magazine is going to say I am a legend than that is just gods way of telling me to get my motivation and build this damn car like no other! Thanks Drifted! You guys rock." – Kody Geiger
Kody's story behind his parking lot built 240sx hatch is one of my favourite here on Drifted. Kody indulges his passion for drifting on the street and unfortunately in one incident the streets bit back.. I'm sure some of you guys can relate!
Instead of packing it up and finding a safer and less expensive hobby, Kody took his humble budget and spent his year wrenching away on his S13 in a shared parking lot to rebuild it into what you see before you.
Years later we featured Kody's car on our Facebook page and to the right is his reaction. It's people like Kody that make working on Drifted such a pleasure.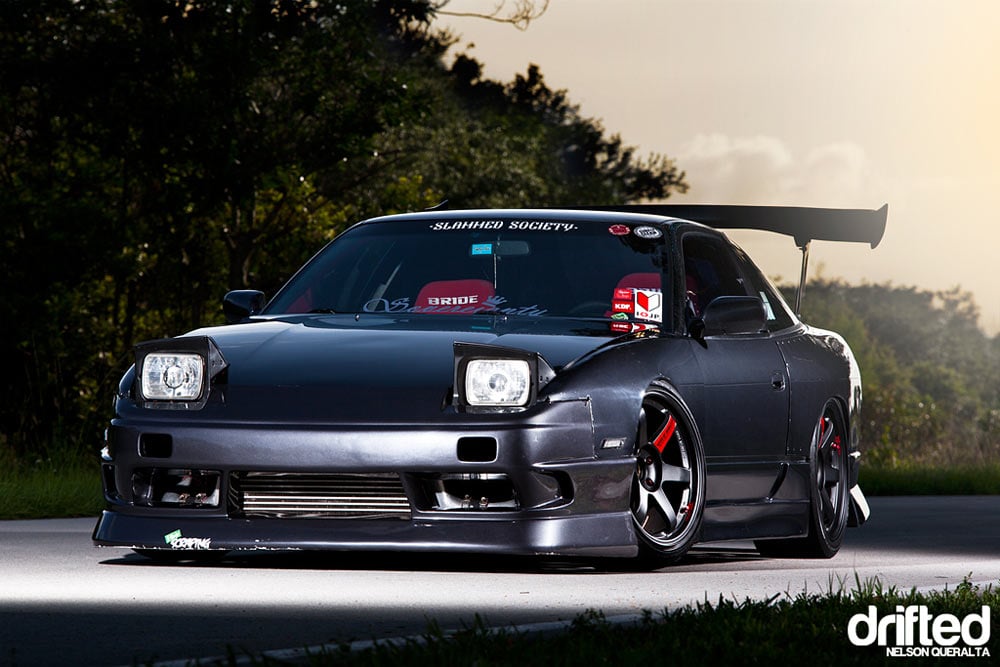 Nelson Q JR brings us our next 240sx build from the Sunshine State, a car that sports an aggressive mix of BN Sports, Chargespeed and Vertex aero, a monster Country Labs wing, properly stanced Volk TE37SL and an SR20det engine swap - fully rebuilt and tuned to produce just shy of 500bhp. This 240sx is certainly worth a closer look.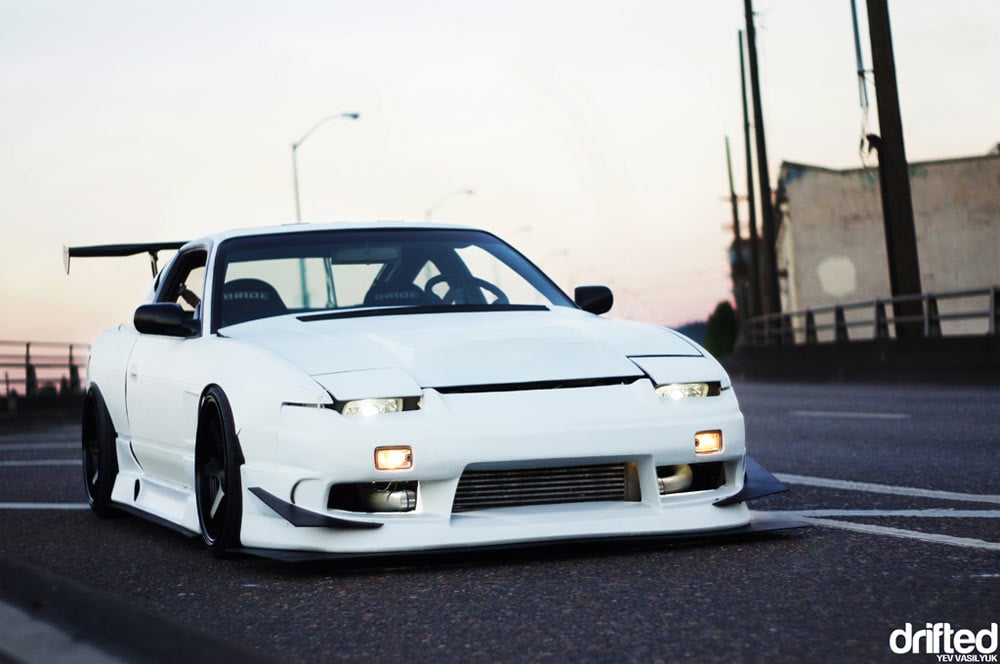 The aesthetics of his stunning S13 hatch build were clearly inspired by the early 2000 era tuner cars of Japan. A compliment of Japanese aero parts, huge GT carbon fibre wing, carbon canards, aggressive fitment and crisp white paintwork all contribute to the strong JDM theme in this 240sx build.
Tony decided to swap out the KA24 for a complete redtop SR20det conversion so for all intents and purposes this car is a left hand drive 180sx!
Andrew Jennings takes us back to 2013 and to this Godspeed sponsored Formula Drift Nissan 240sx S13 build. This car was built by owner Brandon Wicknick to be a powerful, tough and eye catching S13.
Holographic paint, crazy vinyls and bright yellow rims makes sure the car stands out and an engine swap for a Toyota 2JZ-GTE brings the noise. Awesome!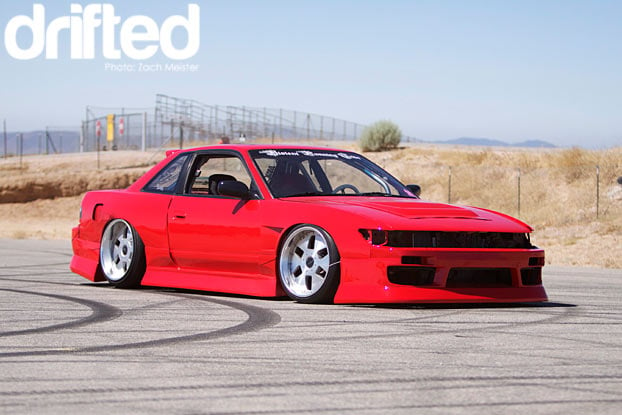 Kyle built up this car from a bone stock coupe body into the immaculate and absolutely on point 240sx you see in the pics. A complete SR20det swap gives Kyle all the power he needs to light up the tyres at local grassroots drift days in SoCal, while repping his crew, the Violent Running Tribe.
Click for car porn.
When Fatlace sponsors a drift car you just know it's going to be something very special. Walker's deep dished, bright purple, wide body coupe is no let down. Hit the video below to catch the car in action.
Are you running an S13 and looking at suspension upgrades? Check out our Ultimate S13 Coilover guide.
Thank you for reading our six top 240sx drift builds
If you have a nice 240sx send us an email and we can share it on the site. Don't forget to subscribe to Drifted.
If you'd like to learn more about why so many drifters chose the S13 then check out our 7 Reasons Why The Nissan S13 Is The Best Drift Platform For Beginners article.