Ultimate 350z Roll Cage Guide
Looking to track your 350z? Then a roll cage is a great investment. We compare five of the best 350z roll cage on market in our ultimate roll cage guide.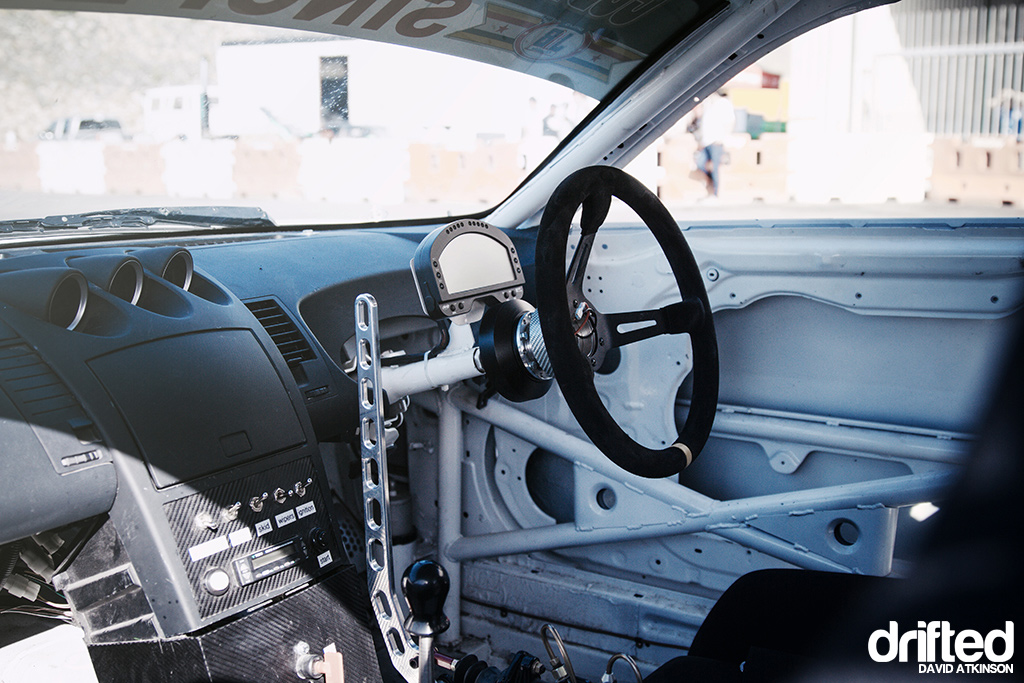 ---
In a hurry? Here is our Nissan 350Z Roll Cage summary
| Budget Choice | Drifted Choice | Runner Up |
| --- | --- | --- |
| | | |
| S&W 8-Point 350Z Roll Cage | ER Spec Nissan 350Z Drift Roll Cage | AutoPower Industries Nissan 350Z Roll Cage |
| 🔥🔥🔥🔥🔥 | 🔥🔥🔥🔥🔥 | 🔥🔥🔥🔥 |
| Buy Now | Buy Now | Buy Now |
We've covered a huge amount of aftermarket upgrade choices for 350Z owners in our previous guides, which you can find the links for at the bottom of this guide. Today, we'll be taking a look at strengthening your 350Z so that it's prepared for the absolute worst case scenario, whether it's on the street, or on the track.
We cover both bolt-in and welded roll cages in this guide. Bolt-in are obviously easier to fit, despite the need to drill holes in your floor, which will probably test your nerves a little!
Despite bolt-in cages not having the best of reputations, they have in fact saved many owners lives over the years.
If you do decide to opt for a bolt-in, you could always weld it to the floor for superior strengthening and to ensure that the bolts don't come loose and cause a problem further down the line.
Despite bolt-in cages not having the best of reputations, they have in fact saved many owners lives over the years. With that being said, incorrect installation can also be extremely dangerous so we highly advise ensuring that it's fitted perfectly. Bolt-in cages still have to meet specific safety requirements, and they will certainly help more often than not.
One issue which many owners overlook when they fit their fancy 'show cages' is that they're more interested in keeping it looking cool rather than respecting the safety aspect of it. We always recommend using foam padding around any areas which you could hit, especially your head. It's always worth remembering that roll cages are developed with crash helmets in mind for track use.
A positive to note with bolt-in cages, should you have a small crash which doesn't affect the roll cage integrity, you can then take it out and put it in your new build, or sell it. Once you've welded a cage in, it's there until the day your car is no more!
Weld-in cages also have their obvious bonus points over bolt-ins, and you'll get the ultimate structural rigidity from your chassis, and protect yourself from any unfortunate events in the best way possible.
Check out this rare behind the scenes footage at Enjuku Racing as they prepare their next batch of the highly sought-after weld-in cages by hands:
It's worth considering that with bolt-in cages, you'll need to drill holes in the floor, remove the seats, pull up the carpet and also cut into your interior plastics in the rear, and also the dash if you're planning maximum safety.
We've heard of so many people over the years drilling holes in the floor before they've fitted their entire bolt-in cage. Don't be the next person to do so! Ensure that everything is in place before you drill any holes or you'll definitely regret it later on!
A good roll cage is a small price to pay to ensure you are fully prepared for the worst-case scenario. Motorsport is extremely dangerous and unplanned things can take place extremely quickly. A well-prepared cage will provide you with the ultimate confidence that you can push your car to its limits in the safest way.
If you're intending to buy a roll cage for motorsport use, we highly recommend ensuring that it meets all of the requirements for that specific competition or governing body.
If you would like to reinforce the exterior of the car, you may want to check out our 350z bash bar guide.
---
Let's take a look at our 350Z roll cage selection
To read more about any of these products, simply click on the roll cage name or photo.
Our comment: Cusco come with an excellent reputation in the JDM scene and bring a wide variety of roll cages for the Nissan 350Z.
You can have exactly what you want from their ten variations in their motorsport-oriented 'Safety21' series alone, from 4-point to all the way to 10-point. Despite Cusco's roll cages often having a negative reputation, this great guide from Co-ord Sport explains that the materials used in the Safety21 kits are actually capable of withstanding heavy impact due to the carbon steel material they have opted for. They state that this makes the kit a good option for heavy track use.
However, if you're planning to go down the Dash Escape (dash dodger) route to save cutting into your dashboard, you would then be sacrificing some structural rigidity, so we'd recommend taking the plunge and going through the dash to ensure the best safety levels possible.
Manufacturer description: "Cusco has a wide range of Steel roll bars and cages available for many popular applications under their Safety21 designation."
"Cusco pays careful attention to detail when designing these steel roll cages and bars, so that the roll cages come out as light and rigid as possible. This includes positioning the mounts where they are most effective at increasing rigidity, such as on suspension mounts."
---
Our comment: Cusco's second line is their D1-spec Chromoly range, this is 33% lighter than the Safety21 alternative for those of you that are considering weight, and comes in 6 and 7-point variations.
Despite many reports online stating that Chromoly is not only lighter, but also stronger, it appears that the carbon steel used in the Safety21 kits above are actually stronger than the Chromoly.
It's mostly these kits which have earned a negative reputation for Roll Cages among the tuning community and are mostly recommended purely for looks and show cars. With that being said, many owners have in fact rolled their Cusco cages and it's stood up well, it could partly boil down to poor fitting from the owners.
These are both Dash Escape (dash dodger) kits, so for safety reasons, we would personally recommend to go down the dashboard-cutting Safety21 route.
Manufacturer description: "Cusco Chromoly Roll Cages are constructed out of lightweight 40mm chromoly tubing. Lightweight joints are used in order to increase safety without sacrificing additional weight."
---
Our comment: Thankfully, the quality of S&W's roll cages is better than the quality of their photos! Bear in mind that the photo is for clarification purposes only and we would expect to take a better look before buying.
S&W have been around for many years in the tuning scene and have built up a fantastic reputation, mainly in the drag racing sector. Drag cars always need to be extremely strong, so that's always a great sign.
With three different materials, starting from an impressive $209.95 through to $559.95, this roll cage is a definite bargain and will undoubtedly serve you well. In the unlikely case that you should have any issues, we have no doubt that Enjuku Racing or S&W themselves will be more than happy to resolve it.
Manufacturer description: "When you buy an S&W race car or component you get the benefit of decades of racing experience. S&W staff members have raced everything from E.T. bracket cars to Top Fuel dragsters. Their experience & knowledge is a valuable part of every S&W Race Car product."
---
Our comment: Another fantastic choice comes from ER Spec, as they introduce their drift-oriented roll cages which could make the perfect option for those of you that are looking to create a drift weapon.
ER Spec have a great reputation, and with each kit made to order, you can count on exceptional quality once again. One potential downside of this is that it's a weld-in kit only, however, for serious motorsport this is undoubtedly the best option.
It's a fantastic price, but you will have to consider the cost of fitting on top from a locally trusted fabricator, unless you're talented with a welder yourself, of course! However, when it comes to safety, we personally leave it to the professionals. This kit has been designed for the hard-top 350Z and will not fit convertibles/roadsters.
Manufacturer description: "Stay safe with an ER Spec drift car roll cage. Designed to protect you and manufactured with durable steel, this cage is a professional grade upgrade to your vehicle's safety profile. It's a must-have safety feature for any race vehicle."
"This drift car roll cage is weld-on, not bolt-in, therefore we strongly recommend these be installed by a professional fabricator experienced with installing roll cages. If you have any questions regarding bar placement or fitment please contact us prior to installing the cage completely."
---
Our comment: Our final option in this guide comes from AutoPower, another company with a good reputation in the industry. We've heard mostly good things about their cages, and given that they are both SCCA and NASA legal, these are another ideal choice for those looking to go down the competition route.
AutoPower offer both bolt-in and weld-in 4-point and 6-point cages depending on your needs. We've heard some negative opinions regarding fitment, but most reviews for them are positive. For those of you that require SCCA and NASA certifications for motorsport, this could be the best choice for you.
Manufacturer description: "AutoPower Industries manufactures a variety of roll bars and roll cages for street vehicles and all out race cars. Every roll bar or cage has been designed to fit specific car models so only minor modifications are necessary for the installation. A great amount of time has gone into developing and perfecting each product to offer the utmost in strength and proper fit."
---
Our winner
Our winner is the ER Spec Nissan 350Z Drift Roll Cage.
To pick our winner from this choice of 350Z roll cages, we looked at a number of criteria; price, safety, quality, popularity, and design.
Based on these criteria we have chosen the ER Spec Nissan 350Z Drift Roll Cage to be our winner.
This hasn't been the easiest result to decide given the fact that some people may purely want a cage for show use, where others may want to push their car beyond its limits at the track.
We appreciate that weld-in cages might not be convenient for everyone, which is why we've given a variety of choices in our guide, but the ER Spec ticked the most boxes in our guide, and with it being focused towards drifters, they know how to keep us happy!
There's no question that a weld-in cage is the better choice for many reasons, and we believe that safety is absolutely essential when it comes to preparing for the worst case scenarios that motor racing can offer. Now that you've got enough confidence in your roll cage, it's time to run some walls without fear!
Thank you for reading our Nissan 350Z roll cage guide
We hope that you're now confident in choosing the right product for your needs to have the confidence that your 350Z will keep you safe in the worst case scenarios.
Make sure you check out our additional 350Z guides
We have a huge range of guides here on Drifted to help you build the ultimate 350Z. Select the options below and we'll narrow down each challenging decision for you as we weigh out the pros and cons.
Photography credits
We would like to thank the following sources for use of their images:
If you enjoyed this article then please share it with the buttons at the side and bottom of your screen. Find this information useful? Please post a link to it on your cars owners club. We really appreciate your support.