The Ultimate 350z Test Pipes Guide
Need some 350z test pipes for your Z? Compare price, fitment and performance in our ultimate 350z test pipes guide.
Test pipes are a great first modification for any performance car. The VQ35(DE/HR) family responds very nicely to aftermarket breathing modifications.
The test pipes in our guide offer performance gains from 4-10 RWHP. With all of our items having a price tag between the $150-$240 mark, that's a pretty good bang for your buck in naturally aspirated tuning.
Coupled with a performance exhaust system, headers and air intake, you should see some effective power gains from your 350z.
One small thing to note is some states are not happy with you removing the catalytic converters because of emissions, so please do your research before picking up a set.
Not convinced by the increased power unlocked with a set of test pipes? Then hit play on this video of a before and after install of a pair of ISR Performance test pipes, mated to a TOMEI Expreme Ti exhaust system.
Spoiler alert. It sounds superb.
Let's take a look at our 350z test pipes
To read more about any of these products simply click on the test pipe name or photo. Click on the purchase link to be taken to a retailer to buy that item.
---
Our comment: Our first test pipes in the guide are from budget-friendly brand ISR Performance. These test pipes are made with high-quality stainless steel and come with bolts, gaskets and 02 sensor adapter extensions.
They are designed for the VQ35DE, so if you have a late model 350z you should be looking at ISR's 370z test pipes.
The price is extremely attractive, the quality and fitment sound solid from owners reviews, however, expect some drone when at wide open throttle.
For such an affordable product, the ISR test pipes are worth a look.
Manufacturer description: "The ISR Performance test pipes are constructed using high quality stainless steel. These test pipes utilize stock flange locations so they can be used with stock components or aftermarket (Provided they aftermarket components use stock style flanges and mounting locations)."
"These test pipes will eliminate your catalytic converter, and are designed for off-road use only. Their straight through design will help add the maximum amount of horsepower and torque to your VQ, especially when paired with the ISR Y-pipe and exhaust!"
"These test pipes will ONLY work for VQ35DE motors, if you have a late model Z33 with the VQ35HR you will need to purchase the Z34 style test pipes."
---
Our comment: The BERK Technology test pipes are also aimed at a budget price point. They are made from 304 Stainless Steel and utilise a 60mm (2.36″) pipe diameter.
They do not make performance claims however they do note that their built-in CEL fix works 95% of the time. One neat feature is the inclusion of a 02 tapped hole with a bung on each pipe, this is designed to allow you to easily bolt on wideband 02 readers.
These are straight pipes and are not fitted with a resonator so expect a raspier exhaust note than before. For the money, the BERK test pipes make a good case for themselves.
Manufacturer description: "Dual 60mm Test Pipes w/ Built in O2 CEL fix. Additional O2 Bung Included on both pipes for left bank & right bank wideband O2 fuel tuning."
"Full 304SS. Built-in CEL fix is ~95% effective in most cases. Your results may vary. OFF ROAD USE ONLY. Fits VQ35DE Motor: 2003-2006 350Z, 2003-2007 G35 Coupe, 2003-2006 G35 Sedan"
---
Our comment: The Invidia test pipes come in at the high end of our budget. They are made with 304 Stainless Steel and have a beautiful finish. They are built with a 60mm pipe diameter and offer sturdy support brackets to reduce exhaust movement.
Feature-wise they lack some of the cool additions of the competition, but they are clearly a solid product. Perhaps a little strong with the price point.
Manufacturer description: "Installing the Invidia Test-Pipe is a great way to free up horsepower and increase the sound of your exhaust. By removing the stock catalytic converter you are allowing a greater volume of exhaust gases to pass through the exhaust system, thereby giving you better throttle response, increased power, and better gas mileage."
---
Our comment: The AAM Competition test pipes are a mid price point product. The pipes are built with 304 Stainless Steel to an extra wide specification of 2.5″ in diameter.
As with most of the test pipes in this guide, they come with brand new bolts and gaskets. AAM claim a dyno proven 8-10 RWHP gain on a stock 2004 350z. In addition, fitting these test pipes will save you 11 pounds in weight over the OEM catalysts.
For the features, performance and price, the AAM Competition test pipes are hard to beat.
Manufacturer description: "AAM COMPETITION 2.5″ DE Test Pipes – Nissan 350z / Infiniti G35."
Highest Flow Available
Dyno testing has shown 8-10 RWHP gains on a stock 2004 Nissan 350Z!
Precision TIG welded T-304 Stainless Steel
T304 stainless steel flanges
Saves 11 pounds
---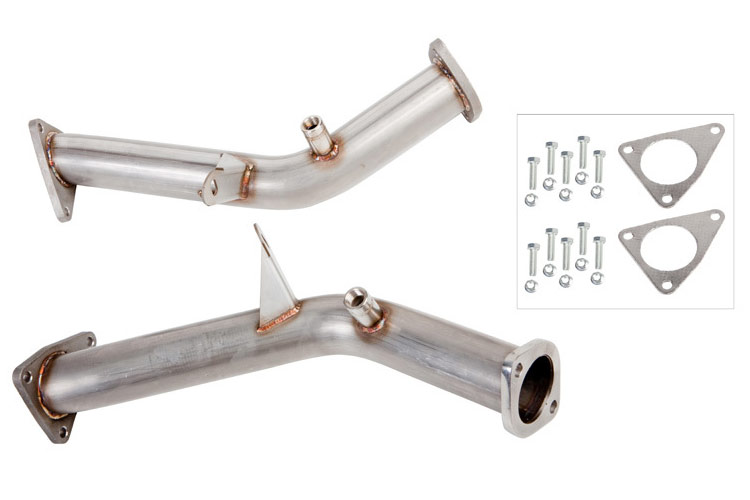 Our comment: The second BERK Technology product featured in this guide, and the only test pipes suited to the later model 350z – these test pipes come in right at the top end of our budget.
They offer all of the features of the BERK test pipes mentioned above (304SS, gaskets & fitting hardware, 02 bungs for wideband) but also offers some pretty serious gusseted and plated support brackets to keep your exhaust system more stable and reduce flex on your headers. Very good to see.
If you are a 07+ 350z owner then these pipes are the perfect fit for you.
Manufacturer description: "Dual 60mm Test Pipes w/ Built-in O2 CEL fix. Additional O2 Bung Included on both pipes for left bank & right bank wideband O2 fuel tuning. Full 304SS. Built in CEL fix is ~95% effective in most cases. Your results may vary."
---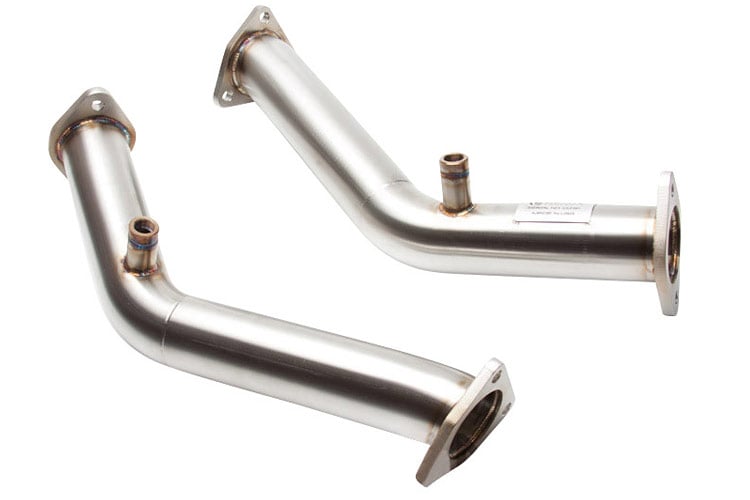 Our comment: The Motiv Concepts test pipes are another high-end product, they are all handmade in the USA with a RathGibson tube of 2.5″ diameter.
These lovely looking pipes are finished with Motiv's signature beautiful brushed finish and adorned with their name plaque. They look very cool indeed. The pipes are welded onto 3/8-inch thick stainless steel flanges and come with a lifetime warranty.
For the price, I would like to have found some dyno proven power claims, but you can expect similar performance to the AAM Competition units that also use 2.5″ diameter pipework.
If you want a high quality, no-thrills set of test pipes that come backed with a lifetime warranty, give Motiv a look.
Manufacturer description: "Our highly anticipated 2007-up test pipes are now available! Features fully gusseted and plated support brackets, the strongest in the industry."
"Includes the same leak free soft crush graphite collector gaskets found in our 07- up HFC's and secondary O2 sensor bungs for wideband tuning or AF monitoring. Plugs included when not in use."
"Mechanical CEL fix included, but on the 07-up HR motors it is less effective than the 03-06 motors. Full 304 stainless steel construction, made the right way in the USA."
---
Our comment: The Kinetix test pipes come in at the middle of our price range. These pipes use a 2.25″ diameter pipework and feature thick 3/4″ TIG welded flanges.
The diameter of these test pipes makes them an ideal pairing for Borla, Injen or Nismo exhaust systems. They also claim to not throw a CEL. Sounding pretty good so far?
Couple that with a 4-8 RWHP power increase and you could say these test pipes sell themselves. Feedback on 350z owner's clubs also seems favourable towards the brand. A great choice.
Manufacturer description: "These pipes completely remove your factory catalytic converters and replaces them with a straight through design."
"This provides the absolute most flow possible which has shown gains on NA 350zs between 4-8HP making it one of the best "bang for the buck" mods."
"These pipes are an absolute must on FI cars which need all the flow possible. Constructed entirely of stainless steel and feature thick 3/8″ flanges."
"They are completely TIG welded and also feature seamless mandrel bends. Tube diameter of 2.25″ matches up perfectly with aftermarket exhausts like Borla, Injen, and Nismo."
"They retain the factory oxygen sensor mount and WILL NOT THROW A CHECK ENGINE LIGHT when run. These pipes will definately make your exhaust note more aggressive."
"They have also tended to add a "raspy" exhaust note through the 3-4k range. This note has been loved by some, and hated by others, so it is not for the conservative."
"They use all factory mounting points and there is no modification to the vehicle. These will work with either aftermarket headers, factory headers, aftermarket exhaust, or factory exhaust. **please note that these replace your factory converters with straight pipes which will not pass SMOG!"
---
Our winner
The test pipes we feel offer you the best value for money are the AAM Competition pipes.
All of the test pipes in this guide are quality items, which makes it a little tricky in choosing a winner. With that said, the AAM Competition test pipes seem to offer great quality, fitment, performance and compatibility with reducing CELs.
Picking up any set of test pipes in this guide will make a great addition to your Z's exhaust system, but if it was my money I would be looking at the AAM Competition test pipes.
Thank you for reading our Nissan 350z test pipes guide.
If you enjoyed this article then please share it with the sharing buttons at the bottom of your screen.
Photography credits
Drifted would like to extend thanks to the following sources for images.
Subscribe to Drifted
If you like this article why not subscribe to Drifted and we will email you our freshest content for free!