Ultimate Scion tC Coilover Guide
We look at the most popular Scion tC coilover kits on the market to find the perfect suspension setup to suit your requirements. This is the ultimate tC coilover guide.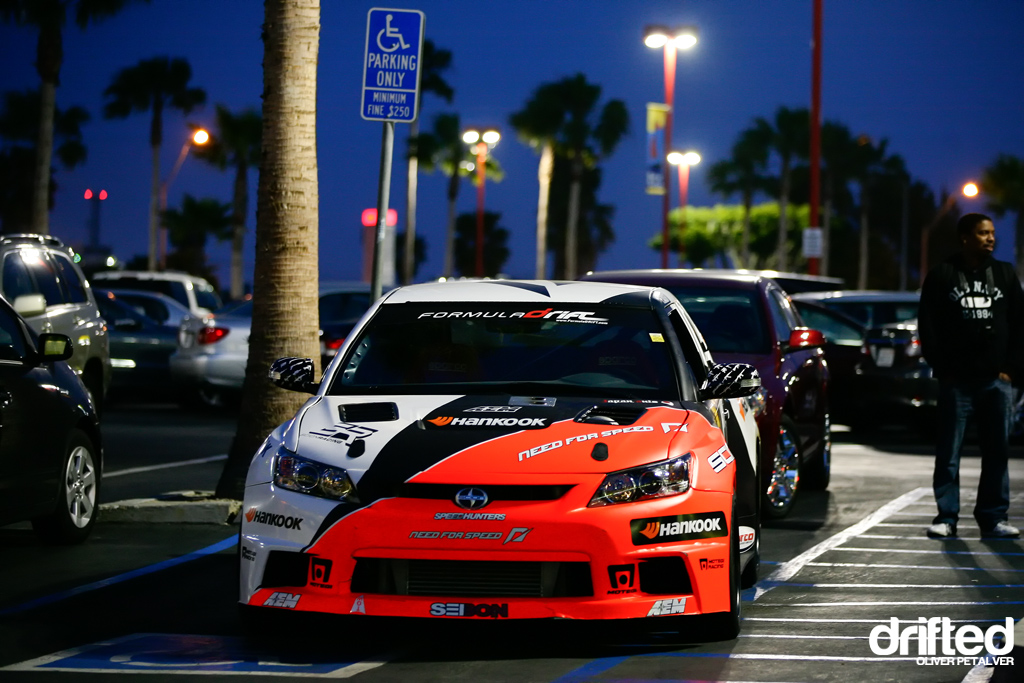 ---
In a hurry? Here is our Scion tC Coilover summary
| Budget Choice | Drifted Choice | Runner Up |
| --- | --- | --- |
| | | |
| Godspeed Mono-SS Scion tC Coilover Kit | KW Variant 2 (V2) Scion tC Coilovers | TEIN Flex Z Scion tC Coilover Kit |
| 🔥🔥🔥 | 🔥🔥🔥🔥🔥 | 🔥🔥🔥🔥🔥 |
| Buy Now | Buy Now | Buy Now |
For many owners, the Scion tC is likely to be their first (of many) cars, and it's the perfect opportunity to get a taste for tuning before the cost of running rear-wheel-drive cars becomes affordable.
At Drifted, we also tuned our FWD cars from the day we got our licenses, and it's a fantastic opportunity to gain an understanding of how things work in a lower powered car.
If this is your first shot at tuning, we highly recommend you grab yourself these and an exhaust, then go ahead and fit them yourself (with help from a buddy if need be.) Not only is fitting parts yourself satisfying, but you'll undoubtedly learn a whole lot more about your car and how everything works. This is where the soul of tuning lies.
Unlike exhausts, and other bolt-on parts, coilovers serve a variety of different purposes. Some people opt for coilovers to simply upgrade the OEM suspension or hit the track and improve their lap times, while others want to turn their tC into a frame-laying street scraper.
If you have any intention of getting the most out of what your tC has to offer, we highly recommend upgrading to coilovers.
As you're about to see, coilovers come in a huge range of variety when it comes to quality and price. If you're purely looking for a drop on your daily driver with some improved handling, some of the cheaper options are likely to be fine.
However, if you want to push your suspension to its limits, you're definitely going to want to invest more money into your coilovers to save yourself having to upgrade yet again later down the line.
Coilovers are an upgrade that we, personally, don't like to purchase used as the chances are you don't know how they've been used. Get yourself a nice new set and treat them well, and we have no doubt they'll last you for years to come.
What's in this guide?
Whatever your purpose for opting for coilovers on your tC, we've selected a wide range to help you find the perfect setup, from budget through to premium.
For each coilover option, we also add our own comments. In addition, we have given a Drifted rating (1-5) based on features and price. We are considering budget, mid-range and high-end coilovers in this comparison.
Let's take a look at our tC coilover selection
To read more about any of these products just click on the product name or photo.
Our comment: BC Racing bring one of the highest regarded affordable kits to the market with their 'BR' option. For under $1k, they're quite possibly the best bang-for-your-buck choice.
Featuring great quality, ride comfort and an impressive amount of adjustability, they tick all of the right boxes for us.
If you're looking for the ultimate lows from your BC coilovers, you'll want to take a look at their RM Series Extreme Low range.
Manufacturer description: "The components you use directly affect your vehicle's performance, and that certainly includes your suspension system. These Scion tC coilovers are perfect for street driving and occasional road course duty."
"With easily accessible adjustment knobs for fine tuning your compression and rebound, as well as separately adjustable ride heights, having a high-performance coilover system has never been easier."
---
Manufacturer: TEIN
Levels of damping adjustment: 16
Construction type: Twin-tube
Spring rate front: 7kg/mm
Spring rate rear: 10kg/mm
Fitment: Scion tC
Value for money:

🔥🔥🔥🔥🔥

Purchase links: TEIN Flex Z Scion tC 2005-10 coilovers
Our comment: Our second option, which once again falls under the $1,000 bracket comes from JDM suspension legends TEIN with their Flex Z kit.
Despite the price, these are made in Yokohama, Japan with TEIN's exceptional eye for quality.
TEIN have managed to keep their costs down by making the body of these units a sealed structure, which means they're not able to be rebuilt. However, rebuilding is extremely expensive and just replacing the whole unit is actually a great idea, especially at this value!
These are road orientated, but will no doubt be more than capable of some basic track days. These can also be hooked up to TEIN's EDFC system, which allows you to adjust the damping levels from inside the car. Perfect for showing off and insanely convenient if you do a variety of driving. These are an exceptional all-rounder for the money!
Manufacturer description: "TEIN Flex Z Coilovers are the latest in TEIN's generation of high end coilovers. The difference with Flex Z is that you are getting a coilover that would normally cost almost double the price."
"The new manufacturing systems that TEIN has put in place with this line of coilovers has allowed for them to produce these coilovers at a lower price and pass that savings on to you. Quality and performance remains top of it's class and TEIN builds these Flex Z coilovers with the highest quality standards in Yokohama, Japan making these a true Japanese JDM coilover system."
---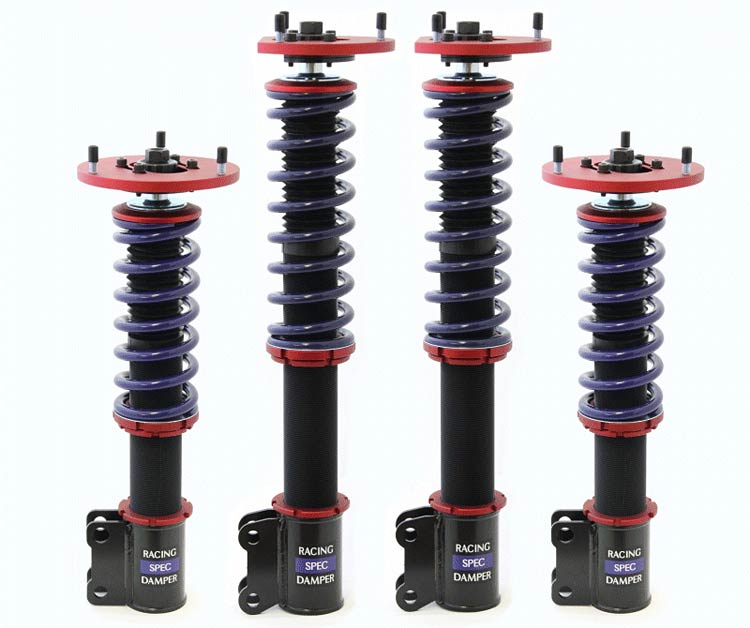 Our comment: This is the first track-orientated setup in our guide so far, so be prepared for these to be on the harsher side if you plan to use them on a daily driver.
These are an ideal budget track option and we highly recommend going with the upgraded pillowball mounts. However, with the added price, we would prefer to opt for the KW V2's for a better setup for all-around use.
Manufacturer description: "The Buddy Club Racing Spec Damper has been developed based on the data collected from both actual race cars."
"Depending on different applications, adequate spring rates, damping force adjustment, and enough damper strokes were all put in to consideration to create one of the best available and most balanced suspension systems for the drifting and circuit enthusiasts alike."
---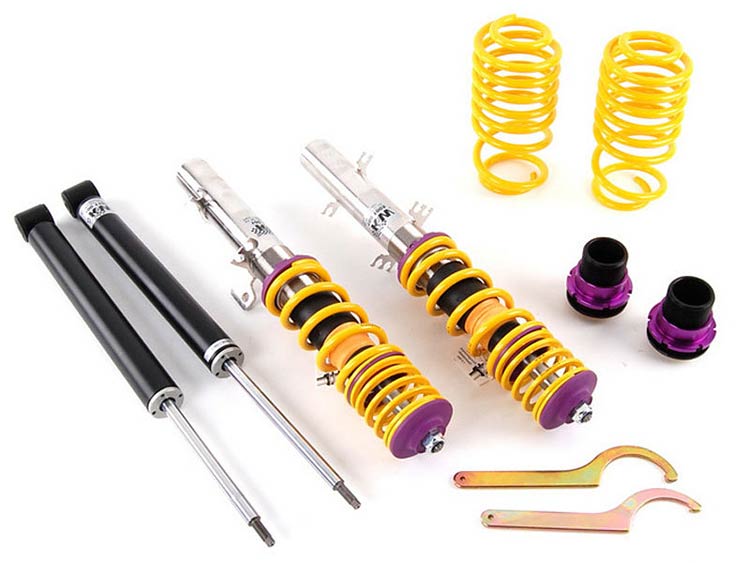 Manufacturer: KW
Levels of damping adjustment: 16
Construction type: Monotube
Spring rate front: 340lbs/in
Spring rate rear: 455lbs/in
Fitment: Scion tC
Value for money:

🔥🔥🔥🔥🔥

Purchase links: KW Variant 2 (V2) Scion tC coilovers
Our comment: KW offer three variants in their coilover systems, and this KW V2 is their mid-range 2-way adjustable setup. This means that you're able to adjust the ride height and the damping.
The German suspension legends are one of the highest regarded in the industry, and this is an incredible setup for the money, even if you're using your tC as a daily and recreational track use.
KW are known for impeccable quality, and this kit is no different. If you live in an area which commonly has corrosion issues, you'll be pleased to hear that these are made of Stainless Steel.
Manufacturer description: "KW Suspension's V2 Coilover System is a combination of performance lowering springs and sport tuned shock absorbers/dampeners. KW V2 Coilover Systems utilize a CNC machined, threaded strut body housing and adjustable spring perches, thereby allowing you to change your vehicle's height within a specified adjustment range."
"KW V2 Coilovers are suitable for all competitive drivers who want more than just a lower ride, but also a driver adjustable damping in rebound for a firmer or more comfortable ride."
---
Manufacturer: ISC
Levels of damping adjustment: 32
Construction type: Monotube
Spring rate front: Various
Spring rate rear: Various
Fitment: Scion tC
Value for money:

🔥🔥🔥🔥

Purchase links: ISC N1 Scion tC 2011+ coilovers
Our comment: ISC will happily provide their customers with any spring rates that they choose. This level of customization is great if you're planning to spend most of your time either on the track, or the street.
These are a solid choice for the money, however, if you're looking to spend less then they have an even cheaper alternative with their ISC Basic setup with solid top plates for 2005-10 owners.
Manufacturer description: "The ISC N1 Coilover system is the optimum suspension tool for improved handling for your street, track, or drift car. This product is perfect for someone looking for performance, adjustability, and other high quality features in a package that will not break the bank. ISC coilovers are also 100% rebuildable!"
"Our Self Manufactured N1 allows us to have top grade quality control and innovative R&D capabilities due to our in house/self-made company dynamic. ISC Suspension utilizes some of the best modern engineering techniques and suspension design. ISC has been present in the world for over 13 years and has accomplished drift, road course, street, and other various podiums alike."
---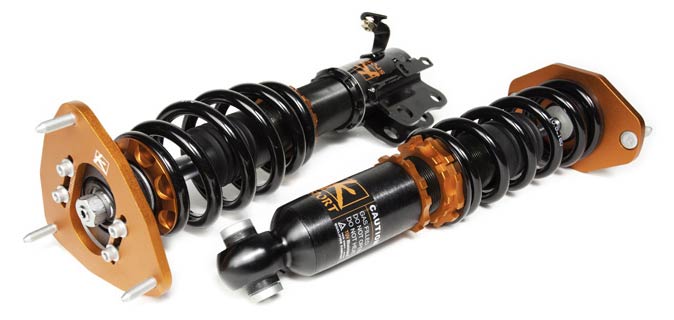 Manufacturer: KSport
Levels of damping adjustment: 36
Construction type: Monotube
Spring rate front: 7.5kg/mm
Spring rate rear: 9.5kg/mm
Fitment: Scion tC
Value for money:

🔥🔥🔥
Our comment: KSport have a decent reputation among owners and their Kontrol Pro system is generally on the firmer side compared to most, even when fully adjusted. If you're after a soft daily driving setup, we'd personally look at alternatives.
With that being said, these are still a nice kit with a high amount of adjustability. If you're looking to spend a decent amount of time on the canyons or the track, these could be worth considering.
Manufacturer description: "Ksport Kontrol Pro Fully Adjustable Coilover Kits provide the ultimate in suspension technology for your vehicle, both on the street or at the track. 36 levels of damping adjustment allow fine tuning of the damper to suit both handling and comfort needs. The damping adjustment alters compression and rebound simultaneously, for more effective and user-friendly setup changes."
"The Ksport Kontrol Pro Coilover system has been designed with professional road racing in mind, offering extremely high value and performance for any application."
---
Manufacturer: Megan Racing
Levels of damping adjustment: 15
Construction type: Monotube
Spring rate front: 8kg/mm
Spring rate rear: 10kg/mm
Fitment: Scion tC
Value for money:

🔥🔥

Purchase link: Megan Racing EZII Scion tC 2005-10 coilovers
Our comment: These coilovers are the second cheapest setup in our list that we'd recommend for tC owners. Megan Racing have managed to keep the costs down on their EZII series, while still offering full adjustability at a great price.
Opinions are always really mixed when it comes to Megan Racing and they seem to have somewhat of a love/hate reputation. For the money, there is little to compare with, however if you can stump up a little extra cash you'll be able to afford a reasonable set with a better rep.
Manufacturer description: "Megan Racing EZII Series coilover system is aimed towards the more budget oriented enthusiast to offer the most basic essentials from an after-market coil-over setup, yet makes no compromises for quality and performance."
"15 Levels of Adjustable Damper Strength, Aluminum Brackets paired with rubber inserts, Rubber Dust Covers, Adjustable Ride Height, Conservative Spring Rates, Single-Cylinder Design - monotube, All coilover damper kits come with 1 year manufacture-defect warranty, All Hardware is Included."
---
Manufacturer: Stance
Levels of damping adjustment: 16
Construction type: Monotube
Spring rate front: 7kg/mm
Spring rate rear: 9kg/mm
Fitment: Scion tC
Value for money:

🔥🔥🔥🔥

Purchase link: Stance XR1 Scion tC 2005-10 coilovers
Our comment: Stance certainly live up to their name when it comes to getting your tC hugging the ground, but don't think that this will come at the expense of the handling and ride quality.
Sure, if you're planning to have it slammed as far down as possible it's going to be stiffer, but the XR1 offers a firm, but not crashy ride. These also come with optional swift springs, which is a highly recommended upgrade if your budget allows.
These are ideal for a build that'll be a daily driver for hitting up the meets, but if you're looking to head to the track then we'd recommend looking at the alternatives first to get the most out of your handling.
Manufacturer description: "Suspension tuning is a sort of "black art". Properly valving dampers is difficult to master and there are many variables involved in making the perfect suspension. We have acquired our knowledge through our involvement in all forms of motorsports. Vehicles using our custom valved dampers have excelled in drifting, time attack, drag racing, land speed, and hill climb. Drivers at the highest level of competition need maximum traction control, and that is what our Bespoke dampers provide."
"The XR1 is our new flagship line of coilovers. Oversized diameter shocks allow large pistons for ultimate performance and response. 16-way adjustable dampening allows the driver to tune the shocks for any conditions and handling characteristics. With huge range of adjustment that can be felt and seen, it offers serious performance for all levels of drivers. Stance XR1 coilovers are built with highest quality materials and tolerances to ensure durability and performance."
---
Manufacturer: Godspeed
Levels of damping adjustment: 16
Construction type: Monotube
Spring rate front: 8kg/mm
Spring rate rear: 8kg/mm
Fitment: Scion tC
Value for money:

🔥🔥🔥
Our comment: You're certainly going to struggle to find a decent coilover setup for cheaper than this Godspeed option! At just $630, it's insane value for money, and they look awesome too.
Godspeed may have had a negative rep in the past, but we've heard they've upped their game for their recent products, and from the owners' reviews we've heard so far, it certainly looks like things have improved.
Cheap isn't always the best route to go down, but based on the feedback we've been given, these may well end up being a gamble that pays off. With that being said, if it was our choice, we'd personally save a little extra for a more tried and tested method.
Manufacturer description: "Godspeed Project's MonoSS is our one entity in our family of single-adjustable coilover suspension kits. These coilovers are designed to be a streetable race built coilover at an affordable price."
"It features a monotube damper that is made out of a carbon seamless steel 52mm tube with a performance internal piston providing maximum damper response. The cold-bent springs are made from high strength SAE9252 steel to optimize the balance between performance and comfort."
---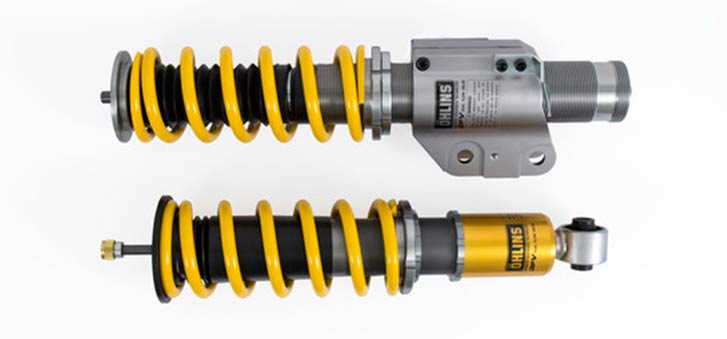 Manufacturer: Ohlins
Levels of damping adjustment: 20
Construction type: Monotube
Spring rate front: 4.08kg/mm
Spring rate rear: 3.06kg/mm
Fitment: Scion tC
Value for money:

🔥🔥🔥🔥🔥

Purchase link: Ohlins Road & Track Scion tC 2005-10 coilovers
Our comment: Here's the boss of our coilover guide, but it certainly comes at a price, especially when you realize that this doesn't include top mounts, either.
However, quality does come at a price and these are the ultimate setup for those of you that throw down serious laps in the track and then expect to drive your tC back home in comfort at the end of the day. Like the KW's, these are also corrosion-proof, which is extremely convenient as they won't seize like some of the cheaper kits might.
On the road, they'll feel firmer than stock but with their Dual Flow Valve technology, it'll absorb the bumps well to ensure a smooth ride. You really won't find a better setup than this, and if you have the cash available, this will undoubtedly be the ultimate kit for your needs.
Manufacturer description: "This is the latest step in the Öhlins Racing automotive philosophy - Road & Track by Öhlins. A more than 30 year long tradition of high-end racing commitments and state-of-the-art solutions within advanced suspension technology is now available for street cars all over the world."
"The focus has been clear from the very beginning - superior road handling without sacrificing comfort in your day-to-day transports. The time of compromises are over! We have also added a clever light-weight design with a majority of the parts in aluminium and on top of that all shocks have suffered through vast corrosion tests according to ISO 9227. The end result is a 2-year limited warranty on all of our products - worldwide."
---
Our winner
Our winner is the epic KW Variant 2 (V2) coilovers.
They may not have the adjustability of the Ohlins Road & Track, but they come at a far more affordable price with KW's typically perfected quality.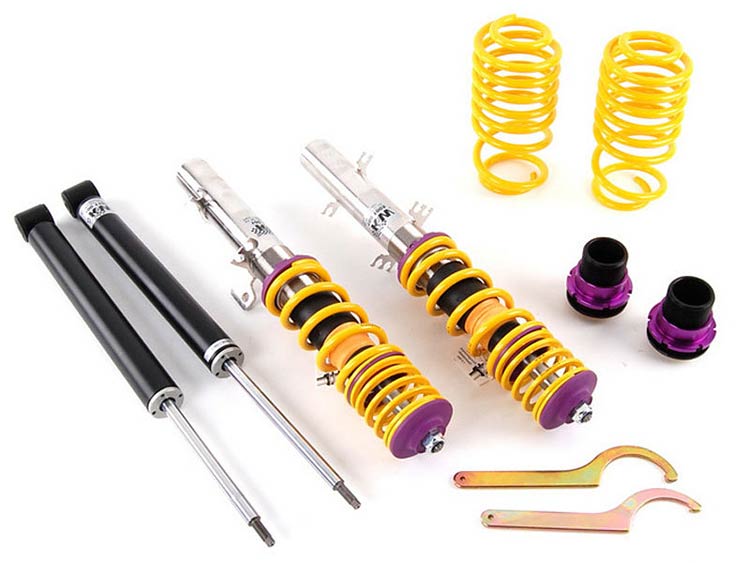 If you have the money to splash, we'd go with the Road & Track, however, as an all-rounder for everyday use, the KW's are far more affordable for everyday buyers. We have absolutely no doubt that the KW V2 will serve you well on the street, or the track!
Runner-up
TEIN has been around in the JDM tuning scene since the beginning of time, yet their products keep evolving to match the high standards we expect from them. At under $1k, these really are an absolute steal for the money and we'd more than happily rock these if we were on a budget.
If you don't have the money now, you could always upgrade to the EDFC at a later date so that you can show off while you adjust your damping from inside the car. We love cool features like this!
If you're on a really tight budget, we recommend that you take a look at the Godspeed Mono-SS and see what you think. There's no question that it's a fantastic price but it's important that parts like these are made to last, so it's well worth doing some thorough research: Godspeed Mono-SS Scion tC Coilover Kit
---
Additional related articles
Since you're clearly a Scion tC fan to have made it this far, you're undoubtedly going to love our Scion tC exhaust guide where we go through the 11 most popular choices on the market to once again help you decide which one suits you best!
Perhaps one day you're hoping to get behind the wheel of your own RWD car so that you can throw it down sideways and run walls at the local track? If so, you're going to love our 9 Best Drift Cars For Beginners guide!
If you're not entirely sure if drifting is the avenue for you just yet, then the 11 Best Budget Project Cars article might give you some fresh ideas, since you're clearly into the project/tuning scene.
If you want to turbocharge your Scion tC, here's our Ultimate Scion TC Turbo Kit Guide.
Thank you for reading our Scion tC coilover guide!
If you enjoyed this article then please share it with the sharing buttons at the side and the bottom of your screen.
Photography credits
We thank the following entities for use of their photography in this article: