Ultimate Scion tC Turbo Kit Guide
Want to turbocharge your Scion tC, but struggling to find the best options? We'll explain everything you need to know as we put the best available Scion tC turbo kits head-to-head in this guide.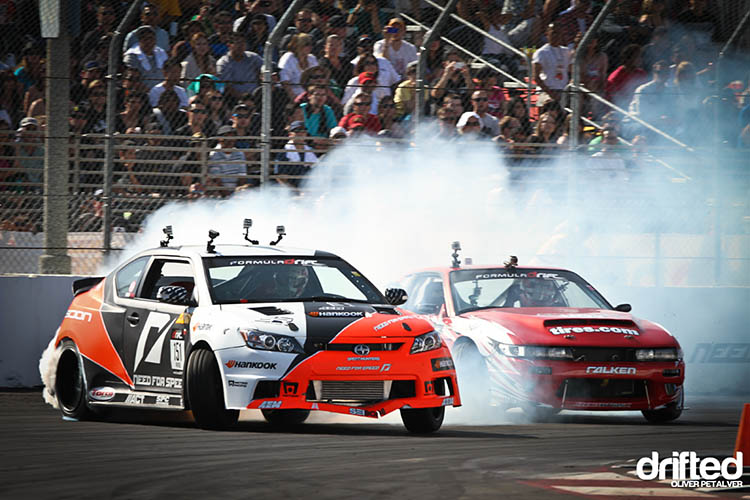 ---
In a hurry? Here is our Scion tC turbo kit summary
| Budget Choice | Drifted Choice | Premium Choice |
| --- | --- | --- |
| | | |
| Rev9Power Scion tC Turbo Kit | GReddy Scion tC Tuner Turbo Kit | ATP Scion tC Turbo Kits |
| 🔥🔥 | 🔥🔥🔥🔥🔥 | 🔥🔥🔥🔥 |
| Buy Now | Discontinued | Buy Now |
---
Introduction
Although we typically spend our time looking at the Scion FR-S (and its siblings – the Toyota 86 & Subaru BRZ) here at Drifted, we know that many of our fans are tC owners and enthusiasts, and since they've been struggling with turbo kit advice, we're more than happy to offer a helping hand.
Despite the tC not being rear-wheel-drive (with factory-backed race cars built specifically for competition use like Fredric Aasbø and Tanner Foust's Formula Drift builds an obvious exception), the hot hatch has still gained immense popularity among numerous tuners on the tuning scene.
Throughout the years, there have been various performance parts like air intake systems, oil coolers, exhaust systems, fuel management systems, and after-market gauges on offer for the Scion tC. And with the completely stock engines only producing a mere 180 hp, these offerings from the aftermarket industry were essential to achieve the kind of performance improvement the typical tC buyer was longing for.
When it comes to turbo kits, there have been several exceptional offerings on the market over the years, from companies such as Dezod Motorsports, TurboToyotas, P-Tuning, Treadstone, and Why Industries.
Despite consistent popularity when it comes to tuning tC's, these aftermarket company turbo kits have since ceased production or been discontinued, much to the dismay of owners who are in the quest for forced induction.
We've heard horror stories with Dezod customers, so we certainly don't recommend hand your money over to them, as they seem to have a habit of running away from the issues.
Although these popular offerings from the most recognized brands are often commonly traded among owners and enthusiasts on the used marketplace, nothing beats the peace of mind when it comes to getting your hands on a brand new turbo kit and boosting the underpowered, normally-aspirated engines.
Other than obvious signs of wear such as shaft play, it's difficult to tell what kind of life a turbo kit has experienced over its lifetime since the date of purchase.
With several of the used turbo kit components potentially at risk of flagging up defects, such as cracked manifolds, buying new is always our preferred method.
Both the 2AR and the 2AZ engines have tremendous potential, and it was great to see Papadakis Racing proceed with the 4-cylinder 2AR for Aasbø's build, rather than following the typical V8 route that's become so popular in motorsport racing these days.
If you're interested to see what went into the 1,000 hp Toyota 2AR FD engine, then watch this epic timelapse video where they construct the powerplant from start to finish in just 90 seconds.
Capable of potentially dealing with a reliable 1,000 hp output, there's no question that these incredible engines can put out insane figures for their size.
To get there, you'd need to carry out some significant modifications to the engine internals. However, in this guide, we'll be keeping things simple and exploring the best turbo kits out there to achieve a reliable, everyday setup for your tC.
As always, when it comes to strapping a turbo to your engine, there are a few things to consider.
Firstly, you'll want to get the car handling well. There's no point achieving as much power as possible with your tC if it ends up sliding into a bush when you approach the first corner.
For that reason, you'll need to take a look at an epic coilover setup to get the car handling correctly.
Turbocharger kits also require additional breathing mods to get them unleashing their full potential.
You'll have even more gases to extract once your tC is turbocharged, which is why a larger bore aftermarket exhaust is going to be essential right away.
Once you've carried out the essential upgrades to get you started, it's time to consider what kind of power you're looking to achieve with your tC to decide which turbo kit is going to be best for your needs.
Some owners play it safe with their engine, and they typically opt for running about 8 PSI of boost.
There have been many well-documented long-term builds that have run flawlessly for tens of thousands of miles with 10 PSI, which is where the correct tuning pays off.
On the other hand, some have risked turning it up to 14 PSI, and while some were left regretting the decision, others have had excellent long-term results.
We would recommend looking to achieve around 8-10 PSI with your setup and having it mapped by a highly-regarded tuner for a perfect mix of long-term results, while also providing plenty of enjoyment in the process.
If you want to run beyond 14 PSI, then you'll need to begin looking at carrying out extensive internal modifications, which is where the costs can very quickly add up.
On the bottom end, you'll need upgrades such as low-compression pistons, forged rods, and upgraded sleeves.
For the top end, expect to port and polish the head and add oversized valves alongside stronger head studs and various other additions.
To run 15 PSI reliably, we would expect to have to fork out around the $10k region for an engine build.
Alongside the turbo option, there's also the supercharger route, which could also be a consideration.
Toyota Racing Development (TRD) made an excellent kit for the tC, and it's a shame they didn't make a turbo to go alongside it.
However, most owners feel that the supercharger delivers underwhelming power on the tC, so the turbo route is the far more popular choice.
If you're interested to know more, then make sure you head over to our turbocharger vs supercharger guide, where we put them head-to-head.
Once you've decided that the turbocharger route is right for you, which is a bit of a no-brainer on the tC, it's time to determine what kit suits you best.
Wondering how a turbocharged tC performs? Join Matt Farah of TheSmokingTire Youtube channel as he takes a track-prepped one for a spin.
It's time to put the best turbo kit contenders on the current market head-to-head to help you decide the ultimate choice for your Scion tC.
GReddy Scion tC Tuner Turbo Kit
Manufacturer: GReddy
Fitment: 2004-05 Scion tC – 1st Gen
Value for money:

🔥🔥🔥🔥🔥

Purchase link: Discontinued
Our comment: JDM legends GReddy have been a household name in aftermarket performance, putting out exceptional turbo kits for different vehicles and different platforms for many years. They've offered a reliable platform for Scion tC enthusiasts to appreciate.
Some owners have noted that they've had custom hot pipes made to optimize the performance fully, which may need to be a consideration.
With this GReddy kit, you can expect to achieve up to an additional 100 hp from the factory power, with significantly improved engine response.
GReddy has noted on their website that they have discontinued production of this kit, but there's still plenty available through the various tuning stores in the US.
If you're looking for an off-the-shelf bolt-on kit, we feel that this offering from GReddy performance products provides the best bang for the buck.
Although it may be worth considering upgrading the hot pipe further down the line, it's not essential.
Manufacturer description: "GReddy Turbo Kits for naturally aspired motors provides instant horsepower gains with less time and money while still providing room for upgrading for even more power!"
"GReddy turbo kits are specifically designed for optimal response and performance while maintaining daily drivability, comfort, and reliability. Each GReddy turbo kit is designed based off of a completely stock engine so each kit will come with all the necessary basics such as manifold, turbocharger, downpipe adapter, piping, hardware, and heat-shields".
GReddy Scion tC Turbo Kit Features:
TD05H-18G turbo
SUS Manifold
Racing downpipe
Type 31V Intercooler
Piping, fittings, clamps, hoses, etc.
Fuel controller option separate
---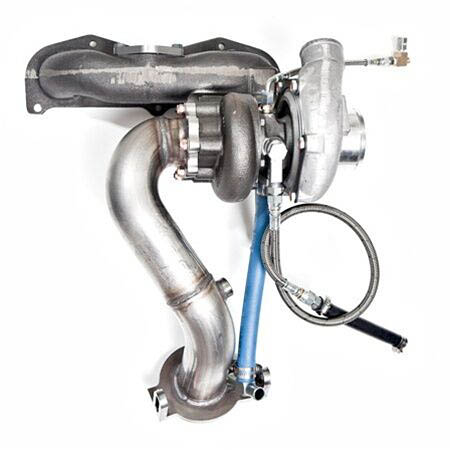 Manufacturer: ATP
Fitment: Scion tC
Value for money:

🔥🔥🔥🔥
Garrett turbocharger power ratings:
GT2860RS – 250-360 hp
GT2876R – 280-480 hp
GT3071R – 280-480 hp
GT3076R – 310-525 hp
GT28RS – 350 hp
Our comment: ATP brings a slightly different offering to the market, which is up there with the best when it comes to quality on the market right now.
If you opt for the ATP kit, you'll need to get the intercooler piping fabricated, which isn't necessarily a bad thing, as it will allow you to choose an ideal company for the job.
With people often complaining about the piping on the 'universal' kits out there, and with the hot pipe issue of GReddy products, this could potentially be a blessing in disguise.
With a wide variety of turbo options available, ATP's various setups will allow you to achieve different power bands, all the way up to 500 hp.
If you're planning to get the power output to anywhere near 500 hp, you will, of course, need to think about significant engine upgrades.
ATP's setup is a great choice that integrates some of the best Garrett turbochargers on the market, and it comes highly recommended, even if it isn't a 'full' kit.
Manufacturer description: "After months of testing and development with the 2AZ-FE engine combination, ATP has devised an upgrade system that is both elegant and simplistic while accepting no compromises in power potential or reliability".
"With POWER and RELIABILITY being the two key criteria for the development of the Scion tC turbo upgrade kit, they set out to test every possible hardware combination available".
ATP Scion tC Turbo Kit Features:
ATP Turbo Cast Iron Turbo Manifold with 38mm wastegate flange
Steel braided lines and fittings for oil/coolant connections
Tial 38mm External Wastegate
Stainless wastegate discharge tube with downpipe re-route
All mounting hardware, gaskets and CNC machined fittings
3.0″ Stainless steel downpipe w/stainless O2 housing
---
Our comment: Turbo Specialties often divide opinions, and its reputation in the Scion tC community is, unfortunately, no exception.
Although we appreciate their efforts, since they're one of the few aftermarket brands that continue to provide a full kit for the Scion tC, you're likely to need to carry out extensive modifications to ensure the perfect fit.
The Turbo Specialties kit is the better choice for our next three 'budget' options; however, it also comes with the highest price tag.
However, if you're looking for a simple plug and play setup that isn't going to require any modification, we'd recommend looking at the options above to save the potential hassle and money.
Manufacturer description: "If you are looking for the ultimate in high performance – the extreme performance packages are for you. Providing the maximum horsepower for the very discriminating and still providing dependability for daily driving".
"Incorporating all the high performance equipment in the superior performance packages, these extreme packages all include an intercooler, pop off valve, extra injectors, and injection control unit, (The Brain)".
Turbo Specialties Extreme Scion tC Turbo Kit Features:
T25 Turbo Ex. Manifold, Ex.Outlet, Down Pipe, Hardwares
Air Intake System, Intercooler and Pipework
Oil Return Hose, Oil Pressure Sus Stainless Braided Hose
Cold Water Stainless Braided Hose
Icu350, Bp9901 Blow-Off Valves
All hardware, pressure lines, hoses, clamps, and couplers included
---
Our comment: Unfortunately, the Rev9Power/Godspeed turbo kits have a similar reputation to the Turbo Specialties kits above and are thrown into the 'Chinese kit' category by tC enthusiasts.
In our experience, these kits are typically hit or miss, and they can often be useful for making a partially custom kit and selling some of the less desirable parts to enable custom fabrication.
It's significantly cheaper than the Turbo Specialties kit, but it's likely to need even more work to ensure ideal fitment.
Scion tC Turbo Kit Features:
Turbocharger Manifold Scion TC 2AZFE Motor (Cast) Ultra Durable
7lb Wastegate (Adjustable)
Type-M Intercooler 20x6x2.5 Core Size (Overall Length: 28″)
T3 Stage 3 Turbocharger
Oil Line, Oil Return Lines and All Fittings
Direct Fit 2.5″ Aluminum Intercooler Piping With Silicone & T-Clamps (With Map Sensor Flange Fitting)
T3 Downpipe Bolt Flange
---
FASTWAYRACER Scion tC Turbo Kit
Manufacturer: FASTWAYRACER
Fitment: 2005-10 Scion tC
Value for money:

🔥🔥

Purchase link: Discontinued
Our comment: This kit from FASTWAYRACER is one of the best deals and by far the cheapest in our list, but it well and truly falls into the 'Chinese turbo kit' category.
We wouldn't recommend running this kit, but we did want to provide an alternative option for those desperate and on a constant search to turbocharge their Scion tC on a thin budget.
FASTWAYRACER admits that it's a universal piping kit provided here, so you'll need to prepare for some drastic modification.
Unless you're incredibly talented in the fabrication department, we can see this being an expensive mistake, but there's a crazy amount of kit provided here for the price. It's just a shame that it's not likely to be worth the effort.
Manufacturer description: "This turbo kit perfect upgrade your car and get more boost. Your car will gain 100-150HP if you set at 7-15PSI. Customers require upgrade the fuel pump, injector and ECU to tune the car if you set at higher PSI. This kit can max up to 350HP".
FASTWAYRACER Scion tC Turbo Kit Features:
T3/T4 T04E .57AR Turbocharger
Cast Iron Manifold
2.5″ 5-Bolt Downpipe Flange
38mm Turbo Wastegate
38MM Dump Pipe + Elbow Pipe
Oil Return Line
Oil Feed Line
Fuel Pressure Regulator
Boost Controllers
Oil Catch Tank
2″ Boost & Air/Fuel + Oil Pressure + RPM Gauge
---
Our winners
Now that you have read through all of our Scion tC turbo kit options, let's look at our winners:
Drifted Scion tC Turbo kit choice
Our Drifted Choice goes to the GReddy Scion tC Tuner turbo kit.
Our Scion tC Turbo Kit winner is the GReddy Scion tC Tuner Turbo Kit
It certainly hasn't been the easiest of bolt-on turbo kits guides given the lack of choice on the market for the Scion tC, but for an overall package, you're going to struggle to beat the GReddy Tuner Turbo kit.
It's a shame that it's now discontinued, but it's not too late to get your hands on one.
Should you need spare parts further down the line, then there's sure to be plenty floating around on the used market thanks to its popularity over the years.
While this is the best bolt-on all-rounder, our Premium choice coming up next is also a serious contender for those of you that don't mind putting in a little extra work.
GReddy Scion tC Tuner Turbo Kit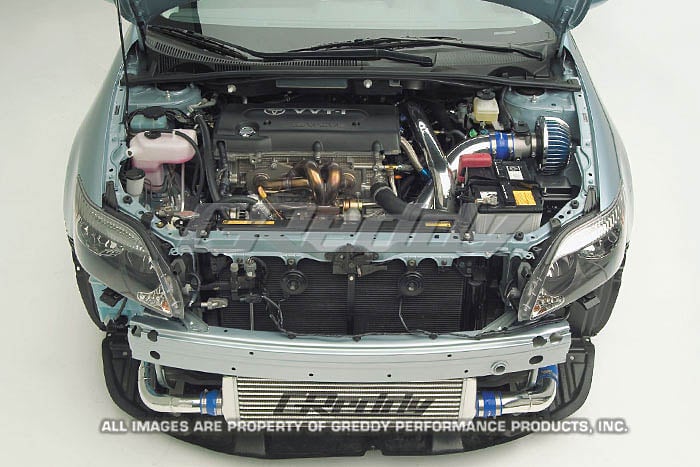 ---
Premium Scion tC Turbo Kit choice
Our Premium award goes to the ATP Scion tC Turbo Kit
With a wide variety of options available, they have anything car enthusiasts like you could need to achieve power levels up to 500 hp from your Scion tC, assuming you've upgraded your internal components.
If this included an intercooler kit along with it, then we'd have no hesitation to hand it the Drifted Choice award.
But, given that you're going to have to carry out some additional workmanship, it isn't going to suit everyone.
We do believe that with a little extra time and money, the ATP is the best choice on the market right now, and if you can find a decent fabricator for the pipework, then you'll be on to a sure winner.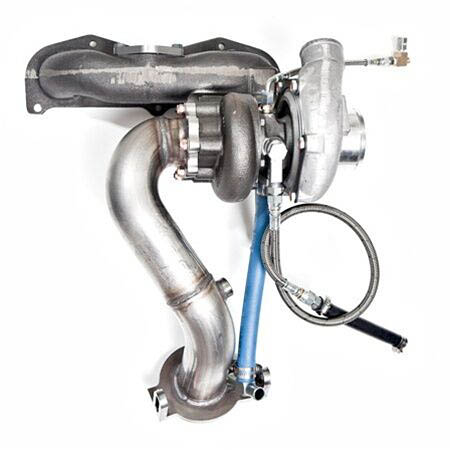 ---
Our Budget Scion tC Turbo Kit choice
Our budget award goes to the Rev9Power Turbo Kit
We've been disappointed by the budget offerings available for the Scion tC on the market today, and we would recommend spending the extra cash on our two other choices this time around.
We feel that the Rev9Power offers the best of a bad bunch for the price.
Given the Turbo Specialities price, which is far too close to the GReddy upgrades for what you get, we couldn't justify handing it our budget award.
When it came to the FASTWAYRACER kit, sure, it's cheap as hell, but it is just your average universal turbo kit, and you're going to have to carry out a substantial amount of work to the piping to make it fit into the dimensions of your Scion's engine bay.
Despite representing the best value for money, we wouldn't be rushing to part with our hard-earned cash for any of the budget options here, and 'buy cheap, buy twice' unfortunately springs to mind.
Thank you for reading our Scion tC Turbo Kit guide.
Given the lack of new products, it's been one of the more challenging turbo kit guides that we've written, but we hope to provide plenty of useful insight when it comes to turbocharging your Scion tC.
If our offerings don't suit your specific needs, then we'd recommend taking a look at the used kits, which can often pop up on various marketplaces, as some of the discontinued high-quality products from various merchants of the past have the best reputations.
We wish you the best of luck with adding forced induction to your Scion tC, and don't forget to send us photos of your build once it's complete for the chance to be featured here at Drifted.
Hungry for some more turbo tC action? Check out this 700-hp beast as it goes for a dyno run.
Can a turbocharged tC hang with a certified muscle car? Find out for yourself!
This tC makes all the right noises as it takes to the highway to do some pulls.
---
Photography credits
We thank the following sources for the use of their images:
If you enjoyed this article, then please share it with the buttons at the side and bottom of your screen. Find this information useful? Please post a link to it on your Scion tC owners' clubs. We appreciate your support.