Toyota GT86 Turbo Kit Guide
We review the most popular Toyota GT86 turbo kits available on the market today. This is the ultimate GT86 turbo kit guide.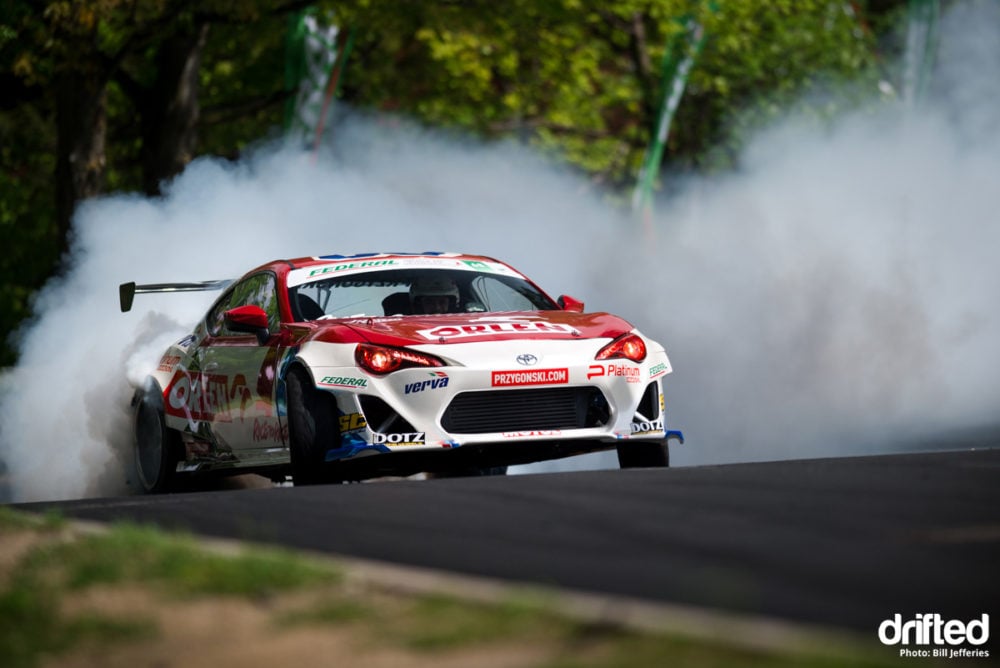 ---
In a hurry? Here is our GT86 Turbo Kit summary
| Budget Choice | Drifted Choice | Runner-Up |
| --- | --- | --- |
| | | |
| Full Blown GT86 Turbo Kit | WORKS Stage 2 GT86 Turbo Kit | WORKS Stage 1 GT86 Turbo Kit |
| 🔥🔥🔥🔥 | 🔥🔥🔥🔥 | 🔥🔥🔥 |
| Buy Now | Buy Now | Buy Now |
Toyota created the GT86 with the mindset of producing a low-powered, lightweight chassis with great handling and skinny tires, making it easy to throw into corners for some tail-happy action.
This certainly has its appeal, however, you'll no doubt soon get the urge to upgrade certain parts, and before you know it, you've installed coilovers and an exhaust.
After that, those with larger pockets that are looking for something a little crazier, installing a turbo kit to your boxer engine will turn your GT86 into a whole new beast.
Several tuning companies from around the world have created their ultimate package to provide you with an off-the-shelf turbo kit to conveniently give you that much-needed boost!
With the upcoming GR86 potentially becoming turbo charged, a turbo kit for your existing GT86 platform will bring it bang up to date.
GT86 Forced induction
With plenty of options available when it comes to supercharging or turbocharging your GT86, it mainly comes down to personal preference to decide which method is best for you.
Still in the dark as to the differences between superchargers and turbochargers? Then check out our detailed turbocharger vs supercharger guide to see what is the right type of forced induction for your GT86.
We've written this guide to help you narrow down the difficult decisions when it comes to turbocharging your 86 and find the perfect kit for your needs.
---
Let's take a look at our GT86 turbo kits
To read more about any of these products simply click on the turbo kit name or photo.
GReddy T518Z Tuner GT86 Turbo Kit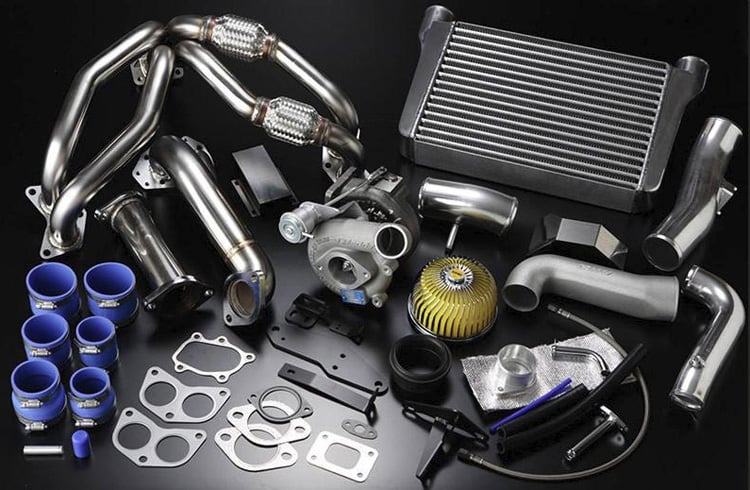 Manufacturer: GReddy
Fitment: Toyota GT86, Scion FR-S, Subaru BRZ
Turbo configuration: Single turbo
Value for money:

🔥🔥🔥🔥🔥

Purchase link: Discontinued
Our comment: There's no question that the Japanese tuning legends know this market well and it definitely shows with their turbo kit. The setup combines perfect fitment alongside with the stunning quality that we've come to expect from GReddy over the years.
This intercooled racing turbo system has been quoted as delivering around 90hp by GReddy themselves, but even when ran at the stock 7psi by owners it has often dyno'd well above this.
Manufacturer description: "GReddy Performance Products is excited to announce the release of the highly anticipated T518Z Tuner Turbo Kit for the 2013- Toyota GT86, Scion FR-S and Subaru BRZ. With extensive testing both in Japan and the USA, this turbo kit was designed to enhance the overall performance for daily drivers and weekend racers. An ideal turbo sizing maintains the vehicles balanced driver feel, by maintaining good low-end response with the factory engine components. But the most noticeable improvements can be noticed on the factory power-band's dip in mid-range torque and at high RPM top-end power."
"GReddy dyno test showed a +93.5whp / +68.7ft-lbs increase at 7psi on a stock 2013 Scion FR-S with factory injectors and fuel pump, just adding a *GReddy-tuned EcuTek ecu, and a *GReddy Evo3 70mm exhaust, – (* Not Included) But even more importantly, the mid-range torque from 3150-4750 RPMs are significantly improved over the stock torque curve."
---
Manufacturer: WORKS
Fitment: Toyota GT86, Scion FR-S, Subaru BRZ
Turbo configuration: Single turbo
Value for money:

🔥🔥🔥

Purchase link: WORKS Stage 1 Turbo Kit
Our comment: WORKS have spent two years engineering this unique kit for the market and it's undoubtedly going to leave some owners extremely pleased. With a 50-state smog legal cert, you won't need to worry about getting pulled if you're planning to drive this kit on the street in the US.
Owners have had their WORKS Stage 1 kit dyno tested with gains of around 70hp at stock 7psi.
Whilst this kit features fantastic quality, results and ease of fitting, it lacks an intercooler which may put some users off. If this is the case, but the CARB compliance is appealing, their Stage 2 kit below may well be for you.
Manufacturer description: "After almost two years of engineering development and testing, WORKS is proud to introduce their Stage 1 "Simple" Turbo Kit for the GT86/FR-S/BRZ."
"The sophistication and elegance of our kit is found in its simplicity. Through the use of custom thermal coated up and down pipes, custom intake piping including a finned aluminum air-to-air heat exchanger, OEM style diverter valve, centered around a genuine Garrett GT28 journal bearing turbo, you will reap the benefits of efficient turbo-charged power while still retaining your OEM air box, OEM exhaust manifold headers and OEM secondary catalytic converter (front pipe). Containing all necessary equipment for added oil and coolant routing, as well as heat shielding and specialty hardware, it is truly a bolt-on and OE quality upgrade, requiring no cutting, fabrication, or internal engine modification."
---
Manufacturer: WORKS
Fitment: Toyota GT86, Scion FR-S, Subaru BRZ
Turbo configuration: Single turbo
Value for money:

🔥🔥🔥🔥

Purchase link: WORKS Stage 2 Turbo Kit
Our comment: With WORK offering the CARB compliant Stage 1 kit above, we couldn't ignore the lack of intercooler which their Stage 2 kit offers. This setup is a further improved option with an air-to-liquid intercooler and higher boost threshold.
Now running 12psi of boost, this kit can provide gains of over 90hp, which is a 55% increase over stock. These gains combined with the CARB compliance may be the perfect package for your needs!
Manufacturer description: "The WORKS Stage 2 Turbo Kit for the GT86/FR-S/BRZ takes the performance of our Stage 1 Turbo Kit to the next level with the addition of an air-to-liquid intercooler and a higher boost threshold. Stage 2 is for those who want more power than what our Stage 1 Kit provides, but still wish to retain its simple and minimally-invasive configuration."
"This kit utilizes a genuine Garrett GT28 journal bearing turbocharger to provide efficient, turbocharged power while retaining the OEM airbox, exhaust manifold, and secondary catalytic converter. Our team of engineers spent hundreds of hours in design, development, tuning, and testing to produce a simple and reliable turbo setup to enhance the driving experience of the your vehicle. This is the easiest-to-install, most cost-effective, and least-intrusive air-to-liquid intercooled turbo system available for the GT86/FR-S/BRZ."
---
Manufacturer: Full Blown
Fitment: Toyota GT86, Scion FR-S, Subaru BRZ
Turbo configuration: Single turbo
Value for money:

🔥🔥🔥🔥

Purchase link: Full Blown BRZ Turbo Kit
Our comment: Full Blown have come up with this well-priced offering of their Stage 1 premium turbo kit. Despite being the cheapest on our list, it is rated up to an impressive 440hp provided you have the required supporting mods.
This is an extremely popular offering among GT86, BRZ and FR-S owners and with lots of great kit options available from quick spooling to big power, it's easy to see why it's the perfect choice for many owners.
Manufacturer description: "We realized that our Stage 1 premium turbo kit did not meet everyone's budget so we decided to put together a more affordable kit for the guys who are looking at turboing their GT86/FR-S/BRZ. The main difference from this kit compared to our Premium kit is that we were able to CNC bend most of the piping, and casted the intercooler tanks to reduce cost."
"We also ditched the the Tial housings for the standard T3 flange (this will allow you to run Precision turbo or other makes in the future). We switched to a 39mm wastegate and went with a standard T3 50 Trim, T3 57 Trim, or you can upgrade to the GTX (Please see option)."
---
Our winner
Our winner is the WORKS Stage 2 GT86 Turbo Kit
To pick our winner from this choice of GT86 turbo kits we looked at a number of criteria; ease of installation, power levels, upgrade potential and price point.
Based on these criteria we have chosen the WORKS Stage 2 GT86 Turbo Kit to be our winner.
Updated 19th November, 2020: The GReddy T518Z was our deserved winner, however, recently GReddy has unfortunately decided to discontinue this turbo kit. Since this kit is no longer on the market, we have decided to award the win to the very solid WORKS Stage 2 turbo kit.
With the high quality of components, popularity and CARB compliance, it's the WORKS Stage 2 turbo kit that takes the win in our review. This kit also gives you the benefit of not having to worry about having undeclared mods under the hood.
All four options undoubtedly have their positives, the Full Blown kit is immensely popular, the GReddy kit is an excellent choice but is sadly no longer available, although if you can find a used kit that might be worth considering.
We highly recommend that further research is done based on our guide. There are often additional parts, tunes or upgrades for base-level turbo that may be either vital or purely suit your preferences.
Thank you for reading our GT86 turbo kit guide
Do you have a BRZ? Then check out our BRZ Turbo Kit guide.
If you enjoyed this article then please share it with the sharing buttons at the side and the bottom of your screen.