Ultimate Nissan 350z Y-Pipe Guide
We compare price, fitment and performance on a range of Nissan 350z Y-Pipes from budget to premium to find out which is the best setup for your Z33.
---
In a hurry? Here is our 350z Y-Pipes summary
| Budget Choice | Drifted Choice | Premium Choice |
| --- | --- | --- |
| | | |
| Megan Racing 350z Y-Pipes | AAM Competition 350z Y-Pipes | TOMEI Expreme 350z Y-Pipes |
| 🔥🔥🔥 | 🔥🔥🔥🔥🔥 | 🔥🔥🔥🔥 |
| Buy Now | Buy Now | Buy Now |
What are Y-Pipes?
"Y-Pipes" are a common name for the part of your cars exhaust system that merges the twin exhaust headers (manifolds) into the exhaust pipe.
Why do I need a set of Y-Pipes?
Like the rest of the OEM exhaust system, the standard 350z Y-Pipes are not designed purely for performance. Standard Y-Pipes need to conform to exhaust volume control, emissions reduction as well as performance.
With an aftermarket Y-Pipe installed you will find a sportier exhaust tone, improved horsepower and with lighter weight build materials you will shave some weight from the car.
---
Want to see how easy it is to install a set of Y-Pipes on your 350z? Hit play on the video above to watch Ahmadzeee install a beautiful set of TOMEI Expreme Ti Y-Pipes onto his Z33.
Let's take a look at our 350z Y-Pipes
To read more about any of these products simply click on the Y-Pipe name or photo. Click on the purchase link to be taken to a retailer to buy the pipes right now.
Our comment: The Manzo Y-Pipes are our cheapest option for your 350z. These Y-Pipes are built with stainless steel and feature a 2.5″ inlet and 3″ outlet. They also offer flexible sections to help prevent stress on the exhaust headers.
For the price you might need to make minor fitting modifications, but these should give you great bang for the buck.
Manufacturer description:
"Stainless Steel Y Pipe w/ Flex Pipe"
"Inlet: 2.5″"
"Outlet: 3″"
"O2 Sensor Ports: 0"
"Engine: 3.5L V6 VQ35DE"
---
Our comment: The Megan Racing Y-Pipe setup are a mid range product, priced just under $200. These pipes are well made in T-304 stainless steel, they offer a 2.5″ inlet and 3″ outlet.
Each side of the pipes offer flexible sections to help reduce stress on the exhaust headers. While Megan Racing haven't released dyno results, owners have posted claims of 5 RWHP increases on the dyno.
Couple that with weight savings from the stainless steel build materials and the Megan Racing offering is a solid contender.
Manufacturer description:
"2.5″ inlet / 3.0″ outlet"
"NOTE: Off road used only!"
"100% T-304 Stainless Steel with computerized mandrel-bends"
"CNC-machined flanges for strong solid support"
"TIG-welded for strength and durability"
"3-stage polish for a mirror-like finish"
"Straight-through design and bolt-on installation"
"The Infinity G35 and Nissan 350Z are high-end performance machines, boasting the VQ35DE V6 Engine that easily pulls these cars through the highest demands. Because they are at the fore-front of automotive technology, many aspects of the cars performance have grown increasingly complicated. Modifying simple things such as the vehicle's exhaust system, becomes a daunting task that can become pricey. Due to the complexity of the bends, flanges and welds in the OEM Y-Pipe, Megan Racing has decided to manufacture a direct bolt-on Y-Pipe for the 350Z and G35."
"The Y-Pipe features two High-Flow flex pipes to reduce the interior noise resonance without sacrificing performance while the Polished T-304 Stainless Steel construction offers a show-car look and long lasting durability."
"The inlets are 2.5″ that follow through with individual pipes until they converge at the Cat-Back system with a 3″ Flat-Flange to provide a secure and tight seal every time."
"Specifications & Features:"
"APPLICATION: "
"Does not fit G35X AWD models!"
"Will fit G35 Sedan."
"PRODUCT UPDATE:"
"– Our newest revision, pictured, features an extended collector further down the exhaust path to help with exhaust scavenging properties to maximize flow. This more recent revision is designed off of the "HR" engine, while the previous version was designed off of the "DE" engine– the newer revised version will still fit all model years 2003-2007 Nissan 350Z and G35. The photo of the Y-pipe on the vehicle is the previous version. On some years, modification or removal of a factory plastic guard underneath the vehicle may be necessary– a small price to pay for the performance benefits added."
"NOTE: All Megan Racing Exhaust and Suspension products are deemed for "off-road use only"– please check local laws regarding the modification of the exhaust systems by checking the vehicle code for your state. Many states are more stringent on exhaust modification laws and to pass SMOG. Please check your local laws. "
---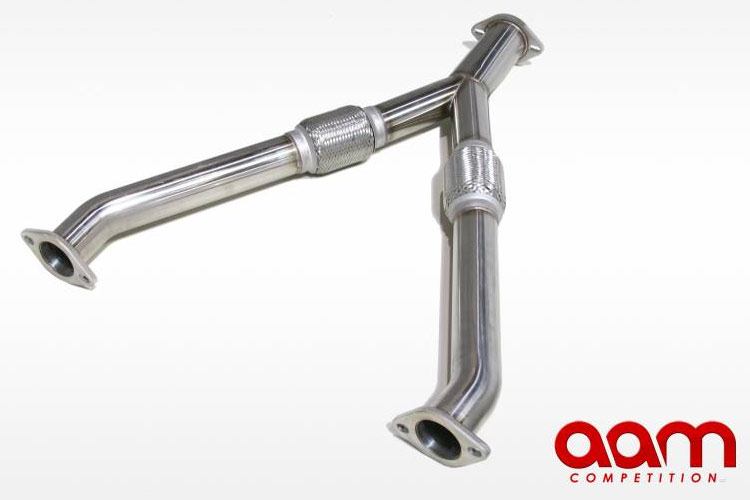 Our comment: The AAM Competition is another high quality product with a mid-range price point. These Y-Pipes shave four pounds off the weight of the OEM piece while increasing inlet and outlet dimensions for improved exhaust flow.
Built with T-304 stainless steel with flexible sections to help reduce exhaust header stress, the AAM Competition system boasts an impressive 8 RWHP power hike over the stock system.
For the power gains and weight savings the AAM Competition Y-Pipes make an excellent option for your 350z.
Manufacturer description:
"Factory Y-Pipe: approx 16 lbs"
"Inlet: 2.5″"
"AAM Comp Y-Pipe: approx 12 lbs "
"Weight savings: 4 lbs "
"Recommended install time: 1 hour"
"Constructed of 16-gauge T-304 Stainless Steel to ensure the highest reliability, quality, and performance, AAM is proud to announce the release of its Y-Pipe for the Nissan 350Z and Infiniti G35."
"Using smooth 2.5″ mandrel bent tubing and stainless steel flex joints which flow into one large 3″ tube, the AAM Comp Y-Pipe improves upon the factory Y-Pipe's restrictive design by allowing a substantial increase in the mass of exhaust flow, and reduces the backpressure and thermal stress, which helps to unleash the engine's potential for increased power and torque."
"Dyno tested on a near stock 2004 Nissan 350Z, the AAM Comp Y-Pipe gained 8 RWHP in comparison to the factory Y-Pipe! Don't be fooled by competitors designs which commonly use 18 or 20-gauge tubing that is prone to cracking, and non-stainless steel (if any) flex sections. The AAM Comp Y-Pipe is a direct bolt-on upgrade that requires no modification of any factory components."
---
Our comment: The ISR Performance offering is another sub $200 set of Y-Pipes made from stainless steel with a 2.5″ inlet and 3″ outlet.
ISR published an interesting article comparing 350z Y-Pipes that makes a convincing case for their focus on quality.
This product has been designed with a "formed velocity merge" for enhanced exhaust flow. Like most of the other Y-Pipes in this guide you can expect a minor weight saving and bump in power over stock.
Manufacturer description: "The ISR Performance 350z / G35 Y-pipe utilizes 2.5″ stainless steel piping along with bellowed flex sections running from the 2 bolt catalytic converter flanges back to the high performance velocity merge."
"The Y pipe then steps to 3″ stainless piping coming out of the velocity merge to the rear 3″ exhaust flange. The Y pipe also features an integrated dimpled gusset plate tying the two individual runners together for increased strength and rigidity."
"The ISR Performance Y pipe was designed to provide the best possible exhaust tone, ground clearance, and performance, all at an affordable price!"
---
Our comment: Like most of the Expreme Ti range, the TOMEI Y-Pipes are a high-end, well made product. These pipes are built in Titanium with slip on connections.
These exotic materials mean a serious weight saving of 12 pounds (5.44kg) over stock. Unfortunately TOMEI have not released dyno figures with the Y-Pipes alone but you can expect a < 10 horsepower gain.
A great product and a perfect compliment to a full Titanium exhaust system.
Manufacturer description: "This all new Mid Y Pipe from Tomei is a great addition to any race inspired 350Z. It creates extremely high exhaust flow and nets you extra horsepower in the process."
"While gaining horsepower is important the extra 12 pounds in weight savings on this full titanium peice is also a plus."
"Kit contains:"
"CENTER PIPE ASSY"
"CLAMP BAND"
"GASKET, FRONT"
"GASKET, REAR"
"FLANGE NUT"
"COPPER WASHER"
"PLUG"
"FLANGE BOLT"
"BOLT SMOOTH PASTE"
"TOMEI STICKER"
"EXPREME Ti STICKER"
---
Our winner
Our winner is the AAM Competition Y-Pipes
All of the Y-Pipes in this guide should give you weight savings, power hikes and decent fitment however the brand that seems to offer the most value for money is the AAM Competition offering.
The AAM Competition Y-Pipes boast an impressive 8 RWHP power gain, a four pound weight saving and a price point under $350.
If it was my Z, I would be looking at the AAM setup.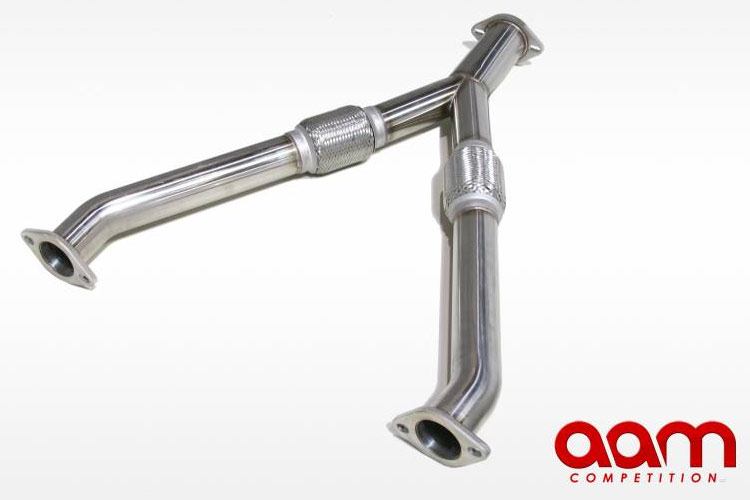 Thank you for reading our Nissan 350z Y-Pipes guide.
If you enjoyed this article then please share it with the sharing buttons at the bottom of your screen.
If you are looking for more bolt on power for your z33, check out our 350z cold air intake guide.
Photography credits
Drifted would like to extend thanks for the following sources for images.