Ultimate Nissan 350z Clutch Guide
It's time to replace your 350Z clutch and you're unsure whether an OEM replacement or an uprated clutch is best for you? We review the best products on the market in our Ultimate Nissan 350Z Clutch guide.
---
In a hurry? Here is our 350z clutch kit summary
| Runner-Up Choice | Drifted Choice | Premium Choice |
| --- | --- | --- |
| | | |
| South Bend/DXD Nissan 350Z Clutch Kit | Jim Wolf Technologies (JWT) Clutch Kit | ATS Carbon Pro 350Z Clutch Kit |
| 🔥🔥🔥🔥🔥 | 🔥🔥🔥🔥🔥 | 🔥🔥🔥🔥🔥 |
| Buy Now | Buy Now | Buy Now |
As most 350Z owners will already know, the clutch and gearbox combination in them isn't the smoothest, nor the quietest from the day they rolled out of the showroom.
It's something you come to live with, and it becomes one of the quirks of the car. Us petrolheads very rarely expect things to be perfect, and if it adds some personality, then so be it!
With 350Z's now mostly heading into the higher mileage regions, chances are you're probably going to need to consider changing your clutch at some point in the near future. Or, maybe you're lucky enough to be going down the forced induction route and you're planning ahead before the inevitable death of your stock clutch.
Clutch replacements certainly aren't the quickest, or easiest of jobs, but this great video from Full Throttle shows the exact procedure which you'll need to go through if you plan on tackling it yourself.
An additional part that you'll need to consider when replacing the clutch is whether your flywheel is still up to the task. We highly recommend that while you're going through the hassle of pulling the box out that you also swap this for a fresh one so that it's over and done with.
If you've decided not to swap the flywheel for whatever reason, you'll definitely want to at least check the condition and consider getting it skimmed. Mating a new clutch to a worn flywheel can cause all sorts of unwanted consequences, and you'll undoubtedly regret not doing the job properly in the long run.
When choosing your next flywheel, there's always the stock replacement option. However, a lightened flywheel can get the revs up and down quicker whilst also providing some weight saving. It comes with a small downside that they are particularly well known on 350Z's for being loud, and some kits have a substantial amount more 'chatter' than others. If you spend a lot of time in traffic, this may well end up being frustrating.
For us, we generally tend to crank the stereo up or get a louder exhaust to deal with these situations!
When considering which clutch is best for your needs, you'll want to think about the kind of driving you'll be doing. For example, you might be thinking "I'll just get the best one." However, more expensive, 'better' clutches can be almost unbearable if you spend a lot of time in your daily driver stuck in traffic.
For this reason, we generally tend to plan in advance when it comes to clutches. Do you plan to keep the engine stock, or mildly modified? Or, will you be creating a drag-racing street weapon? Hit up the track and go drifting every weekend, or create a time attack monster?
Each of these requirements is likely to need a very different clutch, so you're going to want to think about how much torque your car will eventually be putting out before deciding which clutch to go with.
Unlike other products like exhausts, we highly recommend not considering the cheaper options on the market for this type of product. There are a lot of reasonably priced tried-and-tested options out there, and with the hassle of gearbox removal and the fact that a broken clutch is worthless, it's a job that's best undertaken as little as possible and done properly.
Filled with the knowledge that race clutches, while great for the track and harsh driving are certainly NOT your friend when it comes to every day trips to the shops or work, lets figure out which clutch is best for you.
---
It's time to take a look at our Nissan 350Z clutch selection
To read more about any of these products simply click on the clutch kit name or photo.
Our comment: For those of you that prefer to keep life simple, Japan's largest clutch manufacturer brings you an OEM replacement at a fantastic price.
EXEDY even made the OEM NISMO clutch for Nissan, so they certainly know what they're doing. Some owners have run up to 6psi long-term on boosted 350Z's with no issues, and these are undoubtedly built to last. However, don't expect to go drifting every weekend with 600hp throwing down hundreds of clutch kicks.
This is the convenient, cheap and easy swap for those of you without huge power expectations to replace your tired original clutch.
Manufacturer description: "EXEDY Globalparts Corporation (USA) is a wholly owned subsidiary of the EXEDY Corporation of Japan. EXEDY (Japan) was founded in 1923 and its clutch manufacturing business and prominent brand name Daikin Clutch are known throughout the world for supplying quality powertrain products."
"Our pursuit of perfection and the assurance of safety underlie our famed quality and reliability. Our advanced engineering and patented innovations have made us the leading OEM manufacturer in the world for Clutches and other powertrain components. Exedy is also the undisputed leader of performance sports and racing clutches."
---
Our comment: JWT offers 350Z owners the clutch which is undoubtedly the most popular choice in our list with their clamping force HD kit. This, combined with their lightweight flywheel is the perfect choice for those who want the stock, OEM pedal feel but with a clutch that can handle a little more of a kicking.
Often regarded as the perfect option, this is ideal for daily driving and light track/drift use. If you're intending to go down the higher-powered forced induction route, you may want to look for something a little more hardcore.
When coupled with the lightweight flywheel, the only complaints we've ever heard is about the amount of chatter noise, but it's a small price to pay for such a fantastic option otherwise.
Manufacturer description: "1200KG clamping force and a smooth organic disc makes this the best choice for street / track 350Z-G35 including boosted cars!"
---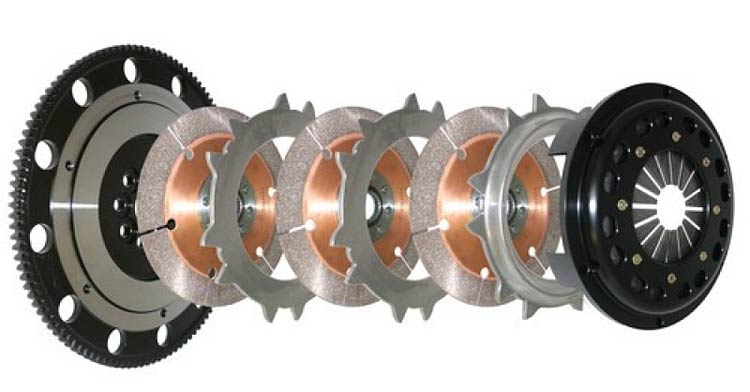 Our comment: Competition Clutch brings a huge range to the market for 350Z owners, from an extremely well-priced OEM replacement, all the way through to their awesome triple-plate offerings.
Competition Clutch have been causing quite a stir in recent years as they bring high-quality products to the market at a far superior price to some of their rivals.
We have heard a few mixed opinions, but the general opinion from owners is that these are great kits. Surprisingly, many people even reported finding their Stage 4 kit convenient for daily driving, which is extremely promising for those of you with big power daily drivers.
Manufacturer description: "Competition Clutch (CCI) is the fastest growing performance clutch company in North America."
"CCI contributes this growth to its commitment in the innovation and quality of the products that we manufacture and supply, complimented by a sincere desire to provide unparalleled customer service and delivery."
---
Our comment: ATS are known for offering some of the most expensive, yet highest regarded clutches in the industry. You can count on this carbon clutch being fantastic quality, but this single-plate kit is likely to be on the harsher side for daily driving situations.
For those of you planning to run reasonable power and want a clutch that won't mind being treated a little rough at the track, this is an ideal, affordable option.
If you're going down the big-power route, their twin and triple-plate clutches are up there with the best, but be prepared to fork out anywhere up to $3k.
Manufacturer description: "For the past several years since we released the first single carbon clutch, ATS has been constantly making progress to make it better. Still, we recognized that there were several occasions our single carbon clutch (old type 800kg, and current 1,000kg pressure plate model) did not provide satisfactory power transfer."
"By changing the composition of the carbon disc and applying special carbon coating on the surface of the pressure plate (CCM), ATS has successfully increased the torque delivery by exceptional 25% to 45%. The new disc and the pressure plate will be used for all the single carbon clutch – 1,000kg, 1,300kg, 1,500kg and 1,600kg."
---
Our comment: ACT have certainly stood the test of time in the clutch game and they bring a good variety to the market for 350Z owners.
They've kept things pretty simple with their 'Street' and 'Race' offerings, and we'd recommend considering what kind of driving you'll spend the most time doing..
Whilst their race setup isn't unbearable for daily driving when mated with their 'Streetlite' flywheel, we'd still go with the street clutch if you're not planning on pushing it beyond its limits.
You really can't go wrong with ACT if you feel they could potentially suit your needs and they have many delighted owners around the world.
Manufacturer description: "ACT's spring-centered race disc features a spring-center to properly damp torsional vibrations for quieter operation and resist failure even under harsh conditions. ACT spring retainers utilize wraparound spring windows and thicker retainer stampings to provide spring support, reduce stress concentrations, and increase strength and reliability."
---
Our comment: EXEDY return to our list with their uprated variations after initially featuring with their OEM clutch earlier in our guide.
There's no question that EXEDY are legends in the game and with so many manufacturers putting their faith into them, you know they're undoubtedly built to the highest quality.
Despite the general feedback on their 350Z clutches being positive, owners have commented that their clutch/flywheel combinations can be on the louder side when it comes to chatter. They're not one of the most popular choices for 350Z's, perhaps due to a slightly higher price point, but you definitely won't regret going with EXEDY if you feel their kit is the ideal choice for you.
Manufacturer description: "Exedy cerametallic clutches are designed to handle the abuse of high powered modified engines. Our cerametallic friction material can handle much more slippage than stock type disc assemblies without slipping and fading. All cerametallic discs feature spring center dampers to reduce impact and shock loads."
---
Our comment: South Bend/DXD are quite possibly up there in the Top 3 choices among owners in our list, and are yet another brand well-known for delivering exceptional quality.
One of the main positives with these kits is that South Bend/DXD have acknowledged and specifically worked towards improving the 'chatter' sound which many other kits suffer from.
Some owners have reported that this makes it even quieter than the stock OEM clutch/flywheel combination, which is extremely impressive.
They have a huge variety, from Stage 1, right the way through to Stage 5 to keep everyone happy, no matter what power you're pushing out. They also specifically ask for your purpose of use, whether it's for Daily, Endurance or Drag use. Another excellent choice!
Manufacturer description: "The 4-puck X disc is the most extreme and aggressive clutch available from Southbend. This is only recommended for those really looking to abuse their drivetrain! (Stage 4 Extreme, 800+ lb-ft)."
---
Our comment: SPEC compete with some of these clutch giants with their range of 350Z kits, which unfortunately has been hit with a mixed reaction.
SPEC have earned a reputation of having poor quality control, with owners stating that it's often a 'flip of a coin' as to how the quality will be.
Despite having many happy 350Z owners running their kits, there are reports of complete failure from others. For this reason, we'd personally prefer to go with a more consistent option, which there's definitely no shortage of.
Manufacturer description: "The flagship stage for a high powered street or race car that requires a manageable and friendly engagement, the stage 3+ features a carbon semi-metallic full faced material that offers unparalleled life, friction co-efficient and drivability characteristics in one single package."
"The hub is double sprung with spring cover relieves for flexibility and heat treated components for strength and durability. Great for street, drag, drift, autocross, road racing, pulling, rallye and drift."
---
Our comment: McLeod seems to be one of the rarer options among 350Z owners, but we've not yet heard any bad things, which is always a good sign!
It's always hard to judge from so little feedback, but all of their products are very reasonably priced.
With a hugely positive following in the muscle car market, there's a very strong chance that McLeod could become a bargain contender in the 350Z scene in the near future.
Manufacturer description: "If you are looking for a clutch that's a great replacement from your stock set up, the McLeod Street Supreme is your best option. Supremacy by McLeod Racing."
---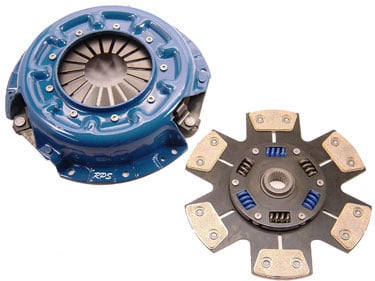 Our comment: RPS Max are certainly not the cheapest in our guide, but many owners would say they are a strong contender with the best in our guide.
Known for their exceptional customer service, they are known for delivering consistently perfected products.
This is likely to have a slightly stiffer feel to it than the JWT and OEM clutches and can handle up to 600ft/lb torque. These clutches are designed for those of you that like launching your car or drag racing and you can replace separate parts of the pressure plate to ensure a long life-span.
Manufacturer description: "If you have the power, this is your clutch!! Turboclutch MAX Series clutches have powered many of the fastest cars down the track for the past 10 years. This is a proven winner that has been perfected over the years to become the standard it is today."
"Our unique dual diaphragm technology allows us to create almost any clutch unit with any pressure ranging from stock to double stock in 100 pound increments. If the stock pressure is 1400 pounds we can make MAX pressure plates 1800, 1900, 2000, and so on up to 2800 pounds. This flexibility can only be found at RPS."
---
Our comment: Clutch Masters mostly have an excellent reputation. We've heard a couple of negatives, but they're known for their great customer service and have rectified any issues, which we feel is extremely valuable.
Many owners have clocked tens of thousands of miles with these with no issues at all, so they're yet another great choice.
Manufacturer description: "Clutch Masters clutches are true High Performance Clutch Systems and are technologically superior to anything currently on the market."
"The Clutch Masters clutch system is unique in the industry. We use Hi-Leverage technology (refer to the Pressure Plate section) in our pressure plates, which significantly increases clamping force with no unnecessary increase in pedal pressure. Discs are designed either with reduced Marcel or a solid hub design to take advantage of our Hi-Leverage pressure plate. The combination of these cutting edge technologies creates the finest clutch system on the market."
---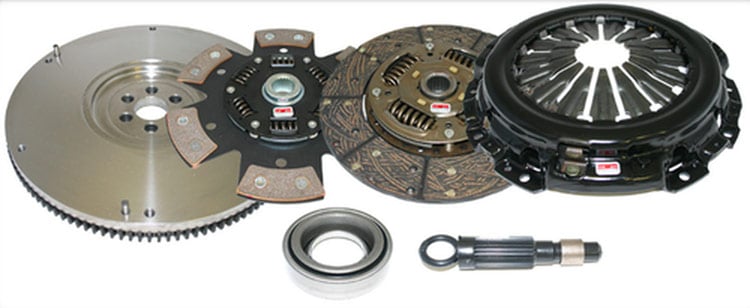 Manufacturer: Enjuku Racing/Competition Clutch
Fitment: Nissan 350Z
Value for money:

🔥🔥🔥🔥
Our comment: Enjuku Racing has come up with the perfect kits for those looking to swap out their existing VQ35DE 350z clutch setup.
Utilizing the hugely popular "White Bunny" kit from Competition Clutch, this provides everything you could need for a complete swap.
Not only do you get the clutch (6 puck or full-face), but you also get the matching flywheel, along with a set of ARP flywheel bolts and an OEM rear main seal.
Chances are, if you're swapping out your clutch, you'll need to buy all of these parts separately, but thankfully this kit provides a convenient, all-in-one solution at a fantastic price.
The OE-style clutch assembly/disc is proven to hold 400 hp, and the six puck is rated to hold 475 hp, making it perfect for those who don't have huge power goals.
Manufacturer description: "While you're in there changing out that old clutch and flywheel. Upgrade the flywheel bolts and replace the rear main seal. I know it sucks to install a brand new clutch to then have the rear main seal blow out and gunk up the clutch and flywheel with oil."
"This is your one stop package to get the job done right! Now with some added savings, upgrade today!"
---
Our winner
Our winner is the Jim Wolf Technologies (JWT) 350Z turbo kit.
To pick our winner from this choice of 350Z clutch kits we looked at a number of criteria; quality, popularity, reliability and price point.
Based on these criteria we have chosen the JWT Kit to be our winner.
JWT continues to bring incredible products to the 350Z market, and their clutches certainly don't disappoint. Given that most owners reading this guide won't be planning to go crazy power, it's definitely the best bang-for-your-buck choice for those who want a simple, reliable alternative to the stock clutch.
If you are planning for big power, there are still plenty of other options out there. You'll definitely want to check out the ATS, EXEDY and South Bend/DXD selection.
Thank you for reading our 350Z clutch kit guide, why not check out our additional 350Z articles?
We've spent a LOT of time recently creating some unique content to help 350Z owners find the very best products to tune their Z to its true potential, so why not take a look at the following guides to see what tickles your fancy?
Keen to find out more about two awesome Nissans – the 350Z and the 370Z? Check out our 350z vs 370z – What's Best? article to see which car takes the win!
Perhaps you're a G35 owner that's looking for a clutch to also fit their car? If so, you'll definitely want to check out our G35 Tuning Guides!
If you enjoyed this article then please share it with the sharing buttons at the side and the bottom of your screen.
Photography credits
We thank the following entities for use of their photography in this article: