Infiniti G35 Cold Air Intake Guide
We review the most popular Infiniti G35 cold air intakes available on the market today. This is the ultimate cold air intake guide for your G-series.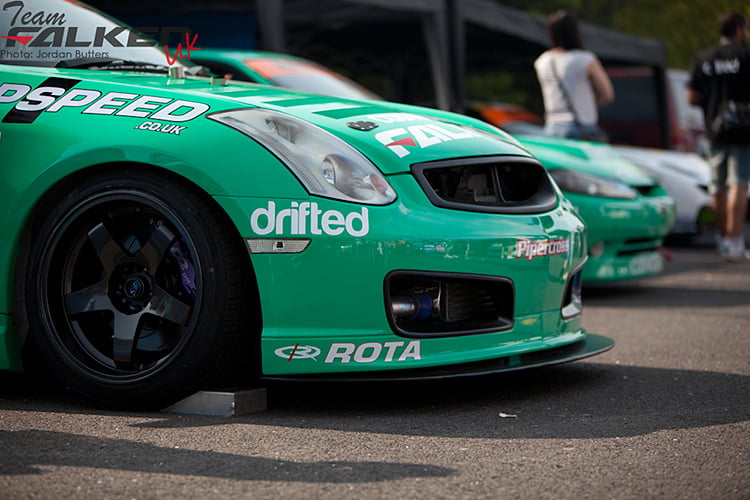 ---
In a hurry? Here is our G35 cold air intake summary
| Budget Choice | Drifted Choice | Premium Choice |
| --- | --- | --- |
| | | |
| JWT G35 Pop-Charger Air Filter | Takeda G35 Cold Air Intake | Stillen Gen 3 Ultra Long Tube Dual Intake for G35 |
| 🔥🔥🔥🔥 | 🔥🔥🔥🔥🔥 | 🔥🔥🔥🔥 |
| Buy Now | Buy Now | Buy Now |
There's no doubt that the first thing that comes to mind when we make a new car purchase is always, "How can we squeeze a few extra ponies out of this?"
We know we're not alone here, and the perfect solution, to begin with, is bolt-on modifications and swapping out the Infiniti air box for a high-flowing aftermarket part should always be one of the first changes.
If you're in the market for power gains, sound and throttle response improvement and overall improvement to the look of the engine bay, you've come to the right place!
We cover both the earlier DE and the later HR engines in this guide, so this guide is here to help you find the perfect solution for your needs.
Please note that a lot of these intakes are listed for the 350Z/Z33 since they have a much wider selection, since it is the same chassis there should be no issues at all. We recommend to double check before buying. Any of these kits is going to wake up your G35's VQ35 and it is going to sound amazing.
---
Not sure on how cold air intakes work? Hit play on the video and Engineering Explained will tell you everything you need to know.
Let's take a look at our G35 cold air intakes
To read more about any of these products simply click on the cold air intake name or photo. Click on the purchase link to be taken to a retailer to buy that system.
---
Our comment: The APEXi power intake kit lands at the budget end of of our G35 cold air filters. This kit is designed to offer you a simple bolt on solution to tidy up your engine bay, increase power, improve throttle response and increase induction noise.
If you need a simple and reliable intake kit for your G-series then the APEXi is worth a look, where I would be a little concerned is the lack of quoted power figures from the manufacturer and installation on standard intake pipework.
This is fine for the standard filter in OEM airbox as the box shields the engine heat, while this filter is exposed so it may suffer from heat soak. But with that said, for the price you really can't complain!
Manufacturer description: "The Power Intake is the premier air filter designed to create pure horsepower. The intake funnels used in racing machines take advantage of a characteristic where air travels along the side of the side of surfaces."
"However, the center portion of the funnel is virtually unused. It is this concept that gave birth to the Dual Funnel design. A primary funnel on the top portion of the air cleaner was inserted to channel the air flow directly into the lower funnels at the base of the cleaner."
"This design was a huge success on the former Super Intake model. The Power Intake took this design and improved the flow characteristics. New funnel design, element material and air flow channeling characteristics make the Power Intake one of the most efficient air cleaners on the market today."
"By constructing the upper and lower funnel from a highly durable injected resin, engineers were able to construct the ideal shaped funnel previously not possible with the stainless steel material."
---
Our comment: The JWT pop charger is a competitively priced intake kit that has a lot to offer. A dyno proven 6.5bhp increase in power, hood sealed heat shield and a price point under $180 makes a very good case for itself.
If I had to find a negative I would say the intake isn't the most attractive bit of engine bay bling, but looks are subjective. Solid contender.
Manufacturer description: "The JWT Pop-Charger air filter with heat shield produces a real 6.5+ bhp increase at the wheels! Hood sealed heat shield insures outside air temperatures."
"This system consistently out performs extended piping systems on the G35 without the risk of ingesting water due to remote filter positioning."
"NissanPerformanceMag: Not wanting to mess around we put the car on the dyno immediately and recorded the biggest gains we've seen on any G35 intake yet: 6.5 hp at the wheels! The driving difference was noticeable, springing a welcomed quickness to redline. To say we were amazed is an understatement."
---
Our comment: The STILLEN Hi-Flow air intake is an solid option for your G35. The kit includes a high performance K&N air filter and a polyurethane heat shield.
The heat shield helps keep hot air away from the air filter and the combination produces 5bhp at the wheels, over the stock intake.
I'm giving this kit three stars as although it is a solid kit, personally I would be looking at the JWT that offers more performance for considerably less cash.
Manufacturer description: "Cold air is in, and STILLEN can supply your G35 with plenty of it. Long known as the leaders in Nissan/Infiniti performance tuning, STILLEN has introduced a Cold Air Intake System for the popular G35."
"The intake adds an honest 5 more Hp and 4 more lb/ft of Torque to the Z and while giving you a crisper throttle response. Comprised of a high-quality polyurethane intake port, washable and reusable cotton filter element, and STILLENs signature Aluminum Venturi Ring, the Intake draws air from outside the engine bay."
"The venturi ring acts as a velocity stack, speeding up and directing the airflow into the intake chambers, making more useable and noticeable power. The Intake System also lends a more aggressive tone to the Z when pressed, but remains unobtrusive at idle. The STILLEN Cold Air Intake System is the perfect way to add an edge to your G35."
---
Our comment: Okay, now it's time to get serious. Takeda are claiming that this high quality cold air intake is going to bolt on an extra 19bhp and 16flt/lbs of torque to your G35. That is a serious boost for under $300.
This is a well designed but simple kit that includes an aluminium short ram pipe with a Takeda Pro Dry S oil-less filter.
For the cost and the performance increase, this intake is rewarded with five stars. What a bargain.
Manufacturer description: "Takeda Retain is the Takeda Short Ram lineup. These intakes create simple, bolt-on horsepower that requires simple, quick installation and no bumper removal. Some of the short ram intakes include a wrinkle black heat shield."
"Takeda Air Intake Systems use a revolutionary new Pro Dry S Filter Media that works without filter oil. This media is easier and faster to clean than traditional foam, and requires no costly and messy solvents or oils. "
"Takeda filters can be cleaned in a matter of minutes and are ready to use after only a couple of hours of drying time. Unlike pre-oiled or disposable filters, Takeda Filters are Lifetime Filters that will last as long as you own your vehicle. "
---
Our comment: STILLEN's Gen 2 long tube dual intake is a comprehensive kit that offers one air filter per bank of cylinders, long relocation pipework and urethane heat shields.
By relocating the air intakes further away from the stock position helps to feed the engine more cold air. If you live in a typically rainy country like the UK then it also reduces chances of hydro-lockling from flood waters.
This kit looks fantastic in the engine bay, the aluminium pipes really adding some visual bling. Although Stillen is not making bhp claims on this kit, owners who have installed it typically quote around 15bhp increases.
Manufacturer description: "For those drivers out there with a Dual Throttle Body G35 who want improved performance with a show quality shine, we've introduced our Gen 2 Long Tube Intakes that replaces the restrictive factory air boxes with two dual cone genuine K&N reusable high flow conical air filters."
"These filters are designed with an integral velocity stack and attach to our newly designed polished aluminum long tubes. Replacing the factory intake tubes with the STILLEN design adds additional horsepower, and a great look for the engine bay.The filters sit inside custom-fitted urethane intake boxes, which ensure no hot engine compartment air gets sucked into the intake tract."
"This creates a cold air path, and unlike other manufacturers who only partially shield the filter from hot under hood air, STILLEN has fully enclosed the filters and draws on cold air from behind the grille, for optimum performance. As with all of our urethane intake boxes, these can be left natural black or painted to match the color scheme of the car."
"Our Intake Features: Polished Aluminum Mandrel Bent Pipes, Completely Replace Factory Tubes, CNC machined MAF sensor for precision fit and finish, Silicone Connectors, True Cold Air design via Urethane Boxes, Increased throttle response and horsepower, Genuine 1 million mile warrantied, K&N Filters – Dual Cone w/Integrated Velocity Stack, No Check Engine Light (CEL) Problems, No Chance of Hydro locking, Ease of access to filter elements, Limited lifetime warranty, Easy to Follow Instructions, CARB approved"
"The STILLEN Generation 2 Long Tube Dual Hi-Flow Intake is mild under cruising situations, and really comes to life creating an impressive intake note under acceleration."
---
Manufacturer: STILLEN
Fitment: Infiniti G35 2007-2008
Value for money:
Our comment: The second of our cold air intakes aimed at the late model G35 is the generation three STILLEN long tube dual intake. Like the generation two kit this is a long pipe relocation style upgrade featuring one filter per cylinder bank.
Unlike the previous generation, this third gen model offers a dyno proven additional 20bhp at the wheels. For just under $500 that is a pretty good performance deal.
Couple that with the great looking aluminium pipework and the STILLEN generation three makes a compelling case for itself.
Manufacturer description: "STILLEN Introduces the All New Generation 3 Ultra Long Tube Intake for the dual throttle body VQ engines. STILLEN was the first national tuner to introduce a high flow intake for the Infiniti G35."
"Our first short tube intake provided a small gain in power with a great sound. Economical and easily installed, this Generation 1 Short Tube Intake became instantly popular. Some months later STILLEN introduced our Generation 2 Long Tube Intake, featuring polished tubes, even better sound and a power gain over the Generation 1."
"Our continuing dedication to getting the maximum performance from each vehicle has lead to the introduction of our new Generation 3 Ultra Long Tube Intake. This intake has a radically new design that provides dramatically better power than any intake on the market for the VQ37 equipped vehicle's."
"Our R&D team went engineered and dyno tested more than 50 variations before being satisfied that this system is the best that can be made for the VQ37 engines.The new Gen 3 Ultra Long Tube Intake places two large K&N filters (oiled filter option) or two AEM dry filters (dry filter option) in front of the radiator."
"Strategic placement of the filters allow for optimum cold air flow and easy filter removal for cleaning. It features additional polished tubes that pass through the front core support, larger air filters than the Generation 2 unit. On some applications such as the G37 a urethane splash guard is included in the kit to help protect the filter."
"This is only necessary on vehicles with larger grill openings from the factory. All kits feature a system of varied diameter tubing and steps to maximize air velocity. The power result: A dyno-proven 20 horsepower gain at the wheelson the Dual Throttle Body 350Z, 18.5 horsepower gain at the wheels on the G37 Coupe and 17.5 horsepower on the 370Z."
"This translates to an estimated 20-22 horsepower gain at the flywheel! For G37/G35 Sedan owners, gains are 14 horsepower at the wheels. No other intake for the VQ can match these power gains!"
"Recommended installation requires removal of the front fascia clip (not absolutely necessary for some vehicles, but significantly aids in ease of installation) and slightly enlarging the holes through the front core support. No other part relocation or parts removal is required."
---
Our comment: The Injen kit uses a single intake coupled with a three piece pipe to relocate the filter as far away from the engine as possible. This cold air intake is the only filter in our list that offers OEM style black pipwork, which is pretty cool.
Injen claim up to 20bhp power gains from this intake, which is very impressive, especially considering the sub $300 price point.
This kit looks like a great option for your G35. The only negative I can see is that part of the pipework is silicone hosing, which doesn't look quite as nice as full metal. A well deserved four stars for Injen.
Manufacturer description: "For the enthusiasts who has performance and style in mind, the all new long and sleek SP1986 will deliver just that. Delivering what the RD1985 did and a whole lot more, it's engineered to deliver gains of up to 8-17 hp. This SP1986 will decimate them all!"
"Injen's innovative tri-step process and Dyno Tuned sensor adapter eliminates the use of the stock MAF adaptor, making this system really stand out among the competition."
---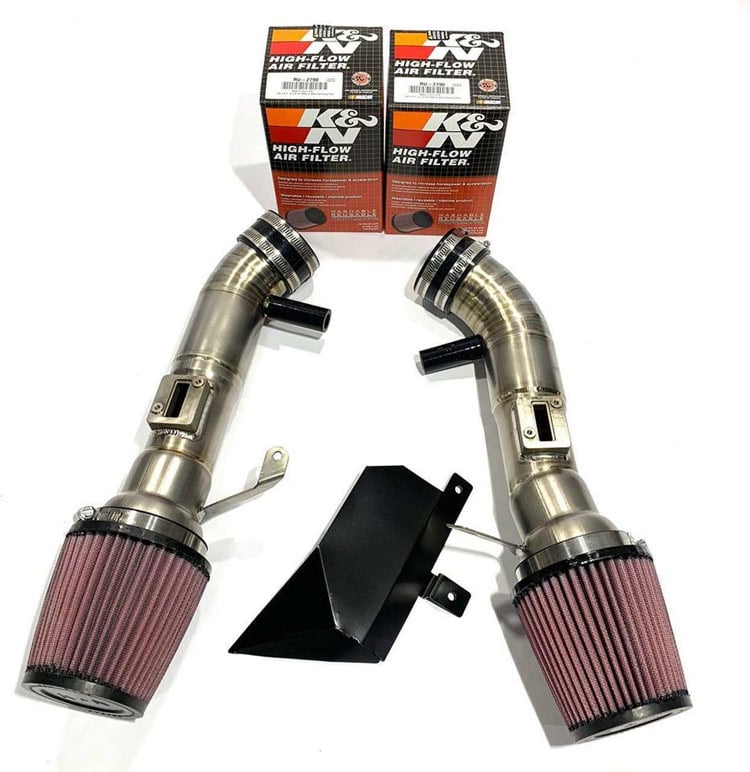 Manufacturer: Top Speed
Fitment: Infiniti G35 2007-2008
Value for money:
Our comment: If you're looking for a genuinely unique CAI offering, then the chances are that Top Speed has you covered.
Not only do they provide a traditional polished look with a reasonable price tag, but it's the offerings that are a little different from the norm that has us excited.
Those looking to pop their hood and show off their bay will love the variety of options available here.
Not only is there an immaculate-looking carbon fiber option available, but there's also a treat for the eyes with the titanium model.
If the stunning titanium welds aren't enough to tempt you, then perhaps their burnt blue titanium finish will provide the perfect touch you've been looking for.
With a fantastic selection available to suit everyone's needs, the Top Speed intakes are a worthy contender.
Manufacturer description: "Very Light Weight. Both Intake Pipes with 2.3 Lbs Total Weight"
"The Stock Plastic Pipe are Restrictive with built in Resonator and Flex sections. This New Titanium Intake Pipe will have More Smooth Flow without Resonator"
---
Our winner
Our winner is the Takeda Air Intake for Infiniti G35.
All of the cold air intakes in this guide are high quality, high-performance products. Each intake would be a solid benefit for the engine of your G35.
With that said, there has to be a winning product and looking at all the different factors, there is a stand out winner.
The Takeda intake offers +19bhp, great looking aluminium pipework and a sub $300 price. That really is excellent value. Great job Takeda.
If you want to pick up a Takeda intake for your G-series then hit the link below.
Thank you for reading our Infiniti G35 cold air intake guide.
If you enjoyed this article then please share it with the sharing buttons at the bottom of your screen.
Want to enhance your V6 soundtrack while also unlocking more power? You do? Then check out our G35 exhaust and G35 header guides.
Looking for a 350z intake? Try our 350z Cold Air Intake guide.
Photography credits
Drifted would like to extend thanks for the following sources for images.