Infiniti G35 Headers Guide
We present a range of the best Infiniti G35 headers available on the market, from budget to premium. This is the ultimate G35 header guide.
---
In a hurry? Here is our G35 header summary
| Budget Choice | Drifted Choice | Runner-Up Choice |
| --- | --- | --- |
| | | |
| ISR Performance HGC Long Tube G35 exhaust headers | TOMEI Expreme V2 G35 exhaust headers | PPE Engineering Long Tube G35 exhaust headers |
| 🔥🔥🔥 | 🔥🔥🔥🔥🔥 | 🔥🔥🔥🔥 |
| Buy Now | Buy Now | Buy Now |
When squeezing the extra ponies out of your G35's VQ35DE (or HR) engine, headers should be right at the top of your list of bolt-on modifications.
Whether you're planning to go down the supercharged, turbocharged or even NA route, you'll undoubtedly witness substantial gains when installing aftermarket headers.
We have no question that Nissan did a great job with this engine from the factory, but the increased airflow from these manifolds with tuning in mind makes a worthwhile difference.
In this guide, we'll cover the budget end of the market right the way through to the high-end, we hope to be able to find an ideal product for all G35 owners.
Our performance figures have been provided by the manufacturers and have rather large variations, so we recommend that you take this into consideration and do your own research if power figures are important in your build.
This instructive video by DIY Garage shows exactly how to fit a pair of VQ35 headers, from start to finish.

Want to hear what your G35 could potentially sound like with the headers installed? Check out this fly-by video!
Let's take a look at our G35 headers
To read more about any of these products simply click on the exhaust header name or photo. Click on the purchase link to be taken to a retailer to buy the header right now.
Want to free up some horsepower on a budget? Take a look at our best G35 test pipes guide. Already got a set of test pipes? Then treat yourself to a high performance Y-Pipe.
Already got the basics? Well, have you picked up an intake plenum spacer? Yet more affordable horsepower for your VQ35!
---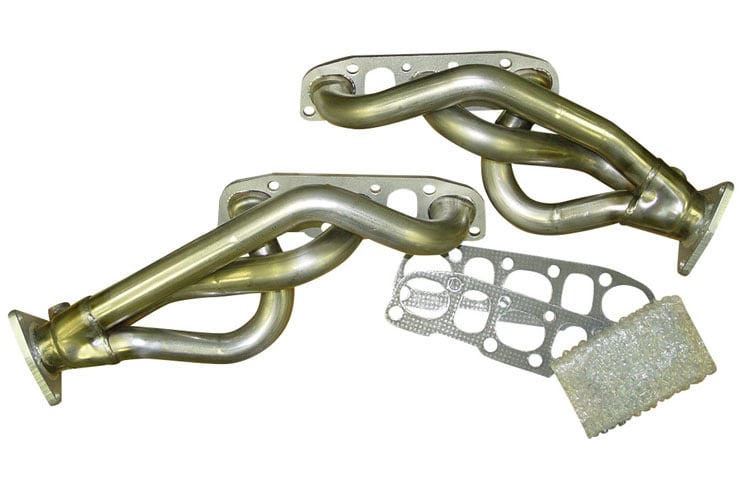 Our comment: Borla is a household name for American tuners, they have a solid reputation for putting out quality products and are now covering some popular JDM platforms.
This pair of exhaust headers (manifolds) is constructed from high quality austenitic stainless steel (superior to T-409 or aluminized steel), the collectors have outer diameters of 2″ and the primary tubes measure 1.5″.
Borla claim a healthy 10bhp gain on top of the standard G35 output. This is a solid choice for your G-series.
Manufacturer description: "This quality header is made of all stainless steel. We wanted to see what power it would make so we dyno'ed before and after this header on a new VQ35 with only a Gen1 Borla exhaust and intake on it."
"With an equal comparison of before and after the headers gained 10 horsepower and 3 ft/lbs of torque across the board. These are great gains. Choose this header because its proven and from a name you can trust."
---
Our comment: OBX Racing Sports land firmly at the budget end of our comparison, OBX have a hit and miss reputation for product quality, which you really should expect from a budget brand.
If you want cheap performance, you should consider extra fitting time and potentially needing to modify the product. With that said, I personally ran OBX exhaust headers on my Honda NSX and after tricky fitting found they produced excellent gains.
That wasn't a G35, but it's worth keeping in mind. The OBX units have a 1.7″ primary tube diameter with a 2″ outlet. I haven't found any performance claims from OBX but rumours that they are PPE replica design so I would expect similar gains.
With all the other reputable options I wouldn't personally go for the OBX, but if you are strapped for cash and don't mind getting your hands dirty they might work for you.
Manufacturer description: "OBX Racing Sports™ offer extensive range of high quality aftermarket automotive products for imports and domestic vehicles. OBX Racing Sports™ sets and maintain the industry's high expectations by using applicable highest grade materials and latest machinery along with advanced cutting edge manufacturing technologies."
"Replace inefficient factory cast log manifold with OBX Racing Sports™ performance header and increase smoother and better exhaust flow at higher RPM to generate more power and maximize performance out of your engine."
"Primary Tube: 1.7″ OD Outlet: 2.0″ ID – 2.2″ OD Flange Thickness: 0.40″ Runner Wall Thickness: 16 Gauge (1.5mm)."
High quality T-304 stainless steel, Dyno Tested Track Proven To Increase Torque And Horse Power
Value Added Direct Bolt On/ Weld On set up with Gaskets & Hardware included
Precision Computer CNC machined flanges with DUAL-TIG welded construction
Backed by Limited Lifetime warranty from manufacturer defects
OBX Genuine Products Design and Quality of OBX U.S.A
---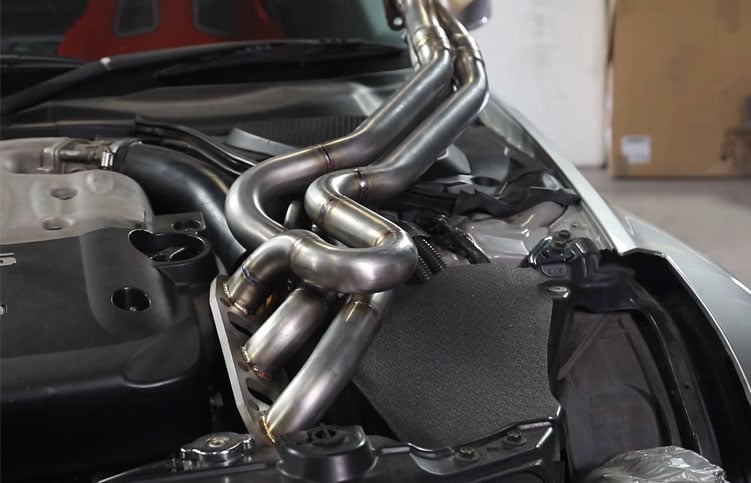 Our comment: PPE offers a range of customisable G35 exhaust headers, including these long-tube units. PPE can also coat your new headers in 'JetHot' ceramic coating to decrease thermal performance loss. This can be produced in a variety of finishes.
PPE opted for 1.75″ tube runners and a merge collector that exits at 2.25″ and transitions to 2.5″ in outer diameter.
On G35 owners clubs these headers have a good reputation, with claimed gains of 10whp when tested with performance camshafts. PPE themselves claim a 3.5whp increase on a stock VQ35.
The only reason that these headers are not awarded five stars is due to the higher price tag.
Manufacturer description: "The PPE 350Z/G35 long tube headers are designed for maximum power and midrange. Testing on a 2006 VQ35 showed an increase in top end power and midrange torque over shorty headers and testpipes."
"Proven to make more power than any other header on the market for the 350Z/G35."
Equal length tubing
304 stainless steel
100% TIG WELDED
3/8″ thick laser cut flanges
Formed collector with spike or optional merge collector
Mandrel bent 16 gauge tubing
Porting at flanges
Flat sanded head flanges
Optional ceramic coatings
1yr warranty
---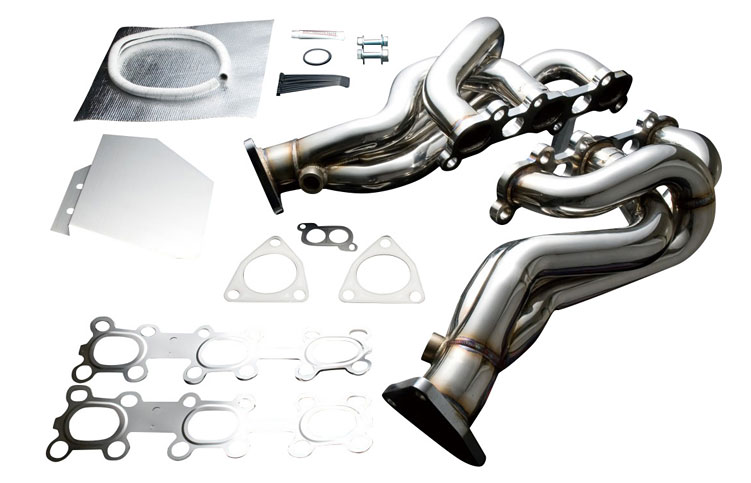 Our comment: TOMEI produces some great aftermarket parts for most JDM platforms, version 2 of the Expreme exhaust header is no exception. Excellent weld quality, high end materials and dyno tested results make this a great fit for your G35.
A nice feature is that this kit includes not only the fitting hardware but also a heat shield. You can read a great article about how they selected their tube design here.
TOMEI claim 5-15bhp (at the fly) from these headers, opting for a smaller 1.5″ pipe diameter to maximise air flow. Priced at a mid level, these are an excellent choice for your G-series.
Manufacturer description: "The new Tomei Expreme exhaust manifold V2 design targets a sharper throttle response, a true race-exhaust sound, and increased power gains. Tomei tests their designs on both a dyno and in real road conditions in the Z Masters race series in Japan, so you know you are getting an exhaust manifold that gives you a competitive edge. This exhaust manifold gives you the high airflow you need for a better driving experience."
"With the V2, Tomei has added a heat shield, thermal protector, and flexible thermal tube cover - eliminating hard-to-use thermal bandages - to the kit for added performance and to help reduce performance robbing heat."
The Tomei Expreme exhaust manifold V2 is engineered for maximum performance
The pipe bends are designed to maximize exhaust flow efficiency
The merging section joint angles have been flow tested
The smooth pipe layout
Bolt on kit
---
Our comment: The second of our budget headers is this offering from ISR Performance. With a low price point (just above the OBX headers), this product has a lot to offer. 304 Stainless steel is used for the pipework and a High Ground Clearance feature that places the collector in a position to maximise ground clearance is a great idea.
I haven't been able to find much information regarding claimed power increases but the feedback from owners that have purchased the system seems very positive, with plenty of remarks on excellent fitment.
Manufacturer description: "The ISR Performance Long Tube headers for VQ35DE/HR are designed to replace your factory header and catalytic converter. These long tube headers are constructed with 304 brushes stainless steel and heavy duty flanges. Designed with a stepped primary, these headers are built to retain as much low and mid range torque as possible while allowing for good top end horsepower gains as well."
"The innovative High Ground Clearance, "HGC" design places the collector in a position to maximize ground clearance without sacrificing performance."
"Each header features 2 o2 bungs placed downstream of the collector so that you can utilize your factory upstream and downstream o2 sensors. The downstream o2 sensor bung utilizes a flow restrictor to help avoid CELs."
"You will be required to extend your primary o2 sensor harness to meet the new location which is lower on the header."
---
Our winner
Our winner is the TOMEI Expreme V2 G35 Exhaust Headers
I selected the TOMEI V2 as our guide winner because of its quality, performance gains and price point. Picking up a pair of TOMEI headers is a great choice for any G35 owner that wants improved power delivery, increased top end power and enjoys a great exhaust tone.
The headers are well built, look fantastic and come with everything you need to bolt right on. When combined with a free flowing exhaust system, the performance gains will be impressive for an NA engine.
Highly recommended.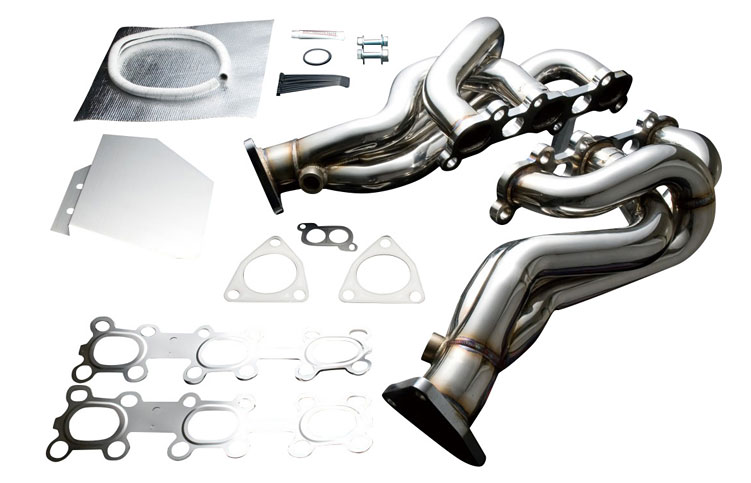 Thank you for reading our Infiniti G35 exhaust header guide.
If you enjoyed this article then please share it with the sharing buttons at the bottom of your screen.
If you are looking for more bolt on power for your G-series, check out our G35 cold air intake guide.
Photography credits
Drifted would like to extend thanks for the following sources for images.