Cheap JDM Cars – Ultimate Value For Money
Whether you're looking for a cheap JDM car to throw down at the track, or a bargain with huge tuning potential, check out our top picks from the motherland.
Introduction
Let's face it – we live in difficult times financially, especially if you are a car guy.
People are now looking to get rid of the junk rotting away for years on their driveway for an arm and a leg, knowing that many are now being forced to downgrade.
It's crazy to think about how we got to this point, but here we are.
However – don't worry. We'll show you how you can still make your dreams of owning a JDM car come true, even if you don't have a huge balance in your savings account.
Although prices have stabilized a little in recent months, they are still quite high considering that many cars, especially some JDM (Japanese Domestic Market) models, could be purchased for a few hundred bucks a few years back.
Now, they go into double or even triple digits. Rare JDM cars became like stocks – people invest and expect their investment to grow.
The price hike could be attributed to the likes of Tokyo Drift for glorifying these cars. But some of the blame is probably on us, the car enthusiasts, who can't resist buying our dream JDM rides.
With that said, you don't need to be desperate and pay through the roof to get your hands on some of Japan's finest vehicles.
That's why we are here to help you out with your search and list the coolest Japanese cars available in North America right now.
Fortunately for you, there are options for everyone's budget. So, let's dive into our list of cheap JDM cars to see what you can get for your cash.
Cheap JDM Cars Under $15,000
Now let's begin with the cheap JDM cars under $15,000.
Admittedly, $15,000 isn't super cheap. However, with inflation and car prices going up, it is not a big amount of money, and some of these cars could potentially be a great investment for the future.
So, let's get started with the options under $15,000.
Nissan 350Z
Let's start with the first on our list of cheap JDM cars under 15k. And our first model is the legendary Nissan 350Z. This was the model that replaced the 300ZX.
What is important for you to know is that the 350Z is also known under the name Nissan Fairlady Z (Z33) in Japan.
The 350Z is a two-door sports car that was introduced in 2002 and was produced until 2009.
And honestly, this model looks quite spectacular even by today's standards. You can create a high-performance machine with a few minor touch-ups and aftermarket parts.
Thankfully, the powerplant used in this model is something reliable. The 350Z uses the good old Nissan 3.5 VQ35DE or VQ35HR engines that are known for their endurance and impressive tuning potential.
You can also choose between a manual 6-speed transmission and a five-speed automatic, alongside its RWD layout – drifters, rejoice!
The price for these is rather affordable for what you get. You can get one for less than $10,000. Or if you want one in relatively good condition, you can expect to pay about $15,000. Now let's continue with our next cheap JDM cars.
Mazda Mazdaspeed3
The second on our list of cheap JDM cars under 15k is the Mazda Mazdaspeed3. And if you are after a FWD hot hatch, you will love this one. Mainly because this model is practical and, at the same time, is one of the fastest cars around.
This is because this is not your regular Mazda3. But something extraordinary.
This model has a 2.3L MZR inline-4 turbo engine paired with a 6-speed manual transmission. You just can't get any better than this in a small package, right?
Well, you can; we recommend going for 2010 to 2013 second-generation models because this has all the goodies from the factory.
A new ECU with a more performance-oriented tune and a longer gear ratio between the 2nd and 5th gear.
In addition to this, you have a limited-slip differential as standard.
You can have all this performance for less than $15,000. The 2010 models are the cheapest, and you can find these for around $8k. So, you definitely should check out these cheap JDM cars.
Nissan 180SX/240SX
And the last on our list of cheap JDM cars is the Nissan 240SX (S13). This is the first generation of the 240SX produced between 1983 and 1993.
These are, frankly, one of the coolest cars around during that era.
If you were a kid growing up in the 90s, this is one of the cars you most likely remember since these cars were one of the best.
And they are still one of the best cars and are the drifter's weapon of choice across the globe. This is why they hold their value well even after all these years. So, you can see them go in the range of $12,000 to $25,000.
What do you get for this amount of money? Well, you get a rear-wheel drive car with the very reliable 2.4L KA24 inline-4 engine that produces 152 horsepower and 160 lb-ft of torque.
This is plenty for this lightweight chassis that weighs only 2,698 lbs. In terms of transmission, you can opt between the 5-speed manual and the 4-speed automatic.
In terms of parts, the aftermarket is impressive. And you can do a good resto-mod one of these Japanese sports cars.
If you want the "true" JDM model, look out for the 180SX/200SX Silvias, but they're a little harder to find (and more expensive) than the USDM-born 240SX models.
By getting one of these for $12,000, you will be left with a lot of money for upgrades later.
Next, let's see what cheap JDM cars you can get for under $10k.
Cheap JDM Cars Under $10,000
We have covered "not so cheap" JDM cars and now let's cover something affordable for the majority.
Especially if you are still in high school or just got your first job and have some money to get a used car.
What are your options in this range below $10,000? Let's dive into the list.
Infiniti G35
Let's start this list of cheap JDM cars with something cool.
This is the Infiniti G35. Why have we opted for this?
This car is probably one of the best deals you can get for this budget. Even though it is a luxury car, it has the performance of a true JDM car since it's based on the Nissan 350Z. Put simply; the G35 is a 350Z on a budget.
You can get two different body styles. A 4-door sedan, the cheaper option, and a 2-door sports car.
Which is the preferable option for us? You would likely agree that the 2-door coupes are the best, but the 4-door sedan can also look awesome with the right styling mods. Plus, you get extra kudos for being unique!
What is worth noting is that this model is based on the same platform as the 350Z we covered previously, so you can expect the same incredible tuning potential.
This model creates 260 hp in stock form, which is great, but it's the tuning potential that helps it stand out, With a turbo kit upgrade, you'll develop a true luxury sleeper that'll be sure to upset some faster stock cars.
The positive note is that you can get one for less than $8,000. So, you should undoubtedly check out the G35 and consider a test drive to see if it's a good fit for you.
Now let's move to the next cheap JDM cars.
Mazda RX-8
A list of cheap JDM cars would not be complete without the Mazda RX-8.
The RX-8 didn't achieve legendary status like its older brother, the Mazda RX-7, but that helps make it one of the few true JDM bargains on the market.
Even though it features modern styling, this model is now 20 years old, believe it or not!
Its sleek, unique aesthetics allow it to compete with newer rivals; let's face it, it certainly doesn't look outdated by modern standards.
The crown jewel in this model is the rotary engine. This model uses a 1.3L NA two-rotor that produces between 189 hp and 238 hp.
You can also get a 6-speed manual transmission, which is good because these models are dirt cheap; you can find a low mileage example for as low as $7,500.
But there is a catch; the much-loved rotary engine is known to be unreliable and requires rebuilding around 50,000 miles to keep on top of things. So, beware of this.
If you think outside the box, you can use this to your advantage, given that it's an incredible chassis.
By carrying out an RX-8 motor swap, you can fit a huge selection of engines into the bay, which means you could potentially pick up a shell for peanuts and have yourself a tire-slaying weapon for minimal outlay.
With those covered, let's move on to the next options on our cheap JDM cars list.
Lexus IS300
Another steal of a deal on our list of cheap JDM cars is the Lexus IS 300. More specifically, the 2005 to 2007 model of the IS 300.
So, why specifically this model?
We chose this model because it is one of the best bang-for-the-buck models you should consider.
This model is the second generation of the IS 300. This model debuted in 2005 and was produced until 2013.
We are only interested in the 2005 to 2007 model years for our specific search – these options fall within our budget range.
And when it comes to performance, this model is close to the same level as the G35. It packs really powerful engines. The base engine is a 2.5L V6 that produces 205hp. But you can also get a 3.0L V6 that produces 228hp. And you can get the model with a 6-speed manual and a 6-speed automatic.
In general, this a Toyota, smooth sailing in terms of reliability. And you can get these models for about $9,000. Now let's move on to our next list of cheap JDM cars.
Cheap JDM Cars Under $5,000
Now that we covered the more expensive cheap JDM cars let's move on and learn more about the cheapest JDM cars out there. More specifically, the cars that are sub $5,000.
If you are in high school, some of these cars would be a real treat, and you can still get to experience the likes of VTEC, yo!
So, let's dive into our sub-$5k list.
Honda Civic
Since we mentioned VTEC, let's get immediately to the point. And a car that comes with VTEC on a budget is the Civic, produced between 1995 and 2000. Just note that this is not the Honda Civic Type R but the standard model.
Still, this is probably one of the most wanted cars out there. They were made in millions, and they are dirt cheap.
You can get one even for like $1,500, which is an absolute treat considering that you will have the ability to run VTEC on this model.
But what IS VTEC?
Well, VTEC is the thing that makes slow cars go very fast. Even though the Civic might have a small engine. Especially the D-series used on these are rated between 1.3L and 1.6L. Although small, they rev very high so that you can push the engine to 9,500 RPM with a chip. So, you get the idea of why they are so desired.
Not to mention that there are turbo kits that will allow you to push these engines far beyond the factory spec.
This is the model if you are into performance on a budget since you can get them for pennies—about $1,500.
The only drawback is that this is an FWD-only model unless you're willing to pay big bucks for a drivetrain swap!
Subaru Impreza
Last but not least on our cheap JDM cars list is the 2005 to 2007 Subaru Impreza.
For a $5,000 budget, you might not find a real WRX model. But you can find a really good deal for a standard one.
Nevertheless, 2005 to 2007 are the last two model years of the second-generation Impreza.
This is probably one of the most sought-after models from any Impreza generation.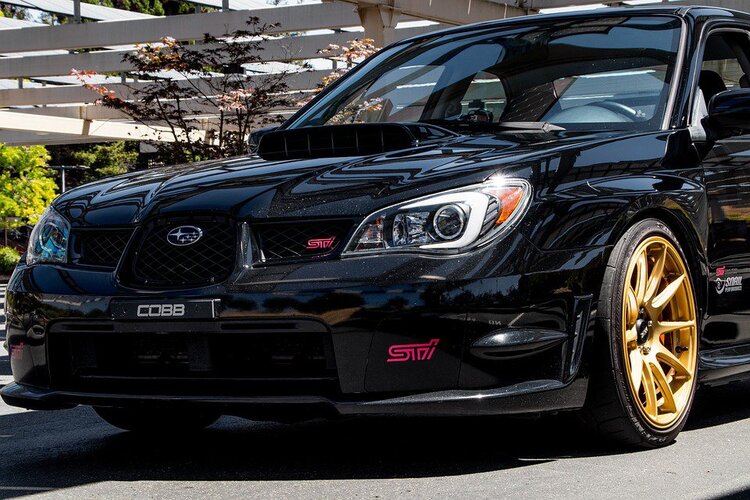 These models can be found for sub $5,000. And frankly, you get a perfect and capable AWD car for this amount.
The model comes with a naturally aspirated 2.5L boxer engine that is fun to drive. Since it is a boxer, it has a low center of gravity. And this makes the Impreza handle like nothing else on the road. You can also get it as a wagon.
And not to mention that the aftermarket is huge for these cars. So, you can find any mod that you want. That's why it gets our recommendation.
Now let's conclude this article on cheap JDM cars.
Conclusion
Now that we have covered the cheap JDM cars, we strongly hope you understand your expectations regarding finding cheap cars better.
On our JDM list, there is an option for everybody, starting with people with a higher $15,000 budget and ending up with the lowest $5,000 budget.
Unfortunately, we couldn't include cars like the Toyota Supra, Skyline GT-R, Mitsubishi Lancer EVO, Subaru Impreza WRX STi, Mazda MX-5 Miata, Acura RSX, and Acura Integra because of price constraints.
If you can get one of these on the cheap – make sure you snap it up immediately!
Our choice for the ultimate cheap JDM car would be the Infiniti G35.
Think of the G35 as a 350Z with an even cheaper price tag. It's based on the same platform, with equal tuning potential.
Although it may not be as "sporty" as its sibling, a set of coilovers and a few other cheap off-the-shelf upgrades will undoubtedly see you outperforming a stock Z.
If you're looking to snap up the ultimate bargain, we recommend the Civic if you're not too fussed about the FWD drivetrain.
It is dirt cheap, parts are everywhere, and the aftermarket is huge for these cars. Sure, you might have to deal with the 'VTEC, yo!' jokes, but who cares when you're gripping the corners like you're on rails?