1.5JZ – Everything You Need To Know
As the ever-soaring price of the legendary 2JZ-GTE becomes more out of reach than ever, it's time to consider whether a 1.5JZ is going to be the better choice for your needs.
---
Introduction
Although the solution was once simple, if you want the King of JDM engines, then bag yourself a 2JZ-GTE.
The engine, most commonly found in the likes of the Toyota Supra and Toyota Aristo, has gone down in the history books as one of the most refined engines ever made.
It may not push out astonishing power figures in stock form when stacked up against modern engines at 330 hp. It's the eventual power capabilities that tuning provides which make the 2JZ so desirable.
The 2JZ engine's power potential becomes almost limitless with the right modifications – provided you have an endless pocket of cash, that is!
If you're wondering what the actual limits of the 2JZ capabilities are, then this insane 3,000 HP 5-second drag car certainly has to be approaching the boundaries:
With the 2JZ becoming the holy grail among just about every motorsport discipline, as well as big-budget streetcars, the price continues soaring.
So, what are the alternatives?
Well, assuming you don't have quite such crazy power goals in mind, and you want to build yourself a drift or streetcar that's capable of around 600-1,000 hp, you can utilize the best of what the 1JZ and 2JZ have to offer, as the 1.5JZ is born.
By mating a 1JZ and a 2JZ engine together, you're able to produce the 1.5JZ lovechild.
Whether you're looking to start from scratch, or perhaps you have a damaged 1JZ or 2JZ engine that you're keen to make the most out of, this guide will explain everything you could need to know to decide if the 1.5JZ will suit your needs.
---
1.5JZ Engine Explained
As you probably guessed, unlike Toyota's 1JZ and 2JZ engines, the 1.5JZ was never produced by Toyota.
Enthusiasts created the 1.5JZ as an opportunity to make the most of the engines offer without breaking the bank, enabling those looking to achieve the 2JZ's 3L of displacement to do so without throwing down several thousand bucks.
Suppose you've already got a car with a 1JZ under the hood; a 1.5JZ provides the opportunity to achieve additional displacement without changing significant components such as the intake, exhaust, and electronics.
1.5JZ Benefits
If you've got a 1JZ-engined car and the bottom end blows, or it could do with a rebuild, then the 1.5JZ presents the perfect opportunity to improve on the 1JZ design.
By mating your 1JZ head with the 2JZ block, you'll achieve the desirable 3L displacement rather than the 1JZ's 2.5L.
One of the leading benefits that enthusiasts mention is the improved flowrate of the 1JZ head, but this is heavily disputed.
The main (confirmed) benefit of the 1.5JZ upgrade is to achieve the additional displacement while keeping the 1JZ wiring and electronics, creating the perfect solution for those already looking to replace or refresh their 1JZ.
Think of it as a cheap stroker upgrade at a fraction of the price of a full 2JZ package.
Alternatively, it also provides an opportunity for those on lower budgets to enjoy the benefits of the 1JZ before upgrading further to a 1.5JZ setup later when the budget suits.
You also get to enjoy the impressive reliability that makes both engines so highly regarded.
Does a 1JZ head flow better than a 2JZ head?
The superior head flow is one of the most commonly mentioned questions regarding the 1.5JZ swap.
Despite many rumors floating around over the years that the 1JZ head flows better, this has since been debunked under testing.
Although many will argue this, the two appeared to be much the same in the tests, so we feel that the differences are too minimal to be worth potentially altering your plans. Both the 1JZ and 2JZ heads have excellent port velocity to enable your turbos to spool in minimal time.
If anyone has evidence to prove this wrong, we'll more than happily be proven otherwise.
---
1.5JZ Engine Specs
Toyota's 1JZ engine is a 2.5L inline-six, with an 86.0m bore and 71.5mm stroke.
The 2JZ is a 3.0L inline-six with an 86.0mm bore and 86.0mm stroke.
Integrating the 2JZ bottom end to your 1JZ head would provide an extra 500cc of displacement thanks to the additional stroke, which is why many see the 1.5J as a cheaper alternative to a stroker upgrade.
1.5JZ Compression Ratio
Depending on the method you opt for with your 1.5Jz build, these could provide the following compression ratios.
2JZ block, *JZ head, 2JZ-GE pistons - 9.13:1
2JZ block, *JZ head, 1JZ-GTE pistons - 10.02:1
2JZ block, *JZ head, 1JZ-GE pistons - 10.59:1
These calculations assume that all JZ heads are 42cc and that the piston is flush with the top of the block, and an 87mm head gasket is used, based on quoted factory compression ratios.
---
1.5JZ Pros and Cons
As always, there are pros and cons when deciding whether a 1.5JZ will make sense for your build.
Pros
The main benefit is the price. With 2JZ prices soaring, you can instead enable your 1JZ to reach between 600-1,000 hp with a 1.5JZ upgrade.
Let's say you already have a 1JZ fitted. You can save your hard-earned cash, meanwhile enjoying the 1JZ and then upgrade at a suitable time once you've collected the funds.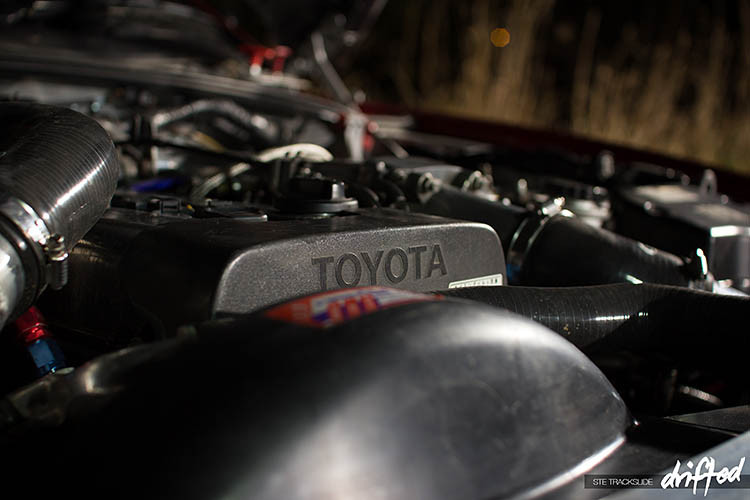 For those that already have a 1JZ engine fitted, a 1.5JZ provides an opportunity to upgrade without having to mess around with electronics, wiring, sensors and harnesses. Opting for a 2JZ swap will require far more work.
If you were to kill your 1JZ, or 1.5JZ, then you'll have a far more straightforward and cheaper opportunity when it comes to sourcing another 1JZ rather than a 2JZ.
Cons
Opting for a 1.5JZ won't enable you to achieve the quadruple-figures that come with the 2JZ, but you'll, unfortunately, need to pay the price if they're your intentions.
Some will argue that it makes more financial sense to opt for the 2JZ, but with the ever-increasing prices, combined with JDM tax, we've typically found that to be an outdated argument.
---
1.5JZ Tuning & Upgrade Potential
Many enthusiasts opt for the 2JZ-GE bottom end, given its availability and affordability, which often presents an argument about whether the VVTi or non-VVTi engine is the better option.
VVTi engines are known for their weaker rods, so it's generally the preferred method to stick with the non-VVTi 2JZ-GE found in models such as the GS300 and SC300.
Although we wouldn't like to find out the hard way, many believe that the VVTi rods can only hold around 400 hp.
For this reason, it's worth considering some stronger aftermarket rods and pistons for those that intend to go down the VVTi route.
Other enthusiasts prefer the VVTi for the 1.5JZ, utilizing the technology to provide much more torque throughout the rev range.
Still unsure about the 1.5JZ's performance potential? We believe this 1500 hp FRS will settle your doubts.
Parts list to build a 1.5JZ
Although the parts list will vary depending on which car you intend to fit your 1.5JZ, this is what we would typically expect to have on our 1.5JZ parts list.
Given that the 2JZ deck height is higher than the 1JZ by around an inch, this requires some additional parts that you may not have considered.
1JZ-GTE head
2JZ-GE short block
ARP head studs
1JZ-GTE head gasket
2JZ timing belt
2JZ serpentine belt & tensioner
Uprated injectors
Water pump pipe
Refreshed gaskets
Uprated fuel pump
Extended water bypass to head
We recommend ensuring which additional parts/changes are required for your specific build. It's going to be significantly different if you intend to fit a 1.5JZ into a BMW E36 rather than a Soarer, for example.
We'd expect to achieve a top-end of around 600 hp from your 1.5JZ build with these parts. Opting for forged internals will enable you to reach nearer 1,000 hp.
If you prefer to have an in-depth guide as to what's required, we highly recommend checking out this useful video:
---
1.5JZ vs 1JZ
The obvious benefit here is the additional 500cc of displacement you'll achieve by opting for the 1.5-liter JZ engine.
2JZ-GE bottom ends are often cheaper and easier to source than 1JZ-GTE, which makes for a convenient upgrade and makes it easier to locate spares if something happens to your 1.5JZ further down the line.
Of course, we feel that the 1.5JZ is superior to the 1JZ when the two powerplants go head-to-head, but whether it's worth the additional cost will be for you to decide.
---
1.5JZ vs 2JZ
Putting the two engines side-by-side, this one is a no-brainer - the 2JZ-GTE is the better engine.
However, the immense power capabilities of 2JZ's can make them somewhat lazy, and they come with a huge price tag, so if you're not going for a crazy power build, then the 1.5JZ may be the better choice.
The off-the-shelf availability of 2JZ parts is extremely impressive, and every upgrade is likely to have been tried-and-tested before, making it a convenient choice.
If you've already got a 1JZ engine fitted and you're looking to achieve some decent gains up to 600-1,000 hp, we feel it's likely to make more sense to opt for 1.5JZ.
However, if you're looking to go beyond 1,000 hp, then the 2JZ with some boost will be the better option.
The main downside that comes with a 2JZ swap is the sheer amount of work for wiring and making everything fit.
Not only will you pay high prices for the engine, but the wiring, harnesses, and ECU also fetch a sizeable premium.
With prices higher than ever for the 2JZ-GTE, the chances of picking up a bargain are incredibly slim, so if you intend to reach the four-figure power range with a 2JZ, you'll want to ensure that you have a rather tasty cash flow.
---
Our Opinion
Whether or not to go with a 1.5JZ can be a tricky question that depends on your situation.
Sure, it's an improvement over the 1JZ-GTE, it's also not going to provide the same high-horsepower capability as the 2JZ-GTE.
Despite many enthusiasts claiming that the 1JZ head is superior to the 2JZ, it appears to be a rumor which doesn't have any evidence to back it up. For that reason, we wouldn't base the decision entirely on this.
In our opinion, the ideal scenario for opting for a 1.5JZ would be for those that already have a 1JZ, which is perhaps a little tired, or maybe it's died altogether.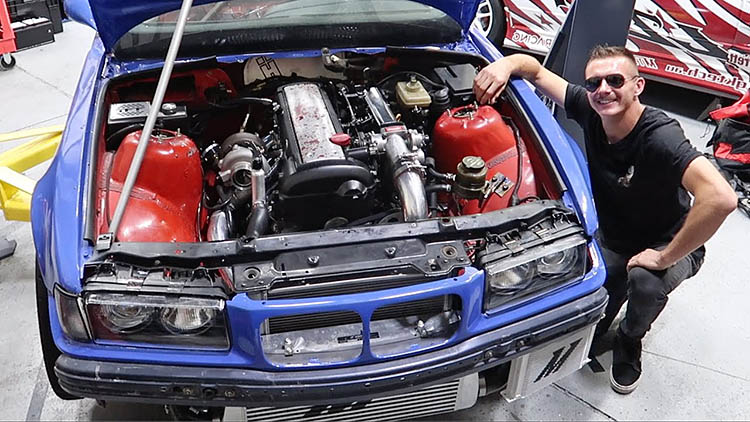 ---
Conclusion
Since the 1JZ is one of the most reliable engines ever made, it might take quite some time to kill it off, so we recommend enjoying what it has to offer while collecting parts to carry out your 1.5JZ upgrade further down the line.
When the time comes, you can swap your 1JZ head onto a 2JZ-GE bottom end, creating your 1.5JZ.
With this, 600 hp will be achievable with stock internals, but if you're shooting to go beyond 600 hp, we highly recommend saving some extra cash for aftermarket pistons and rods. With forged internals, several owners have reliably achieved 1,000 hp from their 1.5JZ builds.
Alternatively, if you've sourced an entire 2JZ-GE engine, it's well worth opting for the 2JZ-GE NA-T route, providing an additional and potentially cheaper alternative to achieve the extra displacement.
The NA-T 2JZ-GE can reach around 350-400 hp in stock form, with many achieving up to 800 hp alongside supporting mods.
However, if you've already got 1JZ, a 1.5JZ is likely to be the better option due to the wiring/electrical complications you wouldn't have to face compared to a 2JZ swap.
Not entirely sure whether the 1.5JZ is going to be the ideal engine replacement for your plans? Why not consider the RB26DETT or an LS swap instead?
---
1.5JZ Bonus Content
For those of you who are keen to see the boundaries that the 1.5JZ can achieve, you'll want to check out some of our favorite videos that we've found online.
This 1.5JZ street build proves that with the right mods, you'll be able to achieve quadruple horsepower figures from your build with the right supporting mods.
Monky London's infamous mate 'John' let's rip on the streets of the UK with this epic-sounding build.
Popular YouTube celebrity and Formula Drift driver Adam LZ discusses his 1.5JZ E36 build and whether it was worth opting for the 3L bottom-end.
He later shreds it up with other drift cars in his first drift comp if you're keen to see it hanging sideways.
If you're not chasing big numbers and planning a sensible and reliable route with your 1.5JZ, then this 400 hp build video is likely to provide some valuable information.
1.5JZ in a Miata? No problem. This thing will be wild when it's complete, and we highly recommend following this build.
This Toyota Soarer with a 1.5JZ non-VVTi, stock bottom end with HKS 264 cams and GTX3076R pulls 540 whp on the dyno.
Check this 180SX (240SX) S13 1.5JZ build bouncing off the limiter at a tight and technical drift competition in Europe.
Eager to see how a 1.5JZ lays down a lap on the drag strip? You'll want to check this insane old-school Corolla reaching 147mph in just 9.11 seconds!
For those considering a 1000+ hp 1.5JZ, this teardown video may provide some useful information on what's required to hit the four-figure horsepower numbers.
So, there we have it! We hope that we've covered everything you could want to know about the 1.5JZ engine in this guide.
Thank you for reading our 1.5JZ guide.
If you enjoyed this article, please share it with the buttons at the bottom of your screen. If you've found this information useful, then please take a moment to share it with other Toyota 1JZ and 2JZ enthusiasts. We appreciate your support.
---
Photography credits
We thank the following entities for the use of their photography in this article: