With progress on the V35 coming along nicely we take a quick look at Matt Carter's S14 drift car which is currently undergoing some powerplant changes for 2011.
Matt has chosen to Toyota-power his 2011 campaign also, opting for the 2.5l 1JZ VVTi motor as usually found in the Toyota Soarer JZZ30 and Toyota Chaser JZX100. The 6-cylinder 1JZ and 2JZ motors are proving an incredibly popular swap in drifting worldwide due to their high tunability, strong internals and reliability.
The motor has been upgraded further with HKS 264 cams, HKS cam pulley and a HKS cam belt.
The engine will be fed by a HKS GT-Pro 3037 turbo, with filtration provided by Pipercross. Eagle eyed amoungst you will also spot the Tial 44 external wastegate perched on manifold.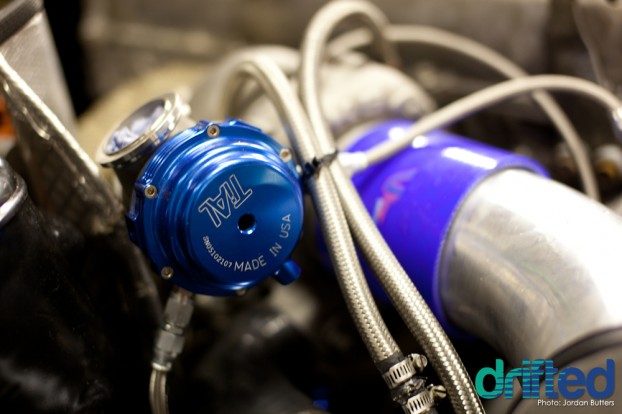 I wonder if Matt is planning to exit the screamer pipe through the bonnet as per Polo's previous S14? It's pretty cool to see the flames blasting up in the driver's line of sight. Although apparently its no so conducive for keeping the windscreen clean…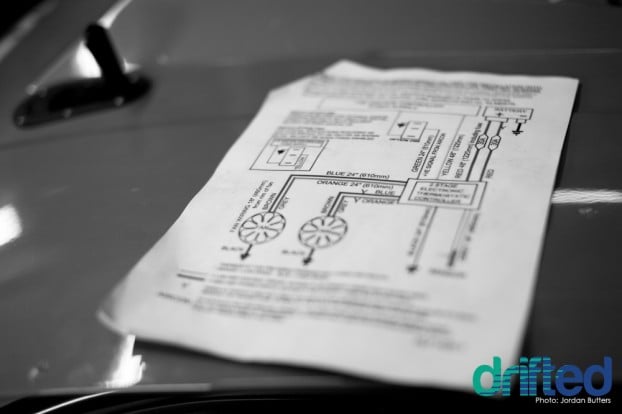 As I was visiting the Falken workshop Matt and his brother were just finishing up wiring in the electronic fans for the radiator. Now I myself am useless at wiring, the thought of it gives me shivers….
….however in my extremely limited knowledge of wiring, I'm sure a blowtorch is not normally used? What is it with drifters and fire?!
Matt's build is estimated to be completed shortly, with the external aesthetics next on the list. With the V35 in the background making rapid progress that just leaves Alan Green's S14 build to complete before Team Falken are ready for the start of the season…..
….Has anyone seen Alan?