Ricky's Toyota Soarer Drift Car
Meet Ricky Emery and his incredible Toyota Soarer Drift car.
At the weekend we had heard Ricky 'Top Gun/Superduperpro' Emery was coming up to Teesside Autodrome for a winter skid session, so we contacted Ricky and used this opportunity to do a driver feature. After arranging to meet pretty early on Saturday evening for a mini photoshoot, Ricky found his car had a few electrical gremlins, and we had to put back the shoot until later that night. Even after a days troubleshooting and a 6 hour drive, we still managed to meet up and under the cover of darkness, we had our little stealthy ninja shoot just outside Hartlepool.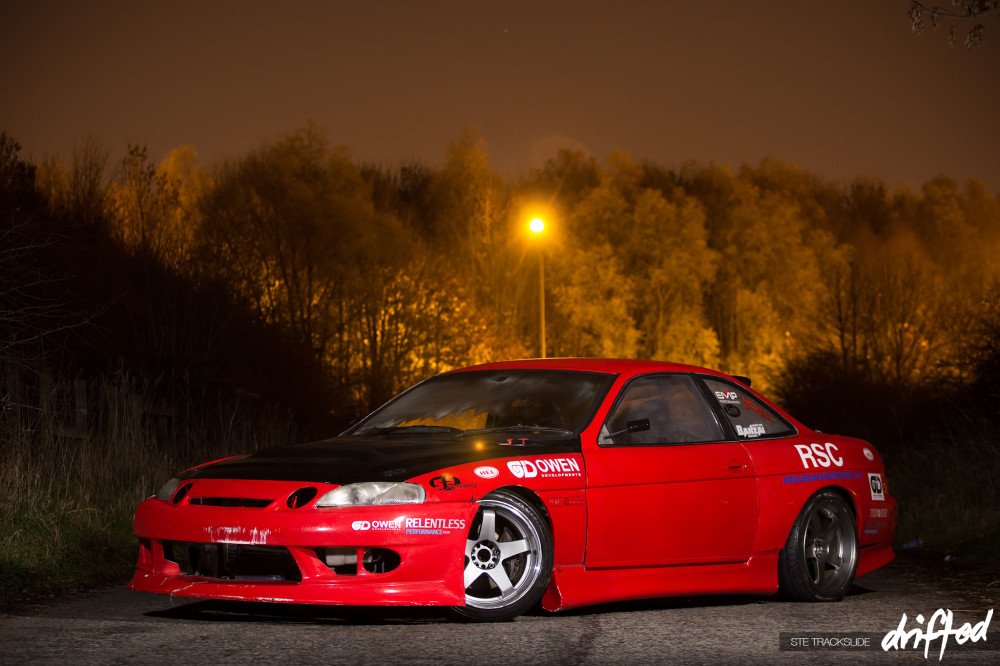 I've been around a few Toyota Soarers and I'm a bit of a fan, but whenever I see one, I think of weight. These cars are extremely heavy so when I asked Ricky about any weight saving modifications he had done, naturally, the list was quite long. I think the only metal panel left on the exterior is the roof. Almost everything on this Soarer is either fiberglass or carbon fiber; replacing the door skins alone dropped the weight by around 100kg, although I'm not sure how much was saved with the awesome F1 style wing mirrors.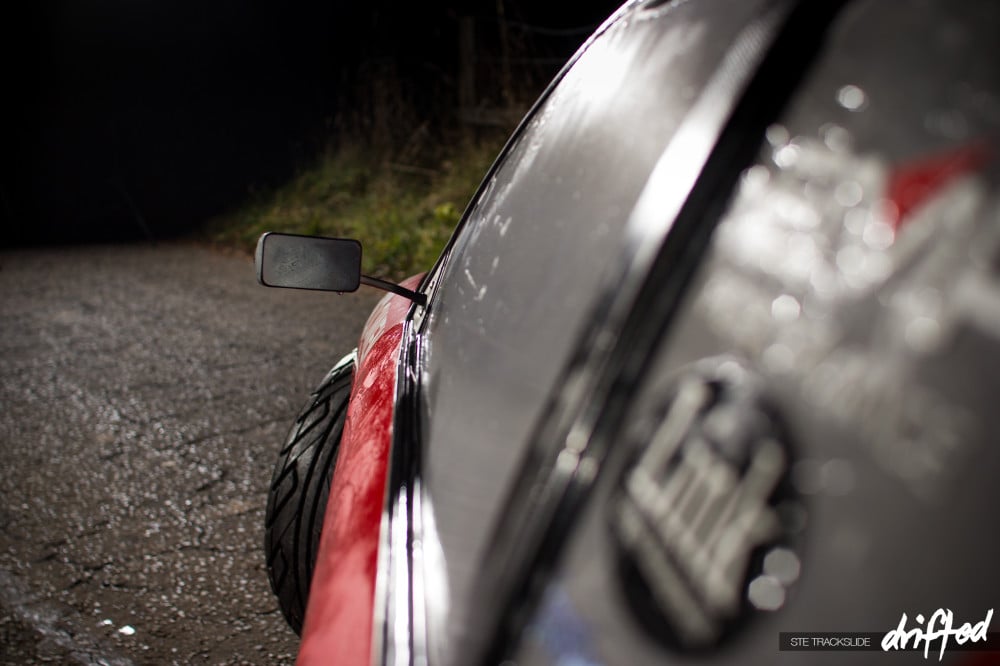 The bodykit continues the weight savings; the front wings, bumpers, rear overfenders, side skirts, bonnet and boot lid are all made from fiberglass. The door, rear quarter windows and rear windscreen are made from polycarbonate, lowering the weight and center of gravity.
We lifted the bonnet and Ricky has opted for the (less common these days) Japanese turbo engine, the 1JZ. Just like its older brother the 2JZ, this engine has great potential, if not a little over engineered, and at 492BHP with mods, this one is more than up to the job.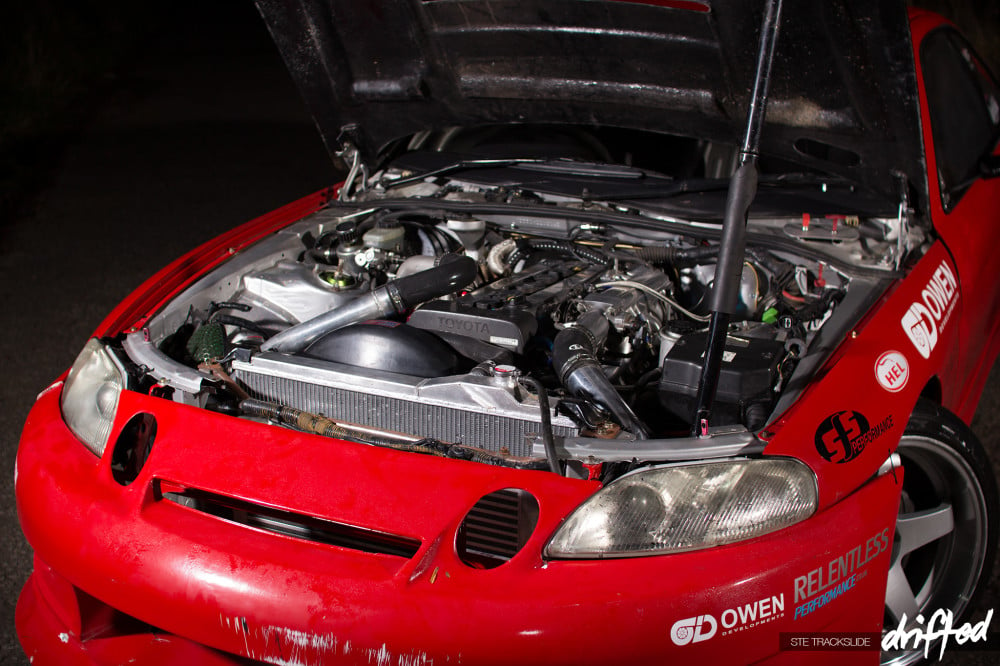 At first glance the engine bay seemed very simple and uncomplicated (or at least as uncomplicated as a straight six turbo engine goes), but after looking around for a while little details began to pop out. I asked Ricky if there was anything he was particularly proud of under the bonnet, to which he responded 'I'm just going to get a screwdriver'…
Once Ricky returned, he removed the cold air intake pipe mounted to the front of the Garrett GT35 turbo, revealing something that was a first for me; a custom turbine by Owen Developments. Now I knew these existed, but I'd never actually seen one up close and had never even heard an anodised one. If this was my car I'd be running a clear intake pipe just so I could see it. Very cool.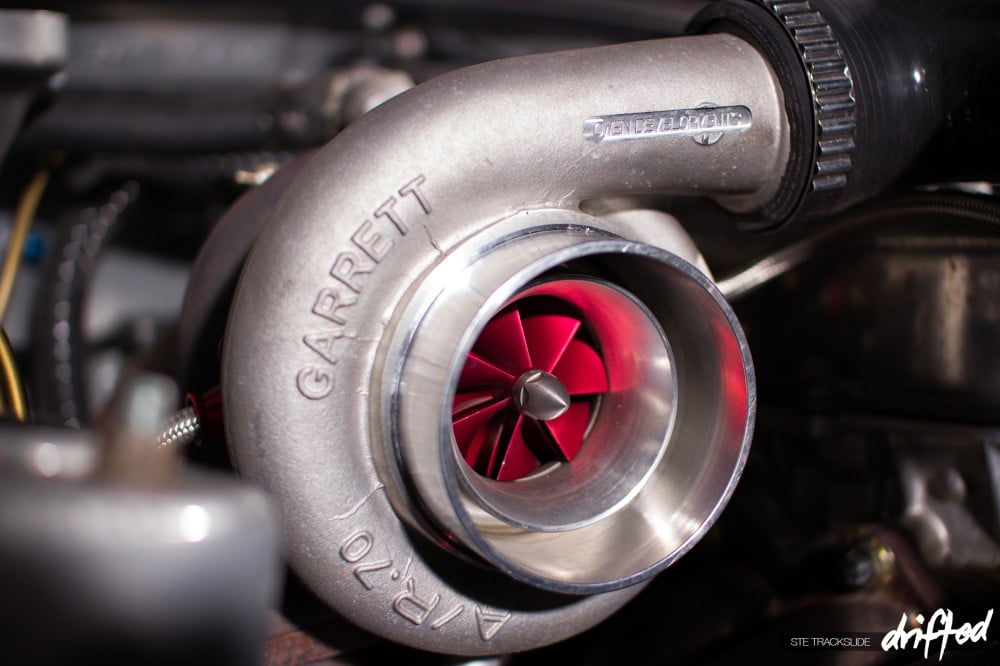 I spotted more anodised goodies in the form of the SARD fuel pressure regulator. There was a few out of place wires in the engine bay, but Ricky said he had literally just completed an engine loom swap so that was to be expected.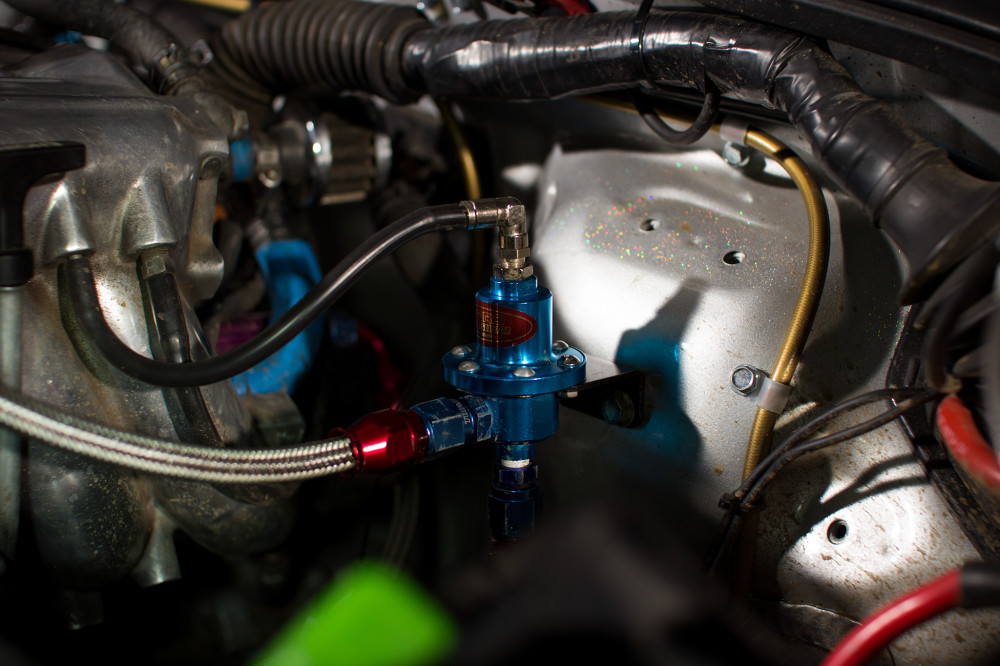 At this point the cold was getting the better of us and we decided to continue the feature at the track the next day, plus it was around 1:30am and we both needed some sleep before the drift day at Teesside, so we packed up and called it a night.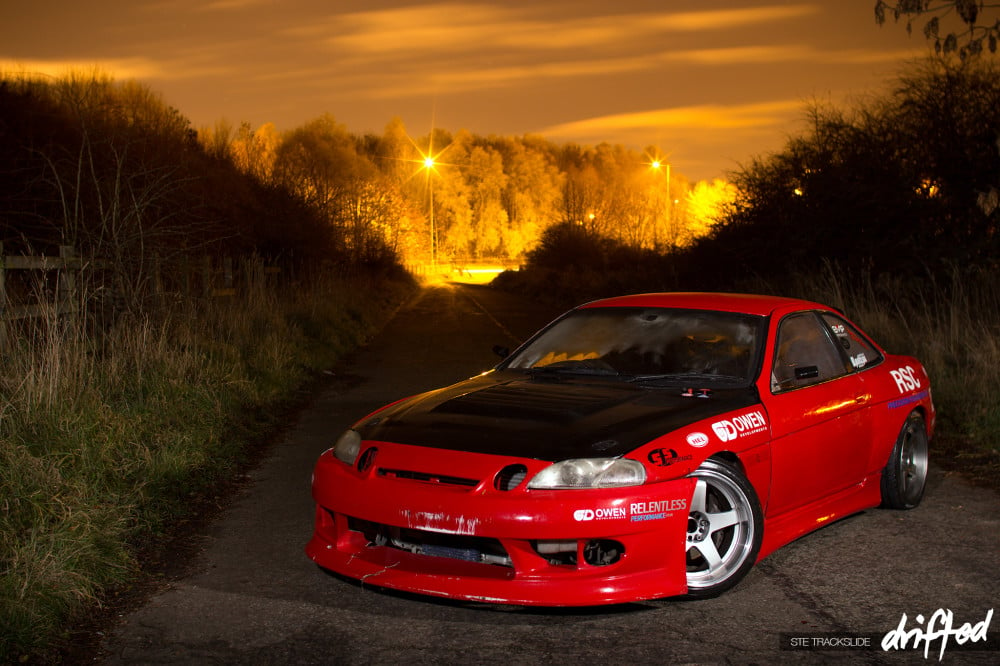 On Sunday we started bright and early, like most drifters Ricky likes to use cable ties to fit his bumpers, so they break away if clipped rather than smashing to bits as fiberglass panels tend to do. After fitting some fresh rubber and topping up the tank it was time to hit the track.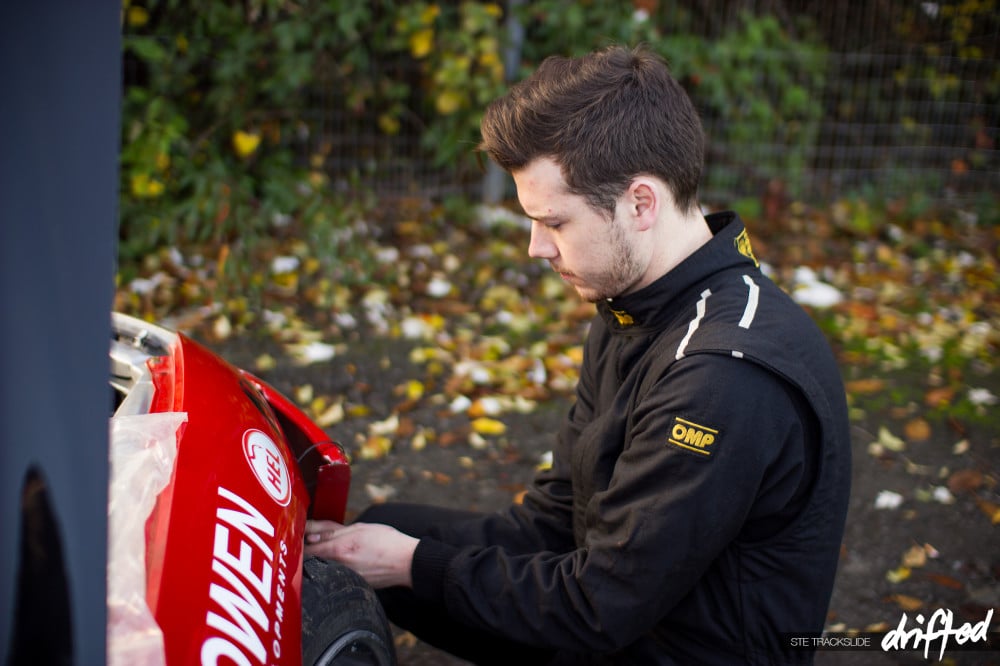 As soon as Ricky went out he ran into problems when his auxiliary belt snapped, so while we waited for a new one to be delivered I had a look around the car in the daylight. The interior is pretty much what you'd expect of a competition drift car; stripped, OMP steering wheel and a very nice rollcage. It was also cool to see he had stuck with the OEM Soarer digital dash cluster; very Knight Rider.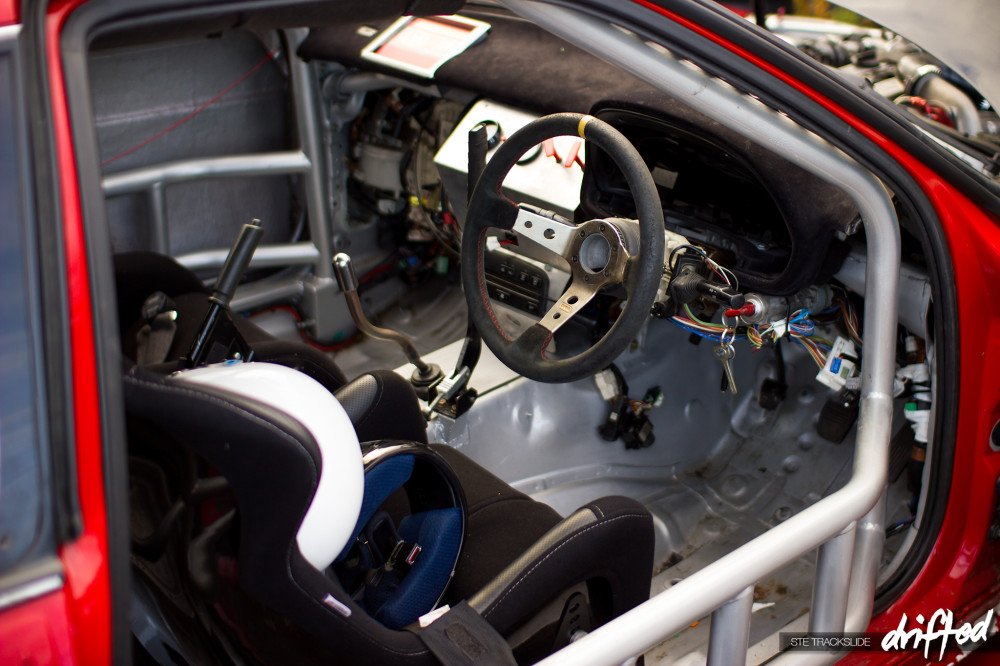 I also noticed the rear of the turbo matches the now out of sight turbine; the only part of the original turbo is the actual casing itself.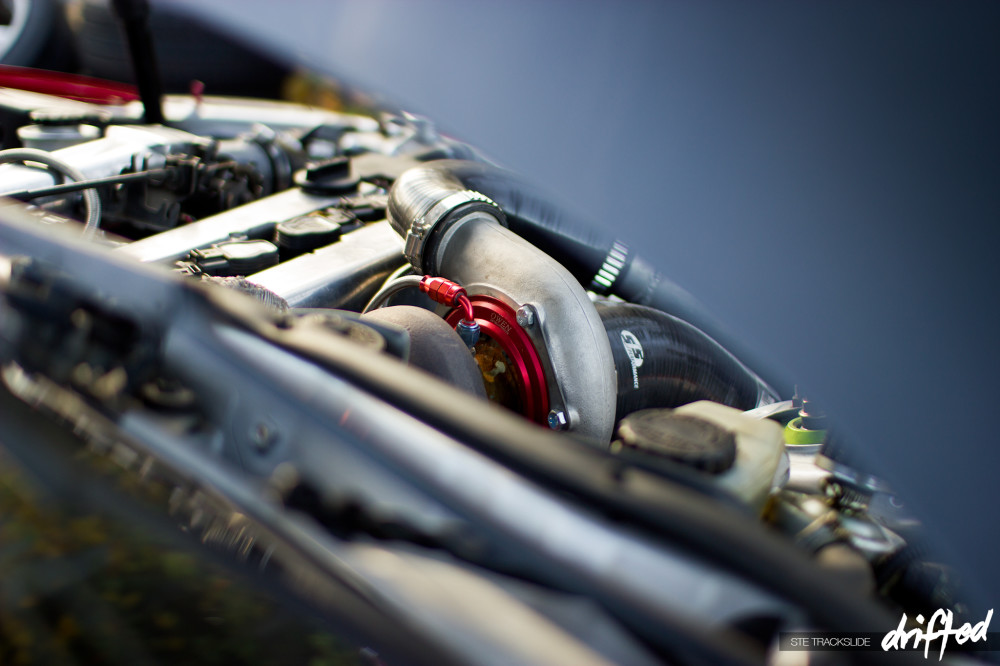 We're seeing more and more of these groovy Go Pro Vector mounts which have a weighted arm and sprung axis on them which reacts to G-force in the corners, giving smooth panning movement in video footage. It's one of those simple things that makes you think 'I could have thought of that'. Simple but very effective.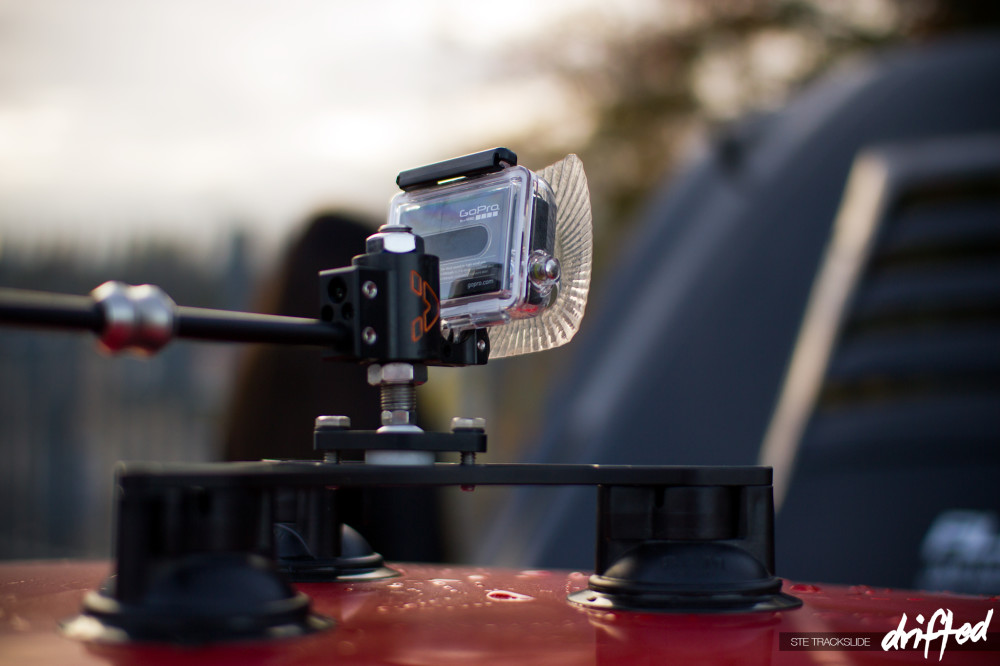 Once the new belt was fitted it was back on track with Ricky putting down some good speed and smoke with those rear Altenzo tyres. He runs Achilles tyres on the fronts.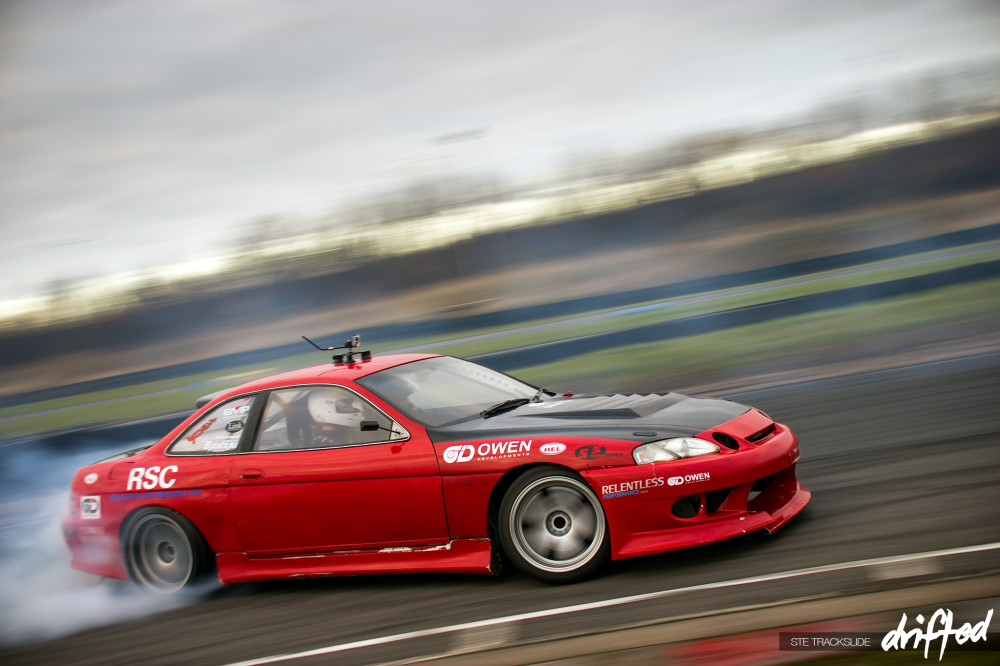 After a full days drifting it was time to wrap things up, the car seemed to run well all afternoon and Ricky was quite consistent with his speed, lines and angle. We will catch up with Ricky in the new year after a fresh lick of paint and a few other changes he has planned. Roll on 2014.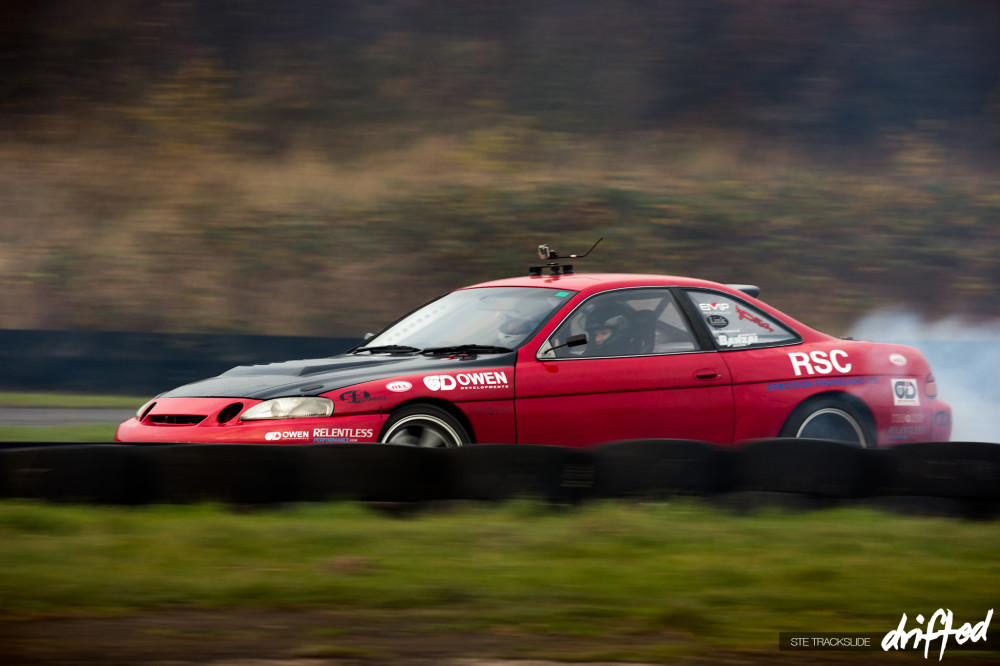 A few words from Ricky…
"I would like to thanks all my sponsors who have helped out this year with parts and support as without them it wouldn't have been possible. Also thanks to Richard Clarke at Doritech Motorsport who has helped with technical and setup info. Also a massive thanks Simon Davies at EMP Performance who's Soarer knowledge is second to none and has been a massive help with technical info and with supplying some parts for the car. They also make excellent quality exhaust systems that I hope to have on the car soon. Coming on board for next year would like to welcome Fuchs Lubricants who are supplying their excellent quality Titan Race oil and other products. Very much looking forward to working with them. Team info for 2014 coming soon."
Full spec list:
Toyota Soarer 492 bhp 416 ftlbs.
1JZ-GTE with stock internals and ARP head studs.
Managed by a Link Xtreme ECU in a custom Alloy case recessed in the dash machined by myself.
Audi 1.8T coilpacks with internal ignitors.
650cc Siemens Top feed injectors with top feed fuel rail.
Walbro intank fuel pump feeding the custom swirl pot machined by myself and Bosch 044 external pump feeding the rail.
All braided fuel lines and fittings supplied thanks to www.torques.co.uk, excellent quality fittings and lines.
Garrett GT3582 HTA turbo supplied by Owen Developments with all their Motorsport upgrades.
Japspeed alloy radiator and Ebay intercooler.
R154 Gearbox and welded diff.
Modified knuckles and tie rods for extra lock.
CC Stage 5 Clutch and lightweight flywheel.
Vibratechnics engine mounts.
Fiberglass doors, bonnet, boot and rear overfenders.
HSD Coilovers.
Adjustable front and rear upper camber arms and rear toe and traction arms. Custom machined threaded inserts for rear camber arms to allow correct geometry.
Solid alloy subframe bushes machined by myself.
Rota GTR D's 9.5J et 15 up front with Achilles 235/40/18 tyres and 25mm spacers.
Rota GTR D's 10j et 15 on the rear with 265/35/18 Altenzo tyres and 25mm spacers.
Vertex copy bodykit.
Lexan rear window, rear 1/4s and door windows made by Car Media Racing.
Rear windscreen roof spoiler.
Full 6 point weld in rollcage by Nickson Motorsport with nascar door bars. Extra bracing and re welded into the new shell this year by Relentless Performance.
Corbeau bucket seats and TRS 6 point harnesses.
AEM AFR gauge and SPA oil pressure and temperature gauge.
Safety equipment including plumbed in fire extinguisher and electrical cut off.
Custom upside down mounted intercooler with short pipework and tube supporting bar designed and tigged by Ross Gregory and brackets machined by myself at R & R Fabtech.
All intercooler hoses and rad hoses supplied by SFS Performance.
Custom brake lines throughout the car supplied by Hel Performance.
Go Pro Vector Mount supplied by the UK Distributor Allstars Driving Academy.
If you'd like to learn more about the engine that powers this car then check out our 1JZ Specs article, if you would like to see how this engine fares against it's bigger brother then check out our 1JZ Vs 2JZ feature.