DRIVER BLOG: Adam Hedges' Competition Debut
Hello Drifted! I'm Adam Hedges and I drive the C's Garage S14 Nissan Silvia in the Cody's D1NZ National Drifting Championship. The weeks leading up to Round 1 were just like every other drifter's preparation for an event… rushed! I work full time as a builder so the only time left to work on the cars are weekends and nights, which equals a lot of late nights leading up to drift days.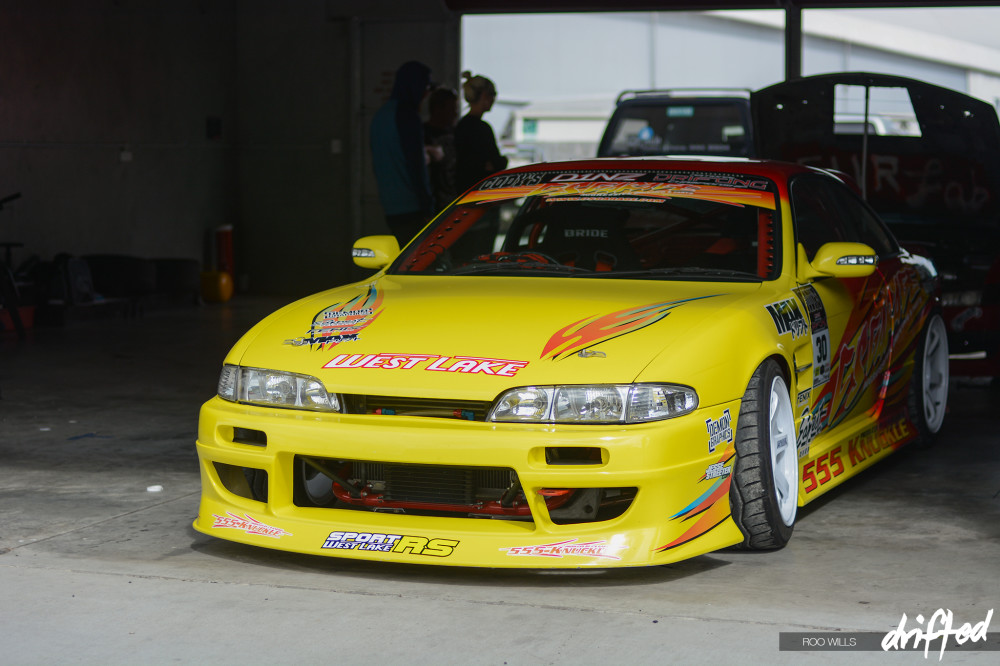 Two weeks out from the start of the season my motor decided to drop a valve at a grip racing test day at Pukekohe Raceway. The very next day I had the head off the motor to check how bad the damage was; luckily the head was repairable and it only took the machine shop a few days to get it all back into shape. This was pretty bad timing, not only because the season was almost upon us but also because D1NZ had decided to run a pre-season tech day a week or so before round one. This meant I had to take my car through scrutineering minus the motor. Straight after the tech day I got the head back and got the motor back together and running.
Now that the mechanical aspect of the car was sorted, I turned my attention to the visual side of things. I had smashed up a sideskirt at a previous practice day so I got some fresh D-max skirts made up from my mold and painted them in our yellow and red fade colours one evening after work. A newly sealed partnership with Westlake Tyres meant some very late vinyl changes needed to be made to the cars. So late in fact that we were still applying the Demon Graphics vinyl at 11pm on the night before the event.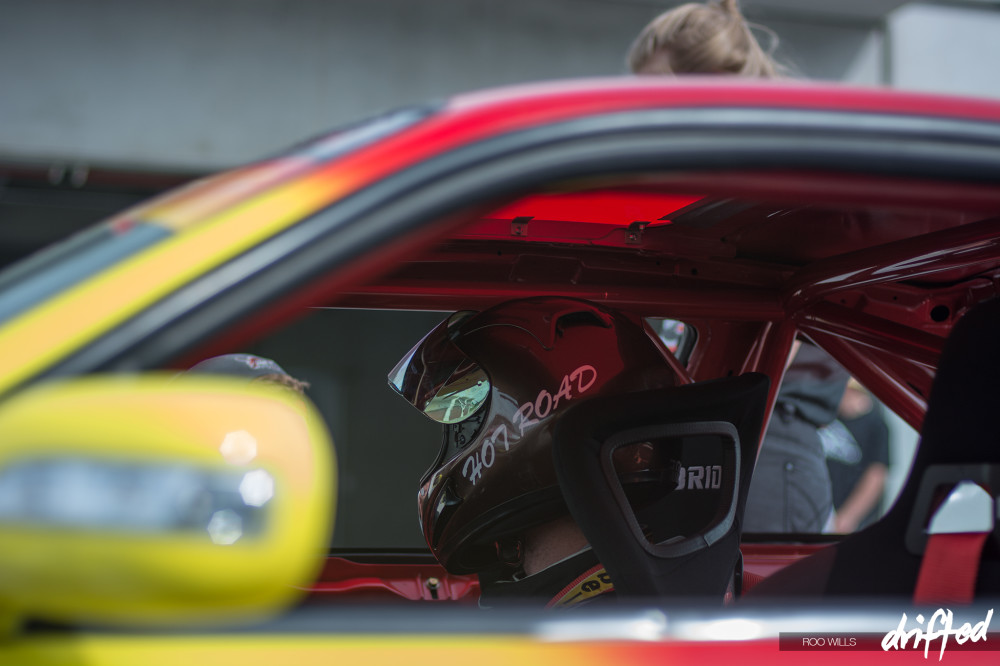 One of our friends and sponsor, Hamish from Parts Shop Max NZ, kindly let us crash at his house since he's only about 10 minutes or so away from Hampton Downs. We woke early Saturday morning, fuelled up and made our way to the track.
Arriving at Hampton Downs we unloaded our cars and set up our pit garage that we would be using for the weekend. Next on the mornings agenda was documentation and then the drivers briefing. During the briefing the judges gave us all a run down on what they are looking for, the line, speed and clipping points etc. Since Hampton Downs is quite a simple track with only two corners in the drift section, they decided this year to focus quite heavily on the entry. I was stoked to hear this as fast snappy entries is exactly how I like to drive.
During Saturday's practice sessions I was struggling to feel comfortable in the car. My car doesn't have a lot of power and with the amount of grip I need to run to keep up with the rest of the field, it doesn't make it the easiest car to drive.
I was one of the first drivers to make a qualifying pass since they run in reverse order of last season's results. Since we only get two passes I wanted to bank a safe run first. I was a little too safe on the entry, which lead to me not pushing wide enough on the last clip. On the second run I just totally stuffed up the entry, and on a short course like Hampton, there is no way to recover from that. With the score from my first run I ended up qualifying 17th – I think.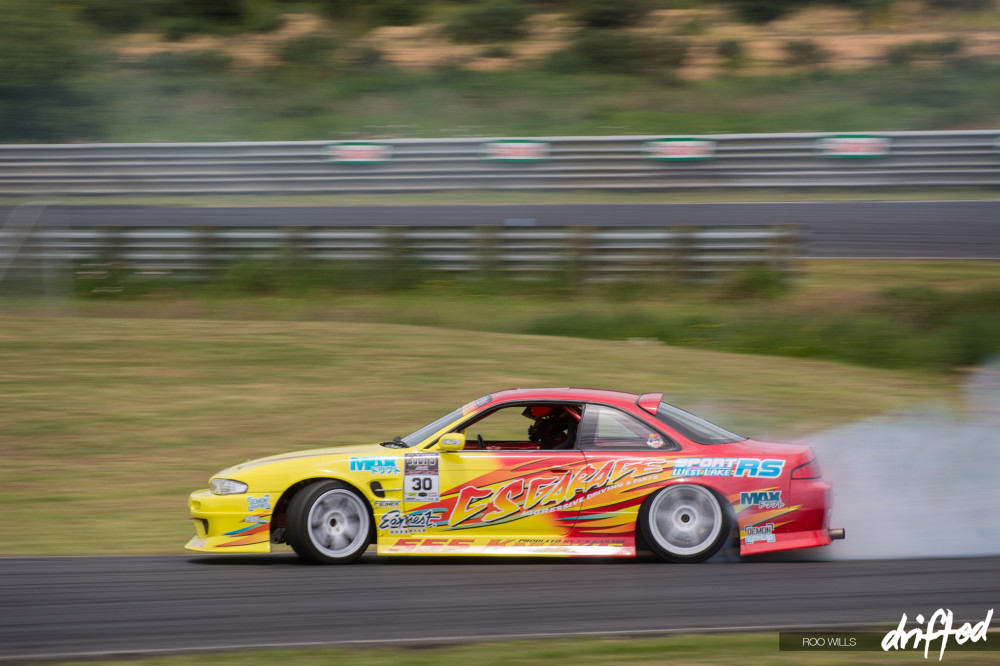 Since I qualified 17th that put me up against 16th qualifier, Bruce Tannock. I was chasing first since I was the lower qualifier. Bruce's car is one of the fastest in the field so I knew that I'd have to be right on his door on the first turn to have any chance of keeping up with him over the section. Bruce pulled a gap down the straight leading into the judged section and I tried to carry more speed into the first corner and out brake him to catch up. But I didn't dive in enough to close the gap and I completed the run maintaining the same gap throughout the section.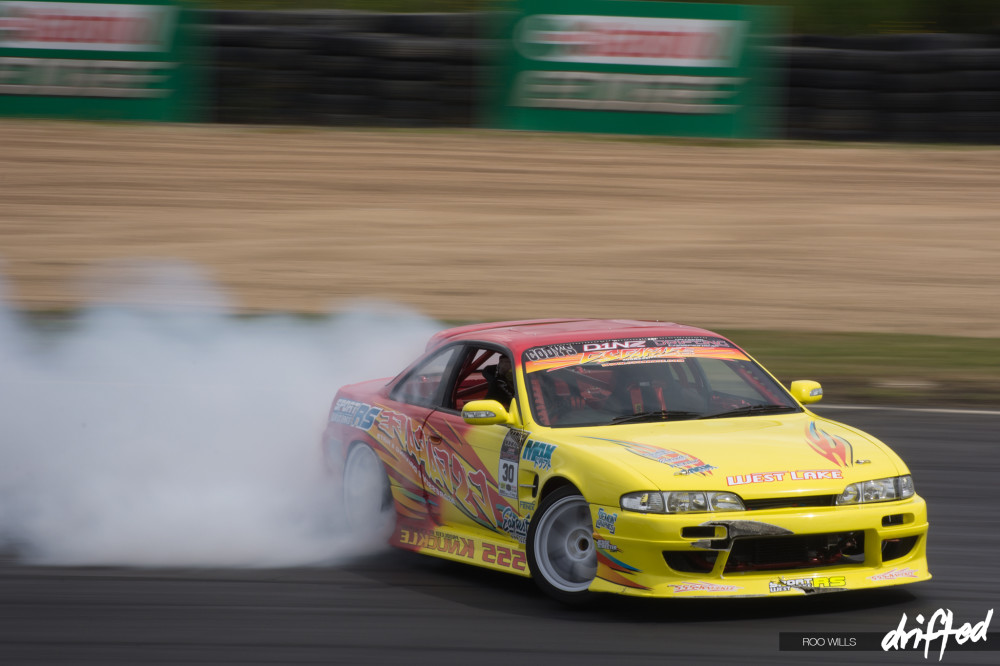 On my lead run for some reason I kept telling myself "not too deep into the first corner", as this would give him a huge chance to tuck in behind me. Because of this I entered the section slightly slower than usual and had to use the handbrake a little too much to make the first clip. This gave Bruce a chance to close up on me and therefore win the battle. I can now see how drivers get hooked on competition drifting as for the whole week after the event I kept going over the battle in my head kicking myself for making the mistakes I did.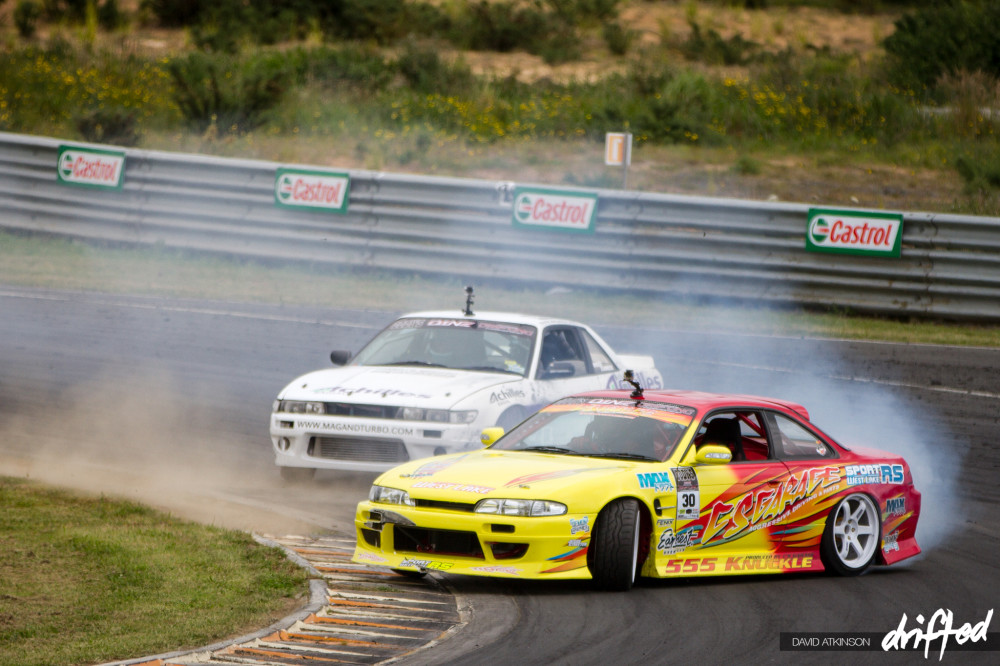 I can't wait for round 2 in Whangarei in 2 weeks time. The course is small and made up of concrete walls which really suits my car and driving style.
I'd like to thank all our sponsors for there support this season – Westlake Tyres NZ, Parts Shop Max NZ, 555 Knuckle, Earnest Overalls, Fenix Radiators, JesseStreeter.com, Demon Graphics. Bring on round 2!
Words: Adam Hedges
Photos: Roo Wills & David Atkinson