Ultimate Vortec 8100 Engine Guide
Known as 'The Big Block of Big Blocks', we're taking an in-depth look at GM's monster V8 to provide everything you could ever need to know about this 8.1-liter General Motors behemoth.
---
Introduction
As you probably guessed, it's not every day that we decide to review truck engines here on Drifted, but it's difficult to ignore the mighty Vortec 8100.
You'd more likely be considering using this engine for towing your drift car to and from the track rather than swapping it in.
However, if drift car a swap is on your mind, please, be our guest, but make sure you share the outcome with us!
Given the weight of the Vortec 8100, the engine is admittedly more suited for big, heavy trucks rather than drift cars, where power-to-weight ratios are of high importance.
Although modern-day trucks' typical choice is to opt for diesel engines, mainly for the fuel economy, the Vortec 8100 has a substantial die-hard fanbase that is ready to argue otherwise.
Initially introduced in 2001, the 8.1L capacity petrol engine is the biggest powerplant that Chevrolet fitted to their consumer-class vehicles, and remained so for its six years of production.
GM's senior management must have sat down and decided that their previous 454 big-block wasn't quite big enough, so it was time to go full retard.
The 8.1L monster succeeded the previous 7.4L Vortec engine, which had been in production from 1996 until Chevrolet stopped production upon its larger sibling's arrival.
Also known as the 496, the 8.1L untamed beast was based on the 454's 4.25" bore but introduced a longer 4.37" stroke, allowing for an insane 496 cubic inches of pure V8 power.
The engine certainly wasn't a disappointment upon release, and it even managed to convert many diesel owners with its additional benefits.
Despite diesel engines being well-known for their impressive torque figures, this engine often matches its rivals in this sector before crushing them with horsepower figures.
With 340-horsepower produced at its peak performance, and up to 455 lb/ft torque (just 50 lb/ft less than the 6.6L Duramax diesel), this engine can tow just about anything you attempt to throw at it, and it'll shamelessly laugh at the heaviest of loads.
Sure, the economy is undoubtedly going to leave you on first-name terms with the local fuel station attendants, but reliability plays a huge role here, and the 8100 is typically the cheaper option when it comes to overall maintenance.
Admittedly, you're probably not going to opt for this engine if you're doing the daily runs around town, but when it comes to hauling heavy loads, it's a serious contender to even the highest-regarded diesel blocks.
The 8100 not only featured in GM's vehicles, and it went on to feature in motorhome and marine applications as a cheaper alternative to expensive diesel offerings.
Once production ceased in 2009, they would be the last of the big-blocks, with GM instead favoring the smaller Vortec 5.3, 6.0, and 6.2L engines, most likely due to the tightening emissions legislation.
---
Vortec 8100 Engine Information & Specs
GM's Vortec engines have indeed stood the test of time, and arguably the most well-known variations were the original 5.0L and 5.7L engines from the small-block Chevy V8's, way back in 1955.
They released I4, I5, I6, and V6 variations in the mid-nineties, alongside three V8 engines to the series.
As GM replaced the 7.4-liter Vortec 7400 with the 8.1-liter Vortec 8100 in 2001, the engine would go on to ultimately mark the end of the GM big-block engines as we knew it.
Vortec 8100 Engine Specifications
Engine: General Motors Vortec 8100
Engine Code: L18
Displacement: 8,128 cc / 495.95 CID
Aspiration Type: Naturally aspirated
Engine Type: 90-degree V-8
Maximum Horsepower: 330-340 hp at 4,200 RPM (Vehicle dependent)
Maximum Torque: 440-455 lb/ft at 3,200 RPM (Vehicle dependent)
Maximum Engine Speed: 5,000 RPM (Vehicle dependent)
Cylinder Head: Cast iron
Engine Block: Cast iron
Compression Ratio: 9.1:1
Cylinder Bore Diameter: 4.250 in (107.95 mm)
Cylinder Stroke Length: 4.370 in (110.99 mm)
Fuelling: Sequential multi-port fuel injection
Ignition: Coil-Near-Plug, Platinum-Tipped Spark Plugs, Low-Resistance Spark Plug Wires
Valvetrain: 2 valves per cylinder, OHV, cam-in-block pushrod engine
Oil Capacity: 6.5 US quarts (with oil filter)
Built at GM's Tonawanda Engine plant, the final L18 rolled out of the factory in December 2009.
As we briefly mentioned in our introduction, the Vortec 8100 is very similar to the Vortec 7400 engine, but with some game-changing touches.
While retaining the bore diameter of its 7.4L (454 cu in) predecessor, they upped the stroke by 9.4mm to achieve the 494 cu in displacement.
As well as lengthening the stroke to create the additional displacement, GM also opted for a new firing order alongside re-designed symmetrical intake ports.
Alongside the new firing order (1-8-7-2-6-5-4-3), they also integrated metric threads throughout the engine, utilized different oil pan rails, and featured a new 18-bolt head bolt pattern.
The 8100's fuel injection system is almost identical to that used in the Gen III engines, even when it comes to the ECU's spark and fuel tables.
GM's 8100 utilizes sequential multi-port fuel injection with two valves per cylinder, operated by an OHV pushrod camshaft (cam-in-block).
When it comes to power delivery, the 8100 performs differently to what you'd typically expect from a petrol engine, providing a surprisingly flat torque curve.
With impressive torque figures starting at the 1,200-1,400 RPM range, this continues for around 2,600 RPM before falling just below 400 lb/ft at 4,000 RPM, with the peak delivery of 440-455 lb/ft (dependent on model year) achieved at 3,200 RPM.
It's the undersquare design of the 8.1L engine, which helps it achieve its low-end torque capabilities, flattening out the torque curve, providing a perfect solution for the truck-based engine.
These torque figures are vastly superior to the 8100's economy-minded 6.0L successor, which achieved just and 380 lb/ft torque, which is why so many opted for the 6.6L Duramax engine instead.
The Vortec 8100's horsepower delivery reaches its peak at 4,200 RPM with 320-340 HP (model dependent) before hitting the redline at 5,000 RPM.
We can't disagree that these horsepower figures are a little disappointing for such a gigantic engine, but that wasn't the goal in mind.
But, fear not, as we'll explain later in this guide how you can extract this 8.1L engine's true power potential if that's your aim.
There was only one option for transmission with the factory Vortec 8100 - the General Motors 4L85E four-speed automatic. There was no manual option available.
---
Which Cars/Trucks Have The Vortec 8100 Engine?
Although the Vortec 8100 is often known for its use in boats and motorhomes, it's best known for its application in the Chevy and GMC vehicles as an alternative to diesel competitors.
GM Vortec 8100 Vehicles:
Chevrolet Avalanche 2500
Chevrolet Express 2500
Chevrolet Express 3500
Chevrolet Kodiak
Chevrolet Silverado
Chevrolet Suburban
GMC Sierra 2500HD
GMC Sierra 3500HD
GMC Yukon XL 2500
Various marine and motorhome applications, including:
Class A motorhomes
Malibu & MasterCraft boats
T-98 Kombat armored vehicles
---
Vortec 8100 Tuning & Upgrades
We've established that the stock power figures that this 8.1L engine puts down aren't hugely impressive for the engines' capacity, but thankfully there are several possibilities when it comes to going beyond GM's limitations.
Given its heavyweight cast-iron design, weighing in at over 750lbs, the 8100 is rarely the choice for those looking for performance.
Although it has some success in the drag racing scene over the years, it's certainly not as highly regarded as the LS-engines when it comes to motorsport.
Thankfully, despite this, many truck owners have been keen to rip some savage burnouts and unleash the true potential that the 8.1-liter engine has to offer.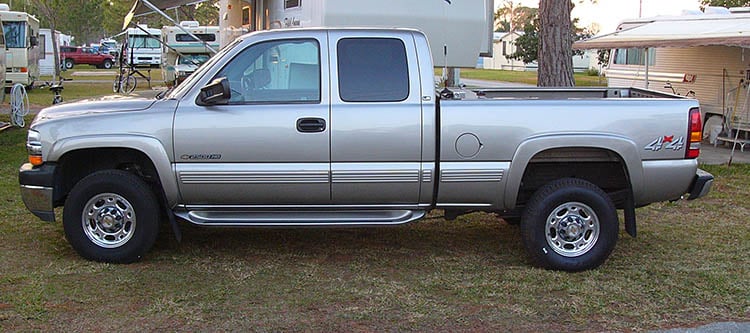 While you can install the likes of an exhaust system and cold air intake for small performance gains from the improved airflow, it's the heavy hitters on the market that have caught our eye.
Let's face it. Anyone knows that you won't get the most out of this 8.1L engine has to offer by strapping on an aftermarket cold air intake.
Once you've installed things like high-torque cams and shorty headers, it's time to see what the next performance steps are.
Vortec 8100 owners' disappointing news is that the engine's internals not up to the task for big-power goals since this wasn't GM's aim.
However, there are plenty of options for significant power gains on the market if you're willing to put in the work.
Raylar Engineering offers a variety of exceptional products to the Vortec 8100 market.
These include 8.1L upgrades such as:
2.9L Supercharger Tuner Kit
Intercooler / Heat Exchanger Upgrade
90mm Throttle Body Upgrade
Raylar 540cid Stroker Kit
Big Power CNC Aluminum Cylinder Heads
The potential result?
With their supercharger kit, the Vortec 8100 can make an impressive 600 HP and 690 ft/lb torque using the stock cylinder heads, 202 camshafts, and a forged bottom end.
If you're willing to fit aluminum heads, stroker kits, larger camshafts, and smaller pulley's, then you could be looking at substantially more power.
The twin-screw supercharger kit is capable of 8lbs of boost with the 3.375 pulley and up to 12lbs from a pulley upgrade.
With the Raylar Engineering 540cid Stroker Kit, you can potentially up your 8.1L displacement to an incredible 8.8L/540cid!
With tuning companies like Raylar Engineering adding their expertise to the Vortec 8100, it's slowly becoming a tempting proposition beyond its typical truck-towing capabilities, especially with the aluminium head weight saving.
However, due to the limited production run and limited compatibility with other engines, especially when compared to alternatives like the LS, the 8100 will never overtake some of its rivals as the typical performance engine of choice.
---
Vortec 8100 Reliability & Common Issues
The Vortec 8100 is commonly known as a bulletproof engine, and they're often known to go well beyond 300,000 miles without any issues beyond general maintenance.
As expected, typical wear-and-tear items will need replacing over time, and there are a few minor niggles, as with all engines, but with all things considered, they're immensely reliable.
Many owners have reported that their trucks have rusted out before they could even reach the 8100's true mileage potential.
The lack of power given the displacement works in the 8100's favor when it comes to reliability, as the heavyweight cast iron head, block, and internals are all built with heavy-duty towing in mind, which means that the engine isn't being pushed anywhere near its limits.
When it comes to traveling down the highway, it'll likely put its diesel rivals to shame, and loads of 10,000 lbs at under 8,500 ft elevation will likely make you forget you've even got anything in tow.
Given that the 8100 often gets compared to the 6.6L diesel Duramax engine, almost all mechanics and owners will vouch for the 8100 winning hands down when it comes down to long-term reliability.
Although they're minimal and certainly not frequent, here are some of the issues Vortec 8100 owners have reported over the years.
Gas/Mileage Issues
Sure, you'll save money in gas by opting for one of the Vortec 8100's diesel rivals, but you'll lose out when it comes to the initial purchase price, enjoyment behind the wheel, and the long-term maintenance costs.
While we're talking about gas, I guess this could be referred to as a 'common issue', although it's one that you should have prepared yourself for when you opted for an 8.1-liter petrol engine!
For those of you looking for real-world MPG figures, you'll need to expect to achieve as little as 6 MPG from the Vortec 8100, with the potential to achieve 10-12 MPG at the upper-end of the scale.
But, as mentioned previously, you don't opt for an engine like this if you're cruising around for no real reason. These are workhorses built for towing massive loads, such as a heavy boat or a camper.
Fuel Pressure Regulator
The FPR can sometimes need replacing as general wear and tear with high mileage motors.
The positive is that they've made it extremely easy to get to, so if you opt for the garage to replace it, expect to pay a minimal labor charge for this reason.
Oil Consumption Issues
Again, this isn't a significant issue and is certainly not as bad as the newer Chevy engines with AFM's.
Typically, the engine likes to burn off a little oil, which is nothing to be alarmed about unless it's draining it.
We would expect to fill around 1 quart of oil around every 2,500-5,000 miles, so it's worth just keeping an eye on alongside your usual maintenance checks.
Crankshaft Position Sensor Issues
The crankshaft position sensor issue is the main gripe of Vortec 8100 owners and is likely to be quickly apparent when it goes wrong.
If you're suffering from rough idling, frequent stalling/shutting off, the engine check light has come on, or the car won't start at all, then this is likely to be the culprit.
The sensor's job is to monitor the crankshaft's speed and rotation, which is then sent to the ECU to control ignition timing and fuelling.
As you can imagine, when this goes wrong, it drastically changes how the engine timing functions, which can lead to a complete shut-down.
Most commonly found in pre-2003 vehicles, GM later realized and resolved the issue.
Unfortunately, resolving the problem is a rather mammoth task, which involves removing the front suspension to get to the oil pan, so we'd typically advise taking it to a mechanic unless you have extensive experience.
Spark Plug/Wiring Issues
Spark plugs are a general maintenance item and should always be changed less than every 25,000 miles, or even more frequently if your truck is drinking oil faster than expected.
It's also known that the wiring to the plugs can fail, especially if you live or spend a lot of time in hot climates, as the under-hood heat can degrade them over time. If your having issues, this is worth checking out.
Intake Manifold Gasket Issues
Vortec engines are known for manifold gasket issues, and the 8.1L engine is no exception to the rule.
When the gasket has failed, you'll likely experience an air leak, which can provide a lack of power, rough idling, slow acceleration, or a whistling sound from the engine bay.
If you're able to hook it up to a computer to check the fault codes, this would likely show up as either P1174 or P1175.
If it doesn't appear to be the gasket, it may well be worth checking out the manifold itself, as these are often known to crack or warp over time.
---
Vortec 8100 Engine Swaps
Although people have opted for the Vortec 8100 as their engine swap of choice, it's certainly not a commonly-chosen swap, mainly due to the weight, rarity, and lack of power.
However, if you've got space in your hood and you're willing to splash the cash, we've heard of the 8100 swapped into the likes of Chevelles and Impalas.
Given the performance potential of the 8100 with the right upgrades and lighter aluminium head, it can sometimes be worth the effort for a truly unique build.
Keen to see a Vortec 8100 swap in action? Check this out:
---
Vortec vs LS vs Duramax
You can't search for Vortec online without hearing about its main rivals, the LS and Duramax engines.
Although these are wildly different, the Duramax is the standard argument when it comes to towing. Some prefer petrol, some prefer diesel, and they each have their advantages.
When it comes to initial buy price, the Vortec 8100 is likely to be much cheaper than the 6.6L Duramax, and we would also expect it to be cheaper for long-term maintenance since it suffers from far fewer issues.
Despite being diesel, the Duramax achieves just 50 lb/ft torque over the Vortec. However, the Duramax does have the upper-hand when it comes to low-end torque.
The Duramax also wins hands down in the fuel department, but the Vortec trumps it when long-term maintenance costs arise.
While the Vortec is expensive to run on a day-to-day basis, the Duramax is likely to leave a more significant dent in your wallet regarding long-term ownership and high mileage.
When comparing the Vortec 8100 to the various LS engines out there, it's an entirely different argument.
LS engines are lightweight for their size and designed with performance in mind. On the other hand, the 8.1L Vortec engine has reliability and heavy-duty work in mind.
If you're planning on an engine for drifting, then the answer is simple, go with the LS engine.
The LS engines are lightweight, easily upgradeable, and there's far more available on the market. On top of that, there are also plenty of off-the-shelf upgrades, and parts are often interchangeable between the various LS models.
If you're looking for a long-term reliable truck engine for towing your LS-powered drift car to the track, then you can consider the Vortec 8100.
---
Conclusion
For those of you looking for a heavy-duty, reliable engine for your tow rig, and don't mind the cost of petrol over the long-term prices that could potentially arise from diesel engines, the Vortec 8100 may well be the perfect option for your needs.
We've frequently seen these engines achieve beyond 300,000 miles with simple wear-and-tear maintenance carried out, and thanks to their heavyweight cast iron construction, they are bulletproof.
Sure, the 6.6L Duramax will provide more torque, but the Vortec 8100 will kill it when it comes to horsepower.
With the upgrades on the market, the 8.1L Vortec has the potential to be turned into a real weapon if you've got the cash to splash to build a serious drag car.
The Vortec 8100 marked the end of an era for big-block Chevy's, and GM opted to focus their attention on the more economical small-block 6.0L engine beyond its final production in 2009.
Sure, it's an absolute gas-guzzler, but it certainly has its advantages, and if the weight and fuel prices aren't an issue, it presents a near-perfect option for those that are considering opting for this fantastic engine.
Thanks for reading our Vortec 8100 guide. We'll leave you with this video for your viewing pleasure.
So, there we have it! We hope that we've covered everything you could want to know about the Vortec 8100 engine in this guide.
Considering a Toyota V8? Take a look at the underrated 2UZ-FE.
Thank you for reading our Vortec 8100 guide.
If you enjoyed this article, please share it with the buttons at the bottom of your screen. If you've found this information useful, then please take a moment to share it with other GM, Chevy, or drag racing enthusiasts. We appreciate your support.
---
Photography credits
We thank the following entities for the use of their photography in this article: