Introducing: Drift Hunters MAX
We're delighted to introduce the brand-new tire-shredding exclusive to Drifted.com - Drift Hunters MAX.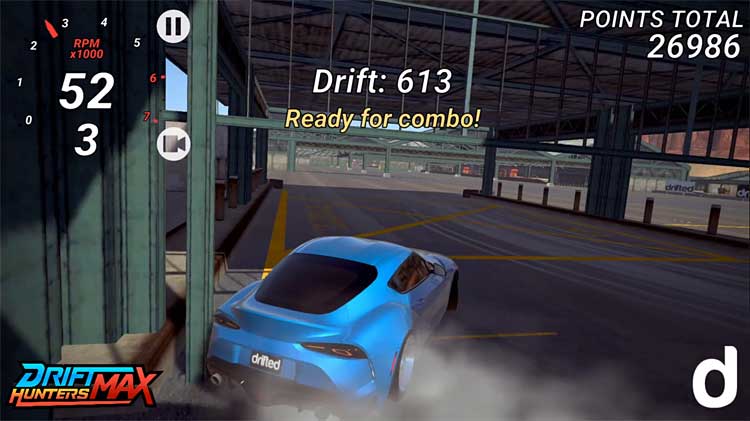 Exclusive Cars
New & Improved Tracks
Additional Car List
---
We've always taken pride in providing our fans with the best possible content here at Drifted.
So, we set to work when our ever-growing gaming community began asking for an improved version of the hugely-successful Drift Hunters Classic - which has proven itself the most popular Drifted game to date.
We reached out to the game developer, Ilya Kaminetsky, and he was thrilled at the prospect of joining forces with Drifted to create the ultimate Drift Hunters game.
Before we knew it, the latest game in the series, Drift Hunters MAX, was born.
At this point, we asked you, the Drift Hunters fans, which features you wanted to see included in the new game.
With the hugely valuable opinions from you all, we're delighted to announce that your valuable responses have paid off, and we're ready to provide an incredible selection of exclusive updates that you, the fans, have requested for the brand new game – Drift Hunters MAX.
Drift Hunters MAX is only available to enjoy at Drifted.com, so we highly recommend Bookmarking the game in your browser, or adding it to your Drifted App to unlock all that the game has to offer.
---
Drift Hunters MAX - Exclusive Features
When we asked Drift Hunters Classic enthusiasts which features they feel are missing from the game they'd love to see implemented, these were the most frequent requests:
Save game functionality
One of the main frustrations for Drift Hunters Classic fans was the lack of ability to save their progress in the game, and we're delighted to announce that this is finally possible with Drift Hunters MAX.
Integrated within Drifted's new account functionality, you'll no need to worry about losing your progress, and you're now able to log in and resume playing at home, school, or work.
Improved graphics
There was no question that Drift Hunters Classic looked fantastic for a browser game, but Drift Hunters MAX takes things to the next level with stunning new graphics.
Improved physics
The excellent physics of Drift Hunters Classic made the game stand out above the rest, and we have no doubt you'll love the minor tweaks added to Drift Hunters MAX, providing the most realistic browser drifting experience to date.
Further additions
You've probably already guessed that's not all we have to offer in Drift Hunters MAX.
Check out this sneak preview of the latest updates in action:
Now that we've got your attention, let's check out what else Drift Hunters MAX has in store.
---
Drift Hunters MAX Exclusive Cars (COMING SOON)
---
Drift Hunters MAX - New & Improved Tracks (COMING SOON)
---
Drift Hunters MAX - Additional Car List (COMING SOON)
Thank you for reading our introduction to Drift Hunters MAX.
If you enjoyed this article, please share it with the buttons at the bottom of your screen. If you've found this information useful, then please take a moment to share it with other drifting enthusiasts. We appreciate your support.