Earn Money Fast In Drift Hunters MAX
You'll need to start racking up the credits in Drift Hunters MAX to purchase your dream cars and upgrades – we're showing you the quickest ways to do so.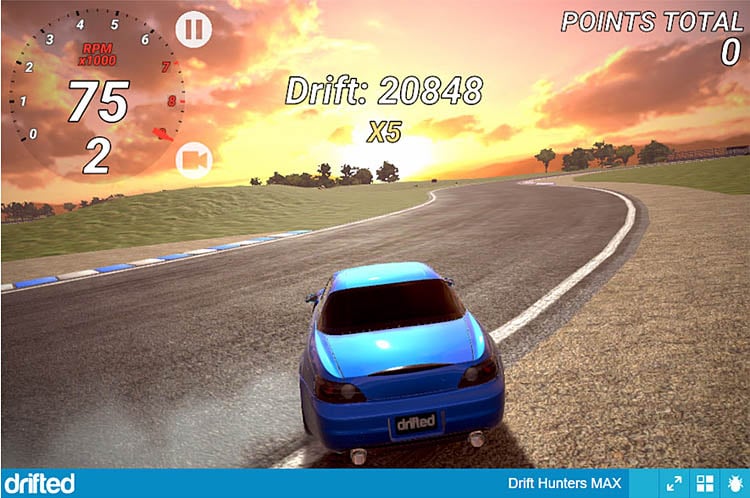 ---
What Is Drift Hunters MAX?
Drift Hunters MAX is the newest free-to-play online Drifted.com exclusive browser game that features even more unlockable content versus its predecessor – the classic Drift Hunters game.
The latest game in the series, Drift Hunters MAX, took everything that made the Original Drift Hunters a great game and added extensive improvements to make it superior in every way possible, with drastically improved graphics, physics, and content.
However, perhaps the most significant update added to the Drifted.com exclusive game is the ability to save your game progress on the cloud.
Gone are the days of grinding hours and hours on end to acquire your dream drift car only to start all over again the next time you fire the game up.
---
Introduction
As you begin your journey in Drift Hunters MAX, you'll be gifted a fantastic free car in the form of the granddaddy of drifting – the Toyota AE86
Alongside the complimentary ride, you'll also be gifted with 25000 in-game credits that you can use to either upgrade the AE86 or purchase the next tier car.
The entire Drift Hunters MAX car roster features a collection of iconic and cult classic drift cars such as the Toyota Supra, BMW E36, and S15 Silvia, alongside many exciting new additions.
We know how much you wish you could drift around with all of the available vehicles in the game right away. And, with an additional eleven new cars added to Drift Hunters MAX's exciting car list, such as the Ferarri F40 (40F) and Lamborghini Huracan (HRCN), you're going to be even more tempted than ever before.
You won't have to wait much longer, though, as we will show you the fastest way to earn bucket loads of in-game credits in Drift Hunters MAX, so you can start collecting and drifting with those sweet rides you've been dreaming about throwing down sideways.
---
Getting Started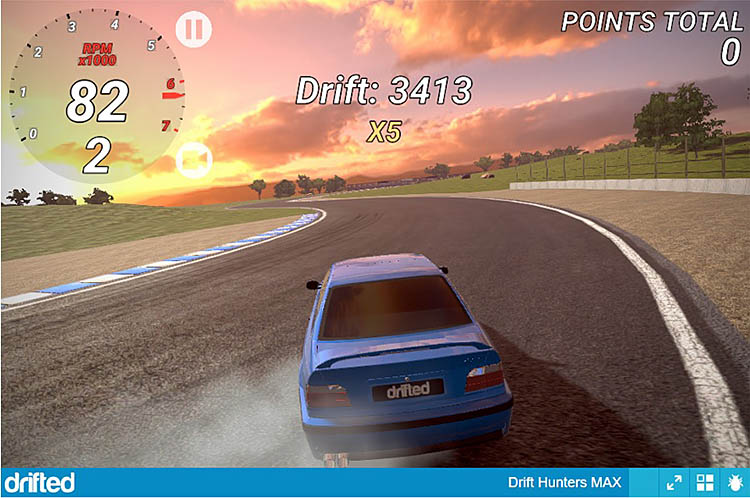 Being a free online drifting game does not automatically mean that gameplay in Drift Hunters MAX – which can be played for free at Drifted Games – will immediately be a sub-par drifting experience. On the contrary, it is quite the opposite!
The Drift Hunters MAX's physics engine is so good that real-world drifting theories and techniques found in our How to Drift guide are directly applicable to the game itself – even if you're only driving using a keyboard.
Here are a few tips and drifting techniques that will surely help you farm the most money in the least amount of time in Drift Hunters MAX.
---
Picking The Right Car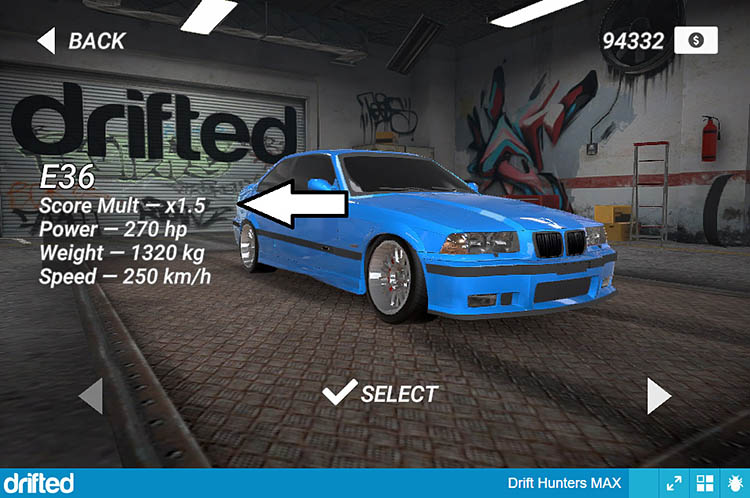 If you've been paying attention to the vehicle stats as you browse around the "Cars" menu in Drift Hunters MAX, you might have noticed that cars in the higher tier have a better "Score Multiplier" than something such as the AE86.
For example, the AE86 base Score Multiplier is x1.0, while the BMW E36 has a Score Multiplier of x1.5.
The E36's higher Score Multiplier means that when drifting both cars in the game, the E36 will farm more points in a shorter period than the AE86.
You can buy the E36 with your free 25000 credits from the start since the E36 only costs 22500 credits.
With that in mind, purchasing the E36 outright might seem like a more worthwhile investment if your goal is to farm as many points as fast as possible.
Your first consideration may be to decide whether it might be a good idea to buy the best car you can afford. These cars are not only more powerful and often more fun to drive, but they can also potentially give you more points in a shorter amount of time, thanks to their higher Score Multiplier.
---
Tips For Longer Drifts
In Drift Hunters MAX, you can gain a ton of points just by being in a drifting state for as long as you possibly can. This might be a challenge depending on the car you currently have. Don't worry, we've got you covered. Here are some tips to keep your Drift Multiplier maxed out while drifting.
Tires On The Grass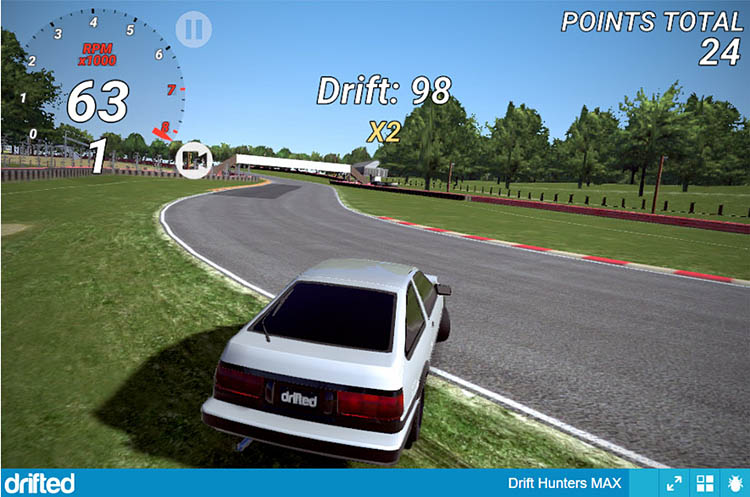 Generally, you will want to avoid the grass scattered around the track as these surfaces have a lot less traction than the asphalt itself. In addition, these slippery grass sections could push your car towards the barrier, wasting your hard-earned Score Multiplier in the process.
However, if you do not have enough money to add a turbo or upgrade your car's engine yet, then low-powered vehicles such as the AE86 can make use of the grass' low-friction surface to keep your drifts going for longer.
Your car will be fine drifting around grassy areas by feathering the throttle gently mid-corner. Don't worry about losing your Score Multiplier, as the off-track sections will still be rewarded – but be extra careful not to crash into the barriers! Remember, the brakes will be your friend here.
---
Keep Your Drifts Going By Using Manji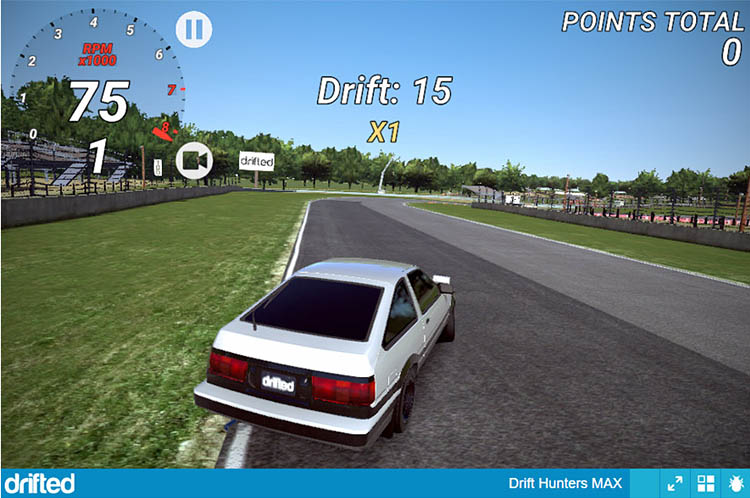 Most of the tracks in Drift Hunters MAX will feature a long straight after a series of sweeping corners. These straights are necessary for building the speed required to achieve high-speed drifts in this Drifted.com exclusive drift game.
Unfortunately, you will have to forfeit your hard-earned Score Multiplier whenever you drive in a straight line for too long. You don't have to worry, though, as the points that you've amassed from the last corners will still be awarded to you. However, you will have to start from the x1.0 Score Multiplier again.
To keep your Score Multiplier constant and your score piling up even on straight sections of tracks, it is a good idea to use Manji – the Japanese term for flicking the rear end of your car side-to-side.
Check out this YouTube video of Matt from Haugen Racing explaining how to Manji to get a better idea.
In Drift Hunters MAX, you don't even have to pull off crazy angles to keep the multiplier going – simply sliding left and right will "trick" the system to keep awarding points, even on the straight sections of the track.
---
Use A Lower Gear
Low-powered cars will not have the power to slide their rear tires in a higher gear. So, for example, the stock-powered AE86 will not be capable of tackling the long sweeping sections of the beautiful Emashi track in third gear, as the car does not have enough power to clear these longer sections.
The good news is that we can take advantage of the little power these entry-level cars have by using a shorter gear ratio by using the Manual Gearbox option.
You won't have to keep using low-gears and the Manual Gearbox for long, though.
As you amass points from drifting for hours on end, which we're sure you'll end up doing, the higher-powered cars will have no problems drifting even when using higher gears, so you can switch back to Automatic Gearbox if you wish to do so later on.
---
Best Tracks For MAX Points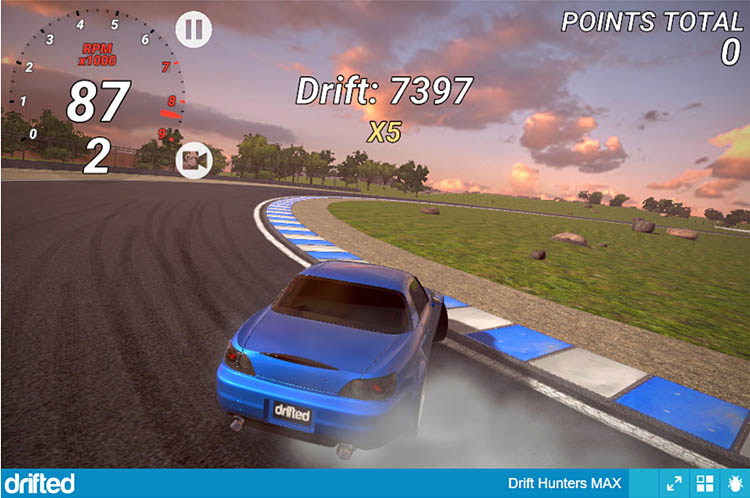 Ideally, the best track to use when going on a point-farming mission is one that features a wide run-off section.
Large run-off sections are a must if you want to keep your drifts going for long periods, as a wide run-off will be very forgiving for when you lose control of the drift and end up outside of the track.
Another essential track element to look for is the presence of broad, alternating, sweeping corners. These types of corners will allow you to keep piling on points from carrying your momentum from one corner to another without losing much speed in the process.
With that in mind, here are four great tracks in Drift Hunters MAX that feature either wide forgiving run-offs, long sweeping corners, or a combination of both.
---
Emashi
Emashi is a beautiful wide-open track that features long sweeping corners with ample amounts of run-off that's very forgiving for beginner drifters.
Out of all the maps in Drift Hunters MAX, Emashi will be the easiest to drift in while you're going about your goal of farming points. Thankfully, almost every corner in Emashi has similar corner entry, mid-corner, and corner exit speeds.
The smooth unabated rhythm of the long left and right sweepers and the beautiful sunset in the background are by far the best part about drifting in Emashi.
We do not doubt that you'll spend a lot of time simply drifting around Emashi for fun and still end up with a ton of points by the end of your session – we find it a relaxing way to rack up the bank balance.
---
Tyshen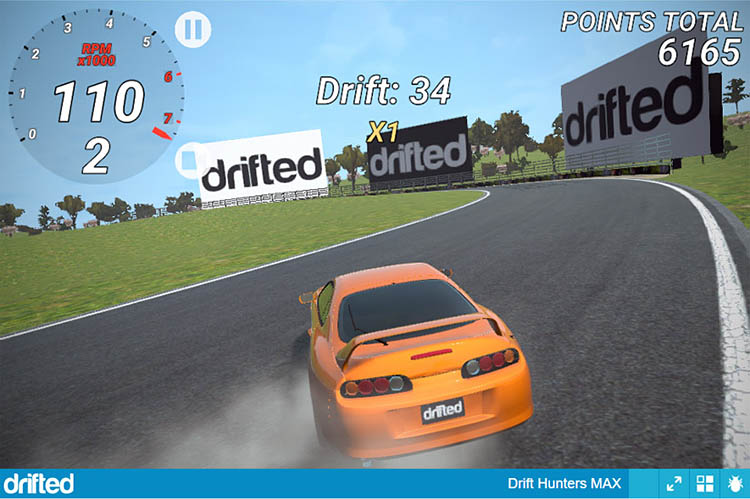 Tyshen is the complete contrast of Emashi in terms of track width. Tyshen's track width is around half of Emashi's in comparing the two.
We cannot blame you for thinking that Tyshen sounds like it is a less forgiving version of Emashi – you would be right.
Where Tyshen makes up for the narrow track width, though, is the vast amount of run-off space surrounding the track itself, which will help a lot in keeping your drifts going.
---
Countryside
Countryside features one of the widest track sections in this Drifted.com exclusive game.
Thanks to its width, the Countryside track is an excellent opportunity for beginners to use for practice or farming points.
It's almost impossible to crash into the surrounding structures unless you've severely overcooked your corner entry speed – and even at that, it will take a lot to wash out in this wide-open track.
Countryside might feel a little too broad for low-powered cars since vehicles such as the AE86 will not have the power to clear long and wide corners, which can easily be remedied with Manji's or switching left-to-right when your car loses juice mid-corner.
---
City Streets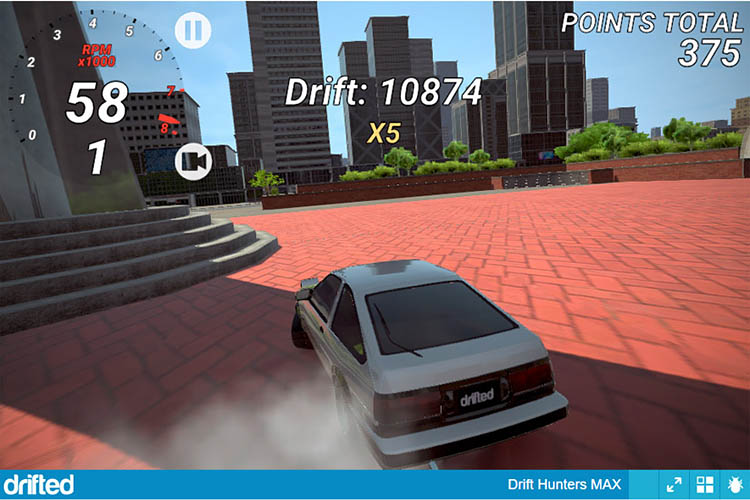 City Streets is one of the tracks that has been redesigned from the ground up for the new game, making it unrecognizable from its predecessor.
While it may look similar to the OG game's "City" map, City Streets is more substantial in comparison and features more turns and corners versus its old counterpart – with better visuals to boot.
In Drift Hunters MAX, many fans believe that City Streets takes the cake as the most convenient map to make tons of money.
Other maps such as Emashi feature wide sweeping corners that are undeniably great for keeping your drifts going from one corner to another. However, City Streets has one of the best sections for continuous drifting – the large Tower in the middle of one of the parks on the map.
Cars such as the AE86 will have no problems drifting circles around the Tower in first gear in full-throttle. Careful control of the left and right turn buttons (A and D on the keyboard, or Left and Right arrows) is all that's required to prolong your drift.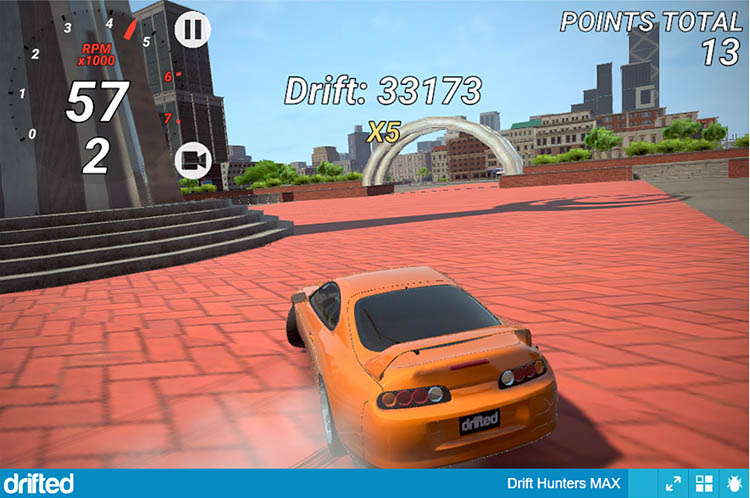 More powerful cars such as the Toyota Supra will have to use second gear since the first gear will be too short for the amount of power that the Supra is laying down on the ground.
Of course, before you start circling the Tower, make sure that your multiplier is already at x5 so you can farm as many points as possible. Then, do a few figure-of-eights before you settle into a continuous drift around the Tower.
This method is undeniably the most tedious method for farming as many points as possible in Drifted.com's exclusive drifting game – Drift Hunters MAX. However, this method is a surefire way of farming a ton of points in as little time as possible. Thanks to the Tower's vast area, it is also challenging to mess this up.
Onboard the AE86; this method will give you around 10,000 points in five minutes. The Supra, on the other hand, can give you approximately 30,000 points in the same timeframe – see the difference in Score Multiplier stats between the two cars?
---
Conclusion
All of the money-making suggestions mentioned above are equally great methods that you can use to farm a ton of points with these easy money hacks in Drifted's exclusive game – Drift Hunters MAX.
Through any of the easy money methods mentioned above, you'll be able to amass unlimited money to buy every single car in the game in no time.
With enough points, that sweet PS13 Silvia Competition Car will be in your garage in a matter of hours, and you'll even have enough money left over to tune it to max capacity.
The result? A whopping 605 Horsepower with only 1,088 kgs to lug around will get you hooning in no time at all!
With in-your-face styling that screams "Drift" and tons of power to back it up in maximum configuration, the Nissan Silvia PS13 is, without a doubt, the cream of the crop in the Drift Hunters MAX garage.
With the help of these Drift Hunters MAX money glitches, you'll soon be able to fill your garage full of exhilarating drift cars that the game has to offer.
---
So, there we have it! We hope that we've covered everything you could want to know about making money as fast as possible in Drift Hunters MAX in this guide.
Thank you for reading our Drift Hunters MAX Money Guide
If you enjoyed this article, please share it with the buttons at the bottom of your screen. If you've found this information useful, please take a moment to share it with other gaming and drifting enthusiasts. We appreciate your support.