Mazda RX7 Drift Car – A Family Affair
Introducing 'Rotary' Rick's Mazda RX7 drift car. As the sun sets on a beautiful spring day, Rick enters, the familiar Wankel exhaust note resonating in my eardrums from his freshly re-built rotary power-plant.
A few weeks ago you may remember we ran a feature on the 'Perfectionist Nissan 180sx' owned by Keith Weldon. Well now we bring you a new shoot from the same family, and I don't mean from the generation of model or marque, I actually mean from the same genetic family. Keith's younger brother, Rick Weldon, liked what we did with his brother Keith's car and wanted in on the action. After seeing his ride, a fully tuned Mazda RX-7 – quite frankly, so did we.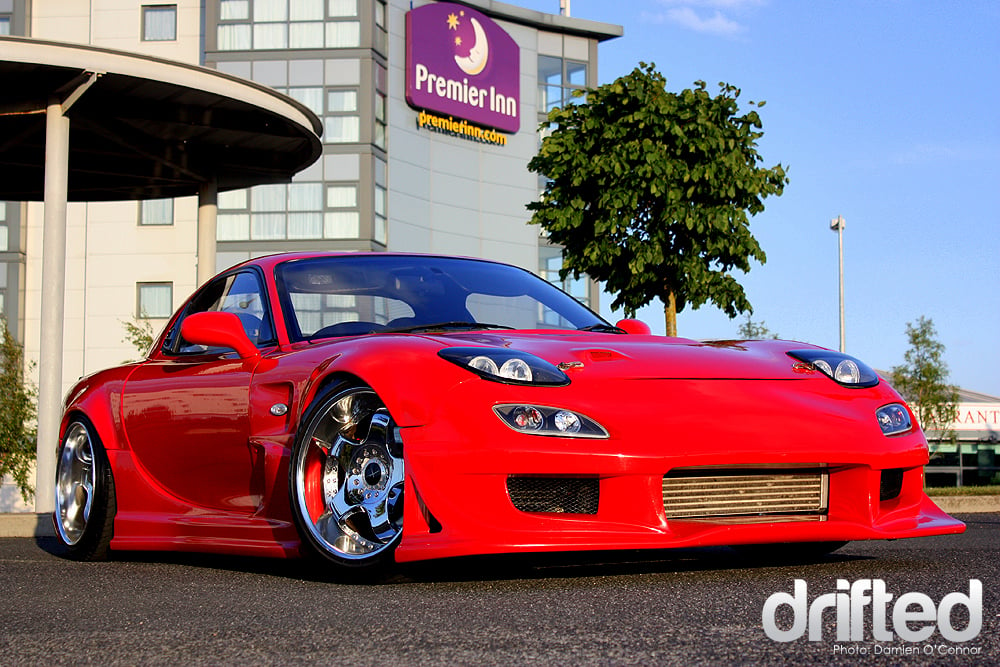 Boom, straight into action, we get clicking before that awesome sun disappears.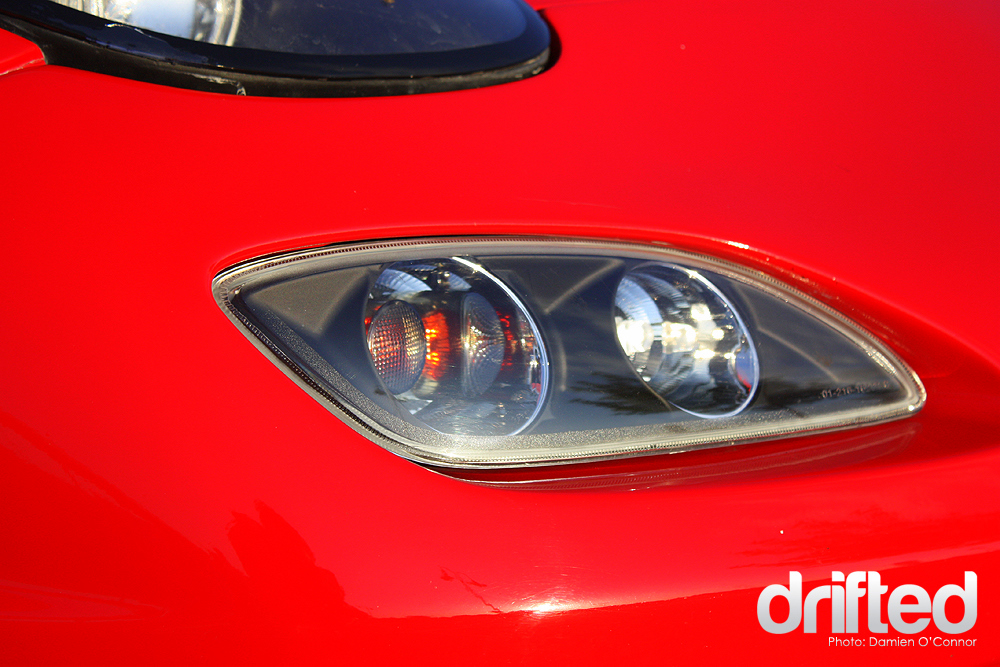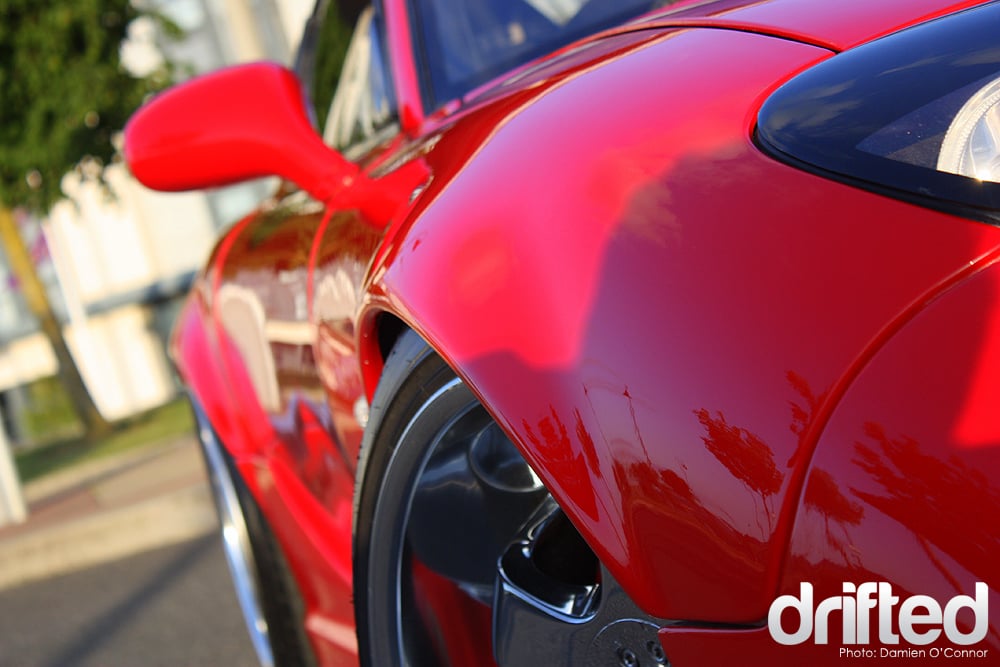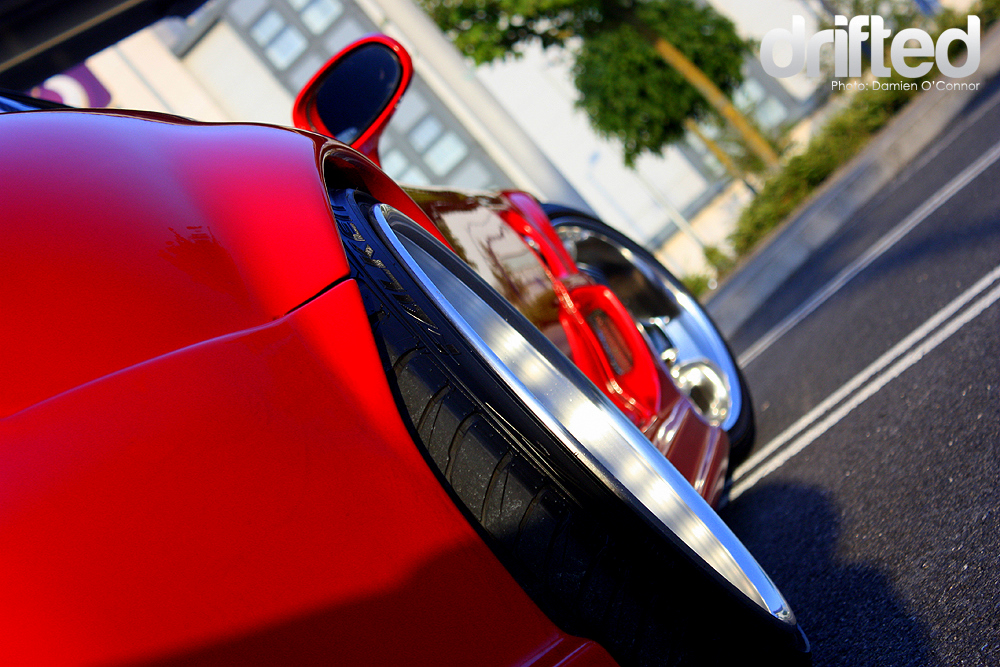 Every modification on the car carrying it's own weight, each all modernising this classic and giving it sleek lines at every glance.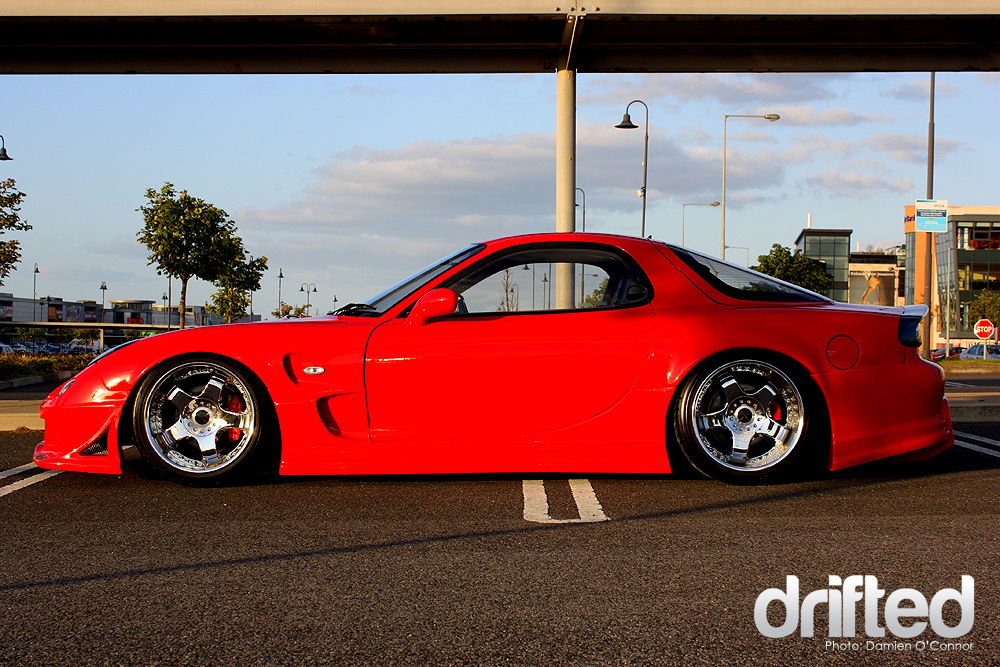 It's easy to see the brothers styles of modifying are almost identical, radiant red painted motors decked on awesome chrome dished wheels. In this case, Garson 18×9.5 (front) and 18×11 (rear).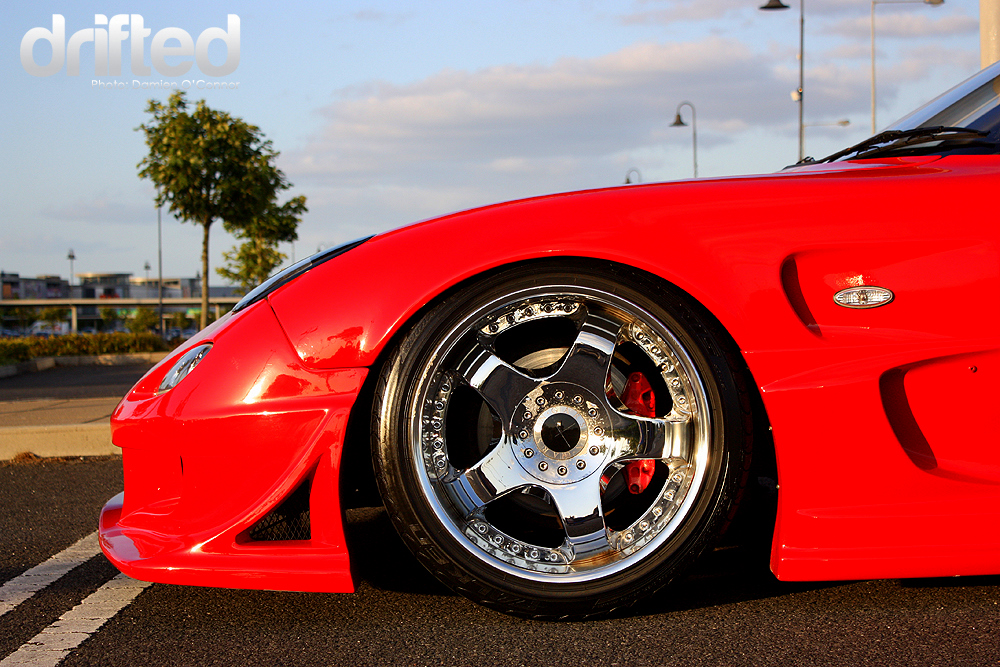 A closer look at said dish.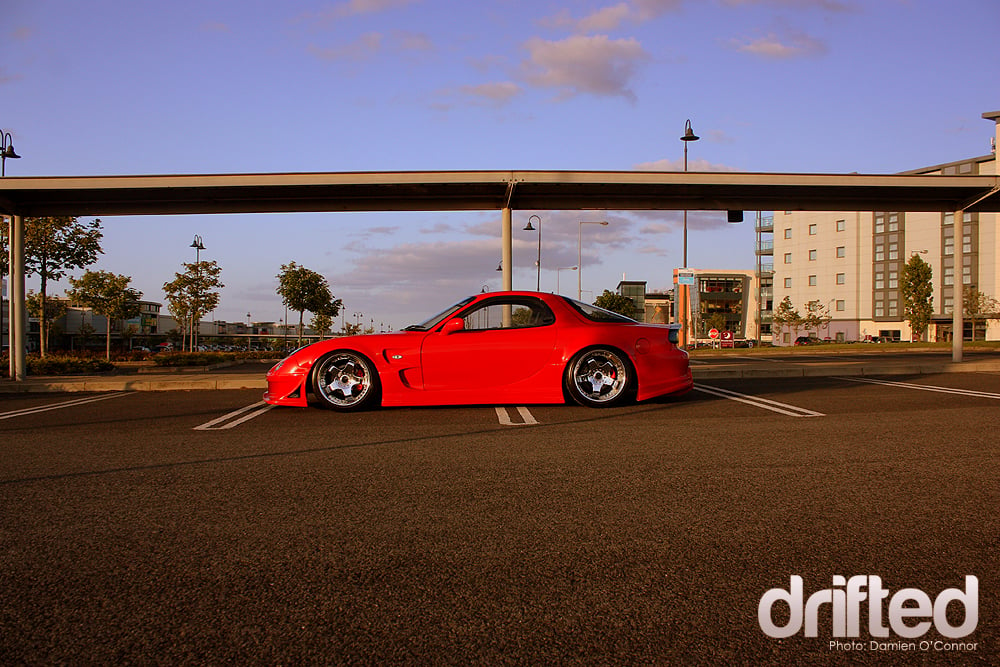 We take a little step back to really take in the presence of this motor and it really is amazing under the spring sun.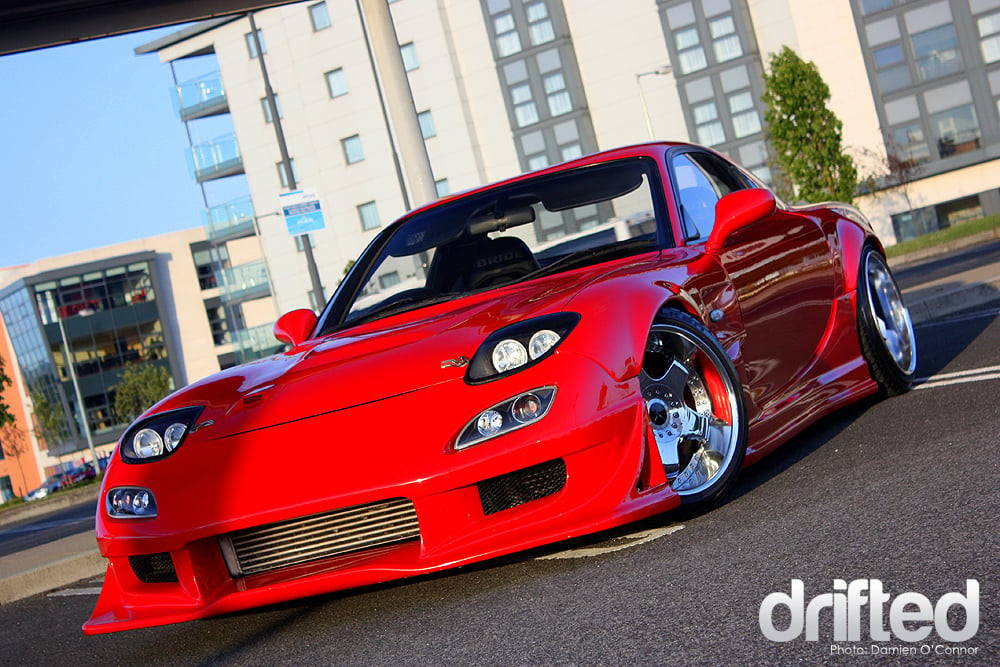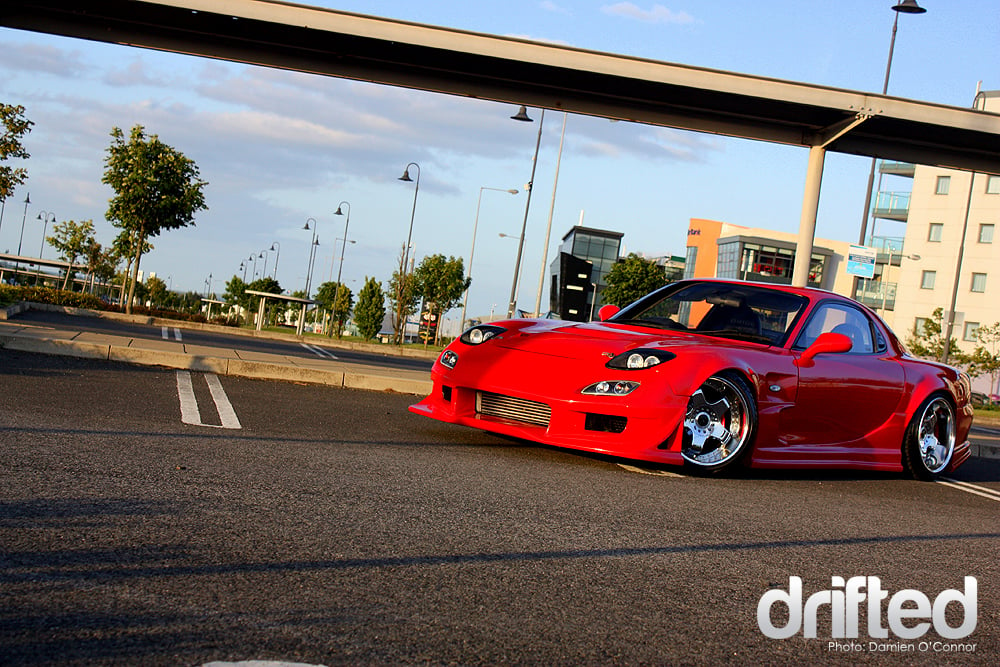 Testing more angles, on most cars I shoot there is usually at least one position of the car in the shot I'm not happy with. No such complaints here.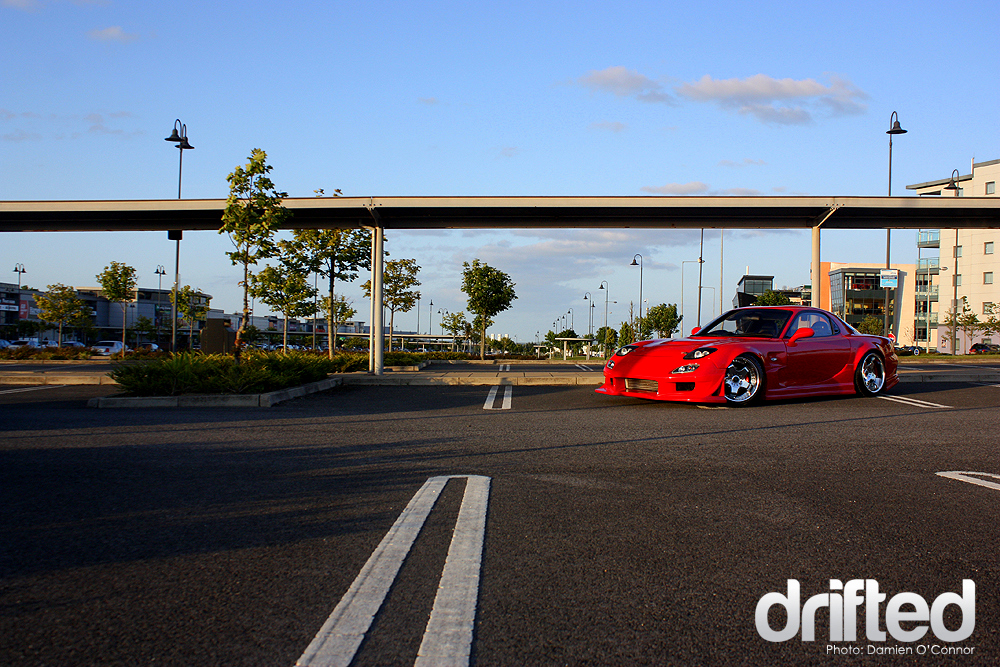 New desktop anyone? Let us know on our Facebook group if you want to see it!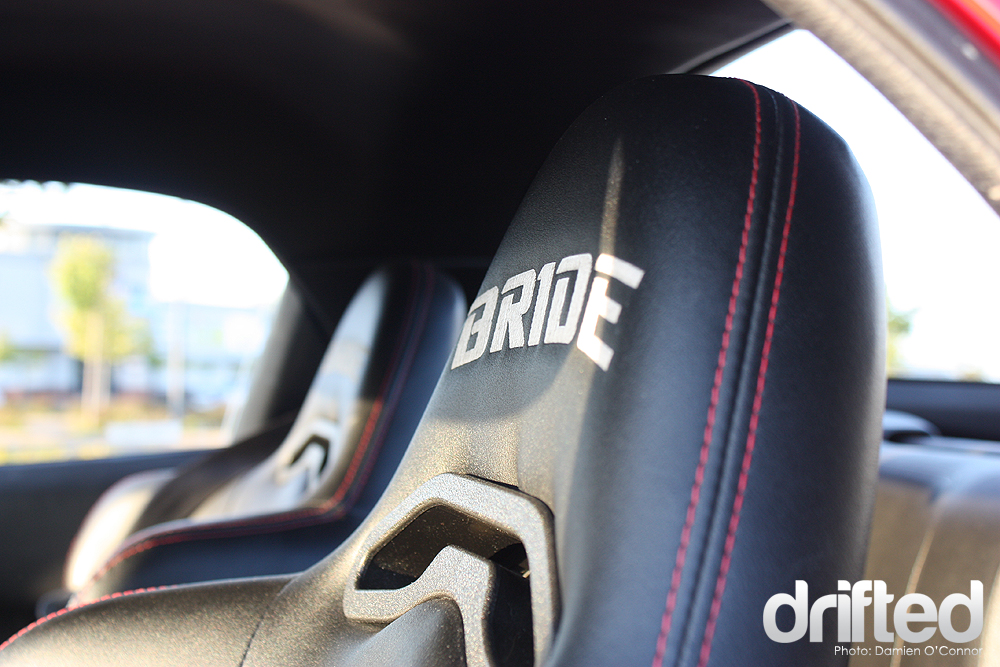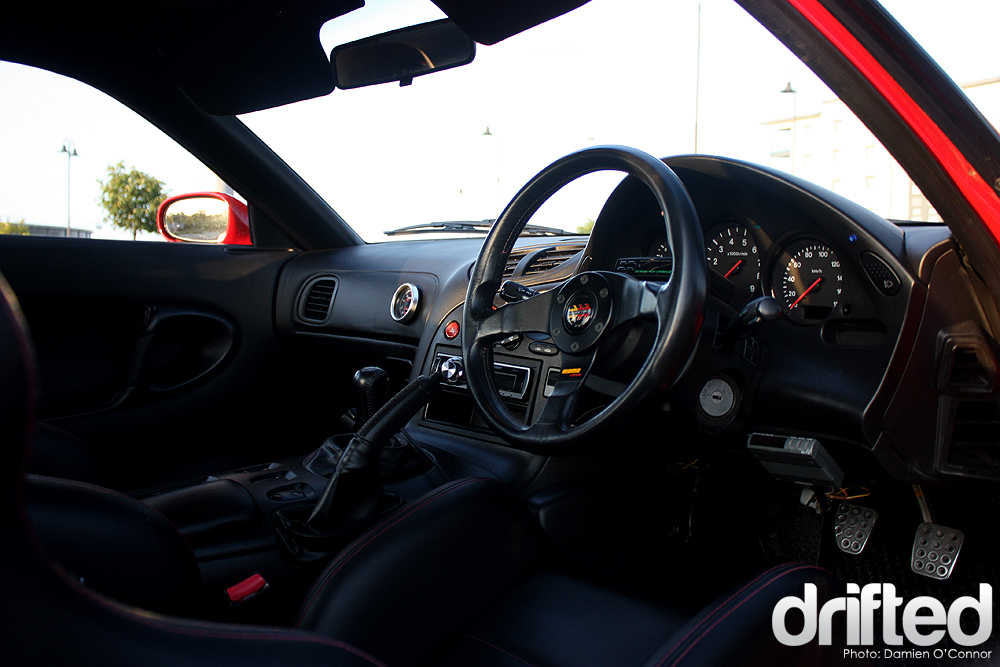 Matching leather Brides with red stitching complete the interior.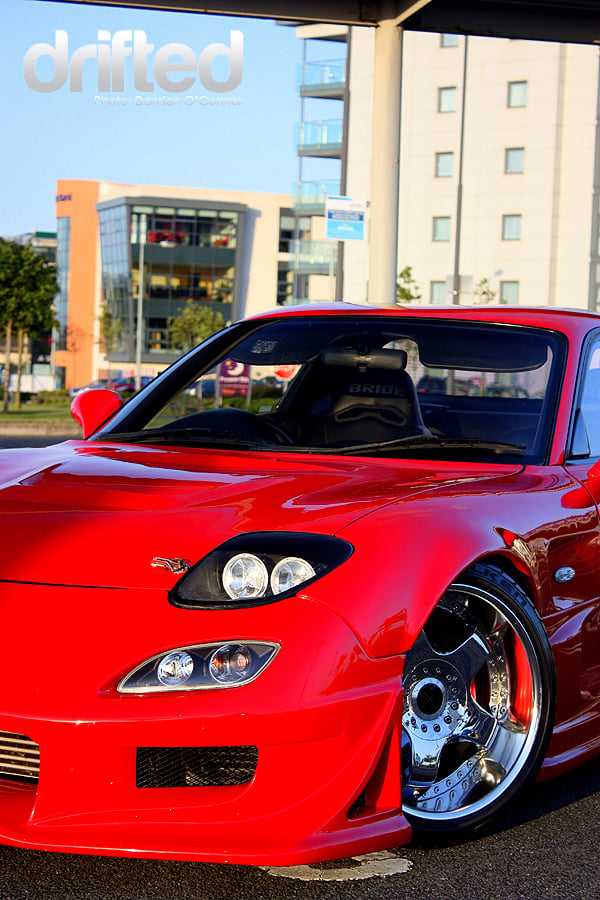 On more recent shoots, I have started playing with Portrait shots and I have to say I am loving the results that can be achieved.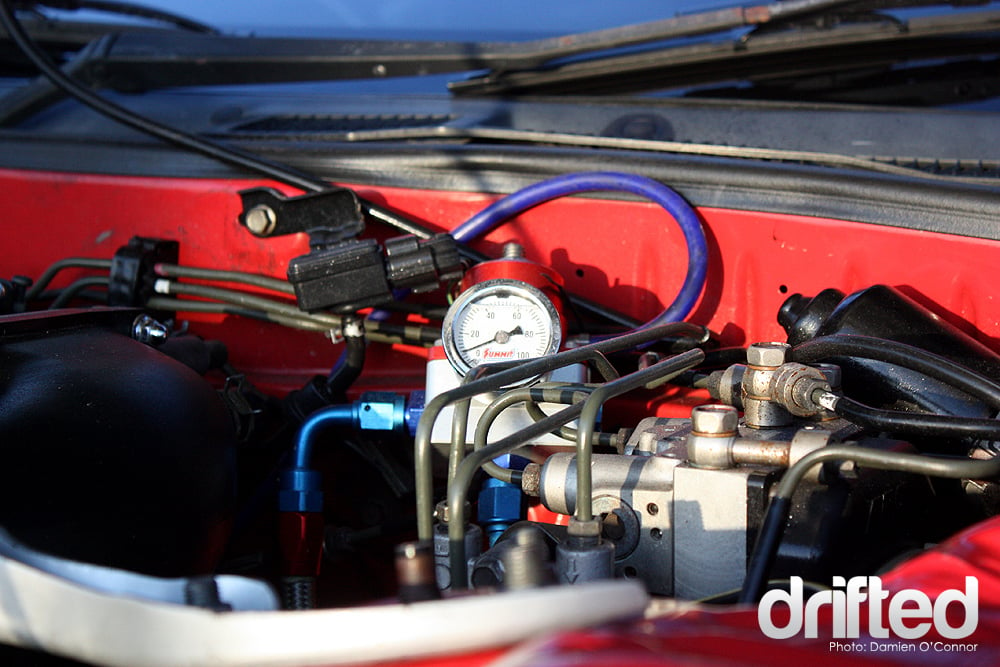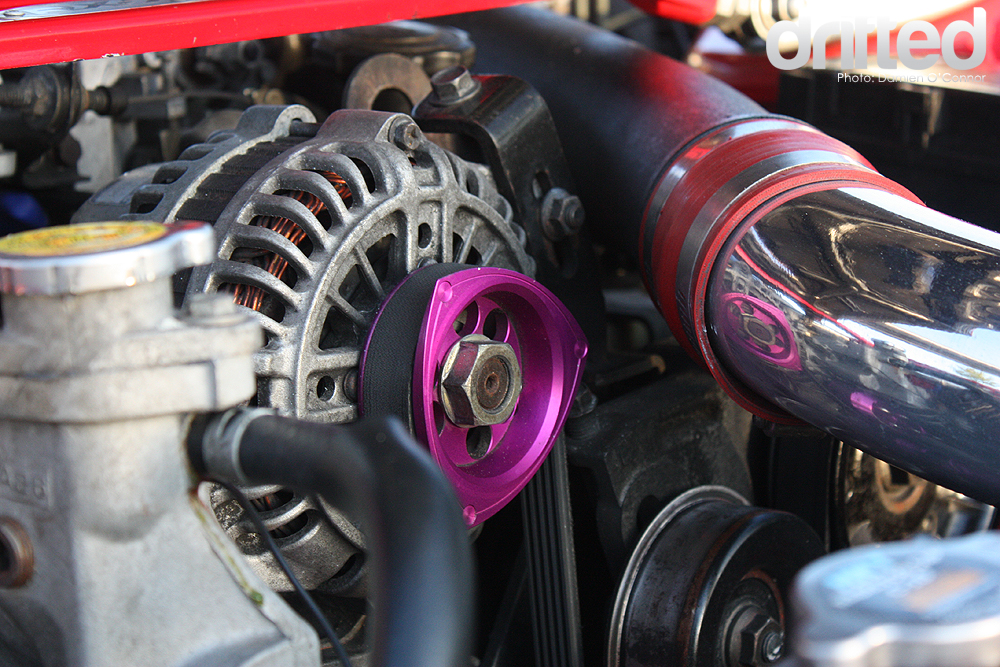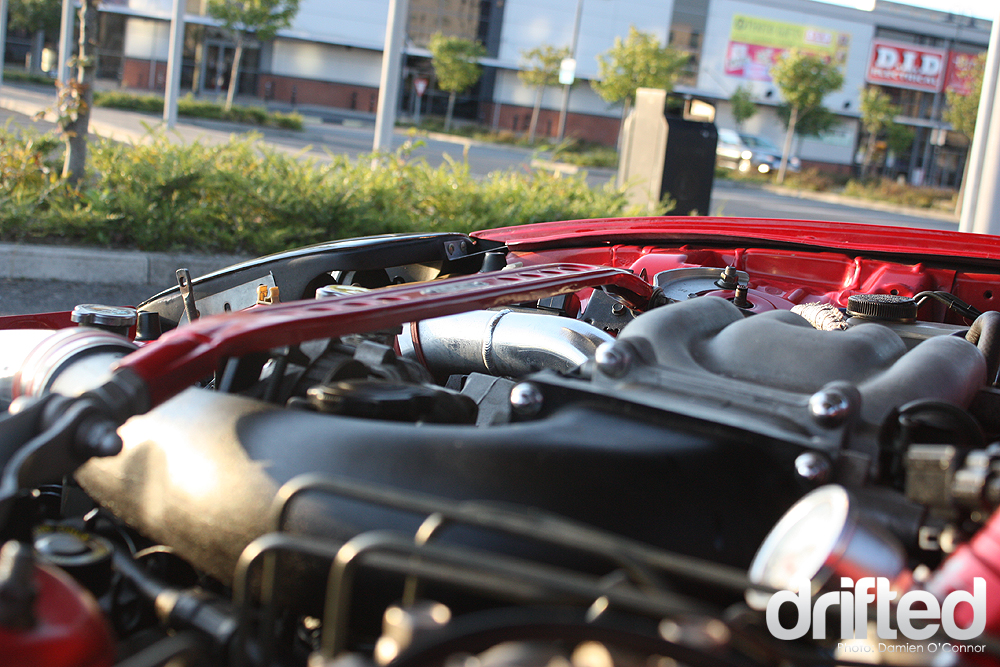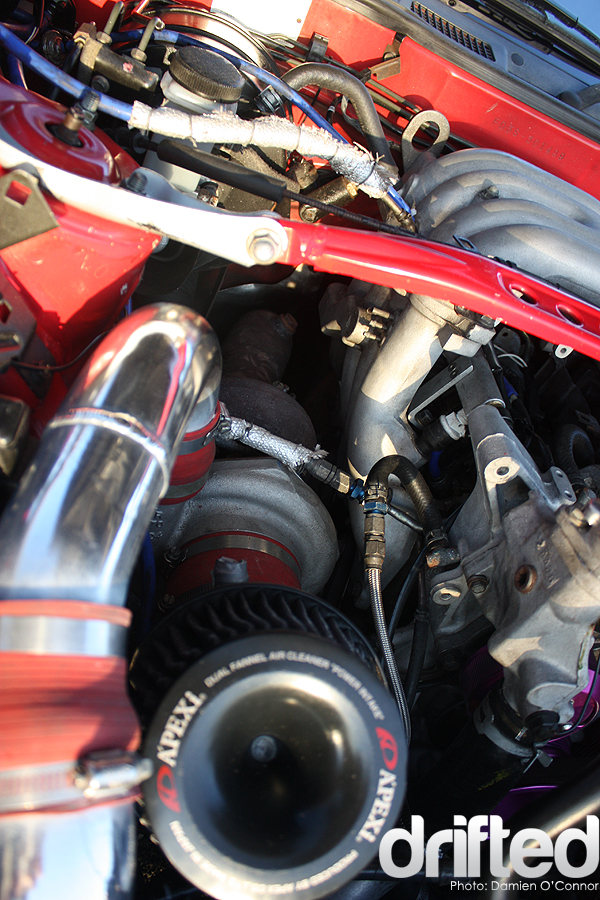 Down to business, we look under the hood, so as not to upset the family tradition only the best quality parts are used here too. HKS Pulleys, Apexi Induction and a huge Apexi turbo mean the newly built rotary churns out up to 400bhp.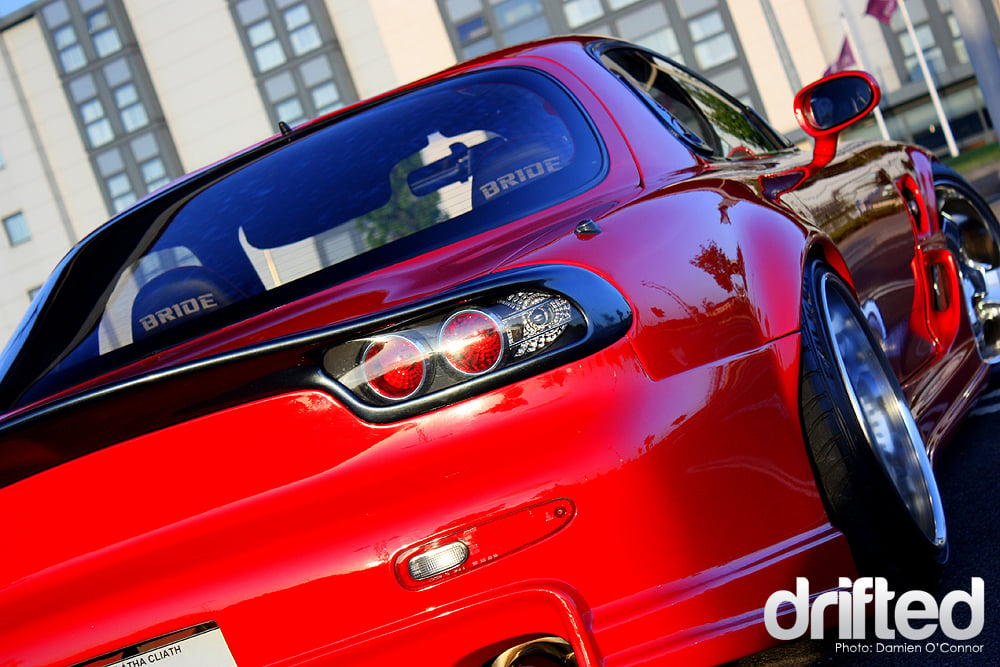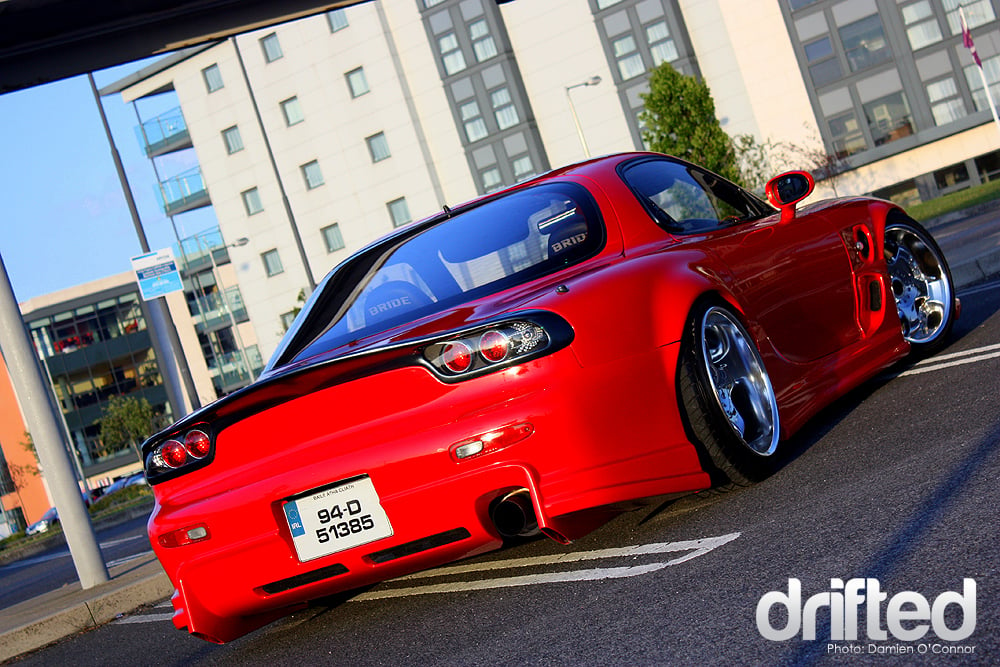 Given it's cool 400bhp, the rear of this car is all you may get to see if you are lucky enough to see this it on your travels.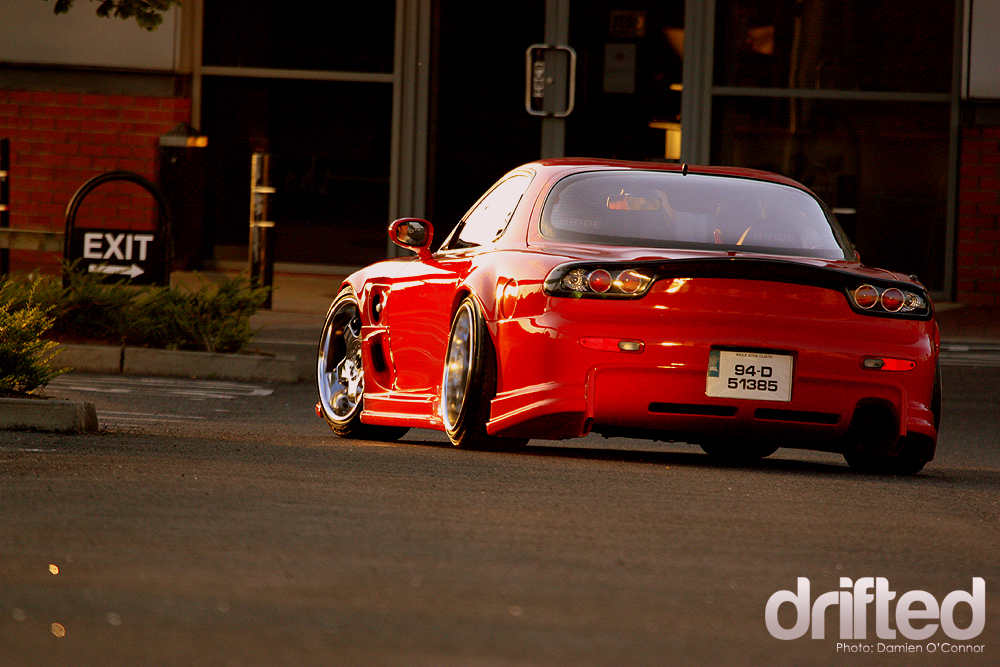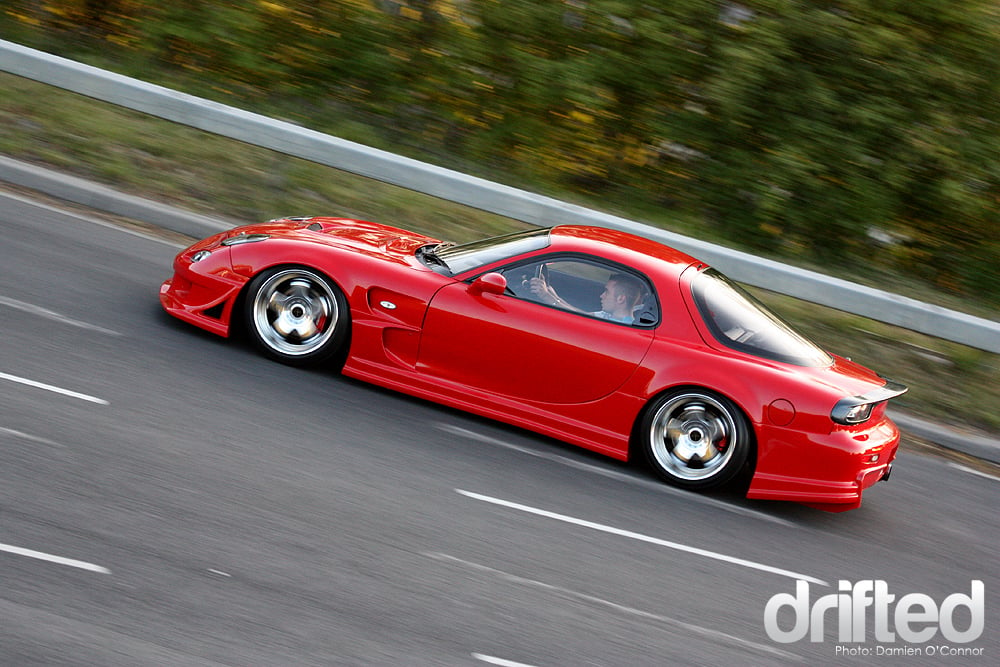 We catch some sneaky shots as Rick descends on his journey home. You can see in one of the shots the body of the FD3S fighting with that big turbo boost to stay in line. This car really would look just as fitting on a wangan run or touge in Japan; the car just oozes Japanese appeal!
Here's some more detail of what's gone in to Rick's motor.
Engine:
Full Engine rebuild, Street Port, HKS Pulleys, SARD Fuel Pressure regulator, upgraded injectors, APEXI AX 75F82 Turbo kit w/water cooled wastegate, KOYO radiator,FEED Exhaust system, APEXI Power FC, SARD boost gauge, HKS boost controller, HKS turbo timer.
Transmission & Suspension:
1.5 way LSD,ORC Triple plate clutch, Cusco Coilovers all round
Brakes:
Stainless steel brake lines, A/M pads
Wheels:
Garson, 18×9.5 -0, 18×11 -0, Falken tyres, Lightweight wheel nuts.
Interior:
Battery relocated to boot,Bride Brix matching leather seats, Momo steering wheel
Exterior:
Full re spray Audi brilliant Red , Veilside D1GT bodykit, Origin vented wings, FEAD rear wing moulded into body, Carbon fibre bonnet, Sine Auto rear light spoiler, 99 spec rear lights,  RE-A style headlights
Security:
Lots.
Thanks:
RCC Autobody Shop, Lusk Dublin