EVENT: Qualifying from Formula DRIFT Road Atlanta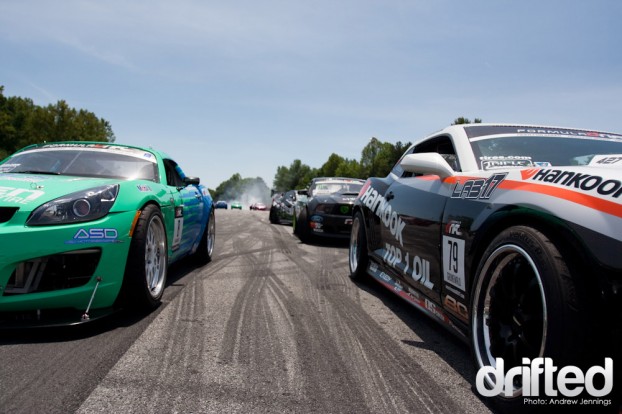 It's time to take a look back at qualifying for Round 2 of the 2011 Formula Drift Pro Championship from Road Atlanta. In my last post I mentioned how former Atlanta race winner Rhys Millen made an early exit that left him sidelined for the remainder of the event. Read on to see how the rest of the field shook out in the run for the top 32 bracket.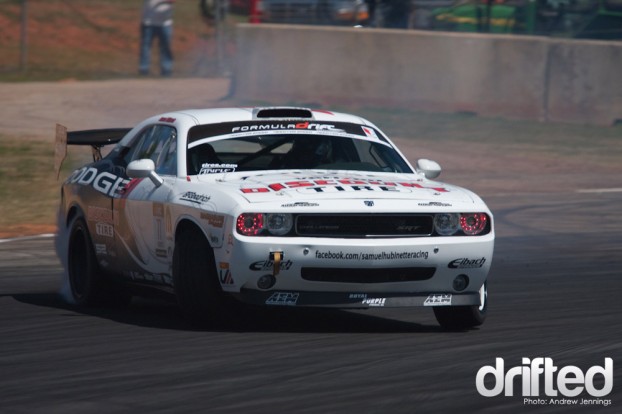 After failing to qualify for Round 1 in Long Beach, Samuel "the Crazy Swede" Hübinette was looking to get his year back on track. His SHR Dodge Motorsports Challenger looked great in practice with a very smooth line through the elevated turns. Just when qualifying was about to begin, deja vu struck all over again. A mechanical failure hindered his ability to take the first run, and his last ditch effort to make the second run with a crippled ride was not enough to qualify. This result leaves him without a single point for the season, an unprecedented start for the two-time champion.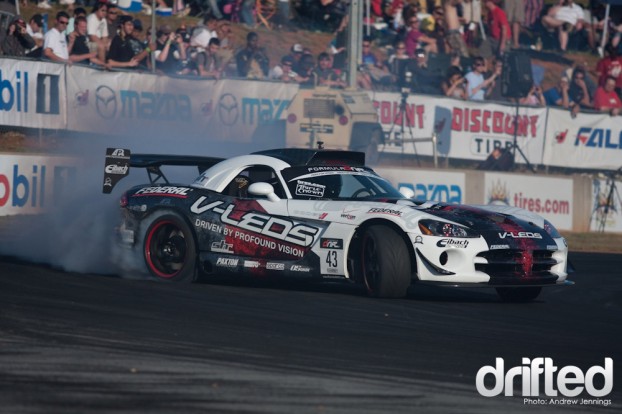 The Swede's departure meant that Dean "Karnage" Kearney would have to represent for the team. Despite struggling with the snap-happy Viper in practice, Kearney qualified 28th for Saturday's competition.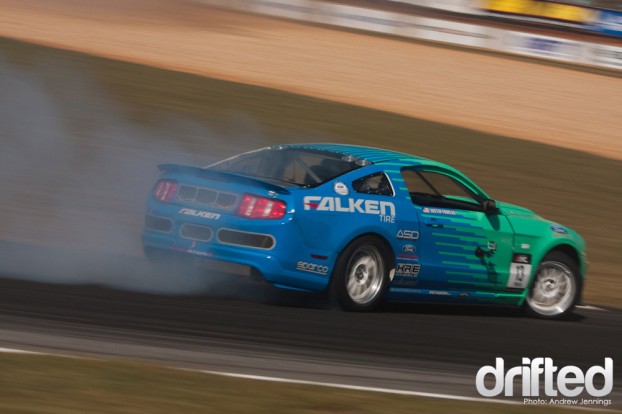 Long Beach race winner Justin Pawlak historically under performs in qualifying, biding his time until the real racing begins. He had no trouble bringing the Falken Tires Ford Mustang home in 15th.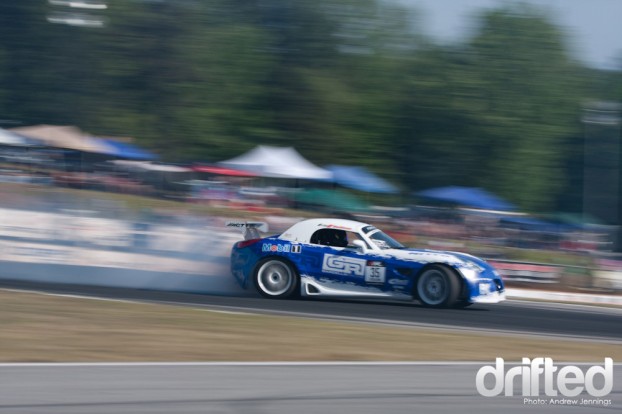 Eric O'Sullivan was happy to be back in a shorter wheelbase vehicle, qualifying 24th. In the off season he switched over to the Gardella Racing squad and now pilots Ryan Tuerck's old Mobil 1 Nitto Tires Pontiac Solstice.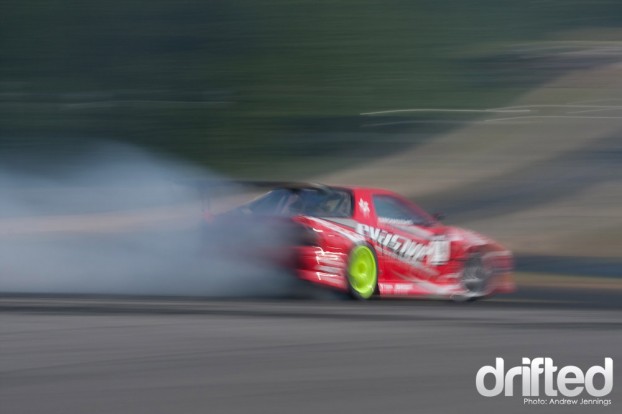 Charles Ng's car has come a long way in the past year. His new red livery really caught my eye and the large rear wing seemed to help his FC's balance on the high speed track. His Friday runs were clean enough for 27th in qualifying.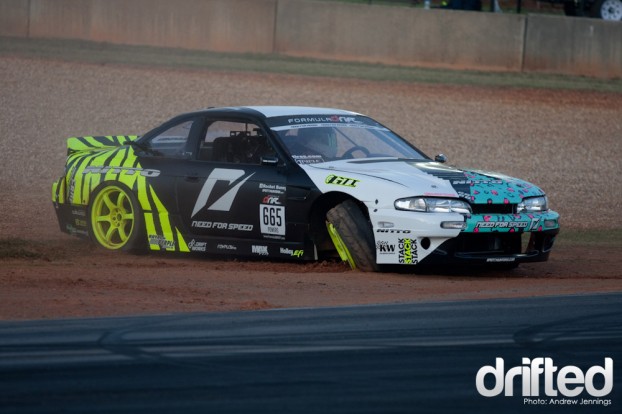 A solid first run in the bag, Matt Powers decided to take things up a notch with an even more aggressive opening for his second attempt. Unfortunately his Team Need for Speed Nitto Tires Nissan S14 could not handle the transition, looping around to make a rough farewell into the dirt.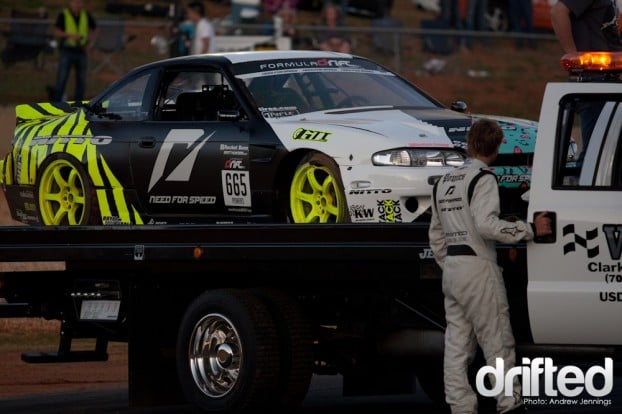 There were no concrete barriers for Powers to make contact with so he was unharmed in the off. Ironically, he seemed more pleased with breaking the front rim than qualifying 7th place for the event.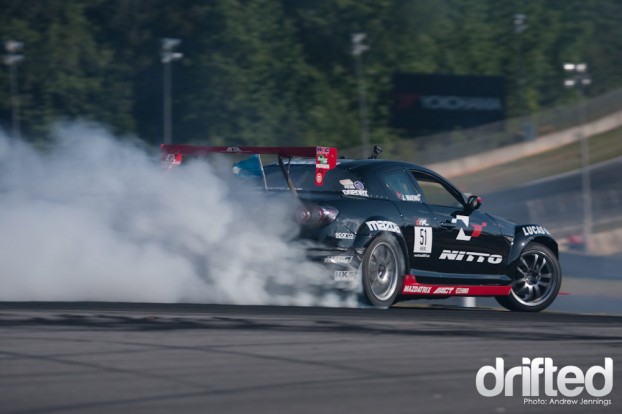 Joon Maeng qualified an impressive 3rd in the Bergenholtz Racing Nitto Tires Mazda RX-8. Sadly, in the first round of the top 32 competition, the car's sequential gearbox gave in, causing him to retire from the race.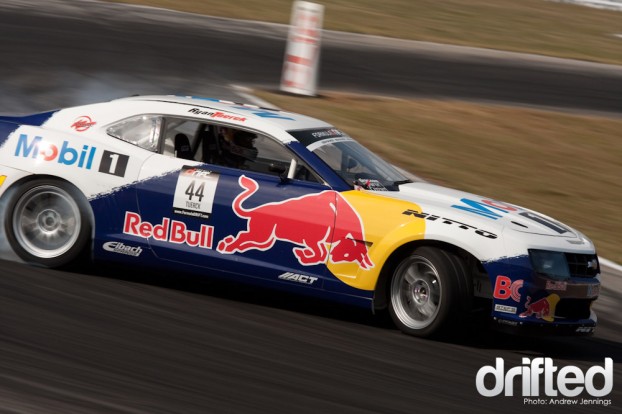 Ryan Tuerck took 2nd place in qualifying. Tuerck has always been a quick learner when it comes to new cars, and Road Atlanta was the competition debut for his Mobil 1 Chevy Camaro SS. I expect to see him fighting hard during the rest of the season as they continue to fine tune the car's setup.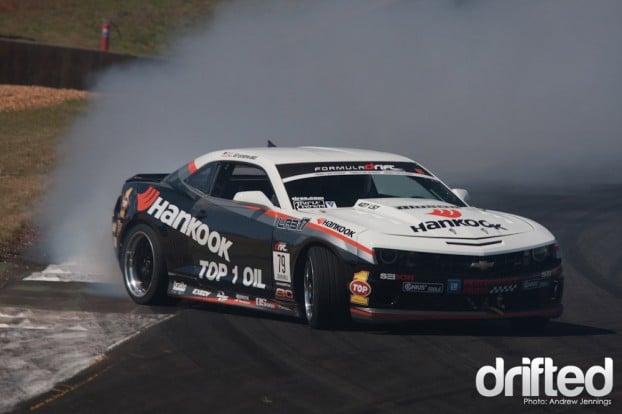 As good as Tuerck's run was, he could not match the insane angle and speed of the other Camaro on the grid. Conrad Grunewald walked away with not only the number one qualifying spot – his second in a row this year – but also took home the Retaks Insane Entry award!
A video of his entry is up on Wrecked from Lab 17, one of Grunewald's many sponsors. It starts out similar to Kawabata's so-called "perfect" drift where the rear of the car swings past the point of being perpendicular with the road. It's a pretty sick move to pull off given the risk. When things go wrong with this technique the car will slide straight past the turn and into the gravel trap ala Matt Powers above. In Grunewald's case, taking the chance paid off nicely.
Below you can check out the full qualifying list. The main event is up next, so keep your browsers here with Drifted to see how this year's podium went down.
Driver: Car # Score:
1 C. Grunewald #79 96.2
2 R. Tuerck #44 94.4
3 J. Maeng #51 94.4
4 D.Yoshihara #9 93.3
5 T. McQuarrie #17 91.1
6 K. Gushi #33 90.9
7 M. Powers #665 89.8
8 C. Forsberg #64 88.4
9 K. Mohan #99 87.8
10 D. McNamara #8 87.6
11 M Essa #101 80.8
12 V. Gittin #1 80.6
13 F. Aasbo #151 79.3
14 T. Yoshioka #21 77.8
15 J. Pawlak #13 77.3
16 M. Waldin #23 77
17 K. Moen #76 76.2
18 D. Mertzanis #323 73.3
19 R. Petty #808 72.5
20 P. Cyr #68 71
21 O. Bachis #723 70.5
22 P. Mordaunt #90 70.3
23 M. Feiock #222 69.9
24 E. O'Sullivan 66.6
25 C. Martinez #951 66.5
26 M Field #777 65.5
27 C. Ng #84 65.4
28 D. Kearney #43 64.9
29 J. Jones #29 64.3
30 W. Wilkerson #95 63.8
31 T. Aono #86 59.8
32 J. Russakoff #87 58.6
Andrew Jennings is a photographer and editorialist based out of Nashville, TN. He has been covering the American drift scene since 2007, and his work has been published in nationally syndicated magazines such as Modified Magazine, Import Tuner, Performance Auto and Sound, and RIDES. Andrew may be contacted through his professional online portfolio, or the social networks listed below.
Professional Portfolio: http://www.andrew-jennings.com