Damien O' Connor brings treats us this stunning, widebody S13 gem from the Emerald Isle.
It was only the other day I was amongst some friends down at the WKD Garage where we got caught up in a rather long discussion of the lack of quality Japanese imports still actually used on our roads.
The mixture of, dare I say, the economic downturn coupled with the rising Yen means the levels of new imports on our roads has decreased dramatically.
Couple this with the fact that so many more S-chassis cars and the like are being taken off the road for full on track use, I think we are seeing less quality JDM motors on the road.
Magazine cover anyone? The angles fill this portrait view beautifully.
Therefore it comes as a nice surprise to find Keith Weldon's super-clean 180sx being used on Irish roads.
This car is somewhat of a diamond in the rough, and something that we may not see much more of in the future; a fully re-built immaculate 180sx, probably one of the finest examples in existence in the country if I am to be totally honest.
Most people would have been more than happy with how this car looked prior to Keith ripping it apart to build from the ground up, which he has done, leaving no nut or bolt unturned in the process. But Keith is somewhat of a perfectionist, this can be easily seen in the detail and finish on this motor.
In fact, i'm sure this car has seen more coats of paint on it than I have had years on this earth.
Enough of the talking, let's get down to business so I can show you guys what I've been babbling about!
First shot of the day, and success, the car really does all the work. Super aggressive and super clean.
Keith supporting the culture with a "Jimmy Up" air freshener.
The Ganador mirrors reflect a sleek look on the 90's Nissan. Ganadors completely transform a car don't you think? A great design.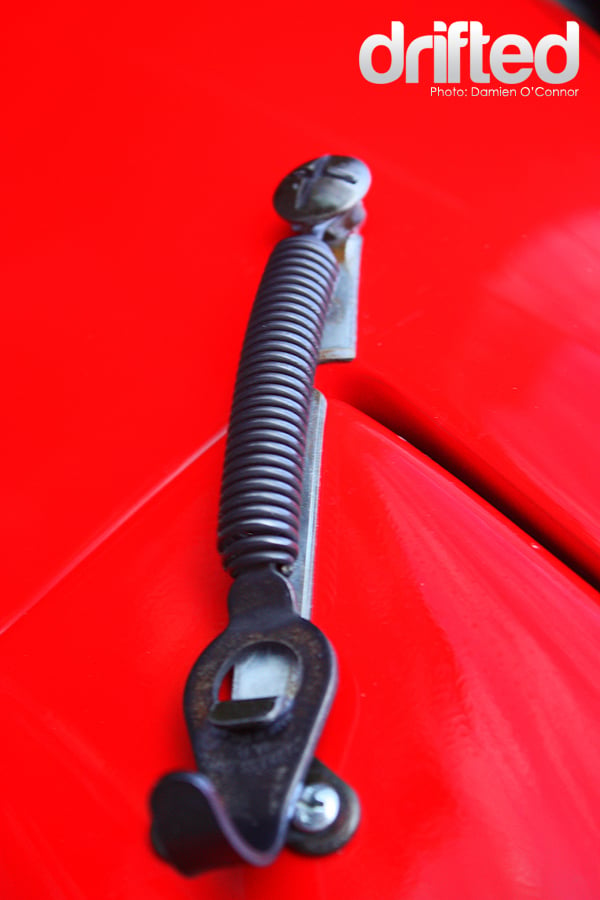 Spring catches keep the front bumper secure yet allow for quick removal when required.
On a Saturday night this walkway is packed full of eager punters in search of an epic night out. Somehow the 180sx looks right at home, maybe it just wants to have fun?
Keith monitors the engine's stability and performance via the Apexi Hand Commander and Greddy gauge set up flush mounted in the dash.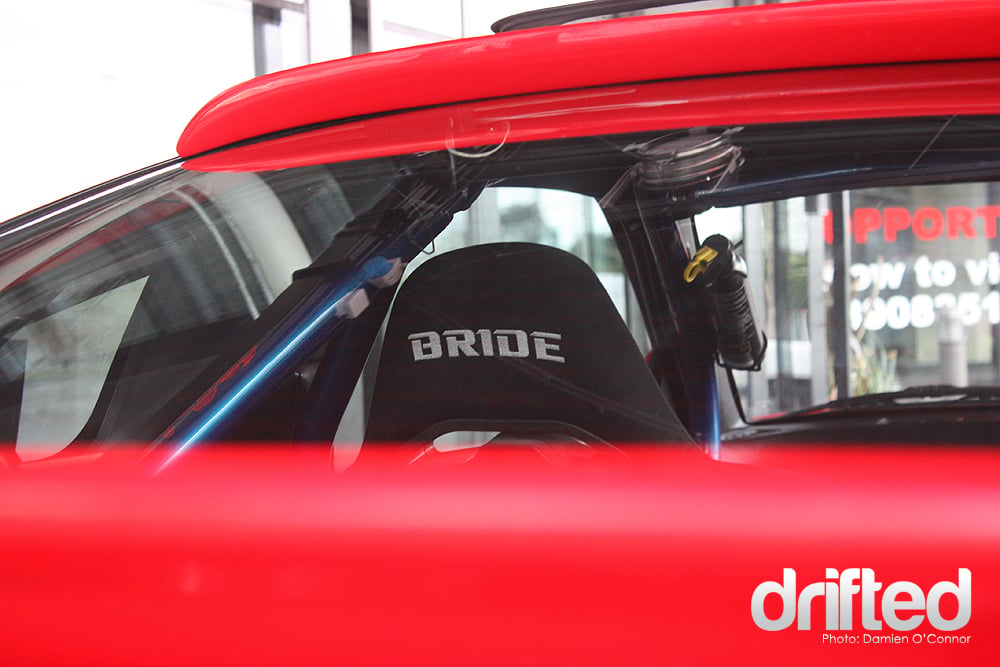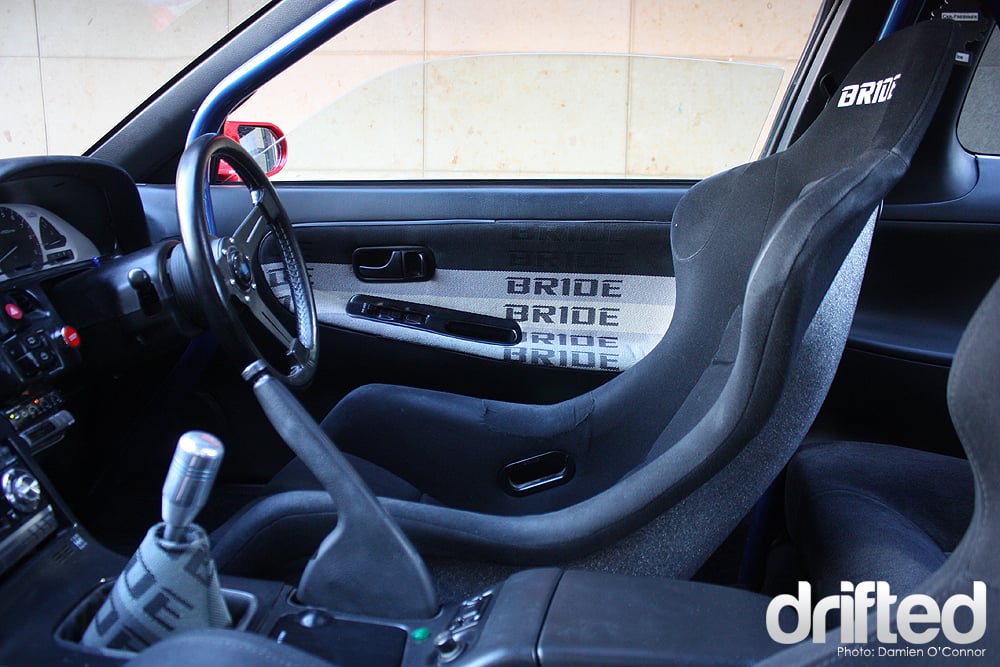 I don't think it matters what angle you look at this car from, it is so draped in Bride material you are sure to catch the brand at every glance.
Th D-Max vented bonnet adds aggression to the front end.
Even out of focus in the background you can see how vibrant the paint colour is.
Check the amount of dish in the rear SSR Vienna wheels!
Perfectly in- sync-pink keeps the engine bay looking rather funky, good job we say Keith.
Keith has fitted a kick plate to the sump and front bumper to protect his kit from nasty speed ramps.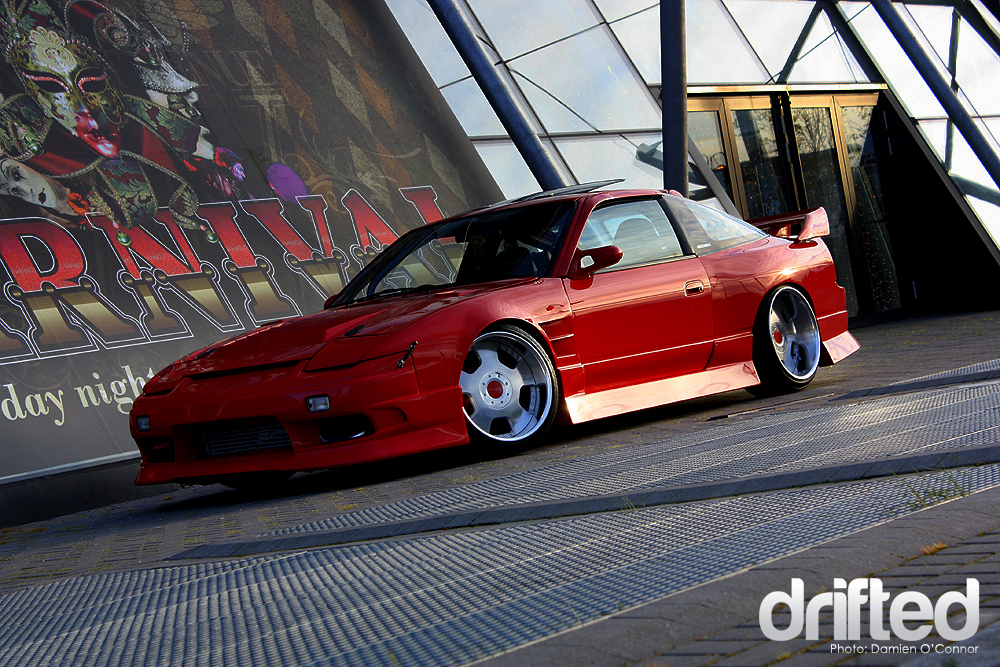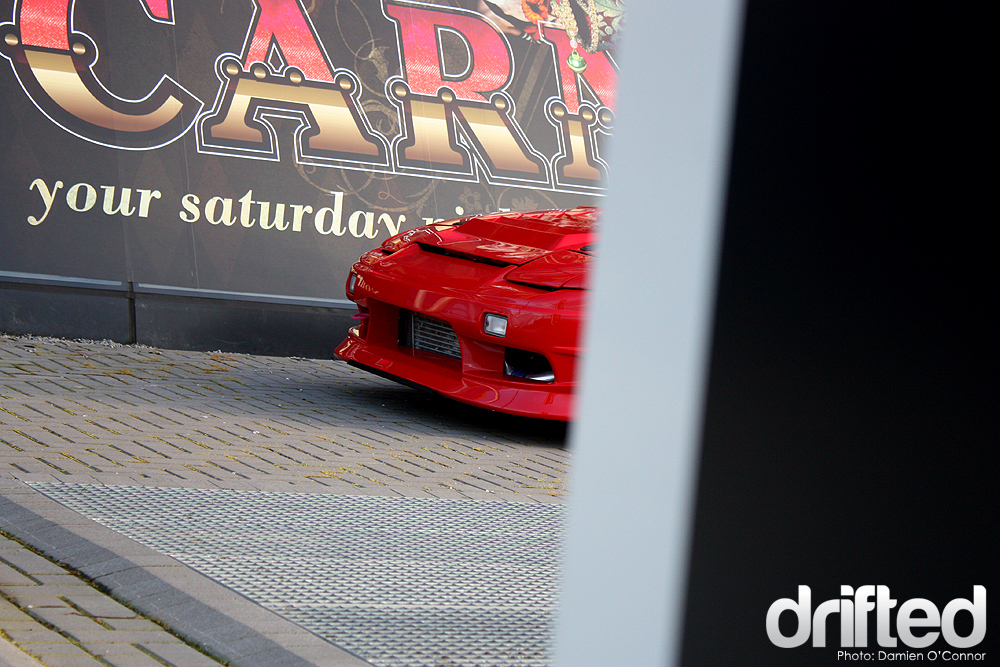 This car makes looking fabulous look so effortless. The aggressive lines of the kit flow through to the 326 Power rear wing.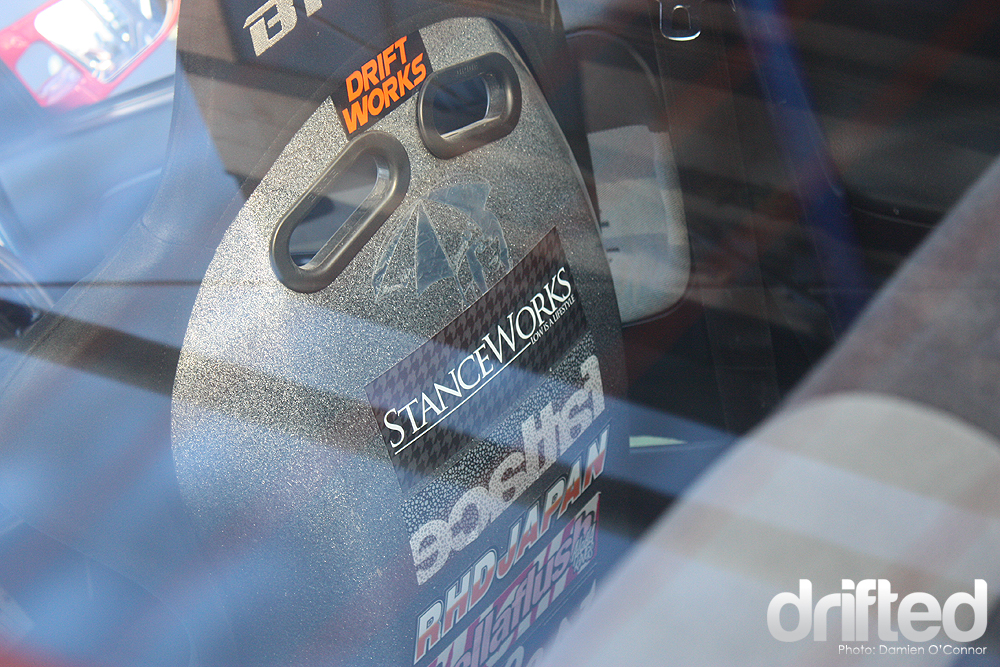 Car culture in full effect and some of our favourite blogs, including Stanceworks and Fatlace. No Drifted though Keith, we need to address this!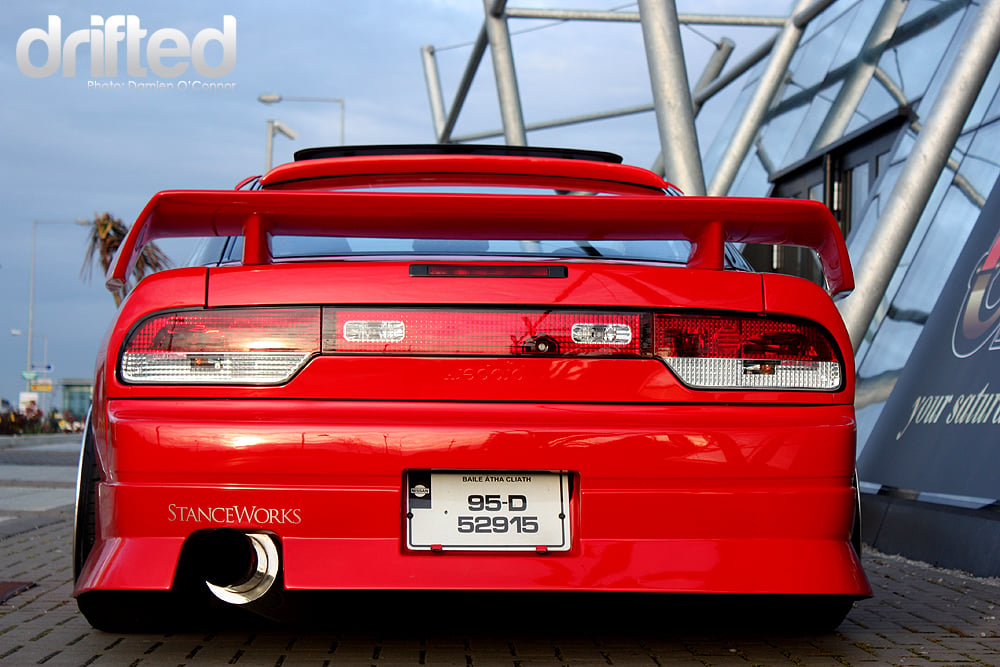 Is that a Stanceworks sticker, no it's not, Keith actually stenciled out this and sprayed it on. Wait what? We warned you, this man is a perfectionist.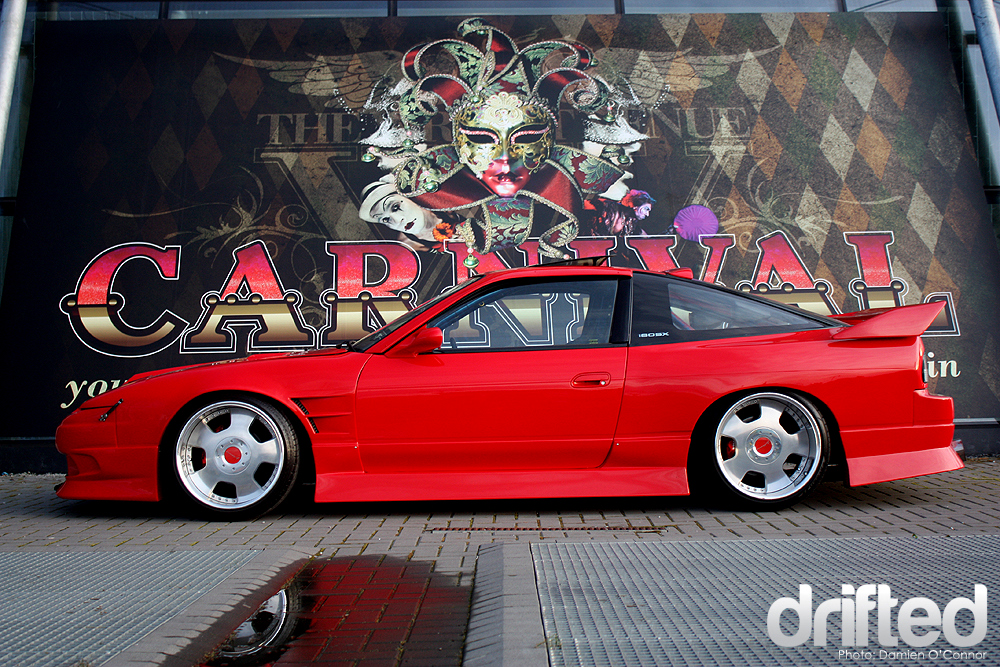 Looking at this full side on shot, it seems kick plates on the front end were a solid move.
They see me rollin, they hatin.
To finish up Keith shows us it's not all show with his motor, also I think the 326 power wing is such an great addition.
You can learn more about the SR20DET with our SR20DET Specs article. You can also learn how to properly tune your own SR20DET with our SR20DET tuning guide. SR owner looking for a turbo upgrade? Our SR20DET turbo guide was written just for you. SR20DET turbo
180sx specification
Engine:
Full service redline oil engine, diff, transmission, wire tuck, HKS GT2540 turbo, HKS cams, HKS valve springs, HKS manifold, Sard 555cc injectors, Z32 AFM, Metal head gasket, Sard fuel pump, Tomei turbo elbow, Nismo engine mounts, short shifter, FP gauge, Blitz bov, decat, Nismo exhaust, Greddy intercooler, Greddy front pipe, 3 layer rad with dual Calsonic fans, Nismo low temp thermostat, Apexi pfc+commander, oil cooler + relocation kit, Greddy boost controller, Silkroad engine damper, HKS mushroom filter, Iridium plugs, Cusco oil catch can, Tomei plug cover.
Transmission:
1.5 way LSD, Triple plate clutch, lightened flywheel
Suspension
RSR bushing kit, R.Y.O fully adjustable coilovers, Cusco front tension rods, Cusco rear upper arms, Nismo lower arms, Cusco rear suspension rods, Driftworks subframe bushes, quick rack steering adaptor, front + rear strut bar, Cusco 7 point cage.
Brakes:
GTR Skyline calipers and 5 stud hubs, stainless steel brake lines, A/M pads
Wheels:
Refurbished SSR Vienna red cap, 18×9.5 +5, 18×11 -1, Yokohama tires, Lightweight wheel nuts.
Interior:
Bride Zeta fixed back, Bride Brix recliner, Bride door cards, Glove box, Gear gaitor, Battery relocated to boot, Razo gearkob, Nardi steering wheel, Greddy boost, oil pressure, water temp gauges, Blitz turbo timer, Pioneer double din, Vibe 6x9s.
Exterior:
Full re spray Audi brilliant Red with 12 coats of laquer, under body understands and all running gear etc sprayed, 40mm Origin front wings, 50mm GP Sports rear arches moulded to body, Fiberglass vented bonnet, Uras rear bumper and side skirts with Origin front bumper, bumper/sump skid plates, 326 Power wing, Ganador mirrors, Wind Deflectors, Aero Catches, 50/50 rear lights, Raybrig clear front lights/sleepy eye, Kazama clear repeaters, 8000k HIDs, tow hook.
Security:
Lots.
Thanks:
RCC Autobody Shop, Lusk Dublin
If you have enjoyed checking out this stunning Nissan 180sx then why not take a look at our friends at the 180sx Club? The 180sx Club is a website dedicated to enjoying and looking after your Nissan S13 regardless of if it is a 180sx, 240sx or 200sx.