EVENT: Formula DRIFT Round 1: Streets of Long Beach
Formula DRIFT kicked-off its eighth professional championship season in the streets of Long Beach, CA. Various new cars and drivers debuted. There was plenty of action and excitement throughout the sold-out event. Seeing young guns defeat some veterans as well as new faces on the podium was a sign that the level of skill continues to elevate.
The track utilized the Toyota Grand Prix of Long Beach Street Course–which happens to be the only street course for the season.
Huge surprise at this event: 2010 Formula DRIFT champion Vaughn Gittin, Jr. did not qualify. Before qualifying, he looked like he was in control until he failed to gain enough points to qualify. One thing is for sure, he'll be back with a vengeance tires blazing.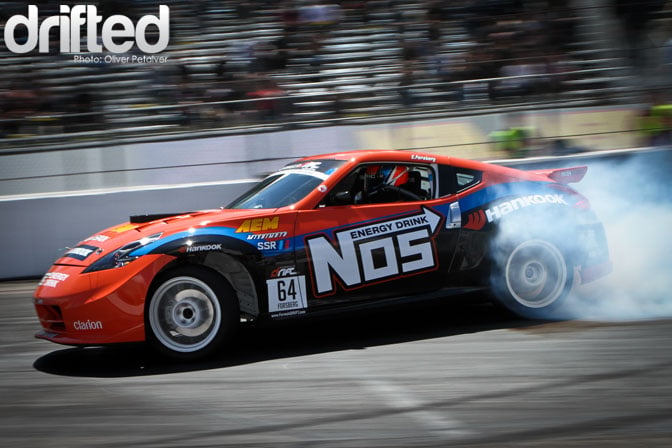 2009 Champion Chris Forsberg debuted in his new NOS Energy Drink Nissan 370Z. No more roadster. New paint scheme. Love it.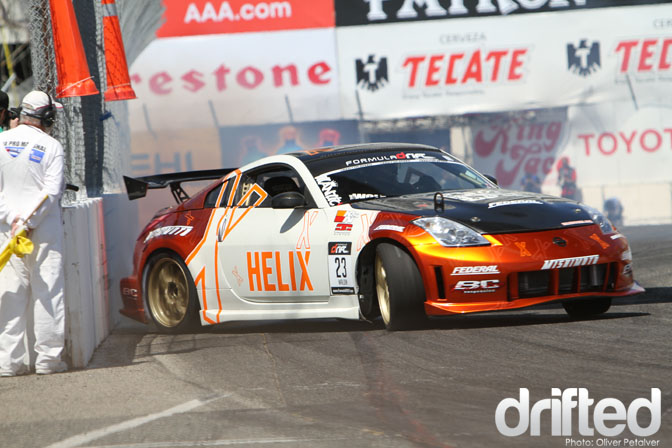 As you can see, Matt Waldin in his 2008 Helix Energy 350Z shows how close he can get to the wall. Awesome!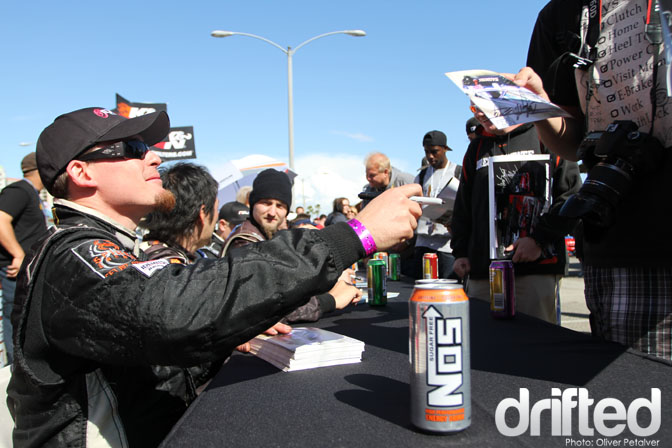 Kyle Mohan (above & below) did well during qualifying but was eliminated as the competition got more fierce.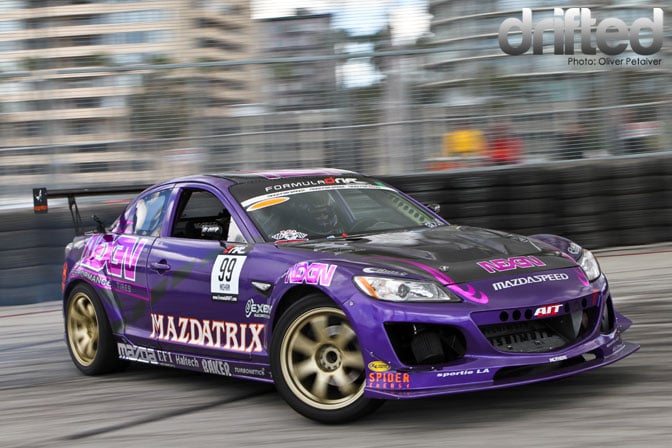 Mohan, in the Nexen Tire / Mazdatrix RX-8, was consistent throughout the weekend. He qualified third with a score of 92.2
Hailing from the Northwest was rookie Walker Wilkerson of Team Fatlace who qualified 7th in a field of 44 drivers! He's currently tied in the standings with Tyler McQuarrie with 57 points. Impressive!
Charles Ng in his Evasive / CNR FC3S looked good & qualified in 20th. Charles was runner-up Rookie of the Year last year and a winner at the Super Lap Battle. Did you know he got his Masters at the University of San Franscisco?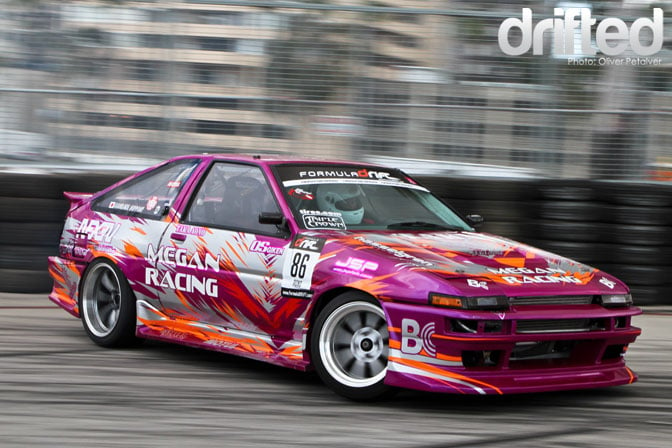 Taka Aono in the Megan Racing / Nexen Tire AE86 doing his thing.
Coming out of nowhere was Matt Powers in the Need for Speed S14 who took out veteran Chris Forsberg during the Final Four.
Here you see Matt Powers battle it out in the Finals against Justin Pawlak and his Falken Tire Ford Mustang.
Dai in his Discount Tire / Falken Nissan S13 looked consistently strong throughout the weekend and had one of the more aggressive angles than most drivers. During the consolation round, Dai was pitted against Chris Forsberg.
He rounded out the podium in 3rd place. He is currently in the standings with 88 points total while Matt Powers has 94.
JTP would rather give up his helmet than his hard-earned carbon fiber trophy.
JTP starts out the season on top with 102 points so far. Will we see new faces and more upsets in the coming rounds?
Keep an eye on Drifted for Cole Chalmers and Zach Meister's futher coverage of the event.
The season continues with Round 2: Road to the Championship at Road Atlanta on May 6-7. For more information, visit www.FormulaD.com
:: Oliver Petalver