Equality – Form and Function In The S13
Super wide, super aggressive, driven super hard AND running ridiculous wheel fitment. Who says you can't have everything? We take a look at one of Norway's most extreme S13s.
Time to hit the road and find this rare S-Chassis.
Myself and my good friend and fellow photographer, Henrik Oulie, took a little trip early one Sunday afternoon, to take a look at a very special piece of Japanese machinery.
Rolv Anders Jacobsen is the owner and builder of this particular car. He is a 26 year old industrial mechanic, living in Greåker here in Norway.
The car is a Nissan S13 200sx he imported from Germany in late 2004…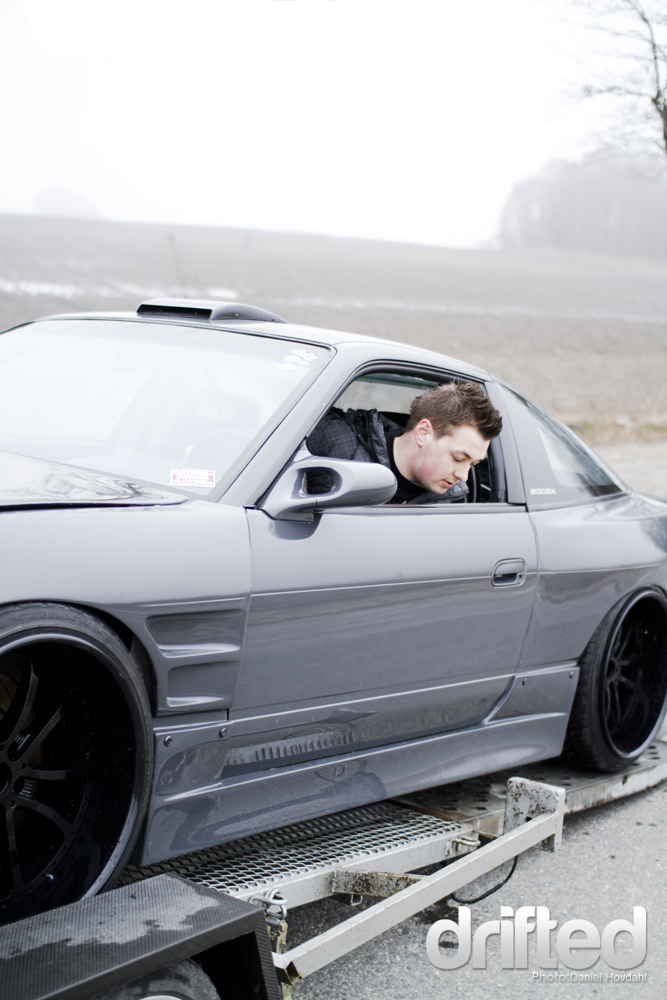 … He said, and I quote, it was meant as a daily. Only rims, coiloverkit and minor engine modifications to begin with…
… But that didn't last long! A couple months after it got on the road, the infamous CA18DET said farewell to the world and a new engine was needed. An SR20DET Redtop, from an 180sx, was sourced…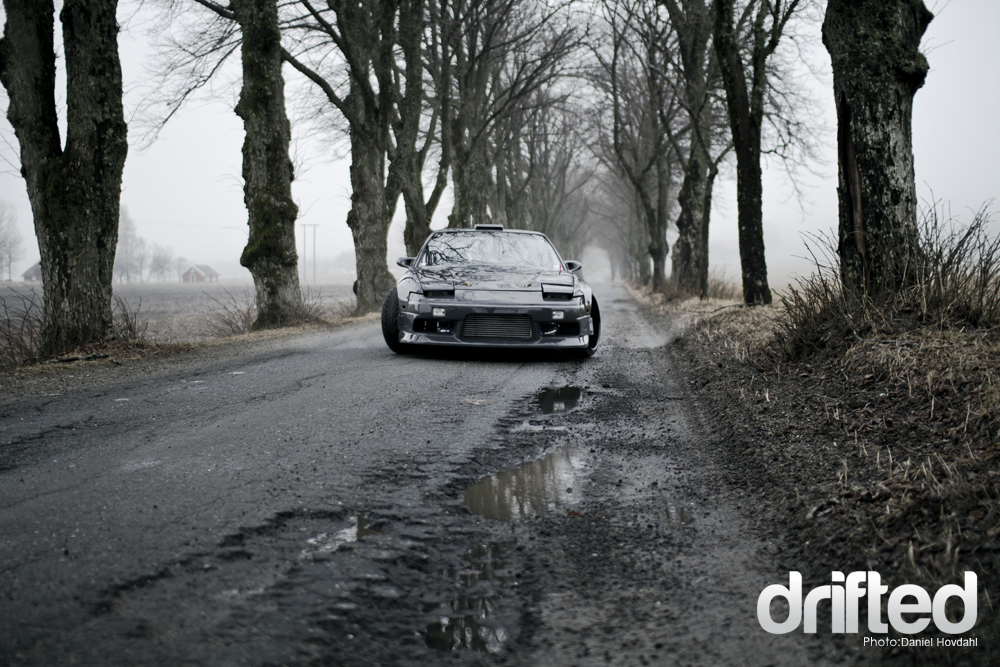 At that point, he decided it was time to pull out all the stops and build a Pro spec Drift/track car.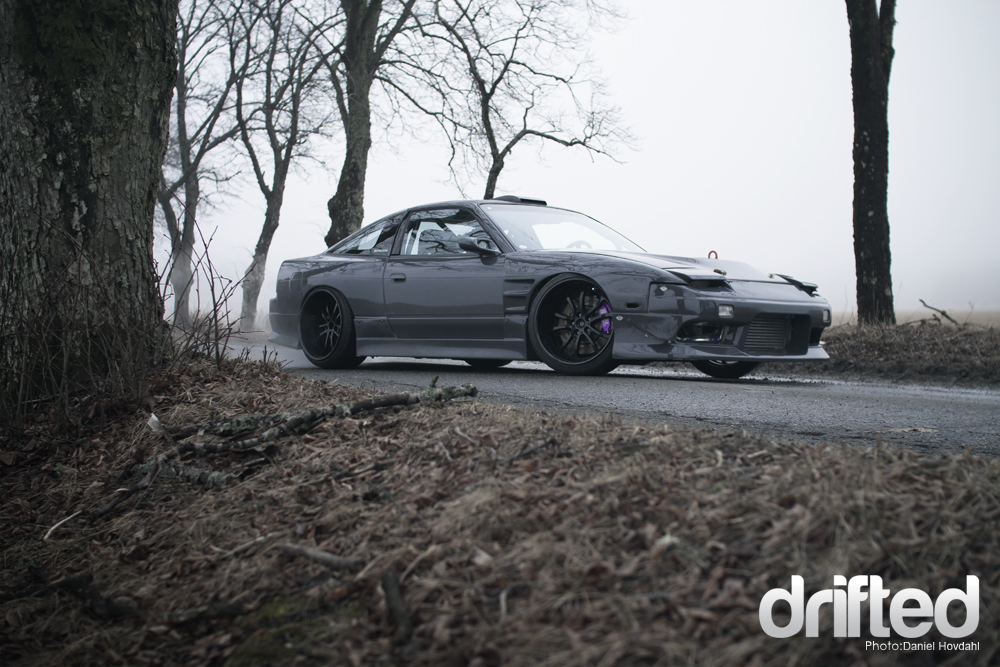 2 years in the making, it stood finished the way he wanted it to be. Engine wise, exterior, interior and suspension was to his liking. Immaculate.
The next two years, the car was a rolling project. It underwent both minor and major transformations, including a respray last year. It does look rather evil in its new colours, doesn't it?
What adds to the sheer devilness of the car, is the fitment on it…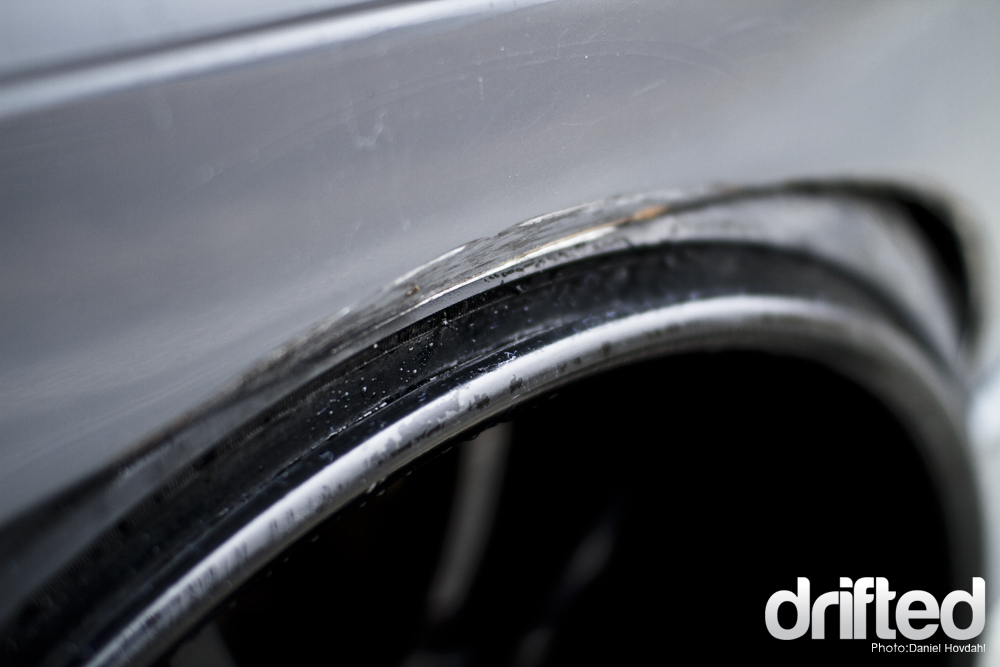 … When the backside of the lip scrapes the outside of the arch. It's a static drop too… My mind is blown!
Rolv watches us parade around the car capturing light…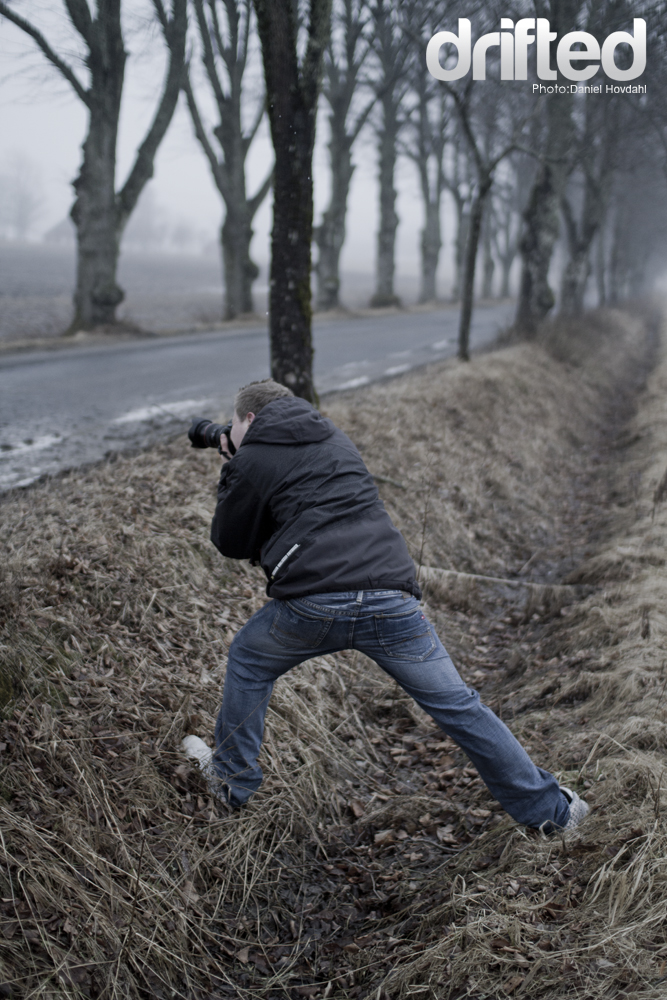 … In all sorts of weird stances to get the right angles!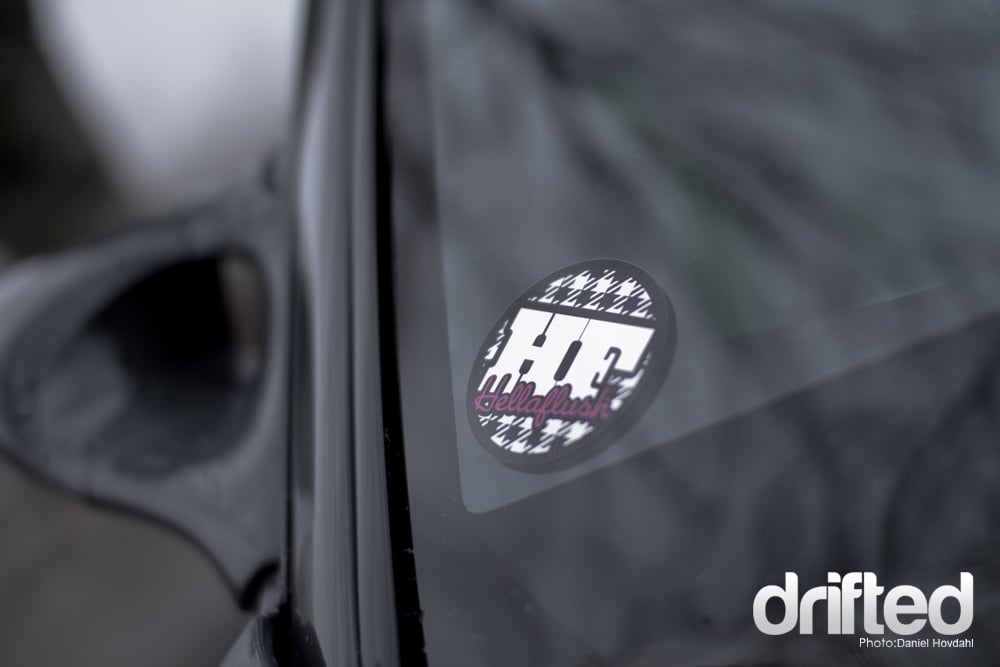 Rolv is one of a handfull in Norway who can actually call his car Hellaflush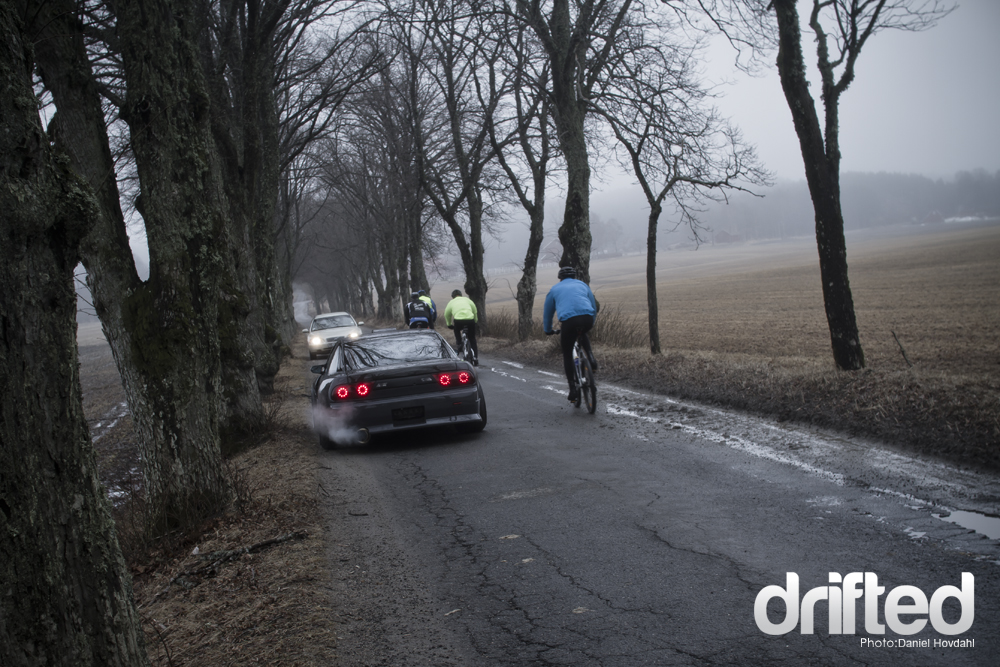 The downside to having a shoot on public roads, traffic.
Enough from this spot. Roll out, Autobots!
Some rolling shots were on the agenda…
To see this car, with its rock hard, static suspension, bouncing over potholes and cracks in the pavement. It is a very special and unusual sight with our road standards being rather poor.
I risked my camera for this shot, letting it hang just a couple feet above ground with no strap. It was worth it.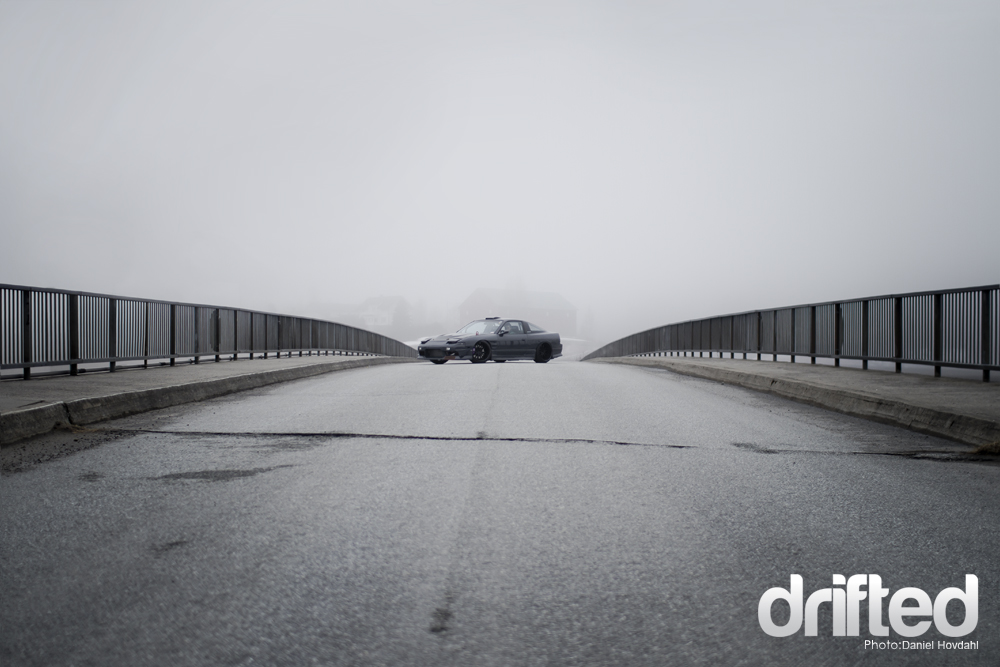 On our ventures to capture some rolling shots, we stumbled upon this bridge by chance, over the interstate near an industrial area. Half the fun is the hunt, for the perfect picture.
Rolv is a privateer, no sponsors, no team, all for the fun of it. He doesn't even compete! He drives this thing hard, just for the heck of it.
Another shot of it for good measure.
I know what you might be thinking… Oh this is just another lifestyler car. Oh but it isn't.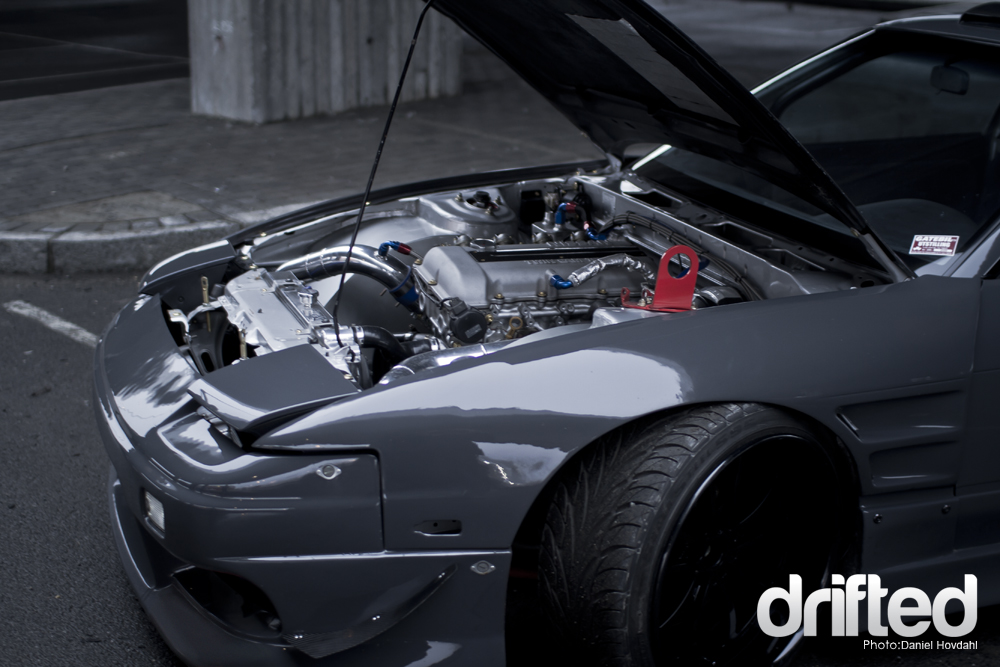 Light was fading fast, so we went to an underpass parking lot, behind a big mall to take one last walkaround the car, before we all parted ways.
Interiorwise this car is fullbred street style. All the panels are original. Just the essentials are added: Cage, seats, harness, snap off and a drift button.You gotta be comfortable, right?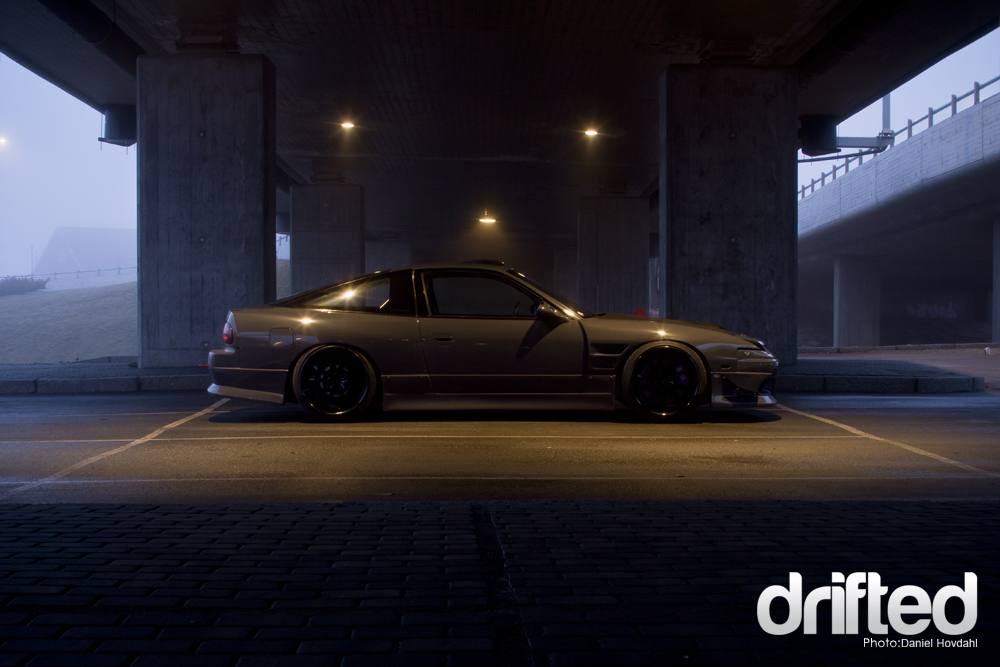 While under this tunnel admiring this piece of metal, I felt like I was 10 years old again playing Need For Speed Underground. It is a sight I will never forget.
If you'd like to learn more about why so many drifters chose the S13 then check out our 7 Reasons Why The Nissan S13 Is The Best Drift Platform For Beginners article.
When the light slowly dissapeared, Rolv's S13 notched a new dimension on the scale of badass…
Are you running an S13 and looking at suspension upgrades? Check out our Ultimate S13 Coilover guide.
If Satan drove an S13. This would be it.
You can learn more about the SR20DET with our SR20DET Specs article. You can also learn how to properly tune your own SR20DET with our SR20DET tuning guide. SR owner looking for a turbo upgrade? Our SR20DET turbo guide was written just for you. SR20DET turbo
Spec list
Engine:
Factory SR20DET Redtop , 320hk og 450nm
Tomei rocker arm stoppers
ARC Sump
Relocated oilfilter
Aluminium pullys on PSP, alternator and waterpump
Power entreprise pullybelts
Kazama enginemounts
Denso Iridium IK24 sparkplugs
Castrol EDGE 10-60 engine oil
Induction & exhaust:
Ported Garret GT28RS ar.64 turbine
Edge manifold
Edge elbow
Selfmade downpipe
HKS Hi power 80mm exhaust
Hybrid FMIC
Selfmade intercoolerpiping and airfilterpiping
K&N Airfilter
Cooling:
Koyo 53mm aluminium radiator
Samco coolantlines
Flex a lite coolingfans
Earl`s 19 row oilcooler for engine with Earl`s AN10 hoses and fittings
Earl`s oilcooler for powersteering
Nismo 62 degree thermostat
AN6 coolantlines for turbine
Redline waterwetter super coolant
Fuel:
Walbro 255 l/h fuelpump
Earl`s fuelfilter
Sard type RJ fuelpress regulator
Aluminium 3/8" fuellines with AN6 fittings
Standard fuelrail with welded AN6 fittings
Earl`s hoses with AN6 fittings
Drivetrain:
HKS 6 speed dogbox
HKS GD Pro trippel plate clutch and flywheel
Kaaz 2 Way LSD
Polyuratane gearboxmount
Redline heavy shockproof gearoil
Electonics:
Varley Red Top 30 racing battery
LMA FIA Battery master cut out switch
Apexi Power FC D-jetronic engine managment
Apexi AVC-R boostcontroller
Apexi EL meter 2 control unit
Apexi EL meter 2 oiltemp meter
Apexi EL meter 2 oilpress meter
Suspension:
Tanabe Sustec pro seven coilovers
Springs12k front and 10k rear
Tanabe driftspec front and rear swaybars
Uniballs swaybarlinks front and rear
DW front and rear lower control arms
DW front tensjon rods
DW rear camber arms
DW rear toe arms
DW rear traction arms
Aluminium subframe mounts
Nismo power brace 2
Steering:
DW Solid steering column bush
Tein tie rods
D2 tie rod ends
Selfmade alu powersteering tank
Brakes:
Nissan Z32 master pump
Front: D2 365mm and 8 pot callipers
Rear: Standard
Earl`s AN4 braided hoselines from master and all way round
Chassis:
Custom Border full rollcage
Tubbed front arches
Stich welded strut towers
Cusco Type OS 3 point rear strut tower support bar
Cusco Type OS front strut tower support bar
Custom rear crashbar
Outside:
M-Sports front bumper M-Sports rear bumper M-Sports side skirts Chargespeed 50mm rear fenders
D-Max 40mm front fenders
Carbon truck
Carbon hood
Carbon fiber roofscoop
Ganador mirrors
I-Magic Custom rear LED lights
Footwork:
Street/show:
Work Bersaglio F 10×19 et -13 235/35-19 R 12×19 et0 265/30-19
Track:
Rota Grid 9,5×18 et0 all round. F 225/40-18 R 225-235-245/40-18
Inside:
Sparco bucket seats
D2 4 point harness
Nardi Torino 350mm deep dish steeringwheel
Snap off quick relese steering wheel adapter
Cusco handbrake knob (Drift Button)
Future plans:
'Linnerud' WRC spec Rollcage
New rear brakes
DriftWorks v2 hub knuckles
Acrylic windows
Weight reduction