Mad Mike RX7 – MADBUL!
Peep this desktop wallpaper of the Mad Mike RX7 – the insane 26B Quad Rotor FD3S, aka Madbul!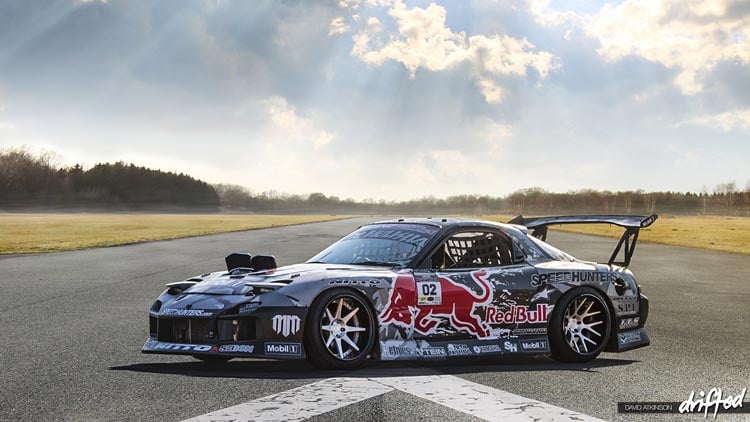 Download your Mad Mike RX7 Madbul wallpaper
Right-click "Save-as" to download the desktop in your chosen size:
Mad Mike RX7 video at Goodwood Festival Of Speed
Want to hear how a tuned four rotor RX7 sounds? Hit play on the video below and skip to around 2 minutes. Enjoy.
Mad Mike RX7 – Madbul full specification
You can read Madbul's full spec and more photos on Mad Mike's website, here: http://www.madmike.co.nz/cars
Mad Mike RX7 power plant
Pulse Performance Race Engineering (PPRE) 26b quad rotor
Peripheral Port
Lightened balanced hi comp RX8 rotors
Hi-rev mod
Pulse Performance Race Engineering (PPRE) Custom end & centre plates
Hand built chromolly crankshaft
3 window bearings
Hand fabricated intake runners
InjectionPerfection 55mm throttle bodies
Primary & secondary staged injectors
MOTEC fuel rails
WALBRO lift pump
FuelSafe cell
BOSCH 044 EFI pump
Turbosmart regulator
BOSCH HEC715 coils
M&W Hi energy CDI running 2 x 2 channel boxes & 1x 4 channel box
Custom MSD leads
HKS plugs
Custom alloy sump
Hand fabricated tuned length headers
3.5″ stainless exhaust to Borla muffler
Alloy radiator
Redline twin oil coolers
Oil breather
Stainless heat shroud
Stewart electric water pump
Pulse Performance Race Engineering (PPRE) Tuned Haltech Elite 2500 with platinum series TC4 Thermocouple Amplifier & AFR Couplier communicating via Haltech CAN Hub
Gilmor drives
Mad Mike RX7 drive line
HKS sequential 6speed
HKS PRO2 twin plate clutch
HKS flywheel
MAZDASPEED 4:3 crown wheel on Custom full spool Locker
Mad Mike RX7 suspension & chassis
TEIN Super Drift equipped with EDFC
Custom steering arms
Custom tierods
Megan Racing toe arms rear
Mod fire wall & chassis for steering clearance
Cut rear quarters for wheel clearance
D2 Air Jack setup
Mad Mike RX7 brakes
Zinolli rotors with EBC pads all ABS removed
B&M launch control kit
Autosport Dynamics hydaulic handbrake
Mad Mike RX7 rims & rubber
Custom Nessen Forged / Mad Mike Gold rims 17/9.5 front & 18/11.5 rear
Mad Mike RX7 tyres
Nitto NT05 235/40R17 front 265/35R18 rear
Mad Mike RX7 exterior
Rockey Bunny FD3S Kit
Custom CRE8GRAFX livery
SARD 3d wing
Mad Mike RX7 interior
Takata Racing Seats
SPARCO wheel
HKS knob
RacePak digital dash
TEIN EDFC
6 point roll cage
Takata harnesses
Custom alloy dash & door skins
Mad Mike RX7 power output
Check out more Mad Mike content on Drifted
Tags: 4Rotor, D1NZ, David Atkinson, Desktop, drifted, drifted.com, Drifting, Landscape, Mad Mike, Mad Mike Whiddett, Madbul, mazda, New Zealand, NZ, Quad Rotor, Red Bull, rotary, Runway, rx7, Wallpaper
Subscribe to Drifted
If you like this article why not subscribe to Drifted and we will email you our freshest content for free!