Go Crazy for Mad Mike – the Drift King of New Zealand
'Mad Mike' Whiddett has been pushing the limits of speed since boyhood. If you've followed this guy's career, you really shouldn't be shocked by his outstanding success.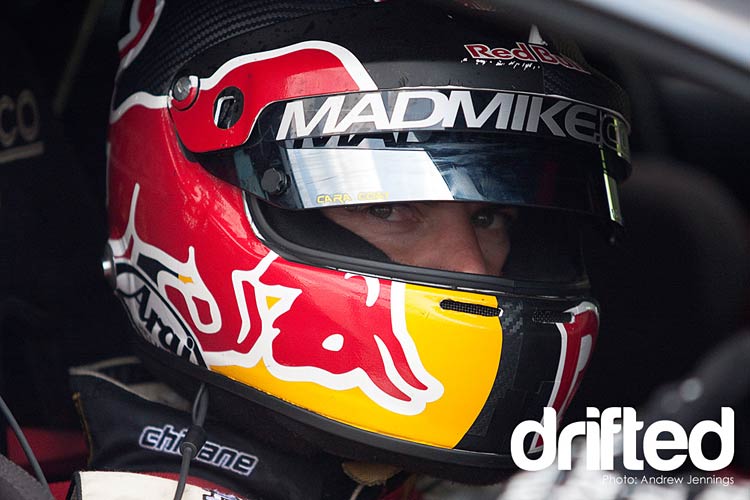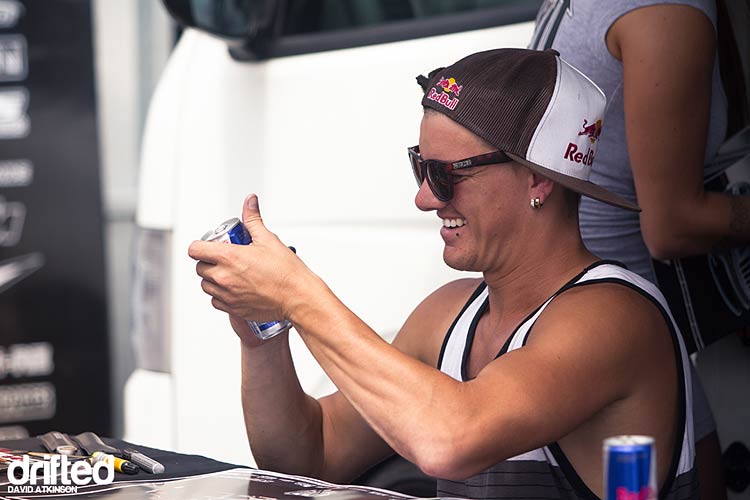 Who is Mad Mike Whiddett?
Now, his drifting prowess, big-brand sponsorship and crazy rotary-powered cars have together earned Mike the accolade at New Zealand's very own Drift King.
Here, we lift the helmet visor and take a good look at the man who's one of the few to have revved up a world-class, pro drifting career.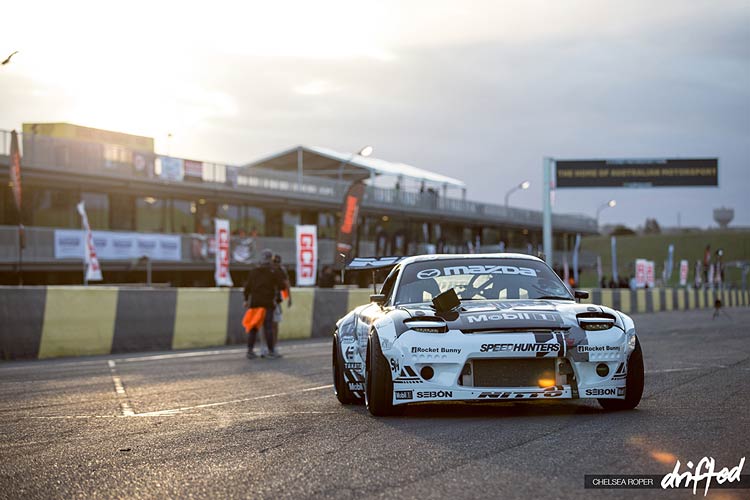 Beginnings of Mad Mike's career
Mike was a thrill-seeking child - his need for speed was evident when he used to pelt downhill on his tricycle. A few years on, he discovered the rush of BMX, then as a teen accelerated to freestyle motocross.
This was when the 'Mad' was added to Mike, thanks to his tricks, designed to impress onlookers. They lapped up his showmanship.
In late 2006, he swapped two wheels for four, and began his journey into pro drifting. Little did he know at the time that this move would be the catalyst to snowball his career.
Mike continues to be driven by a relentless thirst for achievement and showmanship, wowing crowds and fans around the world with stunning performances, both on the track and mountain passes.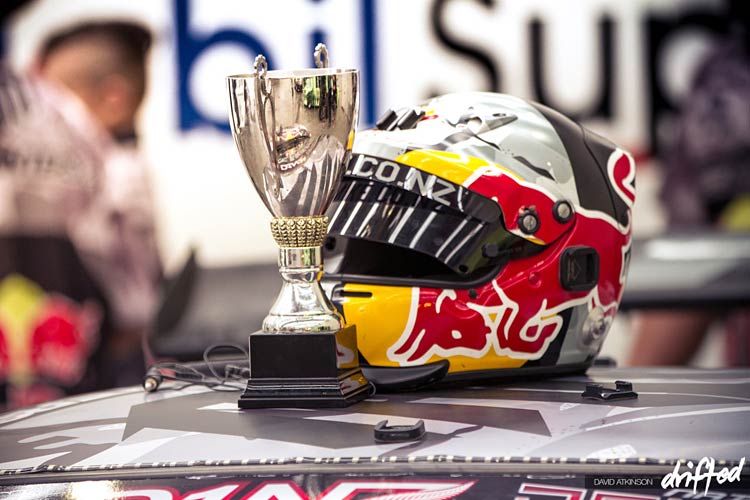 Mad Mike's Drifting achievements
Throughout his career, Mad Mike Whiddett has claimed many victories, including the first ever drift driver in New Zealand to win an award from the Motorsport New Zealand for Outstanding Achievement.
He has also taken the Goodwood Festival of Speed by storm, as one of the first drifters to race in the new category.
Is it any surprise that global names like Red Bull, Mazda and Nitto Tire are sponsoring him?
Not only that, but we're captivated by the cars Mike builds and unleashes on to the drifting scene.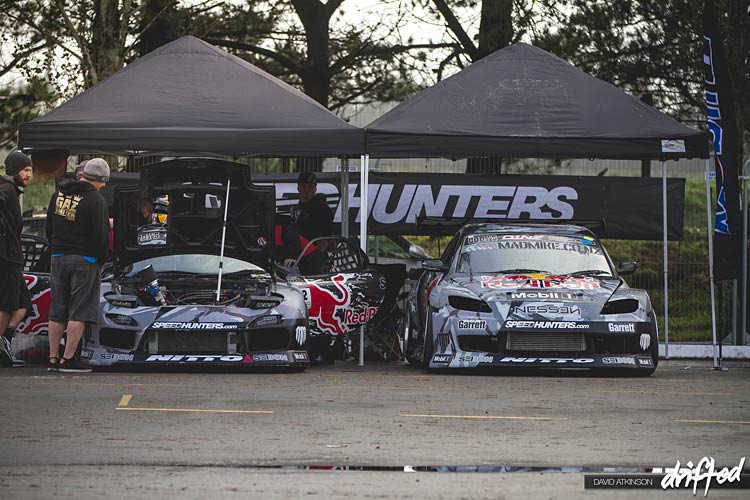 Introducing Mad Mike's cars
Mike's custom-built beasts are a wonder. They've blown drifting fans away with their unique rotary engines and wild styling.
Even as a young lad, he wanted to get his hands on a rotary engine - the first time he heard its sound, he set his sights on getting himself one! He was just nine.
"Every one of my cars is a dream build. I'm honored and privileged to be able to work with the world's leading brands, and each time I'm building these cars, it is the dream car."
"For competition, we want the car to be as fast, as explosive and to have as much grip as possible."
Mad Mike's cars
---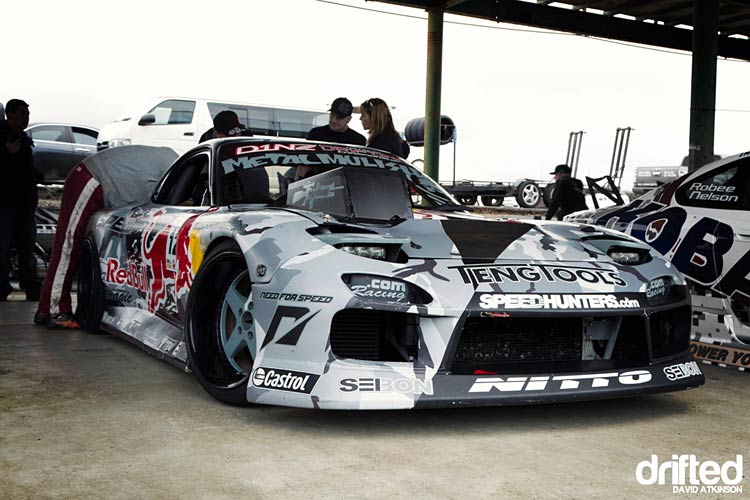 Madbul specification
You can read Madbul's full spec and more photos on Mad Mike's website, here: madmike.co.nz. Madbul is a heavily modified Mazda RX-7.
Madbul power plant
Pulse Performance Race Engineering (PPRE) 26b quad rotor
Peripheral Port
Lightened balanced hi comp RX8 rotors
Hi-rev mod
Pulse Performance Race Engineering (PPRE) Custom end & centre plates
Hand built chromolly crankshaft
3 window bearings
Hand fabricated intake runners
InjectionPerfection 55mm throttle bodies
Primary & secondary staged injectors
MOTEC fuel rails
WALBRO lift pump
FuelSafe cell
BOSCH 044 EFI pump
Turbosmart regulator
BOSCH HEC715 coils
M&W Hi energy CDI running 2 x 2 channel boxes & 1x 4 channel box
Custom MSD leads
HKS plugs
Custom alloy sump
Hand fabricated tuned length headers
3.5″ stainless exhaust to Borla muffler
Alloy radiator
Redline twin oil coolers
Oil breather
Stainless heat shroud
Stewart electric water pump
Pulse Performance Race Engineering (PPRE) Tuned Haltech Elite 2500 with platinum series TC4 Thermocouple Amplifier & AFR Couplier communicating via Haltech CAN Hub
Gilmor drives
Madbul drive line
HKS sequential 6speed
HKS PRO2 twin plate clutch
HKS flywheel
MAZDASPEED 4:3 crown wheel on Custom full spool Locker
Madbul suspension & chassis
TEIN Super Drift equipped with EDFC
Custom steering arms
Custom tierods
Megan Racing toe arms rear
Mod fire wall & chassis for steering clearance
Cut rear quarters for wheel clearance
D2 Air Jack setup
Madbul brakes
Zinolli rotors with EBC pads all ABS removed
B&M launch control kit
Autosport Dynamics hydaulic handbrake
Madbul rims & rubber
Custom Nessen Forged / Mad Mike Gold rims 17/9.5 front & 18/11.5 rear
Madbul tyres
Nitto NT05 235/40R17 front 265/35R18 rear
Madbul exterior
Rockey Bunny FD3S Kit
Custom CRE8GRAFX livery
SARD 3d wing
Madbul interior
Takata Racing Seats
SPARCO wheel
HKS knob
RacePak digital dash
TEIN EDFC
6 point roll cage
Takata harnesses
Custom alloy dash & door skins
Madbul power output
---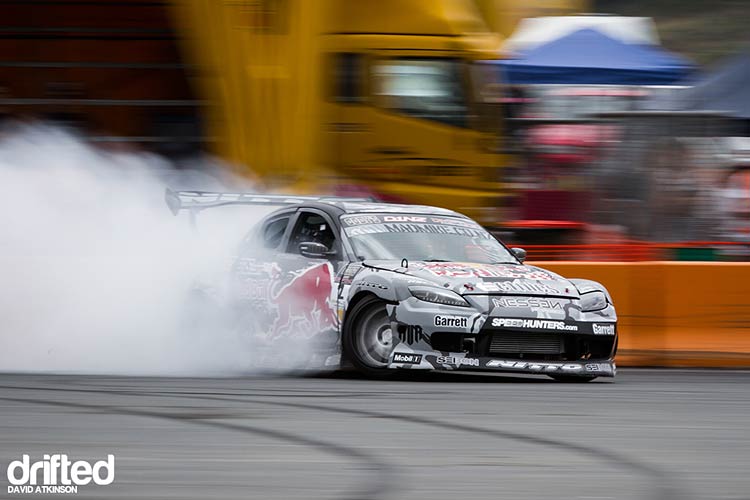 Badbul specification
You can read Badbul's full spec and more photos on Mad Mike's website, here: http://www.madmike.co.nz
Badbul power plant
Pulse Performance Race engineering (PPRE) 20B 3-rotor
Monster Bridgeport
Lightened/balanced rotors
Cross-drilled eccentric shaft
Pulse Performance Race Engineering (PPRE) apex seals
Modified stationary gears
Garrett GTX-45 Turbo
Custom merge exhaust manifold
Turbosmart Mad Mike Signature Edition 60mm Power-Gate 60 external wastegate
Redline Performance 6″ intercooler
Turbosmart blow-off valve
K&N air filter, custom 3.5″ stainless steel exhaust system
Custom fuel cell
2x Bosch Motorsport 044 fuel pumps
Bosch Motorsport lift pump
High-flow fuel lines
Turbosmart adjustable fuel pressure regulator
Custom fuel rails
High-flow injectors
Gilmer belt drives, custom catch tank and overflow bottle
Redline Performance alloy radiator
2x Setrab oil coolers
Intercooler and radiator water sprayers
Badbul drive line
Holinger RD6S-SS Sequential 6Speed
Clutch & flywheel by Direct Clutch
Autosport Dynamics / Winters quick-change rear end
Autosport Dynamics limited slip differential
Custom Driveshaft Shop axles & hubs
Badbul engine management / electronics
Pulse Performance Race Engineering (PPRE) Tuned Haltech Platinum Sport 2000 ECU
Custom loom
Badbul suspension & chassis
KW Suspension 3way Adjustable
FD3S RX-7 steering rack
Megan Racing steering arms
URAS tie-rods
Megan Racing tie-rod ends
MMM steering knuckles
Custom tube frame
Badbul rims & rubber
Front: 17×10″ Rotiform SLC
Rear: 18×11.5″ Rotiform SLC
Badbul tyres
Nitto NT05 225/40R18 tires – Front
Nitto NT05 (dry) and Nitto INVO (wet) 265/35R18 tires – Rear
Badbul exterior
Hybrid Lab wide body kit
BN Sport vented hood
Seibon carbon fiber doors
Seibon carbon fiber trunk lid
Sard GT wing
Custom CRE8GRAFX livery
Badbul interior
Six-point weld-in rollcage
Takata Racing seats – custom MM
Takata Racing belts belts
RacePak digital dash
Autosport Dynamics hydraulic e-braker lever
Lifeline fire extinguisher system
D2 Racing air jacks
Custom switch board
Badbul power output
---
Humbul
Join Mad Mike as his competes in Humbul – TCP Magic of Japan's tuned Mazda RX7 at Formula Drift Ebisu, Japan.
---
Radbul
Kiwi drift driver Mad Mike Whiddett and his newest – and arguably craziest – addition to his Mazda factory-backed stable of machinery yet, a Mazda MX-5 named Radbul.
---
Mad Mike in video games
Several of his cars have even been immortalised in video games like EA Games' Need For Speed Shift Unleashed and Project CARS.
Mad Mike in Project CARS
Mad Mike in Need For Speed Shift Unleashed
These games are probably the closest we will get to driving Mike's amazing cars.
Want an instant hit of drifting action? Try our free to play drifting games.
---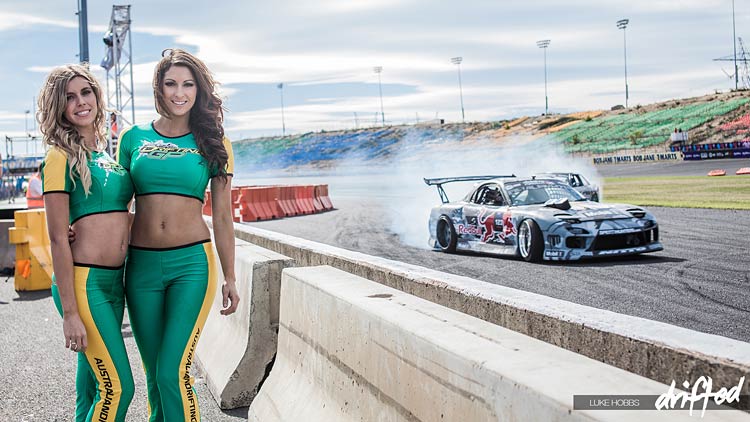 Conquering the drifting world
There's no doubt about it – Mike is one of drifting's best entertainers. He's taken on drift projects that show off his skills and leave us wanting more.
Red Bull Drift Shifters
In 2012, Mike created Red Bull Drift Shifters – a pin-ball inspired drift track in Auckland!
Mad Mike Conquers The Crown
The Conquer the Crown project was a global online sensation. In 2013, Mike drifted 47 corners of the Crown Range Road - a 10km stretch between Wanaka and Queenstown, and New Zealand's highest road.
Conquer The Cape
Another of Mad Mike Whiddett's adrenaline-inducing rides is Conquer the Cape, when he drifted his Mazda RX8 BADBUL around South Africa's Franschhoek Pass in 2016.
Mad Mike Drifts BADBUL Around the Franschhoek Pass | Conquer The Cape.
Magic Roundabout
Perhaps not as exotic but still iconic, is his drifting of the notorious Magic Roundabout in Swindon, UK.
Take a look - you'll see what we mean.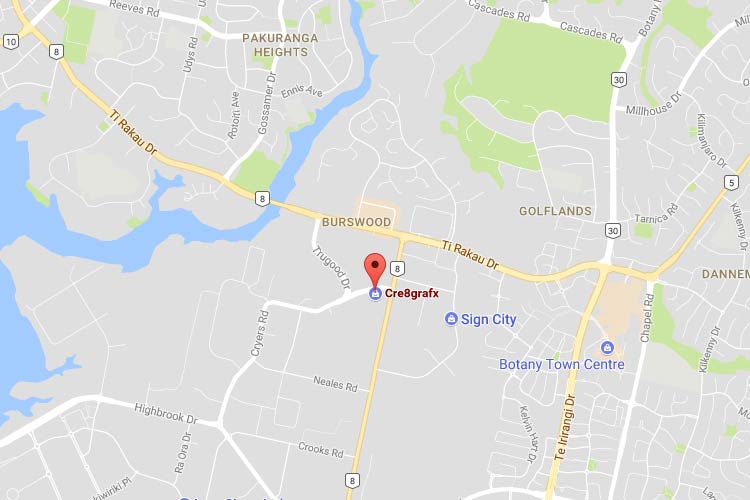 What Mad Mike does when he's not drifting
If this wasn't enough, Mike sheds the 'Mad' prefix when he's focusing on his sign writing and graphic design company.
Alongside his international drifting career, he's been building his Auckland-based business, CRE8GRAFX, since his early 20s.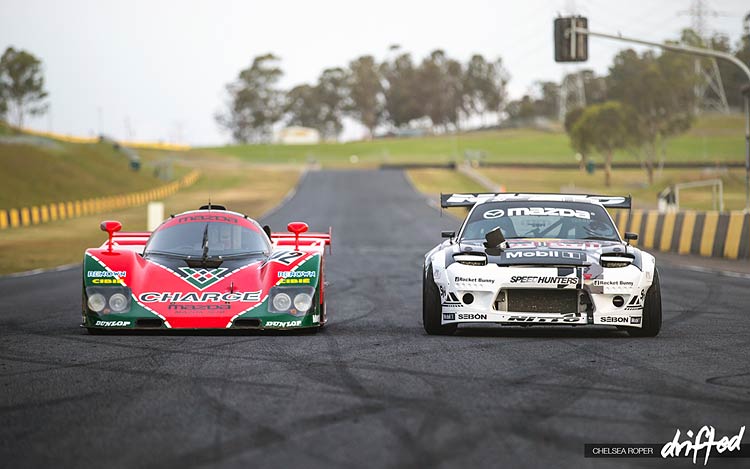 What's next for Mad Mike Whiddet?
Mike's year-round international drifting schedule is tight. He is involved in a lot of interesting events including the Goodwood Festival of Speed in 2017. We will do our best to keep you up to date with the latest coverage of Mad Mike and his crazy cars.
Thank you for reading our article and if you have any feedback i'd love to hear it in the comments below. Don't forget to subscribe to get free updates.
Sources