Ultimate Miata Supercharger Guide
We review the most popular Mazda Miata supercharger kits available on the market today. This is the ultimate Miata supercharger guide for all generations of Mazda's iconic roadster.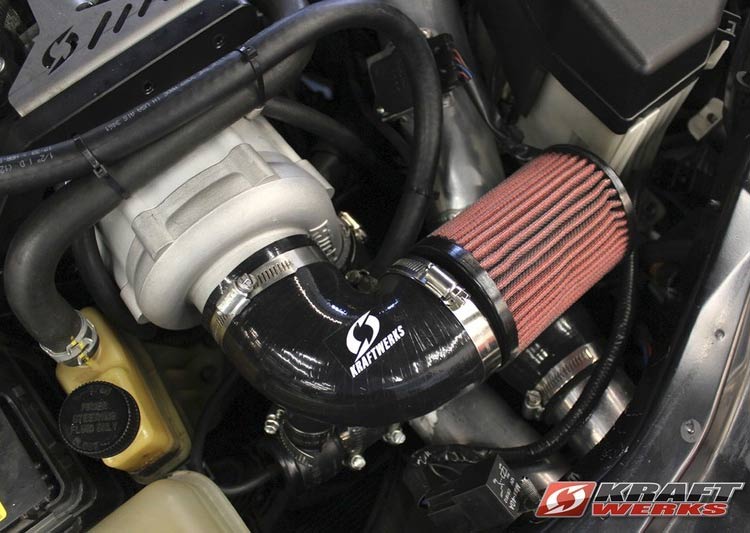 ---
In a hurry? Here is our Miata Supercharger summary
| Miata NA Choice | Miata NB Choice | Miata NC Choice | Miata ND Choice |
| --- | --- | --- | --- |
| | | | |
| Rotrex Supercharger Kit for Mazda Miata NA | Kraftwerks Supercharger Kit for Mazda Miata NB | Kraftwerks Supercharger Kit for Mazda Miata NC | HKS GT2 Supercharger Pro Kit for Mazda Miata ND |
| 🔥🔥🔥🔥 | 🔥🔥🔥🔥 | 🔥🔥🔥🔥🔥 | 🔥🔥🔥🔥🔥 |
| Buy Now | Discontinued | Buy Now | Buy Now |
The Mazda Miata (or MX-5 known elsewhere) is without a doubt the two-seater sports car icon of our generation. Launching in the late eighties and progressing through four iterations, this successful cabriolet is still in production today.
The low kerb weight, front engine, rear-wheel drive (FR) configuration has meant that all generations of the fun-focused soft top make great daily drivers, circuit cars and with the right tuning, even drift cars.
When it comes to out and out track slaying the plucky Miata comes up a little short on the power front but lucky for us Mazda fans, the aftermarket has stepped in.
---
Turbo charging or supercharging?
If you are new to forced induction then you may be asking yourself which of these two paths are the better option?
I'll let Marty and Moog explain the difference with an extremely scientific test.. If you would like to read more about turbocharging your Miata, you can read our miata turbo kit guide.
All caught up? Great.
---
Forced induction
The aftermarket has a plethora of options for Miatas, both of the turbocharged and supercharged varieties.
In this guide we are focusing solely on the superchargers that are available today.
Unfortunately, as the early generations of the Miata are nearing thirty years of age, some aftermarket options have fallen off the table so with this guide we aim to offer you options that you can order right now.
---
Supercharged Miatas in the media
Matt Farah of The Smoking Tyre YouTube channel takes a fourth generation (ND) Mazda Miata equipped with a Flyin' Miata supercharger system for a review down his favourite canyon run.
Still not convinced on forced induction for your Miata? Try this compilation of the best Miata sounds with over twenty different cars that are turbo charged, supercharged or tuned naturally aspirated.
If your going to add forced induction to your Miata, your gonna need to tighten up that handling. We have written this Miata coilover guide just for you.
---
Let's take a look at our Mazda Miata supercharger kits
To read more about any of these products simply click on the supercharger kit name or photo. Click on the purchase link to be taken to a retailer to buy that system.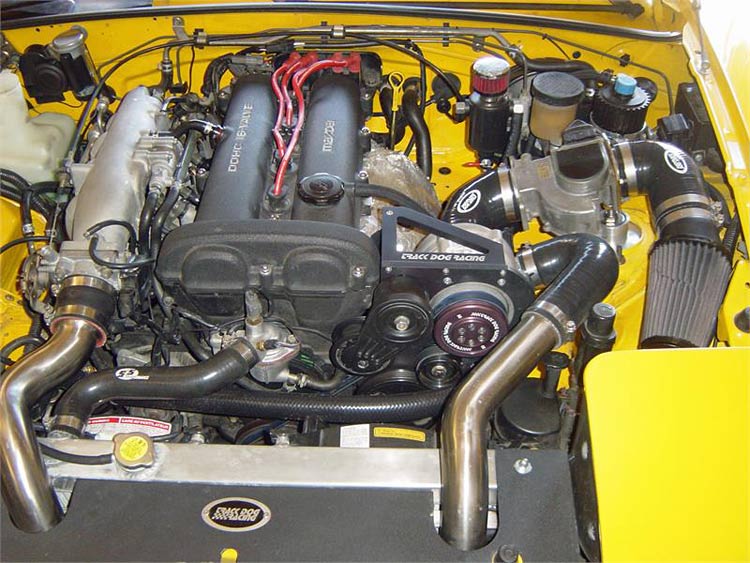 Our comment: Supercharging options for the classic NA platform Mazda Miata are thin on the ground in 2018, after some research a well regarded kit that is still available today is this Rotrex offering.
While the entrry level price is strong, this kit offers everything you need to double the stock bhp of your 1.6 Miata.
An intercooler and supporting hardware should enable you to run this power level without compromising on your Mazda's reliability.
Manufacturer description: "Ready for over 200 RWHP out of your stock 1.6? Fast and reliable HP in a Miata. Kit includes the ROTREX Supercharger, intercooler, all required mounting hardware and detailed installation instructions."
Videos:
Hit play to see an NA model Miata equipped with a Rotrex supercharger.
---
Kraftwerks Supercharger Kit for Mazda Miata (NB)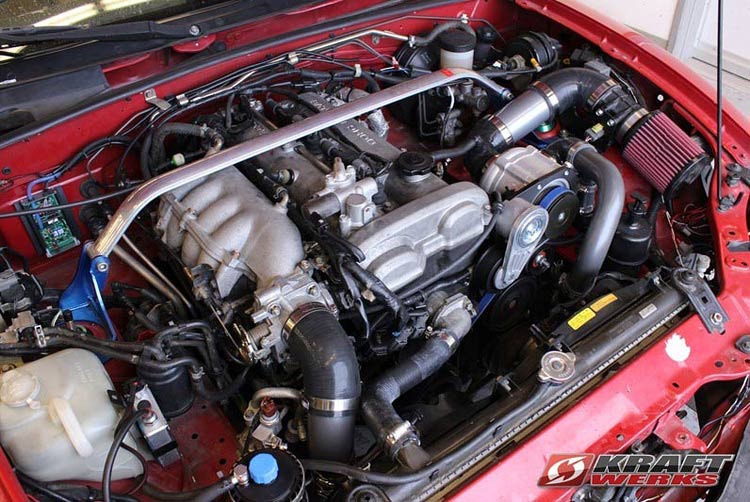 Manufacturer: Kraftwerks
Fitment: Mazda Miata (MX-5) (NB) 1998-2005
Supercharger type: Centrifugal
Value for money:

🔥🔥🔥🔥

Purchase link: Discontinued
Our comment: The highly regarded Kraftwerks kit uses a Rotrex supercharger at it's core and a complete package of supporting components to upgrade your NB model Miata.
We like this kit as it offers a huge dose of additional performance, with little or no fabrication required. Kraftwerks do a great job of offering a true bolt on kit that includes everything from fuel injectors, engine management and intercooler.
Manufacturer description: "KraftWerks is proud to introduce its completely redesigned Mazda Miata supercharger systems, available for 1998-2008 Mazda Miata."
"Like all KraftWerks supercharger kits, Miata systems are based off of the impressive Rotrex supercharger and include everything necessary for a truly bolt-on installation."
"At the heart of each KraftWerks Miata kit is the Rotrex C30-74 centrifugal supercharger. Rotrex's patented traction drive technology works unlike any other supercharger, and means that power's always available, all the way to redline. The results are impressive: 195 hp and 150 lb-ft torque on 1.8L engine."
"Each Miata supercharger system is a comprehensive design and includes all necessary components to ensure safe, reliable operation. Standard-issue with each kit is a large, front-mount intercooler to help ensure low intake air temperatures for optimal performance. All necessary aluminum tubing, silicone couplers, and clamps are also included for easy installation. Proper air/fuel ratios are ensured with the included Grams Performance 350cc/min. fuel injectors, DeatschWerks 255 lph fuel pump, and electronic fuel box. Convenient, plug-and-play fuel injector adapters are also included, making each kit a true bolt-on experience."
"Rotrex superchargers are renowned for their compact size, high adiabatic efficiency, low vibration, and quiet operation. Their unique traction drive technology is what makes all of this possible, which, unlike other superchargers, transmits power through frictional forces between its rolling elements. Each Rotrex unit features its own self-contained oiling system that remains independent of the engine. Its dual-action oil pump supplies traction fluid to the supercharger while the supplied cooler ensures proper fluid temperatures at all times."
Features
1998-2005 kit: 195 hp / 150 lb-ft torque @ 9.5 psi (#150-10-9805B)
Rotrex C30-74 supercharger (optional C30-94)
High-flow front-mount intercooler (2.5 x 6 x 12 in.)
Grams Performance 350cc/min. fuel injectors
DeatschWerks 255 lph fuel pump
Plug-and-play fuel injector connectors
Electronic Fuel Box
Recirculating bypass valve
Powder-coated aluminum intake and intercooler piping
High-quality CNC-machined brackets
Automatic belt tensioning system
High-quality fasteners, clamps, and hardware
Comprehensive installation manual
MAF relocation system
Reusable high-flow air filter
High-quality silicone hoses and adapters
Rotrex self-contained oiling system with oil cooler
Retain all factory accessories
Videos:
Talk the torque review this Kraftwerks supercharger equipped Mazda Miata NB.
---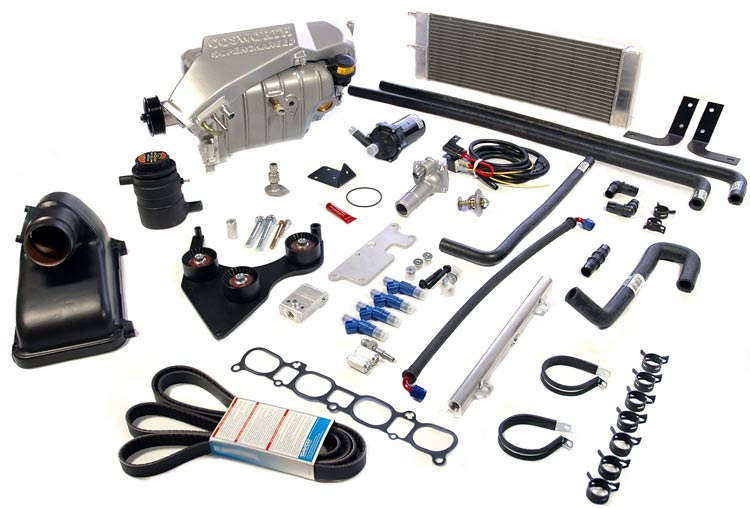 Our comment: The Flyin' Miata kit for the NC model Miata offers great performance, comprehensive installation package and excellent customer feedback. The kit has even been tested on official Mazda cars which speaks volumes.
When compared in context with the Kraftwerks kit the value for money does pale a little, so less stars have been awarded. This is still a very good option if you have the cash.
Manufacturer description: "This is a gorgeous piece of work that really wakes up the car. How good is it? Mazda USA put it on their Super20 show car. Mazda Germany put it on two show cars and even considered a limited production run. Yes, it's engineered to factory levels."
"The heart of the kit is a custom casting that incorporates an intake manifold, an air/water intercooler and the reliable and popular MP62 supercharger. The 6-rib serpentine belt drives the supercharger, using Mazda's own automatic tensioner. It's a very clean setup. The air/water intercooler means that intake temperatures are kept to a reasonable level, keeping the power safe for your engine and opening the door for future upgrades. Paint it black, and nobody would ever expect the engine bay was hiding such a secret."
"The really delightful thing about this kit (beside its exceptional build quality) is its absolute transparency. There is nothing telling you that you're driving a modified car. No odd noises, no lumps or bumps in power delivery (much, much smoother than the factory turbo cars were), just that your car will now pull much, much harder from low rpm to redline. Engine power increases to approximately 225 hp at the wheels for the federal version and 215 hp for the California. Basically, it turns your car into the Mazdaspeed that Mazda never made."
"To put that power into perspective, Automobile tested the Super20 show car and clocked a 5.3 second 0-60 time."
"Engine management is handled by a reprogrammed stock ECU. This means OBD-II compatibility and no emissions hassles even in California. You must purchase a tuning interface cable to load the ecu reflash. We will send you a map to upload using your laptop and the tuning cable. You then need to datalog your car using the same program and email the logs to us. We will tweak your file until it is perfect for your car – this may take a couple of iterations of logging. You can use the cable for future datalogging or to retrieve engine codes if necessary."
"We've also taken it through the rigourous CARB testing for use in California, and passed with flying colors. The California version runs slightly lower boost."
Videos:
Jump behind the wheel of this Mazda Miata NC tuned with a Flyin' Miata supercharger a the race track.
---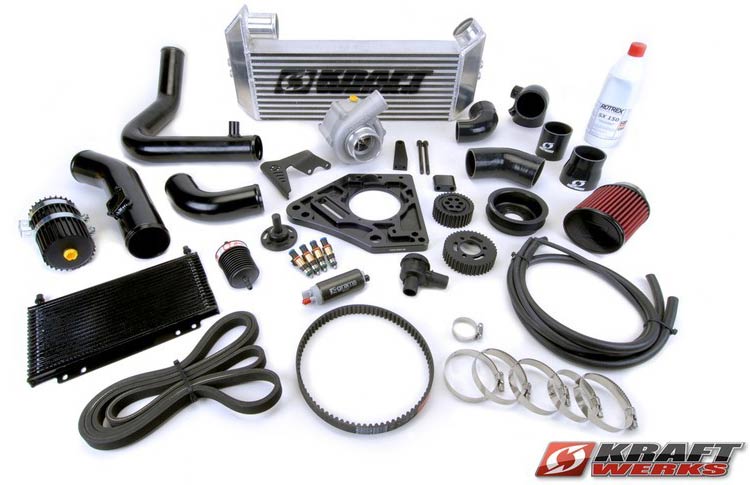 Our comment: The second Kraftwerks supercharger kit in our guided is built for the NC model Miata. The Kraftwerks team have done a fantastic job of making sure that all of your component upgrade needs will be taken care of with this very affordable package.
From the robust and performant Rotrex supercharger unit itself, the cooling, the fueling and the engine management are all supplied in this kit.
Based on the performance and features we rate this kit a full five stars.
Manufacturer description: "Kraftwerks has just announced the release of a brand new intercooled supercharger system for the 2006-2013 Mazda Miata MX-5. At the heart of the new system is the Rotrex C30-84, which is the same supercharger used in the extremely successful Kraftwerks 2006-2013 Honda Civic Si system. "
"At 10psi of boost pressure, the supercharger system produced an impressive +110whp on 91-octane through the OEM headers and exhaust. More impressive is the linear power curve throughout the entire power band due to the patented traction drive technology, which transmits power through friction forces between its rolling elements. "
Features
Rotrex C30-84 Supercharger Unit
Ultra high efficiency
Silent operation
Low operating temperatures
Self contained lubrication and cooling system
High reliability
Fuel and Engine Tuning
Optional EcuTek Tuning package
Base Maps Developed in Collaboration with Moto-East
550cc Grams Performance Fuel injectors
265 Lph Grams Performance Fuel Pump
Independent Drive System
Does not share belt with engine accessories for greater reliability
If the drive belt breaks, you won't be left stranded
Allows for more flexible offset supercharger placement
Toothed Belt System
Zero slip under the heaviest loads and hardest accelerations
Offset Supercharger Placement
Allows for greater clearance around belts, thus reducing chances for rubbing
Allows for simple and more efficient tubing layout
No poorly designed, inefficient and goof-looking custom hoses/tubing into the throttle body
Improved Water pump Belt Routing
Improved support on custom nose pulley for water pump.
Increased traction and efficiency of water pump
Optimized Tubing and Intercooler Layout
2.5″ mandrel bent aluminum hot side tubing into intercooler made possible because of newly designed washer bottle (included)
3.0″ mandrel bent aluminum cold side tubing into throttle body made possible because of independent drive and offset supercharger configuration
8 Row, 3.5″ thick Intercooler
Intercooler good up to 460whp
Ease of Installation and Tuning
Simple bolt-on installation. No cutting, drilling, or welding
4.5 hours installation time (approximate)
Kits sold with or without tuning
Videos:
Watch a professional garage installing a Kraftwerks supercharger kit on a Mazda Miata NC.
---
Our comment: Edlebrock is now offering a supercharger performance package for the new generation of Miatas that are equipped with the SKYACTIV®-G engine.
This Eaton powered supercharger delivers 198rwhp and 182rw torques for the lightweight ND platform. Edelbrock also offer 50 state legal tunes available directly from their website.
These features and a reasonable price point make the Edelbrock supercharger kit a great choice for upping the power on your modern Miata.
Manufacturer description: "This E-Force Supercharger system is designed exclusively for the SKYACTIV®-G 2.0L engine. It's unique design allows for maximum flow, while retaining great daily driving characteristics."
"It has been designed from the ground-up and utilizes the Eaton® R900 TVS rotor assembly for maximum efficiency in a compact package. To cool the incoming air, is a air-to-water intercooler and heat exchanger."
"All these features help the E-Force deliver dramatically improved performance with a smooth linear power curve. "
"Lastly, the supercharger assembly is finished with a durable black powder coating for a unique look that will let everybody know your car is E-Force powered! Important Installation Note: Supercharger systems without tuners are not eligible for supplemental warranty."
" Supercharger systems sold without tuners are only emissions legal when used with the correct Edelbrock program, which can be downloaded at www.edelbrock.com."
"For safety, the Edelbrock supplied program will retain the factory vehicle speed limiter setting."
Videos:
Edelbrock E-Force Supercharger Dyno Results for an ND model Miata.
---
Our comment: HKS has brought their tuning expertise to the ND Miata market with their GT2 supercharger pro kit. This extremely high quality Japanese bolt on kit includes everything you need (other then engine management and tuning) to inject some serious power into your 2l Miata.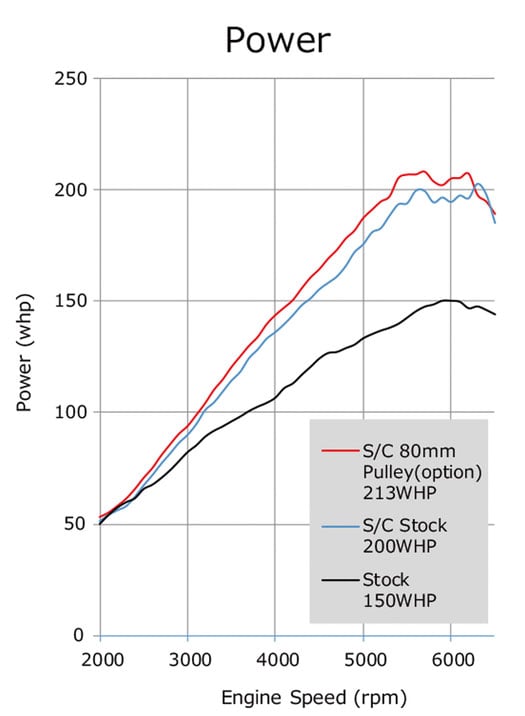 This supercharger delivers a potent but safe power hike of 50 wheel horse power for your ND. You can also order the optional 80mm pulley to deliver an additional power bump of 13 wheel horse power at a risk of slightly more engine wear.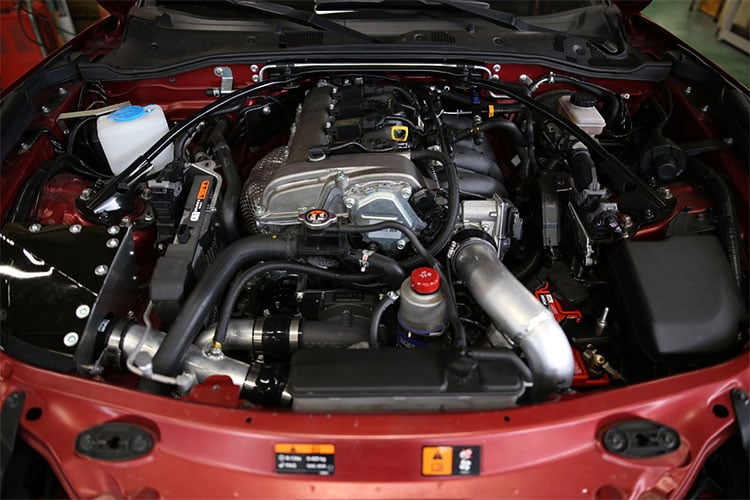 HKS has a fantastic reputation in the tuner world for producing high quality products that deliver excellent results. They tend to be on the pricey side, but you know you are getting some of the best kit available.
We are confident to recommend HKS kits, although this is one of the most expensive kits in our guide, you will be buying over engineered and safe performance for your Miata. Highly recommended.
Manufacturer description: "New Mazda MX-5 continues philosophy of a historic lightweight sports car that exist for a very long time. HKS recommends superchargers as a power-up menu for cars with N/A engines. HKS had already successed in power-up of N/A engines such as 350Z, S2000 and CR-Z.The MX-5 power-up menu also uses HKS GT2 supercharger to make possible a comfortable yet exciting sports driving."
"HKS GT2 supercharger system is now available for owners of latest model MAZDA MX-5 with 2.0 L engine. The new HKS GT2 supercharger for MX-5 is complete kit that takes full advantage of the potential of the stock N/A engine. At the heart of this system is the high efficiency centrifugal rotor assembly with an intercooler for lower inlet air temperatures. This is assisted by an air intake box which further shields heat and reduces intake noise. Centrifugal Supercharger systems increase boost with engine rpm, delivering smooth power delivery and an engaging driving experience which is in line with the manufacturers original concept for the car: "Jinba Ittai" (THE ONENESS OF HORSE AND RIDER)."
"CONCEPT AND FEATURES: Full piping and intercooler, supercharger assy and mounting bracket, spark plugs 50003-M45HL, suction pipe and power flow air intake, cold air intake box with sound isolation, traction fluid, traction fluid cooler and washer fluid tank for relocation."
---
Our winner
As we are showing different generations of the Miata platform and each kit offers a range of power levels (based on supporting mods) we can't compare each kit directly, however, what we can do is look at which kit offers the best value for money, regardless of platform.
Our winner is the Kraftwerks Supercharger Kit for Mazda Miata (NC)
The Kraftwerks kit for the NC model car stands out for offering great value for your cash. You are looking at a truly complete forced induction conversion, from cooling, to fueling to engine management.
Couple this ease of installation with potent Rotrex powered performance and you have a killer package on your hands.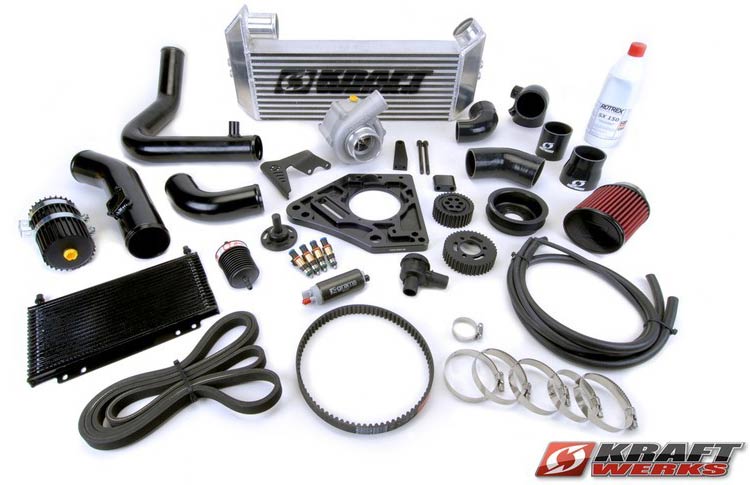 ---
Thank you for reading our Mazda Miata supercharger guide
Now that you have the right Miata supercharger for your Mazda all lined up, why not read our Miata exhaust guide to get that car sounding on point.
You can also check out our Ultimate Mazda Miata Cold Air Intake Guide.
If you enjoyed this article then please share it with the sharing buttons at the bottom of your screen.
UPDATED 20/11/2019: Added HKS GT2 supercharger kit for the ND and updated the lead table.
Photography credits
Drifted would like to extend thanks for the following sources for images.