Tacoma Camper Shells – The Best In The Game
If you're looking for a Tacoma camper shell, you've come to the right place. We're looking at the top-rated options to help you find the ultimate pick.
Introduction
Currently, camping is gaining traction again, partly due to the lack of international travel during the recent pandemic, with many desperate to continue their adventures closer to home.
This has meant that there's been a huge demand for new inventions and designs that break the boundaries of what can be done to make an everyday vehicle a proper camper. There are van conversions, minivan conversions, and even bus conversions. We've even seen car campers popping up.
But what if I told you that you could modify your pickup truck in your garage and make a proper camping vehicle from it?
If you're the owner of a Toyota Tacoma truck, you're in luck! You'll want to get a camper shell to maximize the potential that it has to offer.
Not only will you gain the ability to camp, but you will also have dry storage space for carrying sensitive items.
In this article, we will explain a little more about camper shells and the things you must consider before you buy a shell for your Tacoma.
After that, we will learn more about the best Tacoma camper shell models you can use right now.
What Is The Toyota Tacoma?
Before we dive into more complex topics and look at the Tacoma camper shell models list, let's first look at the Toyota Tacoma in general and try to understand more about this model.
Since people with similar issues want to purchase a Tacoma and simply do not know if this is a suitable model, let's familiarize ourselves with the Toyota Tacoma truck.
If you didn't know, the Toyota Tacoma mid-size truck is Toyota's replacement for the Hilux for the North American market.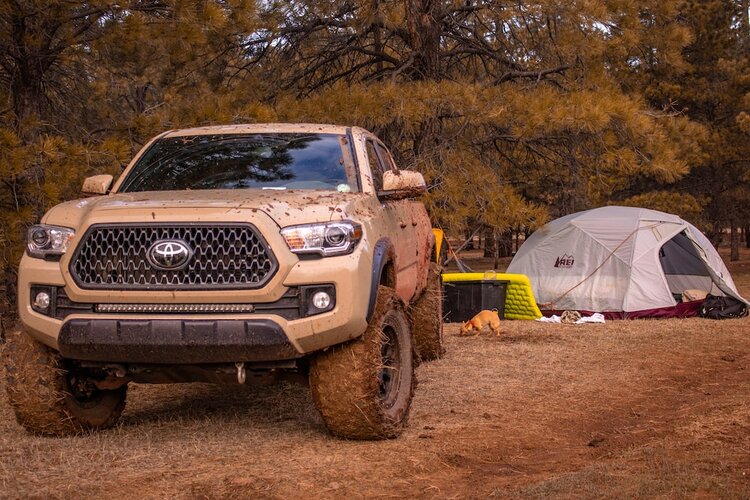 In the 1990s, Toyota executives noticed that the US market didn't have the typical requirements for pickups as the rest of the world.
People in America love commodities, comfort, and luxury. And the Hilux didn't have any of that, even though the name derives from "high luxury."
In 1995 Toyota introduced the first generation of the Tacoma. Since then, three generations have been released to the market, with the most recent model being released in 2015.
Overall, these trucks and their engines are very durable, except for the rust issues on older models. Their frames tend to rust a lot. For this reason, if you're buying one used, make sure that you check the frames and see if there is any severe rusting.
Now that we've learned more about the Tacoma, let's look at the best Tacoma shells you can buy.
What Are Camper Shells And Why Are They So Popular?
As you probably know, when it comes to trucks, there are a lot of accessories that you can purchase. There are roof racks if you plan to carry cargo on the top and camper accessories.
You can turn your truck into a camper in minutes with these accessories.
There are different types of campers, like pop-up camper shells that are made out of fabric, and there are also camper shells that are made out of fiberglass or automotive-grade aluminum.
The camper shells give you the ability to have a house on wheels. Perfect for storage space, camping, as well as for safety.
And most importantly, the camper shell is straightforward to install. You only need to install some pads to prevent water from sipping in, and you mount the camper shell on your Toyota truck. These shells are perfectly designed for this type of truck so that they will be a precise fit.
One thing left after you install the camper shell is that you have to install the wiring and the led dome light. You can get this kit on Amazon for dirt-cheap prices.
What essential aspects must you consider before buying a Tacoma camper shell? We're taking a look at that next.
Choosing The Right Camper Shell
What are the things you must be aware of before purchasing a shell?
The first thing you must be aware of is the shell's size. There are normal models, and also there are high-rise models.
A normal model sits flush with the top of the cab, while the high-rise model sits a bit higher. So, with these models, you will have increased headroom, which is highly convenient.
The second thing you need to be aware of is the material these shells are made of—two widely used materials: the cheaper fiberglass and the more expensive aluminum models.
Both of these materials are very good when it comes to longevity. So, you shouldn't be scared by either of them. Both types are high-quality.
There is also a rooftop tent; some of the people call them pop-ups or soft-top camper shells. These are made of fabric and are not the best at tackling storms and other weather situations that can come up while you travel and camp.
And the last thing to consider is compatibility. You need to find a compatible camper shell based on the truck bed that you have and the Tacoma platform that you own.
Since not every model will fit your truck, these shells are purposefully built for each generation. So, before buying a Tacoma camper shell, keep this in mind.
Top Tacoma Camper Shells
Now let's dive into our list of the Tacoma camper shell and learn more about the most popular models out there that you can purchase right now.
We shall discuss the standard models, as well as some high-rise models. We will cover the technical data and specifications for each of them. So, if you want to learn more about purchasing your new Tacoma camper shell, follow along.
1. SnugTop Rebel
The first on our list of Tacoma camper shell models is the SnugTop Rebel. If you are into camper shells and you have searched before, you know who SnugTop is and its high-quality products.
More specifically, the Rebel is one of their most popular models. The Rebel is a cab-high model. This means that the model is flush with the top of the cab. And once you install this shell, your Tacoma will look like a big station wagon.
We have to admit; the SnugTop looks pretty neat. It has a front, back, and side window.
A big plus is that the model comes with tinted windows, so you should not be scared of someone spying on you while you camp.
The model is constructed from aluminum and has a lifetime warranty for the paint and structure and a 1-year warranty for the components. This shell will perfectly match the OEM color of your Tacoma.
It fits the 3rd generation extended and double cab. As well as the 2nd generation double and access cab. And the model is a correct fit, meaning it simply bolts on.
Overall, the SnugTop is an excellent pick for a Tacoma camper shell.
2. Leer 100XR
Now let's move on to the second Tacoma camper shell on our list. And this is the Leer 100XR.
Leer is another big player in this segment; they're known for their high-quality production.
This model is also a cab-high design as the previous model. But the main difference is that this model is made out of fiberglass and not aluminum.
This model also implements side windows, as well as a back door. The camper shell has tinted windows and is well insulated in terms of heat and cold.
What's good about this model is that it comes with installed third brake light, so you don't have to do any aftermarket work on it. This model has various options with different add-ons that you can purchase.
You can also add numerous accessories to the shell, such as roof racks, electrical outlets, and clothing hangers.
A much more versatile camper compared to the SnugTop. But the downside is that this model comes with a limited warranty.
3. SnugTop Sport Hi-Liner
Now let's cover something different regarding the Tacoma camper shell models. And this is the SnugTop Sport Hi-Liner.
The Hi-Liner is another product by SnugTop. But this is a mid-rise model. This model sits a few inches higher than your cab. So, we can say that it is a more spacious shell compared to the previous two.
This camper is made of aluminum and has a lifetime warranty on the paint and structure. There are side windows and a rear hatch wholly made of glass.
What is good about this model is that it has a honeycomb structure on the roof that improves durability. As well as proper insulation for the cold winter nights and also for keeping out the heat in the summer.
It comes as a single piece, so we can say that it is highly durable. This model fits on the 3rd generation extended and double cab. As well as on the 2nd generation double and access cab.
4. Leer 180XL
And the last on our list of Tacoma camper shell models you can buy is the Leer 180XL.
This is another mid-rise model, just like the previous one we covered.
The Leer 180XL is a model that offers about 4 inches more headroom than the previous model that we covered, which sits flush with the cab.
Even though this might not seem like a lot. But space matters. Especially when you camp and try to fit many things in this tight space.
For this reason, we can say that this model gets our recommendation if you are someone who gets claustrophobic in tight areas. This extra headroom will give you some breathing space.
This model also comes with side-tinted windows and a rear window. What is good is that you can open the windows and enjoy a fresh breeze of air in the morning.
This camper is available in the factory OEM colors. So, if you purchase one, it will be a perfect match.
Thankfully, this model is made from fiberglass and has a lifetime warranty.
The only drawback we see with this model is that it is slightly less desired. So, you will have to request the Leer to make one for you. And you will have to wait a bit until they make the shell to order.
The model also varies when it comes to fitment. So, you will have to contact Leer and tell them about what type of truck you have, so they will help you out the best they can to get your Tacoma camper shell as quickly as possible.
Conclusion
Now that we have covered the Tacoma camper shell models, let's summarize.
Leer and SnugTop are reputable brands that create camper shells for various truck models sold in the US, not only the Tacoma.
Regarding your recommendation, the best option is likely the If you want to get something taller, the Leer 180XL will be a great pick.
Alternatively, if you want something more compact, the Leer 100XR is likely perfect for your needs.
You can also try finding one of these shells on the used market. There are many websites like Facebook Marketplace, Craigslist, eBay Motors, and potentially others in your area.
Chances are, you can get a hell of a deal if you're patient and know where to look.
Since you're a Toyota fan, look at our other article, where we look at the ultimate value-for-money cheap JDM cars – some of these will be perfect as a grocery-getter alongside your Tacoma!