VH45DE – Everything You Need To Know
We lift the cylinder head on Nissan's mighty VH45DE V8 powerplant to bring you everything you need to know about this robust and powerful JDM engine.
Here, you can click on a particular section within this article, otherwise, scroll down as we take a look at Nissan's VH45DE engine.
---
We've recently taken a look at Toyota's 1UZFE, but this time we're going to take a look at its rival – Nissan's VH45DE. How do you think Nissan's V8 powerplant will stack up against the best V8's out there?
Introduction
In the late 80s, V8 engines were far from common in Japan, yet they had been gaining popularity throughout the rest of the world. Nissan decided it was time to get in on the action and they launched the VH45DE onto the market in 1989.
Unsurprisingly, Toyota also opted to show their hand as their rivalry continued to thrive, with the launch of the with their direct competition 1UZFE within the same year.
For its time, the VH45DE was a serious competitor and very few V8 alternatives on the market were offering features such as dual over-head camshafts alongside reliability. Its aluminium heads and block helped to keep the weight and temperatures down, which also gave it immediate appeal within the tuning scene.
Featuring a 4.5-litre displacement, the VH45DE was developed for use in two of their luxury vehicles - the Infiniti Q45 (G50 platform) and was also later added to the Nissan President Limousine (JG50 platform) in 1990.
Despite its lightweight advantages, it only ever featured in two (rather heavy) cars, neither of which ever gained huge popularity. Today, it is one of the rarer V8 engine swaps, especially when compared to alternative V8's, such as the LS engine series.
This hasn't stopped the VH45 finding its way into a host of various engine bays around the world, with enthusiasts taking advantage of its low cost combined with decent power and reliability. Pushing out 278hp and 294ft/lb torque with a 6,900 rpm redline, it's certainly no slouch.
From 1990 to 1995, Nissan's Variable Valve Timing system, VTC, was featured on the engine. At the time, there was a "Gentleman's Agreement" in place among the Japanese manufacturers that all cars sold in the Japanese market would produce no more than 280 hp.
Despite the "agreement", there are rumours that the VTC feature was disabled during the car rating tests, and that the actual power it produced at that time was closer to 310 hp and 330 ft/lb torque, which is quite a drastic difference!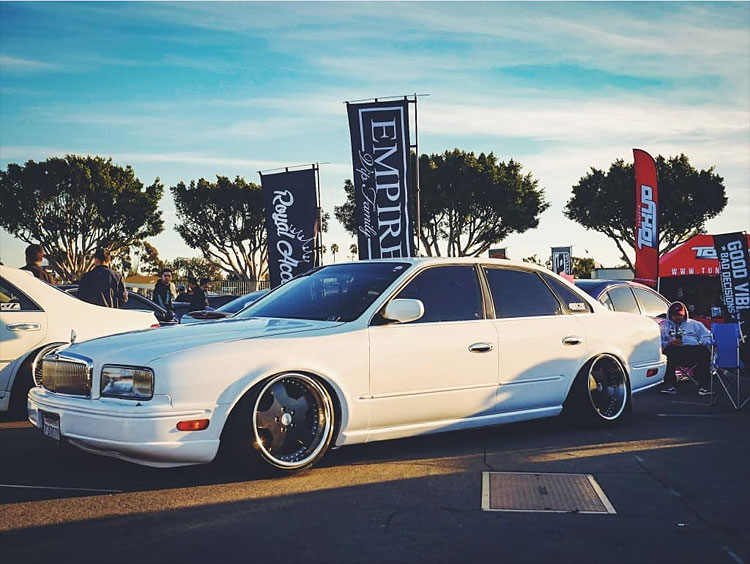 Following tightened emissions regulations in the U.S, Nissan discontinued the VTC featured from 1996 onwards before discontinuing the VH45DE entirely on the US market in the following year.
Despite no longer being available on the US market, production of the VH45DE was continued until 2002 in Japan with the Nissan President.
Although it was only ever released from the factory with a four-speed automatic transmission, the VH45DE can easily be paired to a manual transmission when using an aftermarket adapter plate.
With conversion parts being readily available, like most V8's, it has frequently found its way into various forms of motorsports such as drifting and drag racing, even dirt track sprint cars and boat racing.
The VH45DE is often regarded as the big daddy of the VH series, with the later-released VH41DE achieving less power and featuring weaker internals.
VH45DE Performance
Nissan's VH45DE is a naturally-aspirated 90-degree V8 four-stroke engine from Nissan's VH-family which was produced between the model years 1989 until 2002.
Nissan opted for an oversquare bore and stroke of 93 x 82.77mm to displace its 4494cc, which was significantly more than rival Toyota's 1UZFE.
Head back to 1991 as Infiniti try to sell you their brand new VH45DE-powered Q45!
Also included are knock sensing, direct-fire ignition, DOHC, four-valve-per-cylinder heads (32 total) and 10.2:1 compression. Early models also featured the VTC variable cam timing system, which was removed from 1996.
The odd spider-like fixed-volume intake manifold featured a big-bore 75mm throttle and airflow meter. A forged steel crankshaft allowed the engine to rev freely to 6,900 rpm.
It also boasted forged steel connecting rods, 6-bolt main bearing caps with studs and lightweight, floating pistons, which all make for great tuning potential.
Although 'on paper', the Q45 is capable of pushing out 278 hp and 294 ft/lb torque, there are rumors that the President was restricted to just 265 hp, mostly due to a restrictive exhaust.
With that being said, as stated in our intro, the Q45 supposedly pushed out 310hp and 330 ft/lb torque, bypassing the manufacturers "Gentleman Agreement", so the true figures with these engines are a little vague!
For those of you interested in the breakdown of the engine code, as usual, it covers most of its main features. "VH" represents the engine family, "45" references the 4.5L displacement, "D" is for the DOHC (Dual Overhead Camshafts) and E is for the multi-point fuel injection.
VH45DE Tuning & Upgrades
V8 engines are often are well known for their tuning abilities on stock internals, and despite being Nissan's first real effort into the V8 market, the VH45DE is no exception. In fact, when the VH was launched, most engines featured far stronger internals than what we've become accustomed to in the modern-day.
The VH45's stock pistons feature a flat-top design with recesses for the valves, which means they're not particularly prone to detonation, therefore making them forced-induction friendly if you're looking to opt for the boosted route.
Supercharging has been the most common method of forced induction for most owners, however, there are also plenty of turbocharged builds out there if you're looking for some inspiration.
With a set of uprated injectors, headers, intake, increased compression ratio, and upgraded valve springs, the VH has repeatedly been capable of achieving over 500-600 hp on otherwise-stock internals. As for its limitations, there are some substantial builds online which are claiming 1,000 hp with a 9,000 rpm redline!
The VH45DE is known for its exceptional reliability, and they are often taken well over the 200k mile mark, especially when they're well-maintained. With that being said, we always highly recommend giving an engine a thorough check-over if you're intending to push big power through it.
There's nothing more frustrating than getting a chunk of a way through a big build before realizing you had a dud engine to start with!
Given their price, if the engine isn't looking too fresh, it's most likely worth trying to source a replacement rather than going through the costly effort of rebuilding it. VH's can often be picked up extremely cheap if you can find them.
VH45DE Potential Issues
Given that the VH45DE was Nissan's first event at building a luxury vehicle with the Infiniti Q45, it was all eyes on Nissan to ensure they pulled it out the bag. To ensure things went to plan, it certainly appears that the VH45 was over-built for its needs since it can achieve such big power using stock internals.
However, there were a few teething issues with their earlier models with the earlier models made prior to 1994, which used plastic timing chain guides, which have been known to fail over time.
Since this will eventually most likely cause some rather severe damage, we highly recommend swapping it out for a metal replacement if it hasn't already been done.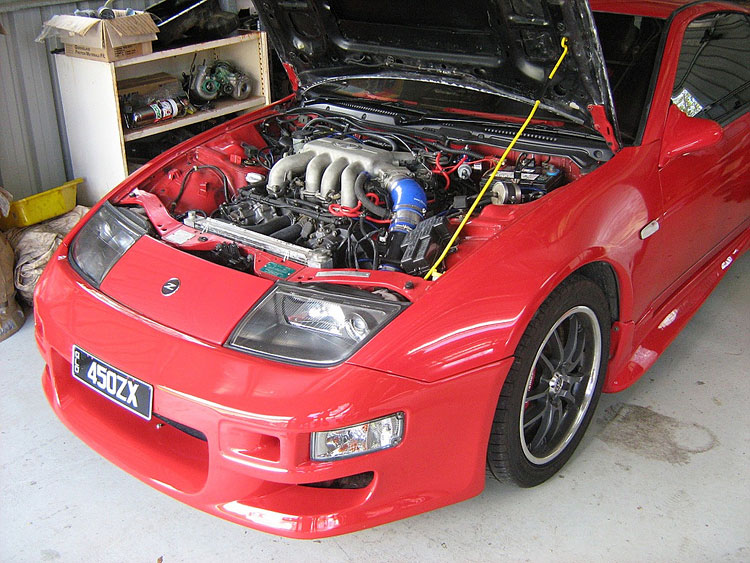 On engines from 1994 onwards, Nissan reverted to metal-backed chain guides to prevent further problems.
Due to the higher ethanol content in the present-day gasoline, this can sometimes cause injector issues. This has mostly been found in California, New York, and Arizona, where higher concentrations of ethanol are used.
Other than that, there have been some reported issues with knock sensors and MAF's, however, for their age, these are all minor issues. It's always a good sign when people pick out the tiny problems almost 30 years down the line - it certainly won't be that way in 30 years' time with today's engines!
Which Cars Left the Factory with the VH45DE?
Nissan only ever released the VH45DE in two vehicles, which were their first ever attempts at competing on the luxury sedan market.
1990-1996 Infiniti Q45
1990-2002 Nissan President
The Nissan President
Little is known about the Nissan President, which was a significant car in its time, even if it didn't have a particularly wide appeal.
This was Japan's first ever "full-size" car, and although it first hit the market in 1965, it was the third-generation JHG50, announced on October 24, 1990, which featured the VH45DE and was substantially different to its predecessors.
With the Lexus LS and Honda Legend already hitting the market in the late-80s, Nissan knew that it once again had to go head-to-head with its rivals.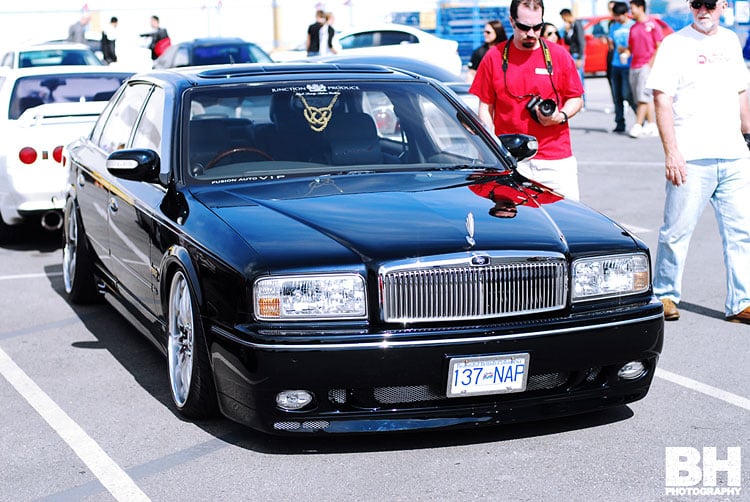 Featuring what appeared to be Rolls Royce-inspired styling, the president had a long-wheelbase design. This long-wheelbase enabled it to have an extra 180mm on the interior, which featured luxury comforts such a silk wool seats as standard.
Further features such as power seats with an auto-lifter and a central console for the rear seats added to the luxury, which would make it perfect for the baller VIP scene later in its life.
Wondering what they looked like in stock form? This video shows you how awesome they are. We'd love to do a VIP build on one of these!
It also incorporated Nissan's 4-wheel multilink hydraulic active suspension, V-TCS traction control with viscous LSD, and engine automatic integrated control.
With Nissan ceasing production of the VH45DE in 2002, it then paved the way for the President PGF50 which went on sale until 2010, utilizing the VK45DE V8.
VH45's In Drifting
Despite not being a popular swap in drifting, UK-based Team Japspeed have been using the VH45DE in their drift builds for a long time now, and it's stood the test of time as they continue to remain at the forefront of the British Drift Championship.
Having run the twin-turbo setup in their S15, they most recently went on to build a brand-new 370Z, and this time around opted for a supercharged setup instead.
VH45DE 240SX Engine Swap
Although it was once considered a huge swap with plenty of custom fabrication required, you can easily pick up an off-the-shelf kit with most of the parts you'll need you're looking to fit a VH45 into your 240SX (S13/S14/S15).
Here are the details on the Xcessive Swap Kit from Enjuku Racing:
Xcessive's VH Swap Kit for the 240SX comes with steel motor mount brackets for the VH engine and steel trans cross member bracket for the 240SX (S) chassis.
The kit is designed to place the engine as low as possible without compromising the oil pan and as far back as possible to allow the shifter to sit in virtually the stock location when using one of our shifter bracket kits. CNC cut from 1/4″ steel plate, formed and plated, these engine brackets and trans bracket will handle all the punishment you can throw at them and last a lifetime doing it.
These mounts are designed to be run as solid mounts, the VH is a smooth-running motor and a tight fit into the S chassis, so flexy rubber mounts may not be such a good idea. These mounts also work excellent with our VH alternator relocation kit and power steering pulley kit to install the VH with no frame cutting for a much easier, cleaner install.
We've also included a one-piece steel driveline so you won't have to run around and get one of those made either.
This kit does not make the VH "fit" the S chassis, ABS brake modulators, brake boosters, sway bars and exhaust are a few of the items you will need to address during install. We have come up with a few parts such as the Alternator relocation bracket and Power steering pulley to aid in the install without cutting the chassis.
Included Parts
VH 240 Motor Mount Brackets
VG with VG 5 Speed Transmission Cross Member
One Piece steel Driveline for the VG/240SX
Bolting hardware for the supplied brackets
If you're left thinking "But I'm still going to have to deal with the god-awful issue of wiring!" Enjuku have the answer for that, too with the Wiring Specialties VH45DE Wiring Harness!
This custom kit is available for the S13, S14 and 300ZX Z32.
This Wiring Specialties Pro Series Wiring Harness includes the engine and transmission harnesses for a Nissan 240sx with a VH45DE engine swap. It was developed in house on an actual VH45DE engine and comes tucked for a clean finish. The harnesses are designed as a one-piece unit with integrated OEM COIL, Injector and transmission harnesses for a clean install.
PRO-SERIES HARNESS FEATURES
Plug and Play
Significantly lighter than a factory harness
NO CORE HARNESS or additional wiring required
REQUIRES the use of NEW style Ignitor Chips
REQUIRES the use of OEM Coils
Available with New or Early style injector connectors
Available with New or Early style CAS and TPS connections
Constructed using OEM connectors and seals
Made with high temp TXL wire (-40C to +125C operating temperature) with adhesive shrink tubing
Wrapped in lightweight nylon loom with -94C to +257C operating temperature
Includes a charging harness and improved grounds
Fully tested after production for an easy plug-and-play replacement
Turn Key ENGINE START Guarantee
PRO-SERIES HARNESS INCLUDES
One-piece design with integrated Coil, Injector and transmission connectors
Alternator charge cable
Nissan Diagnostics connector
Power and dash interface connectors
Retains factory A/C, speedometer, tachometer, engine temperature gauge, oil pressure sensor, alternator charge light, reverse lights, and wipers
These should leave you mostly covered, any other parts you'll need are easily available through various online vendors.
Check out this video for more information:
How Does the VH45DE Against Its Rivals?
It's clear that these engines were built to go to war with each another, and in the present day, that's not changed.
Much like their creators, the owners of both engines will provide plenty of arguments on why their choice is better. But, just how different are they?
The 1UZ is known for frequently achieving over 1,000hp, is often more commonly available, therefore making it cheaper, so is it the perfect choice?
Well, the VH45DE has the upper hand when it comes to its superior bottom end and additional 500cc's.
The full comparison list is extremely tough, but Nissan does seem to have the upper hand when it comes to a realistic face-off. However, 1UZ's are more common, so you may find that the aftermarket part availability is easier.
Either way, they are both extremely solid engines with fantastic reliability, and both take kindly to forced induction on stock internals. You can't go hugely wrong either way!
For us, this decision would mainly boil down to the price that you're able to secure the engine for, and ease of fitting.
The RB26 is a different financial ball-game, but since so many of you are interested, we figured we'd cover this too.
RB's have well and truly been hit with the scene-tax stick now, so the chances of getting one at a reasonable price are slim, even if there is huge part availability.
There's no question that the RB is an epic choice, but the VH45DE is typically capable of achieving higher power figures at a fraction of the cost and almost the same weight. If you're determined to go RB, you surely won't be disappointed, but again, it all boils down to how much money you have to spend.
So, here we are again! Let's face it, the Chevy LS seems engines seem to pop up in just about every article we do here at Drifted.
However, we can't deny that it's justified. The LS just ticks so many of the right boxes, from huge power potential to interchangeability, it's typically the most convenient swap you can do.
If we were able to get an LS2 for a similar price of a VH45 (which is very unlikely) then that could be a serious temptation. They're fantastic engines and readily available, especially in the US.
For the purists out there, that would prefer to stick with a Nissan engine, you've most definitely already decided that the LS isn't for you, anyway!
VH41DE
The VH41DE came to the market in 1996 in the Y33-series Cima. It featured a shorter stroke, weaker internals, and less power.
Despite the VH41DE's displacement being just 4130cc, it did still manage to achieve 270hp, which is quite impressive.
We think it says enough when it's common to see VH41 owners swapping VH45 internals into their engine. The VH41 may be newer, but the VH45 is regarded as the king of the VH-series, and it retains its throne this time around.
Conclusion
Overall, the VH45DE is a fantastic engine, especially for its time. Made in an era where manufacturers were keen to ensure each engine that left the factory was bombproof and built to last, most are still running perfectly to the present day.
It may have some strong competition in the V8 marketplace, but it often comes out on top, especially if you can find one at a bargain price!
Given its strong internals provides endless forced induction capabilities, allowing for huge power capabilities, especially if you're willing to throw some extra bucks on uprated internals.
It may not be the prettiest engine ever produced, but there's a reason that it's continuously increasing in popularity and becoming more sought after than ever.
Additional VH45DE Related Content
We've selected some of our favorite VH45DE YouTube picks for your viewing pleasure!
You've gotta check this 'Stealth Fighter' 300ZX out, what an insane build!
A unique insight into a VIP-styled Nissan President at Osaka Auto Messe in Japan.
Prepare for an eargasm as this '500ZX' hits the dyno!
Considering using a Q45 or a VH45DE for drag racing? Let this video give you some inspiration.
Check out this excellent rundown on the VH45DE by Bryce Cleveland.
If you would like to read another dive on on this mighty JDM v8, then check out the 180sx Club's VH45DE article.
Considering a Toyota V8? Take a look at the underrated 2UZ-FE.
Photography credits
Drifted would like to extend thanks to the following sources for use of their images: