Ultimate 370z Header Guide
In this guide, we'll show you some of the best Nissan 370Z headers on the market. This is the ultimate 370Z header guide.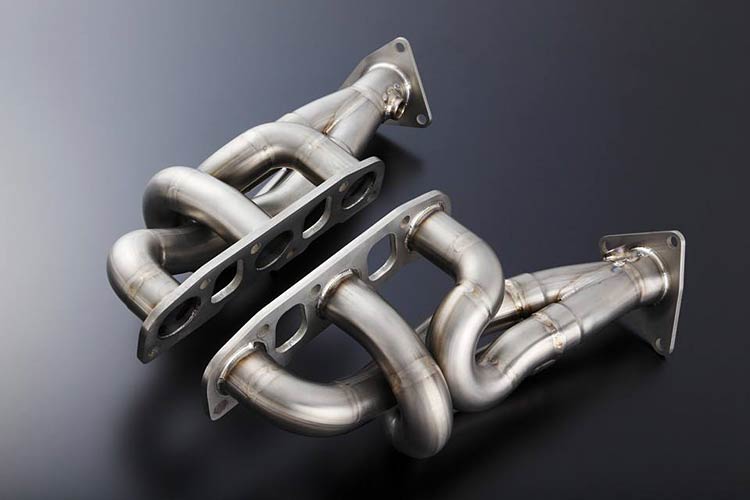 ---
In a hurry? Here is our 370Z Headers summary
| Budget Choice | Drifted Choice | Premium Choice |
| --- | --- | --- |
| | | |
| Megan Racing Short Tube Headers | Fast Intentions Long Tube 370Z Headers | Power House Amuse Titanium Short Tube 370Z Headers |
| 🔥🔥🔥 | 🔥🔥🔥🔥🔥 | 🔥🔥🔥🔥 |
| Discontinued | Buy Now | Buy Now |
When you first picked up your Z34, you were probably pretty happy with the performance. However, as time goes on you'll no doubt get the urge to release the 3.7 liter V6 VQ37VHR's maximum potential.
Why do I need aftermarket headers?
Once you've completed the simple bolt-on mods such as an intake and cat-back exhaust, there are even more precious horses desperate to be unleashed from higher flowing headers than Nissan provided from the factory.
When switching to aftermarket headers, the enlarged diameter piping and smoother bends allow for exhaust gasses to exit the engine far more efficiently. This increase in flow provides improved performance. VQ37 headers are an important addition to getting the most from your naturally aspirated build. If you're considering going down the supercharged or NOS route, headers will offer substantial improvements.
You'll need to consider that going for long tube headers will remove your cats, which means your car won't pass emissions testing in certain states. If this is likely to be an issue, take a look at the short headers in our guide.
Can I fit them myself?
Fitting headers to VQ37's is known for being notoriously frustrating to fit. If you're inexperienced with basic tools and planning to do this on axle stands, you may want to reconsider. On average, we expect this job to take an experienced mechanic with the right equipment around 6 hours. If you're experienced and capable, still expect many enjoyable hours of cussing and torn knuckles. It'll no doubt be worth it in the end!
Lukas Lenner has this great guide on removing your stock headers, so make sure you check this out before you get your hands filthy.
Since it's such a big job, we recommend either ceramic coating or heat wrapping your headers before you fit them. Lukas Lenner once again comes to the rescue with another great guide on how to wrap your headers here:
---
Enough talking, show me the headers!
In this guide, we'll cover the budget end of the market right the way through to the top end, we hope to be able to find an ideal product for all Z34 owners.
---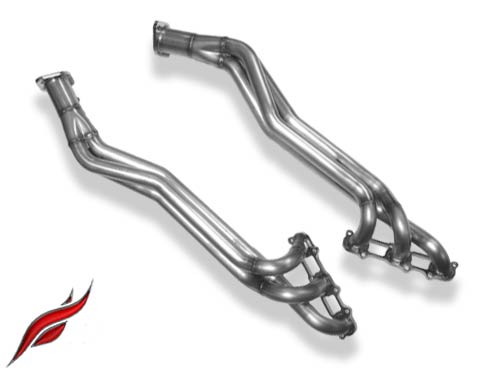 Our comment: Fast Intentions are well known for releasing some of the best products on the market, and their 370Z long tube headers are certainly no exception. Providing exceptional quality alongside some of the largest performance gains.
These were the first headers released for the 370Z and they are still quite possibly the most popular choice out there with many delighted long-term owners.
Manufacturer description: "This is the worlds first "production" long tube header for the Nissan 370Z. The premier upgrade for all 370Z owners looking maximize the performance output of their VQ37VHR naturally aspirated or supercharged engine. With the addition of these headers all restriction created by the OEM exhaust manifolds and catalytic converters will be eliminated."
"Built as a direct OEM replacement, our long tube headers bolt right in; no cutting or welding required. The 1-5/8″ primary tubes are mandrel bent to maximize exhaust flow and efficiency."
---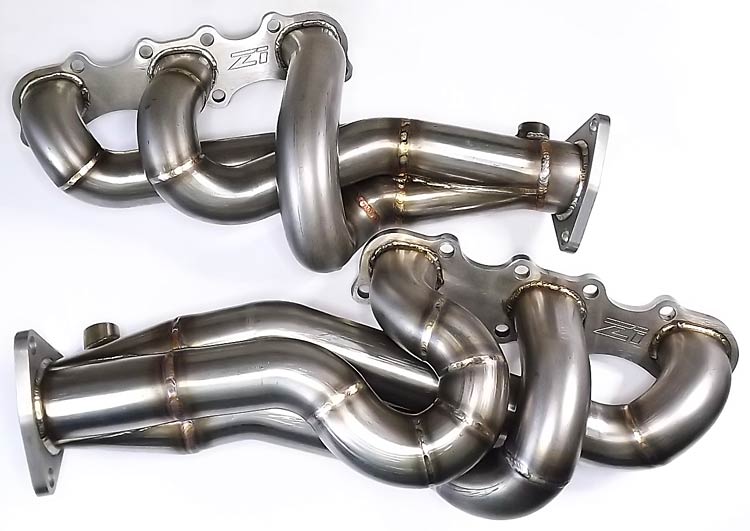 Our comment: Z1 have utilized the design of the discontinued 'Momentum' headers, to bring quite possibly the best short headers to the market. These are exceptional quality and a fantastic option if you have emissions concerns.
Short headers typically produce less power, but these are well known for keeping up with the long tube versions and people have claimed to achieve up to 16whp gains.
They do note that the driver's side motor mount bracket will need to be clearanced, so it may be worth considering if these are on your radar.
Manufacturer description: "Z1 Motorsports VQ Performance Headers are constructed with 1 3/4″ 16 gauge 304 stainless steel with 3/8″ flanges to prevent warping. The use of back purge TIG welding and mandrel bends creates the strongest headers with the most efficient airflow."
"They feature equal length runners and merge style collectors for increased scavenging. The materials and craftsmanship are impeccable. Z1 headers are the nicest headers available for your VQ Powered Z."
---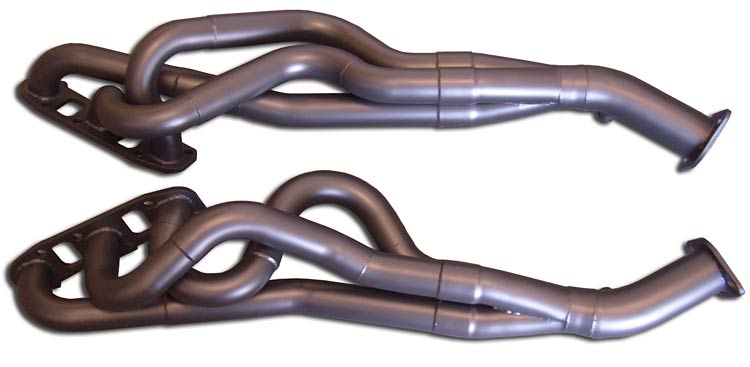 Our comment: PPE brings another fantastic addition to the market with their popular long tube headers. We would say these are almost as popular as Fast Intentions and once again feature fantastic quality with great long-term results.
One of the best things about the PPE offering which could well make it tempting is that they include ceramic coating for free to keep your engine temperatures down, whilst increasing power and providing corrosion protection.
Manufacturer description: "The PPE 370Z/G37 long tube headers are designed for maximum power. Testing on a 2010 370Z Nismo showed a 23whp gain on a completely stock car. Excellent gains were also seen on the base 370Z and G37."
"Evolution Performance Coatings polished ceramic coating comes standard and adds good looks along with thermal barrier properties that increase power and lower engine bay temps. They are also a great protection against corrosion."
---
Megan Racing Short Tube Headers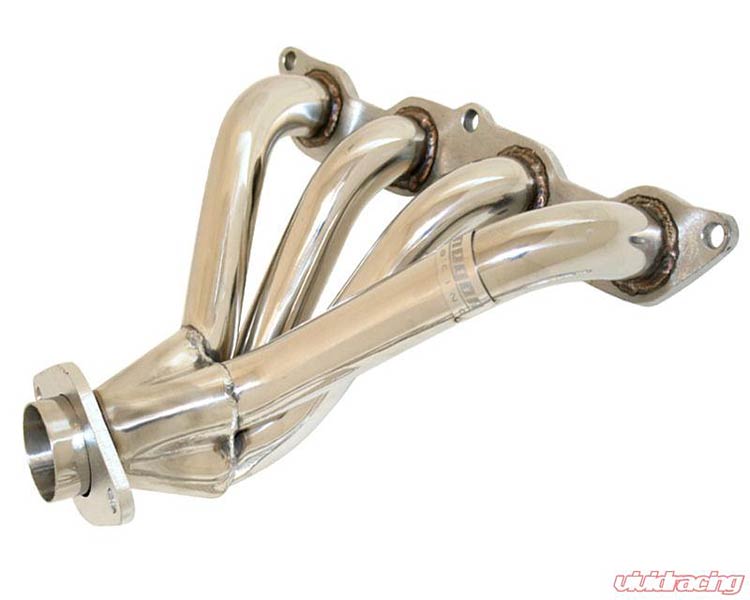 Manufacturer: Megan Racing
Fitment: Nissan 370Z
Value for money:

🔥🔥🔥

Purchase link: Discontinued
Our comment: There's no doubt that Megan Racing bring the cheapest kit on our list, but does it come with quality? Megan often has a negative reputation in the tuning industry, however, these can often be false or exaggerated rumors.
Megan have sold quite a few of these headers, with many happy owners. We're not sure about their longevity, and since it's such a huge job to swap them out, we would perhaps consider going with one of the more tried-and-tested methods.
With that being said, if you have the time, the tools and you like to take risks, this may well be a bargain!
Manufacturer description: "Megan Racing Stainless Steel Headers are made of thick T-304 Stainless Steel and are mandrel bent to form and fit your particular application with the best performance results possible while the thick flanges and strong welds prevent cracking and offer long lasting durability."
"These Headers or Turbo Manifolds help your engine maximize its performance by allowing the exhaust gasses to flow more efficiently to gain power and performance."
---
Our comment: They're in the higher price bracket, but that hasn't stopped many owners opting for Motordyne's unique Long Tube design. This is another great quality kit and even includes high flow cats to keep the noise levels down and also to help with emissions.
This kit may require a small o2 sensor cable modification, but other than that, it's definitely a solid choice.
Manufacturer description: "Motordyne Engineering – Infusing rocket science and aerospace technologies into automotive performance parts, innovating faster, more powerful and higher quality performance components to aerospace standards. High performance quality parts for Nissan and Infinitis."
"For the past 5 years, Motordyne had successfully earned its reputation as delivering quality, performance and reliability. Through countless independent dyno reviews from satisfied customers, we take the expectation of our power hungry enthusiasts to a higher level of trust and confidence."
---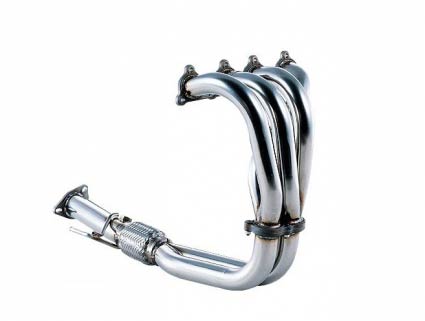 Our comment: The first of the Japanese tuning houses arrives, and it's Fujitsubo that bring their flawless quality to the market with this fantastic, reasonably priced long tube option. These headers provide impressive gains within the mid-power range.
When ordering, ensure that you are getting the LHD version.
Manufacturer description: "Fujitsubo's spirit is to "produce the highest quality products". This has not changed since Fujitsubo was first established in 1931. This spirit does not only pertain to creating highly efficient and high quality exhausts and manifolds, but it also applies to our customer's satisfaction."
---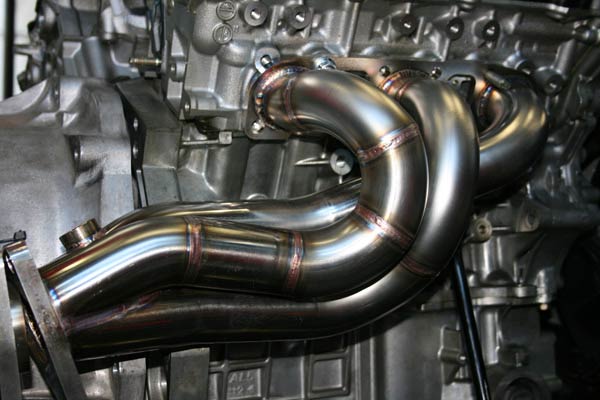 Our comment: There's very little to go on with regards to Central 20's JDM offering and it certaianly is one of the rarer alternatives for 370Z owners. From the pictures we've seen, they look similar to the Z1/Momentum shorties, which is definitely a good thing.
Central 20 are known for being absolutely meticulous in their fabrication processes and quality with beautiful welds. If you're looking to feature some different parts on your build to the norm, this could well be the perfect option.
Manufacturer description: "Central 20 is the lifework of director/president Haruhiyo Yanagida, also known as 'Z of Yanagida or Z-Master'. "
"After having great success as a driver in the late 60's and early 70's Central 20 was established in 1975 focusing specifically on the Fairlady Z."
---
MCR Long Tube 370Z Headers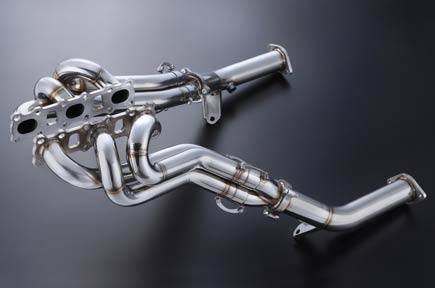 Manufacturer: MCR
Fitment: Nissan 370Z
Value for money:

🔥🔥🔥🔥

Purchase link: Discontinued
Our comment: The second option in our JDM classics range is from MCR. Once again, there's no doubt that it's an absolute work of art, but it definitely comes at a price. These are more of a mid-length option, similar to Motordyne, and could be great for those who want to run high-flow cats.
For those of you with deeper pockets that want a unique product for your 370Z, we have no doubt MCR will be a great option, with its stunning design and traditional Japanese quality.
Manufacturer description: "Matchless Crowd Racing (MCR), based in Saitma, Japan has grown to become a well known name throughout Japan and the world."
"Demo vehicles in distinctive MCR red have set benchmarks in quality and performance. "
---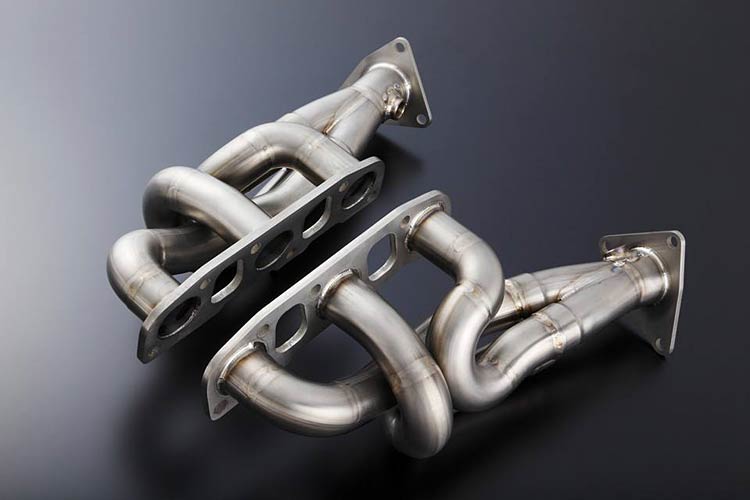 Our comment: Once you've stopped drooling and/or being stunned by the price, we introduce our most expensive offering and we just couldn't leave Amuse off our list. These guys are known for being titanium wizards and their latest work of art weighs in at a ridiculous 2.7kg!
If you're going for the ultimate build where money is not an issue, these will undoubtedly offer you fantastic strength and durability to go with your power gains. Pair these headers with their Titanium exhaust for the ultimate combination!
Manufacturer description: "The R1 Titan Exhaust Manifold features full titanium construction for strength and durability as well as extreme weight reduction."
"Powerhouse Amuse's exhaust manifold weighs a mere 2.7kg over the oem 7.8kg."
---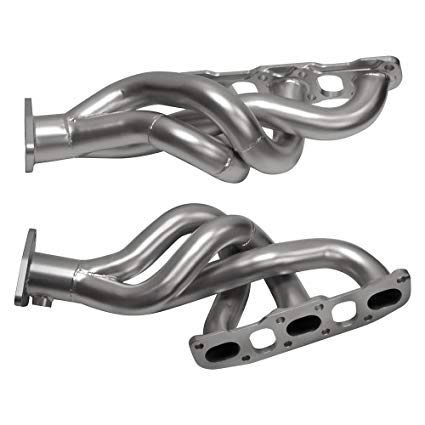 Our comment: DC Sports bring another option for those of you after short headers for those of you that need to pass emissions testing or are looking for a quieter setup. These feature a great design and for the price point, they're certainly worth considering.
However, for those on a budget, cheaper brands are often known to have more issues, so perhaps going for one of our 5* options would be a better choice. Since removing the headers is such a pain, it's definitely not a job you'll want to be doing too often. That being said, many 350Z owners have had good long term experiences with DC Sports.
If you're after something a little different, they also have a polished alternative.
Manufacturer description: "DC Sports header systems are precision-bent on our CNC mandrel benders using data acquired from our non-contact digitizing scanner. Our flanges are CNC machined, we machine-grind the flange mating surface to ensure a leak-free seal and use a robotic welder to attach the flange to the header pipes."
"Our state-of-the-art manufacturing process ensures superior quality and a perfect fit with every header system we make. DC Sports Stainless headers are 304-stainless steel and available is a High Polished mirror-like luster or a Brushed finish that compliments any engine bay."
---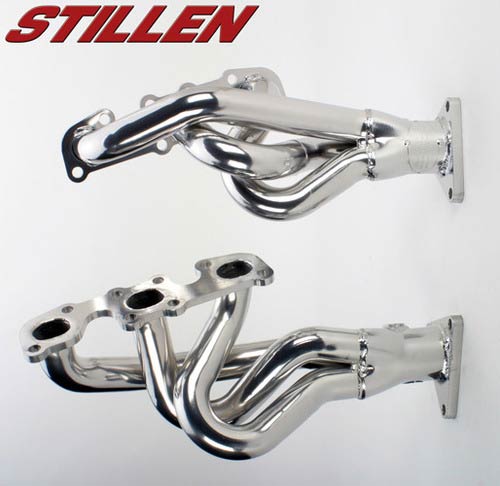 Our comment: Stillen are traditionally known for bringing some of the best products to the Fairlady market, but they, unfortunately, appear to have missed the mark a little this time.
It's definitely not the best design on the market for fitment and performance reasons. Several people have reported fitment issues and very little power gains from the small collectors, some even claim a loss over the stock headers. They are the typically great build quality you'd expect from Stillen, but if you're going for gains and ease of fitment then these definitely aren't the favored option.
Manufacturer description: "The STILLEN Z/G Headers are the finest available. With months invested in development work, these headers produce big increases in streetable power and torque on both naturally aspirated and forced induction vehicles."
"The equal length design of the headers allows better and more efficient exhaust scavenging which contributes to the dyno tested performance gains."
"Each header features 2 o2 bungs placed downstream of the collector so that you can utilize your factory upstream and downstream o2 sensors. The downstream o2 sensor bung utilizes a flow restrictor to help avoid CELs."
"You will be required to extend your primary o2 sensor harness to meet the new location which is lower on the header."
---
Our winner
Our winner is the Fast Intentions 370Z Exhaust Headers
Fast Intentions bring arguably the best product to the market in our guide, but the PPE Long Tube headers are also an extremely popular competitor for those of you looking to go Long Tube.
For those of you that live in a state where you're required to pass smog/emissions testing, the Z1 option is definitely the most popular Short Tube option, but the Motordyne option with cats added is a great alternative.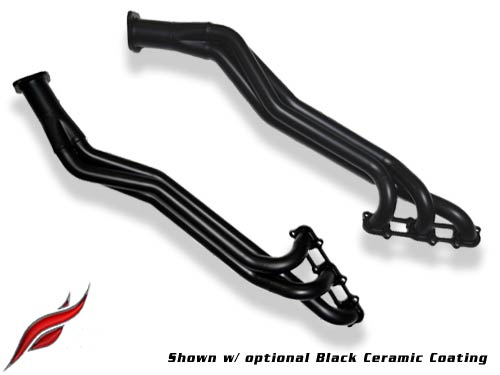 Thank you for reading our Nissan 370Z exhaust header guide.
If you enjoyed this article then please share it with the sharing buttons at the bottom of your screen.
If you're looking to make further modifications to your Z, make sure you check out our turbo, supercharger, coilover, exhaust and test pipe guides!
Photography credits
Drifted would like to extend thanks for the following sources for images.