Ultimate 370z Exhaust Guide
Looking for a performance 370z exhaust? You've come to the right place. We compare nine of the best 370z exhausts available to help you find your perfect system.
---
In a hurry? Here is our 370z Exhaust summary
| Budget Choice | Drifted Choice | Premium Choice |
| --- | --- | --- |
| | | |
| Manzo Dual 370Z Exhaust | Invidia Gemini 370Z Exhaust | Tomei Expreme Titanium 370Z Exhaust |
| 🔥🔥🔥 | 🔥🔥🔥🔥🔥 | 🔥🔥🔥🔥🔥 |
| Buy Now | Buy Now | Buy Now |
So, you've been lucky enough to get your hands on Nissan's latest offering of raw 3.7 litre V6 power. We're guessing you've realised that the car has so much more to offer than what it left the factory with and decided it's time to release its full potential?
If so, you've come to the right place – we've compiled the ultimate exhaust guide just for you!
At Drifted, we know all too well that with any stock car purchase it's near-impossible to resist the endless possibilities that are available in the tuning world.
Looking for more power? Our intake, 370z turbo kit and supercharger guides will point you in the right direction.
Following the success of the 350Z, Nissan decided in 2009 that it's time for a new beast to enter the market. Their goal was to maintain the ideology that made the 350Z so unique whilst also improving on many aspects. Before we knew it, the Nissan 370Z was born.
There's no doubt that whatever manufacturers improve on, the aftermarket tuning world will continue to push out even more substantial gains whilst providing better sounds and looks that'll make your Z34 stand out from the crowd on the road, at a meet or on the track.
Want to learn all about Nissan VQ37VHR engine? Try our completed VQ37VHR motor guide.
What is this guide for?
This guide has been created to help you find the perfect exhaust upgrade for your Fairlady. We'll be focusing on all aspects that you'll be looking for to compliment your Z perfectly.
For each exhaust, we also add our own comments. In addition, we have given a Drifted rating (1-5) based on features and price. We are considering budget, mid-range and high end exhausts in this comparison.
---
Let's take a look at our selection!
To read more about any of these products just click on the exhaust name or photo.
Our comment: This mid-price offering from Stillen brings offers a much cleaner look to your Z. With an 'aggressive tone without the annoying drone', this is an ideal choice for those who want the looks, performance and aggressive sound when under throttle but also keen to keep noises to a minimum when cruising on the highway.
Manufacturer description: "Each Stillen aftermarket performance exhaust system is expertly constructed by Stillen craftsmen. These artisans bend, form and weld top quality 304 stainless steel tubing, mufflers and exhaust tips. Then they carefully polish each component to a high finish for durability and good looks."
"You can be confident your Stillen performance exhaust system will withstand harsh weather and road conditions for years to come. And for added reassurance, Stillen offers a limited lifetime warranty against rust-through and manufacturer defects."
"Count on the Stillen R&D team to extract every ounce of hidden horsepower from the VQ37 powerplant. We've spent nearly 30 years designing and building proven Nissan performance parts. No wonder our performance exhausts systems consistently dominate magazine shootouts for max power output."
Stillen exhaust video
---
Our comment: The HKS Hi-Power exhaust is a Japanese classic and once again they've pulled it out of the bag with this work of art. Enjoy the subtle sounds until you plant your foot to the floor to let her roar. This is another great choice for those who are after the quieter option for daily driving. However, we doubt you'll be able to resist hearing the sounds it produces as it screams its way to the redline!
Manufacturer description: "Inspired and designed from endurance and GT racing in Japan, HKS developed its Hi-Power Exhaust system for both turbocharged and naturally aspirated applications."
"HKS has incorporated this new race inspired offset muffler and piping design into many street applications, which offers a greater flow and higher RPM power gains due to the less restrictive design. This is achieved by eliminating unnecessary bends for the straightest exhaust path."
"For turbocharged applications, the large and smooth exhaust flow allows greater exhaust velocity for better mid-range boost response and high-RPM power. Naturally aspirated vehicles also benefit from greater exhaust flow capacity as engine tuning levels increase."
HKS Hi-Power exhaust video
---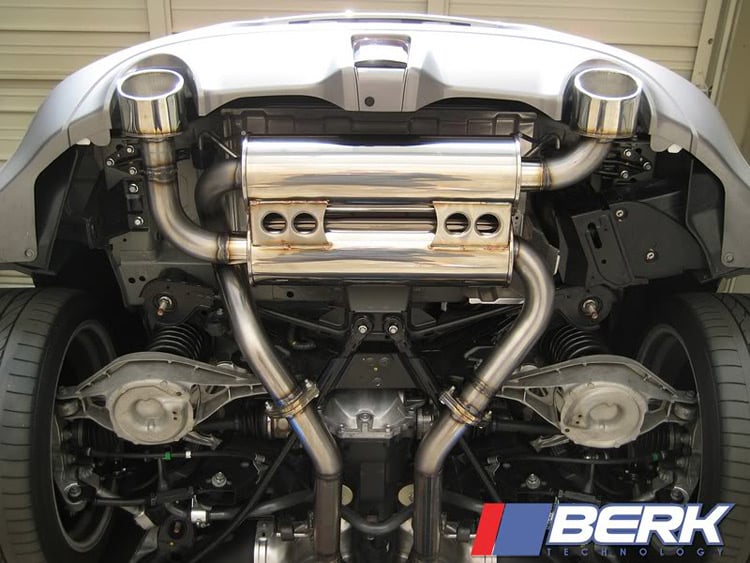 Our comment: Berk Technology's popular offering is the most affordable of our selection so far. This beautifully crafted exhaust provides a deep yet mellow exhaust note while keeping a neat stock-looking finish to the rear end of the car with the outside sound providing a much more aggressive, clean sound.
Manufacturer description: "Backed by years of experience in building championship winning race cars, Berk Technology has applied the same knowledge into their line of street exhaust systems for the 370Z. The Berk Technology 370Z dual exhaust system was designed from the ground up as a no compromise system that unlocks the potential of the potent Nissan VQ37VHR motor."
"Through testing and R&D we discovered the most optimal X-pipe design which is unique to our product. Our design utilizes a tangential siamesed X-pipe design that proved to make the most power on the 370Z and is one of the secrets behind our wide power gains and clean sound. Once you install this system on your 370Z the first thing you'll notice is our signature sound."
"It will still keep the same sound character of the 370Z, but adds a slightly exotic note that is intoxicating to the automotive enthusiast. Another great benefit is that our systems are tuned to be near silent at cruise and will only come alive during heavier throttle application. There is zero intrusive cabin drone or unpleasant harshness."
Berk Technology exhaust video
---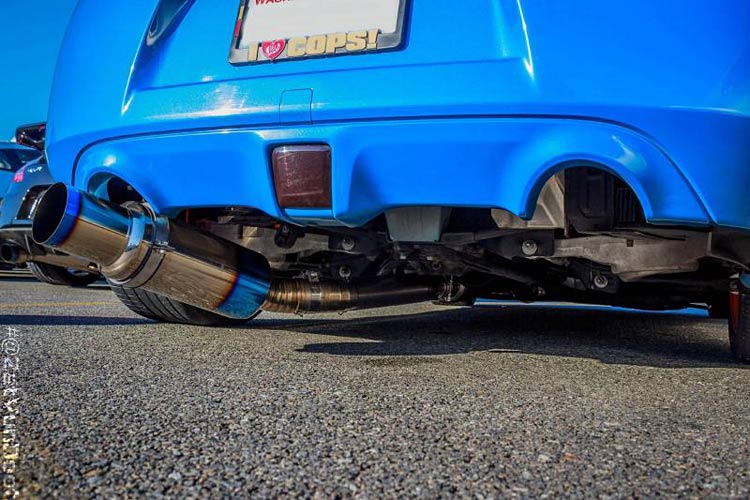 Manufacturer: Tomei Expreme Titanium
Internal pipe diameter: 80mm (3")
Tailpipe configuration: Single 115mm (4.5″) tip
Primary exhaust system material: Titanium
Value for money:

🔥🔥🔥🔥🔥
Our comment: Weighing in at an insane 13lbs (5.7kg) is Tomei's offering, despite an extremely impressive 18.8kg weight loss, this single-exhaust system is perhaps not for everyone. If you're purely weight loss and performance – the Tomei is quite possibly the best choice for the money. However, with the 370Z's body design made with twin exits in mind – having a single large Jap-style exhaust poking out the rear is an acquired taste.
Featuring far fewer bends than other offerings, the large diameter, high-flow design of the exhaust is fantastic for performance but not so great for those who are after a quieter drive.
Manufacturer description: "With an overall dramatic performance improvement & weight reduction, breathe new life into your 370Z."
"This Tomei Expreme Ti Exhaust system is truly a high-quality production part, for true competition use without compromise. Only the best Titanium grade materials are used in the production of the components. From the special racing layout design, created as straight as possible, to the high flow silencer, Tomei has poured their extensive knowledge of Japanese vehicles into this design. When you see and weigh the EXPREME Ti system, you will understand that this exhaust system has no rivals."
"High-quality production, for true competition use without compromise. Only the best Titanium grade materials are used. From the special racing layout design, made as straight as possible, to the high flow silencer. We have poured our knowledge into it all. When you see our EXPREME Ti system, you can then understand that ours is unrivaled."

Tomei Expreme Titanium exhaust video
---
Manufacturer: Invidia
Internal pipe diameter: 60mm (2.3")
Tailpipe configuration: Twin 110mm tips (4.3")
Primary exhaust system material: Stainless Steel
Value for money:

🔥🔥🔥🔥🔥

Purchase link: Buy your Invidia Gemini 370Z Exhaust
Our comment: Boasting a subtle design with burnt tips, Invidia bring another very reasonable and extremely popular option to the market.
Although slightly louder than some of our earlier offerings, it is still tame enough to be a good highway cruiser until the deep growl unleashes an entirely different beast around the 2.5-4.5k rev range.
Manufacturer description: "The Invidia Gemini Exhaust is the latest in the Invidia line of beautiful exhaust systems that feature fully polished stainless steel piping with mandrel bent tubing, and one of the best sounds you will hear from any performance exhaust!"

Invidia Gemini exhaust video
---
Manufacturer: ARK
Internal pipe diameter: 60mm (2.3")
Tailpipe configuration: Twin 110mm tips (4.3")
Primary exhaust system material: Stainless Steel
Value for money:

🔥🔥🔥🔥

Purchase link: Buy your ARK DT-S Exhaust at Enjuku Racing!
Our comment: With arguably one of the best sounding options, ARK have listened to the people when designing their great-looking exhaust. Despite having the popular burnt tip option, there's also the choice to go down the traditional stainless steel route. This exhaust features quiet cruising speeds which open up to deep intoxicating acoustics to show off that awesome VQ tone.
Manufacturer description: "With the many varieties of exhausts that ARK has to offer, the DT-Series premium exhaust provides the perfect combination of sound, style, and performance. The ARK DT-S premium exhaust has been carefully engineered and manufactured to ensure 100% satisfaction."
With T304 Stainless steel, quality mandrel bends, and flawless welds, the quality of the DT-S exhaust is unrivaled. The DT-S exhaust is designed with tone control and multi-layer sound compression materials to provide the perfect pitch you are seeking."
"This exhaust not only provides great tone but also is dyno proven to maximize performance and engine response. The DT-S exhaust comes in many premium tip finishes such as polished, burnt, and techno. With all the different exhausts in the market, the DT-S premium exhaust stands out beyond the rest. The flawless manufacturing, perfect pitch, and clean style make our premium DT-S exhaust the perfect choice for any car enthusiast."
ARK DT-S exhaust video
---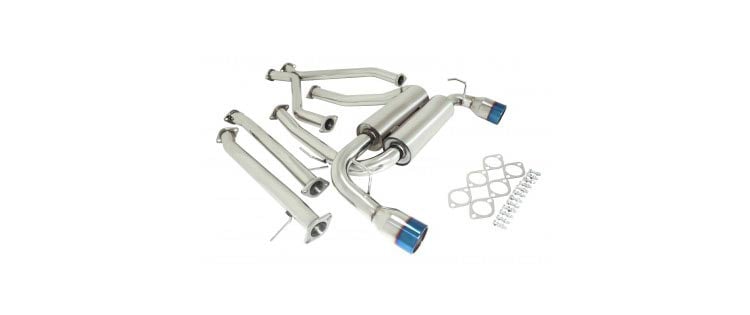 Manufacturer: Manzo
Internal pipe diameter: 64mm (2.5")
Tailpipe configuration: Twin 102mm tip (4")
Primary exhaust system material: Stainless Steel
Value for money:

🔥🔥🔥

Purchase link: Buy your Manzo 370Z Exhaust at Enjuku Racing
Our comment: By far the cheapest offering from our list, this Manzo exhaust offers great value for money for those who are looking to go down the lower-budget route.
We can't deny that the exhaust sounds great despite some drone noise and when fitted under the car, it certainly looks good too! If you are simply looking for a better flowing exhaust without being worried about perfect welds or running a name brand, this may well be a great affordable option for you!
Manufacturer description: "Manzo is built by a large big name performance tuning company, so you get a quality product but at an affordable price."
"Manzo is designed to be a quality entry-level exhaust system that improves horsepower and torque while giving your car an aftermarket exhaust note that sounds great. Manzo exhausts are built to be a direct bolt on and include all necessary hardware for installation. Each exhaust is made from polished stainless steel and has smooth mandrel bent exhaust piping for unrestricted flow. Manzo exhausts also feature strong CNC machined flanges that stand up to high temps and prevent warping."

Manzo Dual 370z exhaust video
---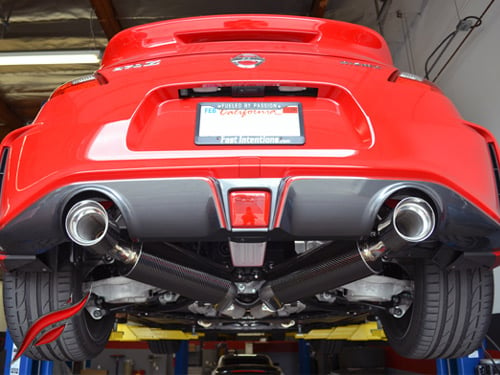 Manufacturer: Fast Intentions
Internal pipe diameter: 64mm (2.5")
Tailpipe configuration: Twin 114mm tips (4.5")
Primary exhaust system material: Stainless Steel
Value for money:

🔥🔥🔥🔥🔥

Purchase link: Buy your Fast Intentions exhuast here!
Our comment: This fantastic mid-range offering from US-based Fast Intentions is the first choice for many owners. Each exhaust is made in-house to order at their US factory to extremely high standards with great fitment. With an epic deep, throaty, exotic-sounding note, it's easy to see why this is the go-to option for so many owners.
Our only downsides would be a slight drone in the upper gears and it perhaps sits a little lower than those who require high ground clearance would like. With a choice of tips available, great looks and an epic sound, it's definitely one to consider.
Manufacturer description: "Fast Intentions is proud to present our 370Z TDXCat Back Exhaust System."
"This Cat-Back exhaust system is the premier upgrade for all 370Z owners looking to maximize the performance of their VQ37VHR V6 engine. Our cat back exhaust system will enhance the sound that Nissan created from the factory by making it deeper, smoother, and louder."
"Built as a direct OEM replacement, our exhaust system is easy to install with simple hand tools; no cutting or welding required. Our X Pipe is designed to increase low-end torque and maximize power throughout the entire RPM band. The exhaust note is unobtrusive at idle and cruising speeds but comes to life at wide open throttle. With the addition of our cat back exhaust system, you will improve the aesthetics of your vehicle with its sporty and aggressive appearance."
Fast Intentions exhaust video
---
Manufacturer: PowerHouse Amuse
Internal pipe diameter: 50mm (Aprrox 2")
Tailpipe configuration: Twin 115mm tips (Approx 4.5")
Primary exhaust system material: STTI Titanium
Value for money:

🔥🔥🔥🔥🔥

Purchase link: Buy your PowerHouse Amuse Exhaust here!
Our comment: Weighing in at just 9.2kg, this incredible STTI titanium offering from Amuse is undoubtedly the unicorn of the 370Z exhaust world. Despite being visually stunning insanely lightweight and providing an incredible soundtrack, this comes at a cost.
With prices starting at $3,295, expect to fork out an eye-watering $7,485 for the quad-exit alternative. If money is no object, this could quite possibly be the exhaust for the perfect finishing touch to your 370Z!
Manufacturer description: "The Amuse R1 Titan Extra STTI exhaust is yet another functional piece of art by Powerhouse Amuse. The System features 20.9 lbs weight savings over stock as well as 76.3mm piping diameter and 115mm x 2 exhaust tips."
"The system only weighs 20.13lbs and is produced in full titanium for maximum weight reduction. The system features a 21 horsepower increase over the range of the entire powerband. The system is available in two different tail finishes A tail (Half Burn) and B Tail (Full Burn)."
PowerHouse Amuse R1 exhaust video
---
Our winner
There's no doubt that exhaust choices are mostly down to personal preference. Each person may prefer the look or sound of a certain exhaust and each one in this guide will see improvements over the restrictive stock mufflers.
Our winner is Invidia Gemini.
We couldn't ignore the specifications, features, quality of build materials and price point of our winner, the Invidia Gemini. Already an extremely popular offering among 370Z owners, the value for money while providing an incredible soundtrack and great quality, we felt it just couldn't be beaten.
Runner-up
The winner of our 350Z exhaust guide returns, this time as runner up. Despite it's incredibly low price, insanely low weight and good looks, the Invidia Gemini ticked more of the correct boxes. The Tomei Expreme is loud, in your face and won't suit everyone's taste, but as far as money goes – it's quite possibly the most tempting option!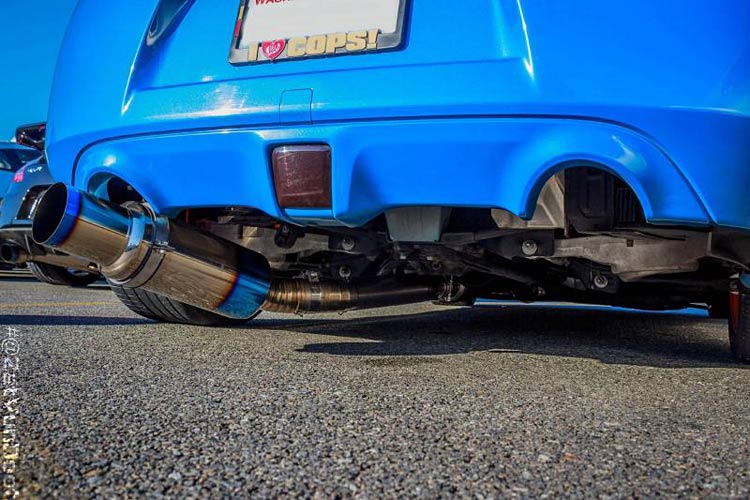 Thank you for reading our Nissan 370Z exhaust guide
If you enjoyed this article then please share it with the sharing buttons on the side and the bottom of your screen.
Now you've sorted out your soundtrack why not unleash some more power with a pair of 370z headers? Already got them? Then why not upgrade your 370z coilovers?
Got an Infiniti G37? Our G37 exhaust guide is written just for you.
Please remember to subscribe or follow us on Feedly for free updates. If we have missed an exhaust offering that you think is worthy of mention then drop it in the comments below.