Damien O' Conner drops his full feature on this stunning Kazama built Silvia S15.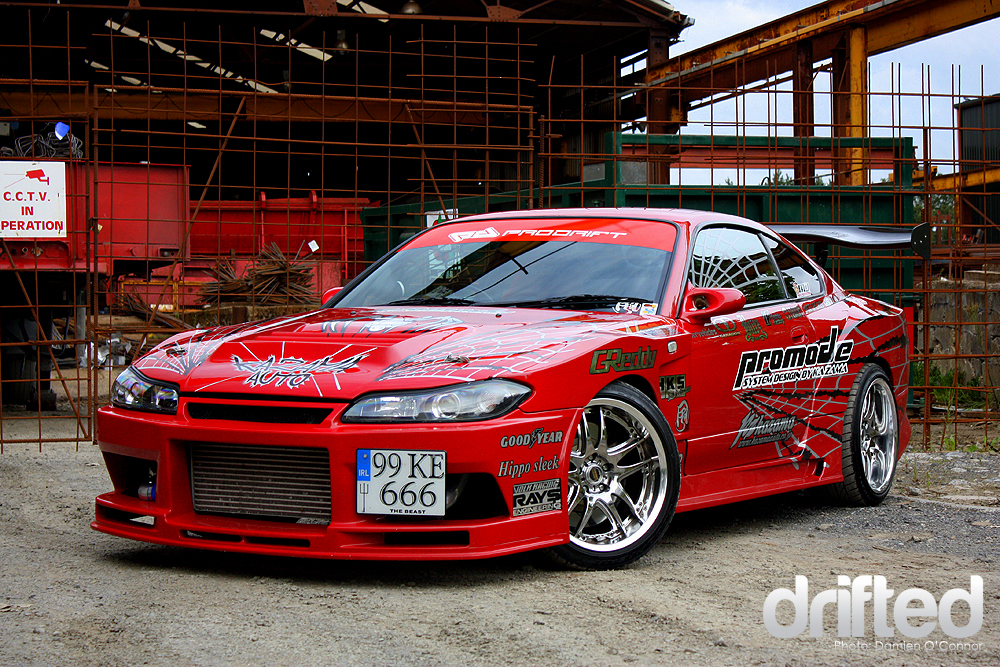 Wow it feels like an eternity since I've sat down to drop a cool feature, work commitments have really eaten up a few hectic months of my life but one could have worst complaints, given my brief absence I felt what I came back with would have to be something altogether a little special, a little unique, well thanks to Mr.Kazama and Paul Kane, we bring you just that!
Check out more Nissan Silvia S15's on Drifted
Enter on Que 1 No. Kazama built special Nissan s15, churning out no less that 450 horses may I add, but really what does that mean, 450bhp?
Well for me at least in Ireland it's difficult to emphasis how much power that is for a road legal driveable car, I feel we have been sucked in and created this blase approach to power figures where 300bhp is  just a standardish car, spoiled with the riches of a Celtic tiger and the packed ships of high powered RWD cars that followed from Japan.
To try put it into perspective, this car produces as much power as a Porsche 911 GT3RS, it produces a whole 100bhp more than say an E46 BMW M3, that might aswell be a VW Golf , ok so we get the idea, this car is packing the punch to meet its hardcore Japanese styling.
Right away I can tell, you will either completely love this car or you will cringe at the thought of all that beautiful gear in that body, however I think all special cars are a bit like that, otherwise they would just be the same as every other subtly styled car I imagine.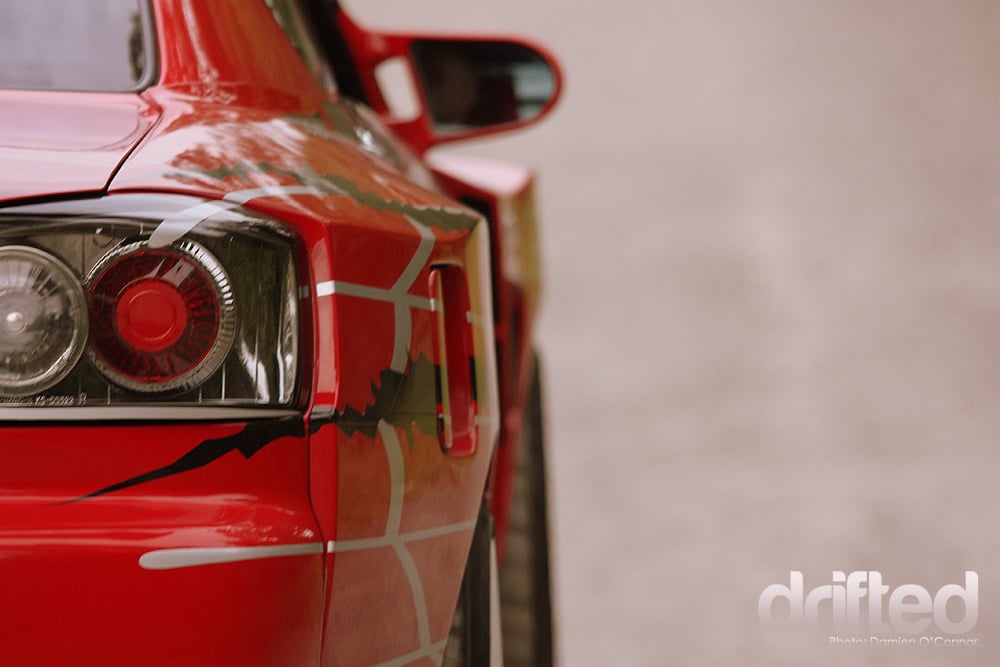 Subtle S15 lines are ditched for some hardcore edges which comes in the form of the Promode body parts which have been fitted.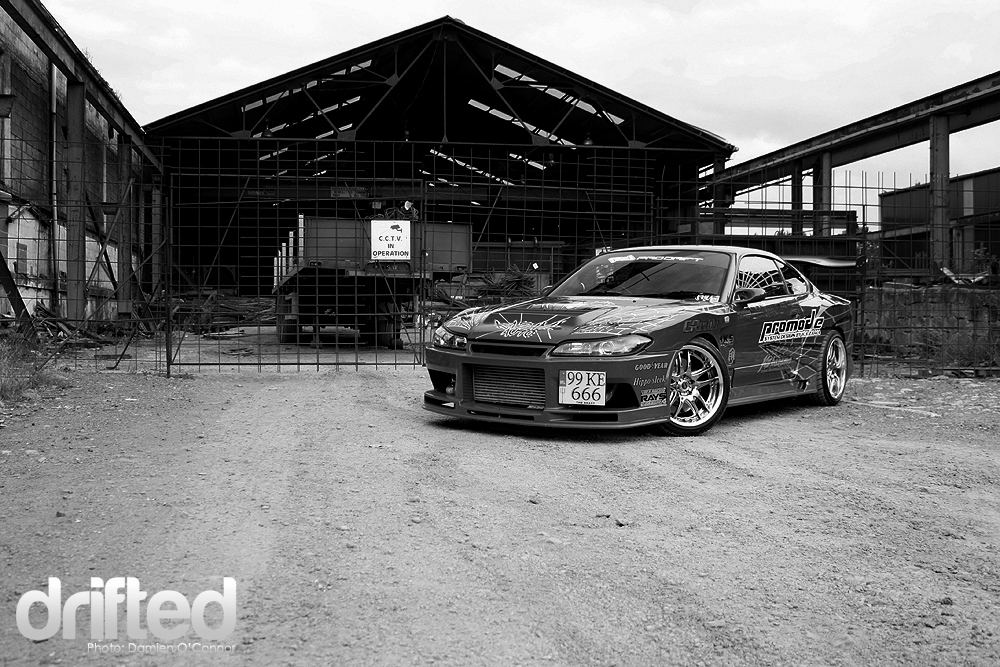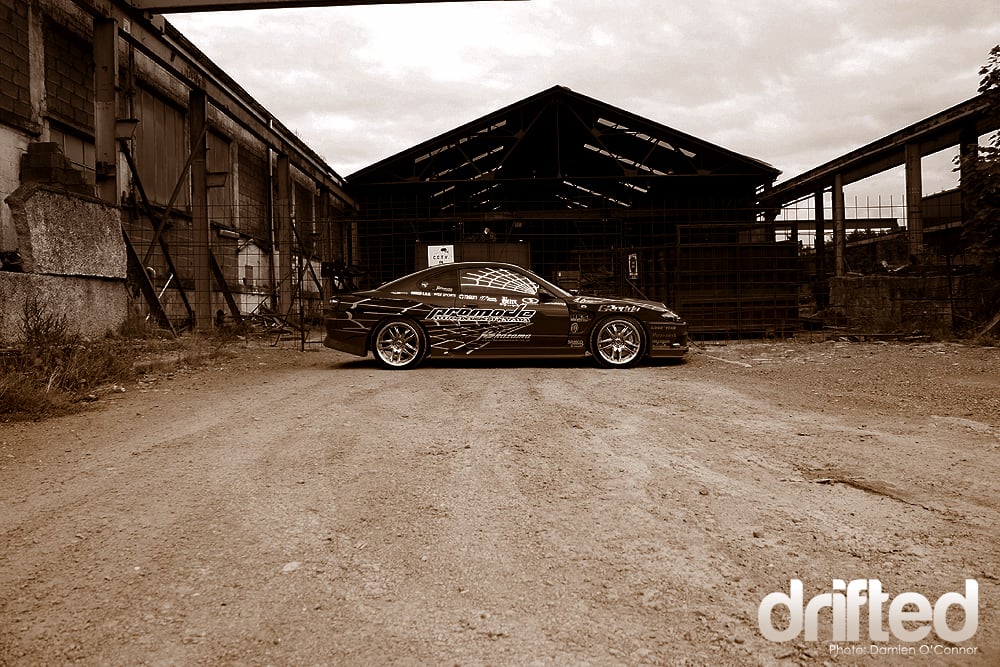 Dark, moody edgy, this car has some serious attitude.
The quality of the body work is flawless, you can see even from these shots above how good the over fenders match up with the front bumper.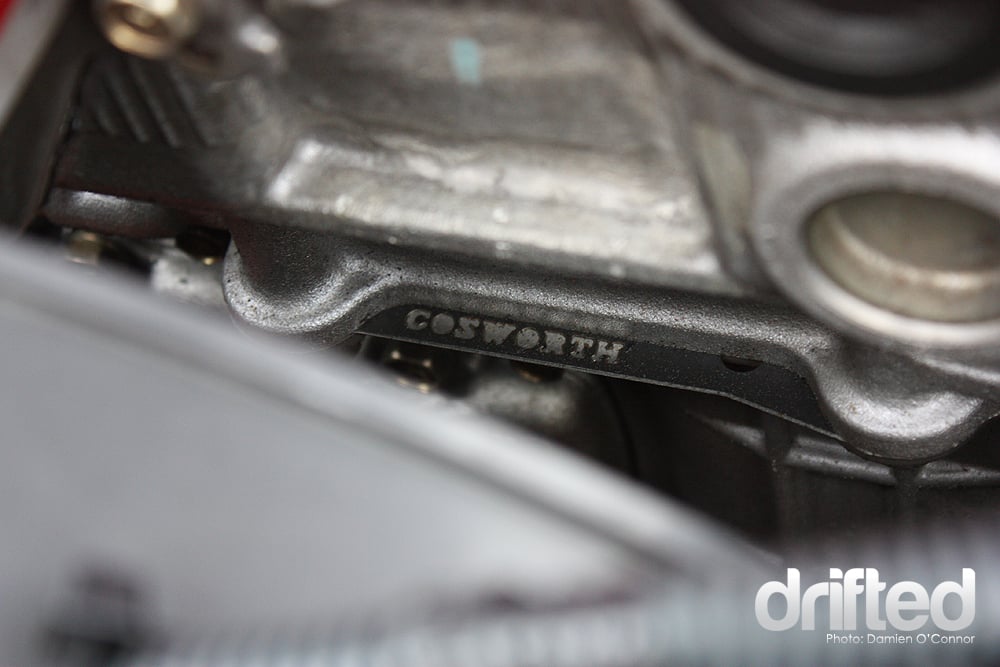 A quick glimpse underneath the bonnet and you can instantly tell this car has all the right ingredients.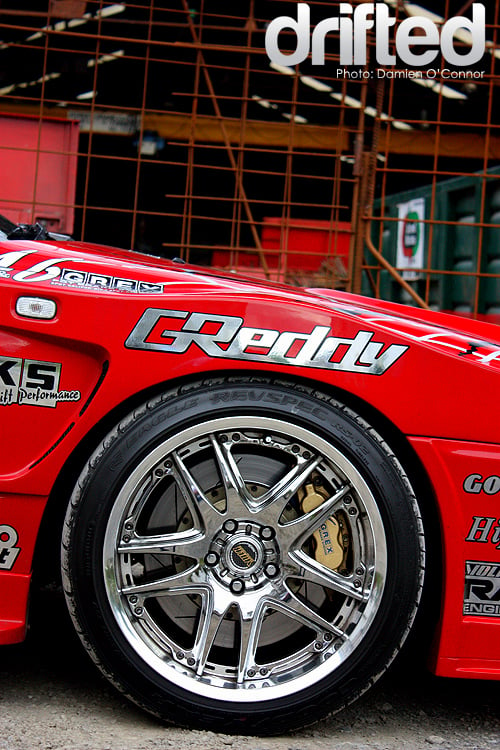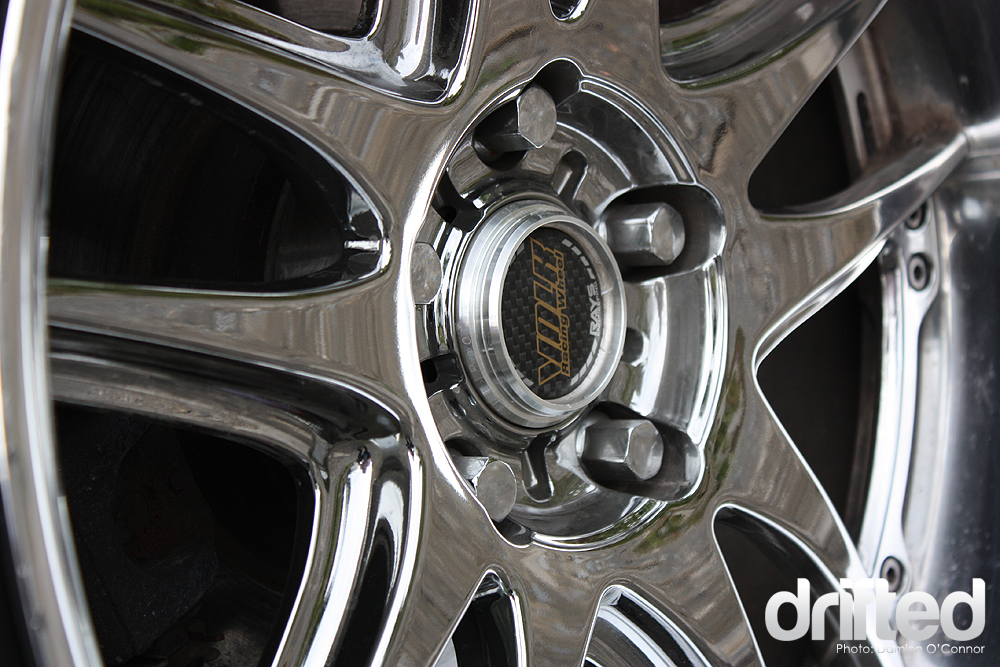 The car sits on these awesome chrome Volk GTV rims, only complimented further by an awesome set of Grex 6 pot stoppers.
As if the hardcore graphics weren't enough we see even more signs of Japanese culture tagged on the front window.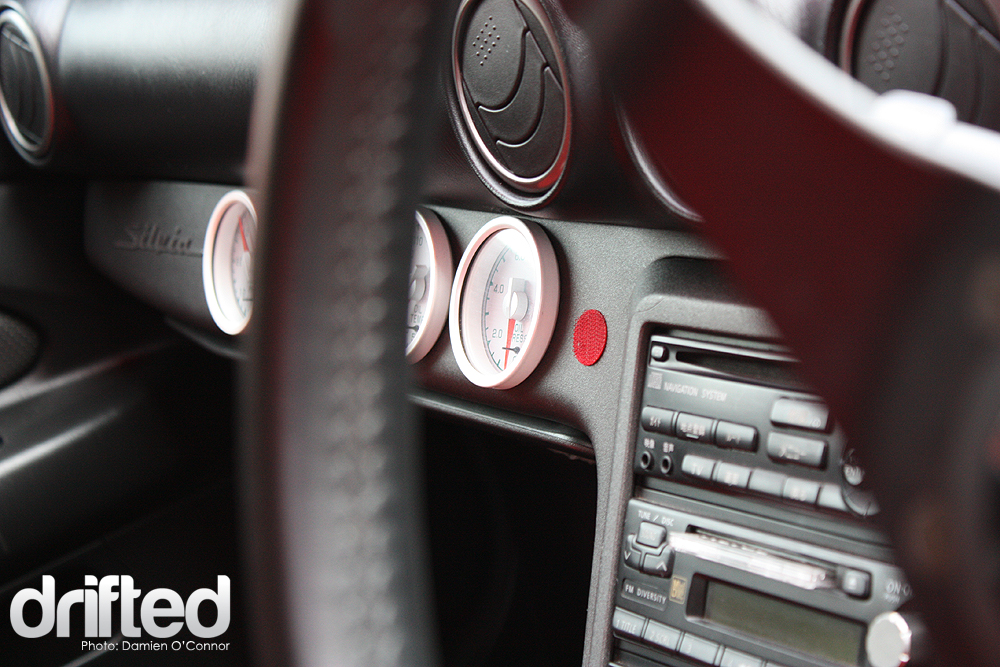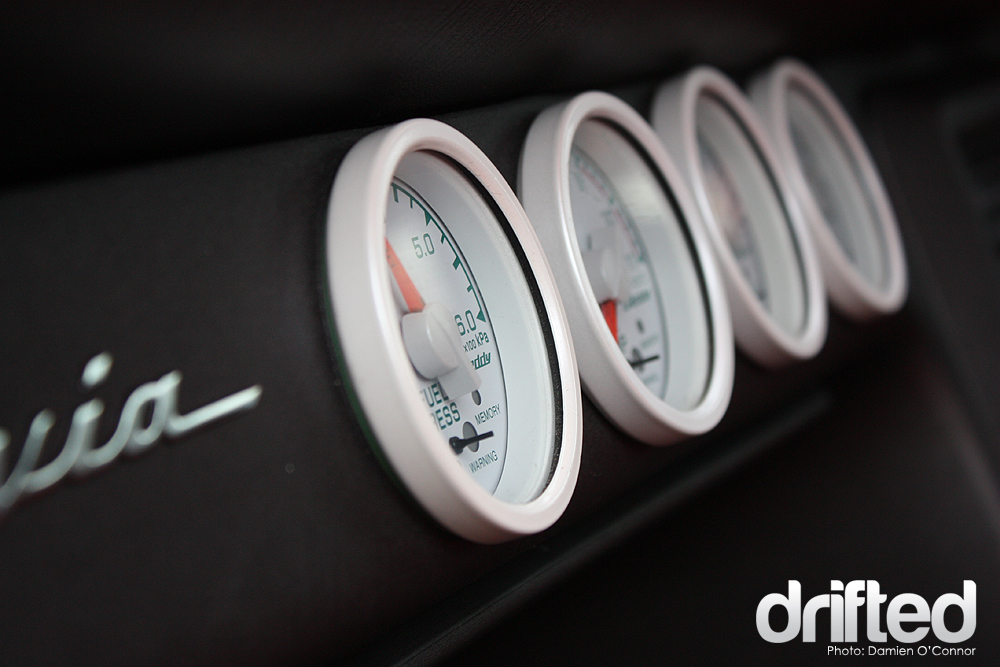 The co-pilot at any given time is treated to the responsibility of ensuring all is good under the hood via an array of Greddy gauges mounted in the dashboard.
The driver just get's one, Paul get's it hard enough to keep the back wheels on the road with that aggressive Cusco two way differential without any further distractions.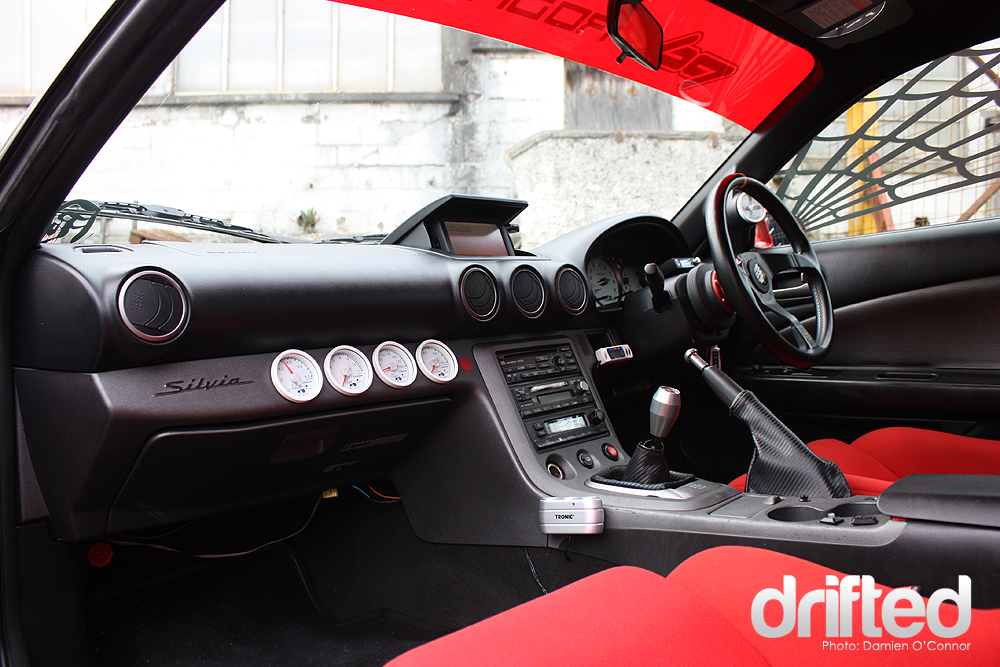 More business as usual on the inside, matching Recaros, Works Bell snap off wheel, and much more.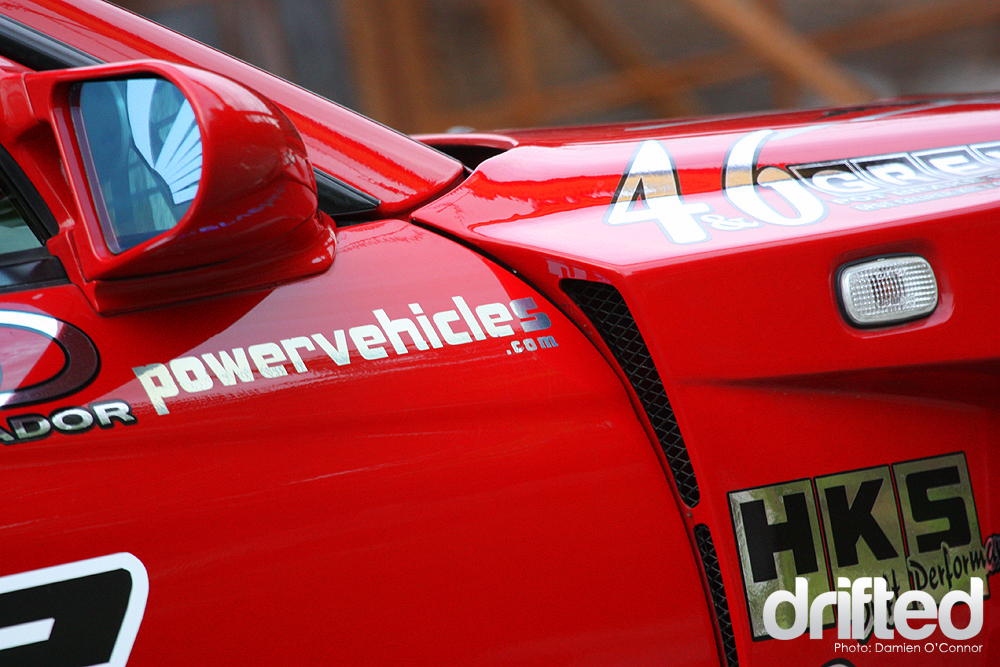 The car, remains unchanged since is importation a few years ago, it stills carries the names of famous tuners Kazama and vehicle exporters Powervehicles, like many of Powervehicles cars, this particular car was imported by WKD Imports from Co.Carlow.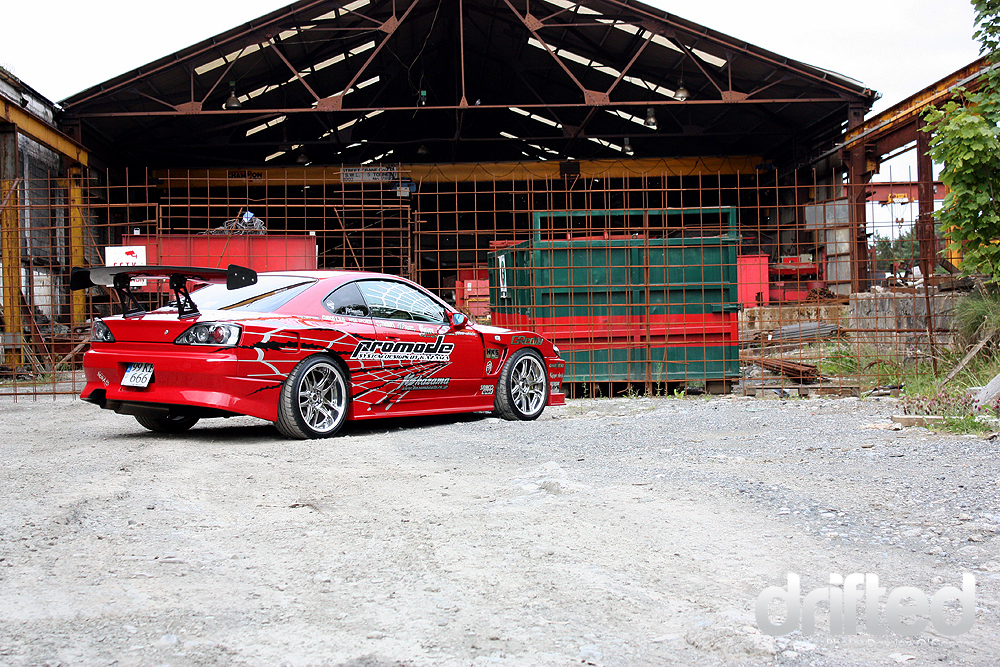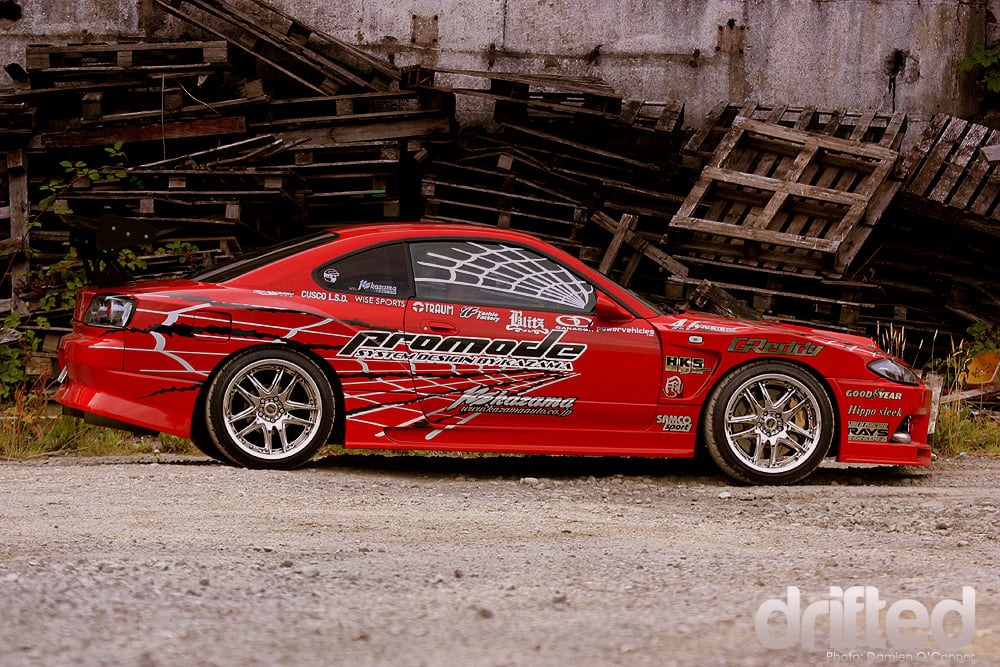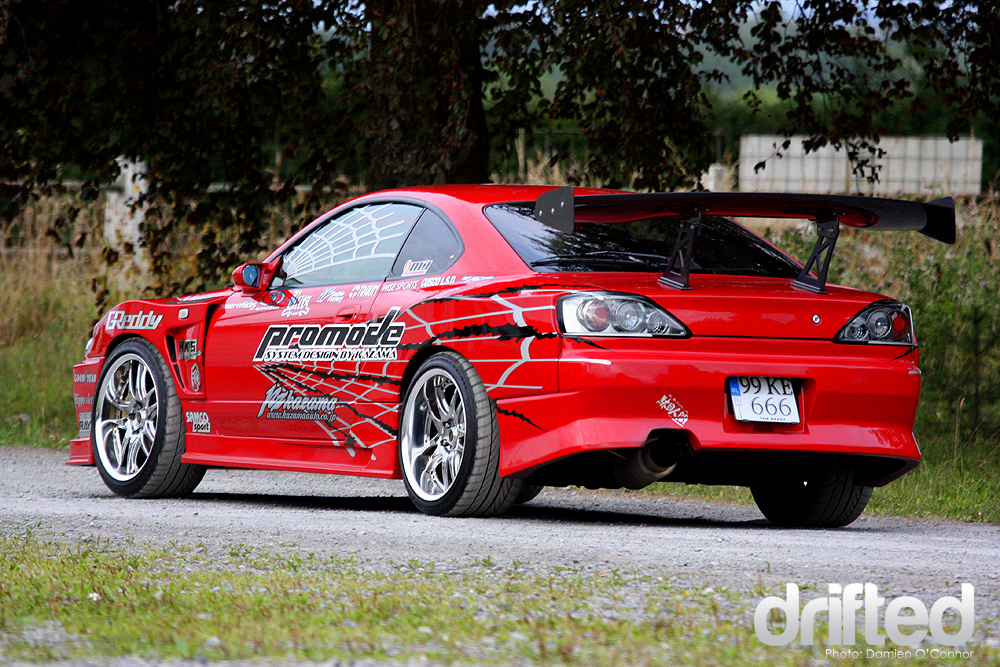 I leave you with my closing shots, as always I hope you enjoyed, special thanks to Paul Kane for allowing us to shoot his ride, Paul is selling his car, opportunites to buy a car like this are a rare thing these days.
Kazama Silvia S15 spec list
Exterior
Repainted Kazama Auto Red
Kazama Auto Aero (F/S/R, F/R Fenders)
Kazama Auto 2005 D1 Graphics
SARD Rear Wing
Vented FRP Bonnet
Ganador Mirrors
Wise Square Rear Tail Lights
Interior
Factory Option Navi (Folds away into top of dash)
Works Bell Snap off Boss
Personal Steering Wheel
Kazama Auto Shift Knob and Drift Handbrake Button
Blitz Turbo Timer
GReddy Profec B Spec 2 Boost Controller
GReddy Meter Controller
GReddy E-Manage
GReddy Fuel Press, Oil Press, Oil Temp and EGT Gauges
Carbon Look Shift and Handbrake Gaitors
Recaro Seats x 2
Razo Pedals
Engine
GReddy FMIC Kit
GReddy Oil Cooler Kit
GReddy T67 Turbo (Polished)
GReddy Downpipe
GReddy Wastegate
Greddy Manifold
Metal Suction Pipe
Z32 AFM
Induction Kit
Kazama Auto Oil Catch Tank
GReddy Radiator
Nismo Fuel Pressure Regulator
Uprated Engine Room Fuel Line and Connectors
Custom Cam Cover
Aftermarket Cams
Red Injectors (720cc)
Greddy Auxiliary engine Pulley Kit
Kazama Auto Oil Cap
Kazama Auto Under Engine Guard
Aftermarket Exhaust System
Aftermarket Catalyser
Wheels, Brakes  Transmission & Suspension
Volk GTV 18″ Alloys
Grex 6 Pot Front Brake Kit
HKS D-Dash Coilovers with Camber Adjustable Pilo Uppers
OS 5 Speed Cross Mission Kit
Kazama Auto Engine Mount Kit
Grex Oil Filter Relocation Block
Stainless Mesh Front Brake Lines
2 Way LSD (Cusco)
Aftermarket Clutch
Kazama Auto Front Tension Rods
Kazama Auto Solid Subframe Collars
Kazama Auto Rear Arm Set
Kazama Auto Tie Rod Ends
Who is Kazama?
Check out this action video of Kazama-san and his infamous "Rodeo Drift" in Japan: