Garage Life BN Sports Silvia S15
Damien O' Conner brings us a full feature on this stunning JDM Garage Life x BN Sports Silvia S15.
For me personally, the S15 body is the nicest of the S-Body line to be produced. This is being challenged as I develop a maturing taste for a sweetly modified S13, but I think that's a topic for another day.
For now we'll focus on this BN Sports S15, which we recently captured some images of at a redundant sawmill.
The now eerie grounds of once a busy workplace slept quietly as the S15 crept across the pot holed entrance, with driver Mark Kane nervously protecting his immaculate BN Sports kit.
Our Irish followers will recognise this car from attending Prodrift events, as the car was featured in a number of marketing campaigns and proves very popular with the paying fans on drift days.
Check out more Nissan Silvia S15's on Drifted
This really is the extent of what driving this car has seen since being imported by Madcap Imports in 2006. It has covered a mere 12,000kms since then and enjoys the "Garage Life" more often than none.
A nice rear shot in front of a previous goods entrance.
10j rims on the front help fill out the vented front wings beautifully.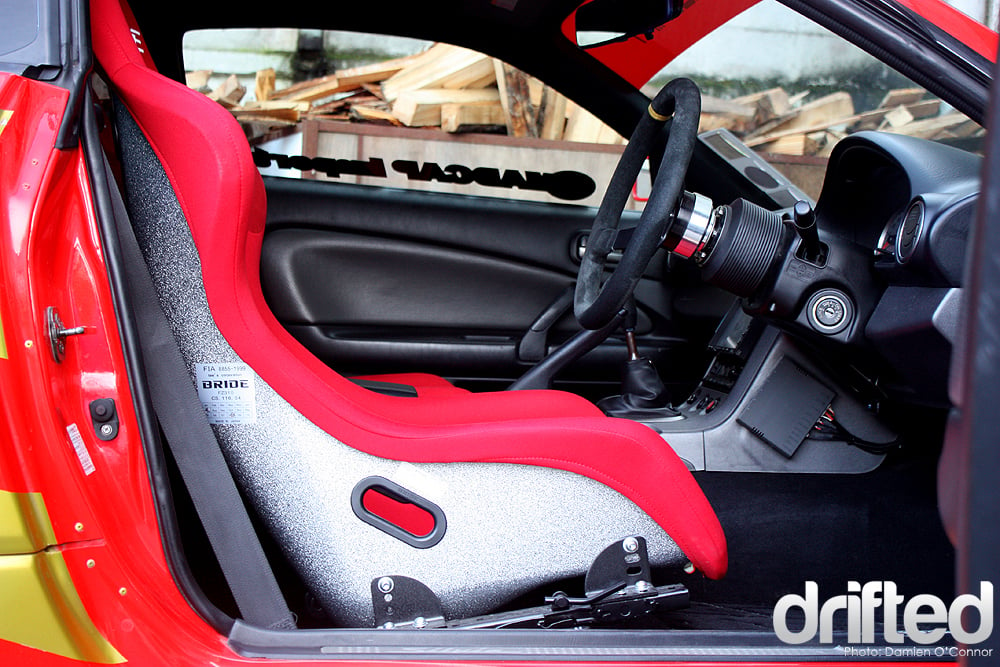 The interior is as fresh as the day it left the factory; the additions make for a real drift car feel while maintaining functionality for those Sunday spins.
Vibrant Bride Zeta seats really transfom the interior.
Defi Gauges sit now where the Air-Vents once did.
You can really get a picture of the huge dish on the rear of the 12j rims in this shot.
Avoiding all wood-related jokes here. The GT wing is prominent in the background and adds a really aggressive stance to the rear end.
The detail on the rims really is on another level and Mark has just got them refurbished to keep them fresh.
As seen above here the engine bay is crammed with aftermarket goodies to up the power.
A close in shot of the freshly powder coated SR20DET rocker cover.
A quick side shot as Mark calculates his best exit route to keep his kit in tact.
This front on shot really gives you an idea of the extra width the BN Sports kit adds to the S15.
The car still garnishes the perfectly in tact logo of the importer on the side window 5 years on. The spec sheet is below –
Engine:
SR20DET
Upgraded Tubular Manifold and Turbo Elbow
Stainless Cat-Back
Garrett T28 Turbo(Ball-Bearing)
Silicone Hosing
Braided Turbo Piping
Powder Coated Rocker Cover
Blitz Induction
Blitzt Front Mounted Intercooler
Transmission:
6 Speed Stock
Nismo Quick Shift
Kaaz 1.5 LSD
Suspension:
HKS Coilovers with matching HKS Pillowball Top Mounts
Cusco Chassis Braces
Cusco F & R Control Arms
Wheels:
Velbret Varden Sport Speed Star
F:10Jx18
R12Jx18
Exterior:
Full BN Sports Widearch Kit;
BN Sports Front Bumper
BN Sports Skirts
BN Sports Rear Bumper
GT Rear Wing
A/M Mirros
Eurospec Rear Lights
Vented Bonnet
Full Respray in Red with Gold Tribal design
Interior:
Sparco Snap off  Wheel
Impul Gear Knob
Bride Zeta III matching Seats
Defi Gauge set in Air-Vents
Defi Link Controller
JVC Double Din DVD
Our last shot of the day, thanks for looking, that's my lot for now, I hope you enjoyed.