GRASSROOTS: Santa Pod DWYB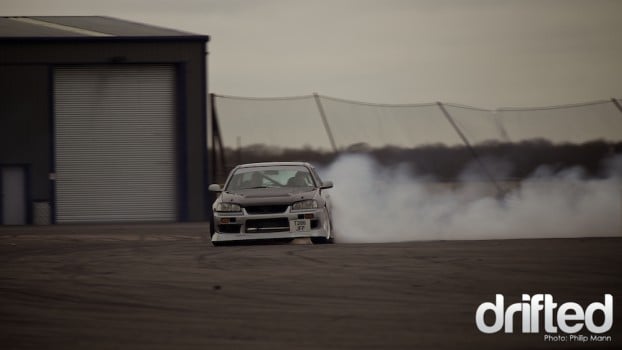 Santa Pod Raceway, in Bedfordshire, England, the home of European drag racing, and the home of 'Drift What Ya Brung'.
A couple of quick facts about Santa Pod. It was built on a disused World War II American air base, RAF Poddington, and has plenty of space to host events. From small events like DWYB right up to FIA Drag Racing.
Santa Pod is the venue in which the current world drag racing record is held. A time of 3.58 seconds at 386.26 mph (621.61 km/h), was set by Sammy Miller in his Vanishing Point Funny Car in July 1984.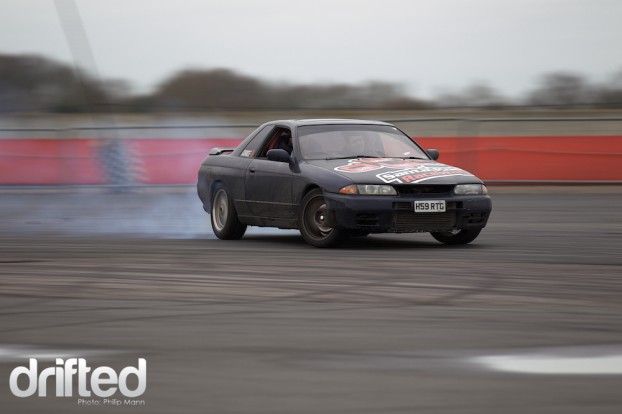 Santa Pod holds regular DWYB (Drift What Ya Brung) days throughout the year. The idea behind these days are simple, you pay your money, turn up with you RWD car and have loads of fun. And the great thing about it is you don't have to worry about being a drifting god or having a mega spec Nissan to drift at these events.
The first thing you will do in the morning after arriving is to go and sign with the racetrack, and wait for the drivers briefing. Lex the organizer of the DWYB days will give out the all important safety announcements and his famous and all important line "Don't be a twat!"
After that it's time to get out and have fun. Because of the space available at Santa pod they are able to provide layouts to cater for beginners right up to seasoned pros.
If it's your first time drifting you will start off in the "playpens". These are small areas designed for you to practice doing doughnuts and small figures of 8. Here you can learn the basics of car control at your own pace.
Next up is the kidney track. You have a lot more space in this area to practice some more advanced drifting moves. You might have heard the words "Manji" or "clutch kick" but never actually done them. You can practice everything in this area apart from high speed stuff. And there are always more experienced drifters around that don't mind giving you help for the price of a passenger ride.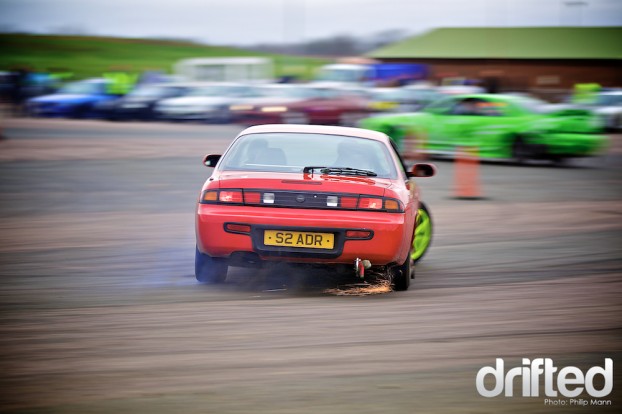 And then once you think you have the skills to play with the big boys you can move onto the big track. For the main track Santa pod use a layout that has been used in EDC competition rounds.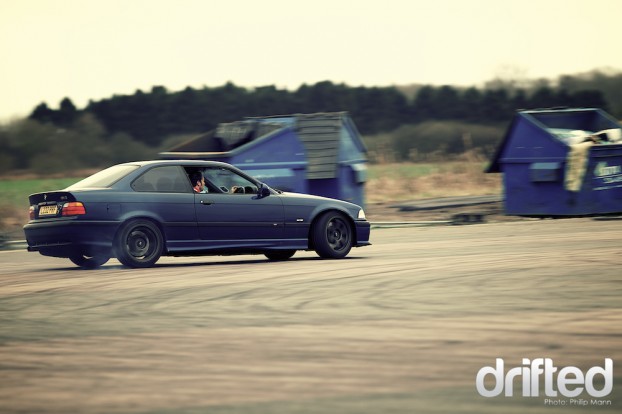 The track has a little bit of everything. A fast entry into a long left-hand sweeper, some left and right-hand corners, so you can practice your transitions, and then onto a hairpin to finish off the track. The track also has a few undulations for you to contend with as well.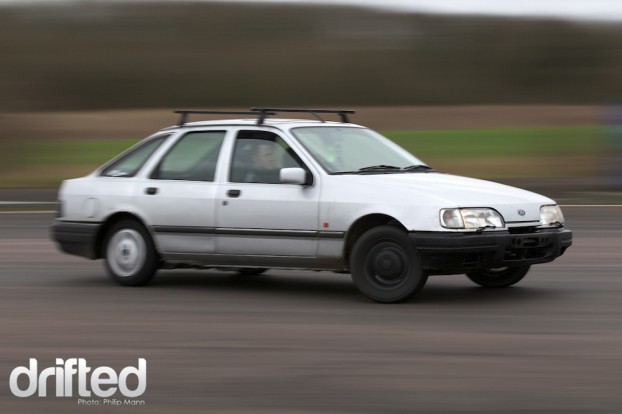 The range of cars that I saw was quite impressive, from Ford Sierra's,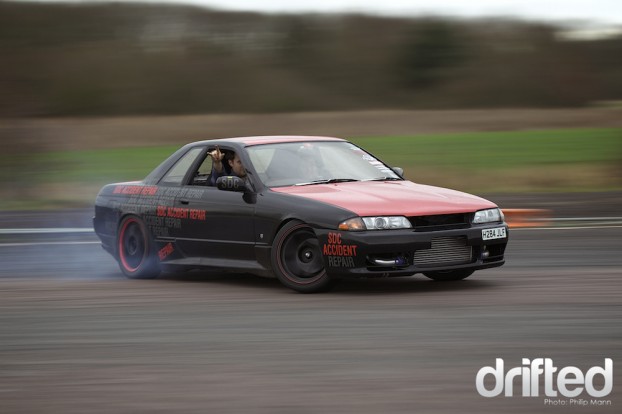 to various spec Nissans,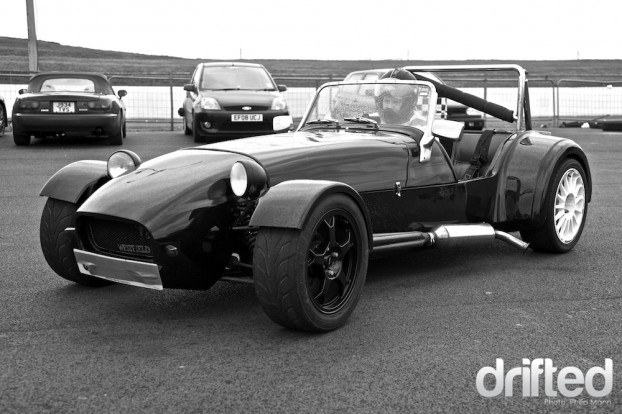 to Westfields.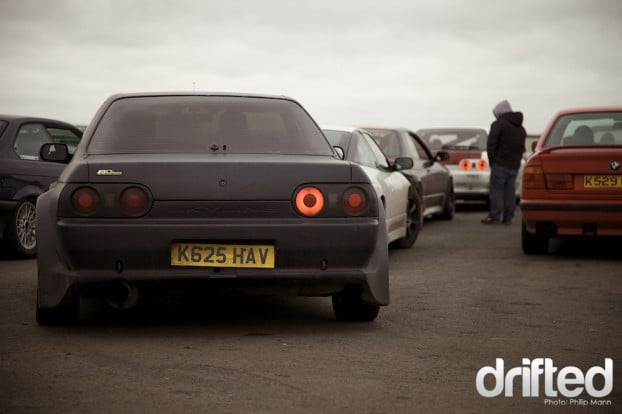 And it goes to show that you don't need to spend loads of money on a good car to be able to have fun.
Drivers and spectators alike are well catered for at Santa Pod. Mint Tires were there on the day to assist with the changing and disposal of tires. Chunk from DB Automotive is usually hanging around somewhere, able to help out with car repairs as his unit is right next door to Santa Pod. And the best part is that Santa Pod has a great café, it gives welcome relief when it's cold outside.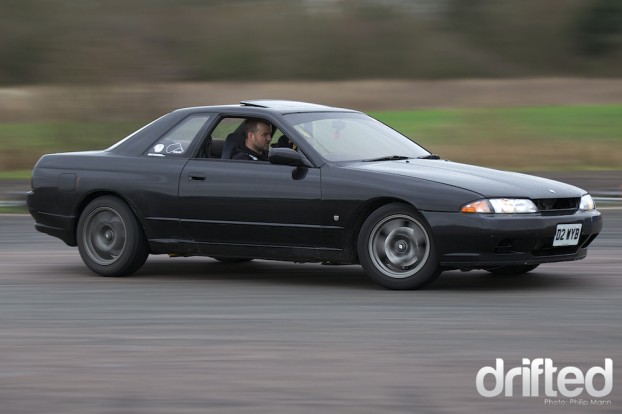 And when you want to leave with a memento of your day they have that covered too. Ian Blackett of Blackett photography stands around in all weather trying to get shots that you can take back and show your loved ones.
I'm hoping to try and back to some more DWYB days in the future to learn to start drifting myself. To find out for yourself when the next DWYB event is on click the link below.