Ultimate Infiniti G37 Headers Guide
If you're looking to get the most out of your Infiniti G37's performance, while also making it sound incredible in the process, aftermarket headers are one of the best options. We're putting the best choices head-to-head in this guide.
---
In a hurry? Here is our Infiniti G37 headers summary
| Budget Choice | Drifted Choice | Premium Choice |
| --- | --- | --- |
| | | |
| OBX Racing Sports G37 Headers | Fast Intentions G37 headers | Amuse Titanium G37 headers |
| 🔥🔥🔥🔥 | 🔥🔥🔥🔥🔥 | 🔥🔥🔥🔥 |
| Buy Now | Buy Now | Buy Now |
Despite the VQ37VHR engine providing a fantastic boost over Nissan's previous VQ35 engines, it's certainly no secret that there's plenty of untapped potentials that lie in wait for the G37.
Breathing mods are the essential upgrades when it comes to getting your engine flowing efficiently, which is vital for achieving optimal performance from your 3.7-liter V6 powerplant.
---
Why should I consider aftermarket headers?
Although the first considerations for breathing mods should typically be intake and exhaust upgrades, you'll then be looking for the next piece of the puzzle, which is where aftermarket headers can provide a fantastic improvement.
Z1Motorsports have provided this great video explaining the benefits of their headers:
When exhaust gases leave your engine, headers are the first port of call when it comes to the extraction process, and their purpose is to release the gases as quickly and efficiently as possible.
Aftermarket headers allow higher flow than the stock equivalent that Nissan provided with the VQ engine, mainly thanks to their enlarged internal diameter.
Research and development with aftermarket headers have generated significantly improved efficiency with their tried-and-tested designs, alongside utilizing lightweight materials for the ultimate weight-saving benefits.
Not only are there some rather substantial performance gains to be had, but you'll also noticeably improve the acoustics of the already-glorious sounding VQ engine in the process.
For those of you that are thinking of going down the forced induction route on your G37, whether it's a turbo or supercharger setup, headers are crucial, as you certainly won't be maximizing the potential on offer with the stock headers.
The same applies to those of you that may be considering integrating nitrous (NOS) into your setup further down the line.
---
Short Tube vs. Long Tube Headers
Short tube headers are known as "shorty's" or "shorties" in the tuning scene, and these are typically the most inexpensive option.
These are often best for providing low-end torque, which can often make them a popular choice for those looking for headers for your daily-driven street setup.
When it comes to sound, short tube headers typically provide a more aggressive note under load.
Nissan's stock setup already integrates a short tube setup, and although several of the aftermarket companies in our list have provided an improved flow, they don't typically offer gains as impressive as the long tube headers.
One of the main benefits of short tube headers is that you can retain the cats, which will appeal to owners in states where emission legislation could pose an issue.
For maximum gains from shorties, you would want to use them alongside test pipes or high-flow cats and swapping out when necessary, which can be more convenient when it comes to testing time.
Long tube headers are typically the preferred choice for maximum performance and track use.
Long tube headers eliminate the cats, bolting up directly from the engine to your cat-back system for the ultimate free-flowing capabilities of your exhaust gases.
Due to its free-flowing abilities, this allows for the maximum power potential to be achieved, particularly in the upper end of the power band.
You can typically expect a more exotic-sounding engine note from the long tube headers instead of the deeper growl we would typically expect from the short tube.
Due to their design, long tube headers will almost always provide the more substantial power gains of the two choices.
---
Fitting your G37 headers
One of the primary considerations with G37 owners when it comes to headers is whether they should install them or get a reputable shop to do the job instead.
You may be thinking this sounds a little excessive, but to someone inexperienced, swapping out the headers on a G37 can be a more substantial task than on most cars.
Short tube headers are the more convenient option of the choices when it comes to installation, but it's still a rather large task that will require the right tools, and even then, it will most likely involve a fair bit of swearing.
We would expect installation time to take around 4-6 hours for G37 headers.
Before installing, we would always ensure the optimal lifespan of our shiny new headers with exhaust wrap, as this isn't something you'll be able to do once the headers are attached to your G.
If you're keen to see what the job entails, then this excellent DIY guide will show you everything there is to know:
---
Do the G37 headers fit the G37X and G37S?
Due to the AWD layout, these models have a limited choice for headers, but thankfully, two of the best options available will fit the G37S and G37X models.
---
Infiniti G37 Header Selection
Now that we've explained everything there is to know about which headers are going to suit you best, its time to put each setup head-to-head to help you choose the perfect headers for your G37.
Our comment: Fast Intentions are well known for releasing some of the best products on the market. Their Infiniti G37 long tube headers are certainly no exception, providing incredible quality alongside some of the largest performance gains.
These were the first headers released for the G37, and they are still quite possibly the most popular choice out there with many delighted long-term owners.
Thankfully, this also represents the perfect choice for G37S and G37X owners, thanks to their flawless compatibility.
Manufacturer description: "This is the worlds first "production" long tube header for the Infiniti G37 Coupe. The premier upgrade for all G37 Coupe owners looking maximize the performance output of their VQ37VHR naturally aspirated or supercharged engine. With the addition of these headers all restriction created by the OEM exhaust manifolds and catalytic converters will be eliminated".
"Built as a direct OEM replacement, our long tube headers bolt right in; no cutting or welding required. The 1-5/8″ primary tubes are mandrel bent to maximize exhaust flow and efficiency. In addition, we've designed these headers to be firing order specific to maximize performance".
---
Our comment: Z1 Motorsports has utilized the design of the discontinued 'Momentum' headers, to bring arguably the best short headers to the market. These are exceptional quality and a fantastic option if you have emissions concerns.
Short headers typically produce less power, but these are well known for their ability to keep up with the long tube variations, and owners have claimed to achieve up to 16whp gains.
They do note that the driver's side motor mount bracket will need to be cleared, so it may be worth considering if these are on your radar.
Manufacturer description: "Z1 Motorsports VQ Performance Headers are constructed with 1 3/4″ 16 gauge 304 stainless steel with 3/8″ flanges to prevent warping. The use of back purge TIG welding and mandrel bends creates the strongest headers with the most efficient airflow".
"They feature equal length runners and merge style collectors for increased scavenging. The materials and craftsmanship are impeccable. Z1 headers are the nicest headers available for your VQ Powered G".
---
Our comment: PPE Engineering brings another fantastic addition to the market with its popular long tube headers. We would say these are almost as popular as Fast Intentions and once again feature superb quality with excellent long-term results.
One of the best things about the PPE offering, which could well make it tempting, is that they include ceramic coating for free to keep your engine temperatures down while increasing power alongside corrosion protection.
These represent a fantastic alternative for G37S/G37X owners if the Fast Intentions headers aren't what you're after.
Manufacturer description: "The PPE 370Z/G37 long tube headers are designed for maximum power. Testing on a 2010 370Z Nismo showed a 23whp gain on a completely stock car. Excellent gains were also seen on the base 370Z and G37".
"Evolution Performance Coatings polished ceramic coating comes standard and adds good looks along with thermal barrier properties that increase power and lower engine bay temps. They are also a great protection against corrosion".
---
Our comment: Megan Racing brings one of the cheapest kits on our list, but does it come with quality? Megan Racing often has a negative reputation in the tuning industry; however, these claims can often be false or exaggerated.
Megan Racing has sold quite a few of these headers, with many happy owners. We're not sure about their longevity, and since it's such a huge job to swap them out, we would perhaps consider going with one of the more tried-and-tested methods.
With that being said, if you have the time, the tools, and you don't mind taking a small risk, these headers may well be a bargain!
Manufacturer description: "Megan Racing Stainless Steel Headers are made of thick T-304 Stainless Steel and are mandrel bent to form and fit your particular application with the best performance results possible while the thick flanges and strong welds prevent cracking and offer long lasting durability".
"These Headers or Turbo Manifolds help your engine maximize its performance by allowing the exhaust gasses to flow more efficiently to gain power and performance".
---
Our comment: They're in the higher price bracket, but that hasn't stopped many owners opting for Motordyne's unique Long Tube design. With this excellent quality kit, they've included high flow cats to keep the noise levels down and help with emissions.
This kit may require a small o2 sensor cable modification, but other than that, it's a solid choice.
Manufacturer description: "Motordyne Engineering - Infusing rocket science and aerospace technologies into automotive performance parts, innovating faster, more powerful and higher quality performance components to aerospace standards. High performance quality parts for Nissan and Infinitis".
"For the past 5 years, Motordyne had successfully earned its reputation as delivering quality, performance and reliability. Through countless independent dyno reviews from satisfied customers, we take the expectation of our power hungry enthusiasts to a higher level of trust and confidence".
---
Our comment: The first of the Japanese tuning houses arrives, and it's Fujitsubo that brings their flawless quality to the market with this fantastic, reasonably priced long tube option. These headers provide impressive gains within the mid-power range.
When ordering, ensure that you are getting the correct LHD or RHD variation.
Manufacturer description: "Fujitsubo's spirit is to "produce the highest quality products". This has not changed since Fujitsubo was first established in 1931. This spirit does not only pertain to creating highly efficient and high quality exhausts and manifolds, but it also applies to our customer's satisfaction".
"This is the reason Research and development is performed with people, motor vehicles, society, environment etc, all thought as one, to create a product through diversity".
---
Our comment: There's very little to go on with regards to Central 20's JDM offering, and this certainly is one of the rarer alternatives for G37 owners. From the pictures we've seen, they look similar to the Z1/Momentum shorties, which is undoubtedly a good thing.
Central 20 is known for being meticulous in their fabrication processes and quality with beautiful welds. If you're looking to feature some different parts on your build to the norm, this could well be the perfect option, but be prepared to pay the price.
Manufacturer description: "Central 20 is the lifework of director/president Haruhiyo Yanagida, also known as 'Z of Yanagida or Z-Master'".
"After having great success as a driver in the late 60's and early 70's Central 20 was established in 1975 focusing specifically on the Fairlady Z".
---
MCR G37 headers
Manufacturer: MCR
Design: Long Tube
Fitment: Infiniti G37
Value for money:

🔥🔥🔥

Purchase link: Discontinued
Our comment: The second option in our JDM classics range is from MCR. Once again, there's no doubt that it's an absolute work of art, but it does come at a price. These are more of a mid-length option, similar to Motordyne, and could be great for those that will potentially be considering high-flow cats.
For those of you with deeper pockets that want a unique product for your G37, we have no doubt MCR will be a great option, with its stunning design and traditional Japanese quality.
Manufacturer description: "Matchless Crowd Racing (MCR), based in Saitma, Japan has grown to become a well known name throughout Japan and the world".
"Demo vehicles in distinctive MCR red have set benchmarks in quality and performance".
---
Our comment: Once you've stopped drooling and being stunned by the price, we introduce our most expensive offering, and we just couldn't leave Amuse off our list. These guys are known for being titanium wizards, and their latest work of art weighs in at a ridiculous 2.7kg!
If you're going for the ultimate build where the money is not an issue, these will undoubtedly offer you tremendous strength and durability to go with your power gains.
We would love to see these headers paired with their Titanium exhaust for the ultimate combination.
Manufacturer description: "The R1 Titan Exhaust Manifold features full titanium construction for strength and durability as well as extreme weight reduction".
"Powerhouse Amuse's exhaust manifold weighs a mere 2.7kg over the oem 7.8kg".
---
Our comment: DC Sports has produced their new updated and revised design for their headers, which now look fantastic in polished stainless steel.
These are 50-stage legal, which may well be appealing to those looking for a convenient option for local emissions laws.
These come cheaper than most, but we believe that there are better options on the market for a little extra. However, the CARB legislation could make them a tempting proposition for some owners.
Manufacturer description: "Dyno tuned and tested for maximum performance. Comes in 100% 304 polished stainless steel (including flanges). CNC mandrel bends with TIG welded fittings deliver perfect fit".
"Equal length primary piping ensures optimum tuning for more power across rpm range. Unique merge collector design".
---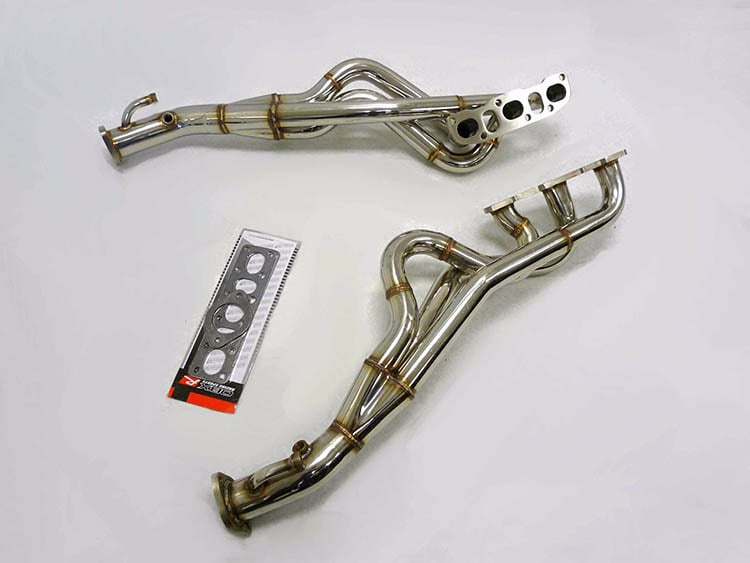 Our comment: If you visit your G-series owners clubs, you're likely to be met with negativity initially when you mention OBX headers.
However, if you take the time to look deeper, several owners are pushing out substantial long-term power figures with these headers.
One, in particular, is using nitrous with the OBX headers, and they've provided flawless performance for several years.
With all the legit examples we could find, the fitment also appears to have been on-point.
These appear to be a copy of the Fast Intentions kit at a fraction of the price, and although we're not keen on copies/reps, we can see the appeal with the OBX for those on a budget.
Manufacturer description: "OBX Racing Sports™ offers an extensive range of high quality aftermarket automotive products for imports and domestic vehicles".
"OBX sets and maintains the industry's high expectations by using applicable highest grade materials and latest machinery along with advanced cutting edge manufacturing technologies".
---
Our comment: Despite limited information from owners of the ISR Performance headers, they're the cheapest long tube headers in our guide.
With a low price point, these headers could potentially have a lot to offer, and we've only awarded them 3* due to a lack of feedback, combined with the general mixed opinions on ISR Performance products.
304 Stainless steel has been used for the pipework, with a High Ground Clearance feature that places the collector in a position to maximize ground clearance is a great idea.
Our main issue is the hassle of replacing the G37 headers should a problem arise, so it may be worth going with a more reputable option to avoid a potential headache further down the line.
Manufacturer description: "The ISR Performance Long Tube headers for VQ35DE/HR are designed to replace your factory header and catalytic converter. These long tube headers are constructed with 304 brushes stainless steel and heavy duty flanges".
"Designed with a stepped primary, these headers are built to retain as much low and mid range torque as possible while allowing for good top end horsepower gains as well".
---
Our winners
Here are our winning G37 headers:
Our Infiniti G37 Drifted Choice award goes to Fast Intentions
Fast Intentions take the win in our Infiniti G37 headers guide
Fast Intentions have earned themselves an incredible reputation in the tuning scene, and many G37 owners have successfully run their headers for many years with no issues whatsoever.
With the ultimate combination of design, quality, and long-term reliability, we feel that they're the worthy winners this time around.
Since G37 headers are far from easy to remove, we feel that it's essential to go with the ideal choice the first time around, and the Fast Intentions kit will undoubtedly serve you well.
It was a close call between these and the PPE Engineering headers this time around, but we do not doubt that either kit will be perfect for your needs.
---
Our Premium G37 Headers Choice
Our Premium Infiniti G37 Headers award goes to Amuse
They're certainly not going to be an ideal choice for everyone with a rather insane price tag, but Amuse has brought something entirely different to the market with their titanium headers.
Weigh an incredible 2.7kg; these stunning headers are the ultimate choice for those of you with bottomless pockets that only want the best products for your G.
---
Our Budget G37 Headers Choice
Our Budget Infiniti G37 Headers award goes to OBX Racing Sports
Although some may disagree, likely they haven't owned or known anyone else that has used the OBX headers.
Sure, it's a bit of a gamble when it comes to installing budget headers on your G due to the installation effort, but since we've seen long-term usage with both forced induction and nitrous, we feel that they've stood up to the challenges well.
If you're looking for the cheapest, then the ISR Performance may suit you even better at an extremely reasonable price point, but since we can't find much real-world experience, we'd stick with a safer option.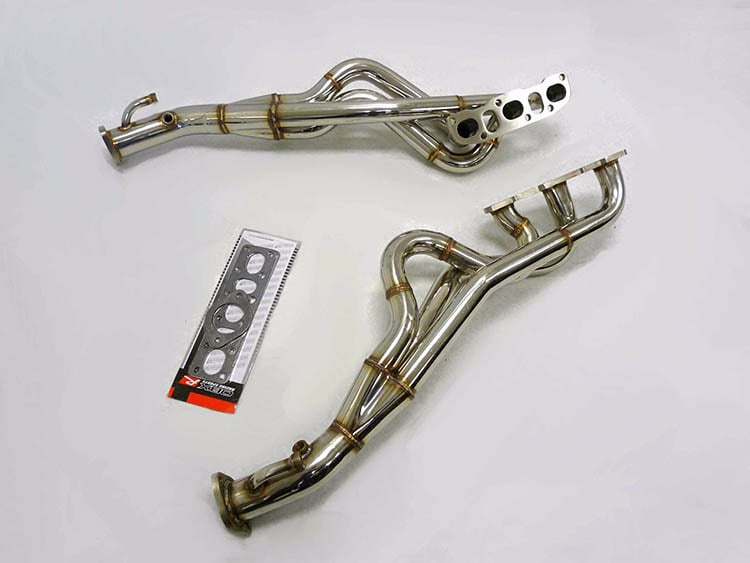 Thank you for reading our Infiniti G37 Headers guide.
---
Photography credits
We would like to thank the following sources for the use of their images:
If you enjoyed this article, then please share it with the buttons at the side and bottom of your screen. Find this information useful? Please share the link on your G-series owners' clubs. We appreciate your support.