Ultimate Double Din Head Unit Guide
Looking for a headunit to complement your ride? Our Ultimate Double Din head unit guide has got you covered from budget to premium options.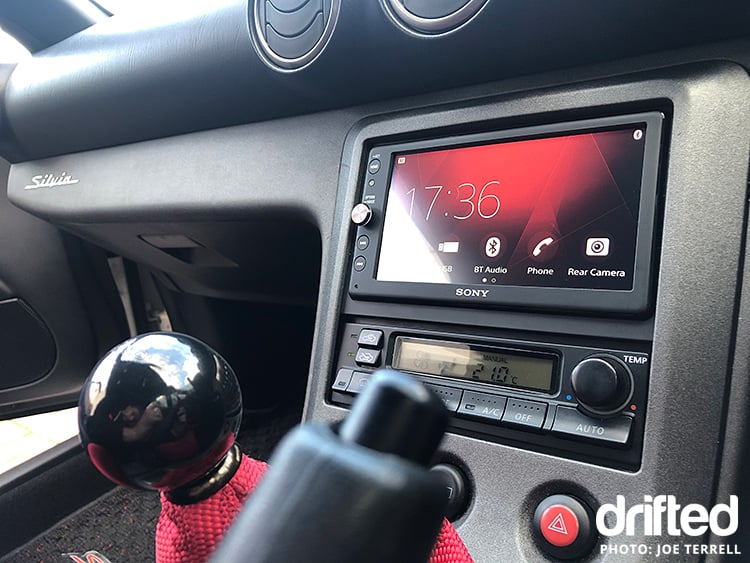 ---
In a hurry? Here is our Best Double Din Head unit summary
| Budget Choice | Drifted Choice | Premium Choice |
| --- | --- | --- |
| | | |
| Kenwood DDX25BT | ATOTO A6 | Sony XAV-AX5000 |
| 🔥🔥🔥🔥 | 🔥🔥🔥🔥🔥 | 🔥🔥🔥🔥 |
| Buy Now | Buy Now | Buy Now |
Let's be honest, a lot of us here at Drifted can probably hear very little over the sound of our cars.
However, there's no questioning that the continuous drone of exhaust noise on a long journey gets pretty exhausting.
We've written this guide to help you replace your tired old head unit for one of the many great options which grace the market.
Several years ago, double din head units were extremely expensive, severely lacking features and you generally spent more time punching it than using it due to terrible touch-screen response.
Technology is evolving at a rapid pace, and head units haven't been left behind.
Whether you're after a classy feature to smarten up your car, or a technology-packed equivalent to having a tablet installed in your car, we've got a solution in our guide whatever your needs may be.
Check out this video from TechMagnet as they show you how to install the ATOTO A6 head unit and some of its features:
If you're rolling around in a brand new top-of-the-range car which is already controlled by various computers and screens, then admittedly, this might not be the guide for you, since you'll likely lose most of the technology in your car.
So, instead, we recommend switching to the fun side and our best drift cars for beginners guide is going to be more ideal.
Sure, it may not be as much of an adrenaline rush as installing a gigantic new turbo, but we genuinely feel that double din touchscreens are a huge upgrade for anyone that spends a decent amount of time in their car, and will come with a host of awesome features to help you pass by your journey. If you are already looking at replacing your head unit, you should check out this subwoofer guide.
Once you've eventually reached your destination, if you've got some time to burn, you could kick back and watch a movie on your brand new screen. Even if you haven't got time to burn, there's always time for drift videos!
---
Let's take a look at our Best Double Din Head Unit selection
To read more about any of these products, simply click on the head unit name or photo.
Our comment: BOSS audio kick off our guide with the first of three variations, with this being their best budget double-din screen option. For those of you that are looking to head down the cheaper route, this is a fantastic price. For just a small amount more you can add on a rear-view camera.
This is a very popular choice on the market with many happy owners. It's a bargain for the money, but don't expect this to be the perfect system. If you're looking for something to simply plug in and go, this could be ideal, but for those who expect an advanced user interface, we advise spending the extra money rather than regret it later.
The head unit comes with a wide range of features for the money, including Bluetooth, USB/SD ports and AUX. It auto includes a CD/DVD player if you're still looking to use these. It also integrates with steering wheel controls if you've got these in your car.
Overall, impressive bang-for-your-buck, and well-suited for basic tasks.
Manufacturer description: "Get more digital music options with the Boss Audio BV9358B DVD Player with a 6.2-inch Digital LED Touchscreen. Slide in a CD/DVD, turn on the AM/FM radio, hook up your smartphone or MP3 player through the Aux-in or plug into the USB/SD ports."
"Charge USB devices with the USB port. Bluetooth technology lets you play and control music apps and make calls hands-free. Easily change up your music with your existing Steering Wheel Controls or the Touchscreen."
---
Our comment: When BOSS Audio released the 9675A initially, it came without Android Auto. However, this time around they've kept both Android and Apple fans happy with their Apple CarPlay and Android Auto integrations.
This is BOSS Audio's most popular choice, and it's certainly has a HUGE amount of features for the money. It includes everything on the BV9358B above but is also capable of loading FLAC quality audio for the highest quality possible.
Minor downsides for this unit would still point towards the BOSS Audio UI with a slightly less responsive touch-screen and a slightly longer boot-up time than premium brands at around 10 seconds. This also doesn't have a CD/DVD player function, so if you're hoping to play those, you'll want to consider alternatives.
With the small disadvantages considered, there are far more positives than negatives which make this another great choice. You're unlikely to get Apple CarPlay and Android Auto integration at a better price than this.
Manufacturer description: "Get more music choices with the Boss Audio BVCP9675 Mech-Less (No DVD/CD) Digital Media Receiver with a 6.75-inch Capacitive Touchscreen. Turn on the AM/FM radio, hook up your smartphone or MP3 player through the Auxiliary input or plug into the USB port for high-resolution audio. Charge USB devices with the USB port."
"Sync your Apple iPhone or Android smartphone to seamlessly access all the features on your phone through the built-in display. Bluetooth technology lets you play and control music apps like Pandora and Spotify and make calls hands-free. Choose your own sound style with the Preset Built-in EQ and the look with Selectable Illumination Color. Easily change up your music with your existing Steering Wheel Controls or the Touchscreen."
---
Our comment: You're certainly not going to find more for your money with a brand new head unit if you're happy to settle for a non-touchscreen choice. This combines old-school looks with modern features including Bluetooth, USB, and AUX.
The main potential downside of this is the lack of CD/DVD player. If we were on a budget, we'd feel that there's far superior value for money in the BV9358B, which features a touch-screen and CD/DVD.
Owners have reported that it sounds cheap and that the Bluetooth doesn't work as well as it should. Given that it's the main feature of the unit, we struggle to recommend this one.
For a great price you get a simple, no-frills double-din head unit which may well suit the basic needs of some people perfectly fine. However, we'd personally stump up a little extra cash.
Manufacturer description: "Pump up the volume on all your favorite music with the Boss Audio 820BRGB Double-DIN Mech-Less (No CD/DVD) Digital Receiver. Hook your Smartphone or MP3 Player up to the Auxiliary Input, tune into your favorite AM/FM radio station, or plug into the USB port for more music choices."
"You can also charge USB devices with the USB port. Bluetooth technology lets you play and control music apps and make calls hands-free. Change up the sound style with the built-in Preset EQ and the color with the Multi-Color Illumination Options. Take control with the wireless remote."
---
Manufacturer: Atoto
Price bracket: Budget/Mid-range
Value for money:

🔥🔥🔥🔥🔥

Purchase link:
View the ATOTO A6 here
Our comment: ATOTO may not be a well-known brand, but their A6 double din head unit has sparked interest from many potential buyers, mainly due to running the Android Marshmallow OS.
Think of this as an Android tablet with many more features and inputs/outputs which is placed in your car. You get all the benefits of Android's excellent interface and app selection, meaning you can choose which programs you run. Connect your head unit to your WiFi hotspot and surf the web, check your emails and watch YouTube.
This is a fantastic concept and allows for a huge range of customization and offers the potential to turn this into a very impressive unit.
There have been small bugs, but ATOTO have been fast to roll out convenient firmware updates to ensure that everything is rectified as quickly as possible.
One of our favorite features is the ability to add the 'Torque' app, which enables you to carry out various GPS-measured tests on your car. Highly recommended for ANY car owners.
The most expensive model has built-in sensors which can be programmed for 7 different hand gestures to command the head unit without touching it, with 23 potential options to choose from. We've heard that this does get triggered when you don't want it to at times, so we'd probably not bother.
This head unit is capable of instantly waking up from a low-battery sleep mode when you turn on your car, this enables it to turn on almost instantly. Should it remain in sleep mode for more than 7 days, it will shut itself down to save your battery.
Overall, this is an incredible proposition, and if you don't mind doing a bit of tweaking to make it suit your needs then this could well be the perfect solution.
Manufacturer description: "More than 300 apps from Google Play Store have been tested installable on ATOTO A6 Series, especially media/entertainment apps and apps in category of "Auto & Vehicles"."
"To speed up the boot time of Android system from 25s to only 2s is never easy. Protecting car battery from draining out, as well as ensuring quick boot available every time you start the engine are the two key essentials. This feature has been tested in more than 40000 pcs of ATOTO products (M4 & A6) and is reliable enough. The inner clock will count and if the vehicle is parked for more than 7 days, it will be automatically powered off to save car battery power."
---
Our comment: One of the biggest names in the car audio industry, Clarion, bring their latest premium offering to the market with the NX807.
They say that you get what you pay for, and the Clarion certainly ticks a lot of the right boxes. As well as having Apple CarPlay and Pandora, it also integrates with the iPhone for a variety of speech activation functions.
Another cool feature is an HDMI port and Apple Lightning capabilities which allow you to Screen Mirror your iPhone or iPad on the big screen, definitely a great feature for impressing the guests!
On top of this, the GPS system also shows unique 3D representations of select buildings, landmarks, and terrain.
As you've probably already guessed, the NX807 ticks all the right boxes when it comes to audio, too. With an optical digital port which can connect to Clarion's Full Digital Sound System and other accessories, it also plays high-res FLAC files for the ultimate sound clarity.
With physical menu buttons alongside a highly-responsive touch-screen, the Clarion continues ticking all the right boxes here.
It appears that this premium system doesn't just slap a higher price tag onto a cheap product. Clarion have presented a well-refined head unit which is up there with the best. Its main downside is the lack of Android Auto, however, it has been specifically designed towards iPhone users, so if you're an Apple fan, you may well have found your perfect choice!
Manufacturer description: "Operate your iPhone functions from the large 7-inch monitor. Just connect your iPhone with its supplied cable, and you'll be able to play music, send and receive messages, and a whole lot more, with simple touch and voice activation."
"Connecting your smartphone to the NX807's HDMI port allows content on your phone to be displayed on the radio's large 7-inch screen."
---
Our comment: Another mid-range price offering this time comes from Jensen with their VX7020. This ticks a lot of the right boxes for a basic head unit, with Bluetooth, USD, SD, AUX and Pandora integration and a CD/DVD player, but doesn't have anything particularly special about it despite being in the mid-range price bracket.
There are a lot of positive reviews out there, however we feel that the technology in competitors such as the ATOTO A6 offer better value for money.
Despite not blowing us away, it's still a decent choice if you had already been considering it, but we would personally invest our cash elsewhere.
Manufacturer description: "Your large 6.2 inch LCD TFT High Resolution Touch-Screen display provides a comfortable viewing experience while keeping all your favorite content within fingers reach."
"No car receiver is complete without music streaming. Your Jensen VX7020 allows you to view & control your SiriusXM, Pandora, iHeartRadio & Spotify apps from the home screen and also allows you to wirelessly stream music from your Apple or Android devices."
---
Our comment: If you're looking to go with a reputable brand but don't want to spend big money, then the DDX25BT is another excellent choice.
One of the best features of the head unit is its Dual Phone Connection, which allows two phones to be connected simultaneously. Great if you would prefer your friend took over being the virtual DJ for a while on the journey.
This features a Kenwood Music Play app for convenient connection to your Android phone.
Other than that, it's another practical choice and good value for money. We do find that you get what you pay for with the responsiveness of touch-screens, though, and this is on the slower side when it comes to commands.
It's a lot of head unit for the money and quality, but we're not getting particularly excited about it otherwise.
Manufacturer description: "The Kenwood DDX25BT car stereo features multimedia and vehicle integration at the next level. This 6.2″ car receiver is Pandora/Spotify/iHeart Radio app ready. It also comes with Bluetooth for hands-free calling and music streaming."
---
Our comment: There's no question that audio legends Pioneer are dominating the head unit game right now, and not only that, they're also winning over the masses with their exceptional quality.
This is another head unit which is definitely aimed at Apple users. Featuring Apple CarPlay integration, as well as AppRadio for use with the Pioneer app. It also has built-in iPod, iPhone and iPad control and Siri Hands-Free compatibility.
For Android users, it does allow for Pandora and Spotify control, but that's about it.
If you are an Apple user, then this is an extremely highly regarded option which is easy to use and fantastically responsive. CarPlay integration is executed extremely well and this makes an excellent plug-and-play choice. Android users may wish to consider other options, though.
Manufacturer description: "More advanced than ever before, NEX features a responsive, powerful and intuitive touchscreen user interface that is easy to use and highly customizable. Clearly, NEX is designed specifically for today's smartphone and tablet-driven lifestyle."
"Your love of high-res audio does not need to stop at the front door. Now for the first time in an aftermarket car stereo, you can enjoy FLAC files in your vehicle without the need to convert. Pioneer's NEX in-dash receivers are the first in the industry to offer playback of files encoded as high-res FLAC up to 192kHz/24 bit and provide playback output at CD quality. With Pioneer, your high-res FLAC is no longer confined to your home hi-fi system – put your music on the move."
---
Our comment: Android owners rejoice, Pioneer haven't forgotten about you this time around! Think of the 2300NEX as correcting what they got wrong with not integrating Android Auto on the 1300NEX.
This ticks all of the right boxes whilst integrating the solid design, quality and reliability that users expect from Pioneer. A touch-screen that's a joy to use combined with CarPlay and Android Auto makes for a perfect combination.
A great all-around choice whatever your needs, we're sure you'll be happy with this device, it's a real bargain!
Manufacturer description: "Pioneer's NEX or networked entertainment experience line of receivers feature an innovative and powerful new user interface which is responsive and highly customizable. The NEX models are designed especially for today's smart phone driven lifestyle."
"Your car and your music are as unique as you are. With a Pioneer NEX in-dash receiver, sound quality features like built-in Auto EQ and Time Alignment, 13-Band Graphic Equalizer with touch panel swipe settings and built-in high/low pass crossover with adjustable points and slopes provide you with the controls to tailor the listening experience to your vehicle and listening preferences."
---
Our comment: You may well be wondering why we're reviewing ANOTHER Pioneer head unit, but the fact is that they really do have so much variety out there that owners love, it makes them hard to ignore!
We LOVE the look of this unit, and where some of the best double din stereos out there have all the functions going, they look a bit, well… 90's.
This one brings a sleek OEM-looking design which will look stunning in a more modern interior.
Unfortunately, it's once again aimed towards the Apple fanboys and they've left out the Android Auto integration again. They've used some basic Android features such as Pandora and Spotify control, but the AVH-2300NEX is still the best choice for Android owners.
Again, besides the obvious, we have very little bad things to say about this, it'll look great and has the usual Pioneer reputation along with it. It could have clinched a 5* rating if it included Android Auto. So close, yet so far!
Manufacturer description: "Pioneer's CarPlay-compatible in-dash receivers enable consumers to upgrade the vehicles they already own to the smarter, safer and more fun way to use iPhone® in the car. Consumers with iPhone 5 or later including the iPhone 6, or iPhone 6 Plus with the latest version of iOS can use Siri® voice control to make and receive calls, compose and respond to text messages, access Apple Maps for navigation, and listen to their music, podcasts and iTunes Radio."
"With the New User Interface, your operation becomes much more simple and easy. Simple device switching for Bluetooth, wide customizability of AV and device sources, responsive user interface, etc."
---
Our comment: Sony certainly needs no introduction, and this great looking touch-screen immediately ticks the right boxes for both Android and Apple fans with full integration.
There seem to be some mixed opinions on this unit, with some small niggles which owners are hoping will be ironed out in the latest firmware updates. However, those that are happy with it have stated that it's incredible.
Overall, it has very good reviews, but we advise doing a little more research to see if it's likely to cause any issues for you as firmware updates for these kinds of devices are notoriously slow.
This is a very reasonably priced head unit and will undoubtedly grab the 5* mark if Sony manages to resolve their minor issues.
Manufacturer description: "Enjoy smooth and simple control for every journey, with a responsive 6.95″ (17.6 cm) (diag.) touchscreen display that wakes up 2.5 times as fast as previous models, and dual USB ports, for more music options on the go."
"Bring up maps, sort through playlists, and make phone calls — all from a smooth, bezel-less display that integrates seamlessly with your dashboard. The 6.95″ (17.6 cm) (diag.) screen ensures everything is easy to use, and wakes up 2.5 times as fast as previous models, so you can get on the road faster."
---
Our comment: This and the BOSS Audio 820BRGB are undoubtedly the main competition in the double-din non-touch-screen market. BOSS, unfortunately, missed the mark with the 820BRGB but it looks like Sony have managed to hit the bullseye.
If you're after a no-frills CD player with Bluetooth compatibility, this is a great looking head unit to fill that double-din slot in your dash.
Sure, it certainly lacks the features of the touch-screens, but we appreciate that they aren't to everyone's taste, or budget, so here's something a little different to consider!
Manufacturer description: "Get messages read out and browse lists without taking eyes off the road by using voice commands to control your smartphone. Instantly pair up to two phones by dual Bluetooth and NFC."
"Enjoy high-power clear sound with 4 x 55W max. View clearly the displayed information with the high-contrast Vertical Alignment screen and High Contrast LCD. Pump up the low end with the EXTRABASS boost auto activation."
---
Our winner
Our winner is the ATOTO A6.
To pick our winner from this choice of double din head units, we looked at a number of criteria; price, personalization, quality, features, and design.
Based on these criteria we have chosen the ATOTO A6 to be our winner.
This may come as a surprise, and it isn't the only 5* rating we gave out in our guide, however, we really just couldn't fault the ATOTO A6.
ATOTO's head unit comes absolutely packed with features which would normally set you back several hundred more and allows for full customization to have it exactly how you want it.
With the firm carrying out continuous firmware updates and developers fine-tuning it to get the most from it, we feel that this is what head units of the future should be. Consider us sold.
If you would prefer to have a plug-and-play system which doesn't run on the Android platform, then it mainly boils down to budget as to which one is best for you.
Pioneer's AVH-2300NEX received a 5* rating and is great for Apple and Android users alike. Sony's XAV-AX5000 is also a great choice if you have a little more money to spend.
Thank you for reading our best double din head unit guide
We hope that you're now confident in choosing the right product to give your dash that much-needed facelift it's been crying out for. We have no doubt you're going to love all the new features that you'll soon be playing with!
Photography credits
We would like to thank the following sources for use of their images:
If you enjoyed this article then please share it with the buttons at the side and bottom of your screen. Find this information useful? Please post a link to it on your cars owners club. We really appreciate your support.