Infiniti G35 Supercharger Guide
We review the most popular Infiniti G35 supercharger kits available on the market today. This is the ultimate G35 supercharger kit guide.
---
In a hurry? Here is our G35 supercharger summary
| JDM Choice | Drifted Choice | Domestic Choice |
| --- | --- | --- |
| | | |
| HKS G35 Supercharger Kit | Vortech G35 Supercharger Kit | Stillen G35 Supercharger Kit |
| 🔥🔥🔥🔥 | 🔥🔥🔥🔥🔥 | 🔥🔥🔥🔥 |
| Buy Now | Buy Now | Buy Now |
With the Infiniti G35 more affordable than ever, it's a fantastic opportunity to bag the awesome G-series at a bargain price.
Powered by Nissan's 3.5 liter VQ-series V6, it's undoubtedly gifted with one of the best engines of modern times.
Most VQ owners know that these masterpieces are capable of so much more than what they left the factory with, so why not strap a supercharger to gift your daily or weekend car with that extra dose of power?
Is a supercharger best for my needs?
Superchargers are known for providing a smooth, linear power gain, which makes them more ideal for daily and street use. They also provide zero lag and instant torque at the push of the throttle combined with increased reliability.
However, if you're hitting the track or just want a more intense power delivery, why not also consider a turbo kit upgrade?
We've written this guide for those who want to know more about the supercharger options available on the market.
Before we start, here's a supercharged G35 video to remind you of what you're missing out on!
Let's take a look at our G35 supercharger kits
To read more about any of these products simply click on the turbo kit name or photo.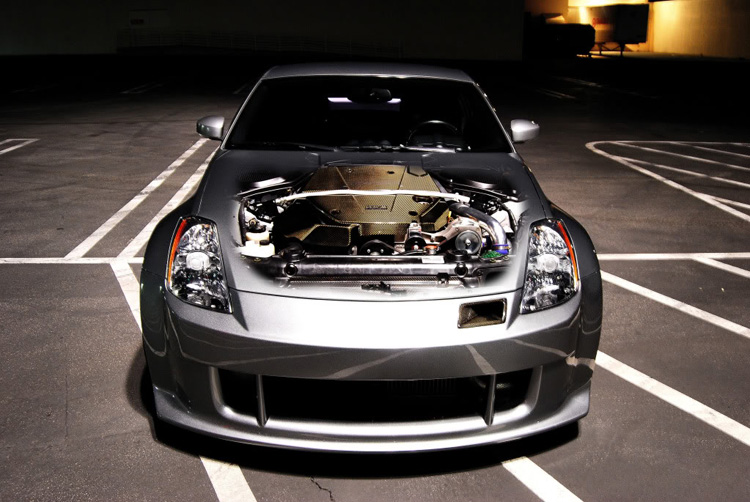 Our comment: Legendary Japanese tuning house HKS kicks off the first option in our guide. HKS are well-known for creating some of the best forced induction kits on the market and this is certainly no exception.
Combining great looks with reliability and the typical build-quality that HKS are world-renowned for, this kit is undoubtedly a great option.
We would suggest strongly considering this kit if you're more interested in reliability than power figures. This could be the perfect daily driver as it's the quietest and arguably the most reliable option on this list whilst pushing out around 350-400hp with supporting mods.
If the quest for ultimate power is your thing, make sure you also check out HKS's V2 kit which is capable of running over 500hp with supporting mods!
Manufacturer description: "With the introduction of the GT Supercharger line, HKS raises the performance bar by giving you a choice of premium-quality turbo or supercharger forced-induction systems."
"For supercharger aficionados, our supercharger kits provide OEM-level engineering quality, combined with best-in- class reliability, efficiency and quiet operation. Performance delivery is linear from any speed as a result of the GT Supercharger's Torque Response Traction Drive system."
"You can be confident in your car's driving performance when the GT supercharger is installed!"
Videos:
Drifting legend Nobteru Taniguchi gets behind the wheel of the VQ35-powered HKS Supercharged 350Z in the wet as other drift OG's such as Keiichi Tsuchiya and Vaughn Gittin Jr watch on!
---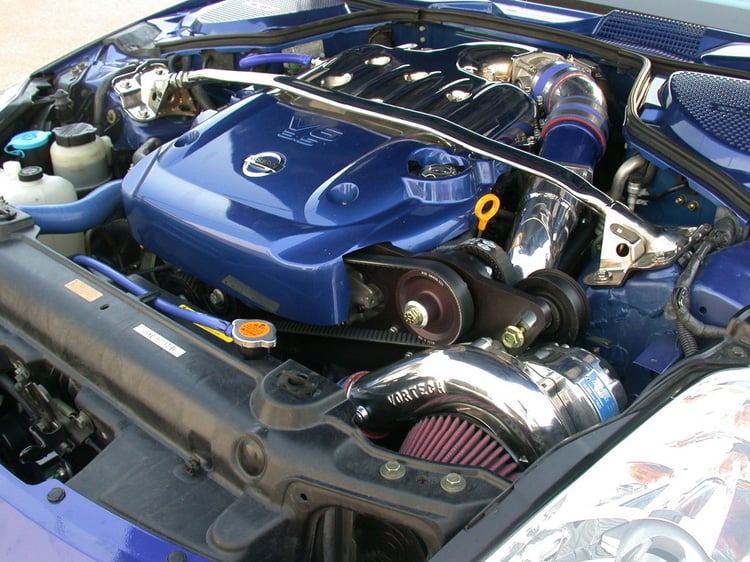 Our comment: Vortech have put their years of valuable knowledge in the supercharging scene to create the ultimate kit for G35 owners.
Combining great value for money with fantastic build quality, reliability and customer service. Not only that, it's also one of the easiest kits to install (around 8-12 hours).
With owners making an impressive 410hp from the kit and 440hp from the 'Rev-Up' variation, it's easy to see why so many have made this their choice. This kit also includes upgrade options to gain additional power.
Manufacturer description: "The G35 system uses Vortech's V-3 SCi supercharger. Continued development in Vortech's Lab resulted in the V-3 SCi. The "i" stands for improved and with its new patented oil control system and state of the art centrifugal compressor stage this V-3 literally blows away the competition. Industry leading 75% adiabatic efficiency SAE J1723 standard means less heat is being generated, reduced drive power and more net power is produced. Less heat also means better durability, easier on the engine than any turbo installation."
"Vortech supercharger systems are a great value. Dollar for dollar, Vortech systems deliver more horsepower than virtually any other method of upgrade. Also, driven normally, gas mileage usually increases."
"Vortech's G35 Supercharger Systems are available as either a complete, fully calibrated bolt-on system, or as a Tuner Kit for custom installations at over 500 HP. And with Vortech's many upgrade solutions, there is always more power when you are ready."
Videos:
See and hear the Vortech kit running 402WHP working its magic here!
---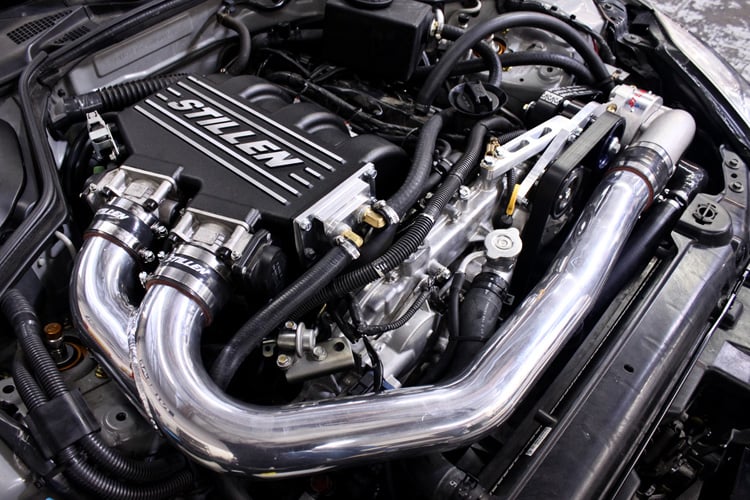 Our comment: Stillen initially entered the G-Series supercharger market with a 'roots' style blower for the G35. This meant that you then had to run a Stillen's own, or a modified hood to fit the supercharger.
This, combined with the additional heat gains that came with the roots blower, it understandably divided opinions amongst owners.
Stillen seemingly realised that this was the case and released a brand new kit to the market. Combining Stillen's quality parts alongside the Vortech V3 supercharger reviewed above, they eventually put out a fantastic product.
Given that Stillen decided to utilise the Vortech supercharger, we feel that it's a testament to the fantastic piece of kit that Vortech have produced here. Given the similarities, you may well prefer the look of the Stillen kit over the Vortech to help make your final decision.
There are many variations of this kit, so make sure you choose the correct one!
Manufacturer description: "STILLEN is proud to announce the availability of the VQ35 dual throttle body G35 supercharger kit. The VQ35 Supercharger shares most of the same components found in the VQ37 kit, and designed as a direct bolt-on to the 3.5L."
"This supercharger system took over a year to develop and involves some revolutionary designs. This supercharger system is developed to offer the customer easy upgradability and installation without requiring a hood replacement to complete the installation!"
Videos:
Here's a video of the STILLEN G35 kit beign used on the street, the sound is certainly noticeable!
---
Our winner
Our winner is the Vortech Supercharger Kit
To pick our winner from this choice of G35 supercharger kits we looked at a number of criteria; ease of installation, power levels, upgrade potential and price point.
Based on these criteria we have conlcuded that the Vortech supercharger is the worthy winner.

As an all-rounder, we felt that the Vortech Supercharger Kit was the best option available for the G35. It may not be the most impressive looking, but we feel it ticks every other box that potential owners will have in mind.
From ease of installation, value for money and upgradability, this will future-proof your G-series to ensure that you're always at the top of your game.
We highly recommend that further research is done based on our guide. There are often additional parts, tunes or upgrades for base-level supercharger kits that may be either vital or purely suit your preferences.
Thank you for reading our G35 supercharger kit guide.
Do you need a nice intake to mount on your new supercharger? Then check out our G35 cold air intake guide.
Want a small horsepower bump on a tight budget? Then take a look at our G35 test pipes, G35 y-pipes, G35 headers, and G35 exhaust guides.
If you enjoyed this article then please share it with the sharing buttons at the side and the bottom of your screen.
Photography credits
Drifted would like to extend thanks for the following sources for images.