Lexus IS300 Turbo Kit Guide
In today's ultimate IS300 turbo kit guide, we review the most popular Lexus IS300 turbo kits available on the market. By the end of this article, you'll know the exact turbocharger to get to take your IS300 to the next level!
---
In a hurry? Here is our IS300 Turbo Kit summary
| Budget Choice | Drifted Choice | Premium Choice |
| --- | --- | --- |
| | | |
| XS Power IS300 Turbo kit | CXRacing IS300 Turbo Kit | Turbonetics IS300 Turbo Kit |
| 🔥🔥🔥🔥🔥 | 🔥🔥🔥🔥🔥 | 🔥🔥🔥 |
| Buy Now | Buy Now | Buy Now |
So you've copped yourself an awesome Lexus IS300 which has served you well, but the time has come to consider using your 2JZ-GE to its full potential? We here at Drifted.com have got you covered!
Sure, you've probably lusted after the Supra's infamous 2JZ-GTE like almost all car lovers out there, but with ever-growing prices and with them becoming increasingly hard to find, tuning companies have worked to achieve a sensible compromise with your GE.
If money isn't an issue and one is available, a GTE swap may well suit you best. Nowadays, you can get a complete swap kit that serves this exact purpose.
However, we've written this article for those of you that are ready to give your IS300's engine some much-needed boost with this reasonably priced forced-induction addition. Tt's time for some NA-T fun!
If you're worried about the strength of these engines, be reassured that most of the parts are shared with the GTE, which is capable of 1,000whp. No matter if you are building your IS300 to be a highway vehicle to hop between cities or for track racing, the 2JZ-GE is more than capable of hanging with the big boys.
While many components are identical, the pistons are one of the only internal variations between these engines, which were made with turbocharged intentions from the factory.
However, there are also some rumors that the rods are thinner in the GE than the rods in the GTE.
With that being said, there are still considerable differences between the two power plants. There's a different style of inlet manifolds, compression ratios, injectors, sensors, and exhaust manifolds, as well as many other variations.
This, of course, means that simply bolting GTE turbos to a GE engine wouldn't be as straightforward as most owners would like!
We've written this guide to explain the differences and help you decide which of these off-the-shelf turbo kits best fits your needs.
Wondering what a turbocharged IS300 can do? Take a ride with Clay Wong as he gets behind the wheel of a 700hp single-turbo 2JZ to see what this sedan is truly capable of once it's been fitted with turbo goodness!
Or how about this one that leaves renowned Youtuber ThatDudeinBlue grinning from ear to ear?
---
Let's take a look at our IS300 turbo kits
So, if you think that a turbo is the way to go, we have got just the right parts lined up for you down below.
To read more about any of these products just click on the turbo kit name or photo.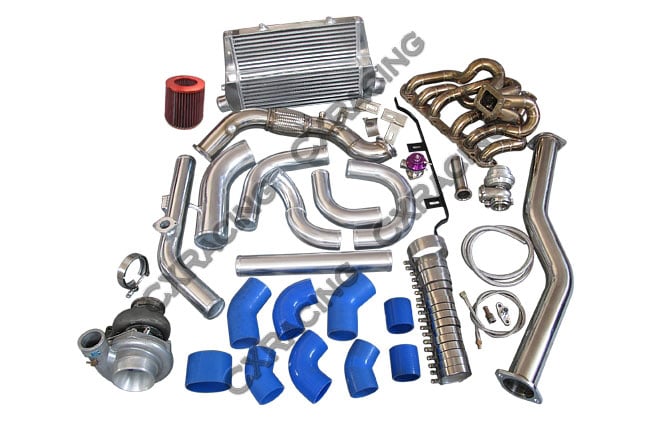 Our comment: Frequently regarded as the best off-the-shelf bolt-on solution, this newly designed kit provides great quality at an impressive price. Featuring a well-made manifold with good-quality welding alongside a highly-regarded intercooler and piping.
It includes a GT35 turbo and also offers a ball-bearing upgrade for an additional $200. Alternatively, if you're looking to use a different turbo and wastegate, you can save $220 on this package. Many owners have successfully run this kit for several years on high-mileage GE NA-T engines with nothing but praise.
Manufacturer description: "Brand NEW Design of Top Mount T4 GT35 Turbo Manifold with Equal Length and Long Tube Runner Design, Supports Bigger HP and Higher Torque."
"This is CXRacing's Newest Product for the Application Stated Above. All Parts Are Developed from Ground Up in Our R&D Center in USA, Designed and Built for Improved Performance Gains, with Excellent Fitment and Easy Installation."
---
Our comment: This may initially seem far cheaper than the CXRacing kit, but their price doesn't include the FMIC piping or fuel tuning device. That being said, this is another fantastic, newly revamped kit to compete with CXRacing on the market.
XS Power is very highly regarded within the 2JZ scene and this kit has been popular with many IS owners over the years as they racked up thousands of miles with very few issues. This is definitely a great option if you are on a smaller budget.
Manufacturer description: "Your stock GE motor makes 180WHP on a good day. The stock GTE motor puts down about 285WHP if the stock twins are in great shape."
"Install this XS-POWER 2JZ GE / GTE turbo kit and boost to 9PSI on stock internals, head gasket, and injectors. You'll be putting down 330WHP. No need to open the motor or mess with the injectors or tranny at 9PSI, just run 93 Octane and a fuel tuning system."
---
Our comment: Another popular offering to the market is Driftmotion with this good quality offering that features Garrett internals. We've found mixed opinions on this kit with some people saying that modifications have been needed to ensure a perfect fit, which means it's not really a 'bolt-on and go' affair.
There are reports of a weak wastegate included in the kit, so perhaps source your own alternative. This price does not include the FMIC or piping. Various turbo options are available, all the way up to 750whp.
Despite many positive reports, Driftmotion has also apparently been hard to contact when issues arise.
Manufacturer description: "2JZGE NA-T 60-1 Turbo Kit. Capable of over 550whp. Kit includes manifold, wastegate, 4″ intake pipe, dump tube, fasteners, oil lines and fittings, gaskets, adaptor flanges for turbo and block oil lines, 60-1 turbo with ceramic coated exhaust housing and polished compressor housing, blue anodized billet backplate, all Garrett internals."
"We're confident that this is the best kit on the market for the money. A 4″ K&N filter is now included with the kit! The kit will not fit a right-hand drive vehicle without modification to the wastegate piping."
---
Our comment: The most expensive kit on our list has been around for quite some time. Although some owners have had success with it, there also seem to be a lot of reports of issues. For the price, we can't justify the added value over the cheaper kits above.
We have also heard reports of the kit being discontinued, so if you feel it is the right choice for your needs then we strongly advise checking this. Getting spare parts for a discontinued kit can be very frustrating.
Manufacturer description: "Turbonetics Turbo Systems are for you, whether you have a four-cylinder sport compact or a V-8 muscle car, Turbonetics Turbo Systems include everything you need from fuel and ignition to piping and fittings for complete bolt-on turbo performance."
"Turbonetics offers complete turbo systems – from air entry to exhausting to the catalyst. The Turbonetics Turbo System is a true O.E. bolt-on that does not require "hacking" in order to install."
---
Our comment: Turbo Specialties enter our list as the second most expensive option so far. This kit was one of the first IS300 kits to ever be released and was the main competitor of the SRT (Swift Racing) kit, however, SRT has since gone out of business. Although the kit includes a Garrett turbo, we're not entirely convinced that the T28R is the ideal turbo for boosting your IS300, and there are definitely more suitable options in our selection.
Combine this with the fact that most owners have mentioned that the kit needs some adjustments to fit correctly, we can't justify the cost compared to some of the substantially cheaper alternatives on the market.
Manufacturer description: "If you are looking for the ultimate in high-performance – the extreme performance packages are for you. Providing the maximum horsepower for the very discriminating and still providing dependability for daily driving. Incorporating all the high performance equipment in the superior performance packages, these extreme packages all include an intercooler, pop off valve, extra injectors, and injection control unit, (The Brain)."
"This offers complete control for your system, increased fuel delivery, and cooler temperature gas-air mixture for better burning. The addition of this system can add as much as an additional 20 percent increase in horsepower above and beyond the superior turbo packages."
---
Our comment: It's certainly not every day that you stumble upon a turbo kit that is up for under $1,000 brand new, but FastWayRacer have pulled it out of the bag with the cheapest option on our list.
Unfortunately, there is very little to go on with regards to good or bad reviews on this system, so we highly recommend checking that it suits your needs before going ahead. Cheap isn't always cheerful, especially when things start going wrong!
Manufacturer description: "This is a perfect turbo kit for upgrading your car and get more boost. Your car will gain 130-180HP if you set at 7-15PSI. Customers require to upgrade the fuel pump, injector and ECU to tune the car if you set at higher PSI. This kit can max up to 550HP. We offer 90 days warranty for this turbo kit if it is installed by ase certified mechanic! We also offer "FASTWAYRACER" license plate and "FASTWAYRACER" sticker for free!"
---
Our winner
Our winner is the CXRacing Turbo kit.
To pick our winner from this choice of IS300 turbo kits we looked at a number of criteria; ease of installation, quality, popularity, upgrade potential and price point.
Based on these criteria we have chosen the CXRacing Turbo kit to be our winner, and the best turbo kit to get to give your IS300 a healthy boost of power.
With no big-name brands stepping up to the plate in the 2JZ-GE tuning scene, it has left a great opportunity for some smaller brands to take the win this time around.
If you perhaps don't feel comfortable running the turbo or wastegate supplied within these well-priced kits and want to go for something more reputable or powerful, it's worth considering the CXRacing option without the turbo and wastegate.
The manifold, pipework, and the rest of the CXRacing kit all have a great reputation, so fitting a fancy turbo and wastegate could well be the perfect answer.
If CXRacing doesn't suit your preference, we'd definitely recommend considering the XS Power option.
Thank you for reading our IS300 turbo kit guide
We hope that you're now confident in choosing the right product for your needs to give your Lexus sedan the much-needed power upgrade it should've left the factory with!
Now would be a great time to update that tired old suspension, you can find our advice on what to choose in our IS300 coilover guide.
Looking to give your IS300 a more aggressive look? Then, you should check out our Lexus IS300 Body Kit Guide here.
With a brand-new turbocharger under the hood, your IS300 needs to breathe better. Head to our IS300  Exhaust Guide for all the best options.
Now that you already own a badass IS300, why not buy another fun JDM car? Check out Cheap JDM Cars and Ultimate Cheap Drift Cars articles for some fresh ideas.
Photography credits
We thank the following sources for the use of their images:
If you enjoyed this article then please share it with the buttons at the side and bottom of your screen. Find this information useful? Please post a link to it on your cars owners club. We really appreciate your support.